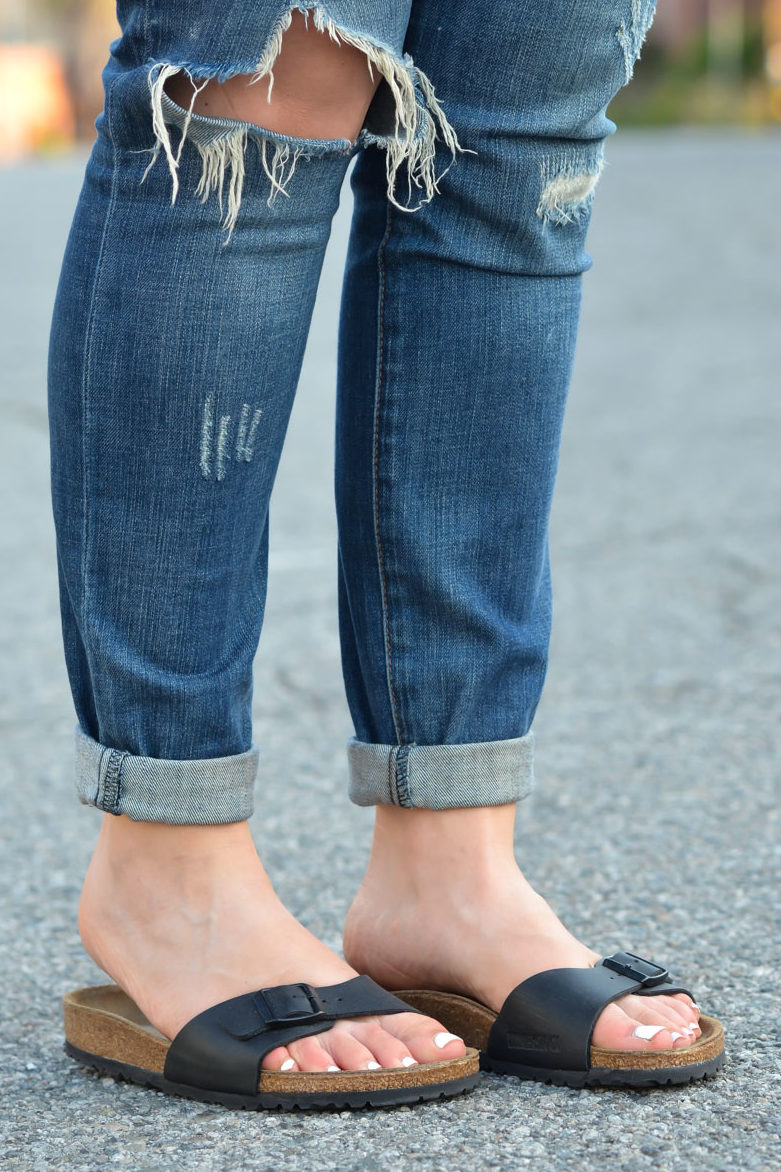 Summer is sandal weather, but so many sandals out there are hard on your feet, bad for your back, and just a total buzzkill. I live in Birkenstocks for summer and I've even gotten a pair of their slippers and clogs for the garden. My relationship with them is serious!
Best Birkenstocks for Summer
If you haven't gotten on the Birkenstock train, do it now!! I got my first pair from the brand in 5th grade and remember wearing them all the time. I got a second pair in college. And then my third round started about a few years ago. And now I live in them. Their sandals come in so many styles and colors.
I have a high arch, so their sandals are some of the few I can wear with any longevity. That also means they take me about 20 minutes to wear in. I have heard from those with flatter feet that they take a little while to wear itn, but once you're worn them in – they're perfection.
If you wear through the sole, find a local shoe cobbler who can replace the sole. Then you won't lose that wearing in and you'll have your sandals for at least another season or two!
1. Big Buckle Slide Cognac
2. Double Strap Slide in Yellow
3. Big Buckle Slide Orange

Supportive Sandals
The reason Birkenstock sandals are so supportive is their footbed. It has multiple layers in there and starts out with a fairly carved out foot shape.
Unlike most shoes, and especially sandals, these aren't flat or mostly flat to begin with. The shoes come with all this shape, but it allows for your foot to mold them to exactly the right shape.

If you struggle with high arches like I do, these will be some of the most supportive summer shoes you will ever own. Even if you don't have a high arch, these are still great.
4. Arizona Soft Footbed Copper
5. Arizona Soft Slide Ochre Suede
6. Siena Hex Slide Sandal

7. Yara Oiled Leather
8. Papillo Summer Sandals
9. Mayari Birko-Flor Black
How to Wear Birkenstocks
I will say that some Birkenstocks are better than others if you have any sort of foot problems. And there's also the best way to wear Birkenstocks for the same reason.
The best Birkenstocks have straps that go over your arch. I bought this Madrid style and wore them nonstop in Birkenstock and jeans outfits. They only have a strap across the front of your foot and I quickly realized that the "flip-flop" style was too harsh on my foot if I wanted to do any walking – which I did. I've since moved to the Mayari style and it is perfect!
So the other thing about Birkenstocks being the best is that they'll be some of the most supportive summer shoes you'll ever own. But you need to make the straps tight enough. Chances are you'll have to change this at least once.
Set up them up so the straps are snug but not tight when you first get them. After a few weeks or so, depending on how much you wear them, you'll likely need to tighten one or more straps.
Keeping the straps tight allows your foot and the supportive footbed to stay together. This completely removes that "flip flop" situation so your whole foot is working with each step, not just part of it!

10. Lola Wedge Black
11. Soley Wedge Light Cognac
12. Arizona Birko-Flor White
How to Style Birkenstocks on women
I haven't really found a bad way to style my birkenstocks. I wear them regularly with jeans, shorts, and dresses (long and short).
Sadly, Birkenstock sandals will never look elegant. While some styles – namely those with a wedge – can look nicer, it's good to know what to expect.
On the flip side, I often wear my supportive sandals with nicer dresses – not only to be more comfortable, but it also makes those dresses more versatile since I don't look so dressed up!
Get Your Birkenstocks for Summer. . .

Get more summer outfit inspiration.