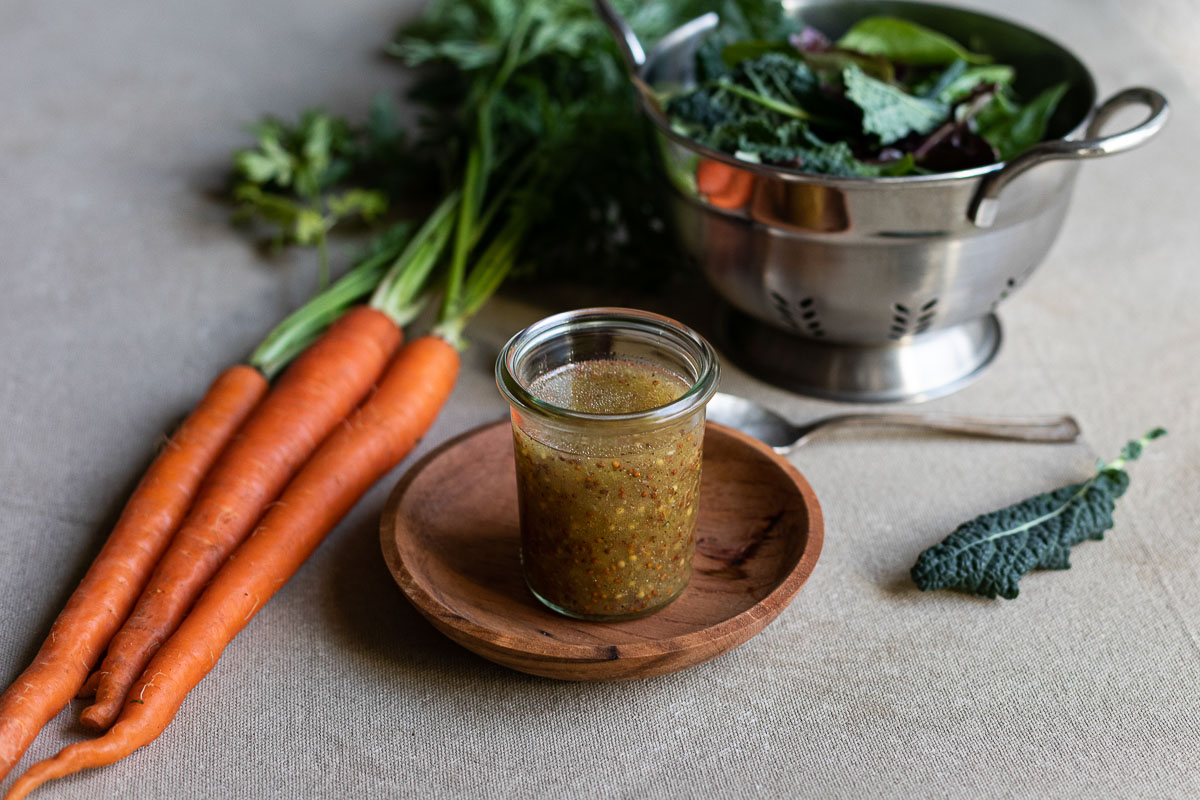 This whole grain mustard vinaigrette has a tangy flavor that perks up a basic kale salad, which is always a welcome addition! Topped with walnuts, garbanzo beans, and fresh parmesan cheese, this salad is a nice starter or light lunch that quickly comes together.
Since starting to make homemade balsamic vinaigrette, we haven't bought any salad dressings. They're so easy to make at home and far more flavorful.
I also love that they aren't loaded with sugar and preservatives which I can now taste in store-bought dressing (yuck!). It's been a really welcome addition for my husband's low-FODMAP diet as well.
Whole Grain Mustard Vinaigrette
In any salad dressing, you usually have your oil base and your vinegar or acid base (hence the olive oil and vinegar popularity).
As you start to make more dressings, you'll find other thing to switch up the acidic flavor. Whether it's fresh orange juice like this orange salad dressing or lime juice in this cumin salad dressing.
This whole grain mustard vinaigrette still calls for a touch of vinegar, but most of that acid (and all the yummy flavor) comes from the mustard itself!
What Kind of Mustard to Use?
If there's one thing you might need to know about me, it's that I really enjoy mustard. It seems like one of those divisive flavors, but I'm down for pretty much any type of mustard.
I like the classic, bright yellow deli mustard; honey dijon; plain dijon (whew!); Chinese hot mustard (in small doses); brown, spicy; you name it!
While so many mustards are delicious to me, whole grain mustard is absolutely my preferred mustard for making salad dressing.
The whole grain mustard has a nice earthiness to its flavor that isn't overpowering when all mixed in. I also like the small mustard seed grains in the salad itself – it's a nice addition.
FALL & WINTER RECIPE COOKBOOK
Delicious recipes to enjoy FALL & WINTER produce to its fullest. Simple and delicious recipes made from scratch for your family and your guests THROUGHOUT THE COOLER MONTHS!
How to Enjoy Kale
I'm on the kale train with the rest of the healthy food world it seems. One thing I love about it is that it can be made up and kept easily for leftovers unlike most other salad greens.
The only disappointing thing about salads in my mind is that they usually need to be eaten in one sitting.
The thing about enjoying kale is that you need a dressing substantial enough, however. The dressing should be bolder in flavor, but not necessarily heavier (i.e. not bleu cheese or ranch).
A whole grain mustard vinaigrette is my favorite compliment to a kale salad. I also always have the ingredients in my kitchen, so that makes it a major winner in my book!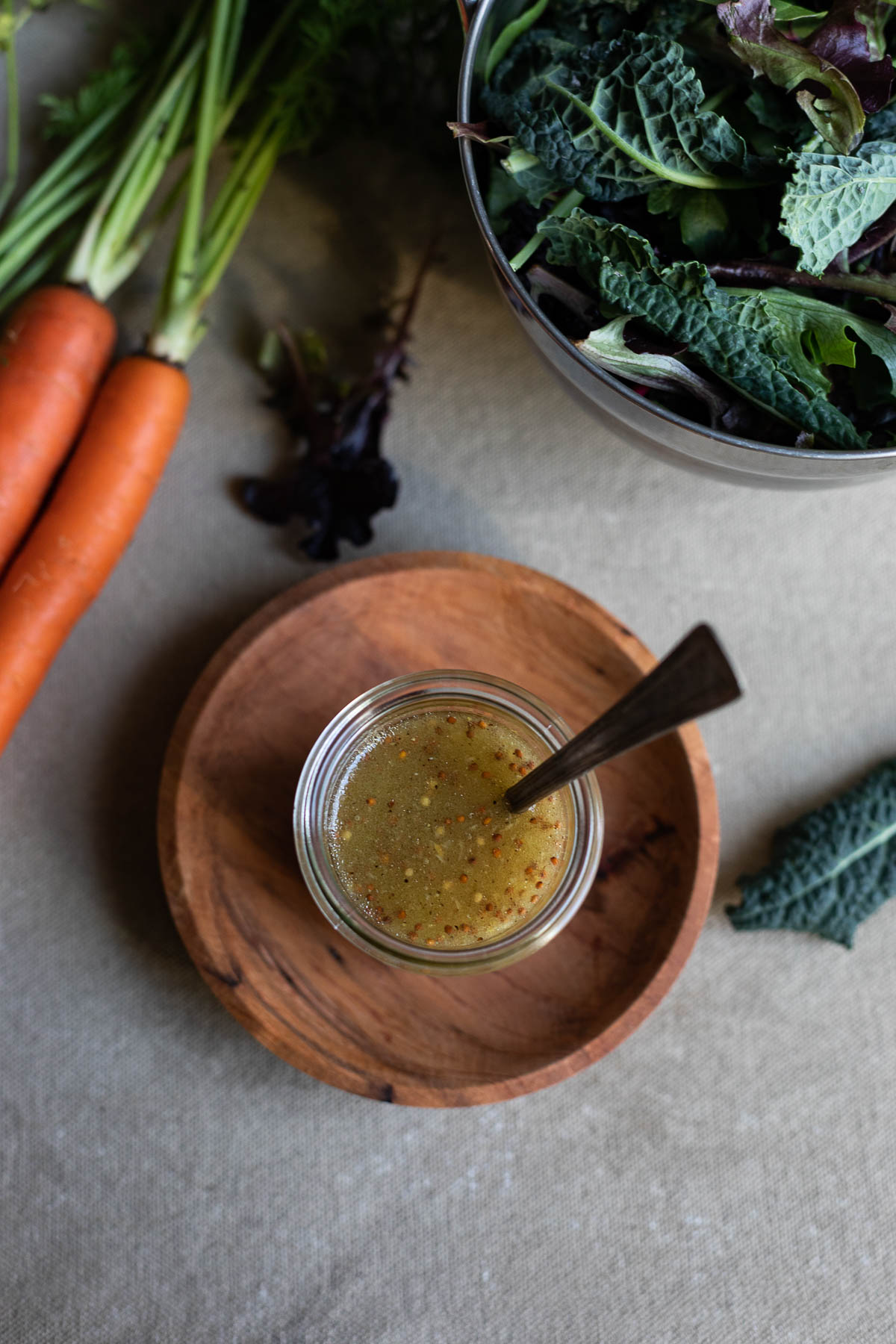 With kale, the greens are substantial enough to survive a night in the refrigerator, dressed and ready when you are! If you're still getting used to kale, discard the stems and chop it up into really small pieces – almost shreds.
Additionally, mixing pieces of it into your usual salad mix is a good way to get some of the benefits without it being overwhelming!
Delicious Kale Recipes
If you're already on the kale train, you'll love this quinoa + squash kale salad, this kale farro salad (so good!), and this kale + avocado toast!
Or swap it into any of these delicious summer salad ideas!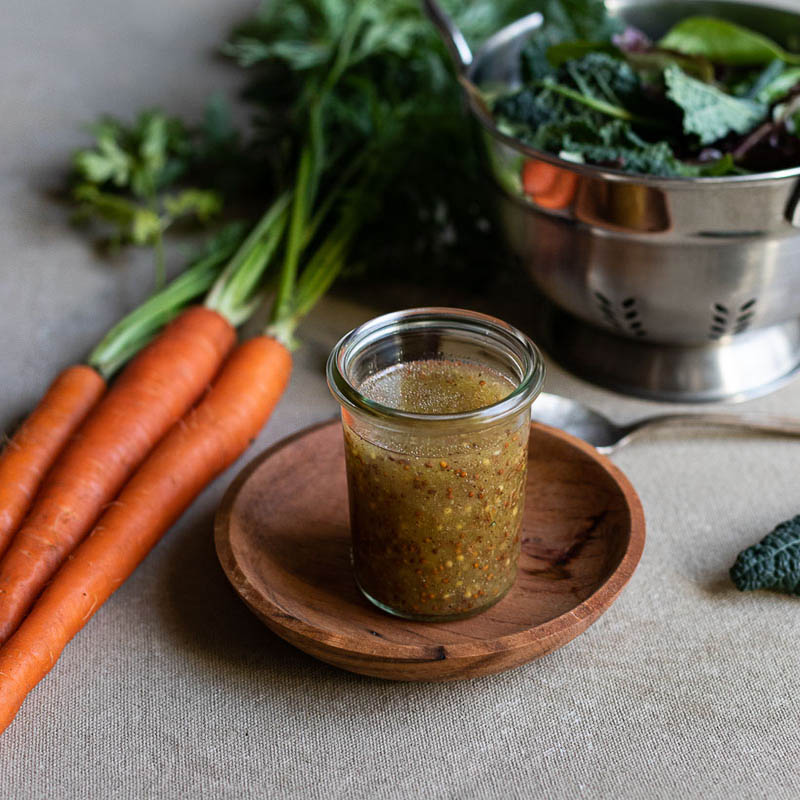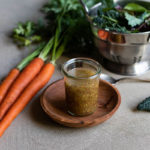 Print Recipe
WHOLE GRAIN MUSTARD VINAIGRETTE
If you're looking for a go-to homemade salad dressing, this mustard vinaigrette should be it. It's the perfect balance to all those salad toppings. It's a bit acidic but still perfectly sweet. You'll want to make extra every time!
Ingredients
1

tablespoon

whole grain mustard

3

tablespoons

olive oil

1

teaspoon

lemon juice

½

teaspoon

white wine vinegar

½

teaspoon

salt

¼

teaspoon

fresh pepper

½ – 1

teaspoon

sugar

optional
Instructions
Thoroughly combine mustard, oil, lemon juice, and vinegar. Season to taste with salt, pepper, and sugar.

Since mustard and vinegar are tangier, sugar is optional for a lighter flavor.

Store in refrigerator.
Nutrition
Calories:
203
kcal
|
Carbohydrates:
4
g
|
Protein:
0.3
g
|
Fat:
21
g
|
Saturated Fat:
3
g
|
Polyunsaturated Fat:
2
g
|
Monounsaturated Fat:
16
g
|
Sodium:
955
mg
|
Potassium:
15
mg
|
Fiber:
0.3
g
|
Sugar:
3
g
|
Vitamin A:
5
IU
|
Vitamin C:
1
mg
|
Calcium:
6
mg
|
Iron:
0.3
mg