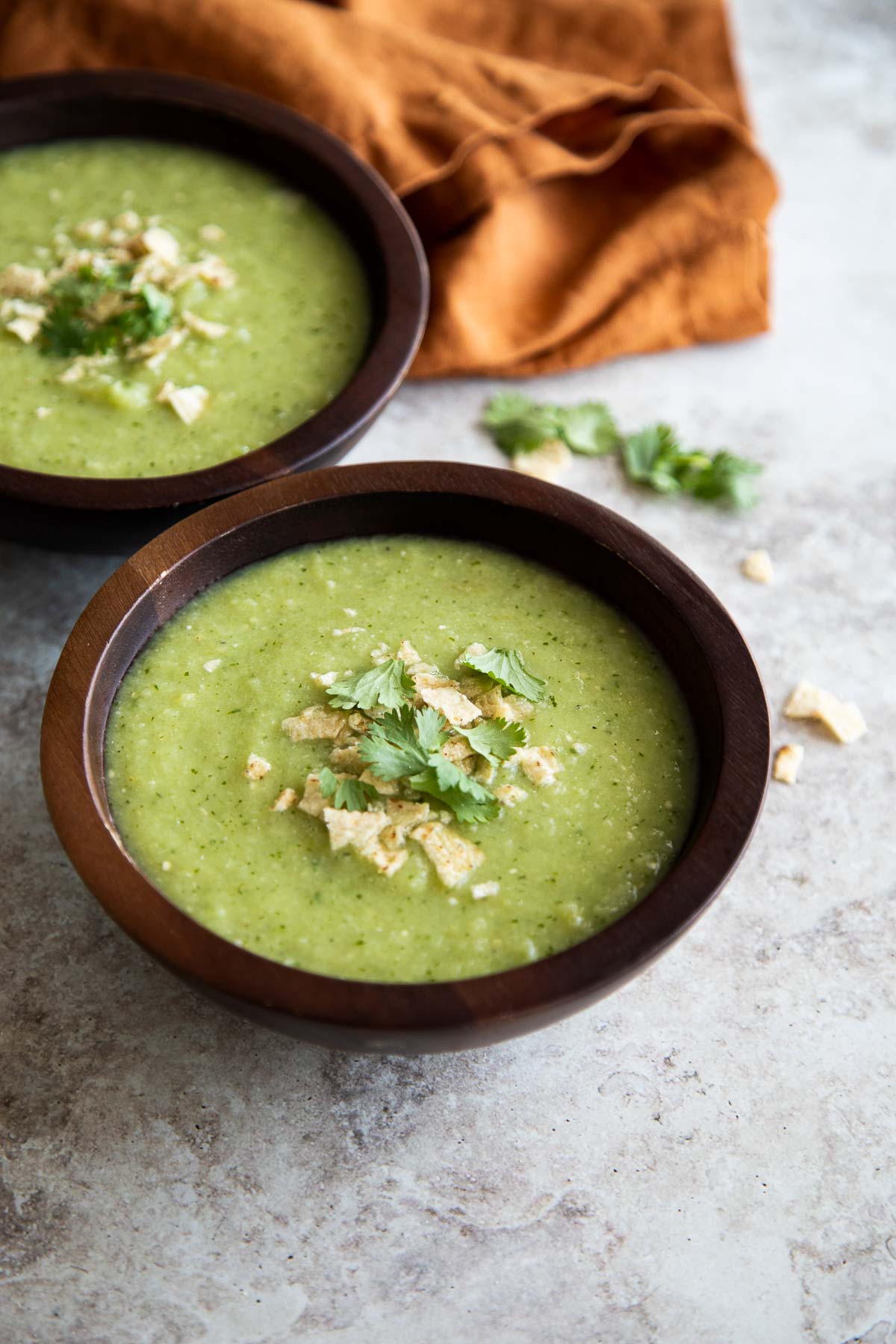 Tomatillos (not green tomatoes) are a fun ingredient I find in my delectable salsas. But what else was there to make with these green fruits? This tomatillo soup was my effort to find something else! And since it's so hot, it became a chilled tomatillo soup that's AMAZING!!
My parents grew tomatillos in our front yard one year growing up and then never did again. Like tomatoes, they can easily take over and give you a far bigger bounty than you're ready for. I think it was that summer that made it too much for them!
So, for that reason, I didn't grow up eating tomatillos. It wasn't until I started paying more attention to all the Mexican food any good Californian eats that I realized the green fruit was a mainstay in Mexican American cuisine.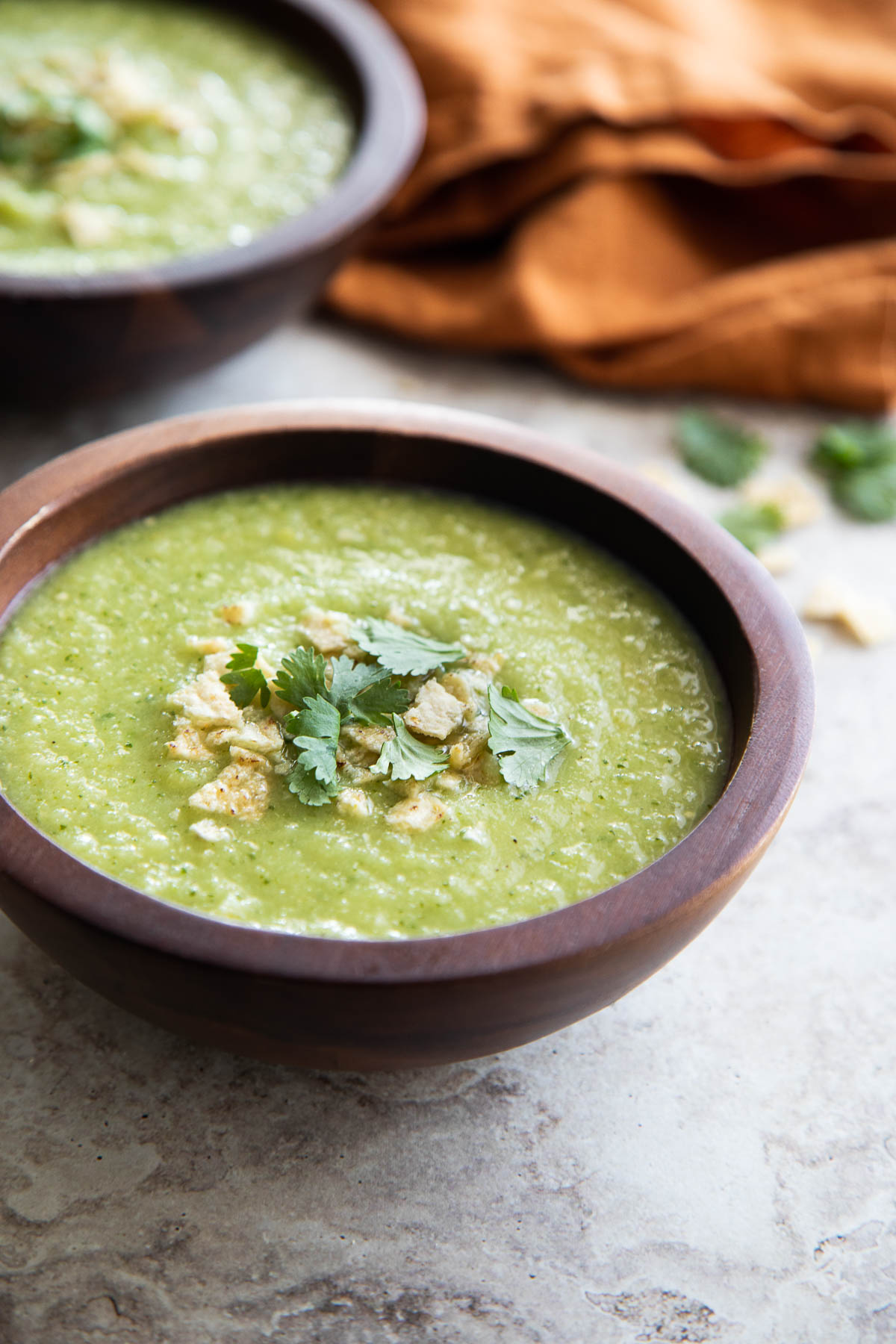 Tomatillo Soup
So,, I'm not trying to invent the wheel here with tomatillo soup – plenty of recipes exist, but the tomatillos are often treated as more of an add in to chicken or bean soup. While delicious, I was thinking something a little different.
The thing is, roasted tomatillos are DELICIOUS. Raw tomatillos are a bit – is tart the right word? They aren't a toss them back fruit like tomatoes and because of that, I think they're often overlooked.
Years ago, I did make a roasted tomatillo salsa. It was so easy and so tasty – my version only had about 5 ingredients. It's often what I make when I get these green gems.
How to Use Tomatillos
Tomatillos come in this cute paper wrappings. I don't know if there's a reason you can't eat them, but they aren't tasty, so you should take them off.
When you remove the outer wrapping "paper," you'll notice that the tomatillo is a bit sticky. You can easily remove the stickiness by running them under some warm water.
I do this to also help my knife or processor from getting stuck or having trouble with the gunk.
My favorite way to enjoy tomatillos is to roast them. The natural sugars release and that tartness disappears.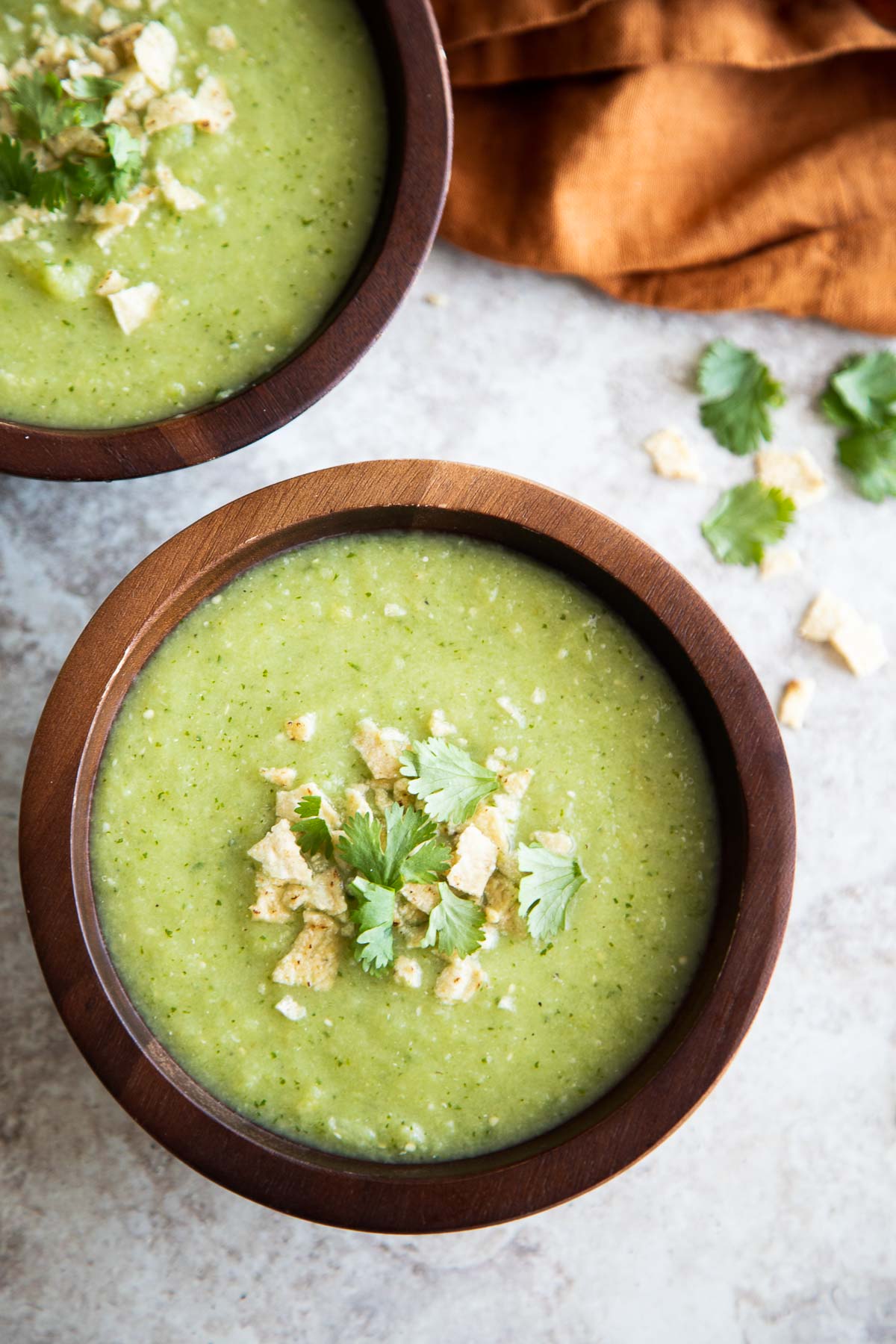 Vegan/Vegetarian Tomatillo Soup
As I mentioned above, many tomatillo coups contain meat. While we'll also eat that version in our house, this recipe is actually vegan as written.
Now, I will note that we happily add sour cream, crema, or cotija cheese atop this soup – still vegetarian.
/
SPRING & SUMMER COOKBOOK
DELICIOUS RECIPES TO ENJOY SPRING & SUMMER PRODUCE TO ITS FULLEST. SIMPLE AND DELICIOUS RECIPES MADE FROM SCRATCH FOR YOUR FAMILY AND YOUR GUESTS ALL SUMMER LONG!
Chilled Tomatillo Soup
So why a chilled soup? I mean, besides the 110 degree highs these days (major eye roll), it's just warm in general and soup isn't exactly what you're craving in the hot summer heat.
Initially I planned to call this a tomatillo gazpacho, but I guess in order to be a gazpacho, everything must be raw.
You do you, people, but I like tomatillos roasted (see above). So, instead, this became a basic make-ahead dinner option.
Obviously you can eat this soup warm. It'll be delicious. As you'll see in the recipe notes, you won't need all the water because the soup really thickens as it cools (as soup does).
So I'd start with ¼ cup water and just go by what looks right for your desired consistency.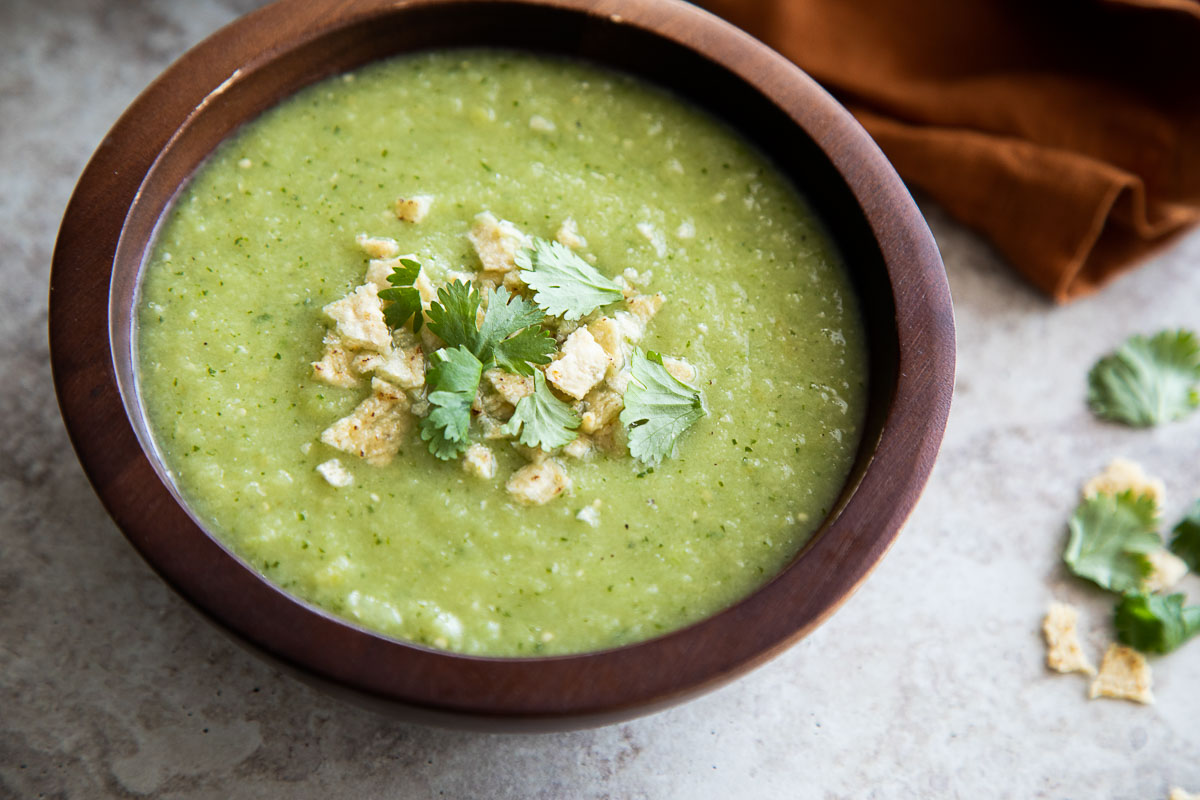 More Summer Recipes
You can get a complete list of my summer appropriate recipes as well as a list of what's in season in summer with seasonal recipes organized by ingredient.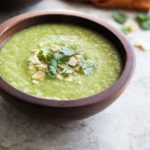 Print Recipe
TOMATILLO SOUP
Enjoy this hearty way to enjoy tomatillos in summer. Roasted tomatillos combine with yummy veggies in this pureed, chilled tomatillo soup. A great cold soup for a hot night and easy to make ahead.
Ingredients
10

tomatillos

about ¾ lb.

1

medium onion

chopped into large pieces

2

cloves

garlic

peeled and smashed

1

tablespoon

olive oil

½

teaspoon

fine sea salt

6-

inch

cucumber such as English or Persian

cut into 8 pieces

1

green bell pepper

core removed, cut into large pieces

¼

cup

cilantro leaves

Juice of one lime

1

cup

water

1

teaspoon

fine sea salt

plus more to taste

¼

teaspoon

ground black pepper

Cilantro and tortilla chips for garnish
Instructions
Preheat the oven to 400 degrees F.

To prepare the tomatillos, remove the outer wrapping "paper" and run tomatillos under warm water to remove stickiness. Quarter each tomatillo

Spread the tomatillos, onion, and garlic in a single layer on a baking sheet. Drizzle with the olive oil and sprinkle with salt. Move the vegetables around to coat them in the oil. Bake for 20 minutes, until the tomatillos smash when pressed with a fork. Let cool until you can handle, about 15 minutes.

Add the contents of the baking sheet to a blender. Put in the cucumber and green bell pepper. Add the cilantro and lime juice. Puree on high until smooth and only little green flecks of cilantro remain. Add up to 1 cup of water to reach the desired thickness. Add salt* and pepper. Puree again.

Eat at room temperature or chilled. Soup will thicken as it chills. You can add more water and salt as needed.
Notes
Only about 1 cup of water is recommended. The more you add, the more it will take away from the flavor of the soup and will need to adjust the salt to taste.
(Note from me: I added a ¼ cup when making it. Then about another ¾ cup after it chilled and I photographed it.)
Make this recipe? I'd love to see how it turned out…
PINTEREST: Upload a photo and your review to this Pin!
INSTAGRAM:  Tag me
@lucismorsels
and use #LMrecipes
Nutrition
Calories:
78
kcal
|
Carbohydrates:
10
g
|
Protein:
2
g
|
Fat:
4
g
|
Saturated Fat:
1
g
|
Polyunsaturated Fat:
1
g
|
Monounsaturated Fat:
3
g
|
Sodium:
879
mg
|
Potassium:
339
mg
|
Fiber:
3
g
|
Sugar:
5
g
|
Vitamin A:
280
IU
|
Vitamin C:
37
mg
|
Calcium:
22
mg
|
Iron:
1
mg