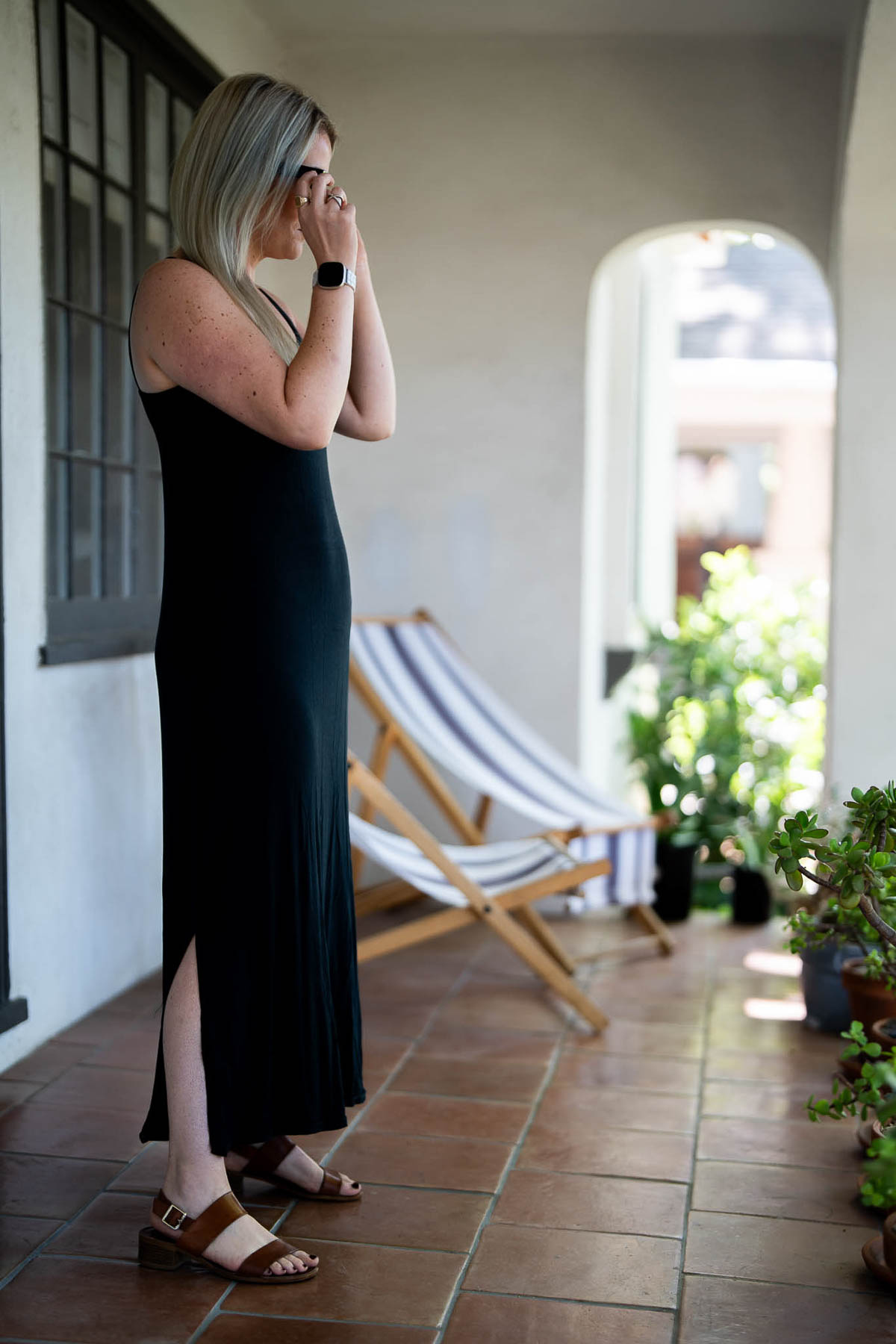 I love a good black dress. Not the little black dress kind – the comfortable, flattering happy dance kind. They're often sleeveless, loose (a little or alot), and at least knee-length (to maxi). As I try to buy less and buy better, I've found a lovely selection of sustainable black dresses for summer!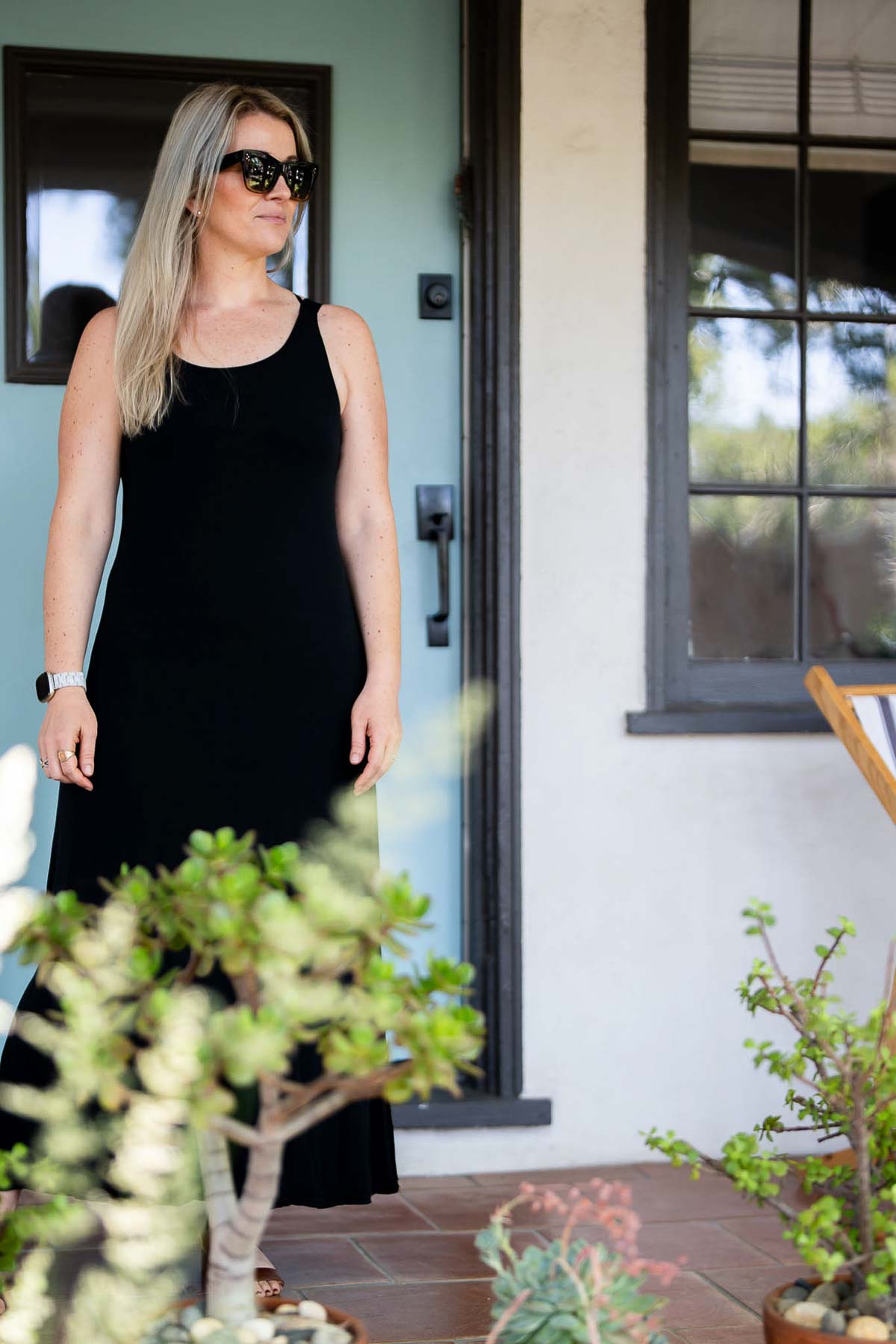 Sustainable Black Dresses
I love intricate details and feminine colors for dresses. They catch my eye, but I always end up finding the black option (I do my know my style after all – and it pays to buy what you know you'll wear the most).
I've had a number of maxi black dresses and I love those, but my heart lately is more with midi length – they're somehow so much easier (especially since our little guy keeps us on the move nonstop).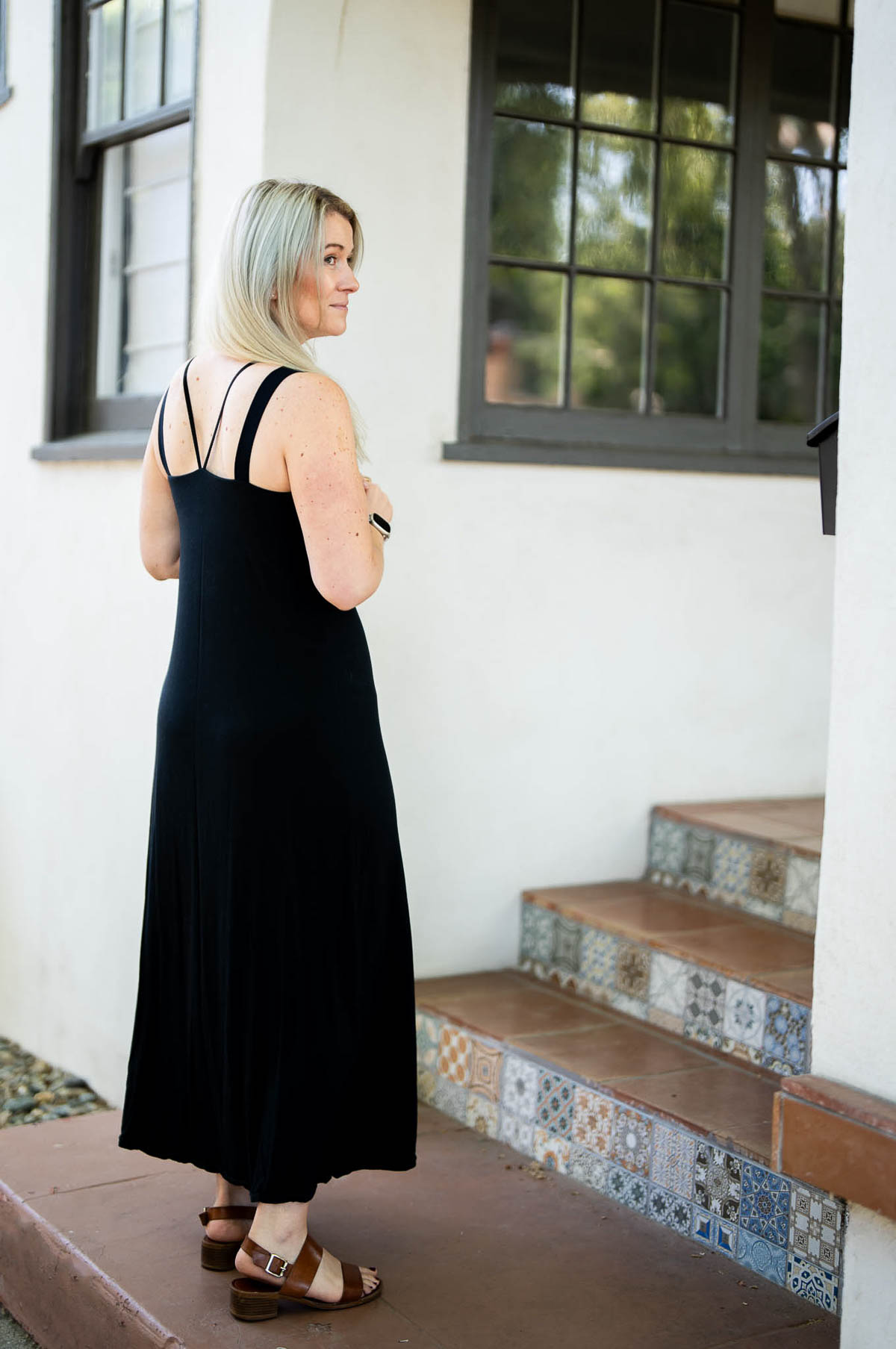 The styling options for long black dresses are endless – everything from day to night casual to an evening out. Try it with a denim jacket and your favorite small bag. If it's too hot for anything besides the dress, check out how to style a maxi dress with a few fun accessories!
How to Find the Perfect Summer Dress
A few details to keep in mind when looking for a summer dress.
First, the bra situation. Some dresses offer built in bras, but obviously the quality of support/coverage varies, so keep that in mind.
Second, strap thickness. If you plan to wear a bra with the dress, take note of the thickness of the straps and their location. Do you have a bra with straps in the same general directions?
Of course off the shoulder dress outfits are a different ballgame and require a strapless or nothing underneath.
On the topic of bras, I only wear bras from The Little Bra Company. It's also very important to wash bras correctly and when you're done with a bra remember you can donate and recycle undergarments easily!
Third, watch out for pockets. I'm sucker for pockets, but many easy, flowy dresses just aren't cut out for pockets – you'd seen an outline (or worse – a bulge!) if you ever actually used those pockets.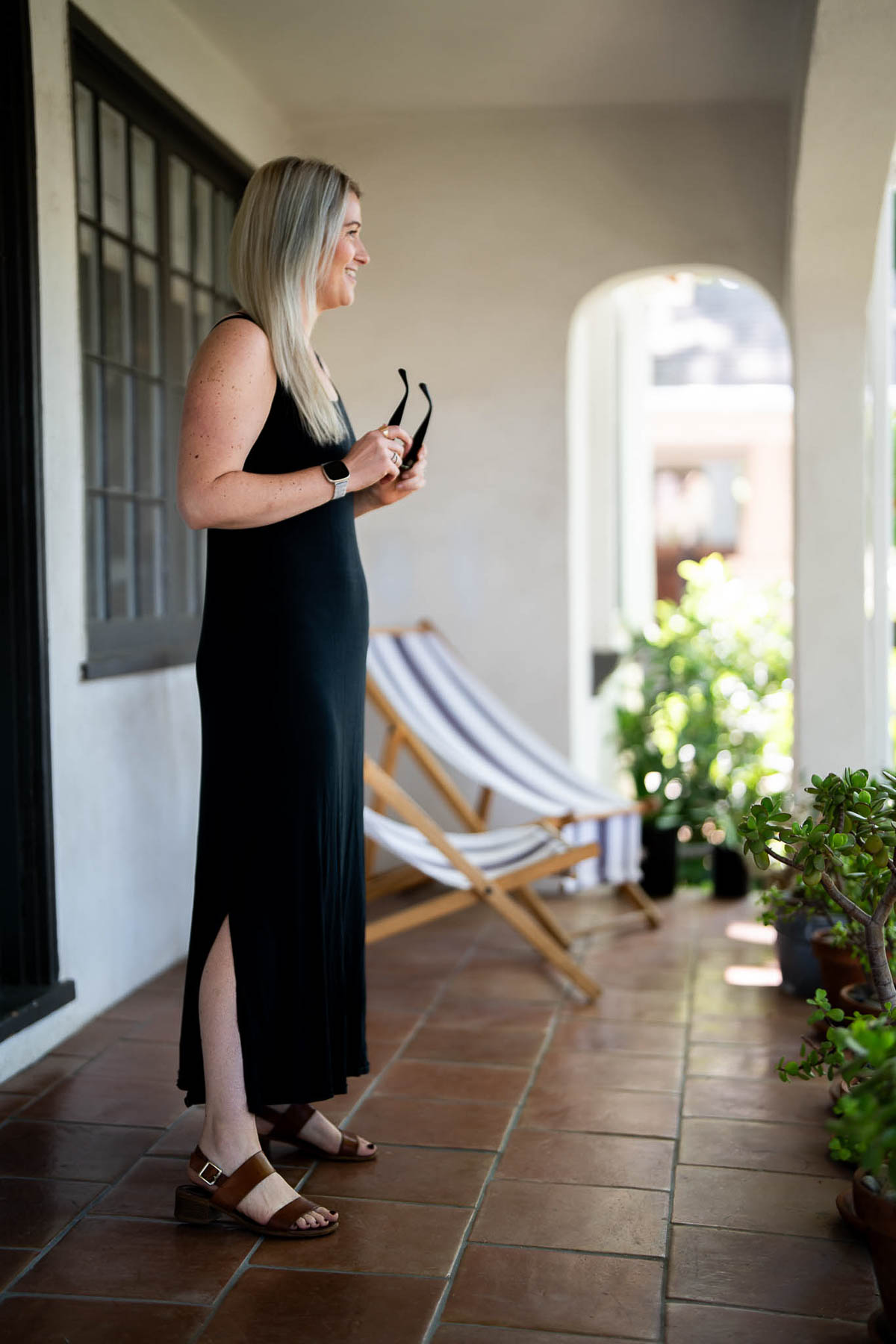 I have one dress with pockets and besides being useless, they also make my thighs look much bigger than they really are – no good!
Shop these Long Black Dresses


Sustainable, Eco-Friendly Dresses
When it comes to buying more sustainable clothing (dresses, coats, whatever), there are a lot of things to consider. I'm still learning all there is, so let's just start with a few basics – in no particular order.
What is the item made out of of? Finding things that are made from renewable sources and, especially, organically grown is really important.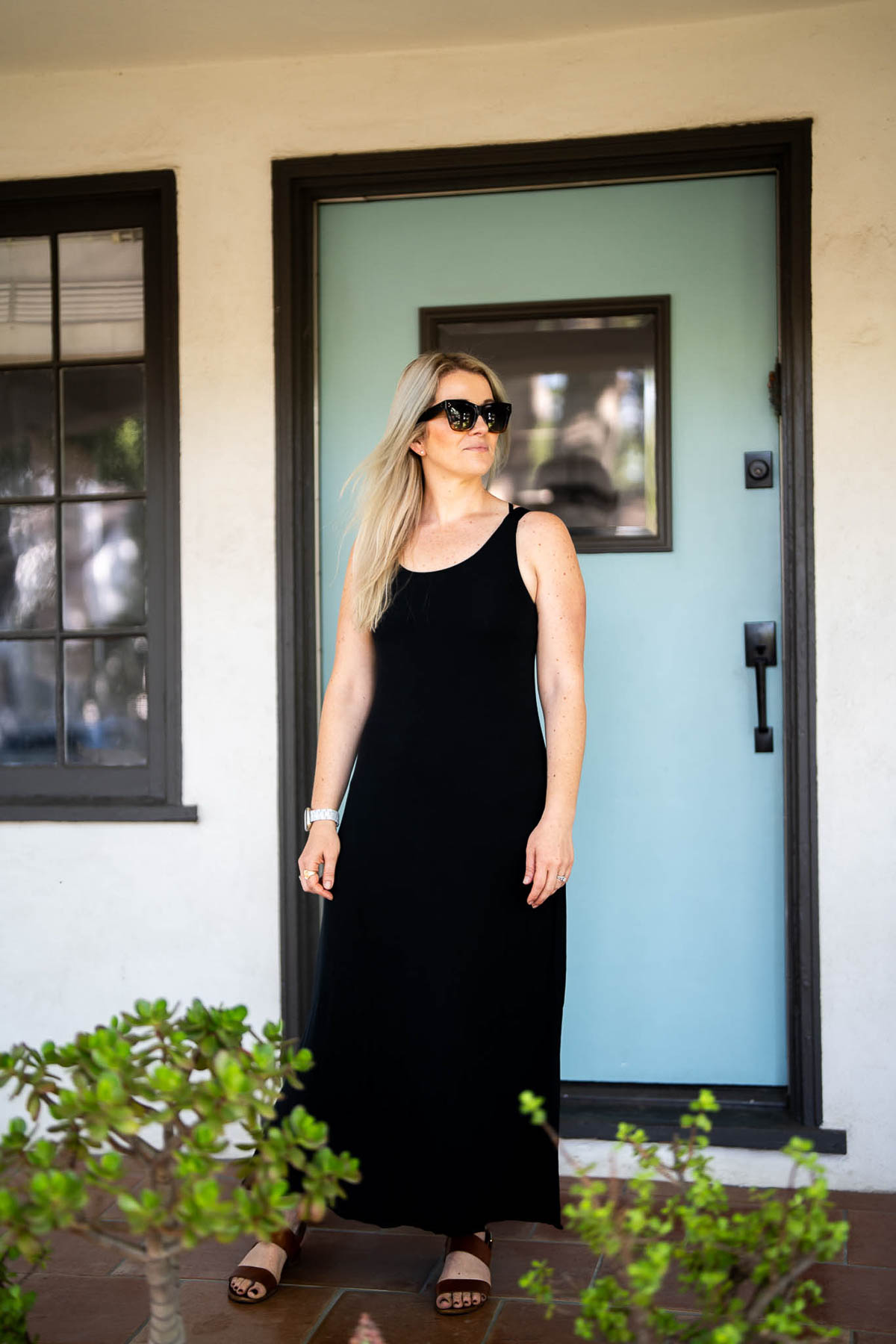 Many common materials (e.g. rayon, polyester, spandex, etc.) are actually made from plastic materials. So every time you wash the item, tiny pieces of plastic going into the water stream (a source of microplastics in the world's water.
It also means these items aren't compostable or biodegradable whereas cotton, bamboo, flax, linen, etc. are. It's actually quite difficult to find items that don't contain some plastic-based materials, but less is better.
It's also important to think about the sources and resources used during production. Many companies are starting to be more transparent about their processes and what they're doing to improve their ecological imprint! A company that's carbon neutral or even carbon positive is fabulous!
And it's important to consider who is making your clothes and how they're treated – on a basic level, we want to move away from sweatshops and any forced labor. Finding something that's fair-trade certified or regulated under some other dependable group is great.
Now I'm not perfect on finding all these things outs. To be fully transparent, I'm pretty good on the first one and ok on the second and third. I think aiming for at least one of the above is a great goal!
GOTS Certified and Fair Trade Certified Factory
Carbon Neutral Product and FSC Certified
Airy Organic Cotton Twill Cami Dress
100% cotton, ethical factory production
Low impact materials and eco conscious packaging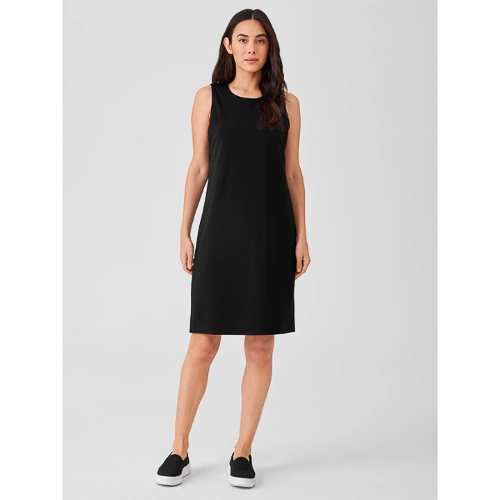 Pima Cotton Stretch Jersey Tank Dress
92% Organic Pima Cotton, 8% Spandex, ethical factory production
95% GOTS Certified and Fair Trade Certified Factory
100% Tencel, Certified B Corp
100% Organic Cotton, GOTS Certified and Fair Trade Certified Factory
More Sustainable Style
Let's get to some other closet staples, shall we? Don't miss these white summer dress or these sustainable shoe companies (you'll want to check out the high end shoes that are also eco-friendly).
When it's time to shop, don't miss the sustainable brands at Nordstrom, second hand clothing sold exclusively by the brands you love, and even sustainable kids clothing brands to keep your whole family in check!
And for those warmer months, swoon over these sustainable swimsuits, these sustainable white dresses, summer shorts (mostly midi length), and all of these gorgeous sustainable tank tops!