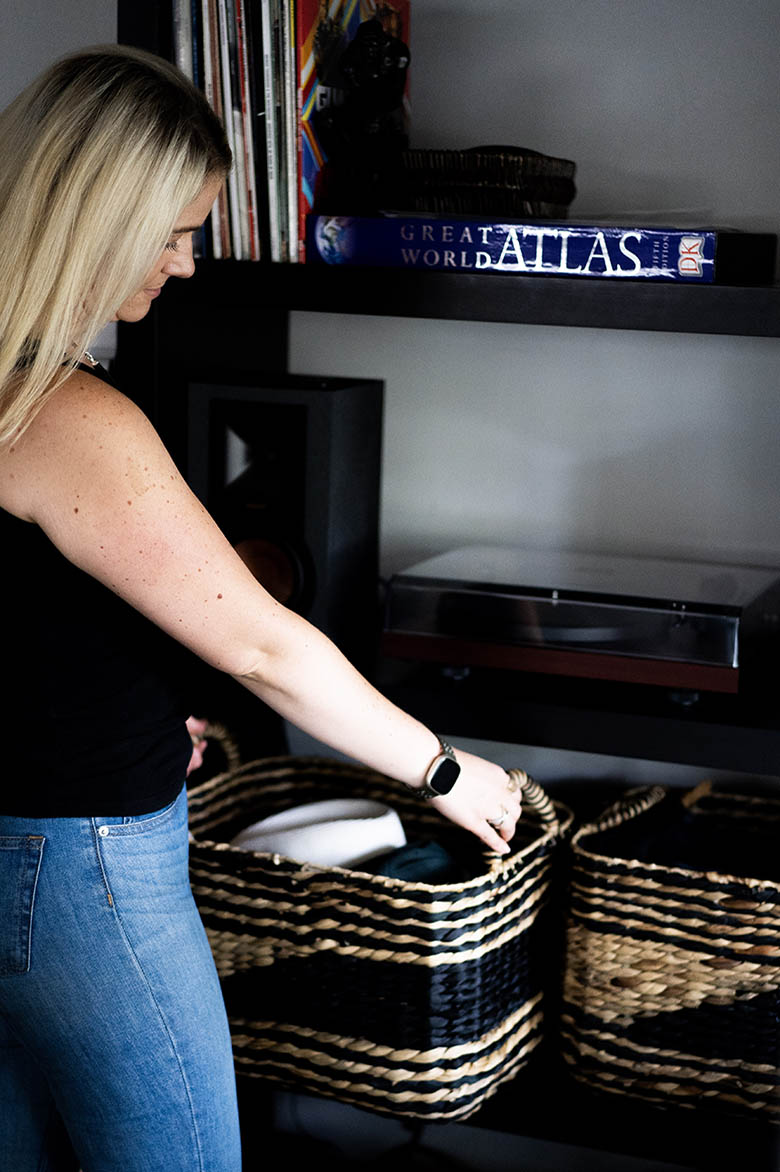 Well. It was bound to happen. After moving in (everything but one box unpacked) 9 months ago, we've finally started "remodeling" an area. It's our bookshelf which (until a few weeks ago) held the record player and albums, dvds, the atlas, and other rather forgettable things. But now it's just a blob in the living room with cords hanging in the back, so I've been madly looking into how to style a black bookshelf.
The thing is…we plan to move on from this huge IKEA bookshelf in the future to just get a great stand for the record player, speakers, and albums, but that isn't happening just yet.
Because we aren't planning to keep this piece of furniture, I want to style it without buying anything new (or at least nothing I can't easily see using after its gone).
How to Style a Black Bookshelf
So amidst these fancifully styled black bookshelves, I've gathered a few things to style the space and keep in IG-worthy and functional until we find the perfect record player stand.
use a single color as your pop of color
This shelf actually uses gold as the pop of color, which I love. I saw some others with white and yellow. To avoid a random looking styled black bookshelf, limit your colors to just 1 or possibly 2 besides that mostly black and white look.

Try Greenery
You know I'm big on houseplants. After reading all about indoor plant decor, I went on a bit of a spree with indoor plants.
I have a few indoor plants that I could try moving over here. I currently have a Devil's Ivy plant on another black shelf in our dining room (we have a black bookshelf thing obviously).
Anyway, it looks quite lovely contrasted against the dark wood. I might try moving it over here, or I could look for another one!

do a single huge focal point
Sadly all our shelves are the same height, so doing this idea of a piece of artwork might be a little harder, but I'm going to try to figure something out.
Not only do I love how the framed art draws your eye to one place – it'd be a great way to cover up any cords behind, which are numerous with our record player and speakers. It's the perfect solution for how to style a black bookshelf!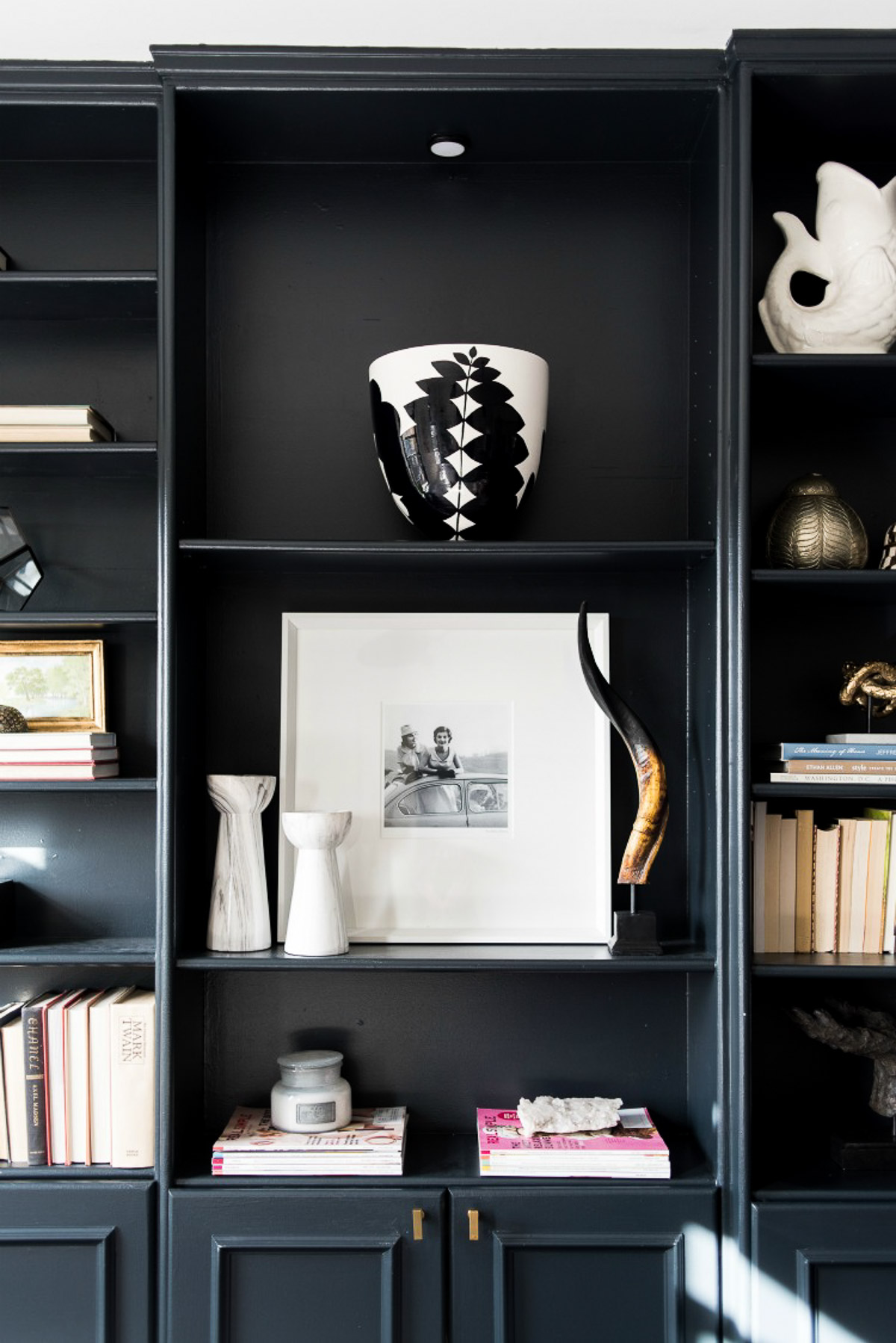 {photo via Shannon Claire Interiors}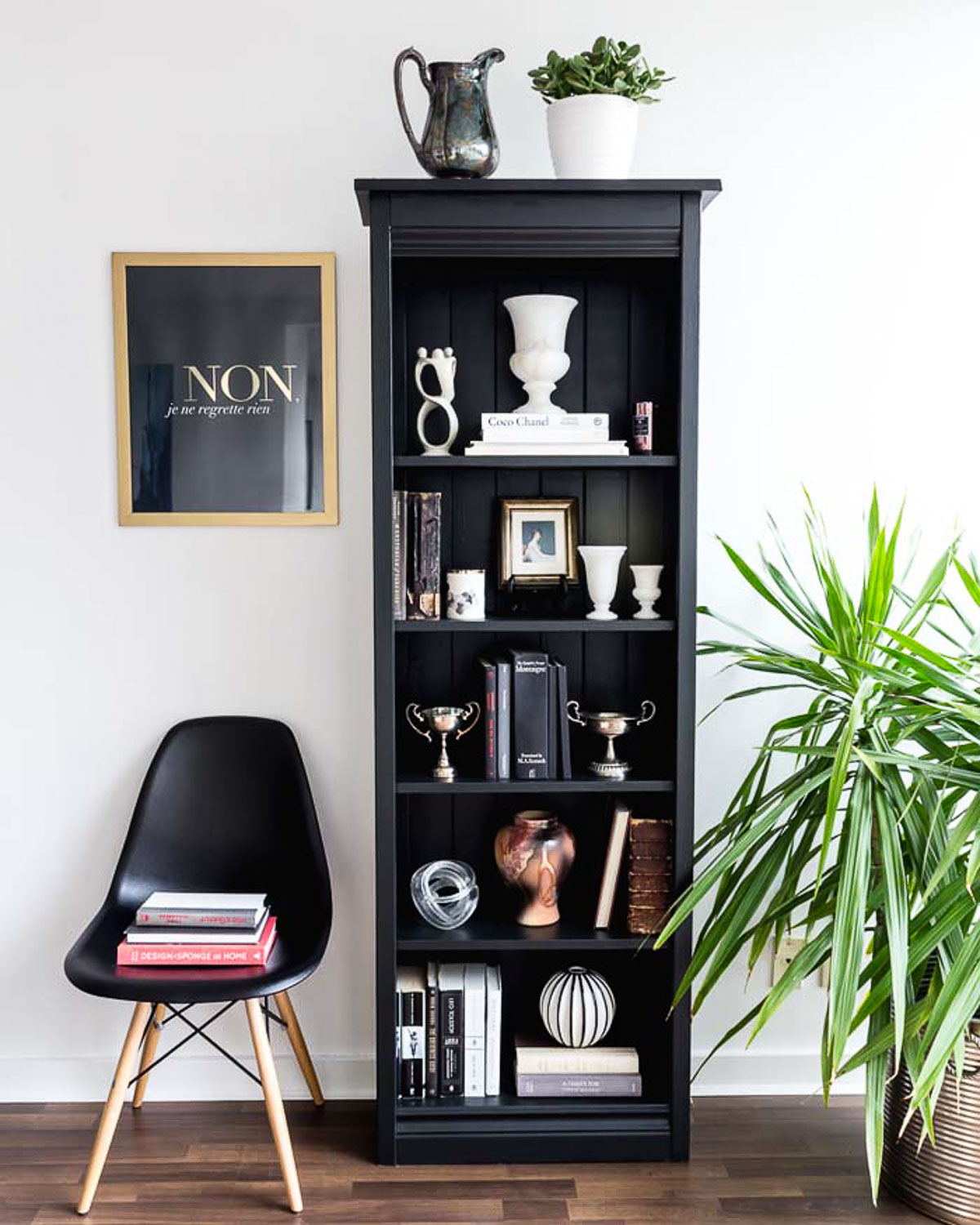 {image via PoppyTalk}