I'm a big fan of crostini. Or tartines. Or toasts. Whatever you want to call them, basically toasted bread with toppings. I'm all about it. This grilled peach goat cheese appetizer is secretly a deconstructed crostini in my book – all the great flavors, a beautiful presentation, and about ¼ of the work for me to make!
So, yeah, toast with yumminess on top is a go to for all my entertaining recipes. While the ingredients are rarely too much work, the assembly can really take some time – getting everything spread, layered, and displayed just takes some time.
And time I'm willing to give, but sometimes you just can't even, and so you artfully put all the layers together on a plate and have people assemble themselves – none the wiser that they're doing your job for you!
Which to be fair, I'll probably be cooking up other seasonal summer recipes, so it's not like I'm sitting around doing nothing with a cocktail in my hand!
Grilled Peach Goat Cheese Appetizer
This goat cheese appetizer is actually ideal for anything in the summer regardless of whether you're making this for guests or enjoying it on your own.
The goat cheese dip requires no cooking, just some mixing of ingredients.
The goat cheese and toasts can be made ahead of time (more below). And, actually, the peaches can be too.
And while the appetizer recipe below technically calls for grilled peaches and nectarines, you can use any stone fruit you like – or really any fruit that's in season year round!
Yep, summer appetizer. fall appetizer. winter. You name it! Make this!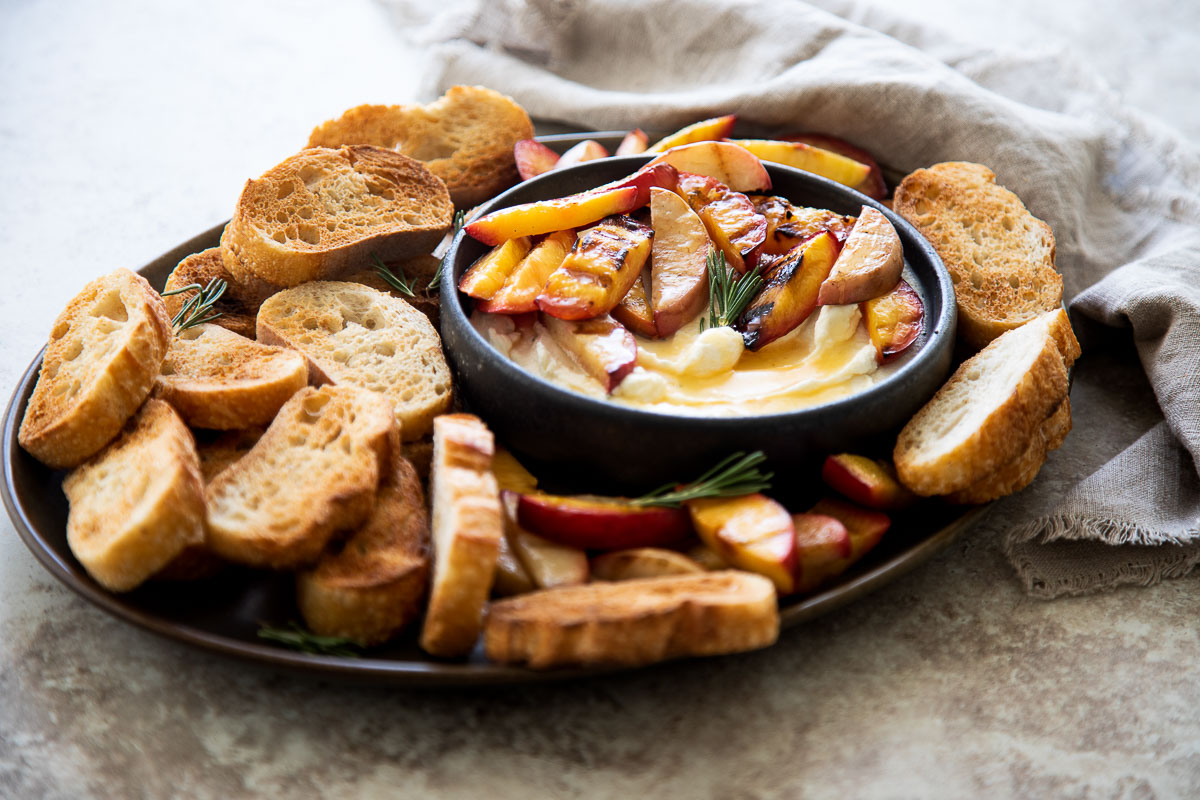 Can i use other fruits
So. Peaches and nectarines are called for in the recipe below. If it's the dead of summer, you can use any stone fruit – peaches, nectarines, plums, apricots, pluots, etc.
But really the recipe is perfect year round with whatever fruit is in season. Later this year, try figs. Then pears. Then citrus (like these blood orange crostini) and eventually into berries.
The positively wonderful thing about using grilled peaches and nectarines is that they have these great, naturally sweetened juices and they become nicely softened with cooking.
Some fruit won't require grilling, like delicate berries, but you could heat them or even just smash them to get some of the juices out.
Pears and figs would be sublime grilled on this.
So this goat cheese appetizer really is your pandora's box for year round deliciousness!
SPRING & SUMMER COOKBOOK
DELICIOUS RECIPES TO ENJOY SPRING & SUMMER PRODUCE TO ITS FULLEST. SIMPLE AND DELICIOUS RECIPES MADE FROM SCRATCH FOR YOUR FAMILY AND YOUR GUESTS ALL SUMMER LONG!
what if I don't have a bbq
SO while the appeal of throwing the fruit on a bbq outside (or even on the go) is very appealing, it isn't the only way to enjoy this dish.
If you're indoors with an oven, a grill pan like this is perfect. You'll still get the grill marks and that great cooked flavor.
And you can even use a standard saute pan, you just wont get the grill marks and the juices will all stay with the peaches as opposed to dripping off onto the grill. But it'll still be yummy!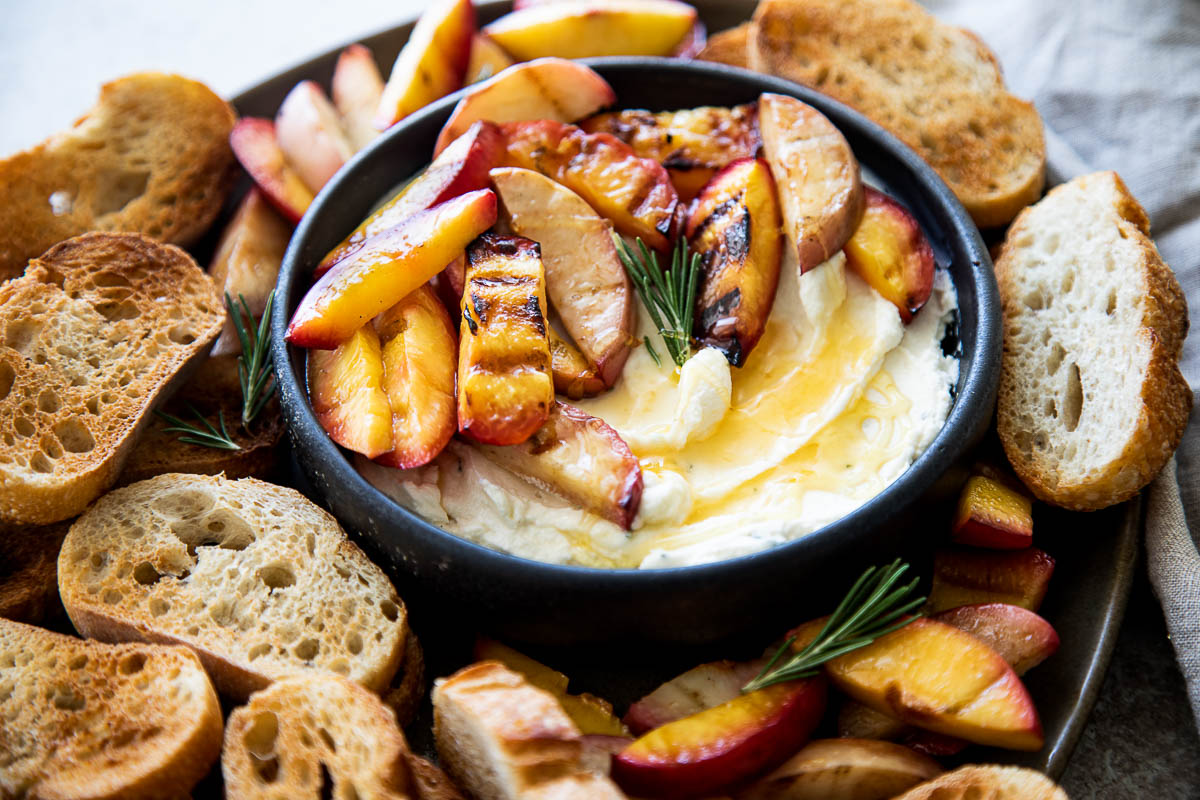 Can I Make this Goat Cheese Appetizer Ahead of Time?
I feel like in summer especially, it's hard enough to find time to get together, let alone pack that with time to make a dish just before getting together.
So, yes, thankfully, this dish can absolutely be made ahead of time.
For the goat cheese dip, whip and then refrigerate. I'd pull it out about 20 minutes before serving so it can warm a bit and be easier to spread.
The bread can be toasted up to 24 hours ahead of time. When you pull them out of the toaster, allow them to cool COMPLETELY on a wire rack. Then place them in a sealable container, with a small hole or opening to allow a bit of breathing.
And the peaches can be made up to 24 hours before, though know that the fruit will continue to soften after cooking, so the pieces may not be quite as shapely.
Then assemble when needed.
More Summer Appetizers
Stone Fruit Recipes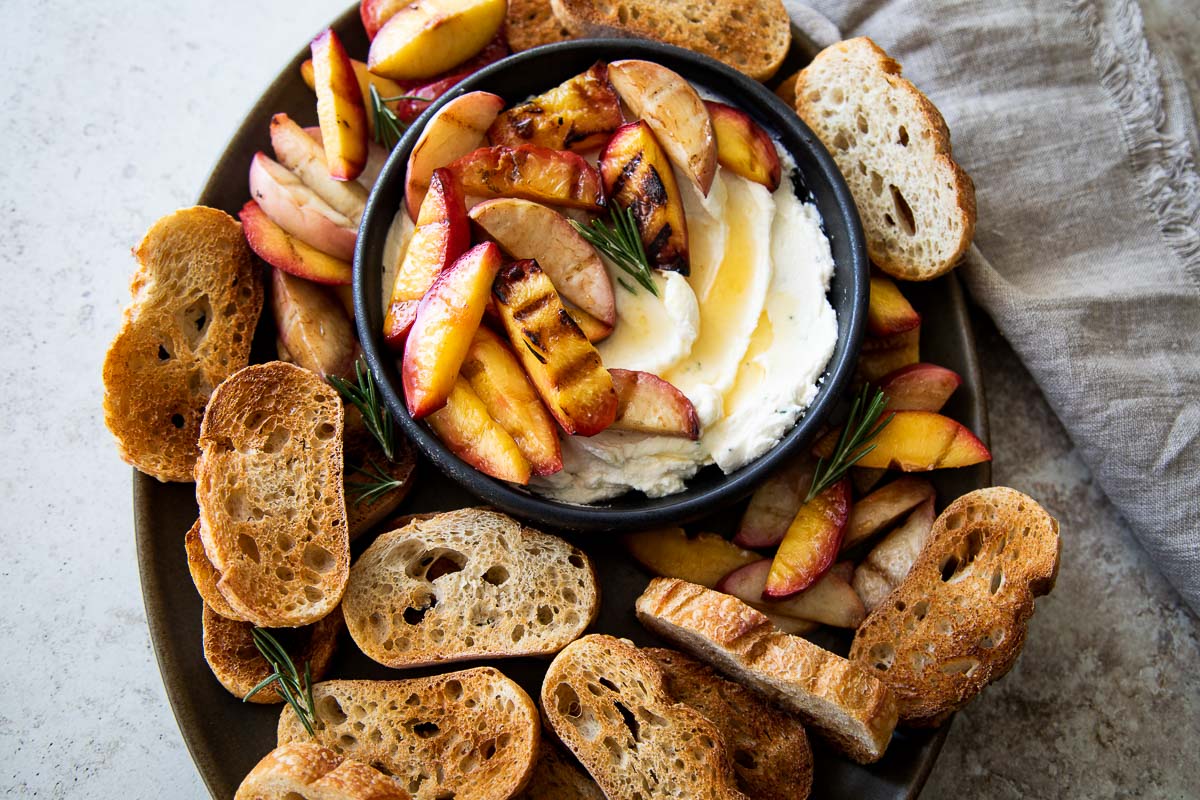 Summer Drink Recipes
Summer produce offers tons of tasty sipping options. For non-alcoholic beverages, try this fresh peach lemonade, cucumber lemonade (and this cucumber coconut water while you're at it), and healthy iced tea ideas, including this lavender iced tea!
For some adult sips, the summer sangria route will never disappoint… Our favorites include plum sangria, cantaloupe sangria, strawberry sangria, nectarine sparkling rose sangria, cherry sangria, and watermelon sangria!
Other summer libations include fresh fig spritzer, this rhubarb whiskey cocktail, and any one of these strawberry cocktails!
Print Recipe
WHIPPED GOAT CHEESE APPETIZER
A delectable and simple summer appetizer everyone will love. A whipped goat cheese appetizer topped with grilled peaches and other stone fruits. Easy to make ahead, carry to a potluck, or just enjoy in your own home.
Ingredients
10

ounces

goat cheese

at room temperature

1 ½

tablespoons

honey

1

tablespoon

heavy cream or half-and-half

1

teaspoon

minced fresh rosemary leaves

1

large or 2 small white or yellow peaches

1

large or 2 small white or yellow nectarines

1

tablespoon

olive oil

1

baguette

sliced and toasted

Honey and rosemary sprigs for garnish
Instructions
Add the softened goat cheese, honey, cream, and rosemary to a medium bowl. Stir well until all ingredients are combined. Continue to stir vigorously for 1 minute, until the goat cheese is light and spreadable. Transfer to a serving bowl and set aside.

Preheat the grill to medium-high heat, 375 to 450 degrees F.

Pit and slice the peaches and nectarines. Place on a baking sheet or plate and drizzle with olive oil. Move the fruit around to coat each piece. Grill for 3 to 5 minutes, until grill marks appear, the fruit softens, and juices begin to flow out of the pieces.

Place the bowl with the goat cheese on a serving platter. Place the warm fruit on top of the goat cheese and beside the bowl. Arrange the toasted baguette slices around the platter. Drizzle honey over the goat cheese and fruit in the bowl. Sprinkle the whole plate with sprigs of rosemary for garnish. Serve right away.
Notes
Save this recipe on Pinterest!
Make this recipe? I'd love to see how it turned out…
PINTEREST: Upload a photo and your review to this Pin!
INSTAGRAM:  Tag me
@lucismorsels
and use #LMrecipes
Nutrition
Calories:
297
kcal
|
Carbohydrates:
29
g
|
Protein:
13
g
|
Fat:
14
g
|
Saturated Fat:
8
g
|
Polyunsaturated Fat:
1
g
|
Monounsaturated Fat:
4
g
|
Cholesterol:
25
mg
|
Sodium:
439
mg
|
Potassium:
131
mg
|
Fiber:
2
g
|
Sugar:
11
g
|
Vitamin A:
685
IU
|
Vitamin C:
2
mg
|
Calcium:
113
mg
|
Iron:
3
mg