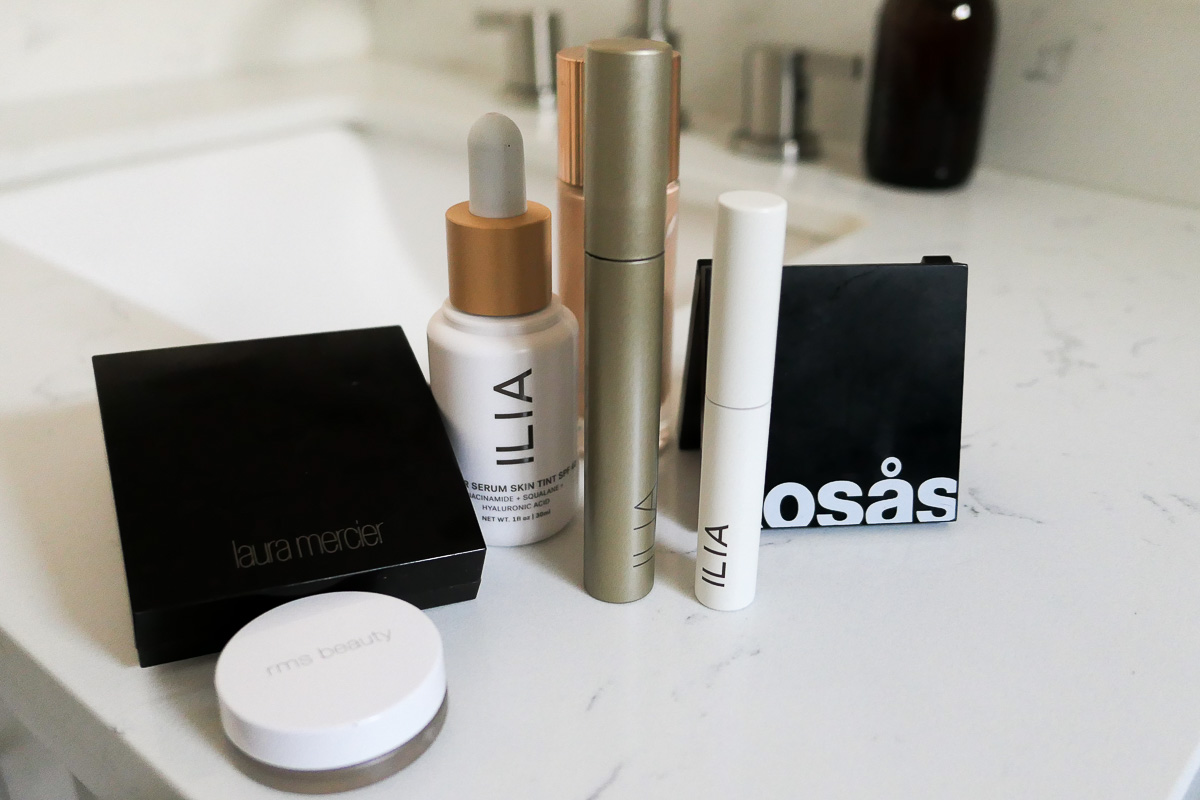 It's taken me a few years, but I've finally got a complete clean makeup routine (save one product noted below).
Transitioning to a clean makeup routine (and beauty) is daunting at first and expensive. I recommend starting with items in your routine you often switch up (i.e. not that tried and true product you swear by). Once you get those taken care of, you can start on trying to find clean alternatives to everything else.
I talk about how to find clean beauty because it isn't straightforward. We're also all busy, so shopping at your go-to stores makes it an easier process!
Clean beauty is an important part of sustainable living (what we put on our skin matters as much as what we wash down the drain). Be sure to check out these other clean beauty roundups:
Must Have Beautycounter Products & Reviews
Clean Beauty at Nordstrom
Clean Beauty at Target
Clean Beauty at Walmart
Clean Beauty at ULTA
My Clean Makeup Routine
Below is everything in my clean makeup routine (and the one "dirty" outcast that I'm just still slowly working my way through). My transition is taking longer than expected with so much time at home in the last few years and that whole becoming a mother thing. But my routine is perfectly right for me at the moment!
You can also see my clean beauty skincare routine as well as my go to clean hair products!
Concealer
I've been using this RMS Beauty Un Cover-Up concealer for a few years now. In addition to covering up areas, it also adds a nice hue or brightness – not in a shiny, oily…in a healthy skin looking way!
RMS Beauty is a clean beauty company that sells its items in recyclable containers – often made of recycled materials and reusable!!
There are 16 shades, which is daunting. There's a good showing of each of the shades here, and I guessed right on the number the first time (I'm #11), so it's pretty helpful!
---
FOUNDATION
A lot of people hype up this tinted SPF Super Serum and I do love it. It's wonderfully dewy, has SPF, and is only lightly scented.
For everyday wear, shake the bottle, drop some into your palm and press into your skin like a serum.
To use as more of a traditional foundation, shake the bottle, drop some onto the back on your hand, and dab it onto your skin with a foundation brush.
If you're looking for a very lightweight tinted SPF, however, I can't recommend this one enough. It's perfectly lightweight, offers 50 SPF, and the container is curbside recyclable! Read my full Daybird skincare review!
---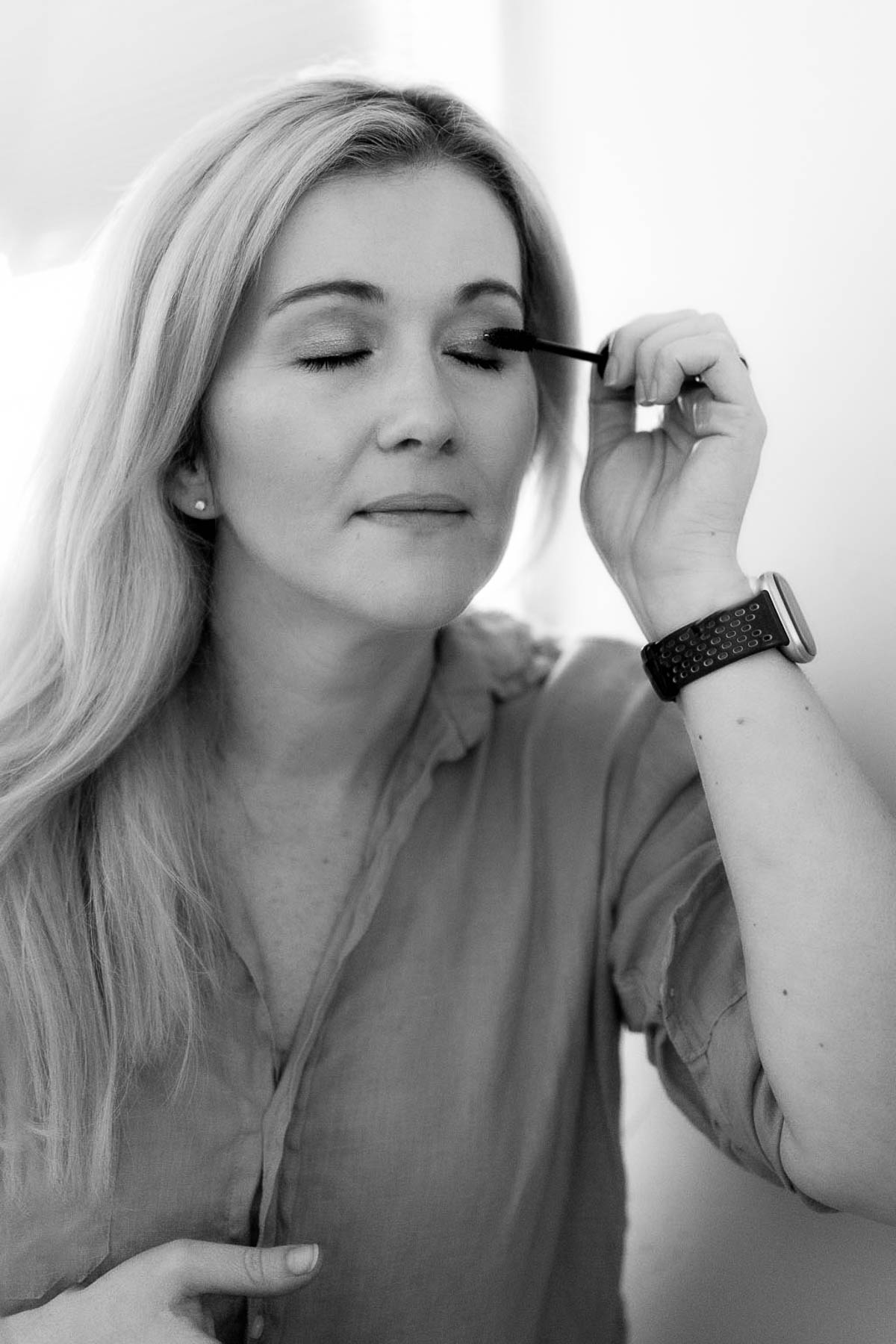 ---
BLUSH
This in my first blush stick and I rather like it – if only because it doesn't require a separate brush. This Westman Atelier blush stick (I use couchette) requires just one swipe on each cheek. Then either rub it in for a very subtle color or dab it in for something more definite!
If you prefer a pressed powder and brush application, try Kosås Color & Light Powder Blush Duo. The highlighter doesn't have as much sheen as I like, however, so I use it as an eyelid base with just my mascara and, sometimes an eyeliner.
---
---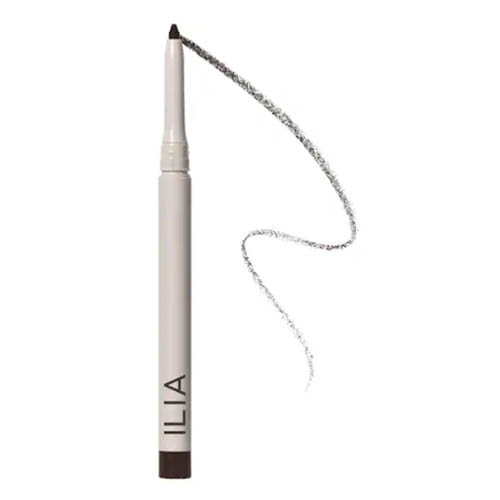 EYELINER
After taking a few years off of wearing eyeliner, I finally decided to start hunting a clean one down. Let me tell you it wasn't the easiest. The one brand I had my eyes on for years ended up disappearing from my eyes within about an hour. Unacceptable.
A friend recommended this ILIA gel eyeliner (you'll see below how much I love ILIA products). I have the duck-brown and love the formula and ease of application.
I wish the eyeliner wasn't in a plastic container (makeup recycling here I come)and I haven't mastered how to get a very thin line, but otherwise I'm enjoying it!
You can see one of my few easy eyeshadow looks with this eyeliner here.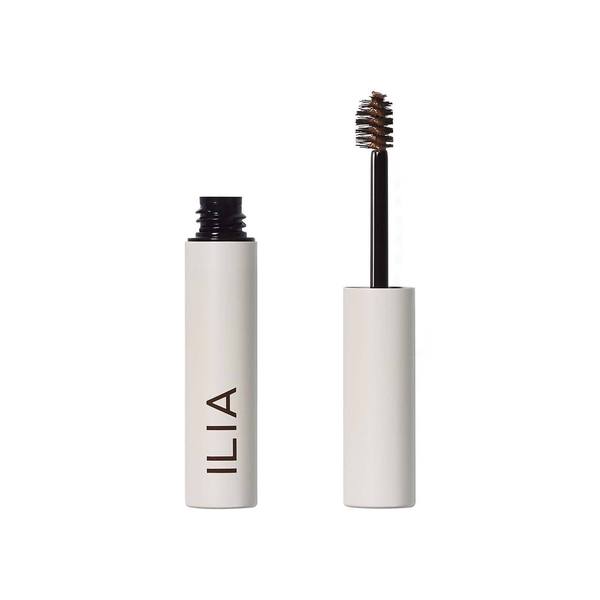 BROW GEL
I've shared this ILIA essential brow gel before. I'm now on my second tube – it's just perfect for me. Eyebrow products were the last thing I added to my setup, but one of the first things I switched out in my clean makeup routine!
I use the blonde color as I always have in eyebrow products. Though it's a gel, it doesn't go on heavily or cake at all! I'm really loving the ILIA brow gel!
BROW PENCIL
I go through phases with eyebrow gel or pencils, so I'm sharing them both. Ere Perez Eyebrow Pencil is designed as a one-size-fits-all coloring. While I'm usually skeptical of such claims, I find this one to work well for my actually blonde-ish eyebrows!
---
MASCARA
So. My mascara is the one product that HAS to be perfect – clean makeup routine ro otherwise. I have sensitive eyes but want some good coverage. I've tried a few clean options (read my clean mascara reviews) and have had mixed experiences.
The current one I'm using is the ILIA Limitless Lash Mascara. I really like the coverage (the wand took some getting used to on my part) and it's fine for my sensitive eyes.
---
---
And then I actually don't wear lipstick, just one of these natural lip balms or chapsticks and I'm all set!
Looking for summer beauty? You'll love that list of must-have products and best practices for that au natural summer look!
Get Everything for a Clean Makeup Routine

See more sustainable product reviews as well as my favorite hair products and my complete Innersense organic hair product reviews!