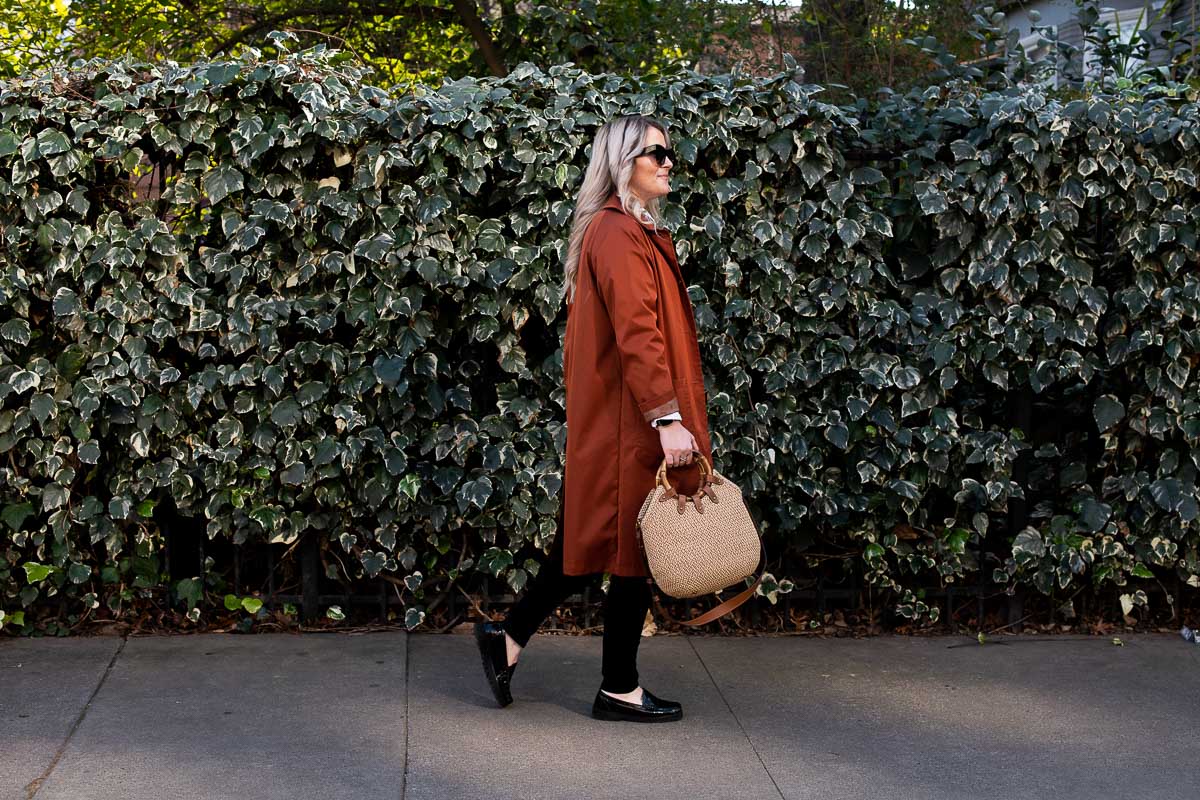 This post is also entirely too long in the making. If you've ever seen the B Corp symbol (a capital B in a circle with a line underneath, then you've encountered a B Corp. They're EVERYWHERE and they're simply fantastic, but what is a B Corp?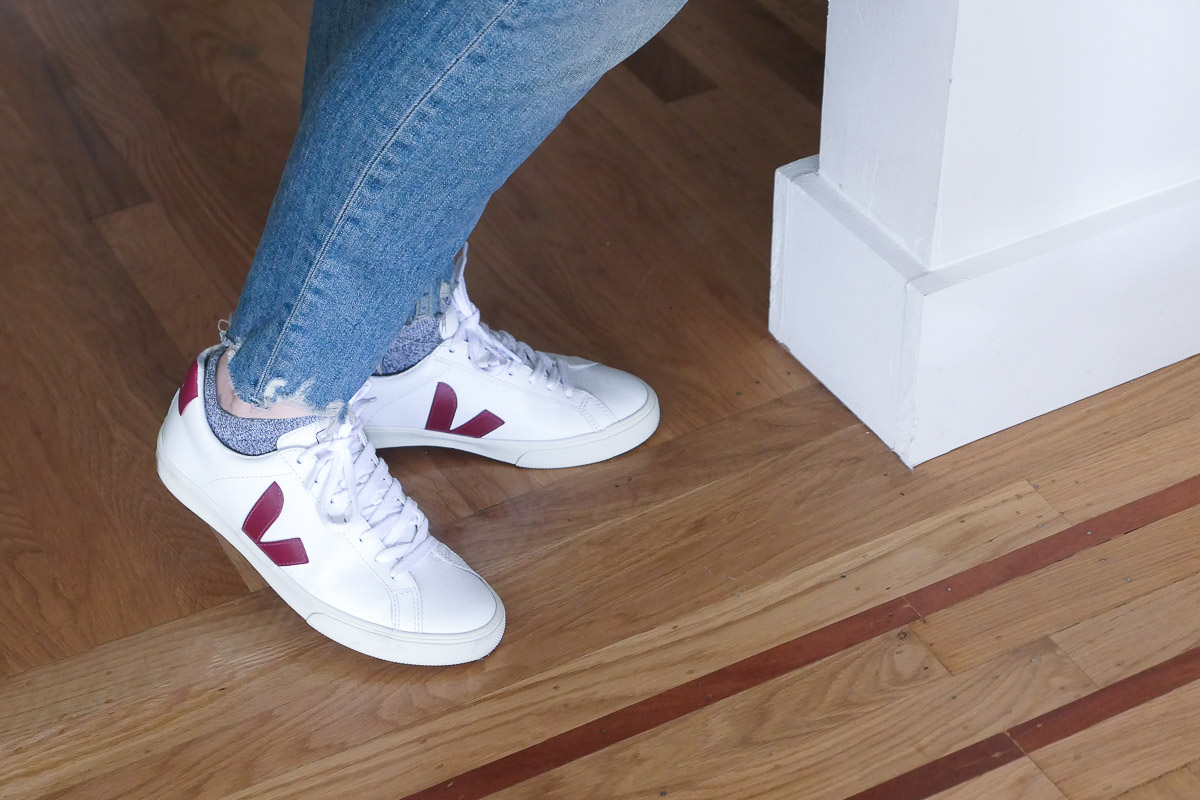 What is a B Corp?
Because I want to start sharing more sustainable brands and companies, I feel the need to make a simple to understand post about B Corps.
I hope you'll understand what a B Corp is, why I think it's good to support them, and you'll understand the scores I'm starting to share around my website (like in last week's stylish and sustainable shoes brands piece).
What is the Purpose of B Lab & B Corp?
B Lab is an independent platform that scores FOR PROFIT companies on their benefits to the world. So it's basically a grading system for all these companies to decide if they're actually helping people and/or the environment in some way.
Or, as I like to think of it, an easy way to make sure companies are on the up and up about their "goodness," so I can feel good about where I spend my money!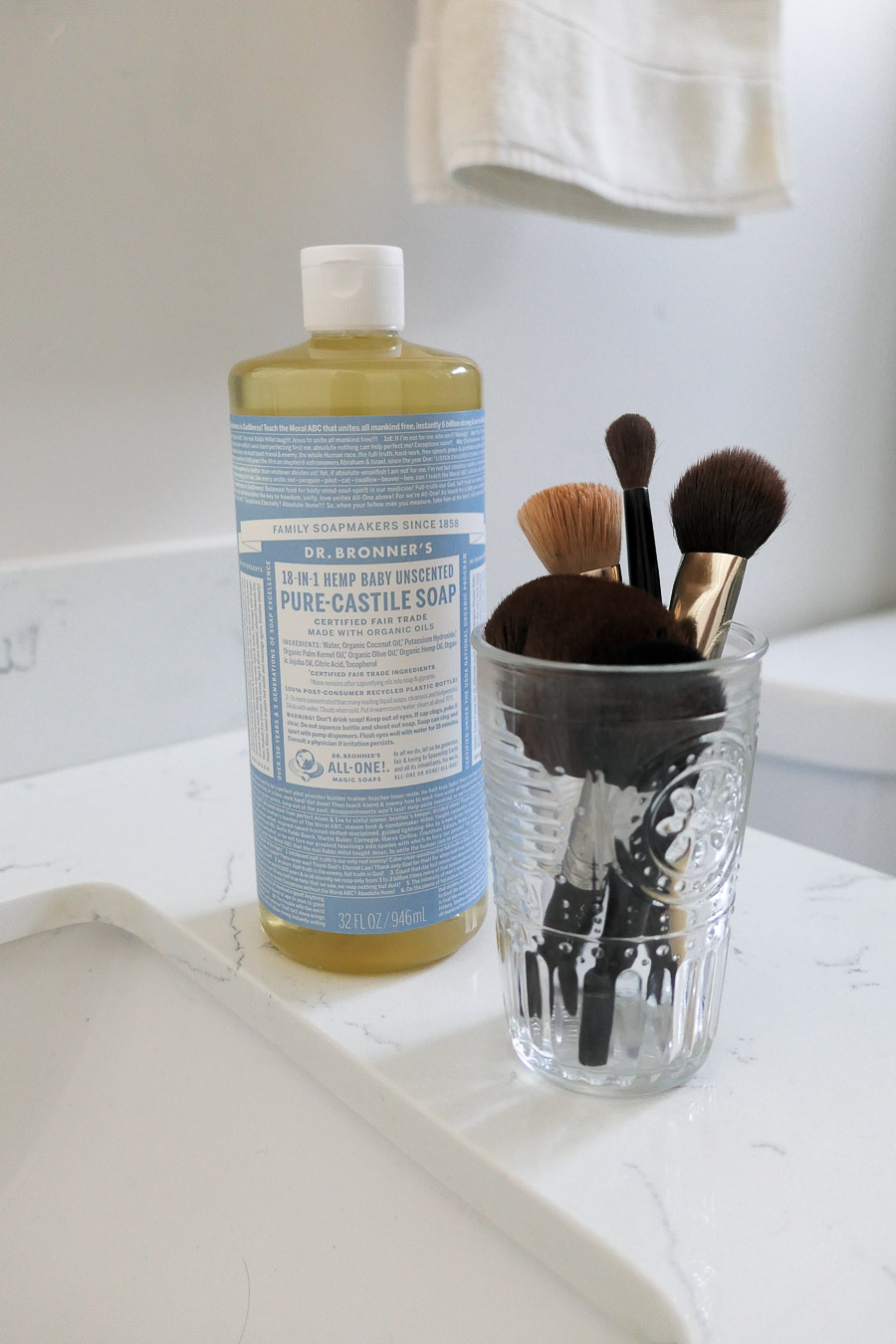 Who can Become a B Corp?
Pretty much any company. Any for-profit company can apply for the assessment. The great part is that size and income aren't a factor in qualification for application.
BUT the size of the company is taken into consideration during the grading process, so a company with 10 employees doesn't have to meet the same expectations as one with 10,000!
And the type of business doesn't matter either. Their list contains everything from fashion brands, to building material companies, communications, machinery, investment advisors. Anything!
What Makes a Company a B Corp?
B Lab uses five pillars to grade companies. Most for-profit companies average a score of 50.9. In order to become a B Corp, the company must score at least an 80. While many companies just eek into the 80+ score range, some companies are well into the 100s. The max score is 200.
It's also important to note that no one category has a minimum score, so a company can score over 80 by excelling in a single category or making smaller actions in each category.
Companies are also regraded every 3 years, so there's oversight, and companies are encouraged to score higher with each round of assessment.
The 5 Pillars of B Corp Companies
Companies are graded in each of the five following pillars.
The following explanations of each of the five categories of grading to become a B Corp are copied exactly from their website.
Governance
Governance evaluates a company's overall mission, engagement around its social/environmental impact, ethics, and transparency. This section also evaluates the ability of a company to protect their mission and formally consider stakeholders in decision making through their corporate structure (e.g. benefit corporation) or corporate governing documents.
Workers
Workers evaluates a company's contributions to its employees' financial security, health & safety, wellness, career development, and engagement & satisfaction. In addition, this section recognizes business models designed to benefit workers, such as companies that are at least 40% owned by non-executive employees and those that have workforce development programs to support individuals with barriers to employment.
Community
Community evaluates a company's engagement with and impact on the communities in which it operates, hires from, and sources from. Topics include diversity, equity & inclusion, economic impact, civic engagement, charitable giving, and supply chain management. In addition, this section recognizes business models that are designed to address specific community-oriented problems, such as poverty alleviation through fair trade sourcing or distribution via microenterprises, producer cooperative models, locally focused economic development, and formal charitable giving commitments.
Environment
Environment evaluates a company's overall environmental management practices as well as its impact on the air, climate, water, land, and biodiversity. This includes the direct impact of a company's operations and, when applicable its supply chain and distribution channels. This section also recognizes companies with environmentally innovative production processes and those that sell products or services that have a positive environmental impact. Some examples might include products and services that create renewable energy, reduce consumption or waste, conserve land or wildlife, provide less toxic alternatives to the market, or educate people about environmental problems.
Customers
Customers evaluates a company's stewardship of its customers through the quality of its products and services, ethical marketing, data privacy and security, and feedback channels. In addition, this section recognizes products or services that are designed to address a particular social problem for or through its customers, such as health or educational products, arts & media products, serving underserved customers/clients, and services that improve the social impact of other businesses or organizations.
B Corp Companies You've Heard Of
As I always say when it comes to making the transition to sustainable living, it isn't as difficult and foreign as many expect. In fact, many companies you know and love are B Corps, so it's a matter of just realizing who's making the extra efforts and where to spend your money!
Below is just a short list categories and just a few companies in each (along with their scores). Have fun searching B Corp companies and see what each of them in doing!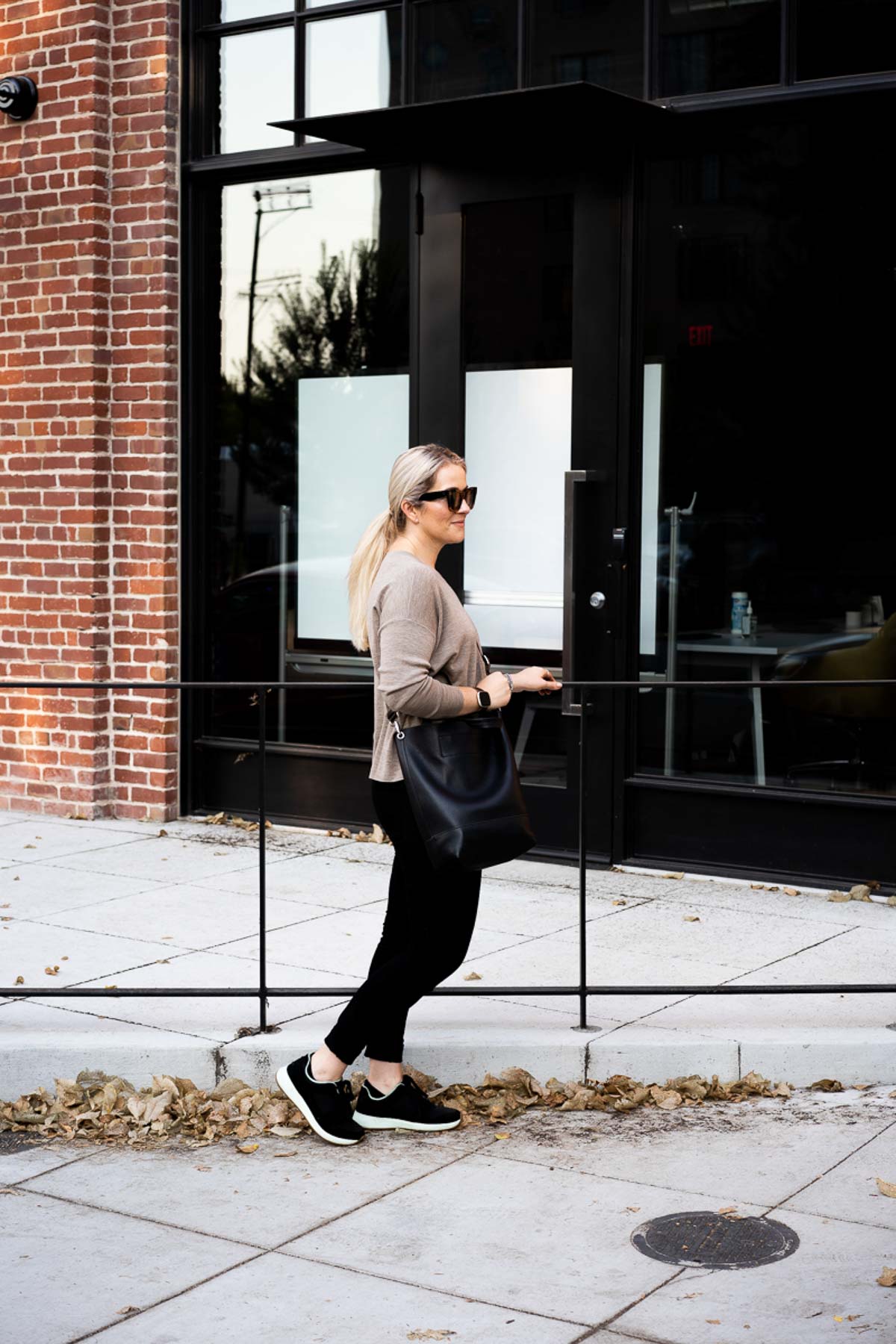 Fashion B Corps
BOMBAS (96.6) – Read my Bombas Socks review
Chloé (85.2)
Eileen Fisher (89.1) – a few EF Favorites – Long sleeve denim dress outfit, a long shirt & jeans ensemble, the sweater in these fall weekend outfits.
Frank & Eileen (97.5)
Nisolo (115.4) – one of many sustainable shoe companies
Patagonia (151.4)
Sézane (82.6)
VEJA (84.2) – one of many sustainable kids shoe companies
Beauty B Corps
BeautyCounter (97.7) – see my Beautycounter product reviews
bliss (84.4)
Dr. Bronner (177.8) – (the best makeup brush cleaner)
EO Products (85.8)
Innersense (83.5) – (use code luci15 for 15% off your first purchase)
Sunday Riley (80.5) – their lactic acid serum can't be beat!
weleda (106.8)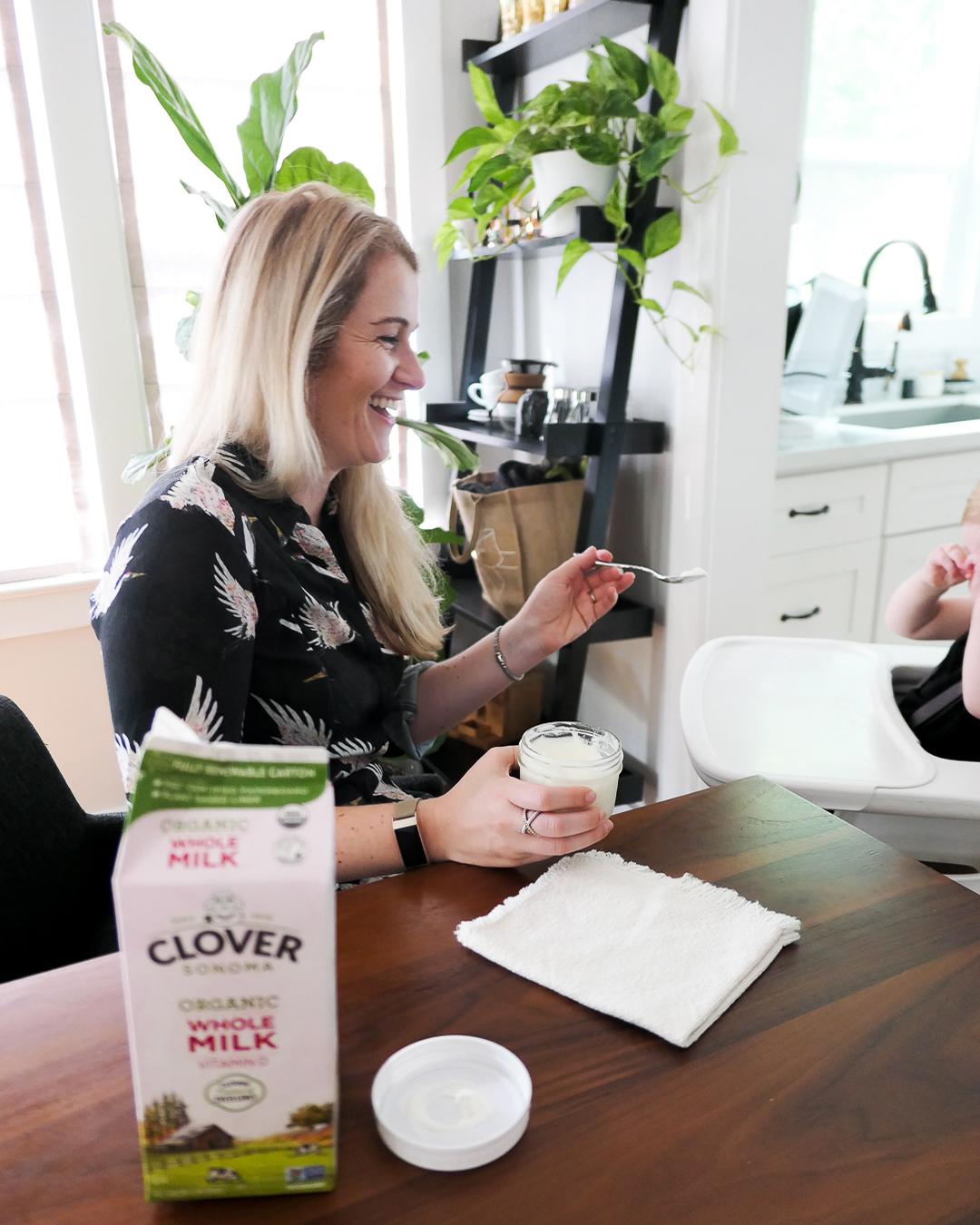 Food B Corps
Allagash Brewing Company (83.8)
Amy's Kitchen (102.7)
Clover Sonoma (100.5) – a Luci's Morsels partner!
Fody Foods (80.6) (low fodmap foods)
Imperfect Foods (84.1)
Miyoko's Creamery (81)
Nespresso (84.3) – one of our favorite ways for more sustainable coffee drinking
Stonyfield Organic (91.8)
Tillamook (86.6)
Wild Friends Foods (85.1)
A few more of note: Who Gives A Crap Toilet Paper (108.9- read my sustainable toilet paper review), Seventh Generation (114.5), Stumptown Coffee Roasters (89.7) (see more sustainable coffee companies).
Sustainable Fashion on Luci's Morsels
Since living more sustainably, I've been making efforts to support companies that are making sustainable choices (not just B Corps).
As working mom time permits, I have been updating old roundups and posts with companies and alternatives that are doing good. Here are a few to check out!
You'll love sustainable shoe companies, sustainable black dresses for summer and these white summer dresses!
When it's time to shop, don't miss the sustainable brands at Nordstrom, second hand clothing sold exclusively by the brands you love, and even sustainable kids clothing brands to keep your whole family in check (not ot mention sustainable shoes for kiddos too)! And these B Corp gift ideas!