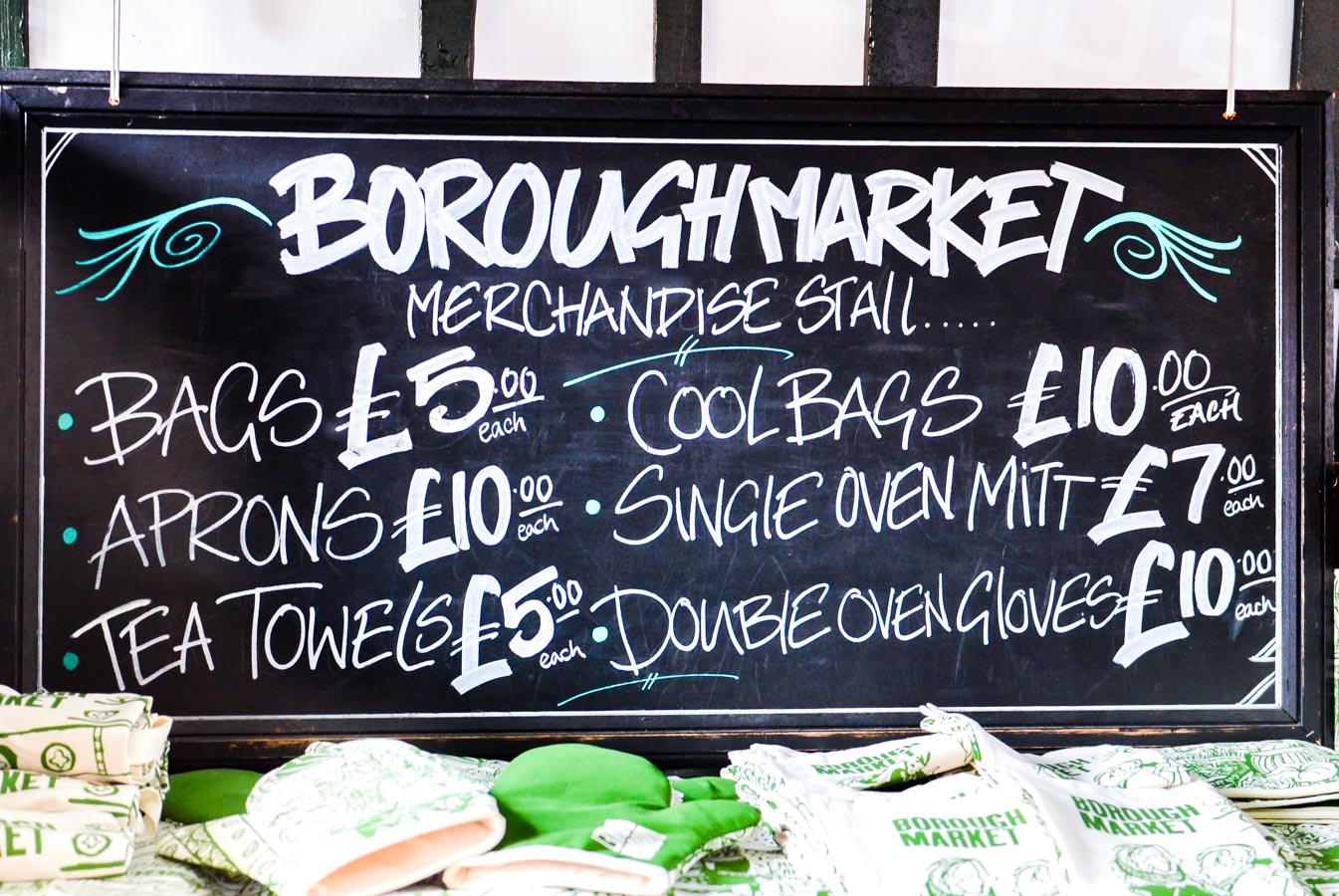 Whenever we travel, I'm fairly open to what we do, but I always love visiting farmers markets. You may remember our visit to the epic St.-Remy farmers market in southern France with the great band. When planning our trip to London, many of you suggested we hit up the markets. Though visiting them all sounded wonderful – at least to me – we knew we had to visit Borough Market.
We actually went to the market twice – once on Christmas Eve to buy food to make in our flat during the holiday and on our last day in the city to grab a few things to take home!
Borough market is great for buying produce, bread, meat, cheese, and many fine foods like truffles and olive oils as well as grabbing some great food and coffee to enjoy then and there!
The market is located just around the corner from the London Bridge tube stop. It's open Monday-Saturday 10am-⅚pm all year and seven days per week in December.
Arrive as close to ten as possible to get some time to wander and ogle! The crowds arrive by about 11, so that first hour is really your golden opportunity!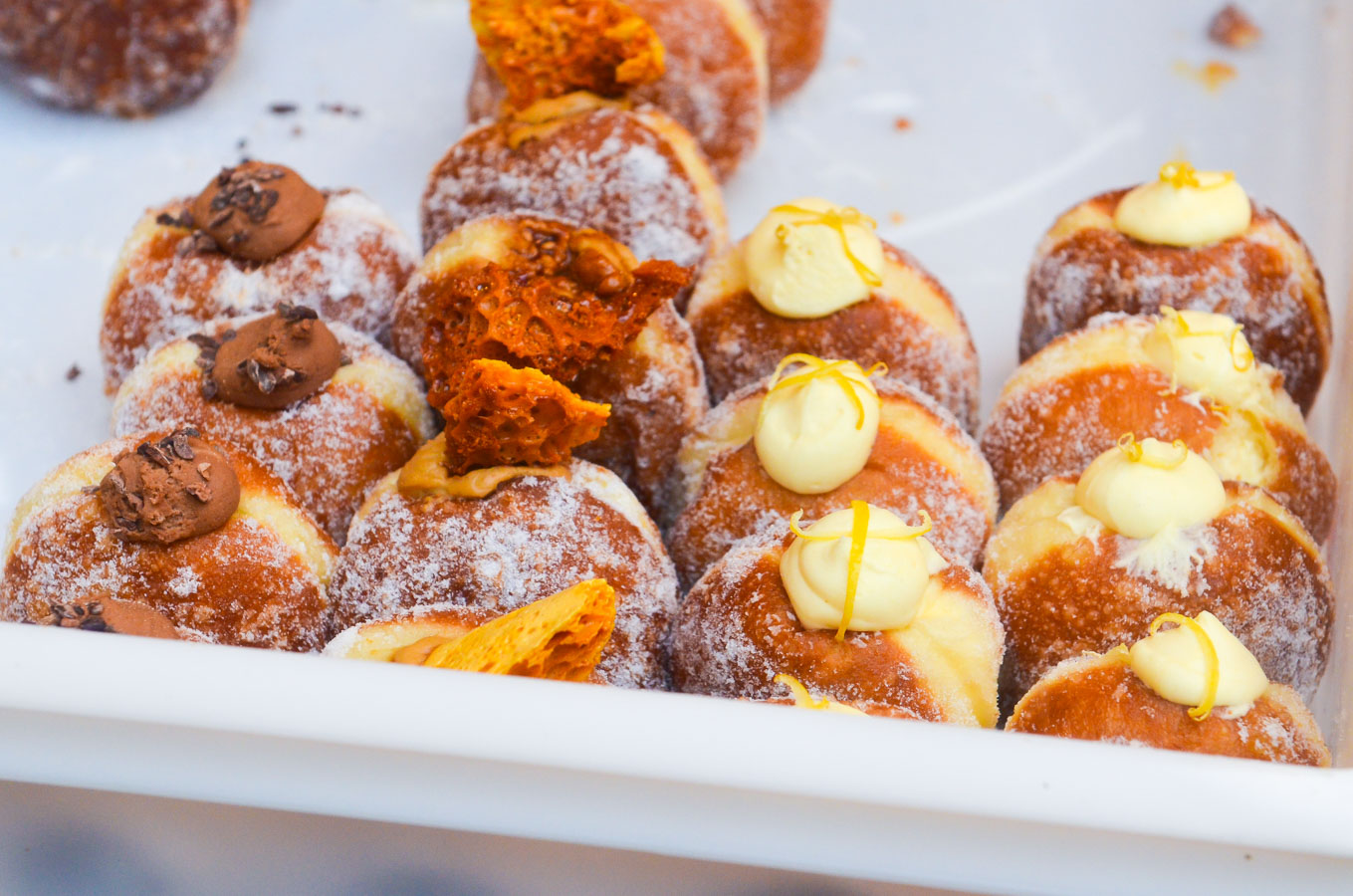 Visitors Guide to Borough Market
Of course one of the first things we spotted were all the great baked goods. Everything from huge loaves of bread and pistachio sticky buns to baklava and filled donuts!
A widely publicized bread booth is Bread Ahead (pictured above). If they're out of what you want, however, they have a brick and mortar shop in Covent Garden that is much less hectic and open more hours!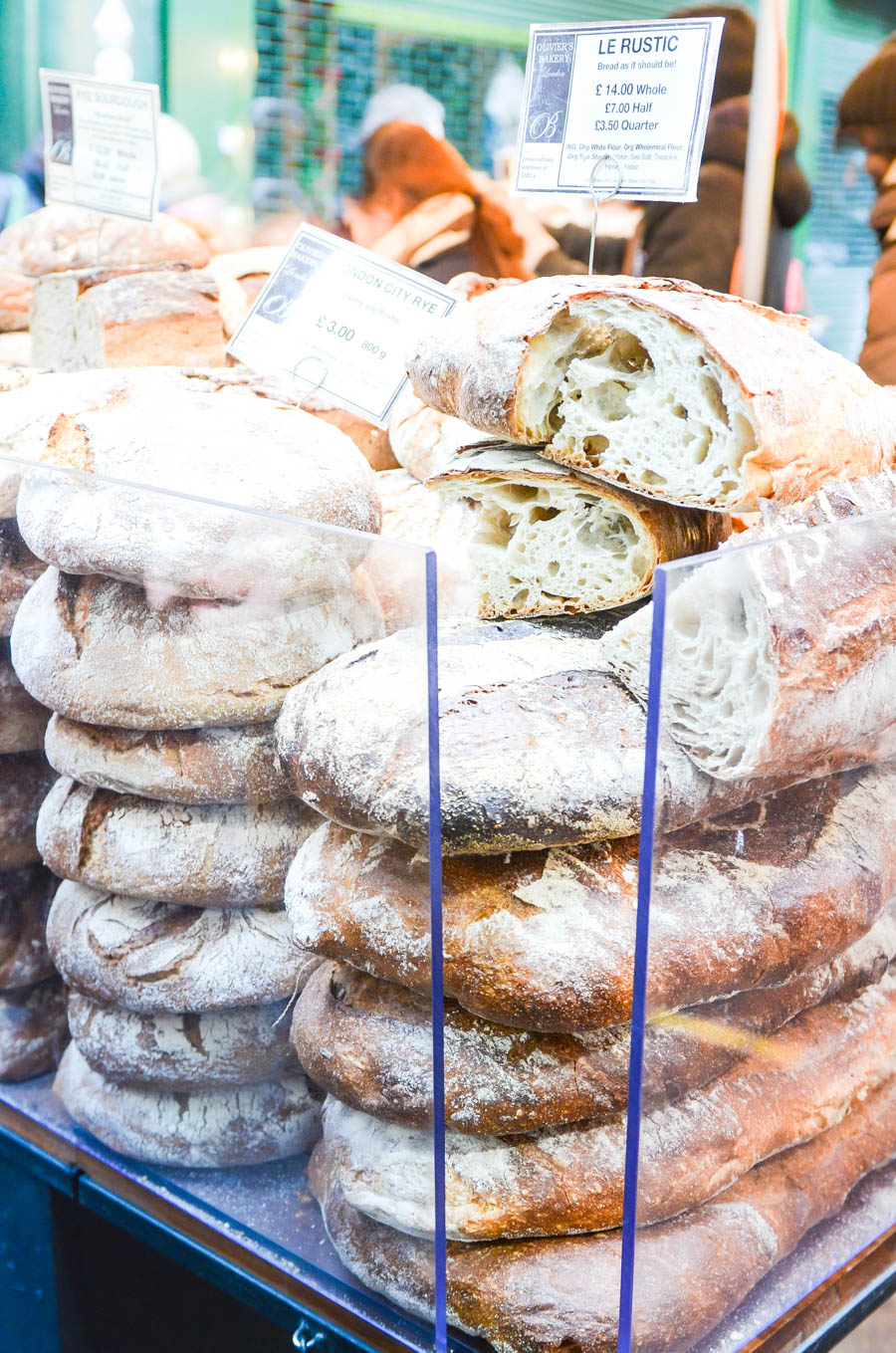 Not far away is Olivier's Bakery with loaves of bread in all sizes. This loaf above cost £14, which is a little over $17 at the moment (yay for a great exchange rate right now!!). If we were serving a huge crowd, that would for sure be coming home with us.
Instead, we opted for the candied walnut loaf per the suggestion of the goat cheese monger who told us her fresh goat cheese paired exquisitely with it! And yes, it did!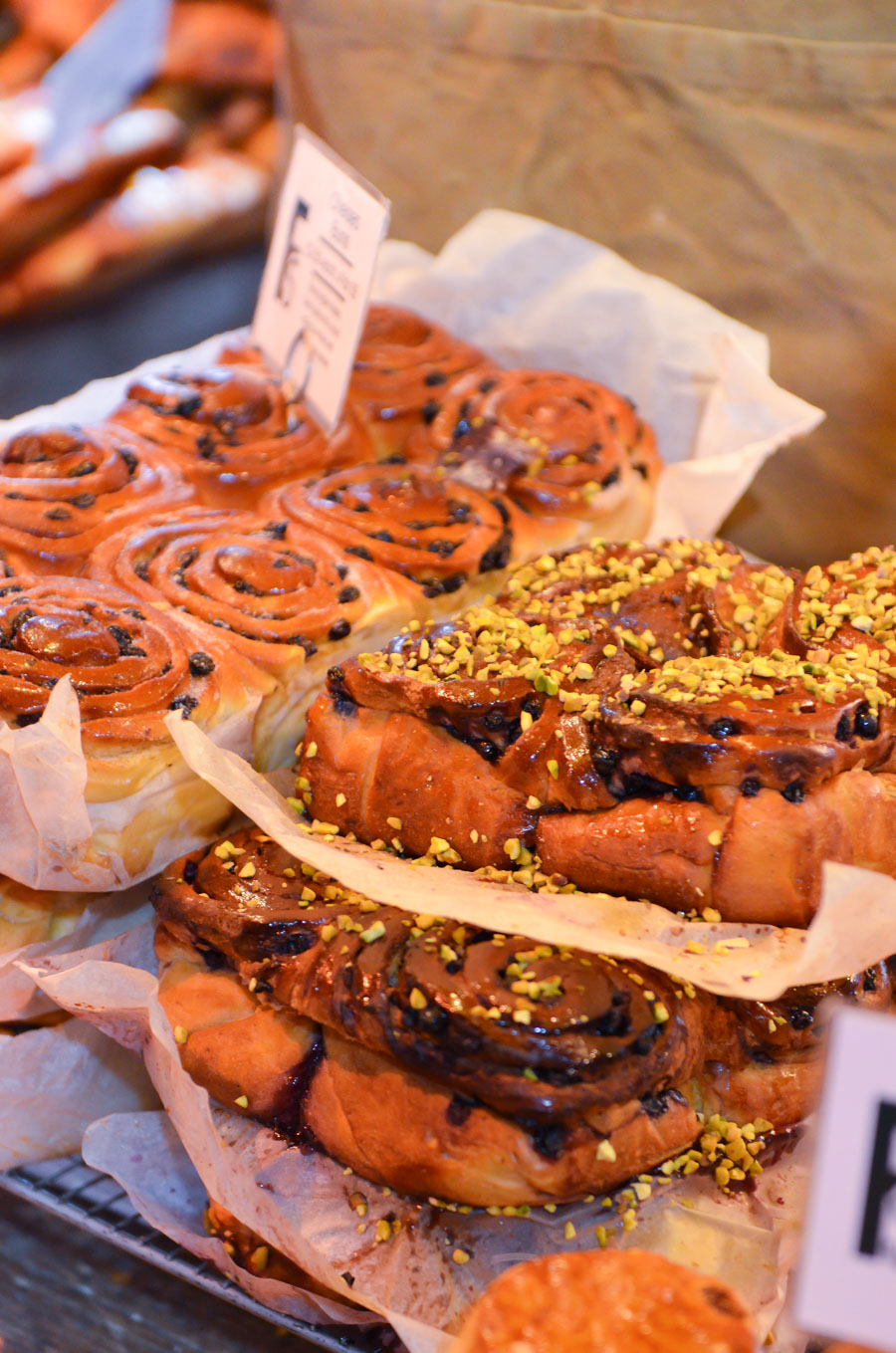 Green Market
In the back half of the market, "Green Market," you'll find The Flour Station, which is where we picked up morsels to enjoy with morning and afternoon tea/coffee and dessert. They have a salted hazelnut chocolate tart – really a brownie – that I gobbled down embarrassingly fast.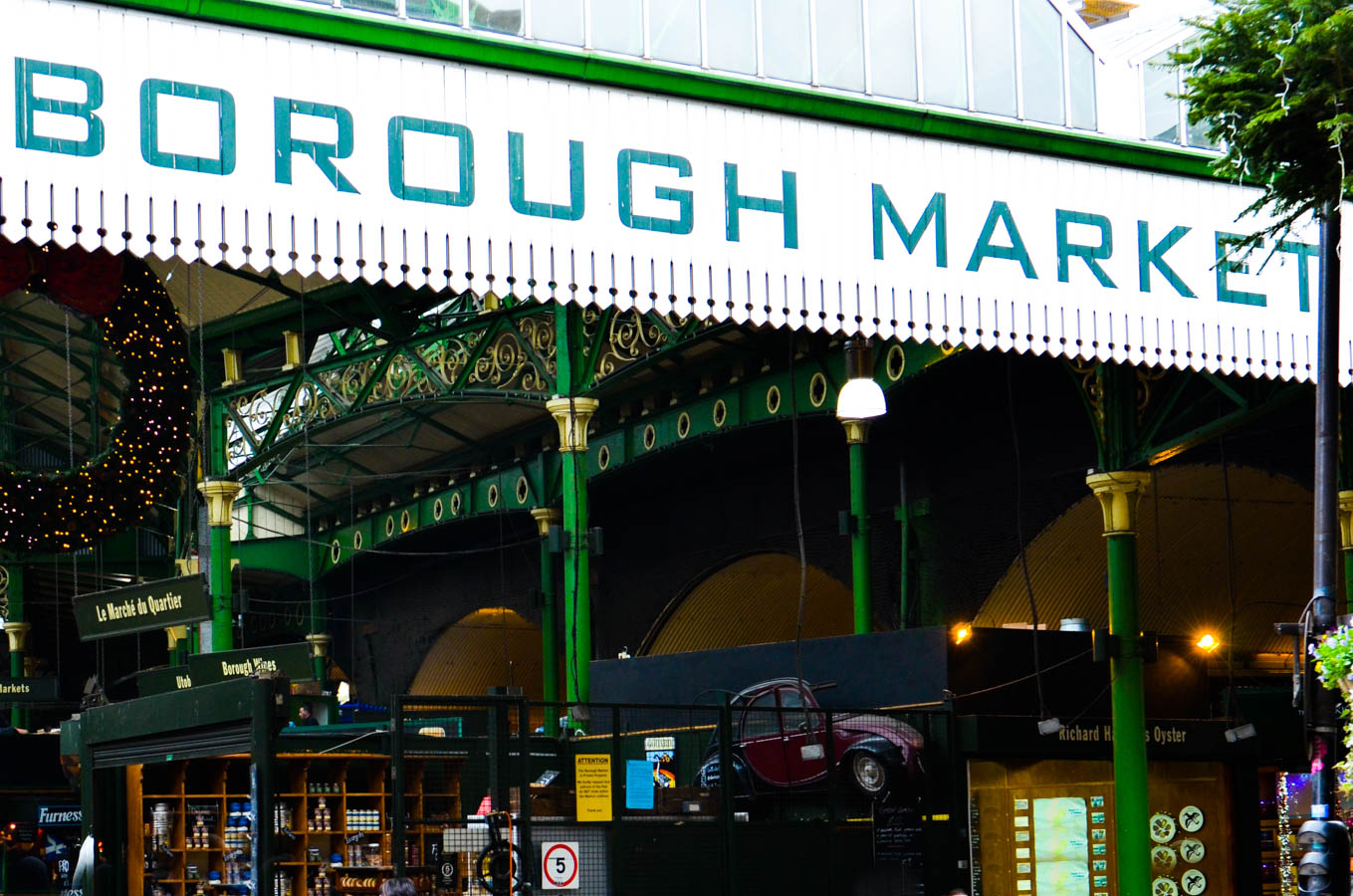 Don't forget to look up periodically to notice the architecture and the fact that you're right under train tracks! The building is cutely decorated for Christmas just like the rest of London!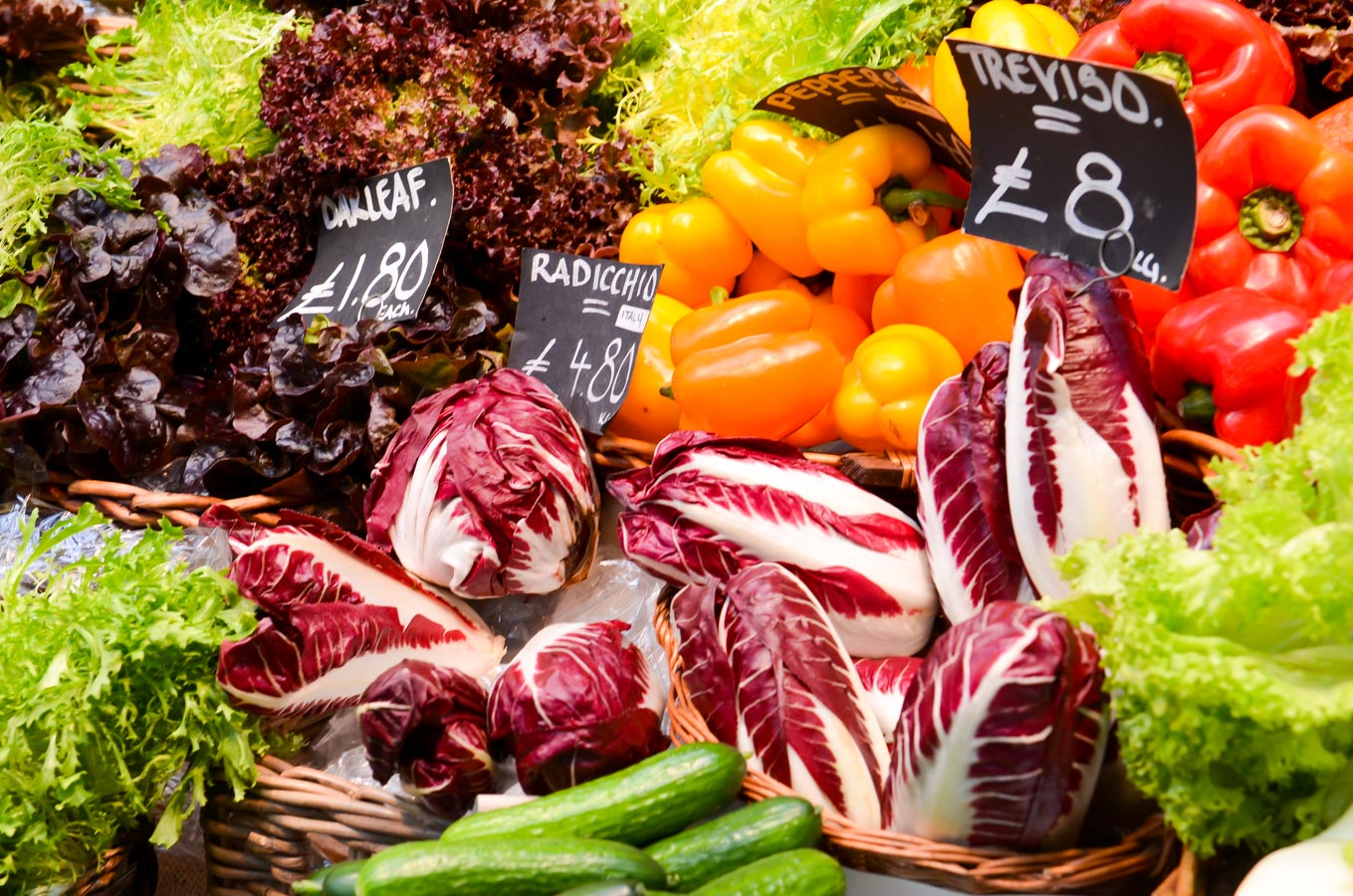 Produce in Borough Market
You'll never guess, but the produce stand was my favorite! The large stalls are on the west end of the main market. This one closer to the front had everything you can imagine, including "baby snips" (baby parsnips) – just about the cutest thing you ever did see!
They also had very moist dried fruit, which I went back for before we left to bring some home!!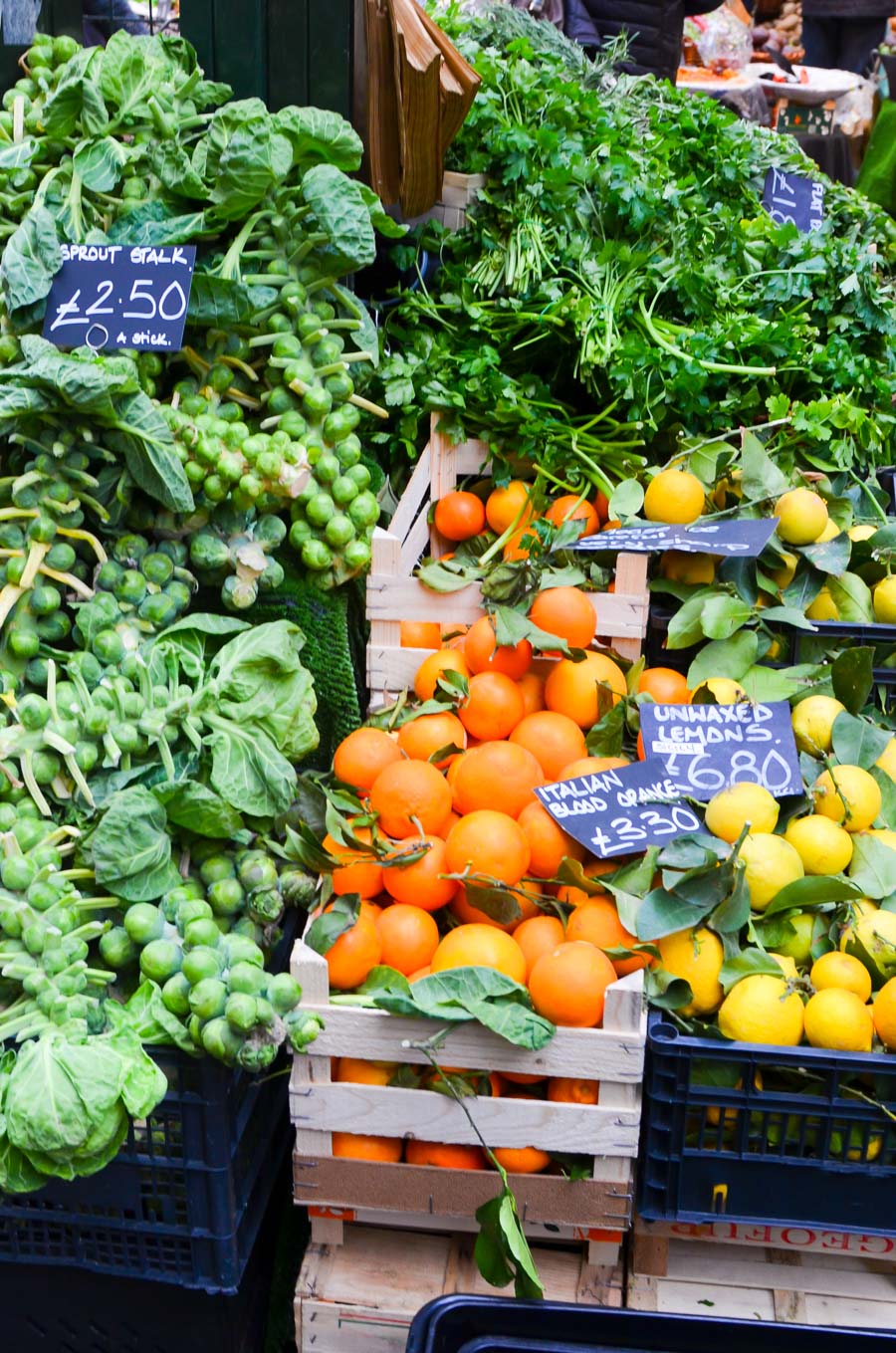 If you're looking for meat, there are butchers and fishmongers throughout this western area of the market. We heard great things about The Ginger Pig.
We really enjoyed the sausages and chicken on Christmas Day. If you're vegan or vegetarian, I'd skip this shop, however. But if you're into all cuts of meat, however, this stop is a must!
There's a huge juice bar that's hard to miss but also good coffee at the market. Monmouth Coffee is just across the lane and has AMAZING coffee – possibly the best we had in London.
There's usually quite a line, however. A secret trick? If you're buying beans, you can skip the line and head to a much shorter line at the front of the shop to get your beans and coffee.
We bought beans on both visits and really enjoyed talking to the baristas about the various beans and flavors. They helped us find just the right ones for our tastes! They also have another location in Covent Garden. Both locations are open Monday to Saturday.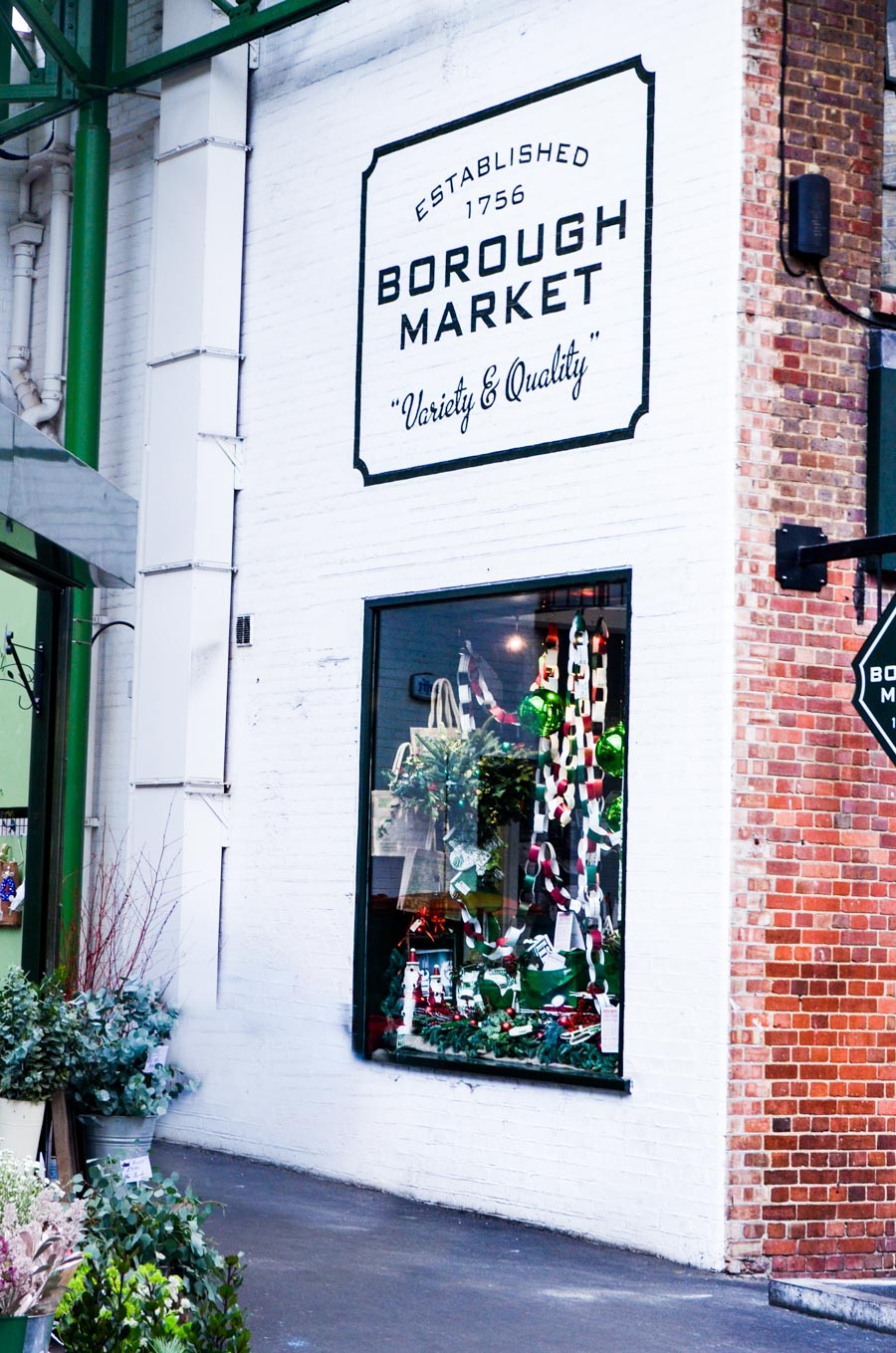 Eating at Borough Market
When you're ready to eat, there's no shortage of options. In fact, you'll have a hard time to pick just one place for lunch.
The center area of the front part of the market and the back of the "Green Market" are where to head for food. There are large pans of paella, curry, and soups simmering to tantalize your taste buds.
I had the falafel wrap and my mom enjoyed a chicken wrap from the soul food tent (both in the Green Market) while my husband headed straight to Brindisa (along the front – Stony Street) for a sausage sandwich.
There were also tons of options for roast pork sandwiches, vegan soups and sandwiches, gourmet grilled cheese, and fish and chips! There are some tables near the main entrance to the market along Stoney Street. Otherwise seating is at a premium.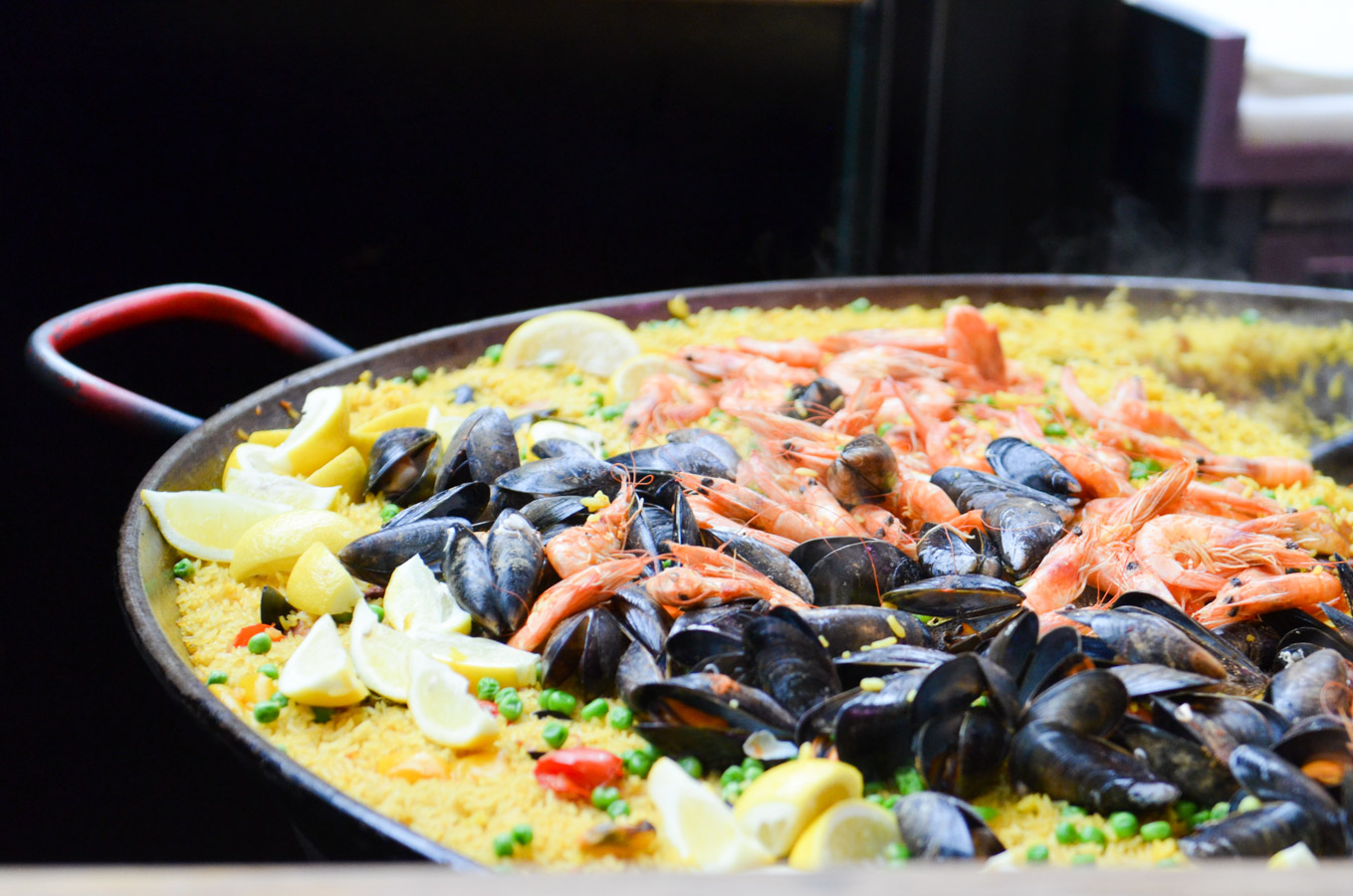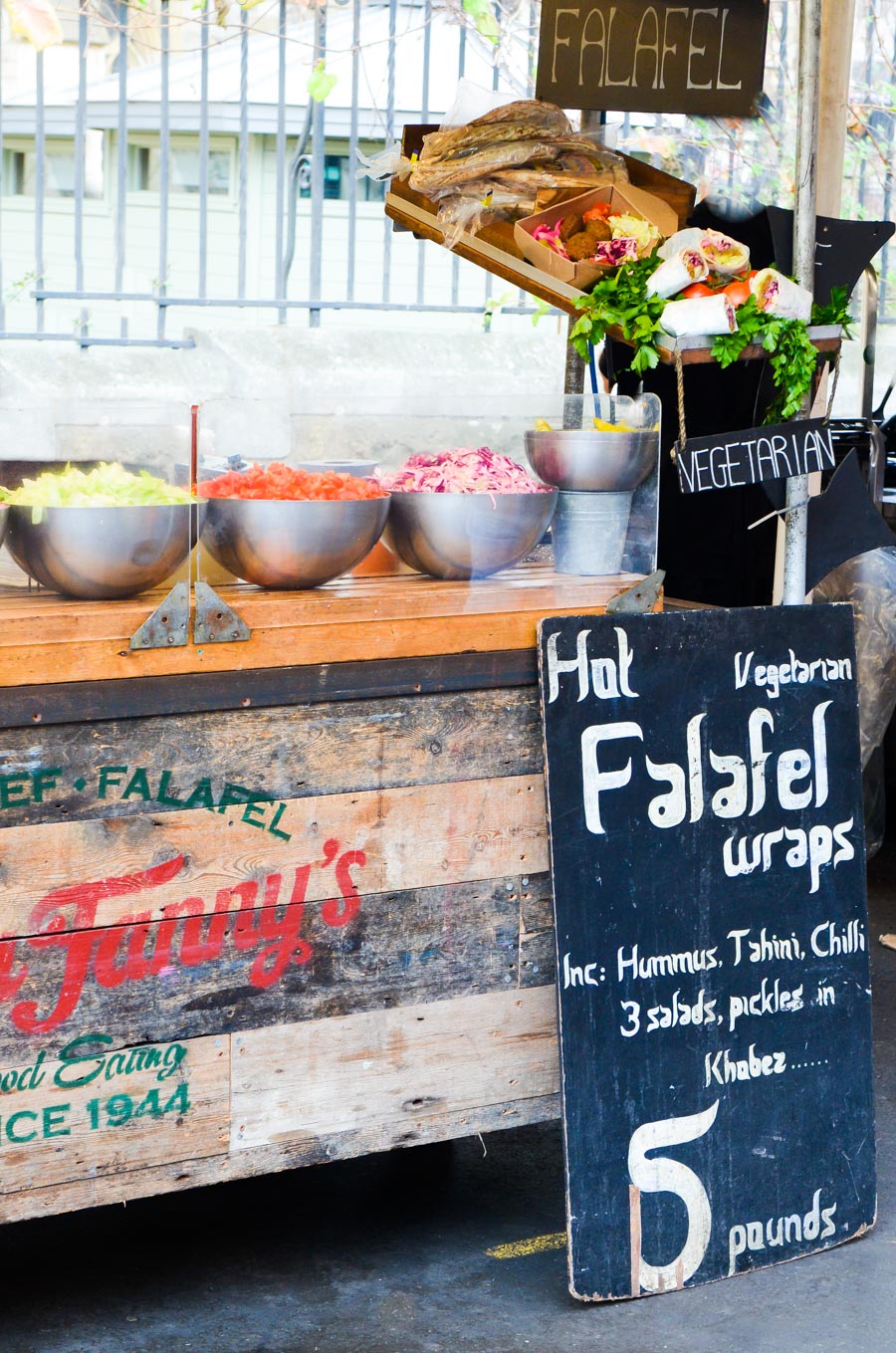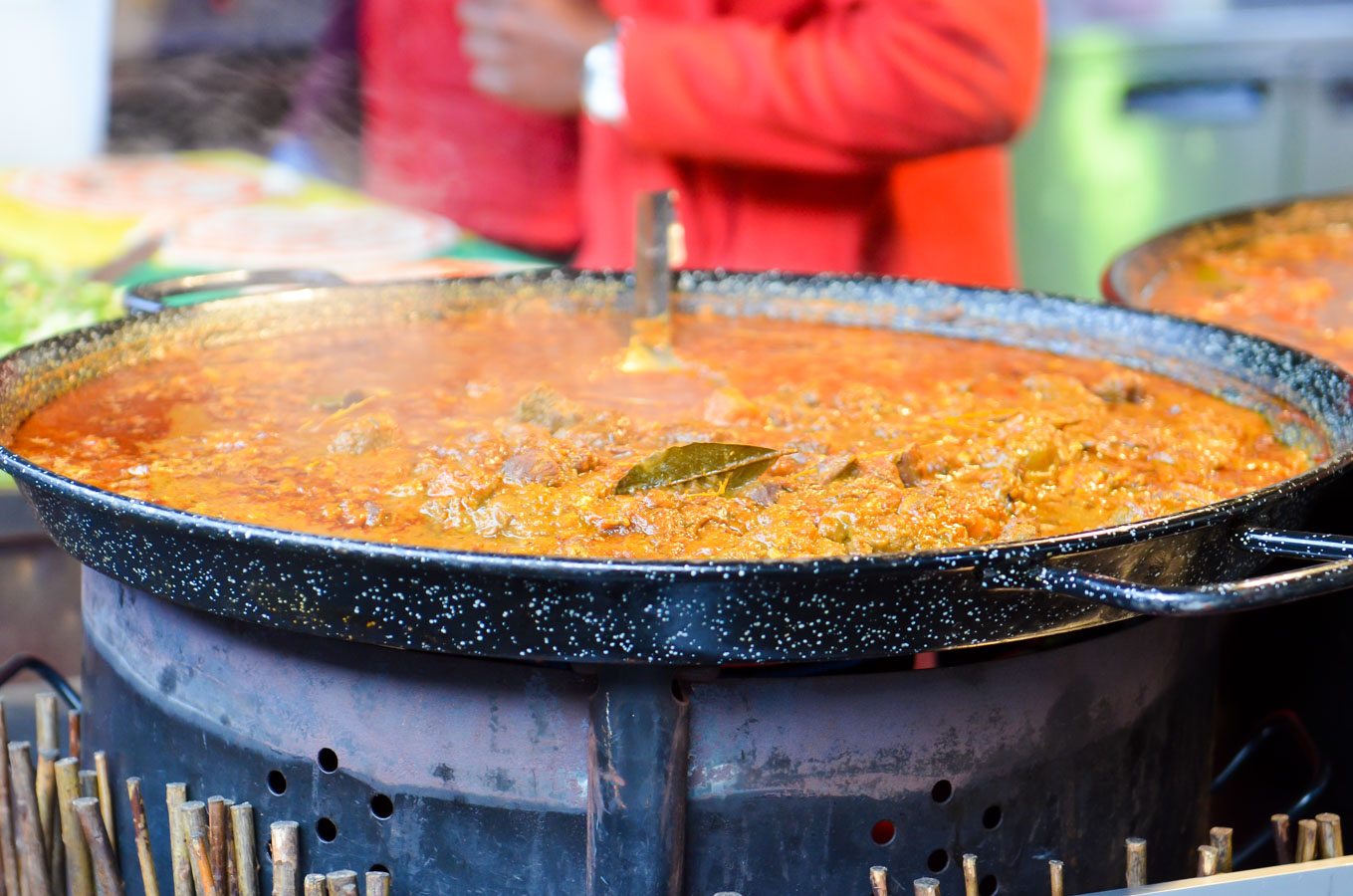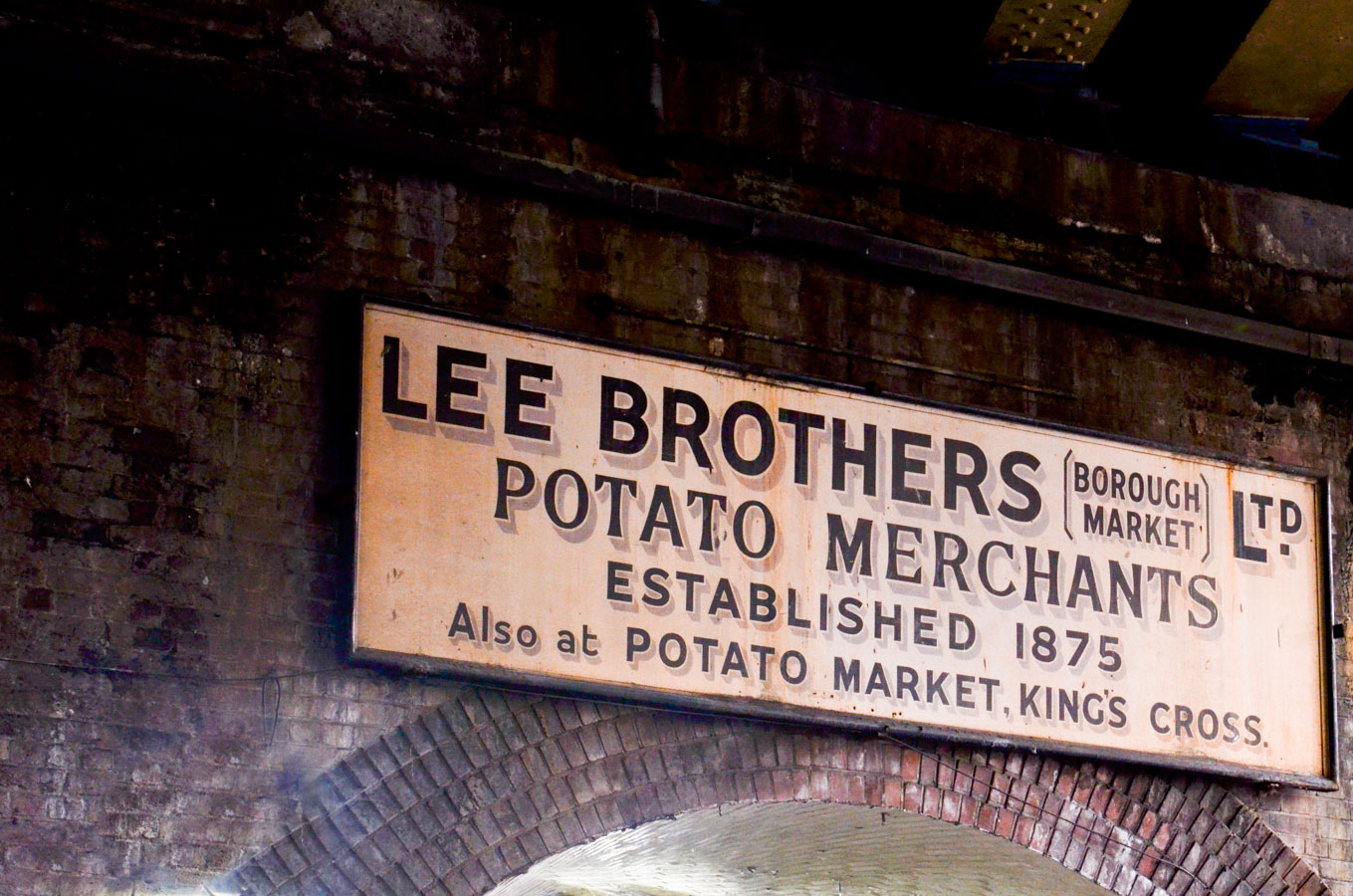 We tried to visit the market in Camden but were so overwhelmed by the crowds, we never made it in. Though Borough Market can get busy, it seemed less busy than the other option!
see more posts on UK Travel. . .
2 Days in the Cotswolds
Daylesford Farm in Glouchestershire
Seven Sisters Cliffs in Sussex
Need some Scotland sights in your life? Check out these Edinburgh Guides (Stockbridge, New Town + Old Town), our video diary of Shetland + Orkney, a visitor's guide to Fort William, and the 5 Castles and Palaces to see in Scotland! And once your tickets are booked, you'll want to check out the 3 things I wore in Scotland!