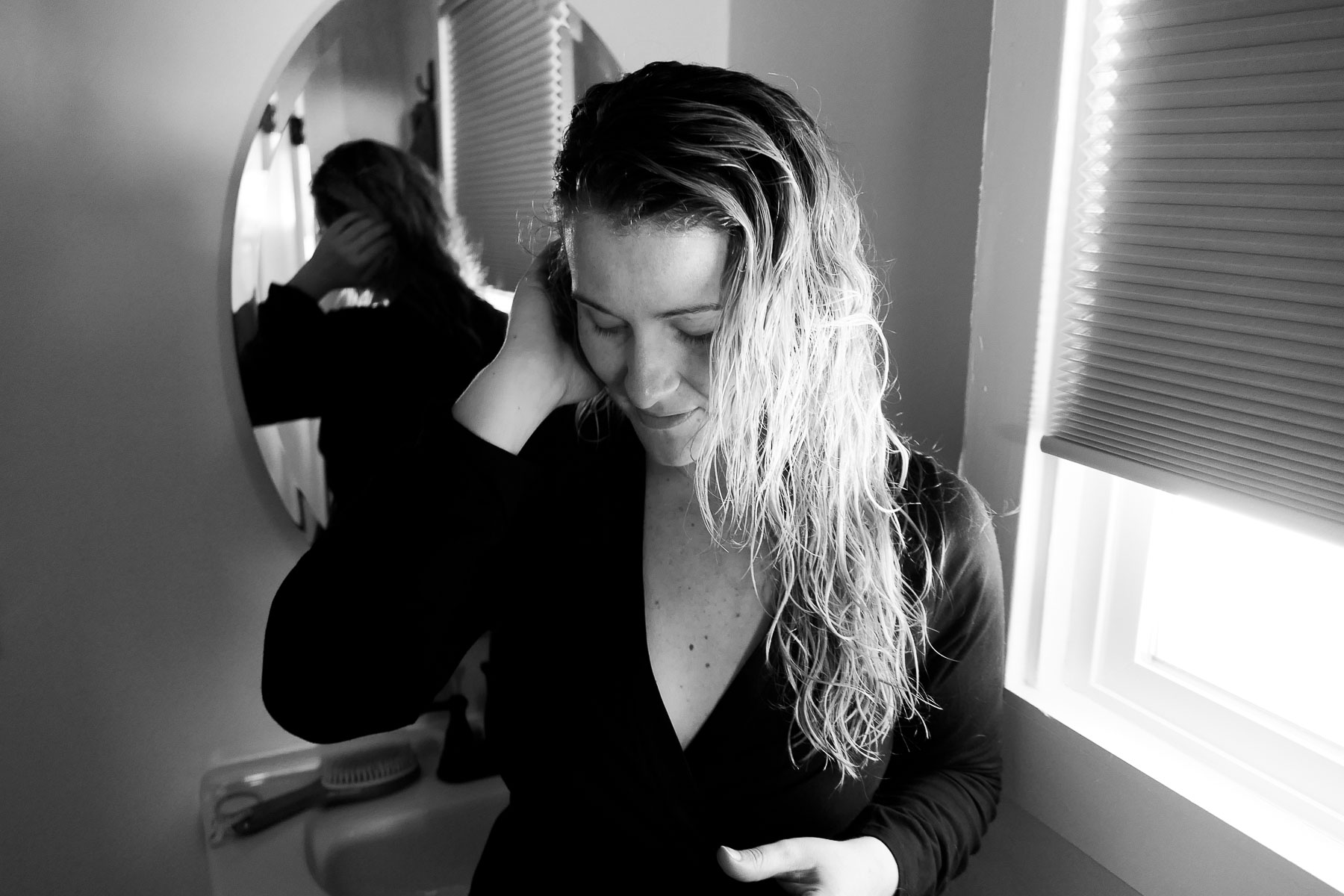 If you've looked much into sustainable bathroom swaps, you've undoubtedly come across shampoo bars and conditioner bars. They're a great way to reduce (even eliminate in some situations) plastic, water weight, and unwanted ingredients. But do conditioner and shampoo bars really work?
I LOVE my hair. It's one of my signature features, so I'm not about to do something just because it's eco. And actually, if we're being fully transparent, one of the sustainable 'swaps' I should make is to stop getting my hair treated and colored. But honestly, I have no intention of doing that anytime soon. When the eco-hair coloring world catches up, I'll happily make the switch.
But anyway, the shampoo and conditioner bars. I was really nervous about trying the bars a little over a year ago. This sounds terrible, but I sort of assumed that eco-minded individuals probably didn't care about their color-treated hair the same way I do.
While some people might just want clean hair, the reality is that the beauty world is catching up in clean beauty and there are a lot of options out there. One size does not fit all!
After you find what you think is the right shampoo and conditioner bars, give it a shot, but MAKE SURE YOU'RE USING THEM CORRECTLY!
But Do Shampoo Bars Work?
In short. YES! I started using a conditioner bar first and then after a month or two, I added in a shampoo bar (you know I'm all about easing into things) when I was asked to do a shampoo bar review.
And, as it turned out, I enjoy the shampoo bar even more than the conditioner bar! I'll keep you posted in my monthly sustainable product reviews!
Of course, the shutdown happened around the same time and I went 18 weeks without seeing my hair stylist. When I finally got into his chair, I hesitatingly awaited his saying something like, "OMG, what is all this buildup on your scalp?" But he didn't.
So then when I saw him 6 weeks later, I decided to ask him if he noticed a difference in my hair given that I'd been using the bars. He said no, not at all. The length of time between appointments and the ensuing "root lines" were my only problem!
So. In long too, yes, they work. But I'll say again…you need to use them correctly (and no, it isn't difficult at all). The trick is also that you use shampoo bars and conditioner bars differently!
How Do you Use Shampoo Bars?
The purpose of shampoo (liquid or bar) is to clean your scalp and remove any oils. Regardless of the formula of your shampoo, you should focus its use right at the scalp.
With a liquid shampoo, you can much more easily use your fingers to massage the shampoo and suds around your head. A bar shampoo requires a bit more work.
So. First of all, get your bar of soap wet and rub it between your fingers to get some good suds action. From there, focus only on your scalp. I rub the bar of soap and the suds all around my hairline (forehead to nape and back around).
But DON'T FORGET the back of your head. I have a hard time getting enough suds to really work the shampoo into my crown area and just beneath (my troublesome spot) – harder with long hair of course. If you're having the same issue, you'll want to create a part of sorts to divide your hair, so you can get into that area with your soap and suds.
After I rub it everywhere, I like to give my head a quick, mini massage to get the soap all in there (and because it just feels good).
Flora Flora Shampoo Bar Review
So the first shampoo bar I used I quite liked, but they stopped making it. So sad. Then I tried one or two others and didn't like them. One was too scented (even in clean beauty, it happens) and one seemed to dry out and I ran through it very quickly.
Then I was in a new, local refill shop here in Sacramento and they were selling Flora Flora shampoo bars. I bought one to add to my travel toiletries arsenal and ended up using it at home out of necessity…and I LOVE IT!
The bar suds up quickly and my hair feels wonderful. I use the clarifying bar in unscented (told you scents aren't my thing). They do have the bar in 3 scents, however, as well as shampoo bars for hydrating, volumizing, sensitivity, and for curls. They also sell conditioner bars.

How Do you Use Conditioner Bars?
Moving onto conditioner bars. The trick is to forget everything I just told you about the shampoo bars! Conditioner is designed to replenish your hair. It's a moisturizer. You just removed all the excess moisture from your roots and scalp, you don't want to immediately replace it with more – your scalp will do that all by itself.
IN SHORT, KEEP THE CONDITIONER BAR AWAY FROM YOUR SCALP!
If you have shorter hair, you might be able to just rub the bar between your palms and then use what's there to rub on your strands (as much away from your scalp as possible).
If you have longer hair like me, you'll want to rub the bar on your strands, but away from your scalp (are you getting the message yet? 😉 What I like to do is bring all my hair over one shoulder and then lean forward to let my hair hang. Then I rub the conditioner bar on my strands there – top to bottom.
Let the conditioner sit for a few minutes (same for any liquid formula too) and then rinse out!

Why are Bars More Sustainable?
In the world of living more sustainably, sometimes it's really obvious why something is more sustainable. Other times it isn't as clear.
First, there's no plastic bottle. Though many shampoo bottles are technically recyclable, most are NOT actually recycled and fewer are recycled properly (rinsed out and dried completely).
Second, the weight of shipping a product that's primarily water causes more in the way of pollution via transportation.
Next time you're checking out the clean beauty at Target, pick up a bottle of shampoo and a bar of soap at the same time. Do a little weight comparison. Now imagine boxes (pallets?) of all that. The difference adds up quickly.
Also – that means this little shampoo bar is great for travel and you know I'll take anything that eases up on my suitcase weight limit problems. I'm a work in progress on this one!
Third, while there are certainly liquid shampoos that qualify as "clean," bar soaps are usually quite clean.
Other Favorite Hair Products?
If you follow these tricks, you'll find that conditioner and shampoo bars really work! They take some adjusting to, of course, but your hair won't suffer because of it.
I do use two other products to help keep my hair at its best between appointments. The first is the Innersense Hydrating Hair Masque. My hair stylist does a hair mask when I see him every six weeks. I usually use this once or twice between appointments. So in the end, I use a hair masque every 2-4 weeks.
I also use this Olaplex bond smoother after every shower. I use just a dab, so that small container lasts me a while. I've always had to use some kind of serum or something similar to calm down the frizz in my hair and this is the one I like the best!
And I can't even begin to imagine living without my anti-frizz spray! It's a MUST!