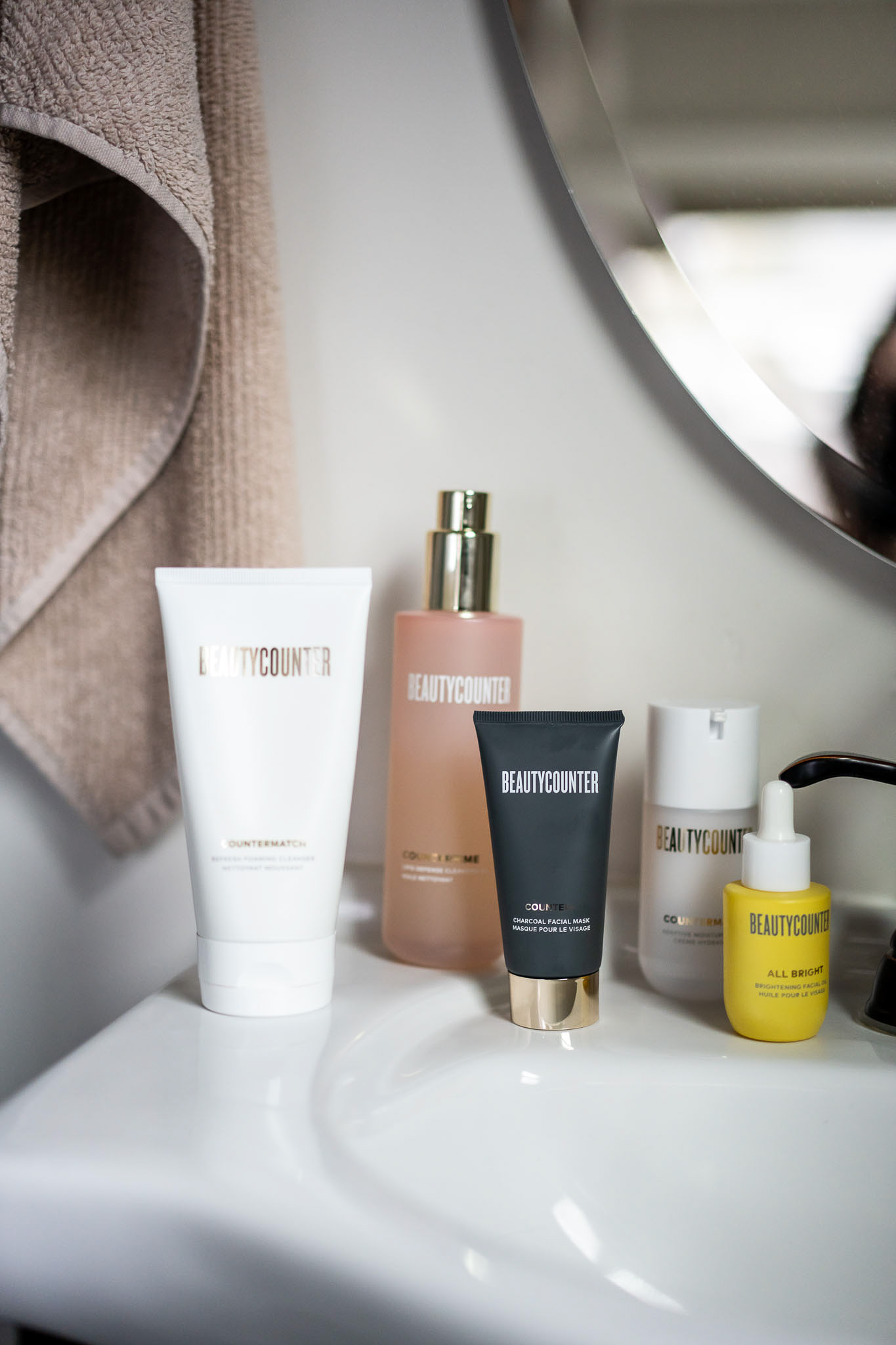 Ok. Sometimes I feel as though I'm the last to the party. I'd heard about Beautycounter years ago but didn't try my first BC product until last year! And now, I love it – for many reasons (detailed below). So here is my Beautycounter review along with recommendations for the best Beautycounter products.
Use code CLEANFORALL20 for 20% off your first purchase!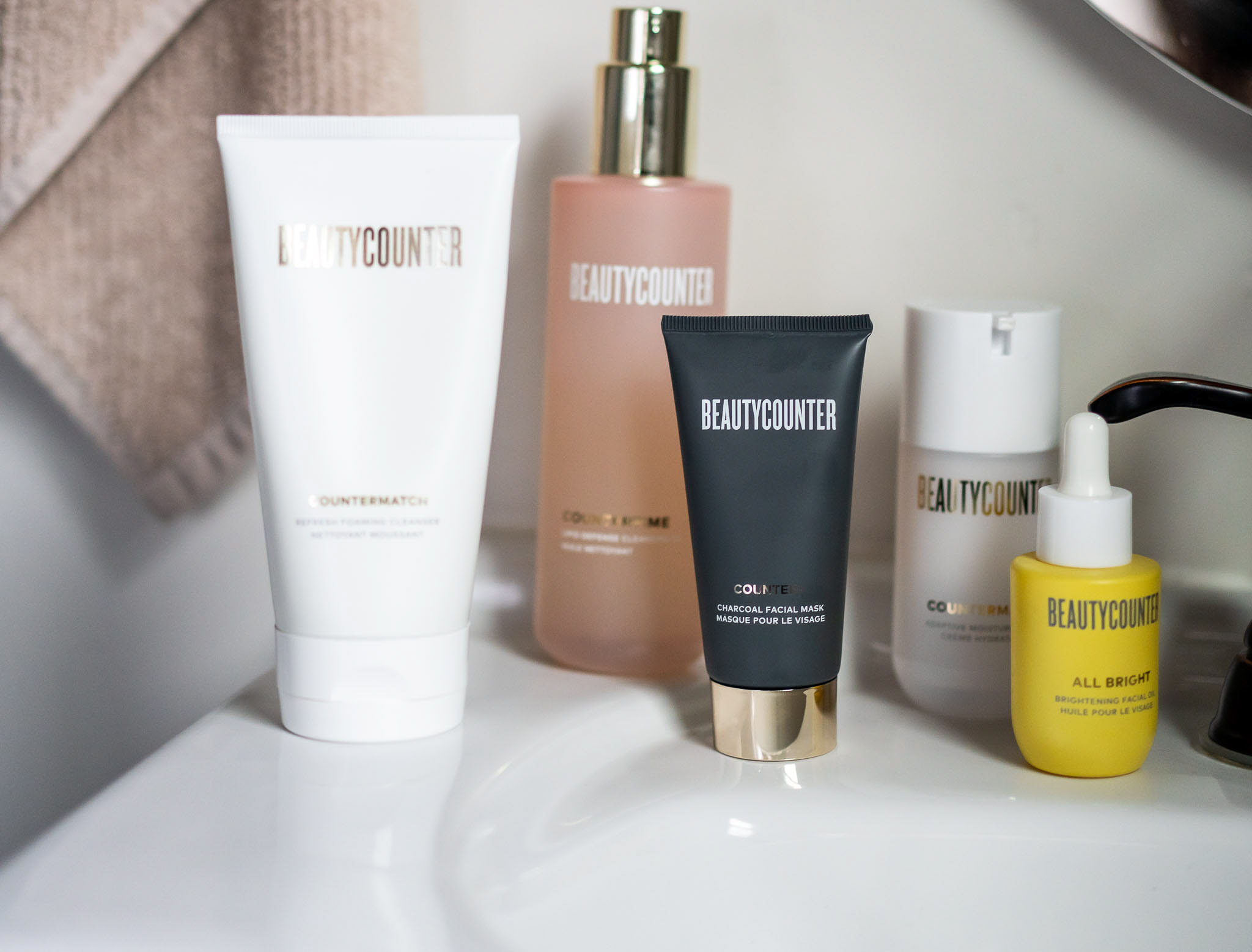 Best Beautycounter Products
So, obviously, it'll come as no surprise to you the Beautycounter is a clean beauty brand. While clean beauty isn't always wrapped up in sustainable packaging, I do think it's the best option for you and for the earth – what washes down the sink matters too.
Beyond just being clean (and side note – beautifully packaged as well), I like Beautycounter for two reasons. The first, sustainably speaking, is that they're working on making their packaging curbside recyclable and made of more recycled items. Since makeup container recycling is one of the biggest struggles, this is important to me.
Not only are they working on this, however, every single product page has clear instructions about what can be recycled and what needs to be either thrown in the trash (or recycled through the right channels – see here)…down to the packaging of the container!
So even if you dispose of the outer packaging, you can go to the site and see what to do. Clear recycling communication is a love language of mine!
Second, the company itself promotes the advocacy of changing beauty industry regulations in the US (and abroad too). Did you know the US barely regulates the beauty industry? Leaders at Beautycounter and the company as a whole are pushing for more regulation. I like the company as a whole is doing big picture things, so I can focus on my everyday life!
And, finally, they're a B Corp (have been since 2013), so there's more reason to love them!
Ok. The company is great, but do their products work?
Is Beautycounter Worth the Hype?
I haven't tried ALLL the products, but I'm slowly making my way. In short, all the ones I've tried work and feel good to my skin, but then there are a few beautycounter reviews I HAVE to share because the products are just so, SO AMAZING!!
Use code CLEANFORALL20 for 20% off your first purchase!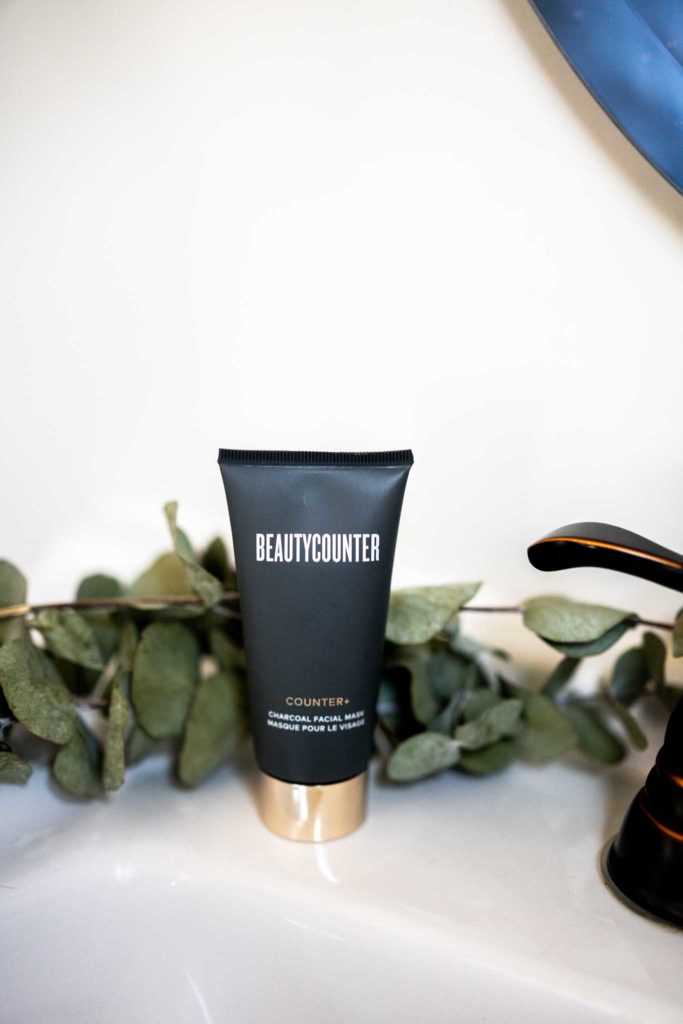 The Best Charcoal Mask
If you follow me on Instagram, then my pore-filled face photo right there won't have scared you! I first tried the charcoal mask in the fall. And even in the 2 uses in the sample packet, I fell IN LOVE with it and ordered it immediately.
The mask goes on a dark gray and then turns this aqua color in the ten minutes it sits on your face. And at the end, you can see the oil it's pulling out of each of your pores. It's a disgustingly fabulous experience, let me tell you!
And it works. I had some gnarly pores (in my opinion). Then after a few weeks of using this mask 2-3x per week, they were minimized.
I got a few friends and followers on Instagram to give it a shot too. They've all said things like "my skin is so soft; I want to touch my face all day!" "I want to use it every night, I love it so much!" and "it makes my skin absorb my moisturizers so much better!"
So if you aren't sold, email me (or DM me on Instagram) and I'll send you a sample of the charcoal mask! Seriously. For free. Just so you can experience the disgusting fabulousness!
Use code CLEANFORALL20 for 20% off your first purchase!
Beautycounter product reviews
Ok. I LOVE a few other products too. I don't love anything as much as I've fallen in love with the charcoal mask, but I seriously love these products.
The first two are in the Countertime Skin Care line. Beautycounter currently has three skincare regimens (i.e. face wash, toner, serum, moisturizer – the complete setup for us). The countercontrol option is for acne prone skin and I haven't tried this yet (see how I got rid of my adult acne).
Of the other two, the lighter weight option is the Countermatch collection. I've used a sample of this line and really enjoyed it. Interestingly, my husband uses and loves the face cleanser and moisturizer in this line. They're in his men's clean skin care picks! And when it isn't so dry, I'll likely use this line.
Because my skin is currently so dry (darn you, winter skin), I've been using items from the Countertime regimen. So here's the thing, the line has a total of 6 products. I'll never use the eye cream because my skin can't handle eye creams (any eye cream), but I'm slowly falling in love with the complete line.
Countertime Cleansing Oil Review & How to Use
But. The cleansing oil. I fell in love with cleansing oils about a decade ago. And I've struggled to find many that aren't oily feeling and/or thick and difficult to distribute across my face. Until now!
So. The cleansing oil is actually a makeup remover and cleanser in one. Apply 2-3 pumps (I do just over 2) to dry skin and rub around to loosen all dirt and makeup. I can even rub this over my eyes to remove mascara and eyeliner and then easily reopen them with no issue (and I have sensitive eyes).
Then wet hands, and rub the oil on your face to create a light cleanser. Then rinse clean. It's so easy, removes an extra step from the routine (removing an extra container on our vanity), smells great, and works wonderfully. Like. You NEED the cleansing oil!
It's one of my MUSTS for my summer beauty routine!
But then my skin was falling off from dryness. Not really, but kind of, so I took the magic overnight cream out of my countertime carry-on set that I was gifted (sadly not currently available) – honestly as a last resort. And my skin instantly looked and felt better.
So I used up that small container and ordered the full size of the Tetrapeptide Supreme Cream during a free shipping sale! Even just after one use, my skin feels as soft as it does just after a facial. It's MAGICAL!
I told you my Beautycounter product review would be full of happiness!
Use code CLEANFORALL20 for 20% off your first purchase!
More Beautycounter Product Reviews
I have a few other products that I just started using and am enjoying. First is this brightening facial oil. Full of citrus (vitamin C is what provides brightening), it has a fresh scent and it's wonderful for locking in hydration. My husband uses this one too, so it's a great space saver (I just now know to order more of it since we're both using it).
I also have used the reflect effect smoothing facial mask. The clear gel mask has little exfoliating bits in it. Smooth onto clean skin and leave for ten minutes. Then wet hands and use circular motions to get that exfoliating factor in. This one is so easy to use and skin looks a little brighter immediately after use.
I'm EXTREMELY excited they're expanding the reflect effect line to include a body peel (praise the skincare gods – this will be a shoe-in for my body tool and product must haves, I'm sure) as well as an exfoliating powder you can add to your cleanser to customize your level of exfoliation (less in winter is best)!
OK. So A quick recap of our top Beautycounter reviews & products:
Use code CLEANFORALL20 for 20% off your first purchase!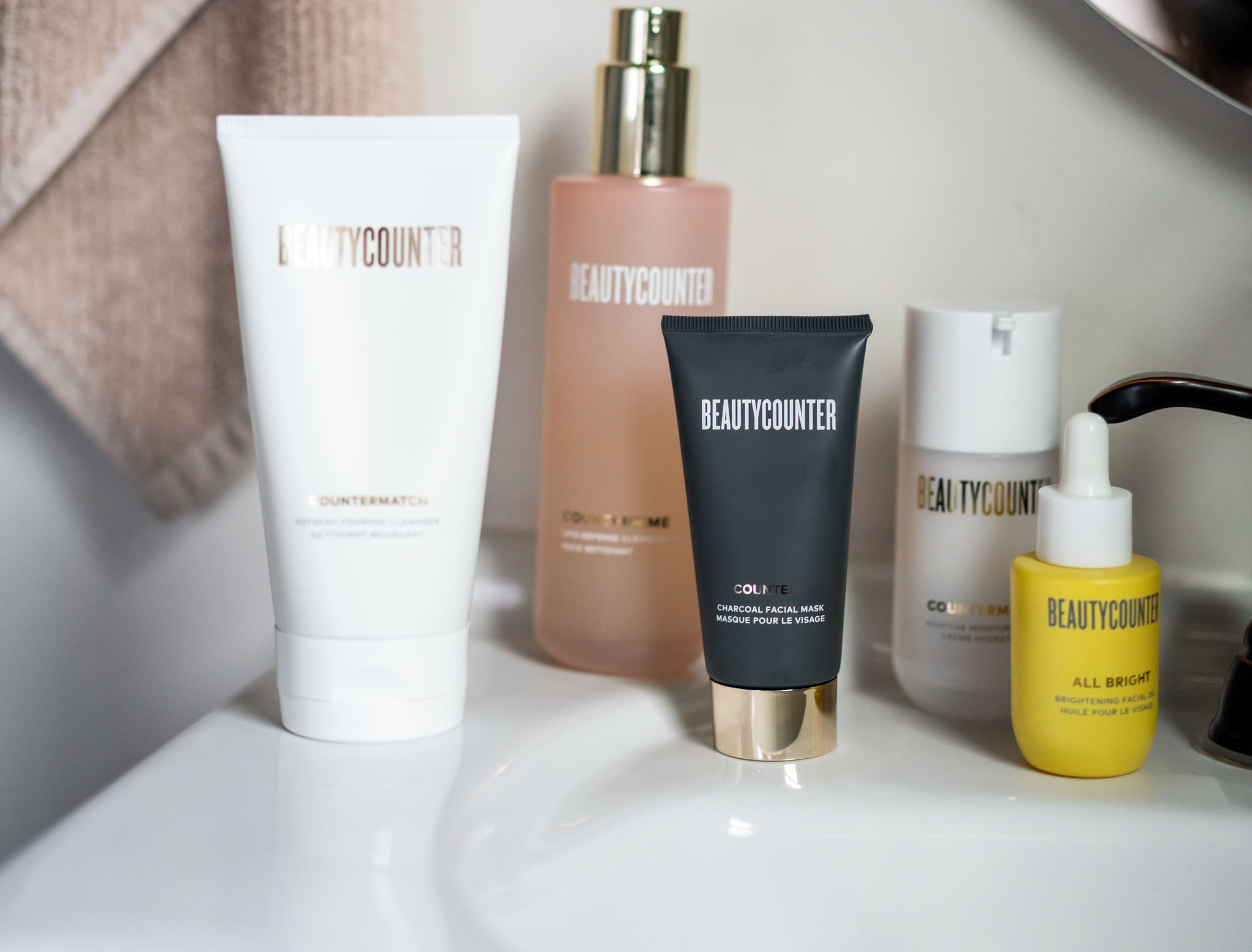 Beautycounter Discount Code & Sales
Beautycounter products are not inexpensive, but they are fabulous quality and they all last quite a long time (unless you AND your partner are using a product – that'll go faster #thethingswedoforlove).
First of all, if you've never ordered from Beautycounter before, be sure to use code CLEANFORALL20 for 20% off your first purchase this month! This will at least let you try the products at a BIG savings.
Beautycounter does periodically have sales. There's usually a major winter sale (after the holidays). Not everything is on sale, but a lot of things are on major sale, but they also go pretty fast!
If you do end up enjoying BC products, I ABSOLUTELY encourage you to become a Band of Beauty member. It's $29 to join for the year and you get free shipping on orders over $100 (saving $7 each time), 10% product credit on orders, and a gift (usually great minis – bigger than samples)! It's seriously worth it.
Clean Beauty Tips & Recommendations
Since clean beauty is an important part of sustainable living (what we wash down the drain matters as much as what we put on our skin), be sure to check out these other clean beauty roundups:
Clean Beauty at Nordstrom
Clean Beauty at Sephora
Clean Beauty at Target
Clean Beauty at Walmart
Clean Beauty at ULTA
Best Beautycounter Products
Common questions include do shampoo bars really work and how do you use them? What natural deodorant actually works? What's the best safety razor for women (and how to use them properly). And how to clean your makeup brushes (on the cheap and easy)!
There are also great clean skin & hair care products for men!
And you'll want to check out these wonderful clean beauty bar soaps as well as body tools for smooth skin all over yourself!
Photography by Sacramento Photographer Val Leddy