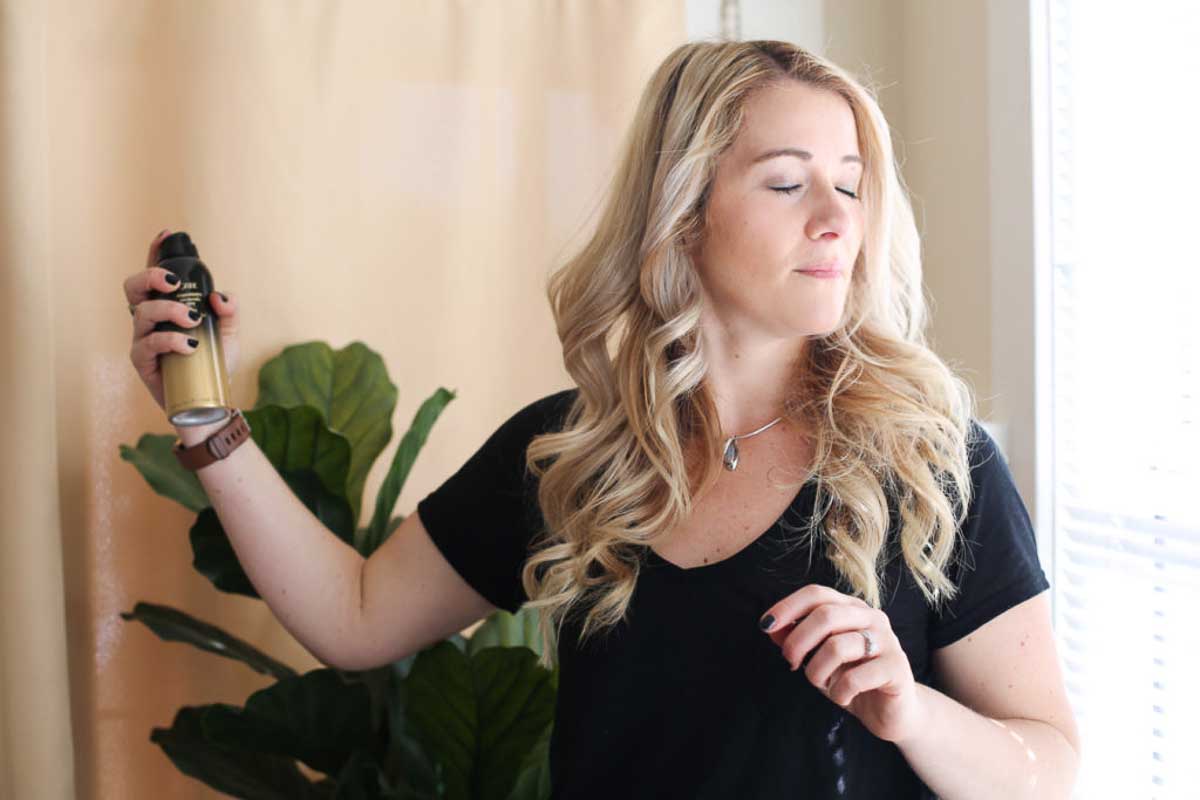 Looking for the best anti-frizz spray? Or wondering what anti frizz spray even is, I'm here to help you!
If there is one thing I know about myself, it's that I don't do humidity. In college I dated a guy who lived in Texas. I went to visit him for the first time, arriving around midnight. I stepped outside, expecting to be cold and was bombarded with this stuffy, wet air. I seriously debated going back into the airport! I now understand that it was humidity and at the time I didn't even know anti frizz spray existed!
Growing up in California, I really didn't have much experience with all that moisture in the air. I'm used to dry heat as well as the dry skin that inevitably comes with the territory. So humidity is a mind-boggling reality whenever it comes my way.
Each time I travel outside of my comfortable, arid climate, I learn a little something new about handling the humidity. First, setting powder (read my review and tutorial here) is an absolute must to keep your makeup fairly intact! Second, anti frizz spray is your new best friend…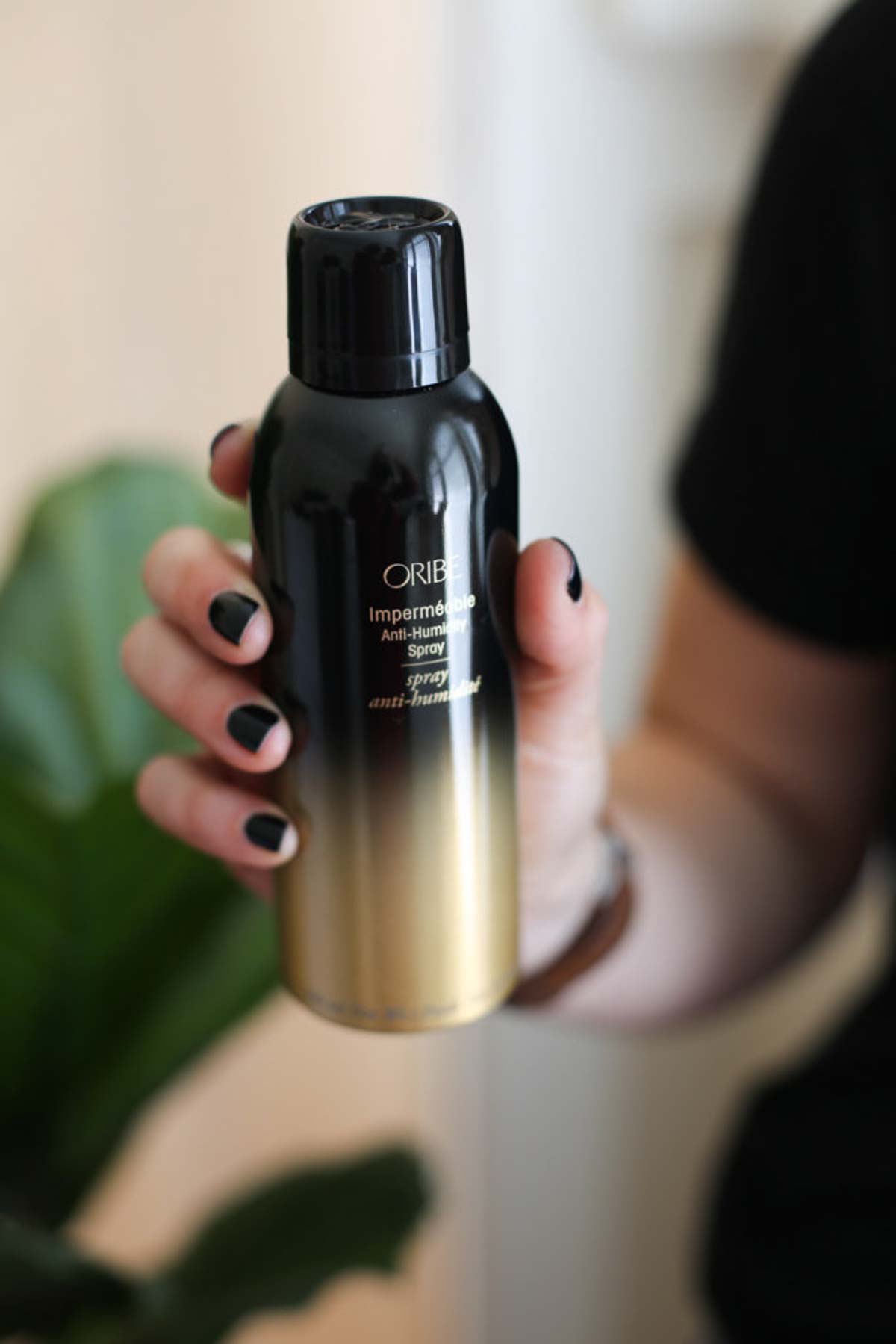 Best Anti Frizz Spray & Serum
I've gone through an array of anti frizz products in my lifetime. I think I used to confuse the volume and lovable 'poofiness' of my hair with frizz. What can I say? I was better at history than anything related to beauty (possibly still the case)!
Best Serum
There are a variety of anti frizz products out there and these can vary depending on your hair too. I've used this 'bond smoother' for a few years now and really love it. It helps tame the frizz and poof.
Best Spray for Frizzy Hair
The second product I just use is this Oribe Imperméable Anti-Humidity Spray (full size sold here – pictured).
Interestingly enough, I wasn't on the lookout for an anti frizz spray, but I saw a recommendation from another blogger. She lives in the South, so I trusted her recommendation wholeheartedly. I bought the travel-size from Nordstrom and decided to give it a go…
How to Use Anti Frizz Spray
So, this anti frizz spray seriously works if you use it properly. Style your hair as normal; the spray will be the last thing you put on.
The spray – and this is the best part – is a wide-spraying mist, so it really gets all over your hair without landing in any one place. You can't be "cheap" with the spray either; spray it all over.
When I wear my hair down in curls like this, I spray all over the curls and then on the forward-facing curls (around my face). If you only spray the product on one part of your hair, it defeats the purpose of preventing frizz since frizz will always find another way out if at all possible.
The Oribe smell is beautiful. It's light, not too strong, though the spray does spread out. I do think that because it's yet another product on your locks, your hair can get a touch dirty-feeling a bit sooner.
I haven't noticed that I wash my hair any more often, however, it just feels a bit more weighed-down after a few wears. Honestly, this all makes sense considering what the product is designed to do, so I don't worry about it.
The Oribe anti humidity spray comes in a travel size (2.2oz) and a full size (5.5oz). I started with the travel size to give it a try and now I have both sizes for all my needs! The anti frizz spray is great on hot, humid days and on rainy days alike!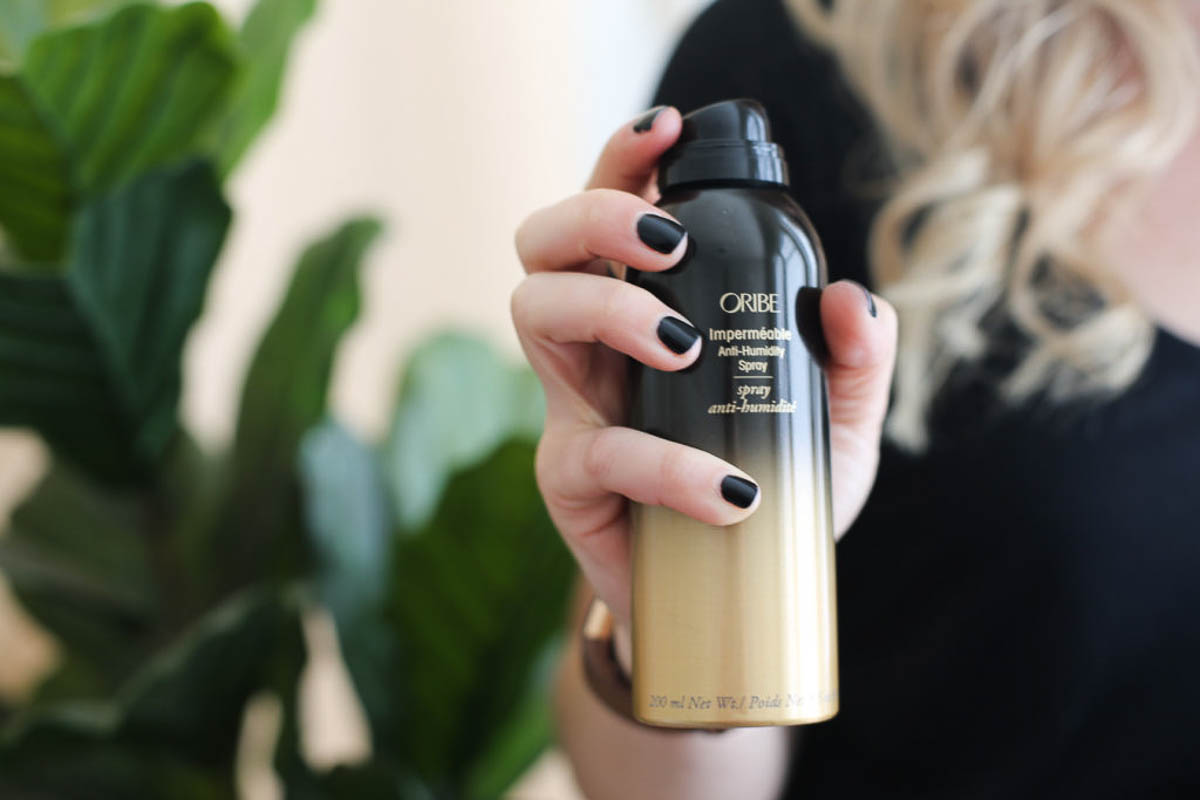 Since clean beauty is an important part of sustainable living (what we wash down the drain matters as much as what we put on our skin), be sure to check out these other clean beauty roundups:
Clean Beauty at Nordstrom
Clean Beauty at Sephora
Clean Beauty at Target
Clean Beauty at Walmart
Clean Beauty at ULTA
Best Beautycounter Products
Common questions include do shampoo bars really work and how do you use them? What natural deodorant actually works? What's the best safety razor for women (and how to use them properly). And how to clean your makeup brushes (on the cheap and easy)!
There are also great clean skin & hair care products for men!
And you'll want to check out these wonderful clean beauty bar soaps as well as body tools for smooth skin all over yourself!