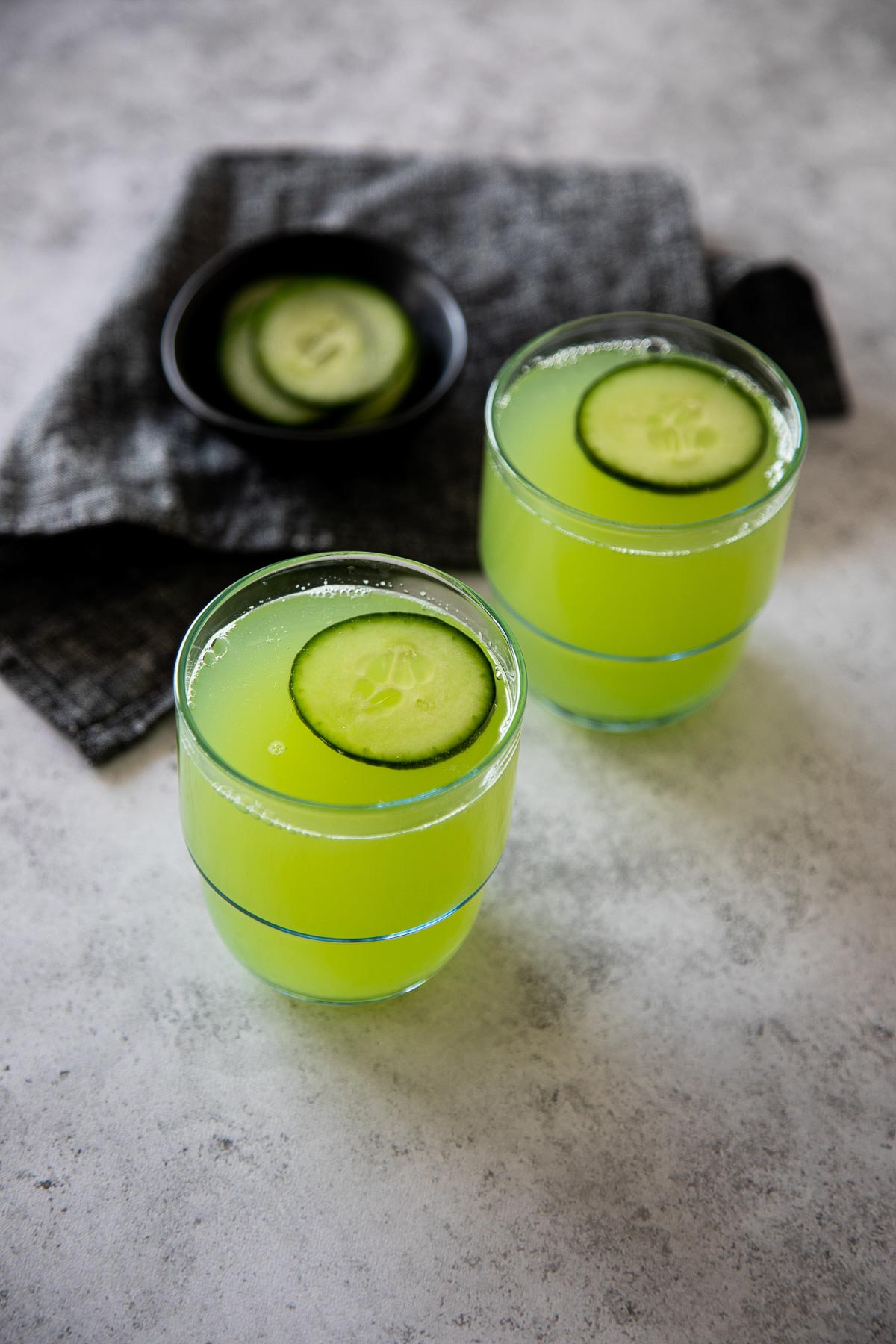 Have you ever had cucumber juice before? If you have, have you ever tried to make it yourself? It's so easy and so delicious, you'll be hooked in no time!! And if you're anything like us and need a way to easily use up cucumber in your fridge (to avoid food waste), cucumber juice – and then coconut cucumber water is what you need!
I love a good cucumber. I'm partial to persian and english cucumbers as they're less bitter, more flavorful, more tender, and they don't have that thick (waxed if store bought) skin. In fact, I just planted one Persian cucumber bush in our backyard garden for this summer.
Despite all my best intentions, however, cucumbers often end up never finishing out their lives in our kitchen because they get a bit soft. Then softer. Then squishy. And then gone.
But juicing is a great way to use up cucumber, no matter the "softness," though obviously pre-squishy! Only scientific-speak here, people! 😉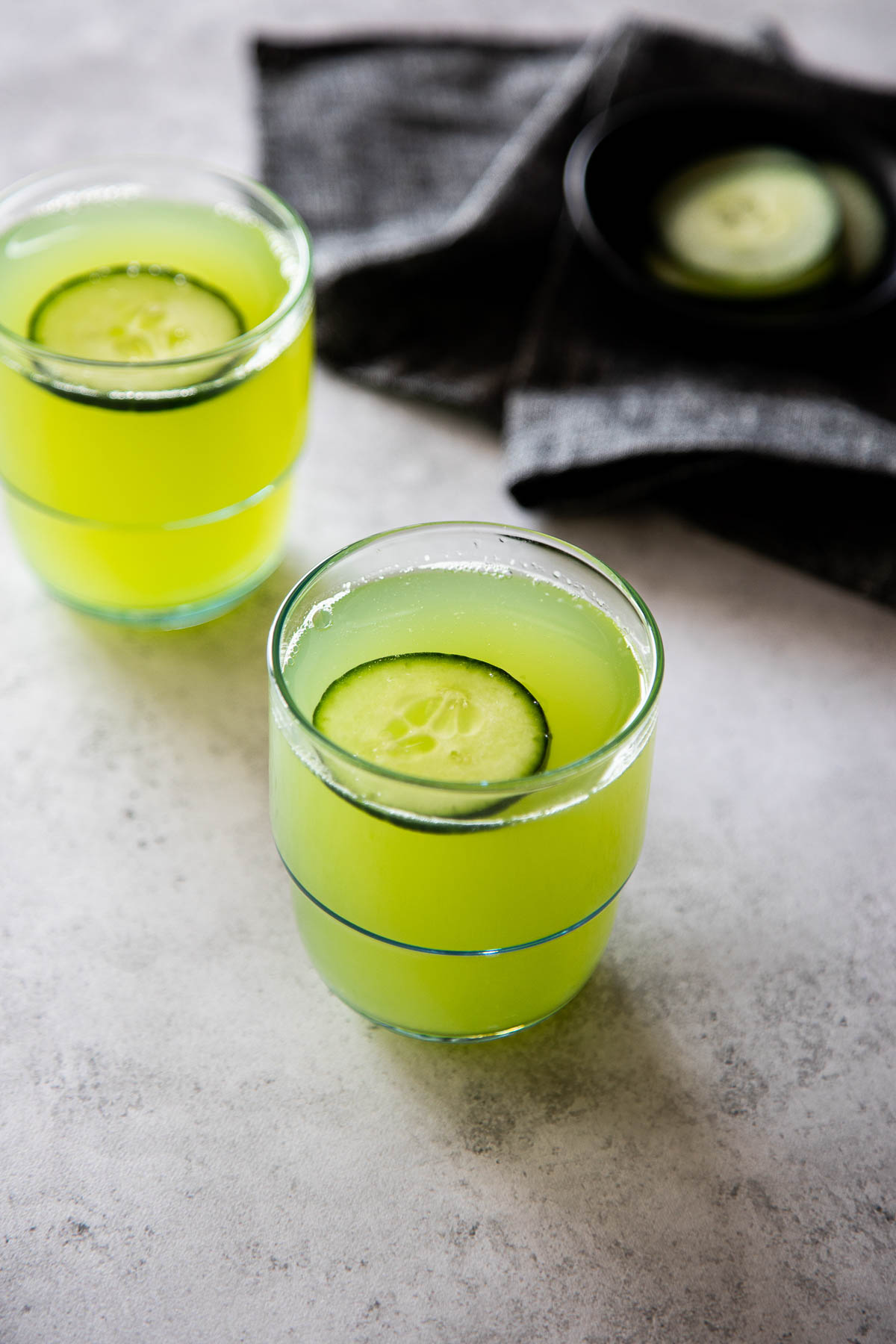 How to Make Cucumber Juice
I've long been overwhelmed and under-excited about the juice craze as I think it's sold as a healthy way to get everything you need from produce.
The second something is juiced and strained, however, ALL the fiber is lost and while you may be getting nutrients, it really isn't doing a lot for your body.
I am, however, a big fan of juicing produce to use in drinks as a way to embrace produce, eat seasonally, and enjoy the natural flavors and sweetness of so many things.
I've made cucumber lemonade, chardonnay sangria with cantaloupe juice, and my personal favorite watermelon fizz with fresh watermelon juice.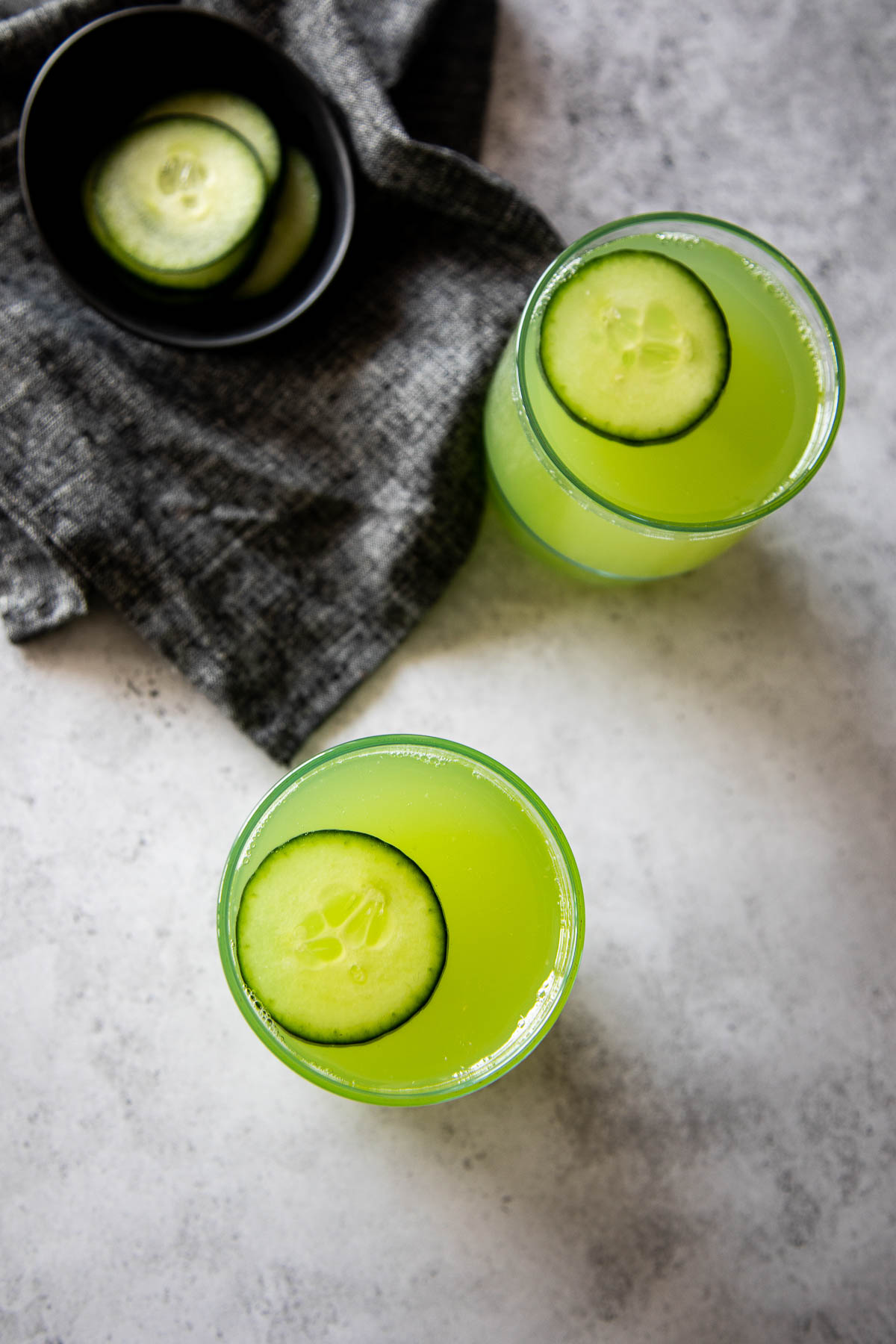 The other thing is, juices are expensive – because it takes so much to get enough juice for a serving and then it has to be bottled, preserved, and stored/shipped.
But you don't have to spend $8 or whatever obscene price it is these days to get great quality juice. Just get out your blender or food processor and add the fresh fruits. For cucumber juice, you'll want to peel the skin, but otherwise, just small chunks into the blender and you're good to go!

Coconut Cucumber Water
You can actually drink it after blending, but for a true juice, you'll want to strain it through a mesh strainer. Then you'll have cucumber juice…but don't stop there…
So, first I made this cucumber lemonade (great in the summer with frozen lemon juice from winter). Then I took it a step further – or maybe a step back with this coconut cucumber juice which is that lovely cucumber juice mixed with coconut water.
This cucumber juice recipe with coconut water is super refreshing and only has cucumber juice and coconut water. It'll be perfect in those hot summer temperatures too!
Summer Drink Recipes
Summer produce offers tons of tasty sipping options. For non-alcoholic beverages, try this fresh peach lemonade, cucumber lemonade, and healthy iced tea ideas, including this lavender iced tea!
For some adult sips, the summer sangria route will never disappoint… Our favorites include plum sangria, cantaloupe sangria, strawberry sangria, nectarine sparkling rose sangria, cherry sangria, and watermelon sangria!
Other summer libations include fresh fig spritzer, this rhubarb whiskey cocktail, and any one of these strawberry cocktails!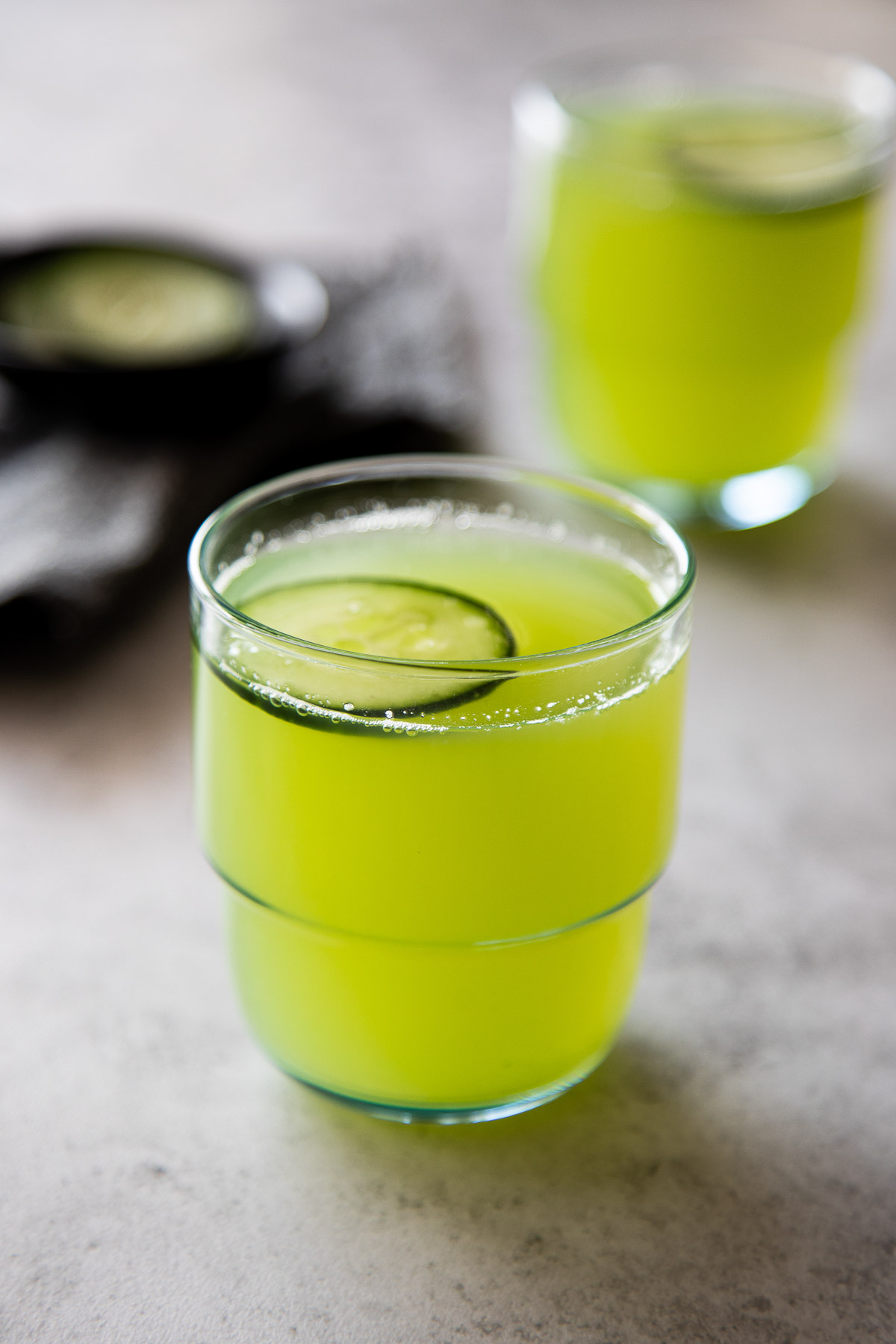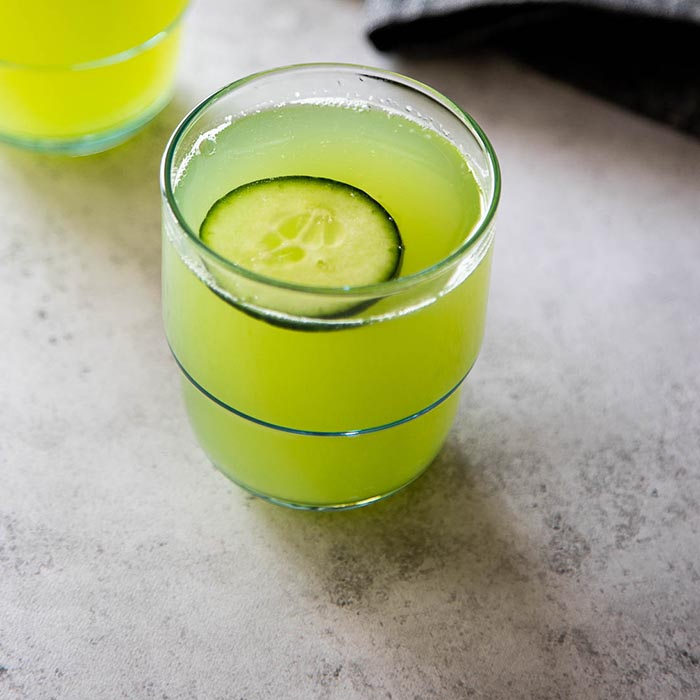 Print Recipe
CUCUMBER JUICE RECIPE | COCONUT CUCUMBER WATER
The juice craze can be overwhelming, but it's also brought about a realization of all the great produce we don't juice. Cucumber juice, for example, is very easy to make and so very refreshing. Mix it with some coconut water for the perfect summer cooler – a coconut cucumber water!
Ingredients
2

cups

peeled

 cubed cucumber

1½

cups

coconut water
Instructions
Place cucumber pieces in mini food processor. Pulse to puree.  

Place fine mesh sieve over bowl or measuring cup. Line with coffee filter or cheesecloth. Place cucumber puree in lined sieve. Gently stir cucumber to release liquid. 1 Cup cucumber yields ¼ Cup juice.

Combine ¼ Cup cucumber juice with ¾ Cup coconut water. 
Nutrition
Calories:
50
kcal
|
Carbohydrates:
10
g
|
Protein:
2
g
|
Fat:
0.5
g
|
Saturated Fat:
0.4
g
|
Polyunsaturated Fat:
0.04
g
|
Monounsaturated Fat:
0.02
g
|
Sodium:
191
mg
|
Potassium:
603
mg
|
Fiber:
3
g
|
Sugar:
6
g
|
Vitamin A:
109
IU
|
Vitamin C:
7
mg
|
Calcium:
60
mg
|
Iron:
1
mg