Along with requests for how to store reusable bags and kitchen appliance organization, my fellow members of a local moms group asked about for blanket and towel storage ideas – something I only became obsessed with after moving into our home.
Blanket Storage Ideas
Blankets are so lovely and warm, so comforting and nostalgic, and oh so big and space-hogging when it's warm!
Using blankets on beds and couches as well as laying them out for display in colder months is certainly easier than when it comes time to store them all.
We currently have two beds and a crib in our house (not that much, right?), but we easily get overwhelmed with blankets. The thing is that I've also collected blankets over the years – largely handmade by family. I have no desire, therefore, to part ways with any of them.
How Many Blankets do You Need?
As with just about everything we talk about here, let's make sure you aren't holding onto more things than you need.
Assuming it's the coldest time of year (so your blankets are in use), do you have extra blankets? Think about what isn't necessary throughout the year.
It could be a blanket that's so beautiful but not big enough or warm enough. Perhaps it's too warm. Don't hold onto anything purely for style or out of guilt. Plenty of people and animals need warmth, so pass it on. Check this list out for where to donate household goods including blankets and towels.
Now that you have the number you need, it's time to be logical…and then it's time to get creative.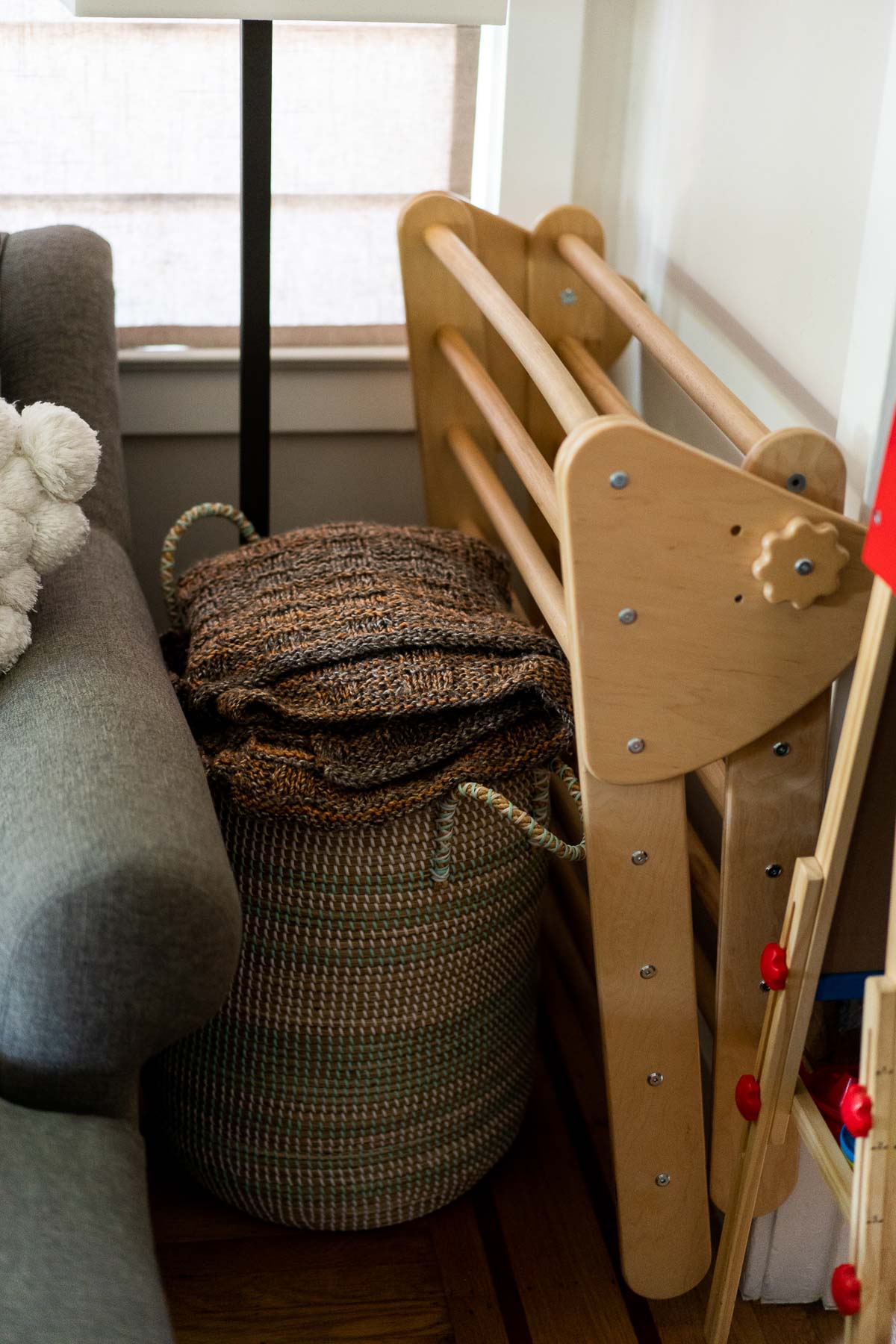 How to Store Blankets
Every home should have some kind of linen closet, shelf, or drawer. If you're like us – you may have more than one. I'm a firm believer that (hidden) storage location doesn't have to make sense; you just have to remember where it is!
The most logical thing to do once you've filled your main storage space is to keep blankets near the spaces in which they are most used.
We have a blanket for our bed in the closet in our room, blankets for the couch in a basket nearby, and throw blankets for our guest bed rolled into a large tote bag in the closet (see photo).
CHECK OUT THESE FAIR TRADE BASKETS FOR YOUR HOME

In the past, I've used the vacuum-sealed bags with varying luck. I found that they rarely kept sealed after a use or two, but if you sucked out the air and tucked it into the tight space right away, it might expand, but it was still stored in that tight spot! I now won't buy those as they contain a lot of non-recyclable plastic and I just don't think they're worth the cost, but you do whatever you need to do.
Towel Storage Ideas
Not far behind the space that blankets take up is the space of towels. Towels, however, are much easier with which to work!
How Many Towels Do you Need?
6. No, just kidding, you know the answer is something to be determined by you. Because we often replace towels, view them as decoration, and because they're usefulness is actually incredibly long, most of us have far more towels than we need – and we know it.
While it might be hard to get rid of a towel you know has some life left in it, let that be a reminder not to buy new ones so quickly but also, grab your towels and take them to a local animal shelter! The cute puppies (and the people who care for them) need them!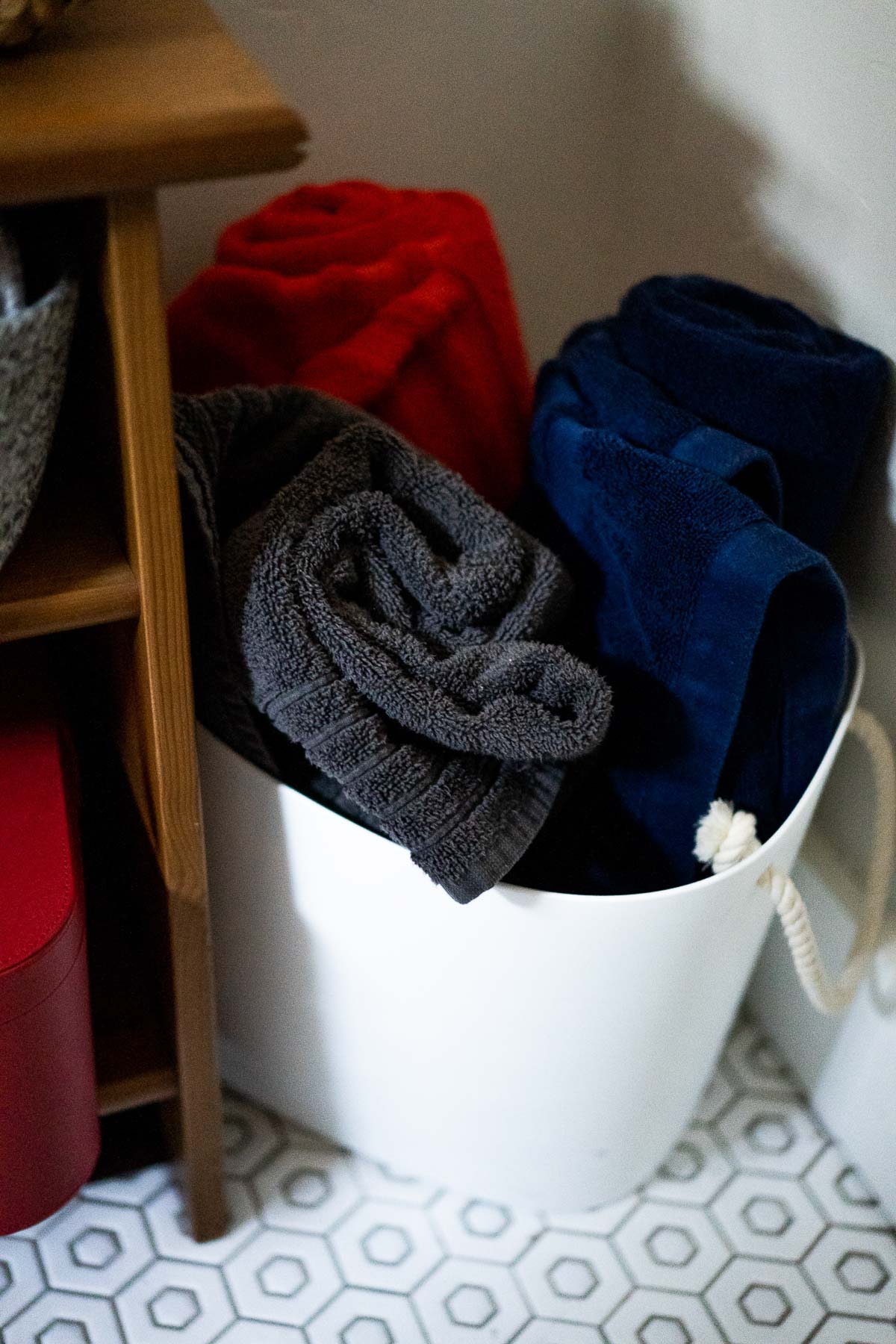 Towel Storage in Small Bathrooms
For a while, we kept our extra towels in a hall cupboard outside of the bathrooms. And after a while, I grew tired of the leaning tower of towels as well as having to leave the bathroom to get one.
Moving our towels into the bathrooms was a few part process. It started with the hand towels (and the few washcloths I've held onto). I cleared out a bunch of bathroom stuff (old toiletries, etc.), opening up a basket on our bathroom shelf (the medium size of this one).
I roll the hand towels in there, so they're very easily accessible but out of sight and staying clean.
As for bath towels, we have a total of 5 – one for each of us, a spare for each of us, and one for a guest. This allows a little wiggle room, but keeps us very under control.
Beyond that, we also own two beach towels, which also double (or quadruple?) as picnic blankets, car blankets (e.g. for covering seats), yogurt pot covers, and wiping off things that have been outside. They don't fit our decor vibe, but they're necessary for everyday life.
So anyway, our 4 spare towels needed a new home. I recently decided to roll them (for ease of grabbing one out) and put them in this white tub. It doesn't fit my style; I'd love a wicker basket or something, but honestly, it's hidden behind the door and so functional that I don't really care too much!
Moral of the story. Once you narrow down how many blankets and towels you actually needs, these simple blanket and towel storage ideas should do the trick for keeping these big, bulky, and totally necessary items from cluttering your space.
Small Home Living Tips
Want some organization tips for small home living? Check out these posts of kitchen appliance organization, how to store reusable bags, seasonal clothing storage, and small home office ideas, including mail and paperwork organization!
You'll also want to read how we're making our home more sustainable; how to decide what to donate in every room of your house; and how to declutter your mailbox!
Keep an eye on this constantly updated list of sustainable product reviews for every aspect of life!
And if you have kiddos in your home, you'll appreciate how to incorporate babies into your home decor.