Sometimes the known, familiar is a better route for recipe creation than trying to reinvent the wheel. It certainly is with this mardi gras side dish of roasted squash, red onion, and parmesan…
On Friday, I promised a St. Patrick's Day recipe for this week and a good possibility of a Mardi Gras recipe for yesterday. None of that happened. My great idea for a St. Patrick's Day recipe was a Guinness and Cabbage soup. I made it and it looked good. I even have pictures to prove it.
It tasted less than amazing to me, but I held out hope that it was more that I don't love the flavor of Guinness than it was a bad recipe. So, I reheated it for dinner, anxiously awaiting the verdict…
I think my guy and I each survived 2 bites before we drained off the liquid with the hopes that we could tolerate the cabbage mix…on another night. Maybe.
So you won't be getting that St. Patrick's Day recipe (you are welcome!), but maybe it will inspire you to make one that is delicious (or even palatable)! Luckily this roasted squash + parmesan dish for Mardi Gras worked out beautifully…
And you can always do this St. Patrick's Day Appetizer Board!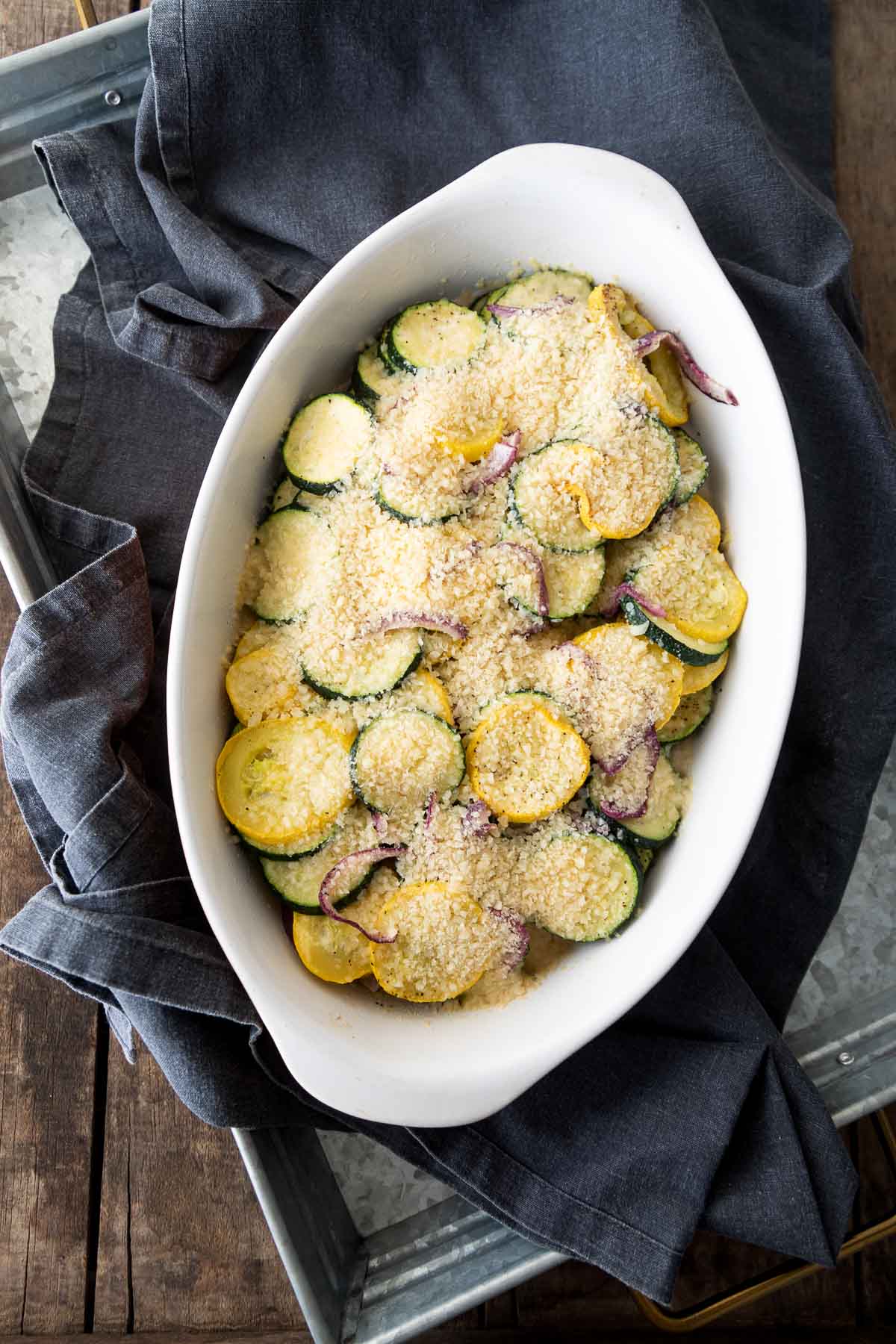 Easy Mardi Gras Side Dish
This dish, however, is nothing new to our family, so I wasn't worried. A few summers during my childhood, my parents produced an unsightly amount of zucchini squash, so my mom got creative with recipes. Sometimes too creative (e.g. zapplesauce!).
But the longstanding recipe that emerged from all that squash was a side dish of zucchini and parmesan.
After layering the squash, butter, salt, pepper, and parmesan cheese, she microwaves it for about 5 minutes and voila!! Deliciousness!
In my recent efforts to cook healthier, I've omitted the butter (and don't taste the difference), but I may be lying to myself, who knows?!
Also, because I don't eat a ton of cheese, I like to do a layer of cheese on top, rather than throughout so everyone can enjoy as much or as little as they like. It's a win win.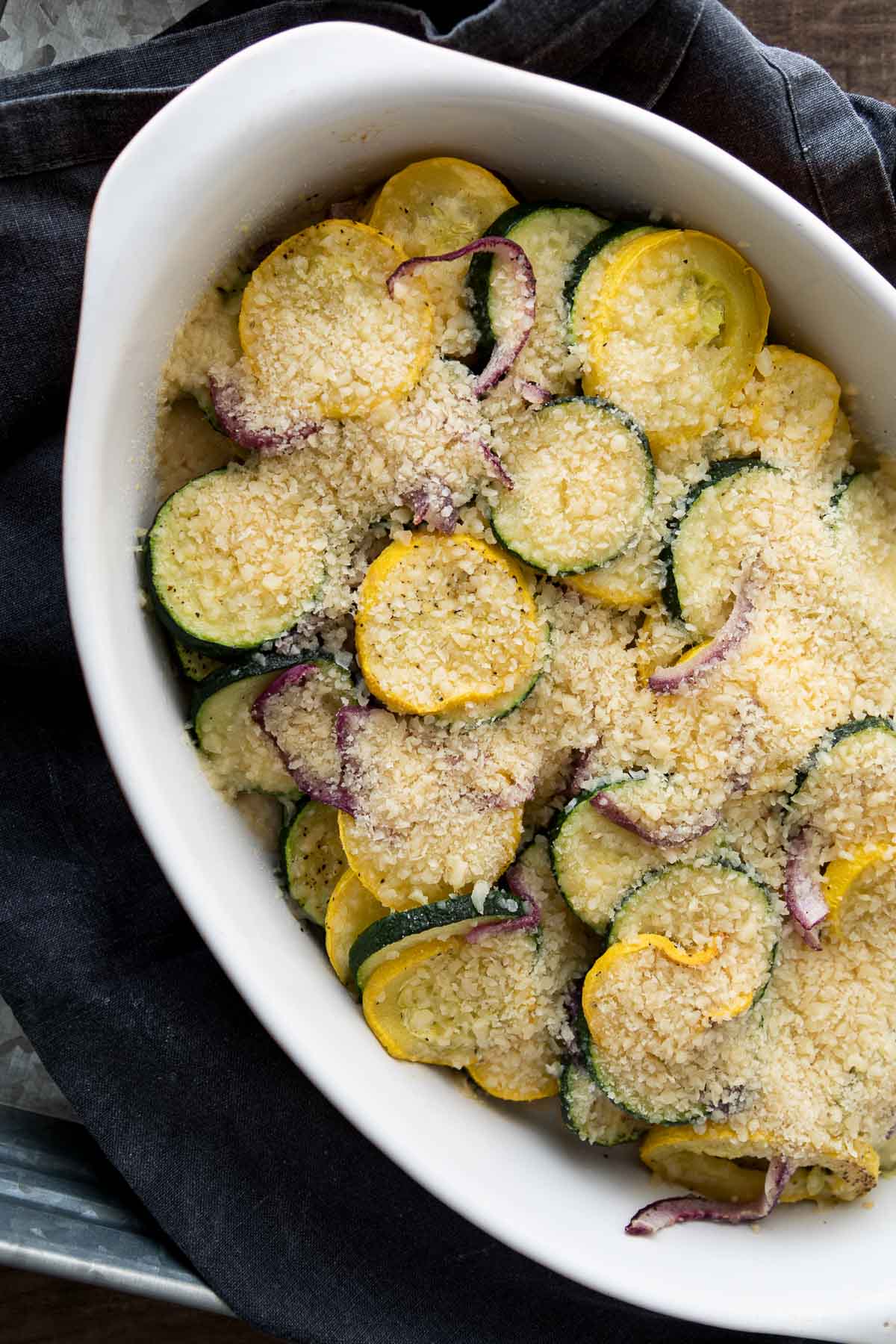 To make this into a Mardi Gras side dish recipe, I added some red onion (actually purple). I also roasted these in the oven. You can choose between the microwave method or the oven method – probably dependent mostly on time!
If you can't be celebrating Mardi Gras in person, this side dish is a fun celebration. But if you do get the chance for a trip, check out this New Orleans itinerary!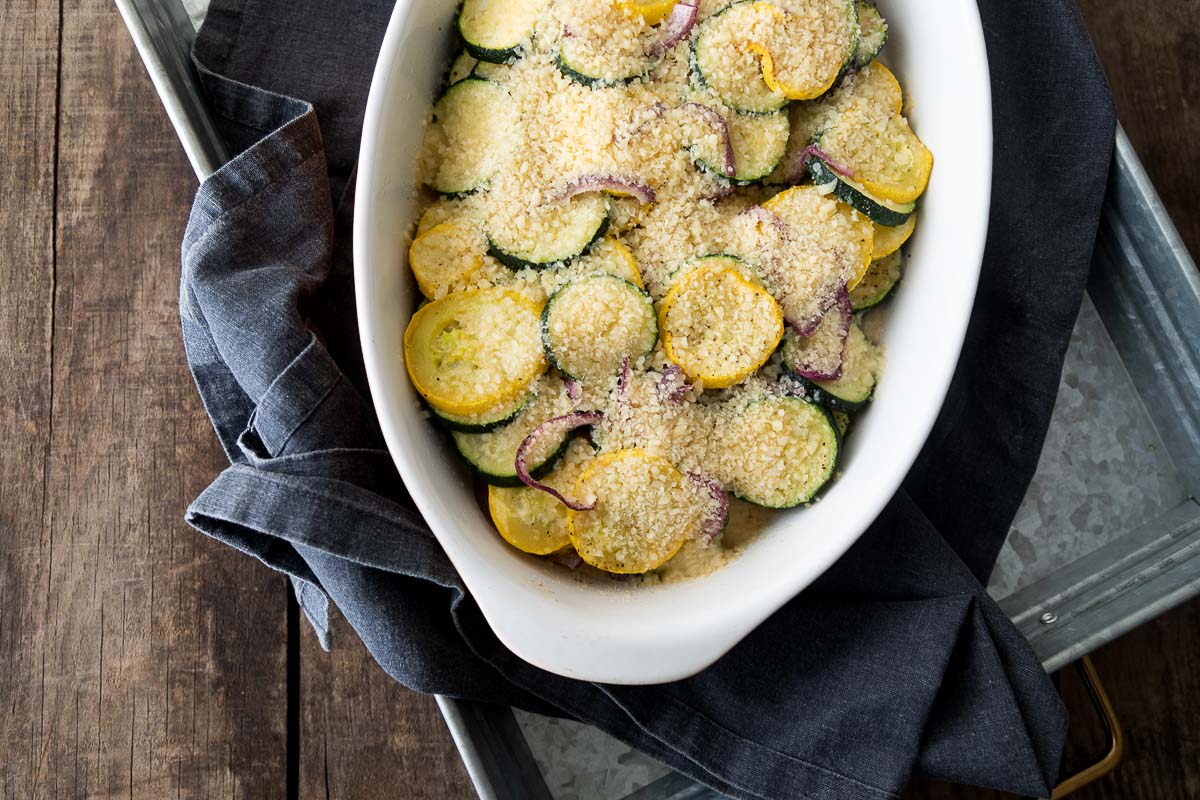 More Zucchini Recipes
Print Recipe
ROASTED SQUASH + PARMESAN
I love creating festive food for holidays but with natural colors. Green and yellow squash combine with red onion (that looks purple) in this healthy Mardi Gras side dish recipe. But full disclosure, this is a year-round favorite side dish in our family!
Ingredients
2

zucchini

sliced

3

small yellow squash

sliced

1

medium red onion

sliced

2

Tablespoons

olive oil

salt + freshly cracked pepper

1

Cup

plus grated parmesan cheese
Instructions
OVEN METHOD
Preheat oven to 400 degrees.

Combine vegetables and olive oil. Spread on baking sheet. Season evenly with salt and pepper (approx. ¾ teaspoon each). Stir. Roast for 20-25 minutes, depending on thickness of slices.

Remove from oven. Place in oven safe dish. Cover with cheese. Bake 5-7 minutes.

Let cool 5 minutes before serving.
MICROWAVE METHOD
Lay one-third of vegetables in deep, microwave-safe dish, sprinkle with salt and pepper. Repeat layers for remaining vegetables. Top with cheese. Cover.

Cook 5-7 minutes depending on thickness of squash and size of dish.

Let cool 5 minutes before serving.
Nutrition
Calories:
135
kcal
|
Carbohydrates:
7
g
|
Protein:
6
g
|
Fat:
10
g
|
Saturated Fat:
3
g
|
Polyunsaturated Fat:
1
g
|
Monounsaturated Fat:
4
g
|
Cholesterol:
15
mg
|
Sodium:
297
mg
|
Potassium:
315
mg
|
Fiber:
1
g
|
Sugar:
3
g
|
Vitamin A:
341
IU
|
Vitamin C:
18
mg
|
Calcium:
167
mg
|
Iron:
0.5
mg