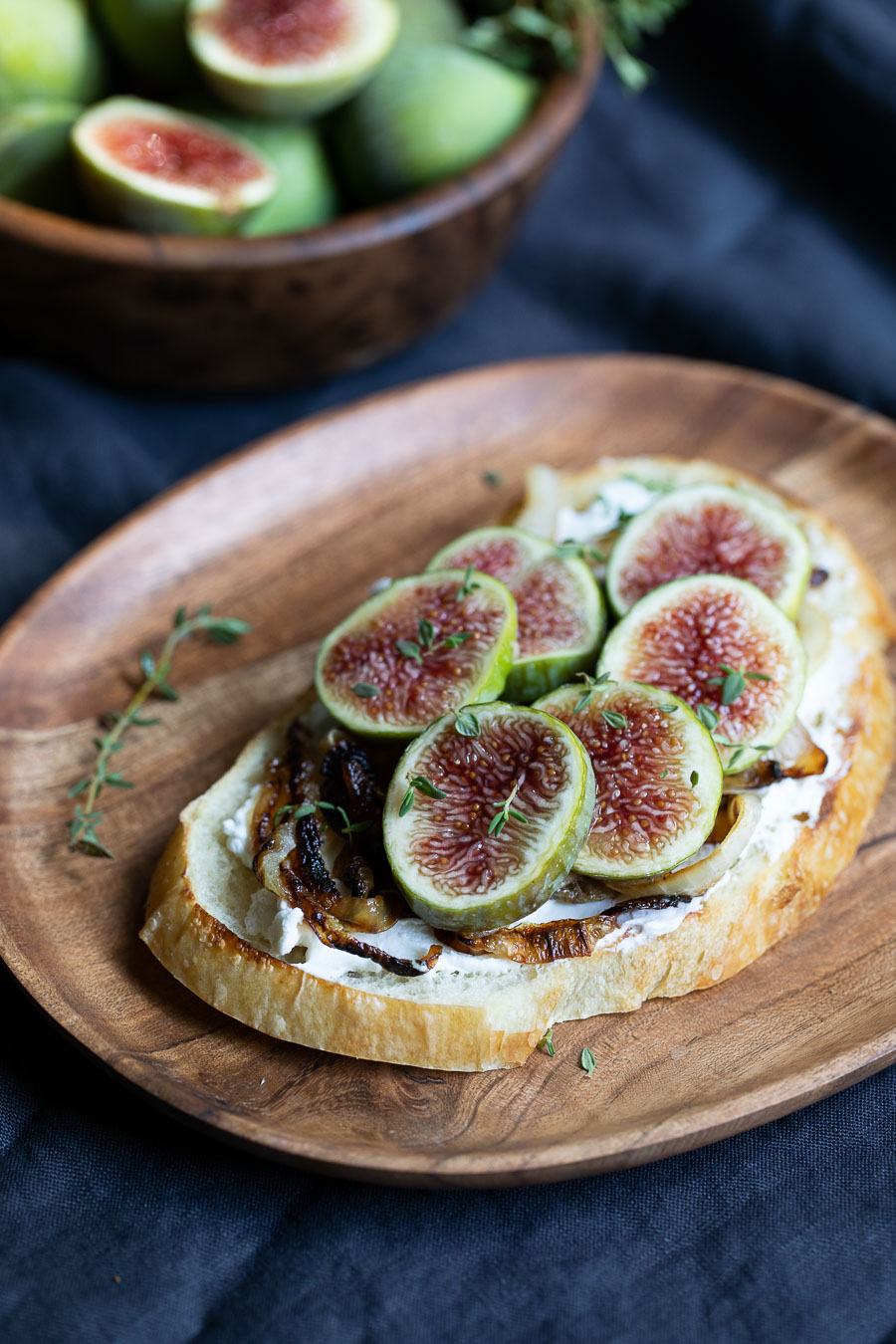 I told you last week in that fig spritzer recipe that there was one more fig recipe to come this season and here it is! I've made a sweet fig and berry toast, but I haven't done a savory fig toast!
And if we're being honest, I might need to rename my blog Luci's Toasts, because they are quickly becoming my favorite type of recipe to share – don't worry sangria recipes, I still love you too!!
Savory Fig Toast
Like most fruit, figs pair wonderfully with traditionally savory or salty ingredients. The natural sweetness just pairs so nicely with it all. It's easy to go overboard when making your toasts and tartines. You don't want to over do it though because then you won't be able to taste all the scrumptious flavors. Less is oftentimes more in the case of food (butter and salt usually excepted from that rule!).
If you're ever wanting to make a savory toast (with any fruit), caramelized onions and goat cheese are the perfect base. I mean, let's be honest, that combination is good just on its own, but add the sweet fruit and it's HEAVEN!!
As we transition into fall flavors, thin slices of apple and pear would be good on this setup too. And the fruit all look so different, people may not even notice it's the same recipe over and over again.
So. These savory fig toasts are really an all-encompassing go-to recipe. They're great as breakfast or lunch ideas or you can serve them up for friends (any time of day).
Since the goat cheese, onions, and figs have a softer consistency, I'd recommend a sturdier bread. This time we made it with sourdough. I think it'd be good on a rye or pumpernickel bread next time!!!
Or if you just need every meal served on a lovely piece of toast, try this smoked salmon tartine, this spicy avocado toast, a tuna tartare tartine for two, some ricotta and zucchini toast, or this ceviche avocado toast! One loaf of bread and you're set for the week on meals!
Fresh Fig Recipes
If you love fresh figs as much as I do, or just have too many in your world, enjoy these fresh fig recipes. This fig spritzer is everything your summer afternoons and evenings need!
Fresh fig cake is one of my all item favorite recipes for a fabulously simple and seemingly decadent baked goodie.
And these salted honey & fig crackers are a yummy appetizer or even a small breakfast that's fast and easy!
Dried Fig Recipes
When the time comes for dried figs, don't forget about their tastiness. Chocolate dipped figs are perfect for dessert or even a homemade gift.
You can chop them up into fig granola or place them on any cheese board!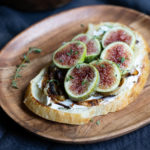 Print Recipe
SAVORY FIG TOAST
I love figs but oftentimes they're mixed into sweet concoctions. This savory fig toast takes advantage of the wide range of flavors that pair so perfectly with figs. Mixed with caramelized onions and goat cheese, this recipe will be a favorite (for just you and for all your friends)>
Ingredients
1

tablespoon

unsalted butter

½

medium yellow onion

sliced

2

slices

sourdough or country-style bread

toasted

3

ounces

goat cheese

softened

4

fresh figs

such as Kadota or Tiger figs

Thyme leaves for garnish
Instructions
Melt the butter in a medium skillet over medium-high heat. Add the onions and cook for 30 seconds, stirring them with the butter. Reduce the heat to medium-low. Cook, stirring occasionally for 30 to 40 minutes, until caramelized and softened.

Spread half of the goat cheese over each slice of toast. Top each with half of the onions. Slice the figs and arrange two figs over each piece of toast. Garnish with thyme leaves before serving.
Nutrition
Calories:
422
kcal
|
Carbohydrates:
55
g
|
Protein:
16
g
|
Fat:
17
g
|
Saturated Fat:
10
g
|
Polyunsaturated Fat:
1
g
|
Monounsaturated Fat:
4
g
|
Trans Fat:
0.2
g
|
Cholesterol:
35
mg
|
Sodium:
545
mg
|
Potassium:
360
mg
|
Fiber:
5
g
|
Sugar:
21
g
|
Vitamin A:
757
IU
|
Vitamin C:
4
mg
|
Calcium:
136
mg
|
Iron:
4
mg