If you haven't tried roasted radishes, you are missing out. Raw radishes can be bitter, but when they're roasted they take on a lovely sweetness you don't want to miss!
Now that I've shared our journey to finding the Low FODMAP diet and how much it's helped us, I feel that I must also share my struggles. Because I don't follow the diet, I can certainly have additional items from my husband (namely a bread here and there).
But the reality is that our dinners are for us, so they're all low FODMAP friendly, including these roasted radishes.
Once we got into a groove, however, coming up with Low FODMAP recipes wasn't that hard. We've found gluten free pasta that he can eat (finding brands without other no-no ingredients wasn't easy). He doesn't miss bread anymore. And we never have garlic or onions in the house, so pretty straightforward.
The hardest thing for me, however, has been the limitations of fruits and vegetables. Because fructan – found in fruit – is a one of the groups to avoid, almost all fruit is out. This one isn't terribly difficult for my husband, but I would certainly struggle.
But then come the veggies. There are a wide variety of vegetables we can't have at home. The big ones I miss are cauliflower, beets, and mushrooms.
Roasted Radishes
Basically we eat red bell peppers (only red is ok), zucchini, green beans, broccoli, eggplant, and greens. I love all of those, but I WANT THEM ALL!!
Occasionally, we discover a food he can eat, however, and then we usually go to town. My latest discovery was radishes.
But while radishes are fine for him to eat, getting him to eat them is another thing (much like our toddler and kale). So I decided to try roasted radishes one night to add to our collection of side dish ideas. I made other veggies in case they weren't good though.
You all. THEY WERE DELICIOUS. I expected a root vegetable flavor that would be edible, but they actually had a surprising sweetness, a nicely soft texture, and such great color!
The first time I roasted the radishes, I did olive oil, salt, and pepper. It was delicious. The next time I used butter – obviously amazing. You could honestly do either or switch off between times.
And then I just do salt and pepper for seasoning. I bet other dried herbs would be delicious on these roasted radishes as well, however. So we'll be trying that next!
And I'm also going to give this radish top pesto a shot! Why not use the whole thing up, right?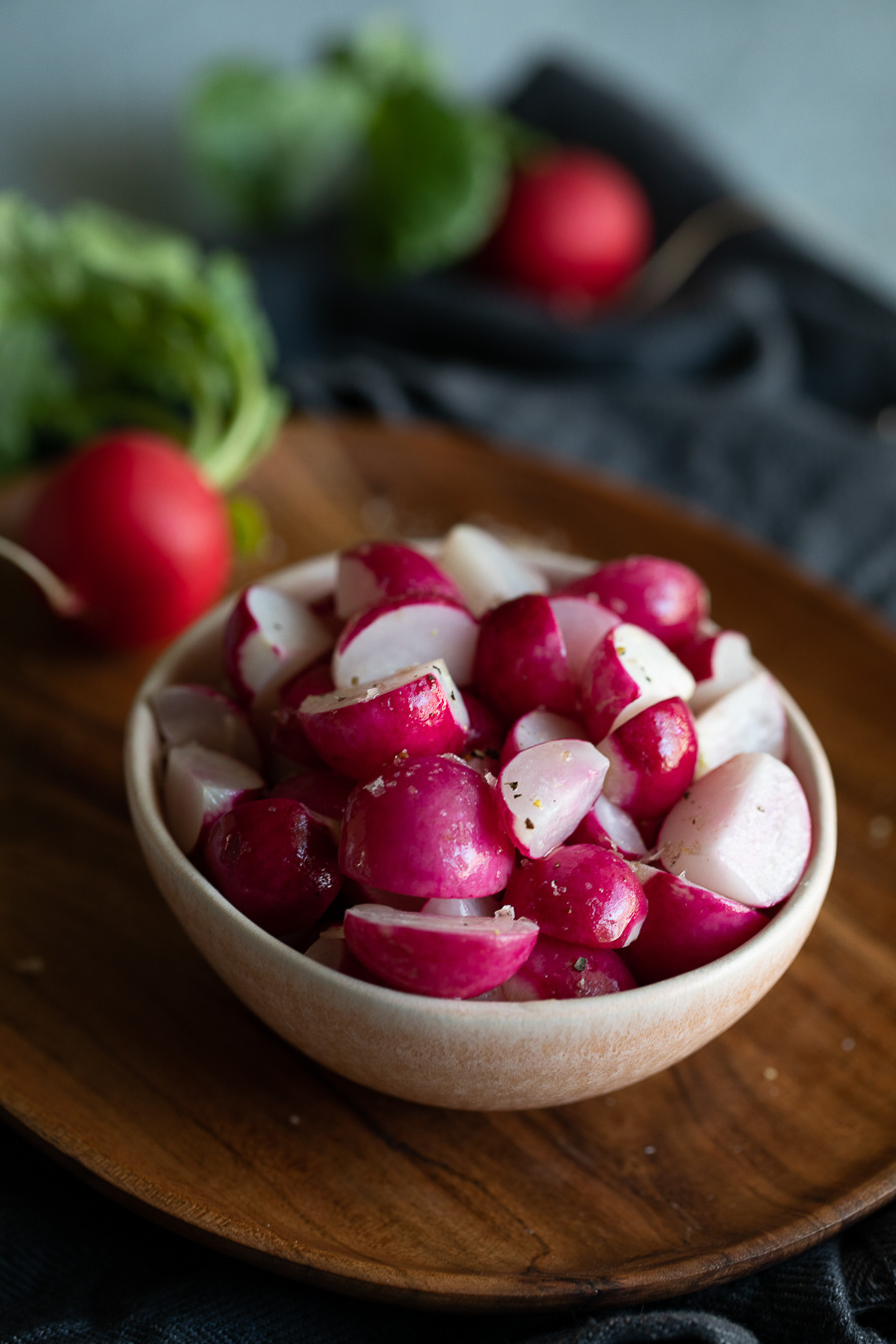 Low FODMAP Recipes
If you're also following the low FODMAP diet, check out these other recipes. Cheesy jalapeno polenta, make-ahead breakfast tacos, French potato salad.
Radish Recipes
Looking for more radish recipes? Try these radish toasts or even serve them as an appetizer like I did on this Valentine's Day Appetizer Board!
Print Recipe
ROASTED RADISHES
Ever wondered how to cook radishes? While they're often served in raw slices or on a veggie board, you'll love them roasted. They have a surprising sweetness and don't taste anything like a traditional root vegetable. They're a colorfully welcome treat to any meal!
Ingredients
18 to 20

radishes

trimmed and quartered (about 2 bunches)

2

tablespoons

olive oil or butter

melted

¼

teaspoon

flaked smoked sea salt

or more to taste

cracked black pepper

to taste
Instructions
Preheat the oven to 400 degrees. Spread the radishes in a single layer on a baking sheet. Roast for 10 minutes, stirring halfway through.

Pour the melted butter over the radishes, stir well. Transfer to a serving bowl and sprinkle with smoked sea salt and black pepper. Serve warm.
Nutrition
Calories:
71
kcal
|
Carbohydrates:
1
g
|
Protein:
0.2
g
|
Fat:
8
g
|
Saturated Fat:
5
g
|
Polyunsaturated Fat:
0.3
g
|
Monounsaturated Fat:
2
g
|
Trans Fat:
0.3
g
|
Cholesterol:
20
mg
|
Sodium:
204
mg
|
Potassium:
58
mg
|
Fiber:
0.4
g
|
Sugar:
0.5
g
|
Vitamin A:
235
IU
|
Vitamin C:
4
mg
|
Calcium:
8
mg
|
Iron:
0.1
mg