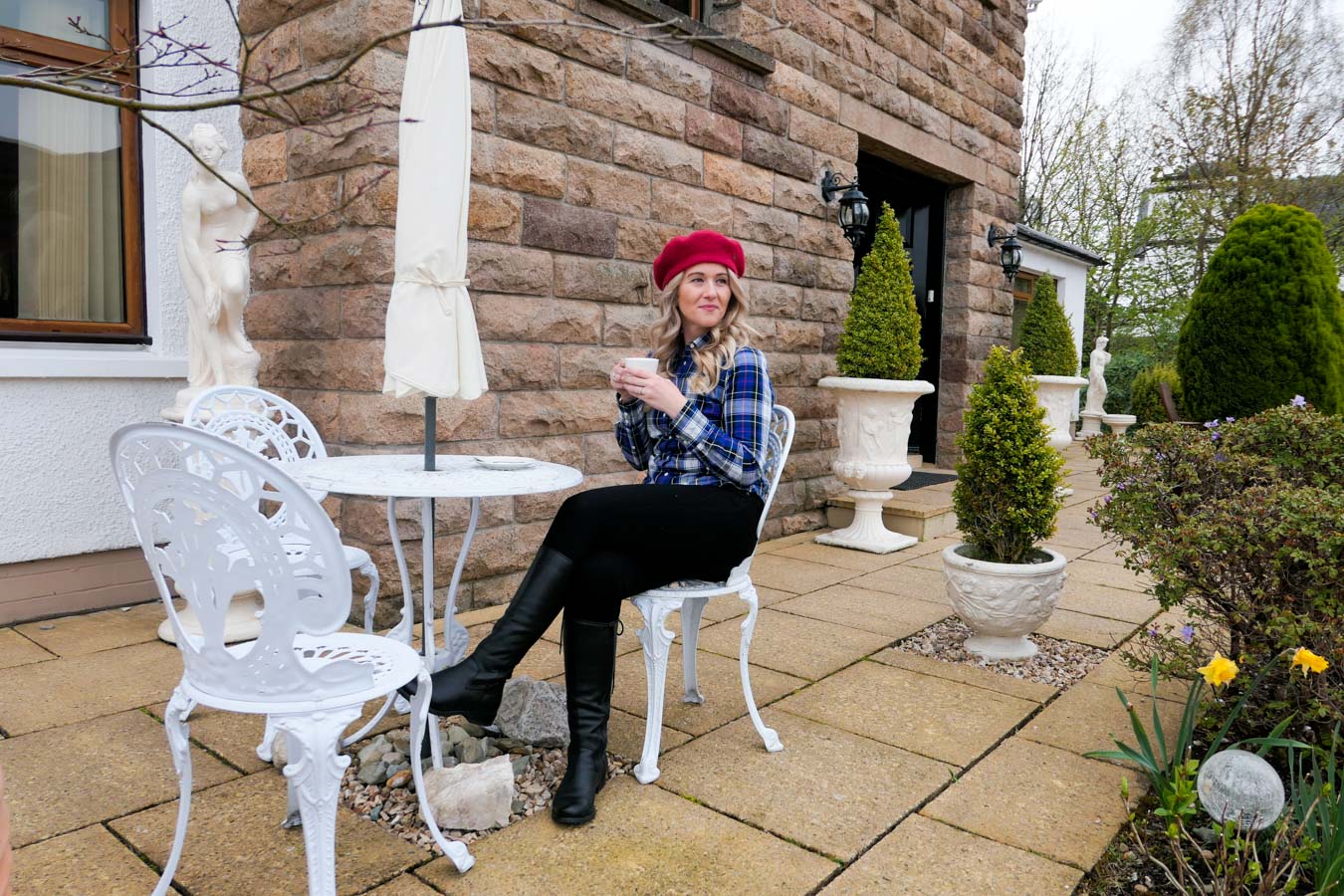 Can I tell you a secret? I didn't have much involvement with planning our trip to Scotland. Of course, I gave opinions when presented with options, but I let my mom and husband do the planning. And they were great! My husband planned most of the first half of our trip (when he was with us) and my mom planned the second part when it was just us. When my husband suggested spending a few days in Fort William (on the west coast), I was happy to oblige.
Feeling as though he'd done a bunch of planning, I spent one afternoon researching where to stay (more below) while he figured out what to do in Fort William. And of course, we had a few items added upon our arrival after we met our bed & breakfast hosts.
We all enjoyed our time in Fort William much more than expected and, for the first time ever maybe, my husband told me that I should do a Fort William travel guide because what was out there didn't do it justice! Ask and you shall receive, my love, so here is my guide to Fort William with where to stay, where to eat, and a number of day trips...
Fort William Travel Guide

Fort William Accommodation of Choice
If you stay in Fort William, plan on staying at a bed & breakfast. They lined just about every street, however, the best b&bs are obviously across the street from Loch Linnhe. After looking at a few houses, I stumbled on Westcourt B&B, which looked cute and perfect from the website photos, but I don't think it really did justice to how adorable and wonderful the b&b was in real life…
Accommodations in Scotland, outside of the cities that is, is largely b&bs – older homes that have been broken up into smaller rooms. Each place therefore only has 4-6 rooms and each obviously has its own character.
If you were ever wondering how to make me happy, it's good views and pieces of homemade cake on the bed – both an everyday occurrence at Westcourt.
The b&b is run by a wonderful couple. The husband, Charles, lives and breathes Fort William and the area. He can tell you everything you need to know from where to drive to how to get your hands on sold out tickets (keep reading).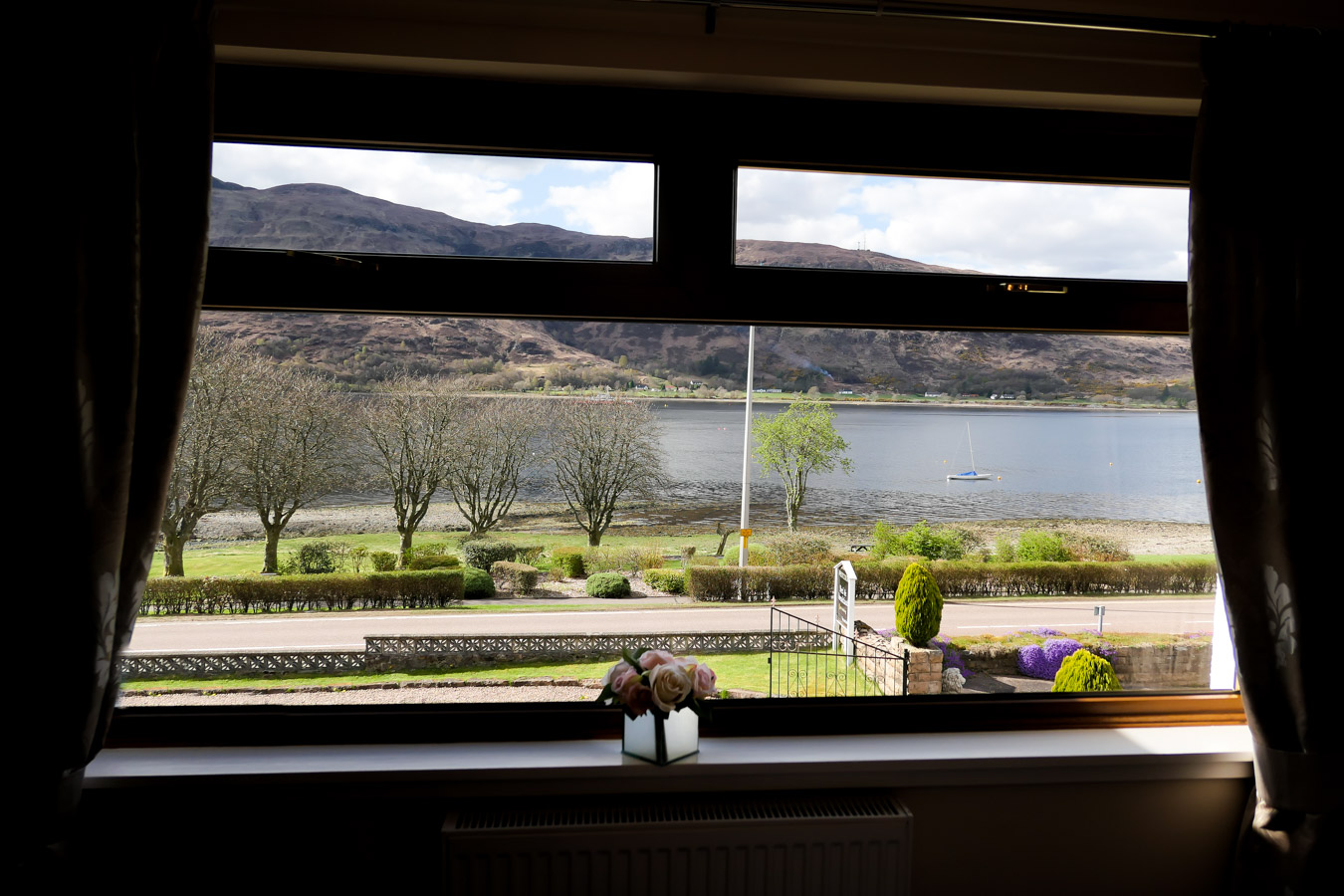 If you were wondering why your b&b needs to be across from the lake, this is it. My mom's room on the first floor was much grander in size, but our second floor views were hard to beat! The other great thing about the b&bs on this lakefront stretch is that you can walk into the town of Fort William for dinner. But you won't need to go anywhere for breakfast…
So, yeah. Breakfast. There's a continental bar with fruit, cereals, and a small meat and cheese plate. Coffee, tea, and a basket of toast are brought to the table upon sitting down. And there's a freshly made yogurt parfait (the flavors change each morning) at each setting. Happy dance to begin each and everyday!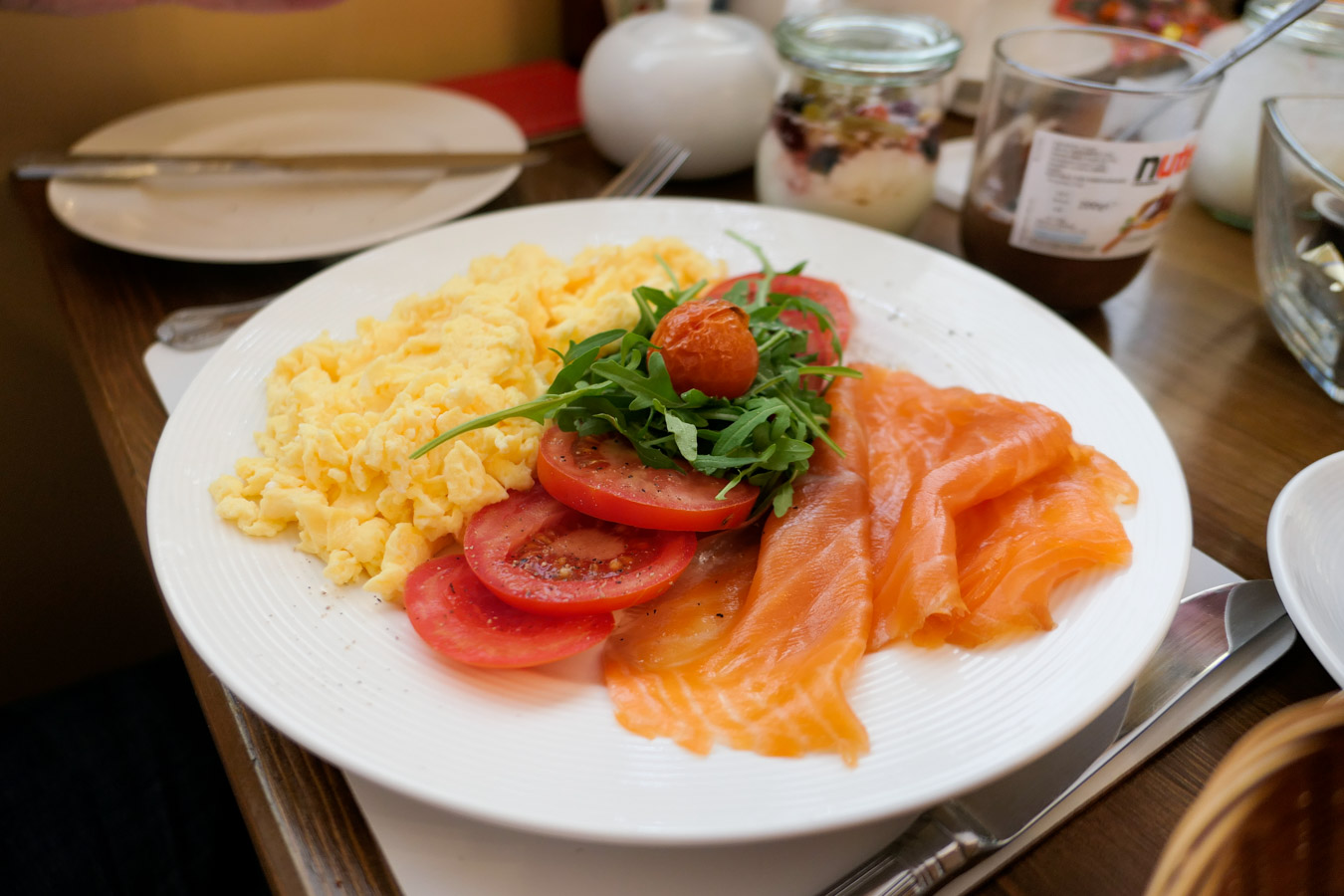 Charles' wife, Katarina, is in charge of all of the cooking – from the perfect poached egg and the delectable yogurt cups to the homemade cakes she sets on each bed every afternoon!
And if you're looking for where you're going to have the best smoked salmon on your trip – it's here! We, mistakenly, assumed we'd be getting lots of the fish on the remainder of our trip and were sorely disappointed, so I'm still kicking myself for not having this both of our mornings there!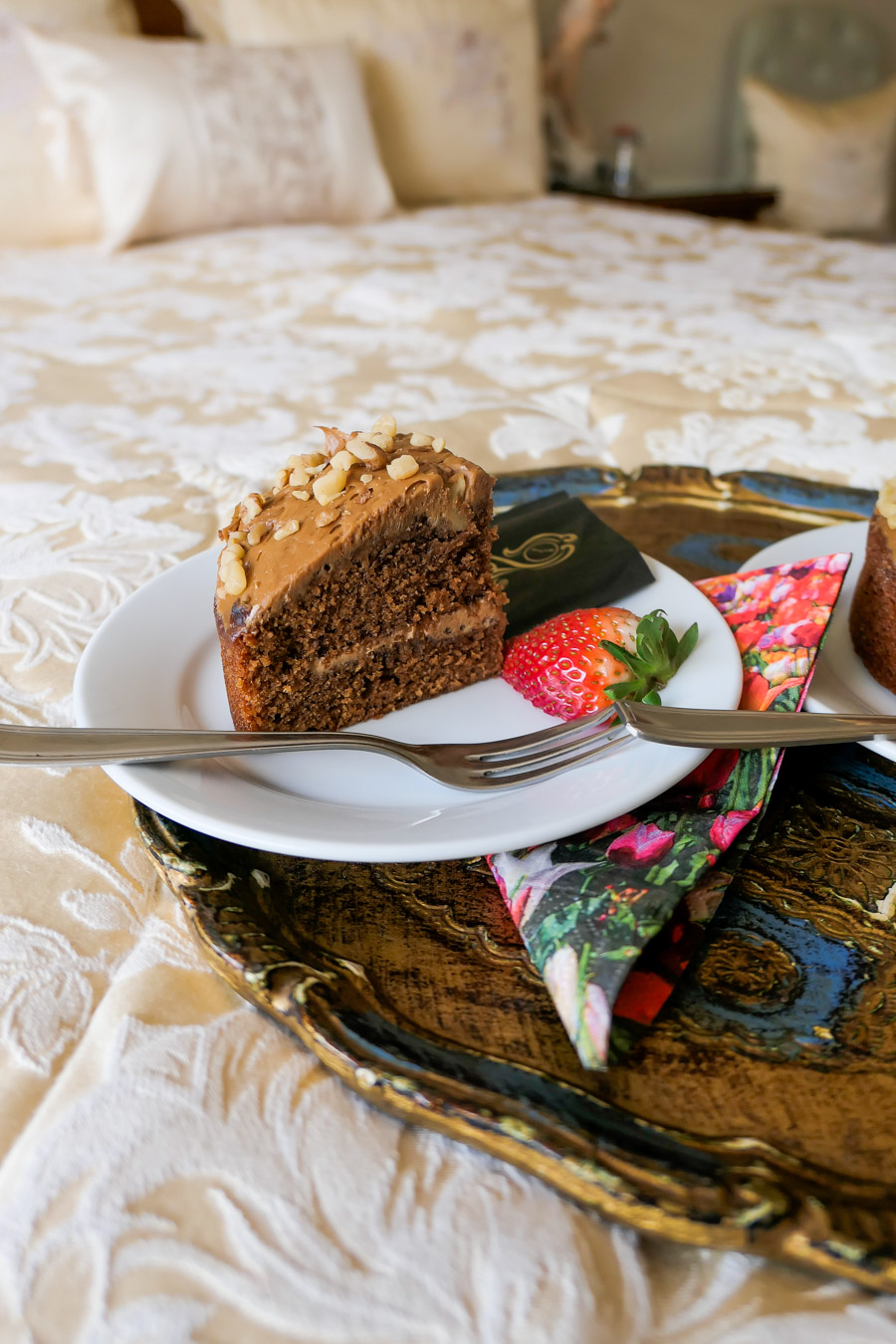 As you enjoy breakfast, Charles and Katarina will ask you your plans for the day. They'll suggest routes to take, times to arrive, and secret stops along the way!

Where to Eat in Fort William
Though it doesn't look it, you will be hungry for dinner after that big breakfast. If you like fish (and even if you don't), you have to try Crannog for dinner. The restaurant sits right on the water with that picturesque red roof. All the dishes were delicious, but two dishes were particularly memorable…

Scottish Mussels
There are a lot of mussels to be enjoyed in Scotland. If you like mussels, I encourage you to do your part and give them a try everywhere you go. The mussels are "farmed," but before you run away (we try to avoid farmed fish too), this is a little different…
The mussels live in the sea water (the lochs are a mixture of seawater and fresh water). Mussel farmers have large piping that provides a place for the mussels to attach on to. They grow like normal and are that much fresher to enjoy. When you drive along the lochs, you'll see buoys that look like they're creating a big minefield, but it's the top of these mussel poles. But I digress…
Mussels in Scotland are super delicious, but Crannog had the best mussels of them all. Of course they had garlic, butter, and wine. While that's a fairly common 'broth,' they somehow did it better than any I've ever had before!
You could order mussels and a salad and be good to go on dinner! The above bowl is the 'small' serving we shared as an appetizer and it was a lot. Be sure to save bread to dip in the sauce. You'll be in mussel heaven! A far cry from my homemade tuna pasta, let's be real!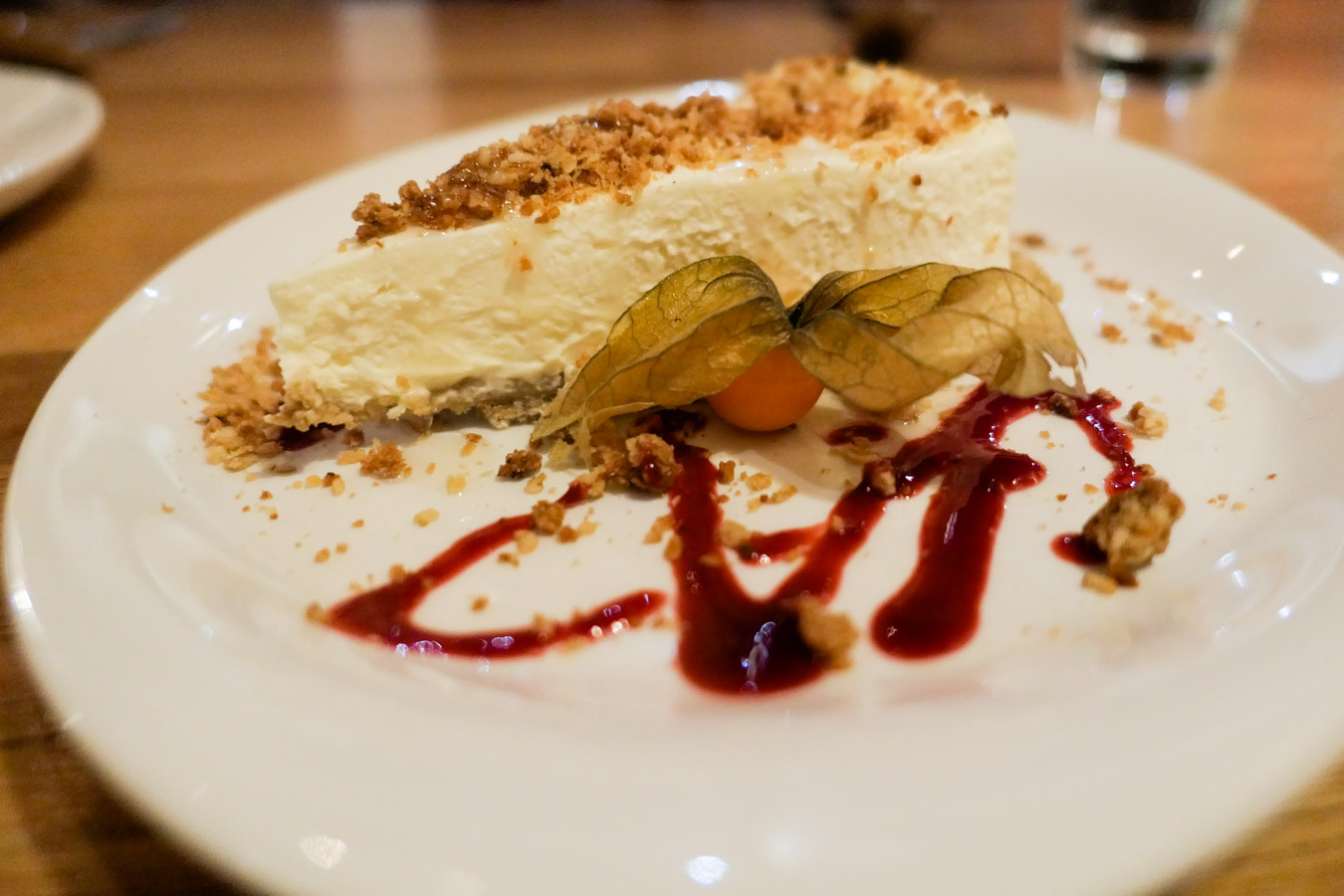 The second dish of particular interest was the cheesecake. We aren't ones to order cheesecake, but the crust was made of Cranachan – a Scottish dessert that's made of oats, honey, and whisky. It's usually baked overnight and I'd just learned about what sounded like my perfect dessert a few days before.
So we ordered the cheesecake. It was far creamier than any I'd ever had, and we licked up each little bit of deliciousness! The gooseberry (the orange fruit with green leaves) also made me do a happy dance. Gooseberries aren't common in the States and it's sad to me. They're a tart fruit, but I think they're just so much fun!
You'll need reservations at Crannog, but at Charles' recommendation we walked up to the restaurant before it opened for dinner. The door was ajar and someone was inside. There were two availabilities for that evening and we snagged the 8:15 reservation. So, so good. It really was one of the best, if not the best, meals we had on the trip!

Day Trip #1 (South East) | Glen Coe Highlights
Ok. But on to why you should stay in Fort William. The town of Fort William itself isn't too big, but it is a wonderful place to stay because it's centrally located between a few must-see destinations in Scotland.
The western entrance to Loch Lomond and the Trossachs National Park is only 2 hours driving from Fort William, but even if you don't want to travel so far, there are a few easily accessible viewpoints in the area of Glen Coe (east of the town of Glencoe).

Meeting of Three Waters | Glencoe Falls
The Three Sisters mountains tower over this beautiful area. At the foot of these mountains is the Meeting of Three Waters, including the Glencoe Falls.
After a bit of research, all I can tell you is that the River Coe meets two others sources of water to make the three waters. Groundbreaking, I know.
But I can also tell you that it's beautiful and worth a stop (5-10 minutes). There are pull outs on each side of the road about 50 feet east of the bridge lookout. The signs are minimal (possibly nonexistent), so star the location Google maps before you head out, so you know what you're looking for!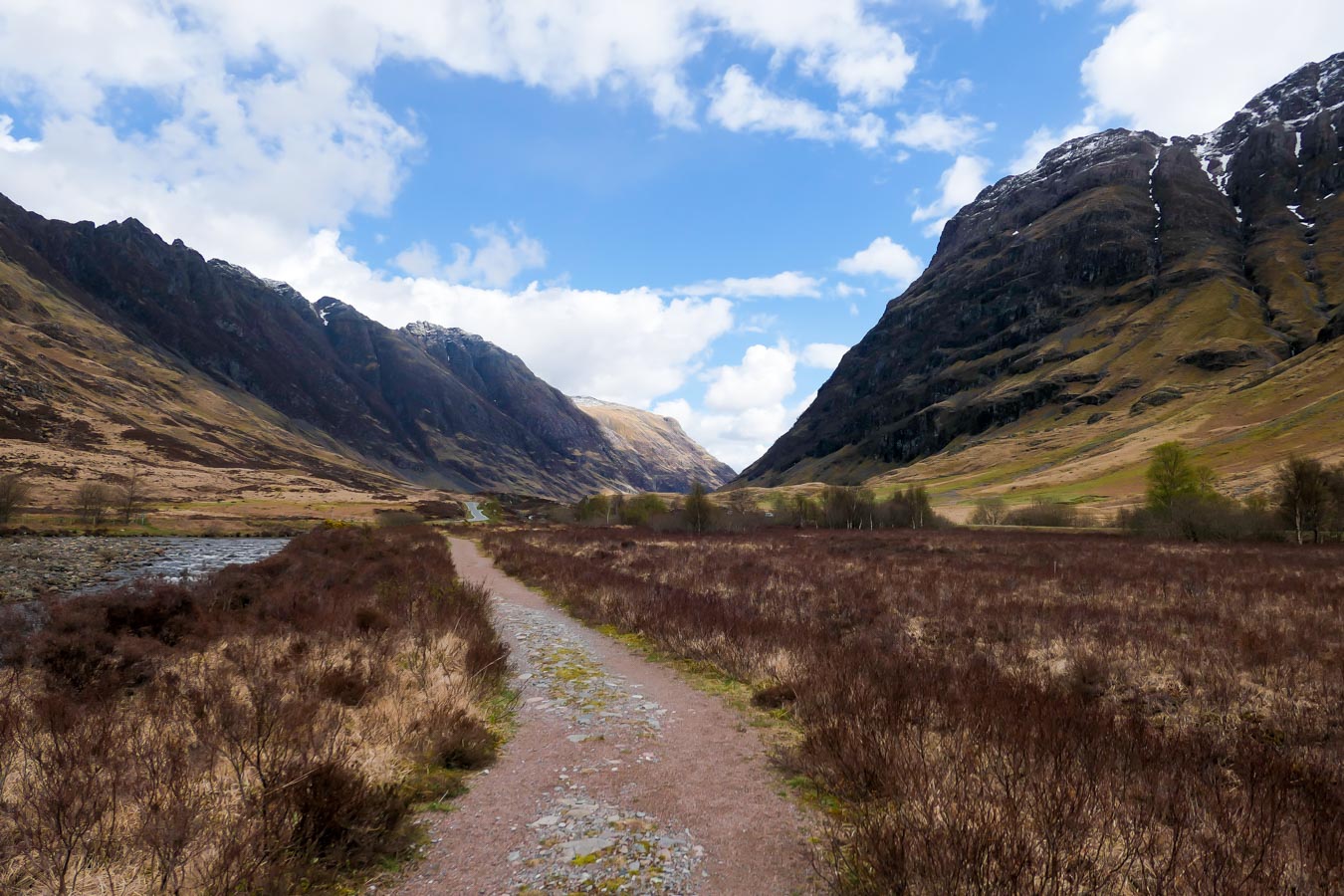 Skyfall Road | Glen Etive + Loch Etive
You know that scene in the 007 James Bond thriller Skyfall where he and Dame Judy Dench "M" are driving on remote roads to his childhood home? Well that drive is this drive! There is no Skyfall estate or home (that was built – and blown up – somewhere else), but the drive is vaguely familiar and absolutely beautiful.
The road doesn't have a name except that it is the road through Glen Etive to Loch Etive. One website said the road wasn't for amateur drivers. The road seemed fine to us (a one lane road). There were a lot of turnouts, so when you come across traffic, you/they could easily pull out of the way.
The only word of warning is that it isn't a fast road. If you really want to get back to the lake, you should allow at least 1.25 hours from the main road – A82. We never made it all the way to the lake because we had dinner reservations back in Glencoe.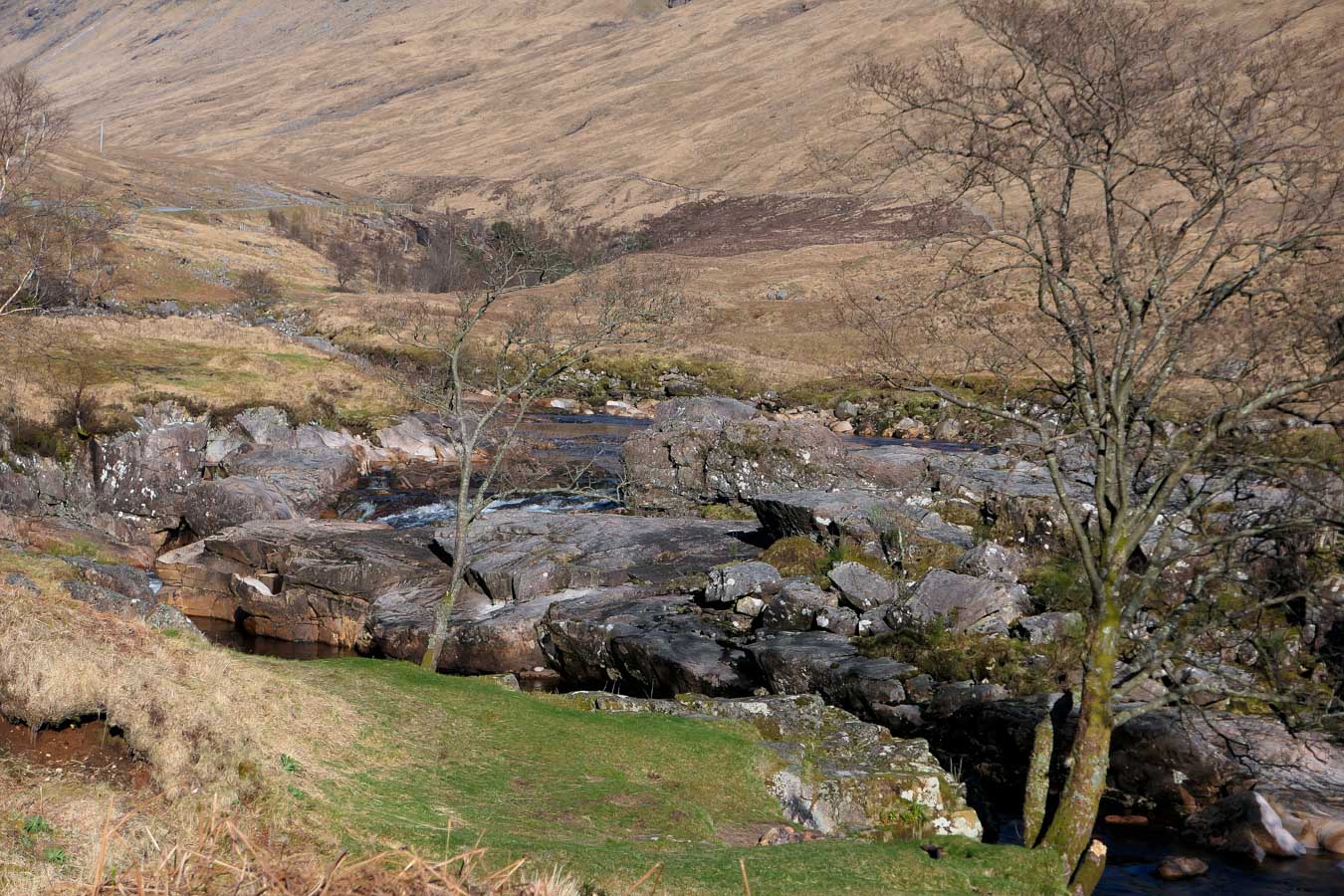 Neptune's Staircase
On the western edge of Fort William is Neptune's Staircase, the longest canal in Scotland. In essence this canal (along with others that makes up the Caledonian Canal) allows for ships to sail from the North Sea at Inverness to the Irish Sea through Loch Linnhe.
Look at the Google Maps link here to see how amazing that is! In addition to the time saved, the canal also saves crews and business owners thousands of dollars with each crossing, not to mention the safety of an interior river rather than the open seas.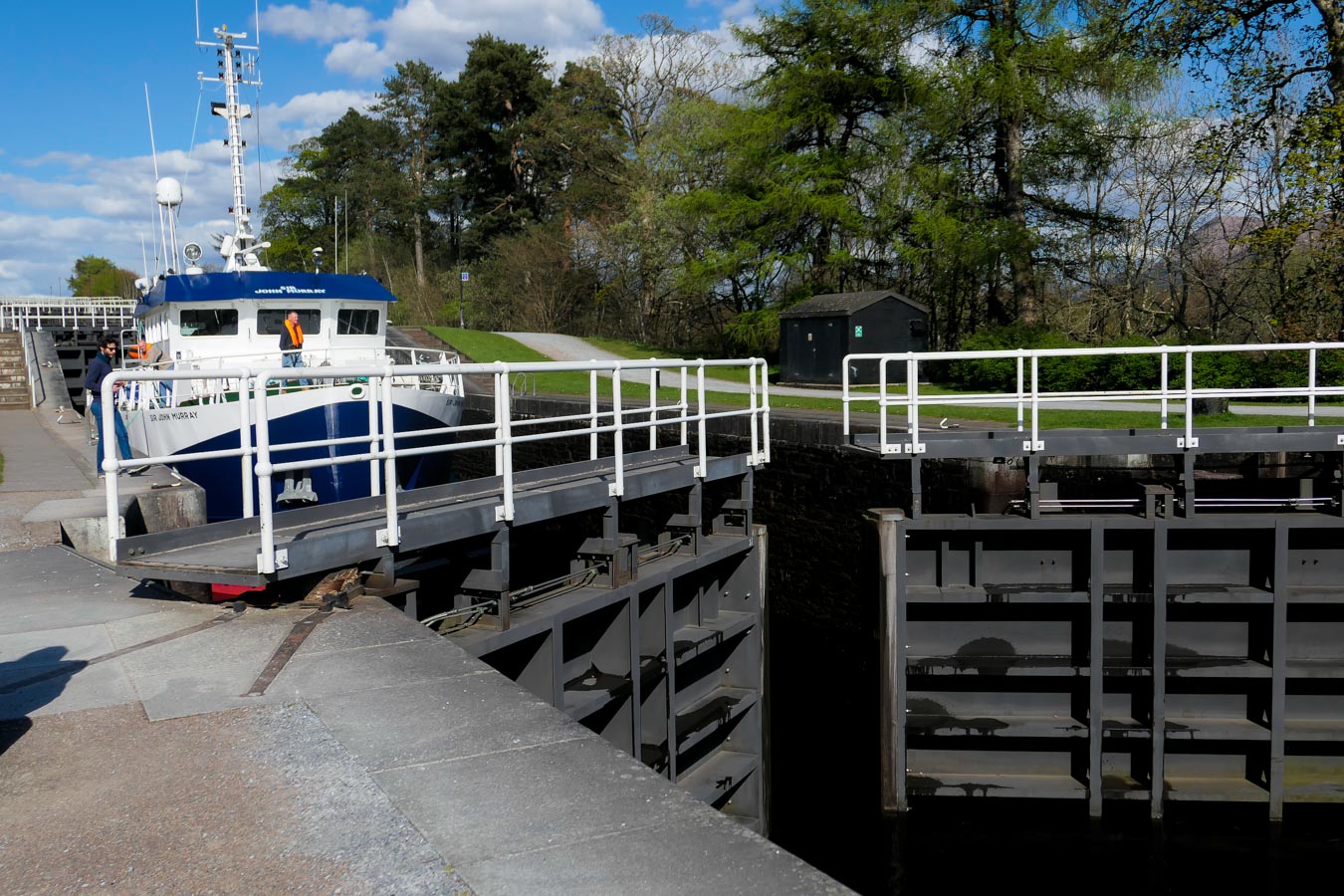 But since you probably aren't concerned with saving money on your trip by using the canals, I'll let you know about viewing it in action. The canal operates everyday 8:30am-5pm. Otherwise there's no plan for boats coming through – it's dependent on the needs of those traveling.
If you happen to catch a boat, then you're in luck. You can watch the boats rise and fall as the canal bays are filled and emptied with water.
If you catch that final loch, like we were lucky enough to do, you can see the final step down. Then the train and car bridges open to let the boat into Loch Linnhe. And, honestly, if you get caught in the traffic, you might as well pull over and go watch it all happen because it isn't a fast process!
Wonderfully enough, there aren't barriers, so you can expedite traffic along with the people who actually know what they're doing. It's such a calm experience. We get so caught up in protocol and safety that it was so much fun to feel as though we were a part of the process!

Day Trip #2 (West) – Drive to Mallaig
Mallaig is a port town west of Fort William. It's about a one hour drive if you don't stop along the way. Below are all the things to see along the way, so you'll understand why I put that caveat in.
Mallaig is the port for many boats going out to the islands, namely the Isle of Skye. While there's a good chance you can walk onto a boat the day you arrive, if you want to take your car, then you should get a reservation.
A tour guide later on during our trip mentioned a shortage of ferries at the moment, so maybe this will change. For the time being – make a reservation for your car. Since we weren't able to get on a boat, Mallaig proved a little disappointing. It's a great place to get lunch after the drive there, however, which took a few hours because of all there was to see in between…

Jacobite Train/Harry Potter Train Bridge
The big thing in the area is the Jacobite Train. It's the Harry Potter Train as it was the inspiration for J.K. Rowling's Hogwarts Express train. Even the arched bridge (the Glenfinnan Aqueduct) makes an appearance.
The trains leave twice daily from Fort William and travels to Mallaig. Apparently reservations are 2 years out. Since we only recently watched all the Harry Potter movies, this wasn't on our radar.
Charles, our good friend at Westcourt, did say that we might be able to score tickets if we walked up to the train conductor before the train left to see if there were any seats.
While the option was tempting, we didn't give it a go. We thought we'd take a ferry out the Isle of Skye instead, but I'd love to know if it works for you!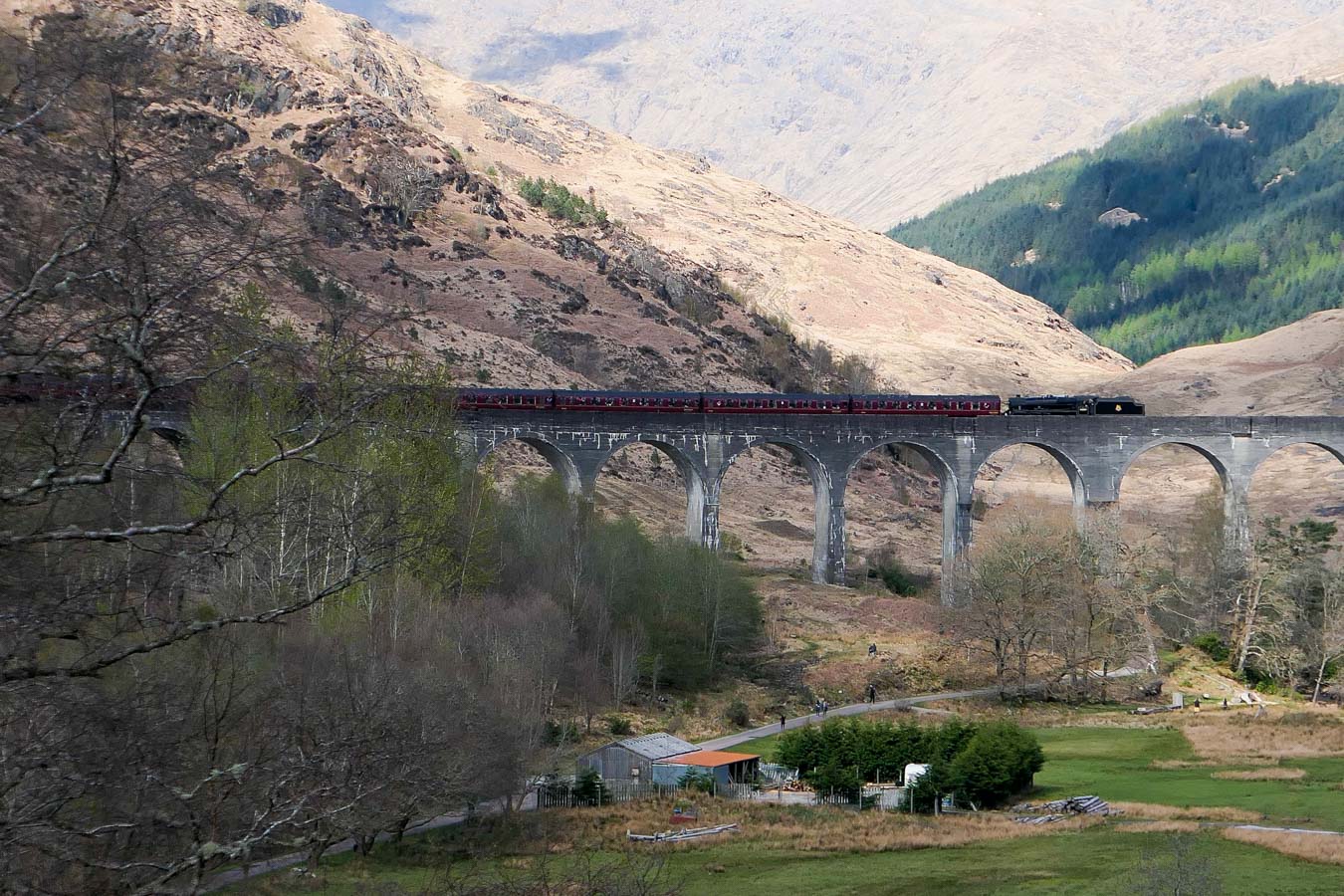 The picture perfect place to view the train on the bridge is from the Glenfinnan Monument and Visitor Centre. There's a short, uphill hike to get to the perfect viewing location – and there will be a crowd.
There's a paid parking lot at the visitor center and a free lot next door – both of which will fill up really early. You might just kiss your chances of seeing the train in the morning on its way out west – we did.
There is another place to view the train about a mile up the road – just after a small bridge. The train makes a 20 minute stop after it crosses the Glenfinnan Aqueduct, however, so don't expect it right away.
When to get the Harry Potter Train Photo
But if you want to get the photo over the aqueduct, go in the afternoon! The train makes the return trip to Fort William after lunch. We got a parking spot in the Visit Centre lot with little energy and hiked up the hill just in time to catch the train come around the bend and across the bridge. It arrives around 2:30.
If you can, arrive early to soak up the views and, and this is really a stretch, bring your binoculars if you have them. This is a beautiful hill to catch views of Loch Shiel (across the street), the Bonnie Prince Charlie statue, and the Glenfinnan Church which I truly wish we had time to check out because it was so beautiful!
There's still one more day trip to talk about here, but here is a slew of photos taken along the drive from Fort William to Mallaig. You can see why you can allow a half day. And if I ever return, I think I'll plan on a lochside (is that a word?) picnic!!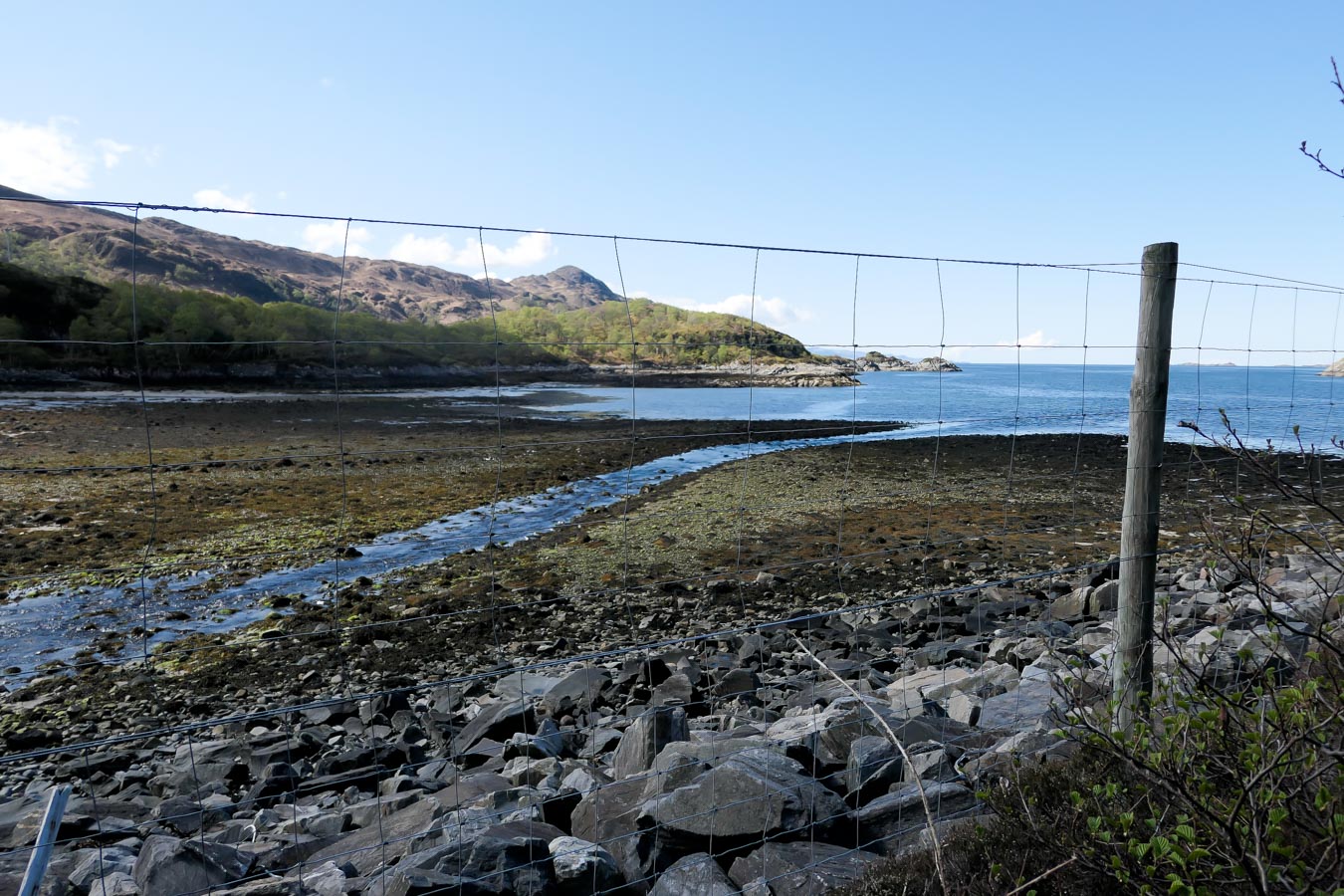 Day Trip (North East) – Spean Bridge
From Fort William we were heading back into the Highlands for a whisky tasting at Dalwhinnie Distillery (the same day I had chocolate tiffin for the first time!). When I told my new best friend at Westcourt, Charles, our plans at breakfast he insisted we try favorite whisky. You all. I swear this is the only time I've ever had whisky at breakfast. But the funny story is my mom…
She doesn't really drink much. She told Charles' wife who said, "I don't either, but you have to try my whisky drink." She proceeded to get her small bottle of Bruador – a whisky liqueur. You'll never guess, it was deliciously sweet and we loved it. My mom asked where to get it. And off we went to the Spean Bridge Mill (luckily on the way to our whisky tasting plans) to get our own bottles of Bruador!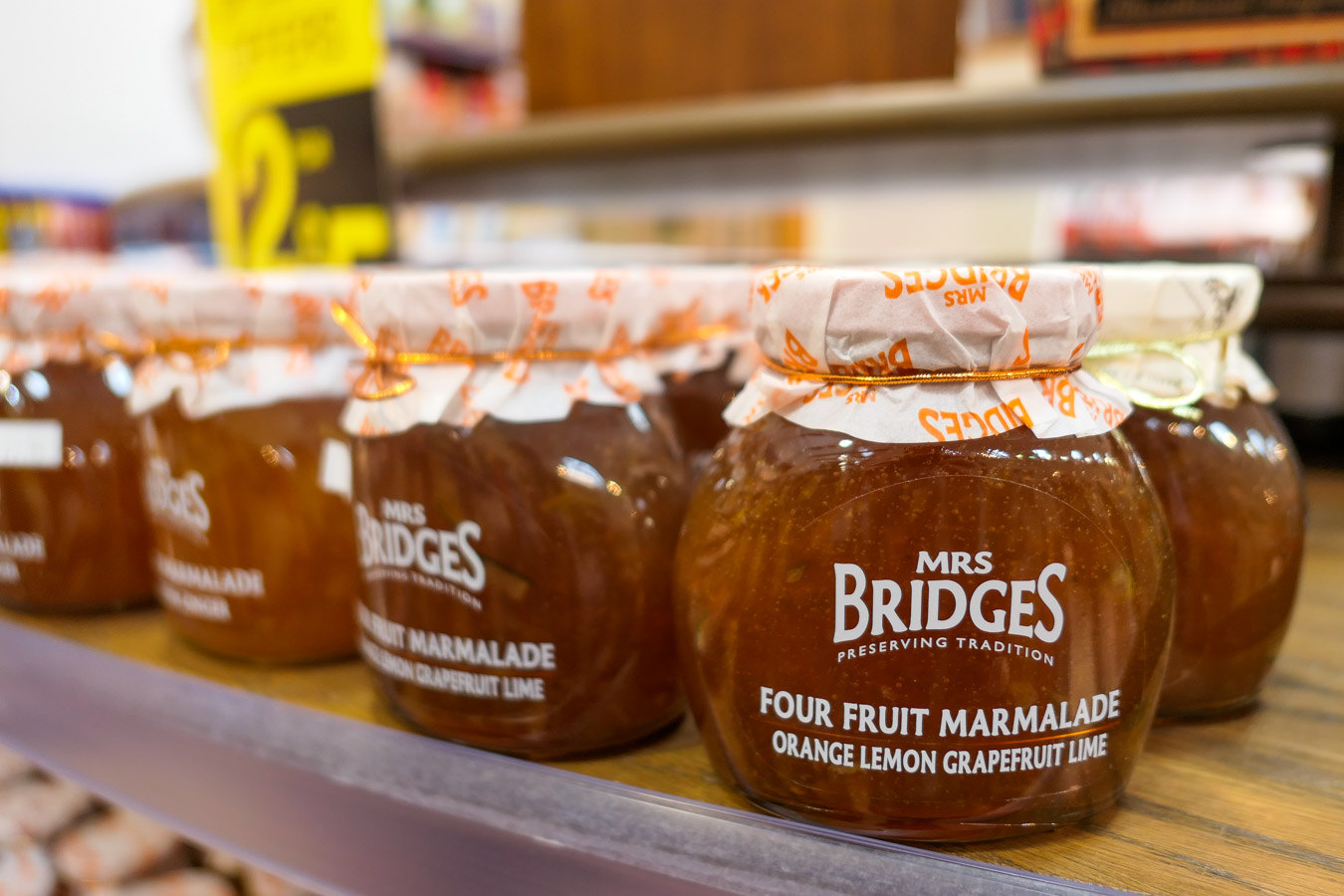 In addition to a good liquor and liqueur selection, the mill actually has a lot to offer. They have everything from scarves and coats to knick-knacks, t shirts, and Scottish food to take back home. The most fun for us, however, was the weaving mill in the back of the shop.
local arts + crafts
A local woman has her own mill in the shop where she makes crafts big and small. My mom found her as she wandered around and then my interest was piqued when I went off to find her. She showed us a fun little art project that involved (easily) wrapping yarn around two small stick and some string.
I have no faith in myself trying to explain the process. We did, however, buy a few kits to bring home for a few artsy people in our family.
There is also a cafe in the store and next door is the Highland Soap Company. I would would have loved to check it out, but sadly they were closed when we arrived.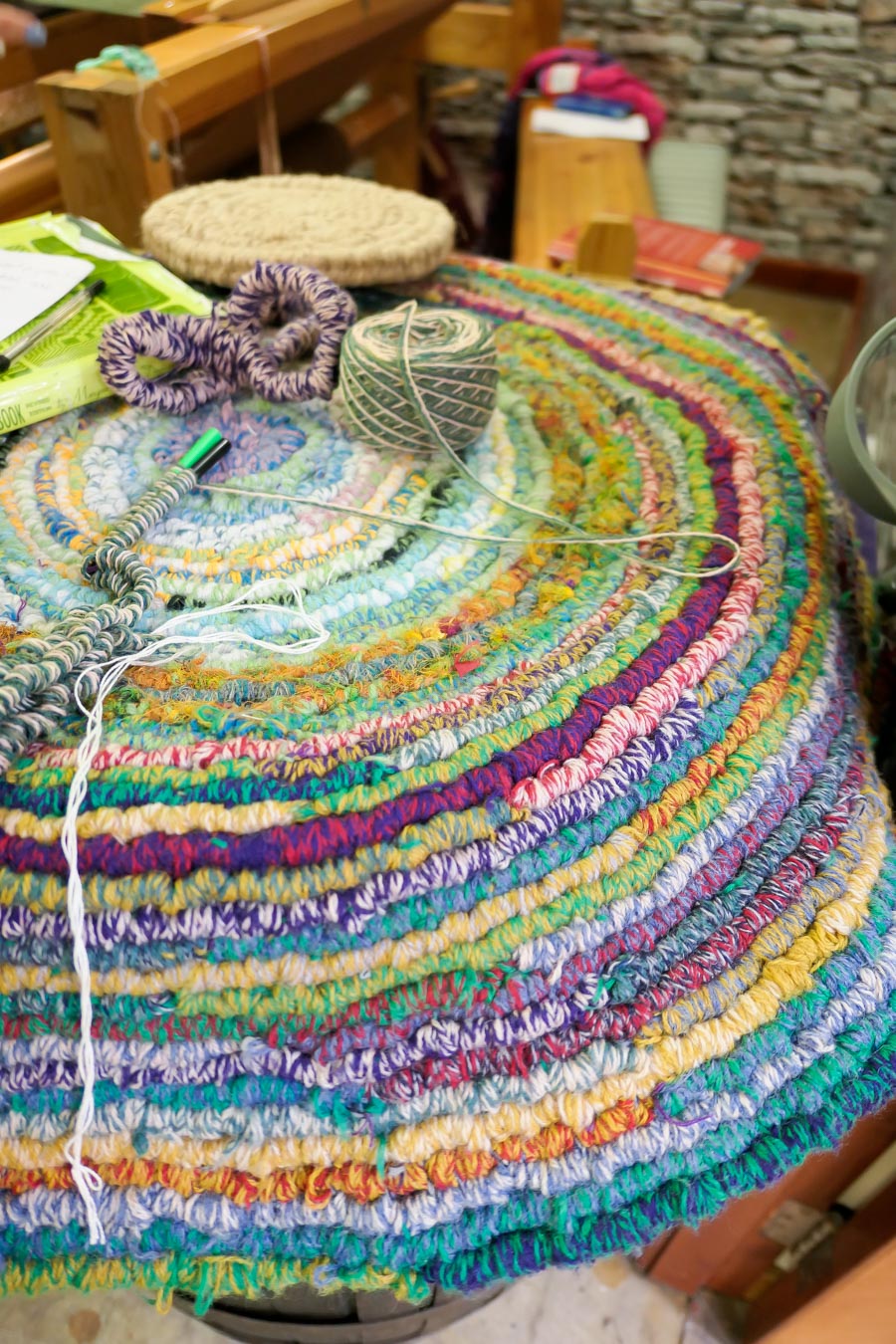 I'd be remiss if I didn't mention that Ben Nevis looks over Fort William. It's the tallest peak in the British Isles and is supposed to have lots of great hikes (long and short) as well as stunning views.
We didn't have time to check it out nor did we bring the right clothes/shoes for much hiking. So this will be on our next itinerary.
As you can see, there is so much to do in and around Fort William that it really is worth the visit. And, truthfully, it's such a beautiful locale, that I could easily spend a few days driving around and relaxing with no itineraries in mind to have a truly marvelous vacation.
I know we'd be in good hands at Westcourt. And if I'm being honest, mussels at Crannog every night might be all I need!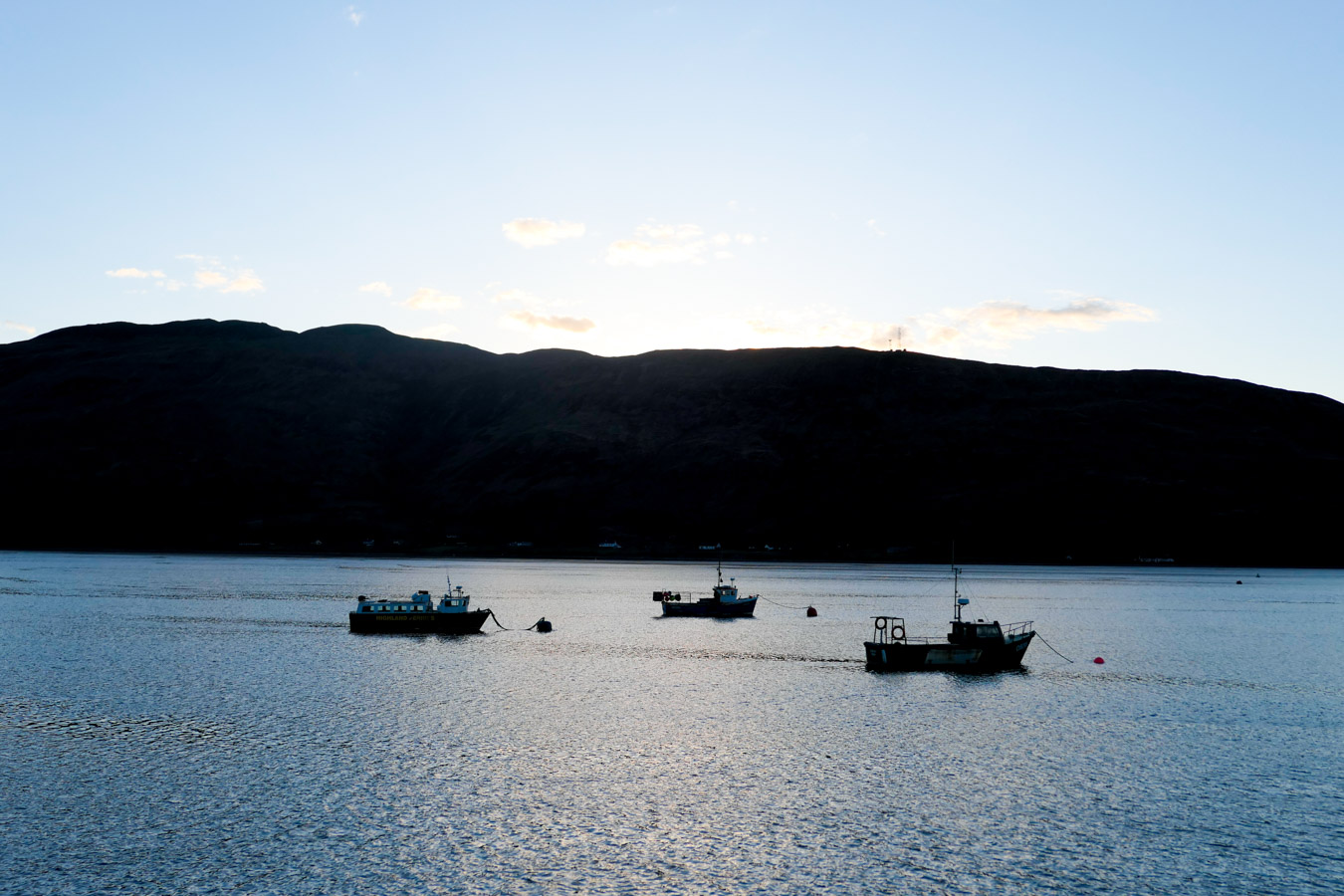 Need some more Scotland in your life? Whip up this easy Scottish dessert for chocolate tiffin! Check out my Edinburgh Guides (Stockbridge, New Town + Old Town), our video diary of Shetland + Orkney, and the 5 Castles and Palaces to see in Scotland! And once your tickets are booked, you'll want to check out the 3 things I wore in Scotland!
If your plans include England, I'd encourage you to visit the Cotswolds (with a stop at Daylesford Farms). In London, you should absolutely go to Borough Market and try to fit in a London Walking Tour (available in areas across the city).
And if you're into ferry trip wanderings like we are, you'll love the tour to Shetland & Orkney Islands; a day trip to Peaks Island, Maine; Catalina Island in Southern California; Granville Island in Vancouver, B.C.; and a quick jaunt to Port Townshend off the coast of Seattle!