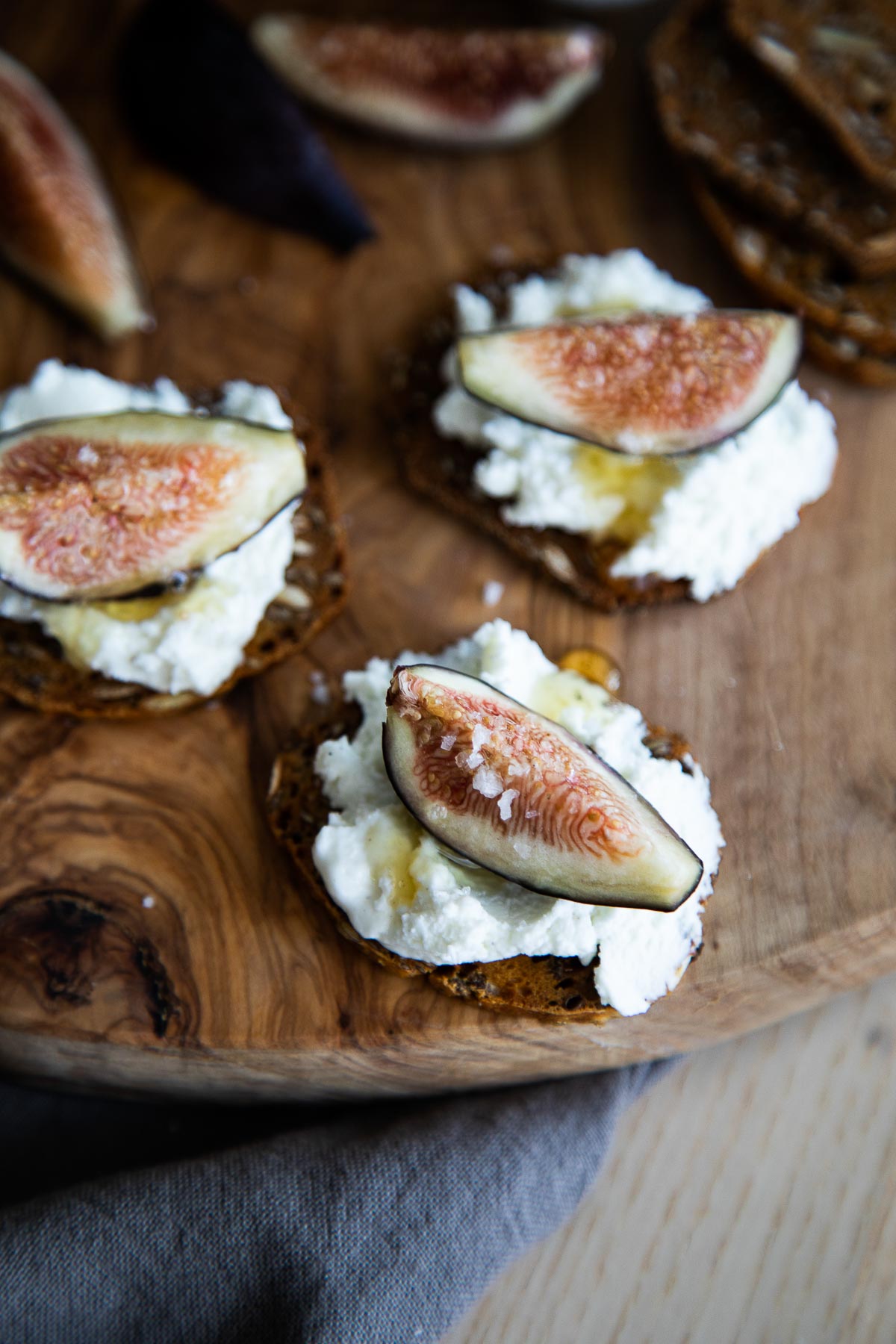 If you want a simple (seemingly decadent fig appetizer), this is it!! The flavor combination is unexpected and I think it's my favorite way to enjoy fresh figs (when I don't just eat them all before I get them into the house).
I didn't have my first fresh fig until I was 29. We were on our honeymoon in France and I remember a friend had been recently raving about them.
You all, I have no idea why it took my so long to get ahold of a fresh fig and, if you want to love something immediately, buy it at a farmers market in France for the first time! You know, as possible!*
So, anyway, I'm now a huge fan and, thankfully, people know, so if they have access to a tree, they bring me some! And I devour them (like a lady of course!).
Anyway, some time after those first few figs, we had friends over (one of them a butcher) for a brunch charcuterie board. And it was that fateful morning that I learned the joy of fresh figs, honey, sea salt, and a fresh cheese (I enjoyed it with both brie and goat cheese that morning).
Now we can't have a charcuterie board without honey and finishing salt!
Honey + Fig Appetizer
I'm pretty sure any fig appetizer would have my name on it, but this setup is heavenly! I often find honey to be too sweet, but the tart goat cheese and the finishing salt really cut the sweetness, letting it accentuate the fresh fruit perfectly.
Because the honey spreads so easily, I recommend not drizzling the fig appetizer plate with honey and salt until just before serving OR let guests drizzle honey and sprinkle salt themselves.
I do want to note that it's really the combination of all four items that's so wonderful though, so maybe drizzle it for them so they don't go trying it the wrong way!
I've had dried figs, of course, but fresh figs are a completely different story. They're juicy, sweet, and actually light in flavor unlike their dried counterpart. Don't get me wrong, I still love dried figs, but fresh figs are a whole new level for me.
And now that I'm a connoisseur of figs (ok, maybe aficionado is more accurate), I see how many people have never had a fresh fig and are scared to try it. So here's me saying, go try one right now.
This fig appetizer is also on point for any sort of summer dinner party!
When is Fig Season?
While many fruits and vegetables seem to be available year round and it's therefore difficult to know what something's true season is, figs are not one of them.
Fresh figs are generally available a few weeks in June and then between August to October, so they're part of seasonal summer produce. Find them and enjoy them while you can. I can never get enough of them – no matter how hard I try.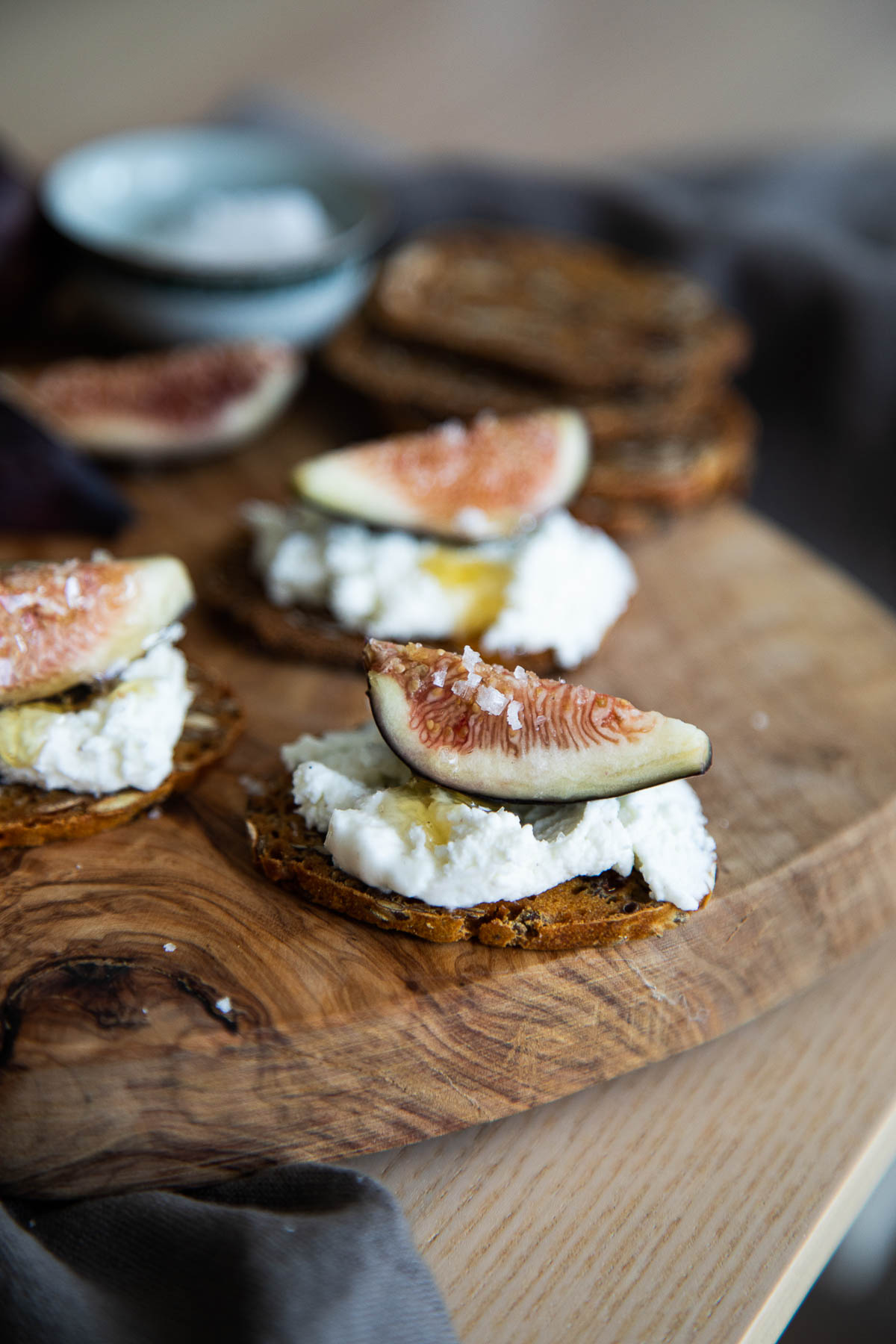 Fresh Fig Recipes
If you're lucky enough to be overwhelmed with fresh figs, try this fig spritzer and this savory fig toast (smothered with goat cheese)!
And you HAVE to bake this fresh fig cake. It's one of the best morsels!
Besides that, they're a beautiful addition, quartered or chopped, atop any green salad (get a complete list of salad toppings). In fact, this summer breakfast salad would be a fabulous bed and dressing for fresh figs (hint it's a honey salad dressing).
They're also great as a yogurt topping and, of course, an ice cream topping.
You can certainly chop them to add as a rice cake topping and my sister recently made a fig jam that's sublime!
If you want to try fig jam (i.e. you love jam and/or have a lot of figs on your hand), try one of these recipes: your classic fig jam recipe (with lots of helpful jam-making tips), small batch fig jam (just 2 cups of chopped figs), and this fig jam with ruby port that looks pretty drool-worthy!
And then please send me some!!
SPRING & SUMMER COOKBOOK
DELICIOUS RECIPES TO ENJOY SPRING & SUMMER PRODUCE TO ITS FULLEST. SIMPLE AND DELICIOUS RECIPES MADE FROM SCRATCH FOR YOUR FAMILY AND YOUR GUESTS ALL SUMMER LONG!
What Cheese is Best with Figs?
I don't know if I can imagine a cheese that wouldn't be good with figs. I know that sounds like a cop out, but it isn't. Cheddar? yeah. Goat cheese or brie? Obviously. Gruyere? Yep. Heck, American cheese singles might even be good, I just haven't had one in so long, I can't commit!
If you're serving it and trying to seem fancy, however, I would absolutely recommend goat cheese. It's great with the figs and it's pretty universally liked.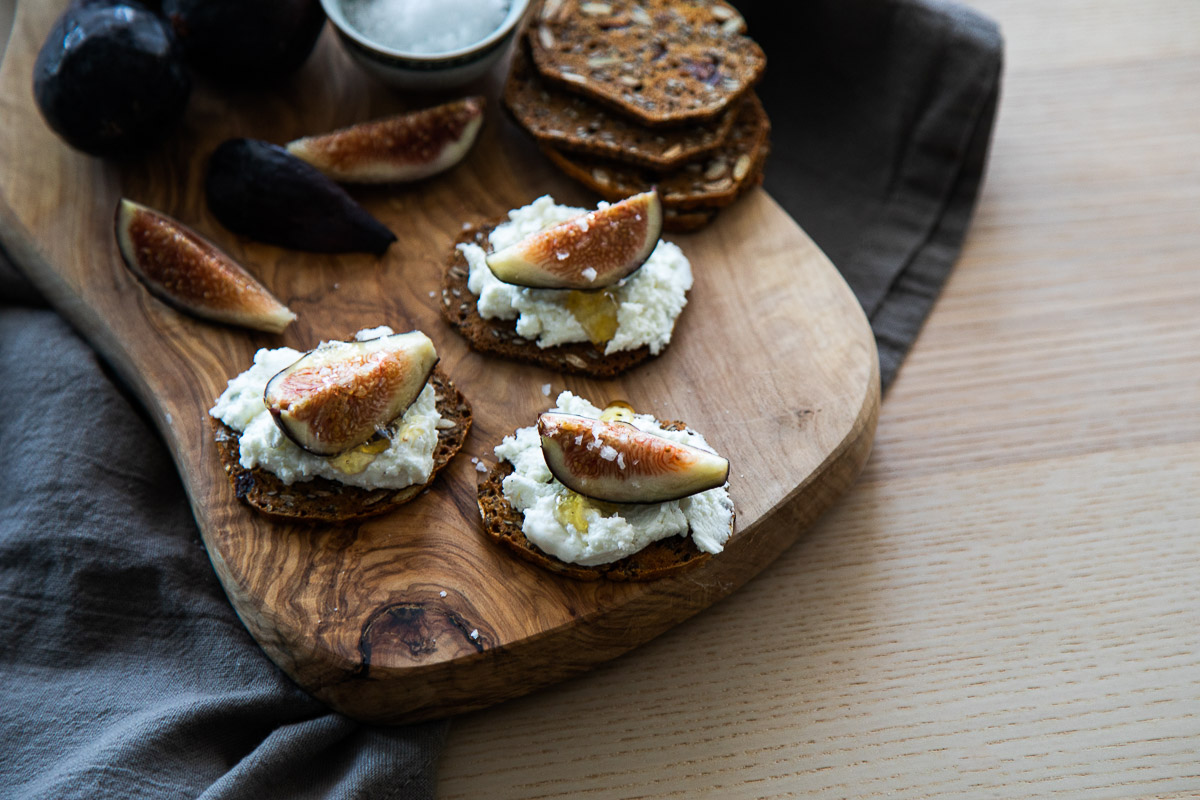 MORE APPETIZER RECIPES
Want more appetizer recipes perfect for entertaining? Right now these plum jam and brie crostini, this blueberry chutney and goat cheese (SO GOOD), and this chicken salad apps are perfect!
As would these sweet potato appetizer cups! These vegan appetizer fritters and sun-dried tomato & avocado crackers are also a great finger foods to set out.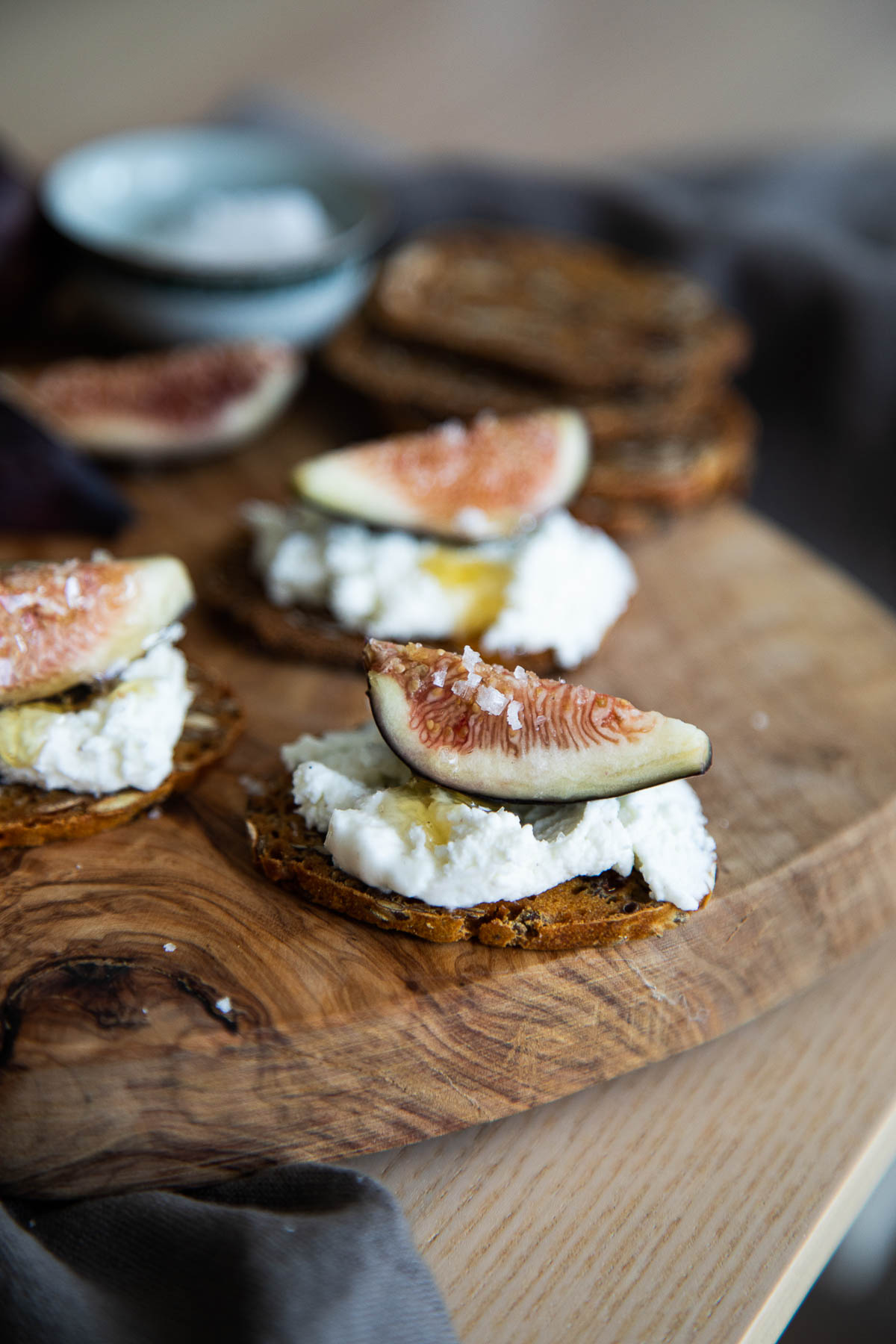 For more of a plate to set out (not so bite-sized), try this basil hummus or roasted eggplant dip!
Or if you just love a good grazing board (we know I do), try these basic cheese board ideas, my Trader Joe's Charcuterie spread, or a kids appetizer board that all the adults will nibble on too. Should life be on the verge of getting out of control, this last minute fruit appetizer board usually does the trick!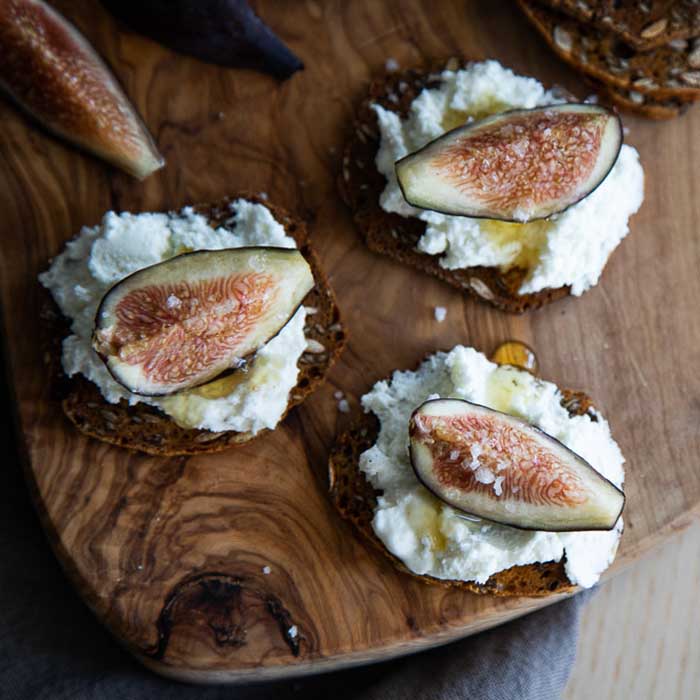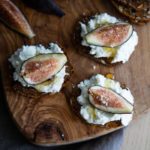 Print Recipe
FIG APPETIZER
I was late to the world of fresh figs. Once I had them, however, I was hooked and could never get enough. Figs are the perfect accompaniment to the salted honey and goat cheese featured on these cracker appetizers.
Ingredients
5

oz.

goat cheese

¼

Cup

greek yogurt

nonfat is fine

4

fresh figs

more to garnish if desired

honey

Raisin + Rosemary Crackers 

via Trader Joe's – homemade version*
Instructions
Combine goat cheese and yogurt in bowl. Set aside.

Cut figs in sixths from stem to bottom to create wedge.

Just before serving, top crackers with cheese and fig slice. Drizzle with honey and sprinkle salt. OR Layout cracker topped with cheese and fig slice. Accompany w. honey and sea salt.
Notes
*use crackers of choice,
but the sturdier and crispier, the better
Save this recipe on Pinterest!
Make this recipe? I'd love to see how it turned out…
PINTEREST: Upload a photo and your review to this Pin!
INSTAGRAM:  Tag me @lucismorsels and use #LMrecipes
Nutrition
Calories:
23
kcal
|
Carbohydrates:
2
g
|
Protein:
1
g
|
Fat:
1
g
|
Saturated Fat:
1
g
|
Polyunsaturated Fat:
0.04
g
|
Monounsaturated Fat:
0.3
g
|
Cholesterol:
3
mg
|
Sodium:
23
mg
|
Potassium:
24
mg
|
Fiber:
0.2
g
|
Sugar:
1
g
|
Vitamin A:
73
IU
|
Vitamin C:
0.2
mg
|
Calcium:
13
mg
|
Iron:
0.1
mg