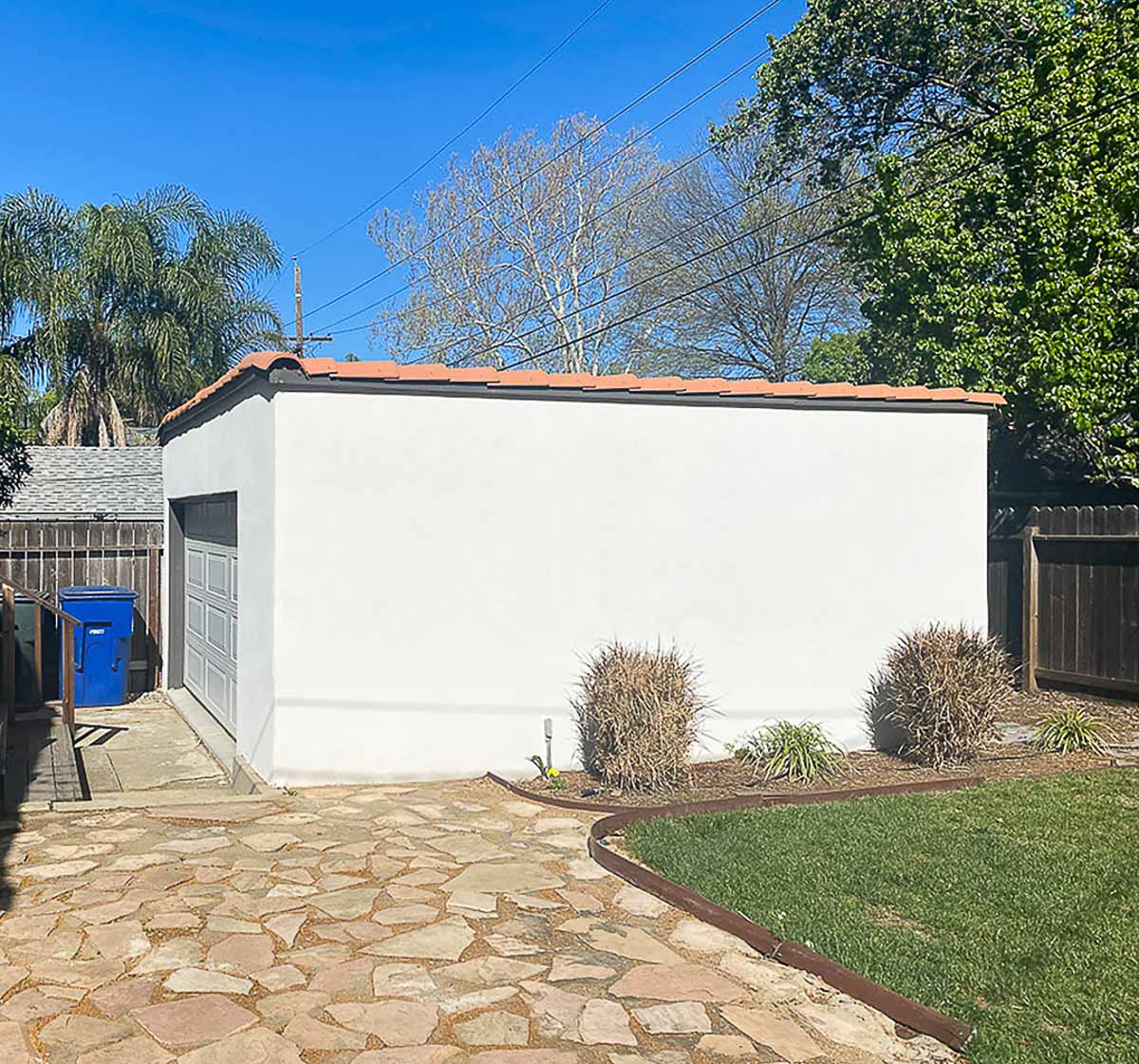 Well it's been one month since my first backyard makeover update and it's been about one month since we've actually made any building progress. I have loads of photos of the quick demolition/construction for you as well as our current reality check of our ADU Building Experience.
ADU Building Experience
I'll let you read the post on our backyard ADU plans to find out how many delays we went through just to get started on the backyard update.
But start we did. In mid-April, early one Wednesday morning, a port-o-potty was stealthily delivered on our front lawn where it still lives and, I'm hilariously but happy to report, has been a welcome port (a potty) in a storm to many a delivery and trash truck driver!
The following Monday morning (at approximately 7am) the dumpster was delivered and within a few hours, demo started.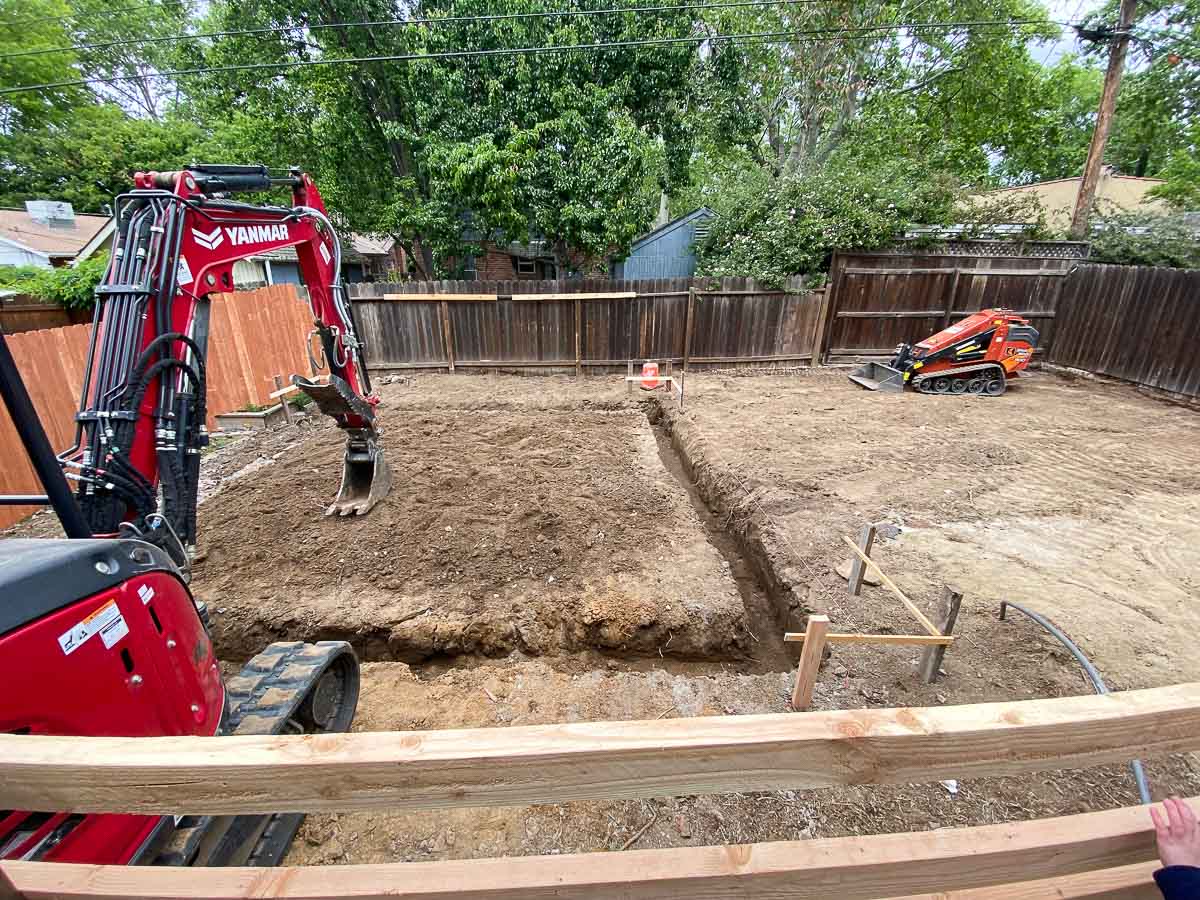 That first week – really 3 weeks were AMAZING. Every day something grand took place. You can see above how quickly they made nothing of our backyard.
The construction of that fence on the left (because we regrettably have moved into our neighbor's backyard for the duration of construction – thank goodness they are so kind and we're friends with them) and the demolition took one day. ONE!
Day two brought a few tractors (yes, my toddler loved it), a lot of leveling, and the digging of the trench.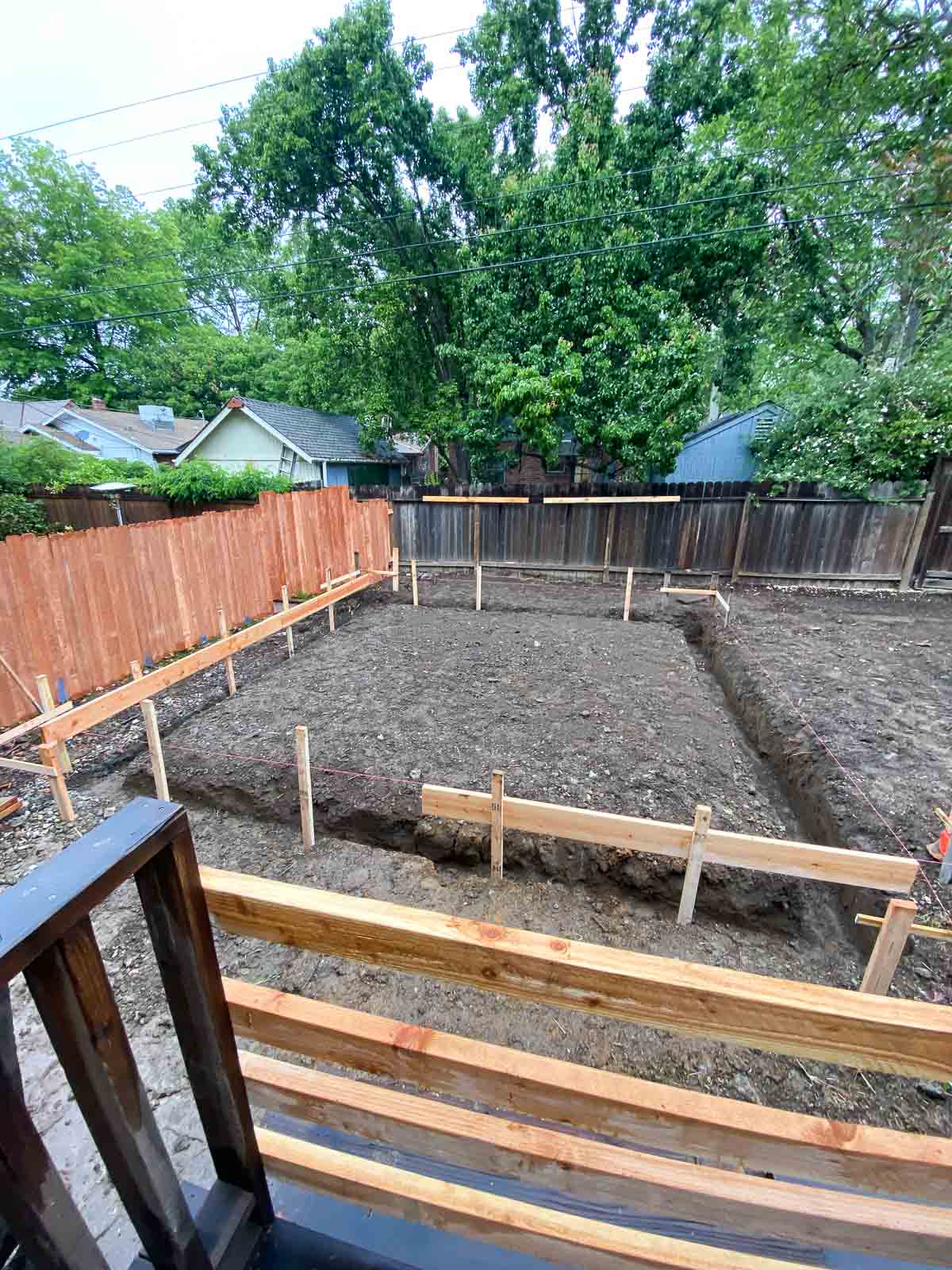 Some rainy days slowed us down a bit as levels were measured and layers were placed, but it was still moving along at breakneck speed.
Before we could pour the concrete slab. Well. Let's stop there. I didn't do anything regarding that concrete slab. So, I'll amend my previous statement to say that before the contractors could pour that concrete slab, we had to get some inspection done by the city of Sacramento – totally standard in the building process.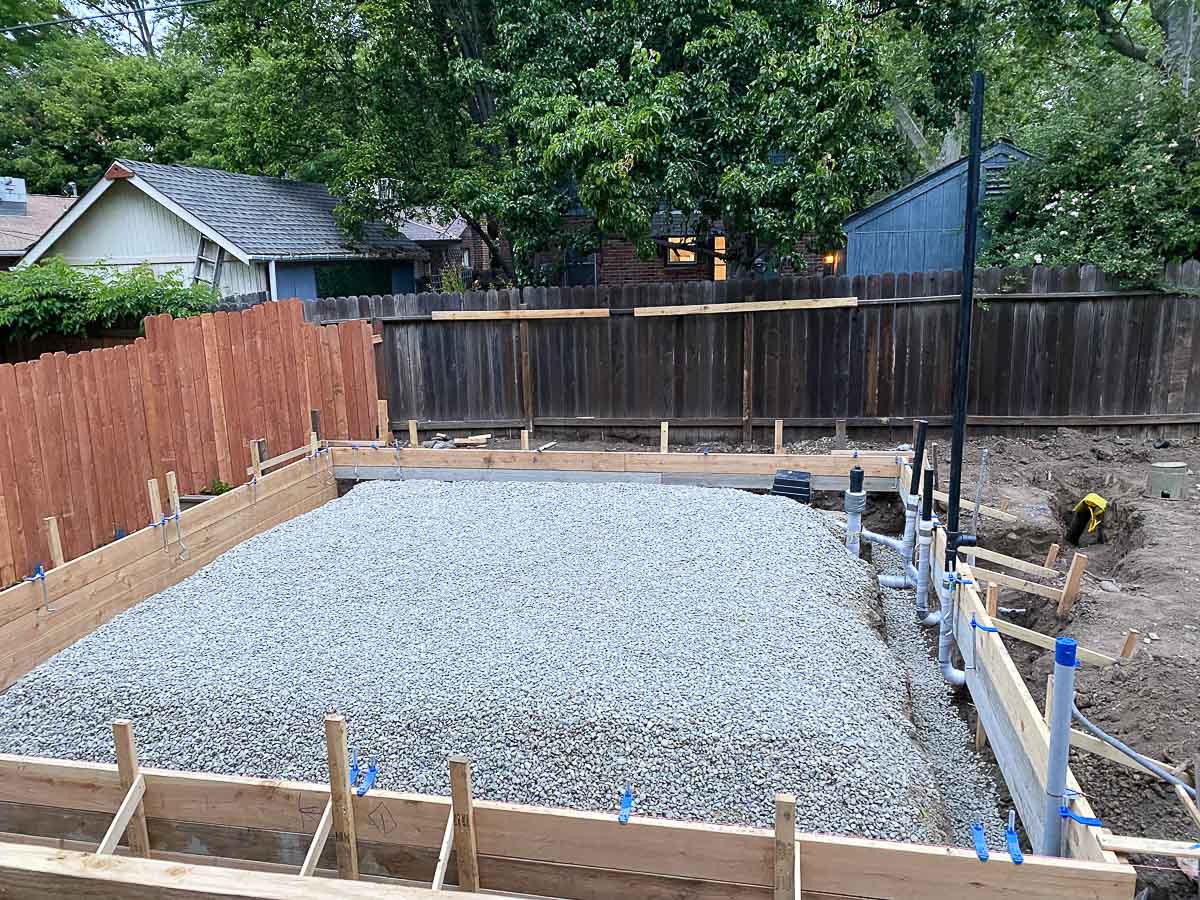 Also during this process, you can see the lines being dug, located, etc. for plumbing and electrical. The side of the ADU on the right will have the kitchen sink, bathroom sink, toilet, and shower.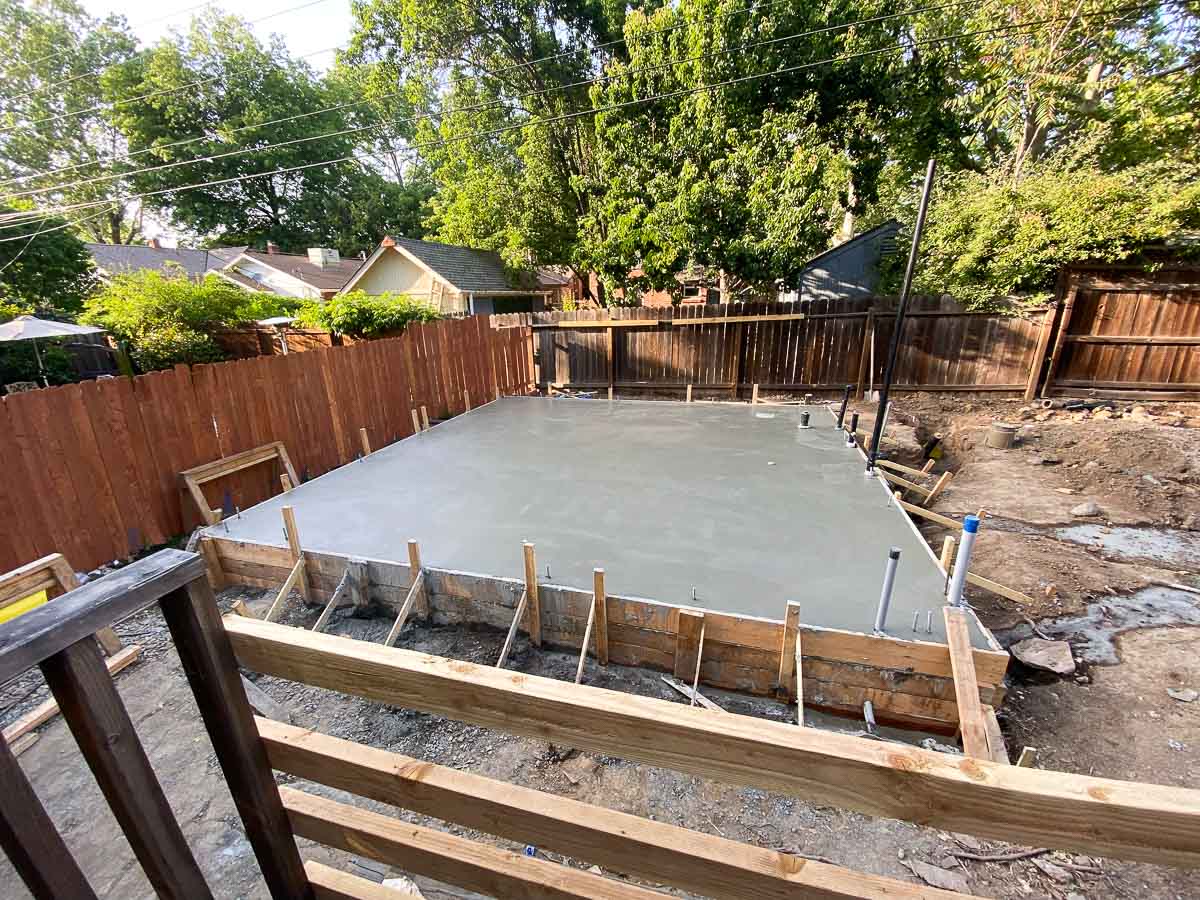 Then came that beautiful slab of concrete. So, so good. And then not too long after…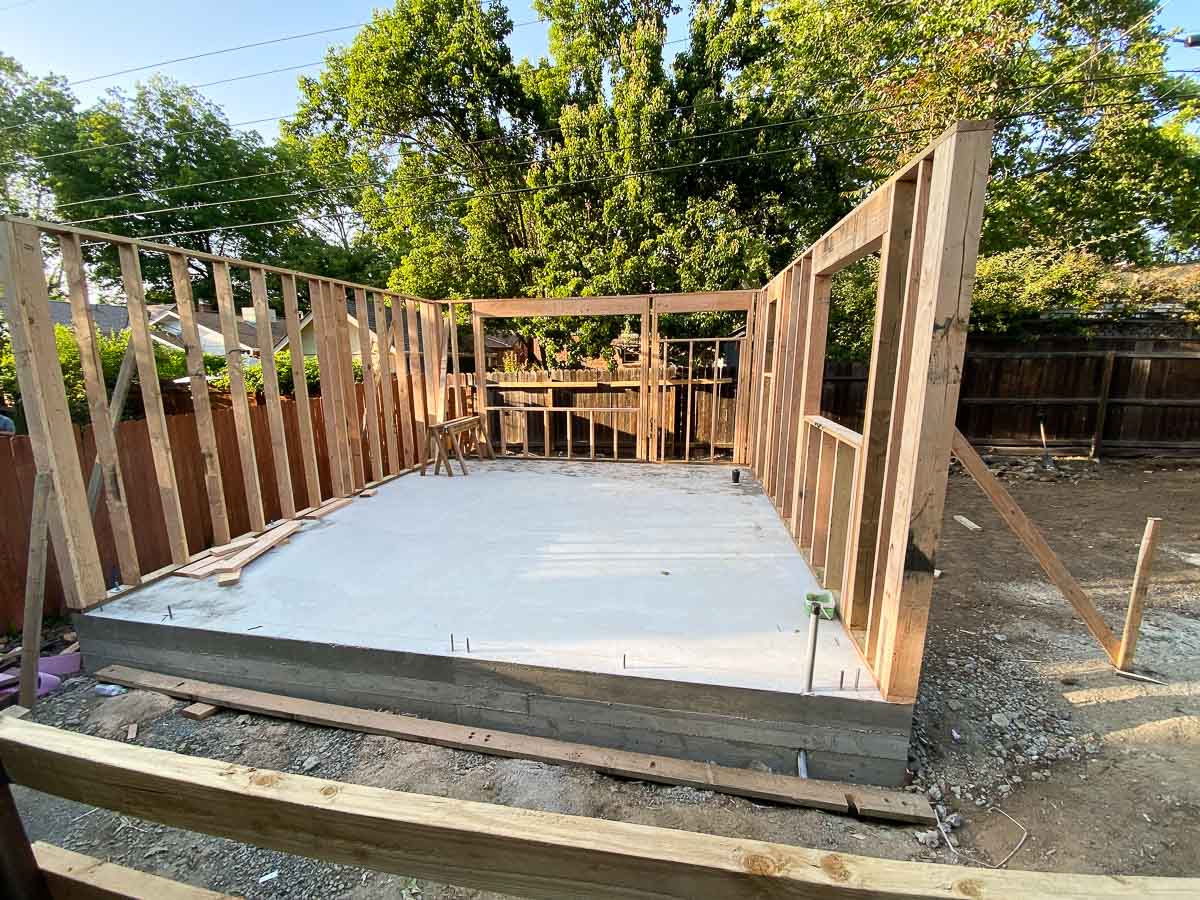 We got walls! You can see just how fast this thing popped up, but don't worry…things are going to slow down real quick-like…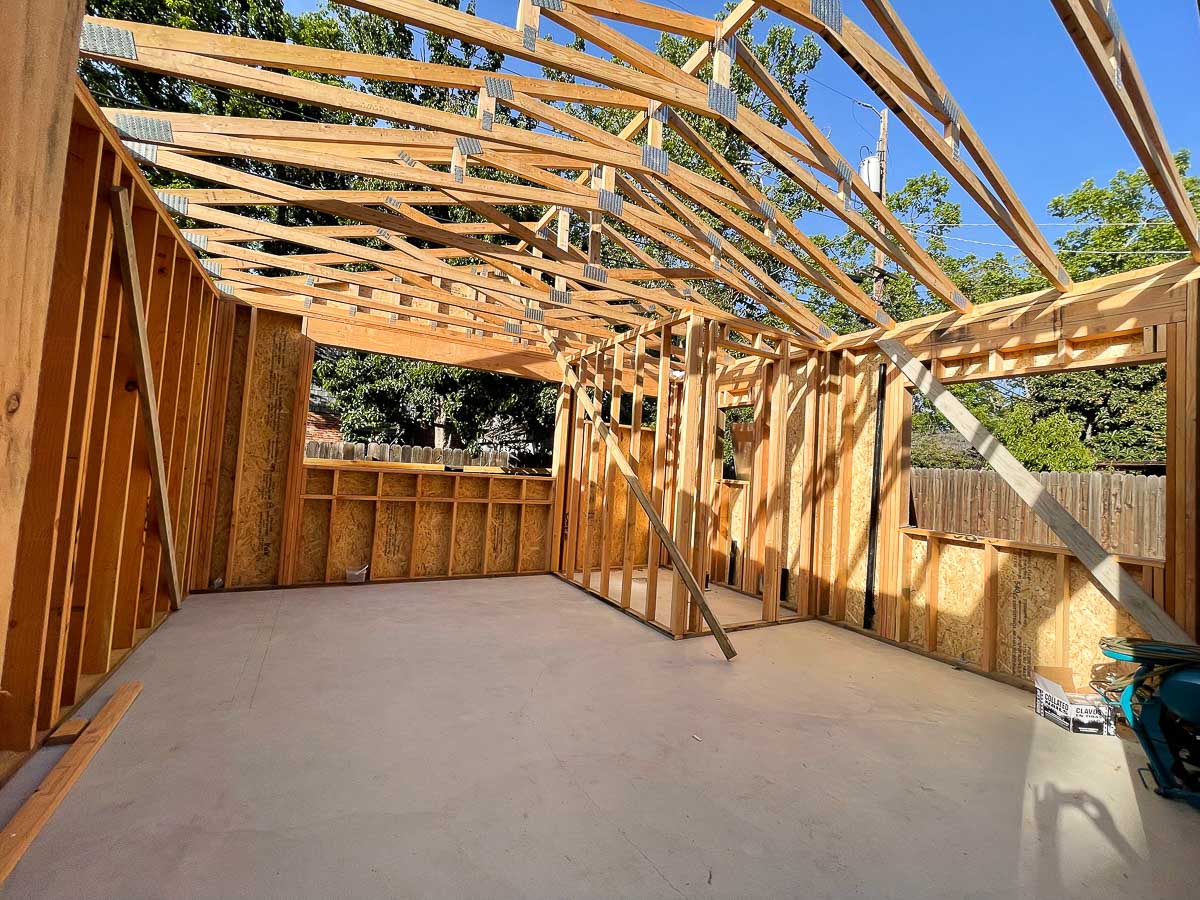 So the bathroom got framed, the roof trusses went up, and the windows were framed. Oh the windows…
ADU construction hold ups
If you read that first backyard update, you'll know we had a setback with windows as our contractor assumed we'd want a basic window in there when we really want something sturdier and that will be easier to open/close.
So my husband did quickly find windows that were only about 4 weeks out for delivery and a door that was just 8 weeks behind.
Well our contractor wanted to look around locally to see if there was a chance for a faster turnaround. And somewhere in there we lost about two weeks.
So when he (the contractor) finally went back to Home Depot, where my husband found the items, the windows were 8 weeks out and the door set back to November for delivery. CUSS WORDS. CUSS WORDS. CUSS WORDS.
They've now been ordered and, thankfully, the window delivery date has been moved up to the end of June. We've hopefully found a door that will be what we want (and is currently available).
But we haven't had any movement in the backyard for 4 weeks because we really can't move much beyond our current status. The next inspection has to happen with windows and a door and we can't move beyond that until it's done.
Not to worry, the porta potty is still in our front yard and we still have to walk out the front door to get back to my small garden to water the plants every morning!
We knew there would be setbacks, but it doesn't make them any less annoying.
Watch the Daily Unfolding of our ADU Building Experience on Instagram.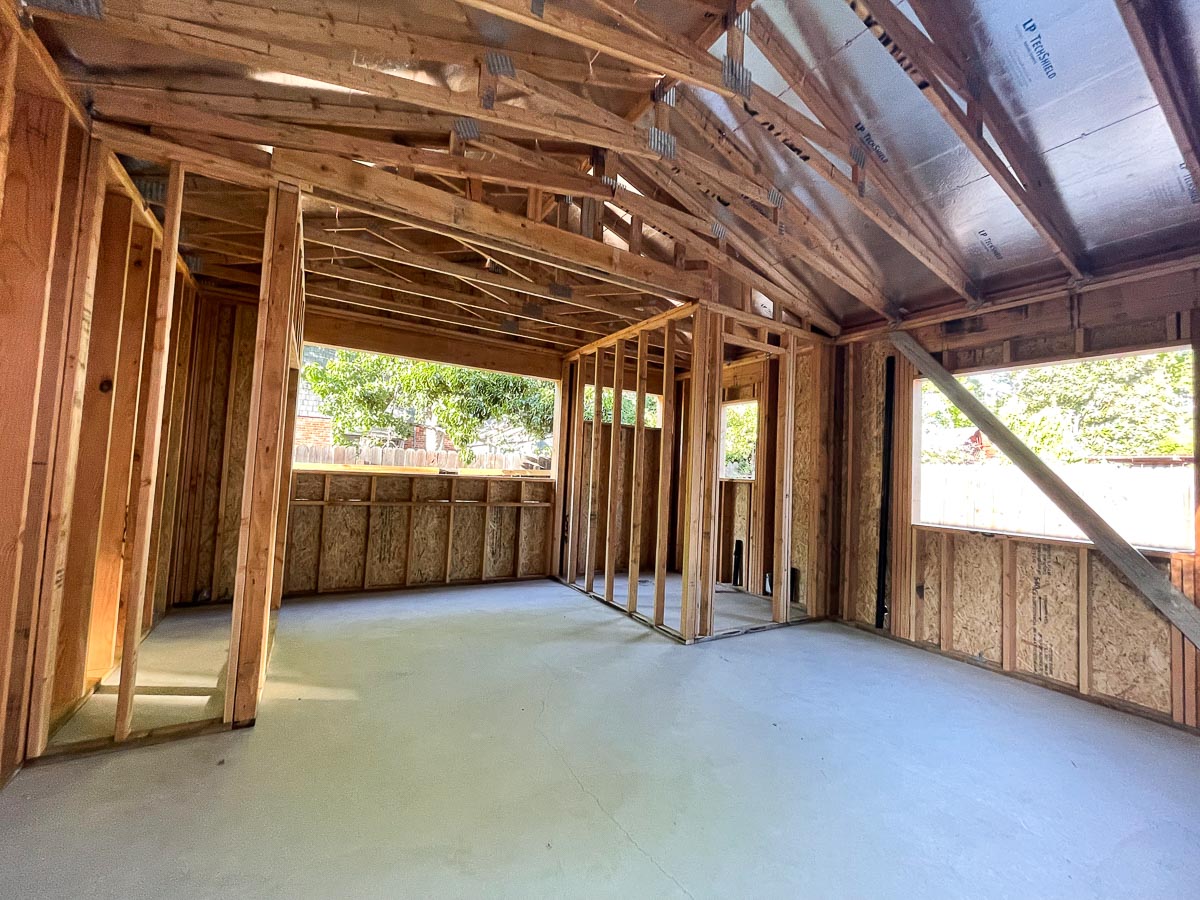 ADU Building Experience Update
Though we haven't had any construction advancements, we have been working on other interior details.
At the moment, we're trying to finalize cabinets, countertops, and floors. As long as there aren't delays there (who knows, right?!), then we'll be moving back along here in a few weeks with a new expected completion date of September-October.
May I back for the third update next month with lots of movement and news!
Small Home Living Tips
Want some organization tips for small home living? Check out these posts of kitchen appliance organization, how to store reusable bags, seasonal clothing storage, and small home office ideas, including mail and paperwork organization!
You'll also want to read how we're making our home more sustainable; my go to clean home cleaning products; a spring cleaning room-by-room checklist that you can practice year round; and how to declutter your mailbox!
Keep an eye on this constantly updated list of sustainable product reviews for every aspect of life!