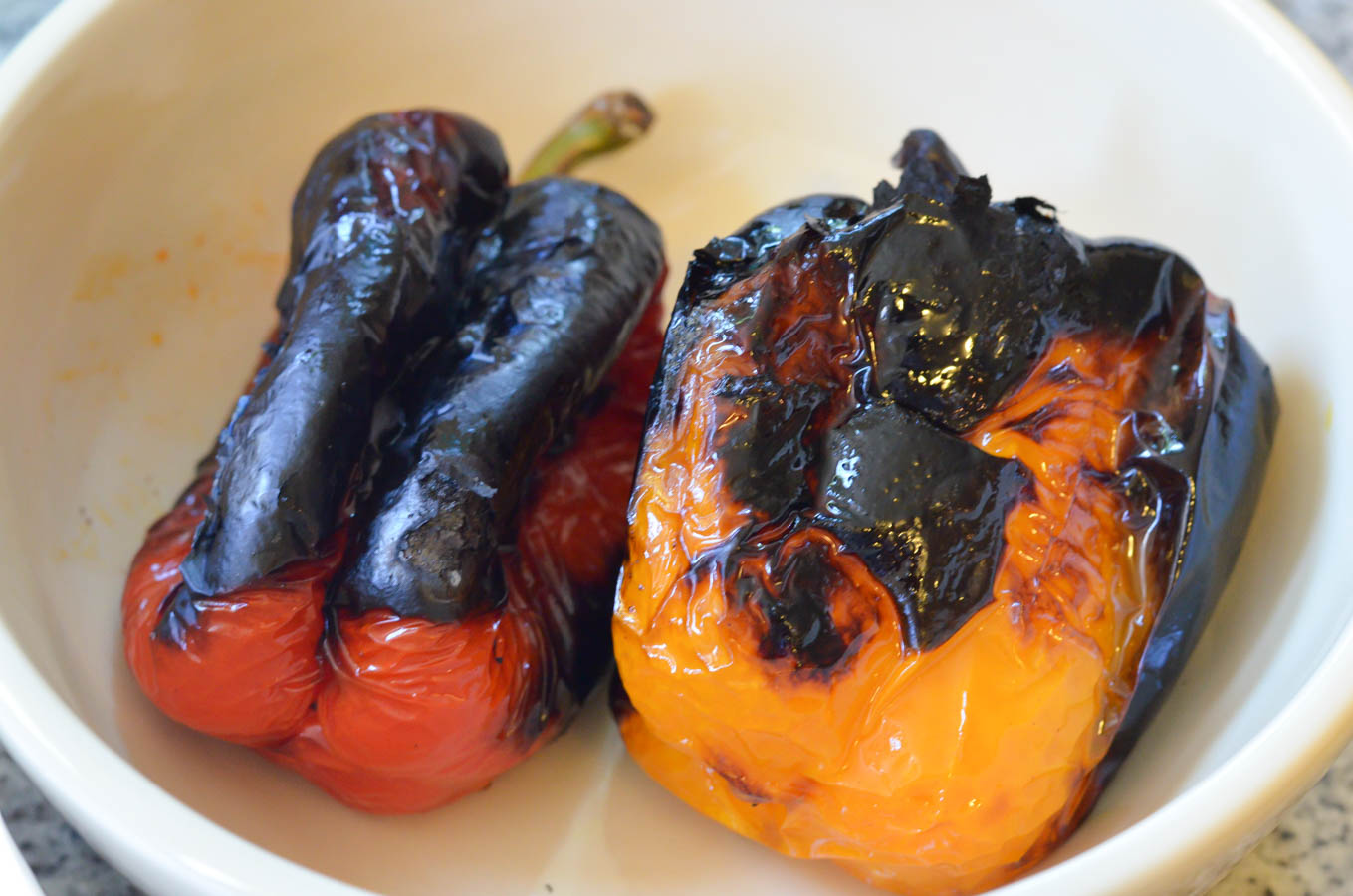 Roasted bell peppers are amazing! They're delicious on salads and pizza, in pasta dishes (any grain dish for that matter), atop red pepper toasts, and you sound so cool when you tell people there are homemade roasted peppers in your dish! It took me a while to master the art (I use that phrase loosely) of how to roast bell peppers in a toaster oven or a conventional oven, but I've got it now.
It's not hard, I just never let them cook long enough (impatience is my virtue). But now I've got it down pretty well and feel confident in showing you how to do it.
You can't (or at least I can't) take mouth-watering pictures of roasted bell peppers, but just know that they're delicious and look cool in real life!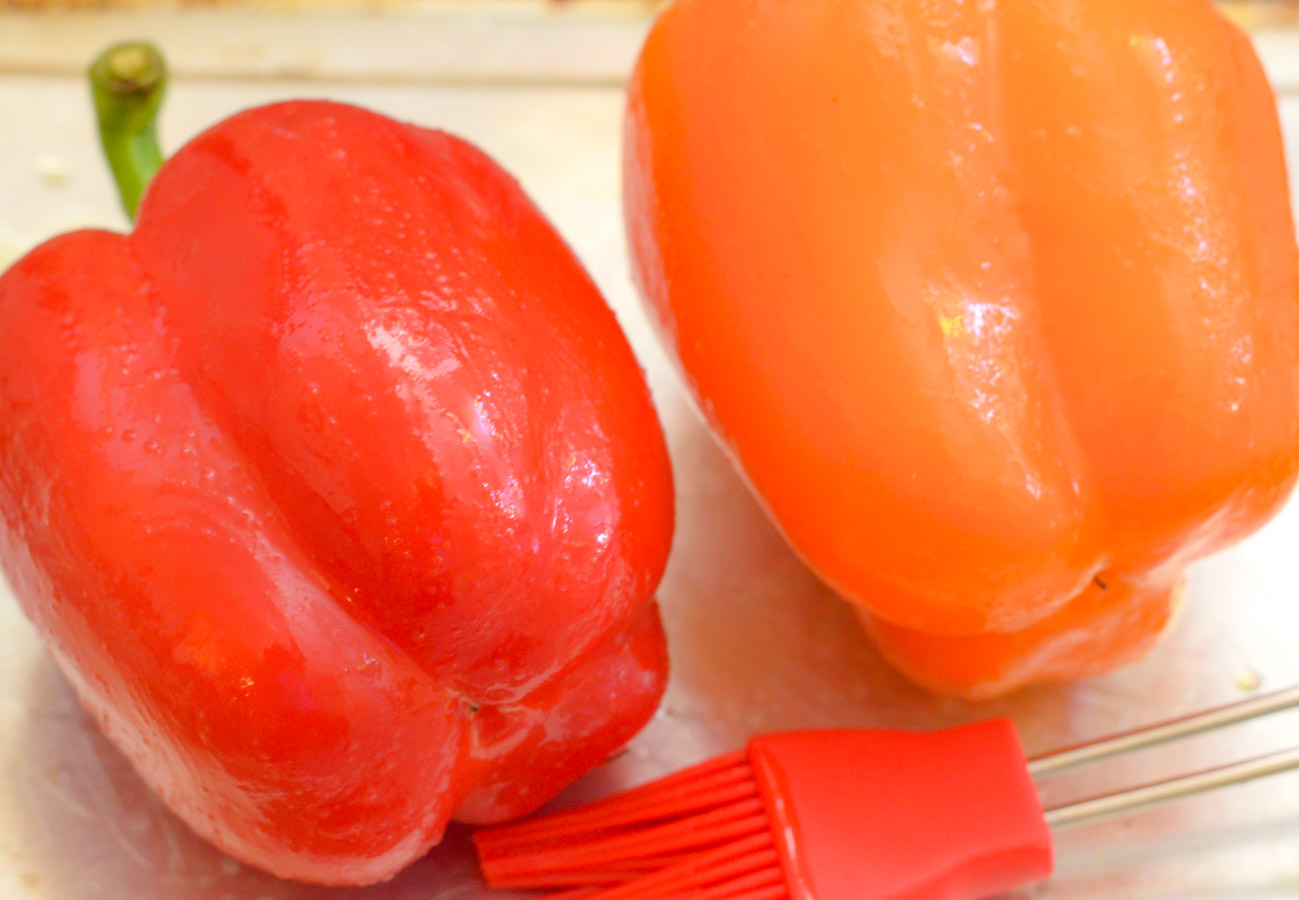 How to Roast Red Peppers in the Oven
Cooking bell peppers (sweet peppers) in the oven or toaster oven is really easy and you'll love the flavor!
Coated with olive oil to prevent them from drying out, the peppers begin to char as the skin separates from the flesh.
Slowly the liquid in the peppers starts to release, creating a wonderful flavor and softer consistency.
Roasted peppers in the oven will incite some funny sounds as the peppers char and 'pop,' but that means you're doing it right. Don't be like me and take them out prematurely…
As you can see in the recipe below, once you remove the peppers, you have to let them sit for a bit to cool down. That is partly so you can handle them without roasting your own fingers. It also lets them finish cooking (more through steam).
Then you remove the skin and go to town with your tasty treat!
Bell Pepper Color Difference
Growing up, we ate green bell peppers. The only time I had red, orange, or yellow peppers were actually the small peppers often found on appetizer boards. Then I started doing my own grocery shopping and found the other colors.
It wasn't until my husband started following the Low FODMAP diet, however, that I really started buying anything other than green because they're usually more expensive.
Without getting into too much detail, he can only eat the red bell peppers.
But what is the difference between green, red, orange, and yellow peppers? I didn't know until I started my small backyard garden.
They're actually all from the same plant – the peppers just change color the longer they're on the plant. First they're green, then red, then orange and yellow!
You can roast any color or type of pepper! The recipe is the same
Can you Eat Bell Pepper Skin?
Under normal circumstances, yes, you can absolutely eat the skin. Fruit and vegetable skin is where the most fiber is and where a lot of nutrients are stored.
When you roast them, however, that charred skin isn't tasty nor is it healthy to be eating, so you'll want to compost or dispose of it.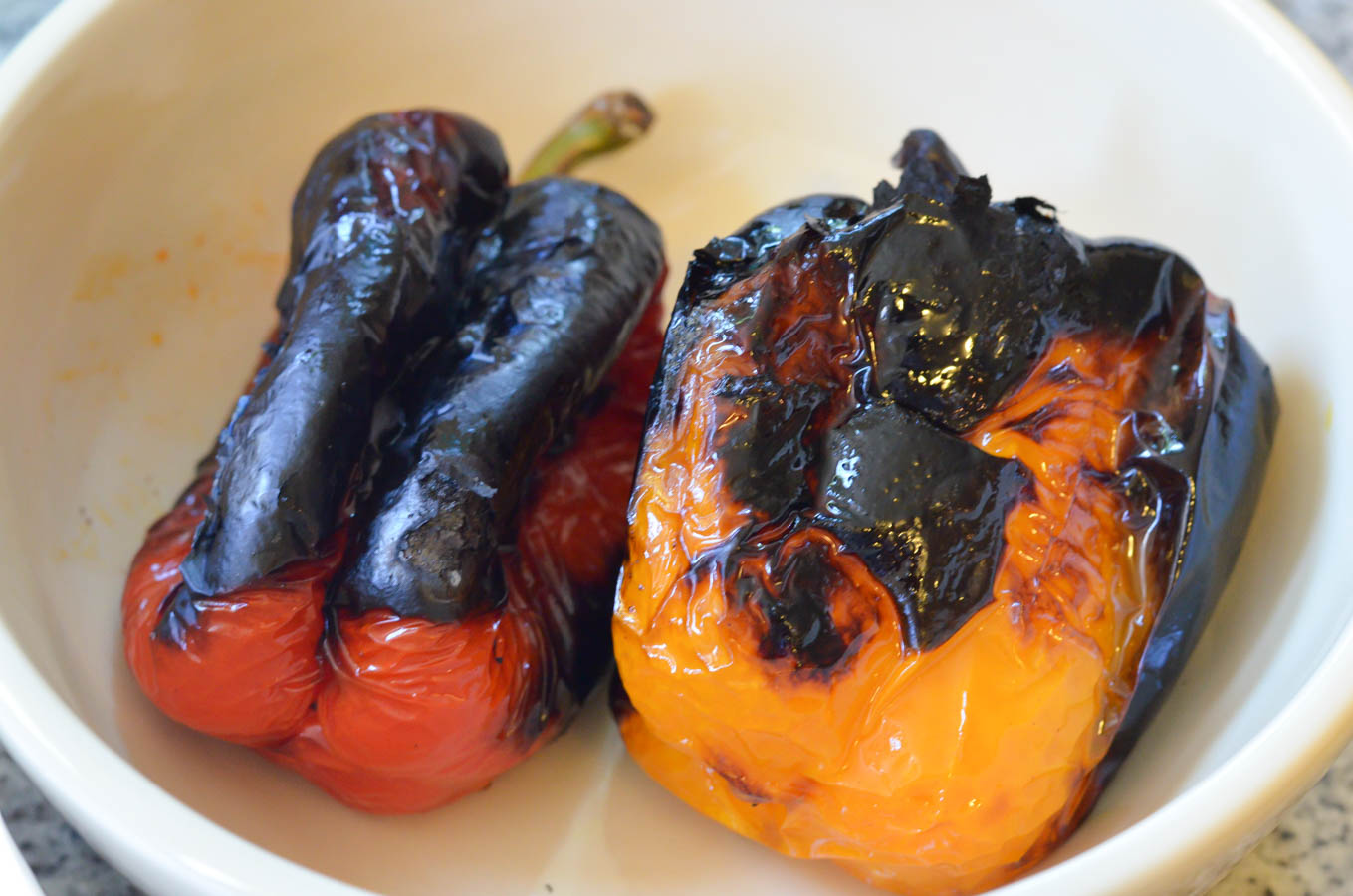 Recipes with Bell Peppers
We eat A LOT of red bell pepper in our house. It's most often mixed into my homemade fajita seasoning for tacos, but we also love stuffed bell peppers and in this easy veggie hummus wrap.
Roasted bell peppers in particular are scrumptious on this red pepper toast – a quick appetizer that everyone will gobble down – and these red pepper pinwheels!
Looking to avoid food waste and save spare bell peppers in your kitchen? Try freezing bell pepper pieces for use cooking later on!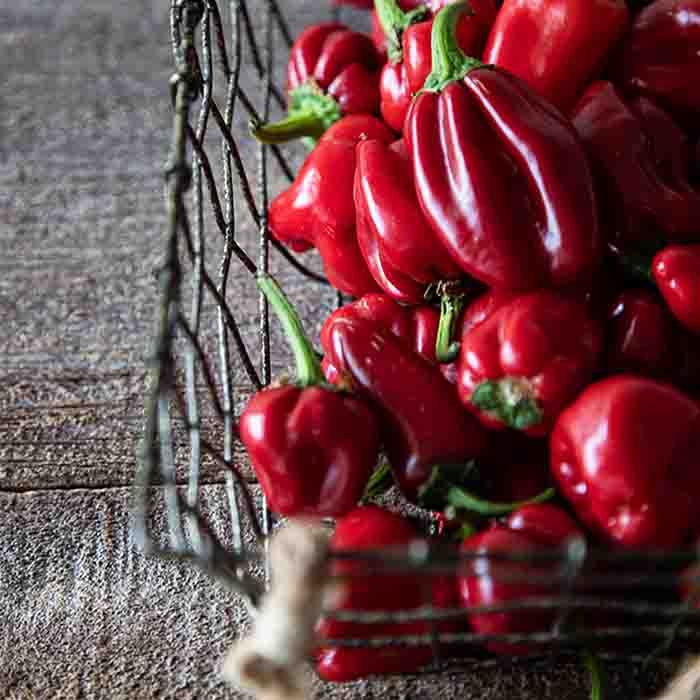 Print Recipe
OVEN ROASTED PEPPERS
If you've ever had roasted bell peppers, then I don't need to explain their deliciousness to you they're great on their own, with cheese on toast, and baked into just about any dish for breakfast or dinner! And they're super easy to make at home which is the best part!)
Instructions
Turn oven to broil. (if you're only doing a couple of peppers, you can use a toaster oven)

In oven, place rack in the highest position (closest to the broiler). Brush oil all over peppers. You want to get into each and every cranny. I like using my pastry brush.

Broil peppers for about 25-35 minutes, rotating every 8-10 minutes when top side is charred. You will probably hear odd popping sounds - that's normal.

When pepper is almost completely charred. Remove from oven and place in bowl.

Cover with aluminum foil and let sit at least 10 minutes.

When they are cool enough to touch, use a knife to gently pull skin away from pepper. Remove seeds and ribs (the white parts). Cut into desired size (strips or diced).

Peppers will keep in the refrigerator, covered for 1-2 days before use. For longer storage, place peppers container with enough olive oil to cover peppers.

Refrigerate.
Nutrition
Calories:
186
kcal
|
Carbohydrates:
14
g
|
Protein:
2
g
|
Fat:
15
g
|
Saturated Fat:
1
g
|
Polyunsaturated Fat:
4
g
|
Monounsaturated Fat:
9
g
|
Trans Fat:
0.1
g
|
Sodium:
10
mg
|
Potassium:
502
mg
|
Fiber:
5
g
|
Sugar:
10
g
|
Vitamin A:
7452
IU
|
Vitamin C:
305
mg
|
Calcium:
17
mg
|
Iron:
1
mg