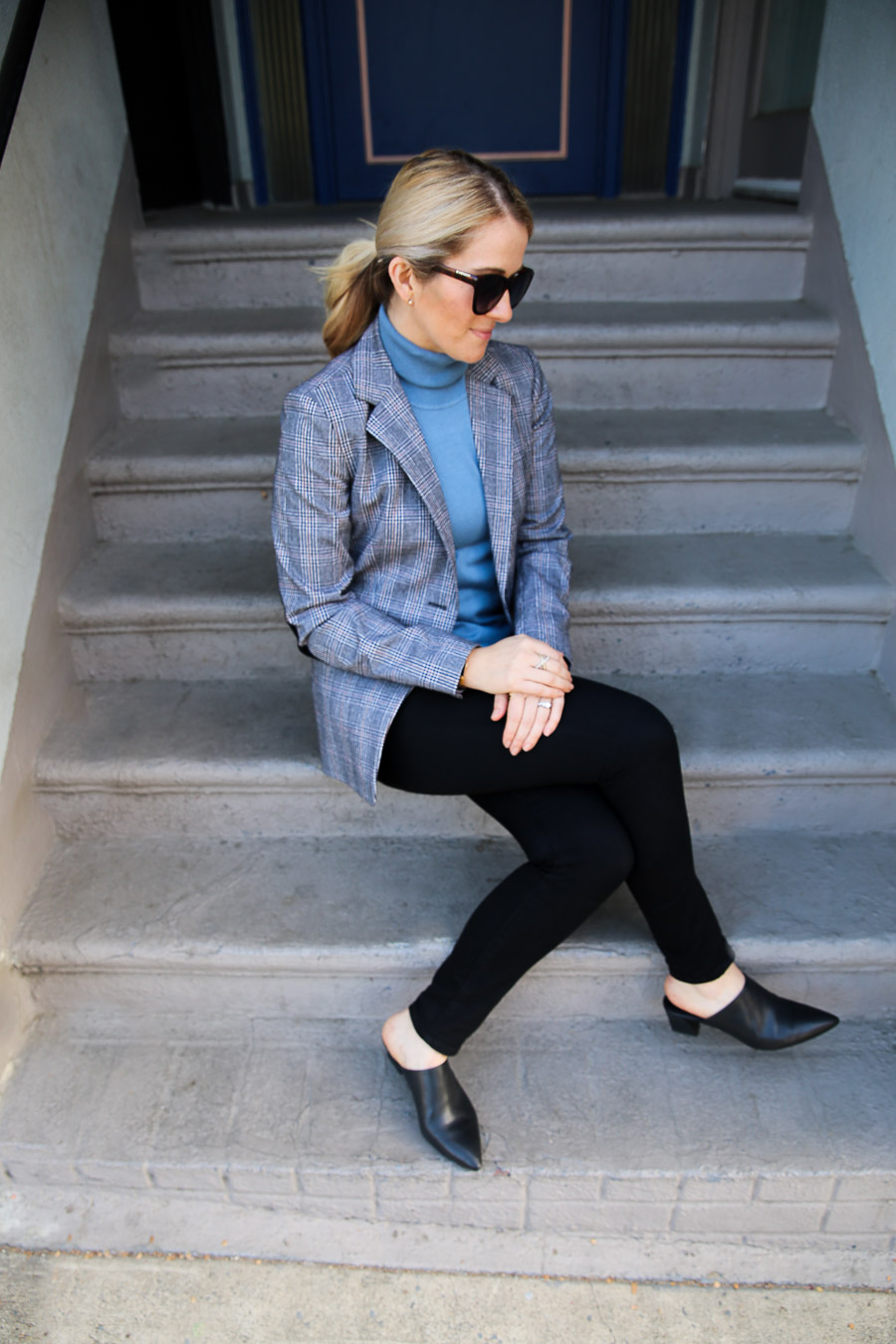 If you haven't fallen in love with the functionality of sleeveless turtlenecks, I'm here for you! Sleeveless turtlenecks and blazers (any outerwear really) is one of my cold weather layering hacks and I can't get enough.
I got this sleeveless turtleneck a few years ago and while I don't wear it often, I do love it on the perfect occasion. I'm not a big turtleneck fan is part of my issue. It has to be quite chilly for me to opt for the neck-covering layer.
What I also don't love is bulky layers, so while my sweater keeps me warm, the lack of sleeves makes this easy turtleneck and blazer ensemble great for life on the go – indoors and out.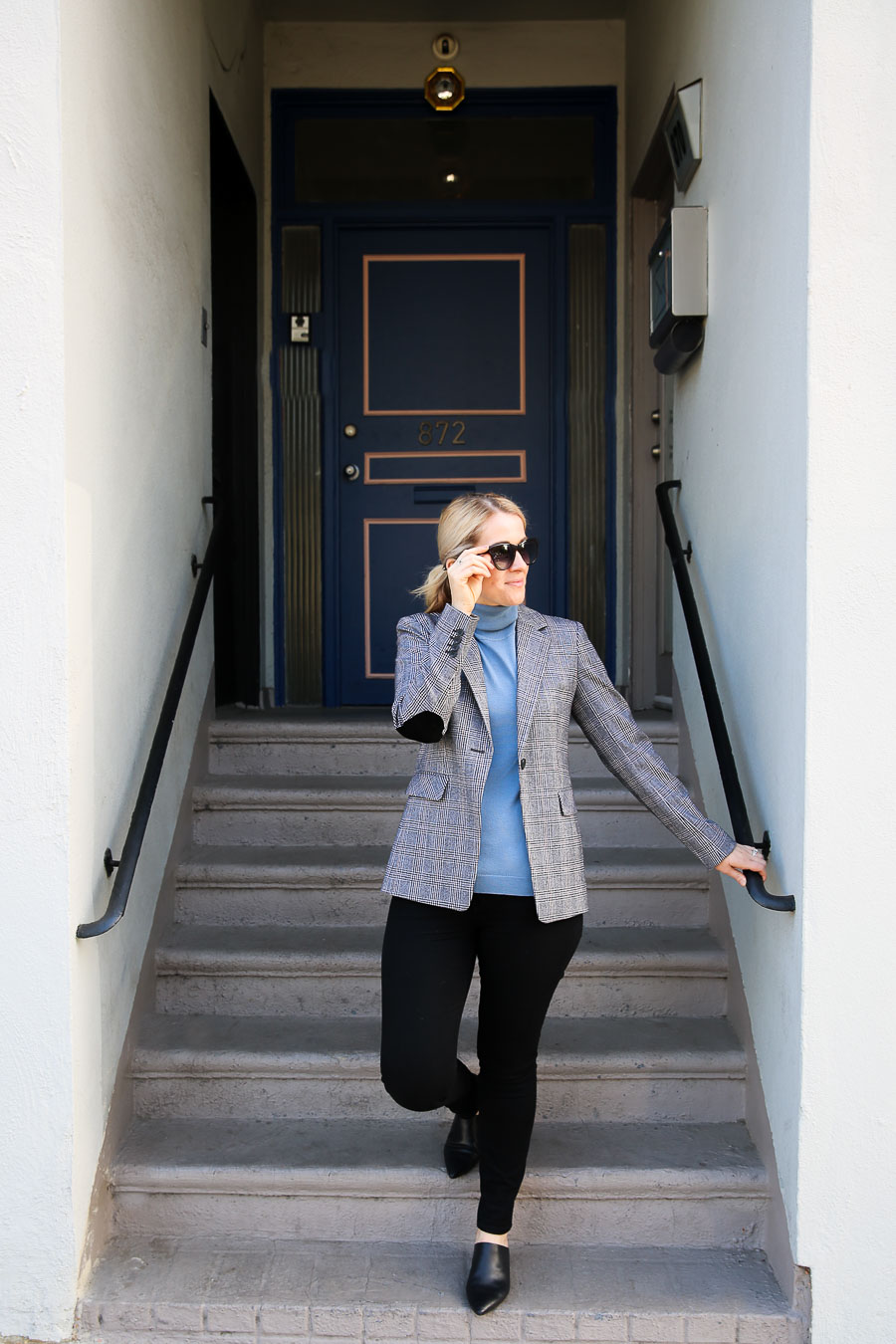 Turtleneck and Blazer Outfit
Besides my finicky nature on the turtleneck front, I actually really don't like light blue – on anything! Why I picked this piece out those few years ago (in St. Louis if I recall correctly) and why I still love it are kind of beyond me, but I'll take the change of pace!
My blazer (more details below) actually doesn't have blue in it, but I think the pale blue matches the browns and blacks nicely!
Emerson Rose Turtleneck (similar) | Nordstrom Signature Blazer
Current/Elliott Jeans | AGL Mules (see this black mules outfit for more outfit inspo)
Givenchy Sunnies | LAGOS X Ring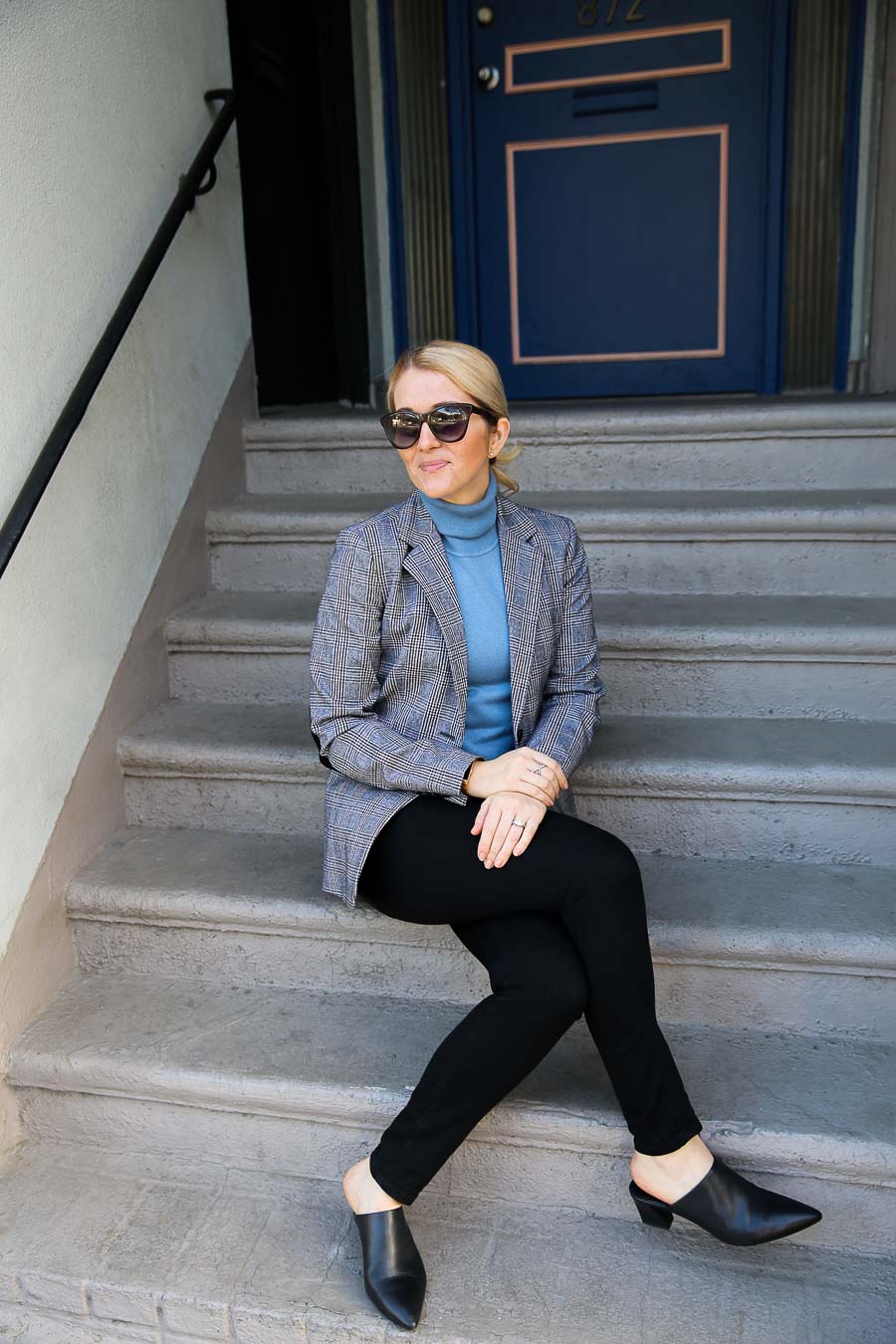 The Plaid Blazer
You all have been commenting on this blazer whenever I've shared it on here and Instagram. The exact pattern isn't available anymore sadly, but this sustainable option is! I went home last weekend to discover my mom ordered it for herself after loving mine so much (and seeing how much wear I get out of it)! I'll be sure to share all my favorite ways to wear it soon, but just know it's an absolute keeper!
A note on the sizing. I'm wearing a size up from normal in mine. I certainly have broad shoulders, but it's worth sharing that if you want some room for layering or have bigger shoulders (or all of the above in my case), then you might want to try a size up as well!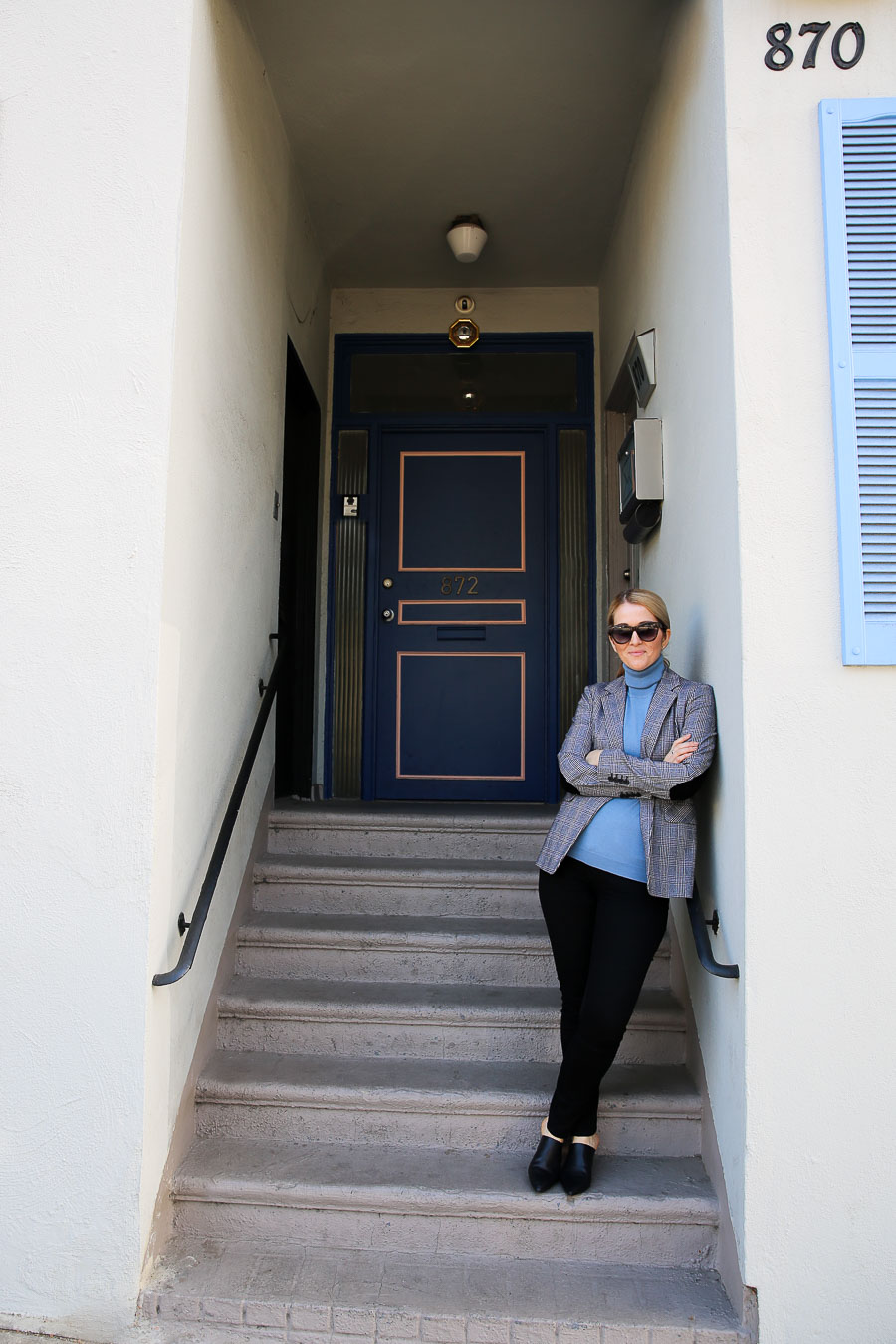 Rolling turtlenecks down
If you're not the biggest fan of turtlenecks, I get it (obviously). One trick, besides it having to be really cool enough, is to play around with the neck. Oftentimes turtlenecks are rolled so they really cover your whole neck.
While that may be a lovely tip for what to wear when it's below 40° outside, it isn't always so chilly, so I like to try a tri-fold or something that frees up even just a bit of my neck. There's no less material, but that bit of fresh air on my skin is always welcome.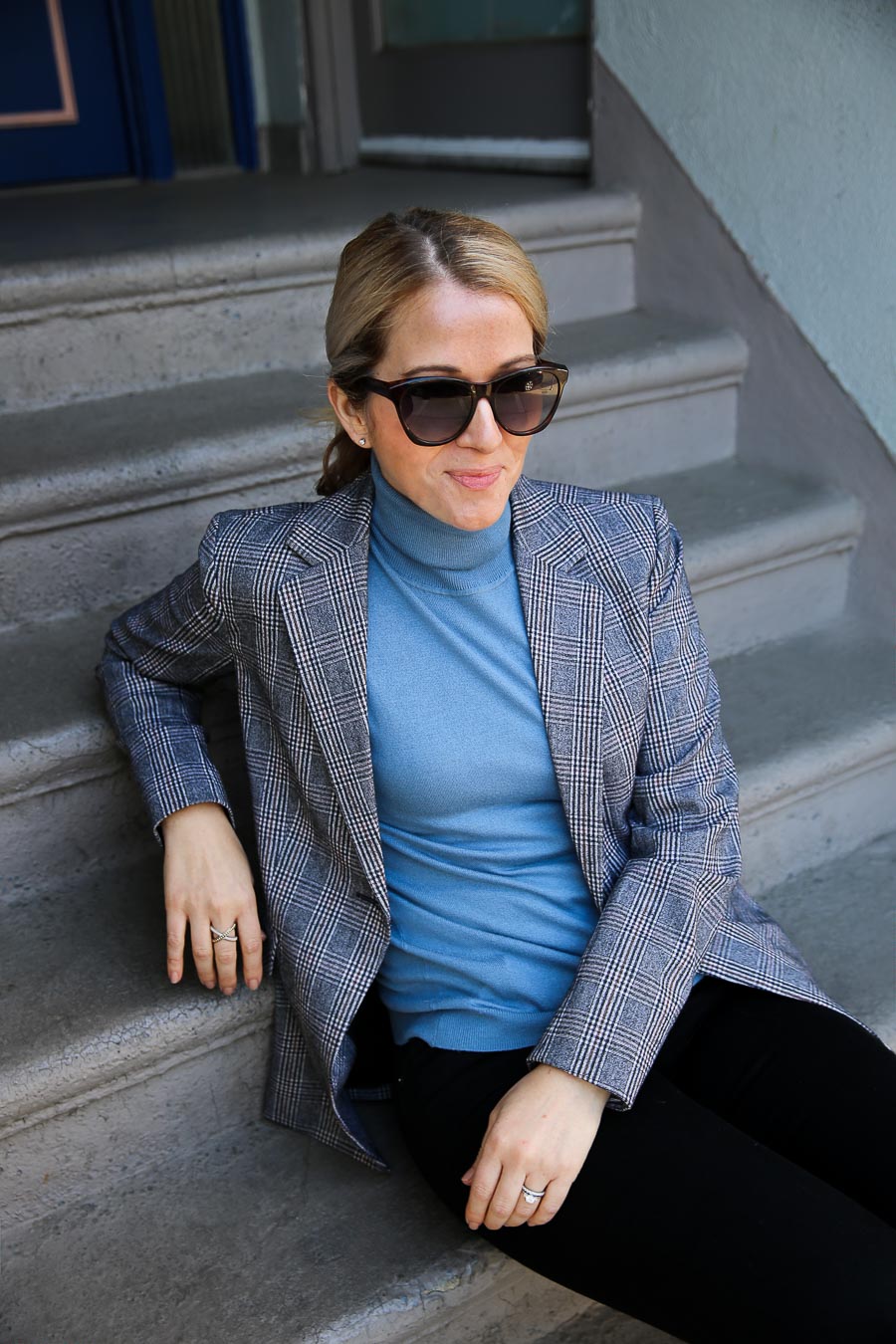 Fall & Winter Outfit Ideas
I LOVE layered outfits. I'm all about the variety of year round fashion, but fall and winter (before it's too, too cold) is my sartorial jam!
Start with basic layering tanks and tees. That basic first layer can really make a big difference!
If you're wearing a dress, make sure to layer smartly under your dress properly depending on the weather needs. Dresses don't have to be stored for cold seasons. And then jumpsuits in winter are always an option too – even a sleeveless jumpsuit is doable in cooler temps!
Since we know I live in jeans, I'm always a fan of layering chicly under my leather jacket or elegantly sporting a knit sweater!
When it really cools off, check out these linen shirt outfit ideas for cold weather and what to wear in 40° weather (when it feels much cooler)!
Get this Turtleneck and Blazer Outfit. . .