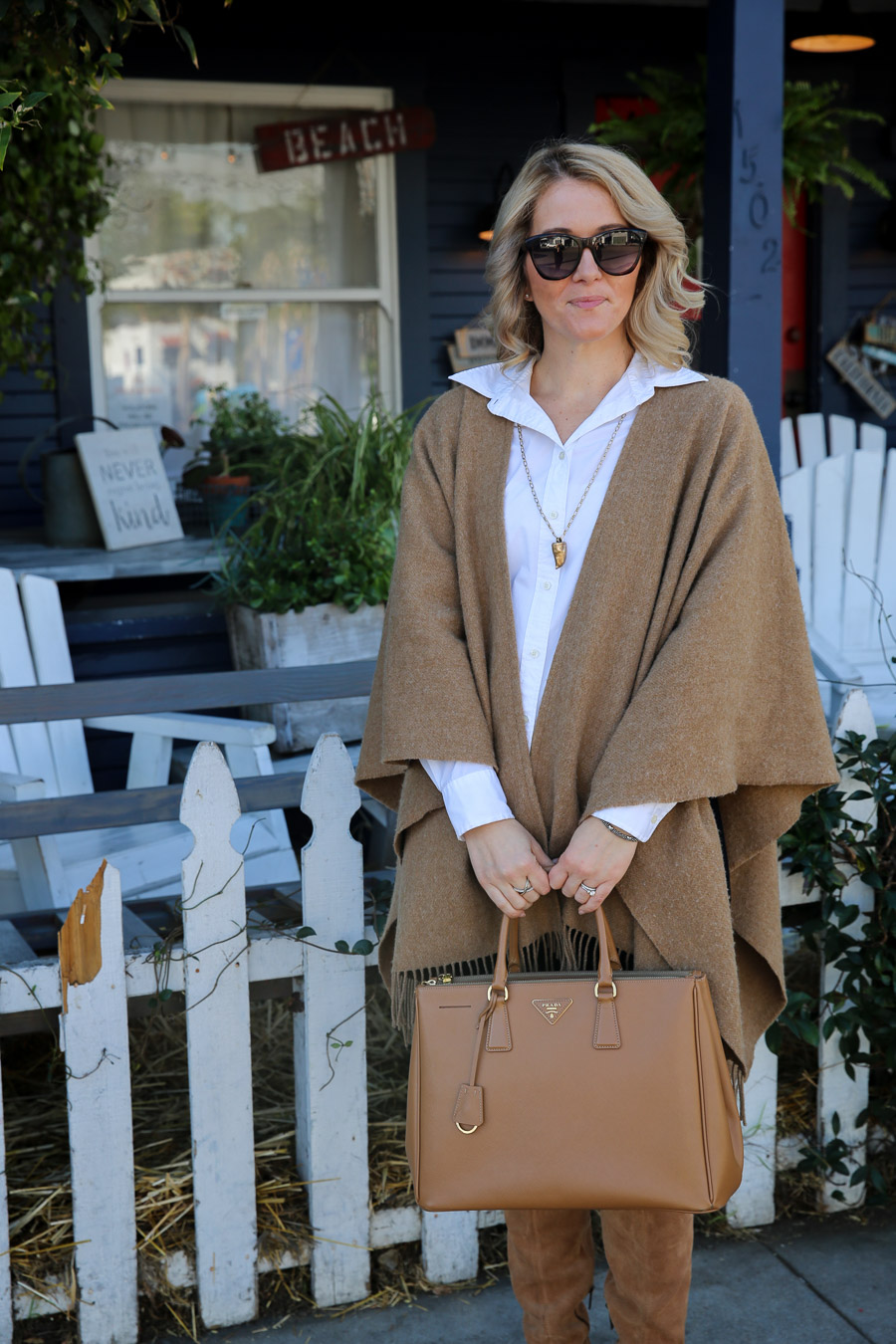 This cape outfit is likely to be on repeat – at home and when I'm traveling…
It's back to cool weather, so I'm back to my go to fall and winter classics. These knee high boots were an online find a few years ago and I still think they're my favorite fall shoes. They're actually quite comfortable and dress up a pair of jeans so easily!
These one are made by UGG who, I believe, makes wonderful shoes (not just slippers)!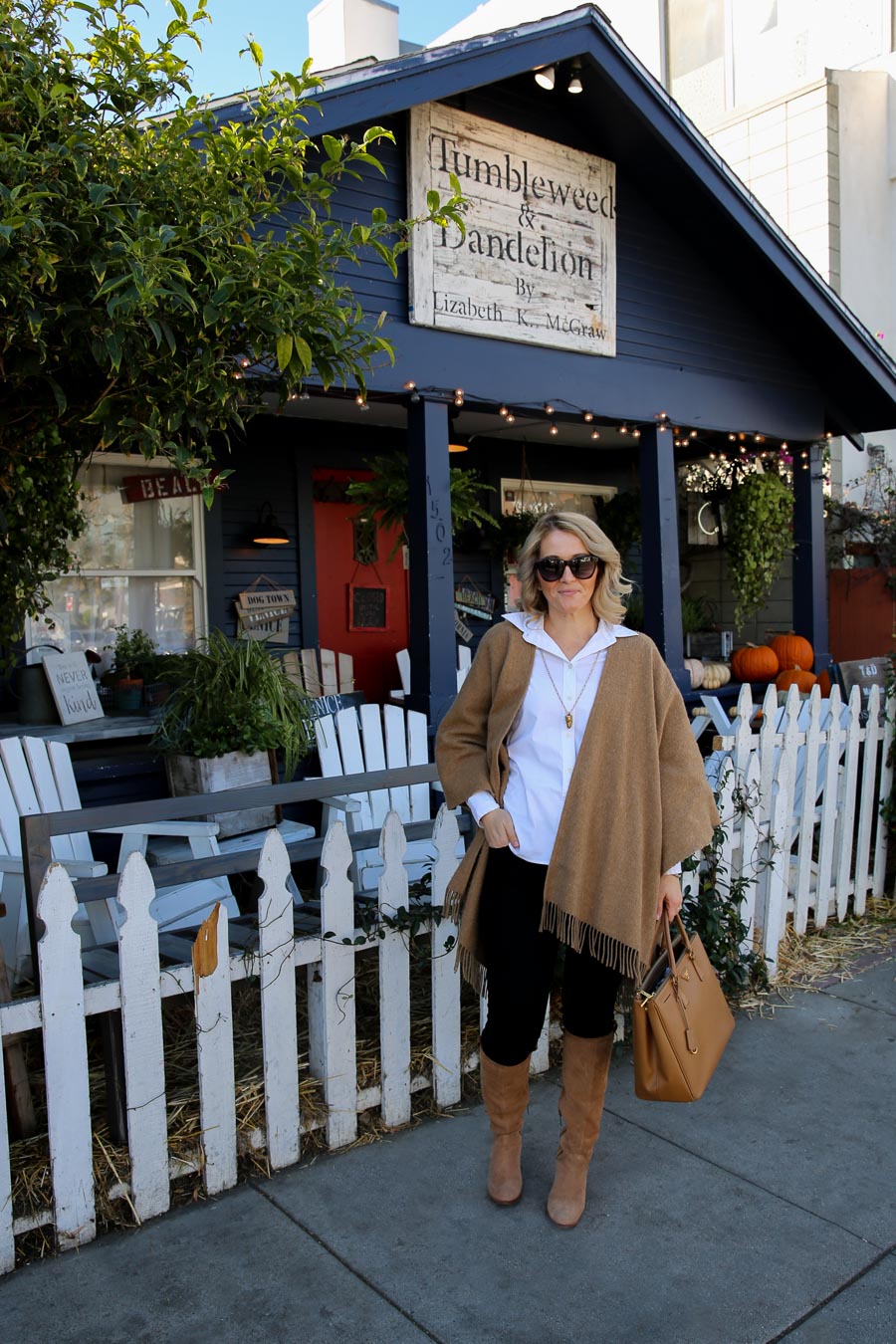 It does help that they match my favorite tote bag, I won't lie. And then my wintery sweater find in Maine a few years ago has me set from every angle.
Cape Outfit
When my mom and I were in Portland, Maine, we dutifully (in our opinion), took the short drive up to Rockport to the LL Bean flagship store. Full of everything cozy, fall, and flannel, the two-story store was an experience.
Though I wanted to bring home every soft thing I could get my hands on, I opted to pick something a little more flexible for the warmer climate in which I live. Since I'm a sucker for shawls and capes, this cape was the obvious choice (and it wasn't expensive)!
And since I'm all about open honesty, I also brought home this tan poncho from New Hampshire – clearly I was in a neutral outerwear phase and I'm not even worried about wearing the daylights out of both pieces. They have a different vibe and both wonderfully keep me warm!
What to wear with a cape outfit
I'd like to say that I've had many cape outfit ideas since adding this beautiful piece to my wardrobe, but that's an overstatement.
I've worn it numerous times, but half the time, I throw it on over a plain shirt and jeans. It's a great layer that's cozy but not restrictive.
I've even worn it out on a few early mornings and I look surprisingly put-together. I mean, luckily nobody has engaged me in much conversation or my cover would be blown, but hey! I'll take whatever help I can.
I love it in this easy fall outfit too!
When it was time to leave for a meeting, however, I swapped the tea for my favorite white button down and the flats for these boots!
The Perfect Tan Bag + Boots
You know I love items that are available season after season, but all good things, apparently, must come to an end. This tote has been my favorite bag for the past 5 ½ years. It's now no longer offered in this combination.
Since I would include a brown tote in my closet essentials, I found a number of similar fabulous totes at a fraction of the cost – all linked below.
Along those lines, I found a handful of tan suede boots that are very similar to this lovely pair. Some have a thinner heel, others are practically flat – a little something for everyone!

Outfit Layering ideas
I LOVE layered outfits. I'm all about the variety of year round fashion, but fall and winter (before it's too, too cold) is my sartorial jam!
First off, it's important to have your basic layering tanks and tees. This simple first layer can really make the biggest difference!
If you're wearing a dress, make sure to layer under your dress properly depending on the weather needs. Dresses don't have to be stored for cold seasons. And then jumpsuits in winter are always an option too – even a sleeveless jumpsuit is doable in cooler temps!
Since we know I live in jeans, I'm always a fan of layering chicly under knit sweaters or tucking a sleeveless turtleneck under a blazer!
When it really cools off, check out these linen winter outfit ideas and what to wear in 40° weather!
Get Your Cape Outfit. . .