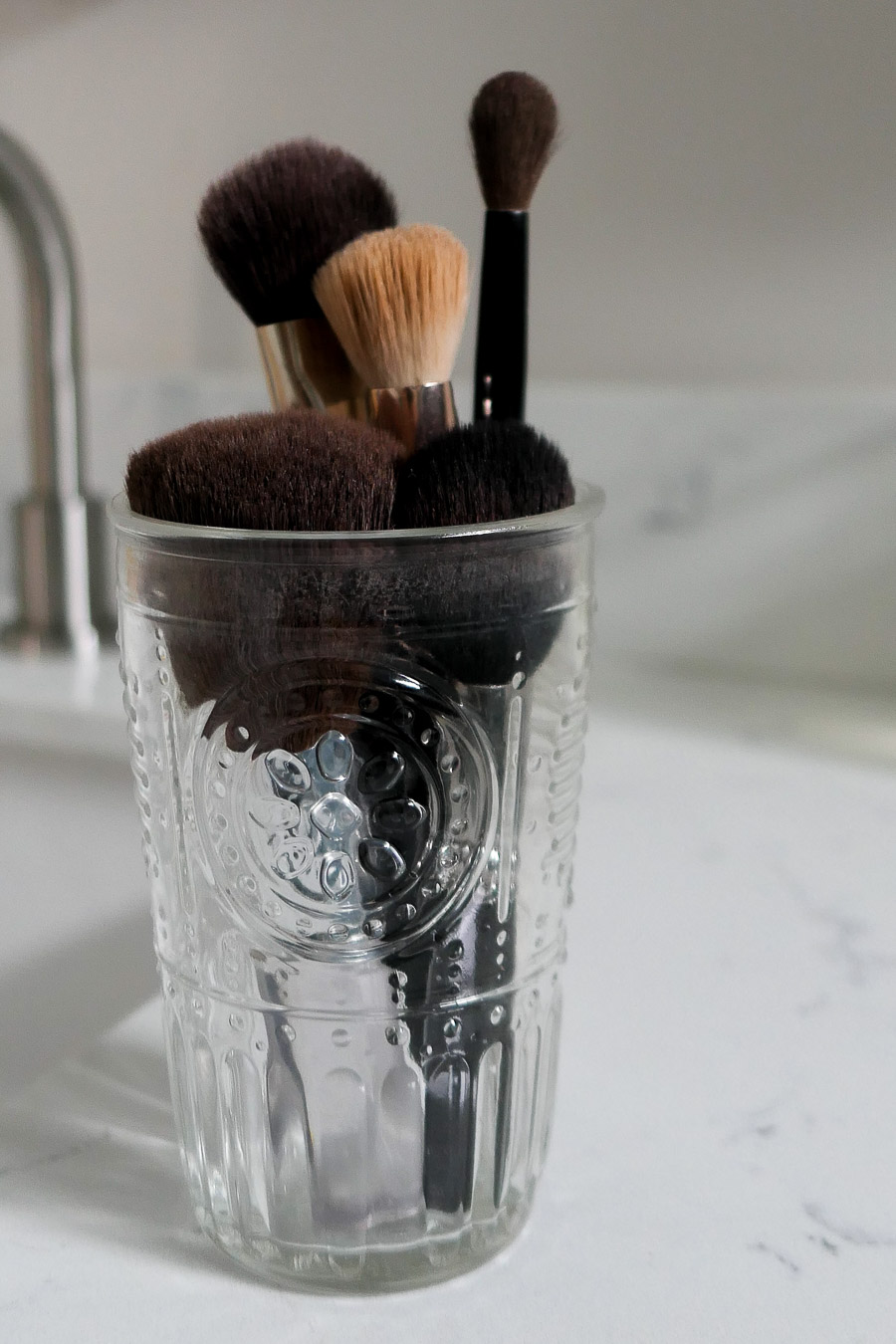 If you've tried to venture into clean beauty, you know it can be an irksome experience. You're just learning things you should be avoiding (a list that seems never ending and evergrowing) and you're ready to quit before you even start. I was there (still am a bit), but now I have a secret for how to find clean beauty and non toxic makeup brands!
I first started looking at ingredients about three years ago. A friend told me about two apps to use – the one by EWG and another called Think Dirty-Shop Clean.
Great. Easy and ready to go. So I'm looking for lotion in the local Sprouts with my apps open. A few items I find aren't rated well and the other half weren't found on the apps. CUSS WORDS. So I left the store without lotion and decided to deal with it at another time.
Non Toxic Makeup Brands
I had this experience multiple times before I found a new tactic – I cheated! There is such a movement now (and there has been for a while) to focus on ingredients – mostly on what isn't in the products you're putting on your skin.
Thankfully others have done the research and made into a business! As clean beauty has become more in demand, many retailers and brands have also started working toward better ingredients and a highlight of selling those brands in their stores.
I've found that different companies vary on their definition of "clean beauty" slightly, but the major no-nos like parabens, sulfates, phthalates, petroleum, formaldehyde, etc. are all absent along with a slew of other ingredients.
The other thing I've found is that many of these shops sell the same brands and products, so it's a multiple-stop check! You can discover the brands at one store and buy from another.
How to Find Clean Beauty Brands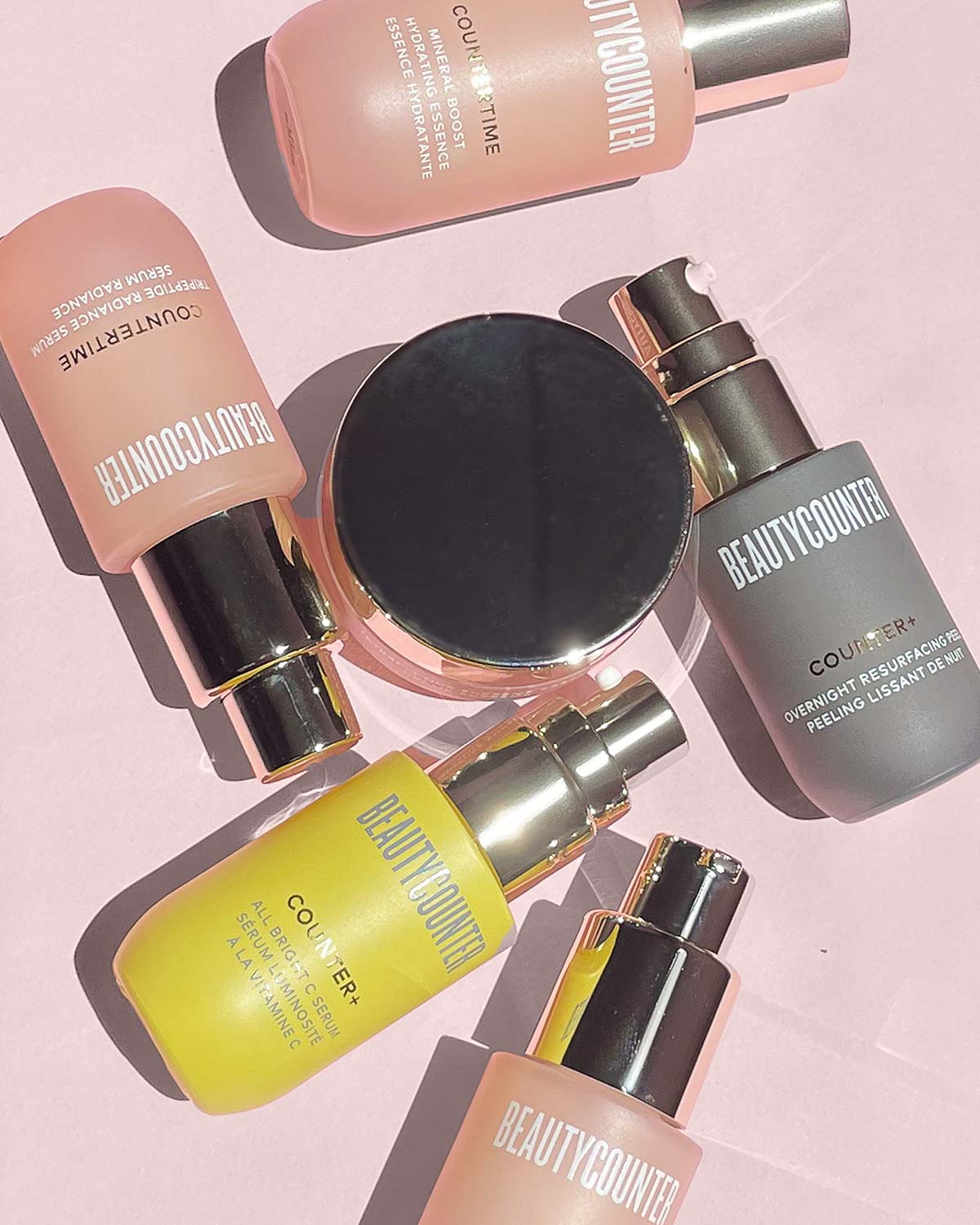 Beautycounter
Beautycounter is incredibly well known and for good reason. In addition to making clean products, the company advocates on the national, political level to get laws passed limiting harmful and potentially harmful ingredients in products. They're also now finally seeking to make better packaging options and choices.
There are a lot of options for sampling or "trial-sizing" products. If you find that you use a few products regularly, becoming a member is a great option. You'll get free shipping on orders of $100, 10% product credit, and a welcome gift with purchase – all for $29 per year! Become a member here.
A few favorite products from Beautycounter include the charcoal mask (a great mask for minimizing pores!! I'm obsessed.), the brightening facial serum, and the priming serum! See all my Beautycounter product reviews!
They do have a growing selection of non toxic makeup too. See the line here. Their highlighting balm is AMAZING (and talc free)!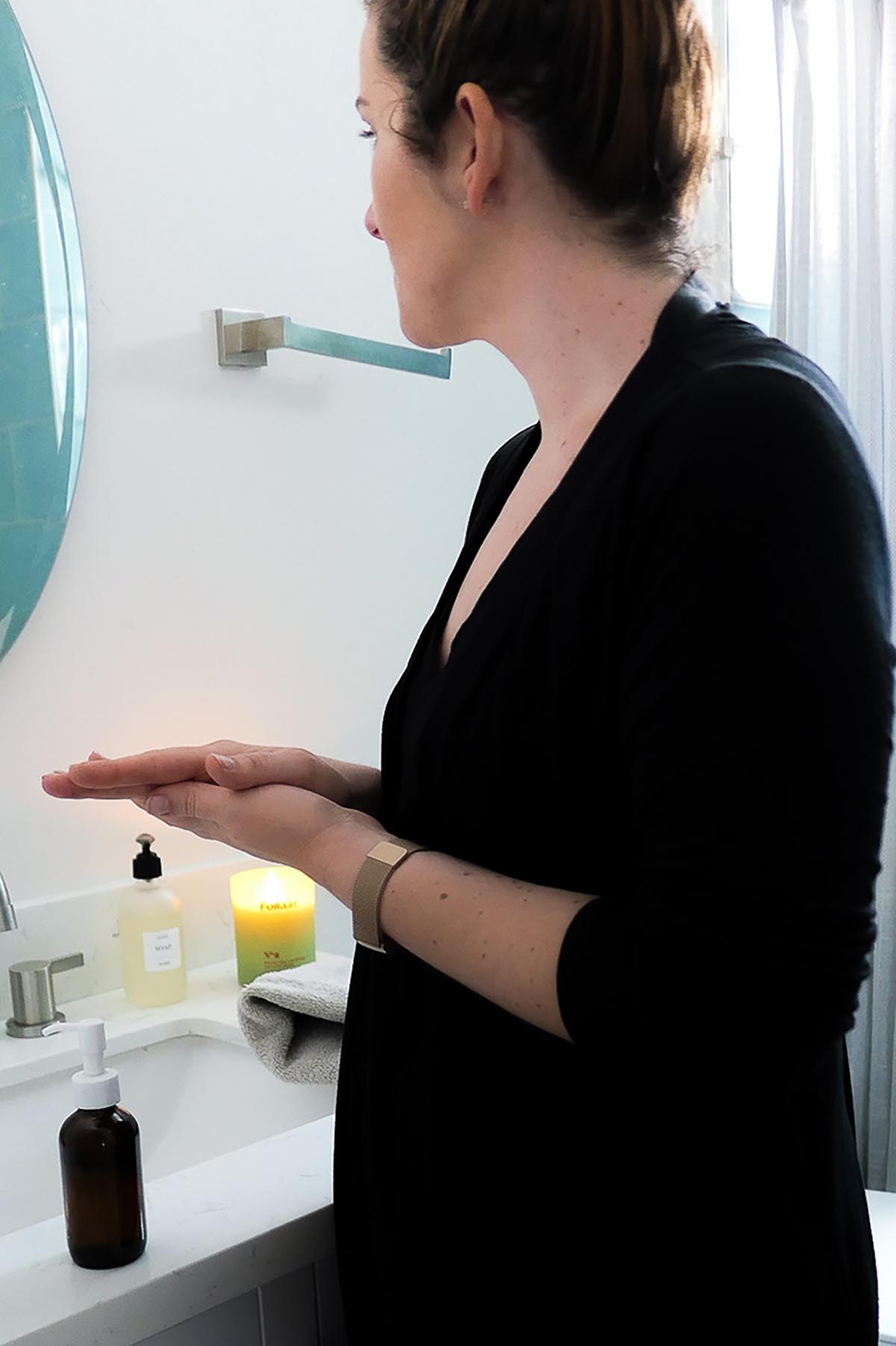 Credo Beauty
Credo Beauty is another similar platform for clean beauty. Of all these clean beauty stores and brands, I feel Credo is the most trendy in terms o new products, brands, and styles!
They offer a reward system as well – Credo Rewards. Additionally, they have some brick and mortar stores across the country to visit (safely) when the time comes.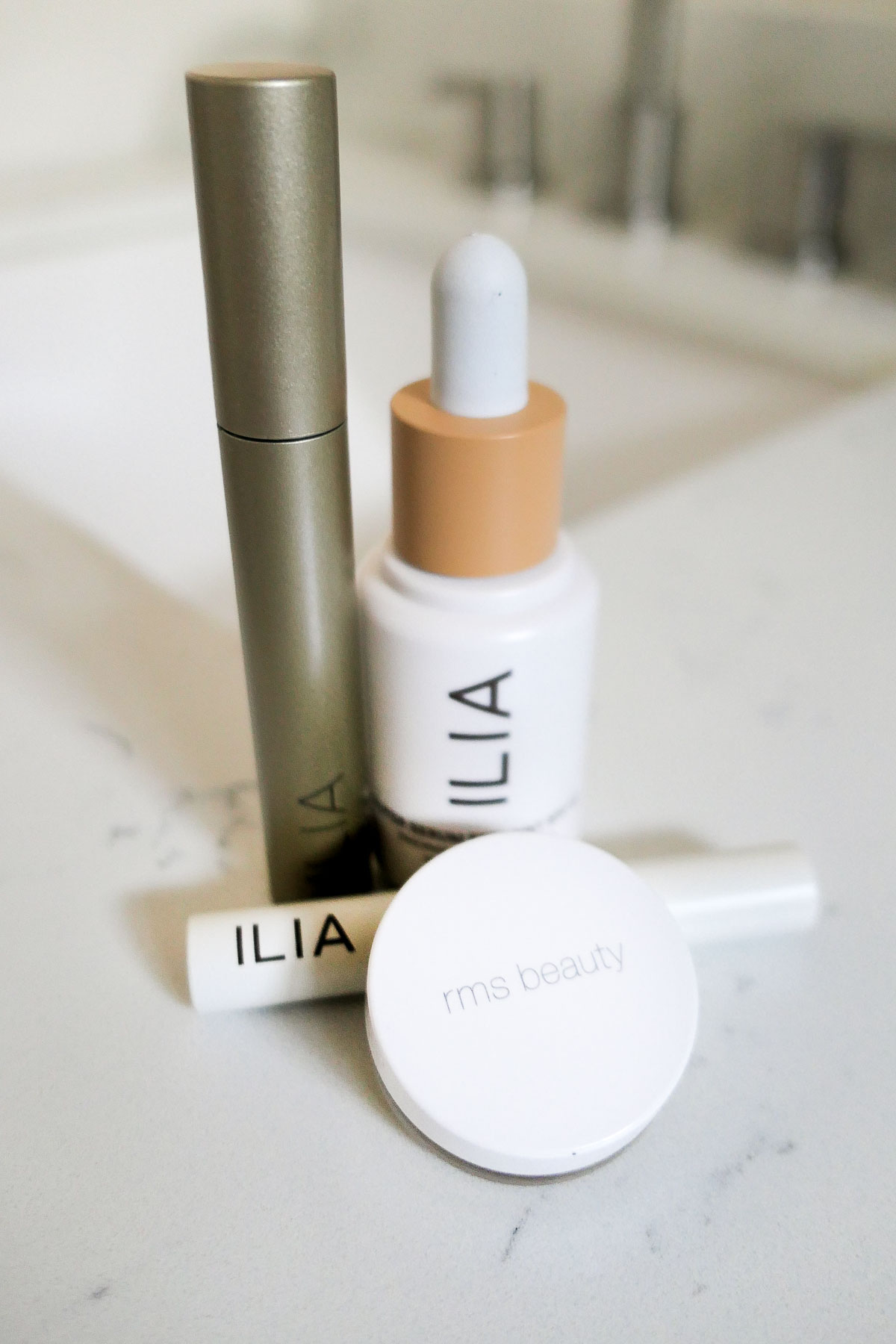 Clean Beauty at Sephora
Sephora actually has a clean beauty section and a big ole green label on every product they've labeled as clean! Their definition of "clean" is at the bottom of this page. If you're a Sephora lover, then you'll love how many brands and products they have.
It can be easy to wander from this section on their site, so be careful about that, but that big green label is also a great reminder. Even if you do a general search for products, the green label shows for every product in the clean category.
Any Sephora shopper knows about their Beauty Insider program. I've found that the free products do usually include at least one clean beauty product too!
Get a list of clean beauty at Sephora here!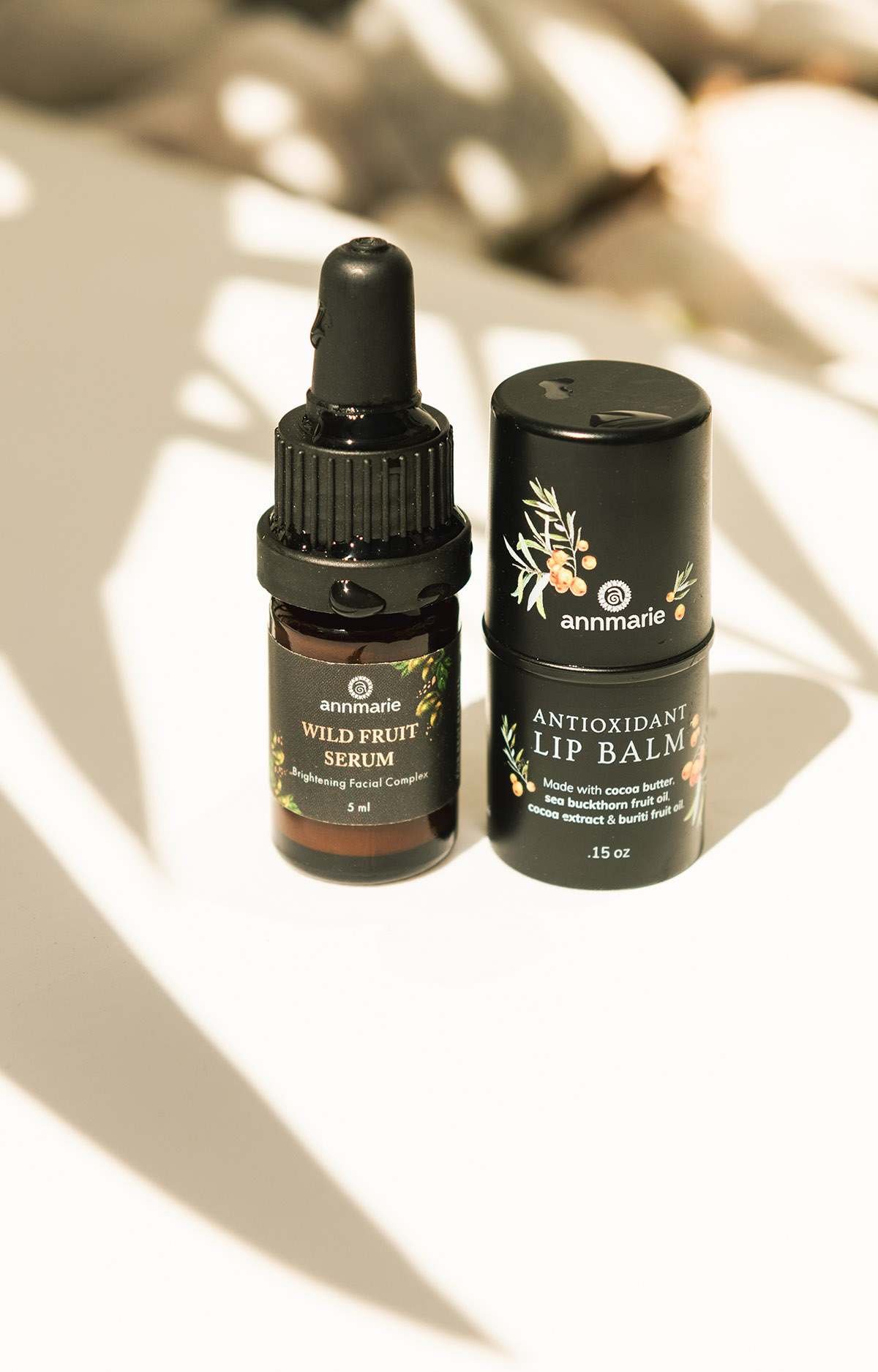 AnnMarie Beauty
There are a TON of clean beauty brands out there but not all of them are sold in the stores listed here. One recent discovery of mine is AnnMarie skin care which is organic and clean. They're deemed safe for people and ecosystems by MadeSafe, which is a non-profit that tests products for their ingredients!
AnnMarie has predominantly glass packaging which is great for those of us who are trying to limit plastic. I also love that they offer full-size, travel size, and sample sizes of all their products.
I'm currently obsessed with their organic facial oil, which I just ordered on subscription, the antioxidant lip balm, and the wild fruit brightening serum.
Their summer trial size (super discounted) special includes the brightening serum and the lip balm. You can check that out here
"Natural Beauty" at Nordstrom
Similar to Sephora, Nordstrom has a clean beauty section. I find that it's more difficult to navigate and harder to really narrow down products to fit into all the criteria you want.
It's better if you know what product you're looking for and then see if Nordstrom sells it! My list of clean beauty brands at Nordstrom can help you get started! And here is my list of the reasons I still love to shop at Nordstrom.
Activist Refillable Beauty
Activist is a completely refillable skincare line. Read my Activist skincare review to find the best products for your skin!
Love refillings? Check out these refillable skincare products and these refillable makeup products.
Need to Go All Green Right Now?
Nope! If you start looking at non toxic makeup brands and skincare, you'll start to see that the prices can be higher than what you're used to. There are actually a number of less expensive brands that are great (W3LL People and Weleda are both widely available and less expensive), but generally prices are a bit higher.
With that said, it's great to ease into it and find products one at a time to love. There are so many options, you may find that a few more expensive items replace a greater number of less expensive ones.
Another thing to note is that green beauty products have a shorter shelf life (usually 6-12 month). If you're using a product daily/weekly, however, this time frame isn't an issues at all.
Because of this it can be daunting to make the switch, but just aim for one product at a time. I usually opt for replacing items as I finish the container I have. Additionally, I started replacing items I wasn't otherwise attached to a brand. I still swear by my Dior mascara, but my blush and concealer were easy places to start!
This is also why I started sharing my sustainable and clean product reviews as I try them!
Non Toxic Hair Care
Looking for natural hair care? My go to is Innersense shampoo and complete hair care lines (read my Innersense review with coupon code). They even have a full scalp care regimen!
Clean Beauty Questions
Common questions include do shampoo bars really work and how do you use them? What natural deodorant actually works? What's the best face oil. I, too, was incredibly nervous about using face oils and now I can't go back. And how to clean your makeup brushes (on the cheap and easy)!
This post contains affiliate links. If you make a purchase, I could earn a commission. All opinions are my own.