Trying to find the best natural deodorant (especially for sensitive skin) can seem like an impossible journey, but I'm here to make it easy for you.
best natural deodorant for sensitive skin
So. A few years ago, I was done experimenting with natural deodorants. This was the last natural deodorant I was going to try.
After three other failed attempts at finding a natural deodorant, I was ready to just go back to my normal one that works for me – no matter what was in it. I'd just find something else to replace with clean products.
The three other brands I've tried are Schmidt's, A-type (a B Corp), and Tom's of Maine (also a B Corp). I only wear unscented deodorant, so that was the type of each that I tried.
My skin broke out in little red bumps with the Schmidt's brand. I will note here that my husband uses Schmidt's and has found it to be the best natural deodorant for him.
When I used Type:A, I liked it, but I found that if I didn't shower every single day, my armpits just started hurting (regardless of whether I reapplied each day or not).
And the Tom's of Maine worked well and didn't irritate my skin, but I'd notice it would stop working within a few hours.
Native Deodorant Review
My dear friend has been raving about Native for a few years now probably (the same one who introduced me to Bamboo toilet paper). For some silly reason, I didn't try it for quite some time.
Truth be told, I didn't need much deodorant during my pregnancy and first 6 months postpartum. And then once I stopped breastfeeding and my hormones returned to normal, I NEEDED DEODORANT.
So I bought the Native off Amazon and told myself this was the last attempt. And you all, I LOVED IT immediately! I had no breakouts, no pain, and no body odor!! So, moral of the story, listen to your friends!
Another major perk is that since then, they've started selling their deodorant in a cardboard tube – NO SINGLE USE PLASTIC, PEOPLE!!!!
Ok. So I will note one quick thing because I've been using Native deodorant now for 2 years. A few months ago, I started noticing that it seemed to stop working after a few hours.
Distraught, I bought this natural lavender deodorant and while I loved the product, I disliked the plastic container (when I knew good cardboard ones existed).
But when that one was almost gone, I started using my Native deodorant stick again and it worked perfectly fine again. My dear friend who introduced me to the deodorant told me that she occasionally has the same issue and actually just switches scents for one tube and then is back. So it's normal and easily fixed.
Natural Deodorant Scents
Native does have quite a few other scents. My friend did say you have to play around with the scents to find one that works for your body type. Target does sell a number of scents in stores, so you can smell those in person.
And you can also subscribe for deliveries from Native (with a discount even!) once you find the scent you want! Or if you just want unscented like me.
Why don't Natural deodorants work?
So, it can seem like natural deodorants don't work and here's why. First, not every deodorant is designed for every body, so if you find yourself stinkin' it up (we all do), then you need to try another deodorant. BUT…
Most deodorants on the market are deodorants AND antiperspirants. Natural deodorants are just deodorants, not antiperspirants.
Antiperspirants are usually made with aluminum, so imagine tiny aluminum foil particles blocking your sweat from coming out. While sweat cools you down, it's also one way your body removes toxins, so blocking that action prevents both of those very natural processes from happening.
If you're trying to figure out if a natural deodorant is working for you, think about whether you're sweating and smelling or just sweating. remember that this is a deodorant – so it neutralizes odors but because natural deodorants are aluminum-free, the sweat can come out.
Sweat is "natural." And, thankfully, I do find that stains from sweat nowadays aren't really a problem with natural deodorants.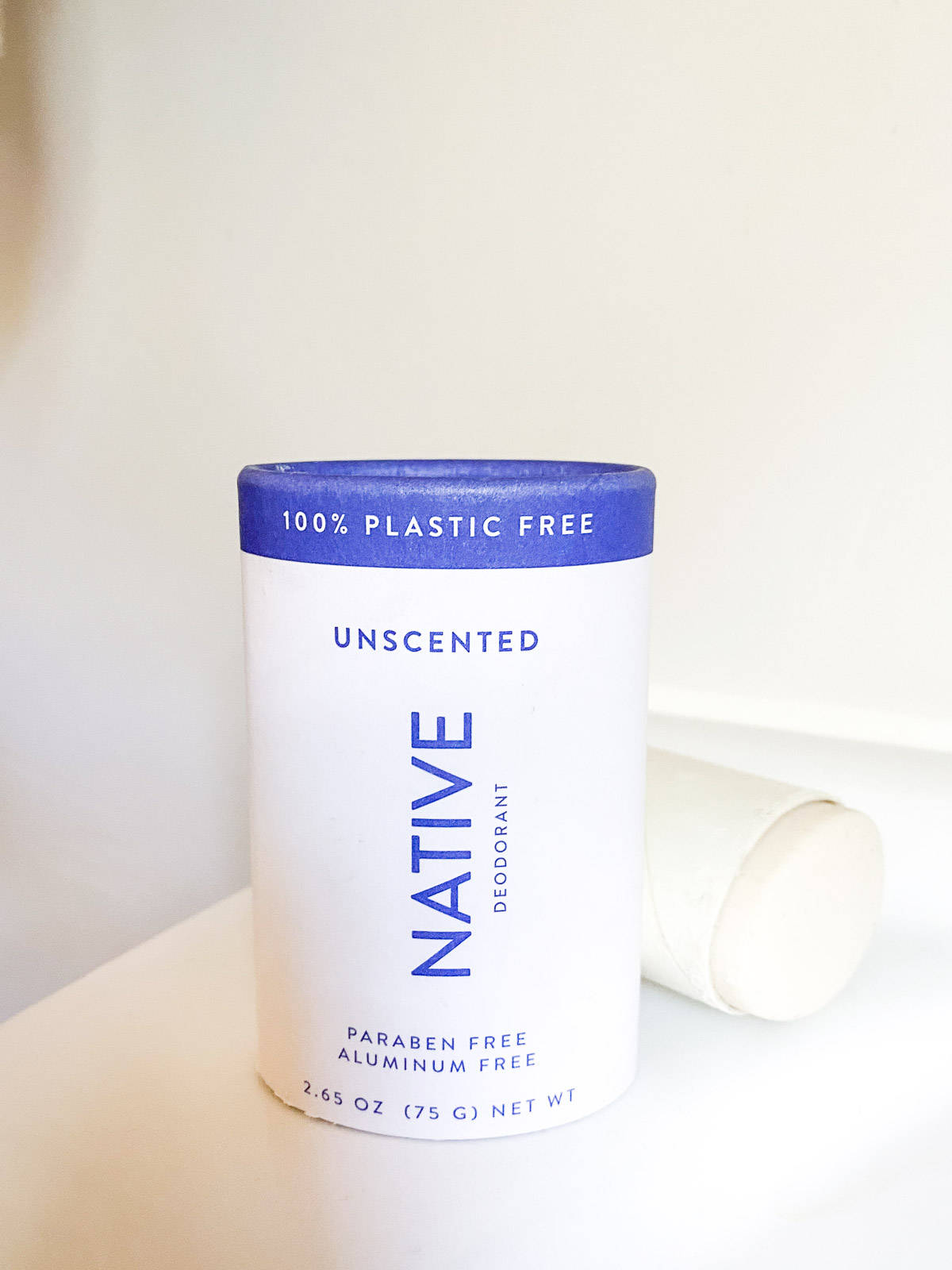 More Clean Beauty
Since clean beauty is an important part of sustainable living, be sure to check out these other clean beauty roundups:
Clean Beauty at Nordstrom
Clean Beauty at Sephora
Clean Beauty at Target
Clean Beauty at Walmart
Clean Beauty at ULTA
Common questions include do shampoo bars really work and how do you use them? Are there natural toothpastes that work? What's the best safety razor for women (and how to use them properly). And how to clean your makeup brushes (on the cheap and easy)!
And if you have sensitive skin, look at my tips for exfoliating sensitive skin!