So, here's the thing. Well a few things. First. I do not like gin. I'm sorry if I offend. I've honestly tried to enjoy it on its own, but unless it's mixed into a phenomenal cocktail (that I probably can't create on my own), I don't love it. That was until I found the rhubarb gin.
What's even more foul to my taste buds than plain gin is tonic water. I recently tried it on its own. I'd long thought I hated gin & tonics because of the gin. No. It's the tonic.
And the historian in me has a hard time enjoying quinine since I first learned of it as a medicine for malaria. Just saying!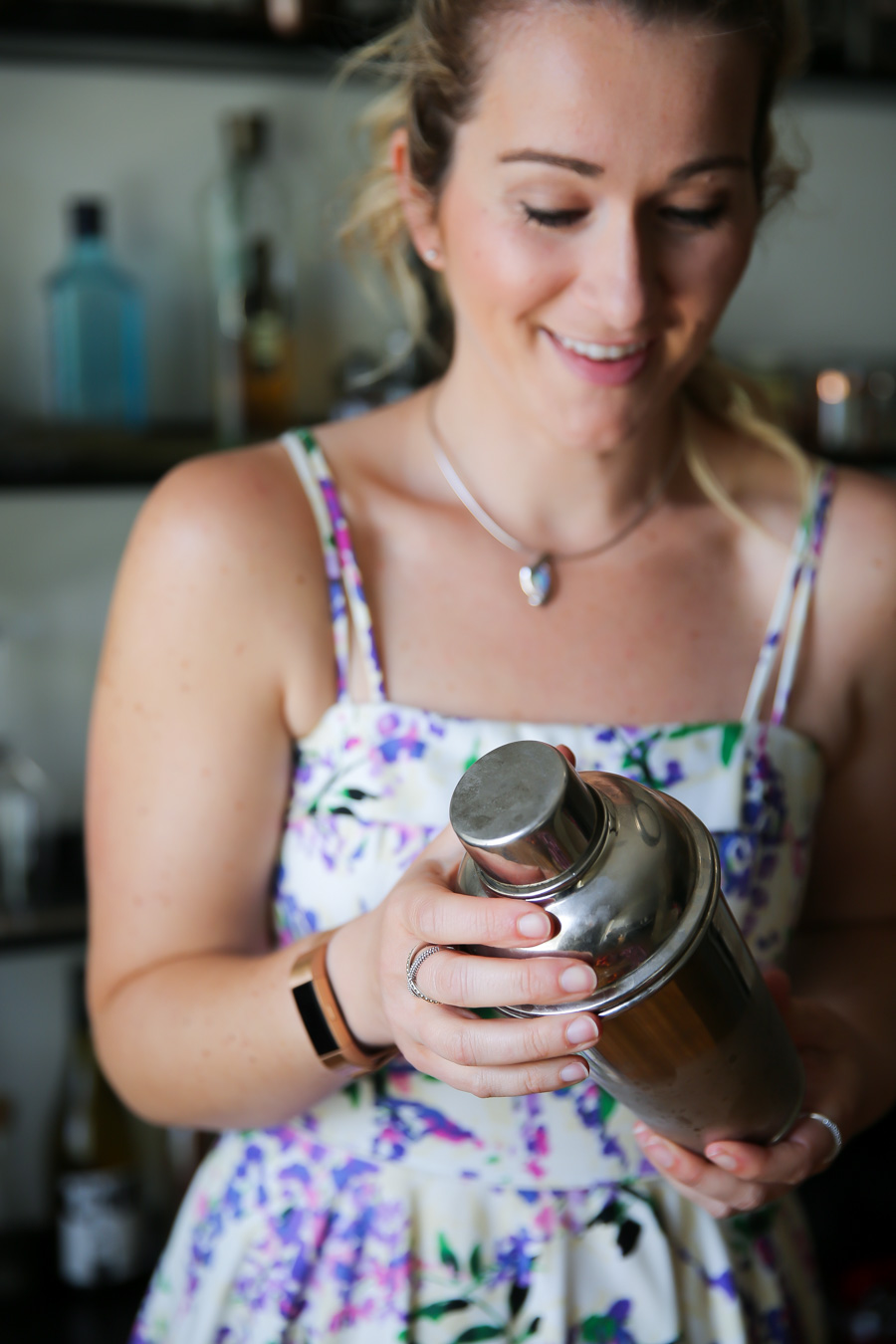 Anyway, when we went to Scotland, I intended to enjoy the whisky (which we happily did), but I started seeing Edinburgh Gin bottles that were super chic and then I saw one that was pink… the Edinburgh Gin Rhubarb & Ginger Liqueur…
Whiskey Cocktail for Summer
Edinburgh Gin Rhubarb & Ginger Liqueur
I mean. Just look at that packaging. If I were a gin lover, I'm sure I would have done the Edinburgh Gin tour, but I'm not, so we didn't. But either their rhubarb or raspberry liqueur were bound to make their way home with me in my suitcase…
And they did. I bought this bottle of rhubarb liqueur at Spean Bridge Mill on our way from Fort William and then proceeded to schlep it around Scotland in my luggage for two weeks. That's devotion, right?
So, I arrived home with this large bottle and a small sample bottle of the raspberry liqueur.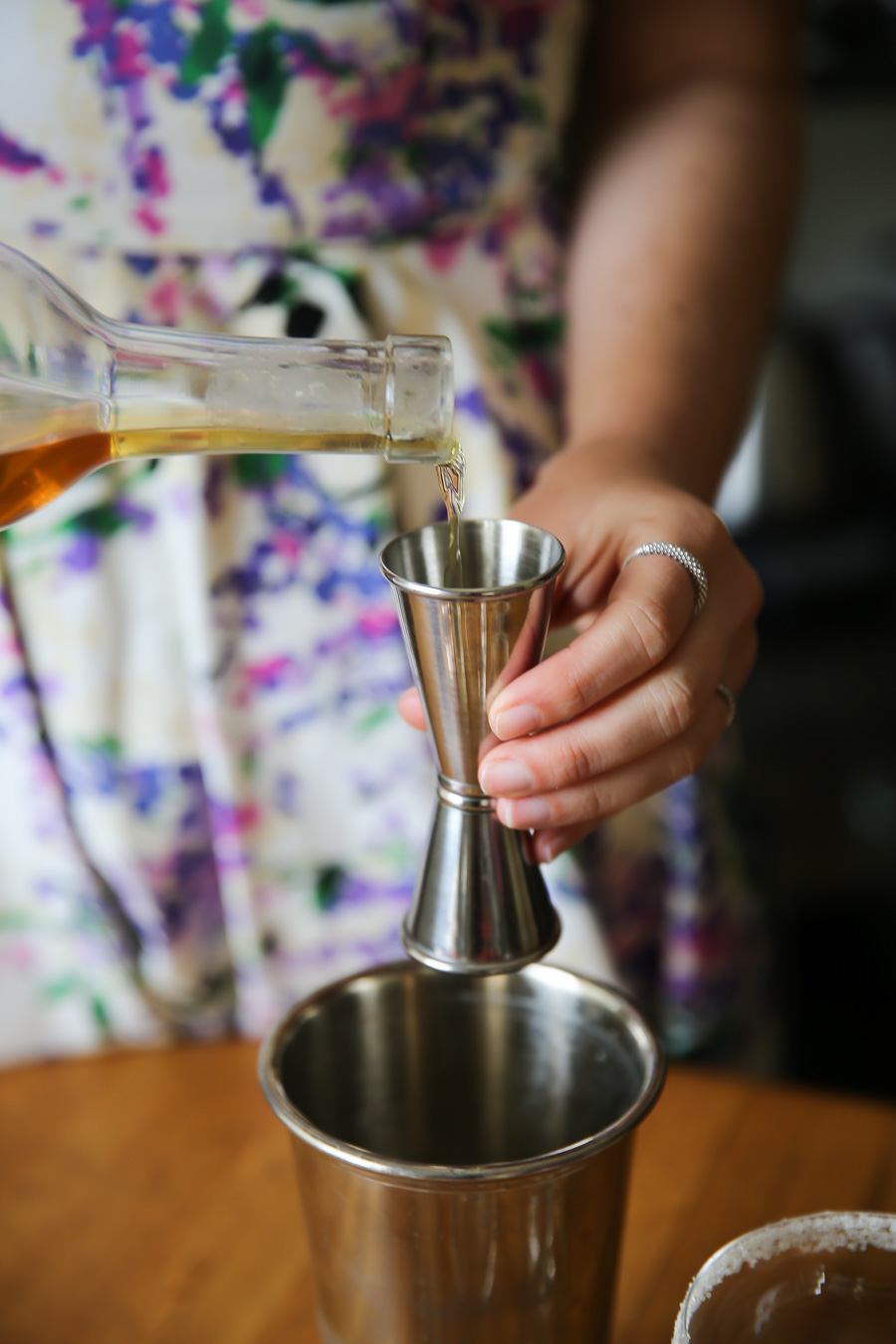 The raspberry one is a deliciously sweet spirit, similar to other ones I've tried. (If I could, I would have brought a full size bottle of that home with me as well).The Edinburgh Gin rhubarb & ginger, however, has a tart flavor (as expected with rhubarb, I suppose).
If you want a sweet liqueur, this one isn't for you. But if you're looking for a fun flavor to mix into your drinks, one that would allow the main spirit (in this case whiskey), to shine through – this is it!!
And if you don't like it, it's ok because the packaging is so beautiful, it'll be a great item to add to your home decor!
If you're really feeling adventurous, Food52 has a homemade recipe.
Whiskey vs. Whisky | Bourbon vs. Scotch
A few things to note about the difference between whiskey, whisky, bourbon, and scotch. It's super simple. You can even pour yourself a cocktail before I go over it.
First, Americans spell it with an 'e' – whiskey. The Scottish spell it without – whisky. It's like theatre and theater; colour and color; and flavour and flavor though I find that the colour and flavor of my rhubarb liqueur is beautiful inside and out of the theatre. Apologies – I'm feeling punchy today (and I haven't even had any bourbon yet)!
Ok, so bourbon and scotch. Wait for it…
Scotch is made in…. SCOTLAND!! Bourbon is made in America and is made up of at least 51% corn. I told you it was easy. But to recap.
Whiskey – America. Whisky – Scotland. Bourbon – America. Scotch – Scotland.
No matter it's creation, however, there are a lot of cool sustainable whisky brands to checkout!
Whiskey Cocktails for Summer
Now that I'm older and more mature, I've come to find that I really love wine and I really love whisky. I'll occasionally dabble in cocktails made with other spirits (usually because of a mixed in flavor), but wine and whisky are my safe zones.
When it comes to whiskey cocktails for summer heat (really any cocktails in hot weather), you want to make sure you pour small cocktails if they're so spirit-heavy.
A classic old fashioned is always a good idea too!
Alternatively, you can "water" it down with more ginger beer or ginger ale (ginger beer just has a stronger flavor). It depends what you're going for.
If you want to serve it over ice, I'd recommend using whiskey stones. You can find food-grade soapstone and stainless steel cubes as well. They don't melt, so your whiskey + rhubarb gin liqueur cocktail wont get watered down as you sip it down this summer!
Need some more Scotland in your life? Whip up this easy scottish dessert for chocolate tiffin – delicious served with Scotch!
Check out my Edinburgh Guides (Stockbridge, New Town + Old Town), this Fort William Travel Guide, our video diary of Shetland + Orkney, and the 5 Castles and Palaces to see in Scotland!
And once your tickets are booked, you'll want to check out the 3 things I wore in Scotland!
Print Recipe
RHUBARB GIN LIQUEUR WHISKEY COCKTAIL
This is one of the most simple cocktail recipes and it's pretty foolproof! The rhubarb gin liqueur I used is a gin liqueur (possibly the only way I can enjoy gin), but any fruit flavored liqueur is fine. If you don't love whiskey, add more ginger beer and that sugar rim. If you want a stronger whiskey flavor, you should skip the sugar rim and skimp on the liqueur or ginger beer. Cheers!
Ingredients
2

parts whiskey

1-1 ½

parts ginger beer

½

part Edinburgh Gin Rhubarb Liqueur

or any favorite fruit liqueur*

ice

optional: sugar rim for garnish
Instructions
Combine whisky, ginger beer, liqueur, and ice in a cocktail shaker and shake well.**

Pour into glasses garnished with sugary rim.
Notes
Save this recipe on Pinterest!
Make this recipe? I'd love to see how it turned out…
PINTEREST: Upload a photo and your review to this Pin!
INSTAGRAM:  Tag me @lucismorsels and use #LMrecipes
*I also love raspberry liqueur in this recipe!
**If you don't have a cocktail shaker, combine ingredients in a jar with a tightly-sealed lid.
Nutrition
Calories:
100
kcal
|
Carbohydrates:
4
g
|
Protein:
0.01
g
|
Fat:
0.02
g
|
Saturated Fat:
0.01
g
|
Polyunsaturated Fat:
0.01
g
|
Sodium:
2
mg
|
Potassium:
3
mg
|
Sugar:
4
g
|
Calcium:
1
mg
|
Iron:
0.05
mg