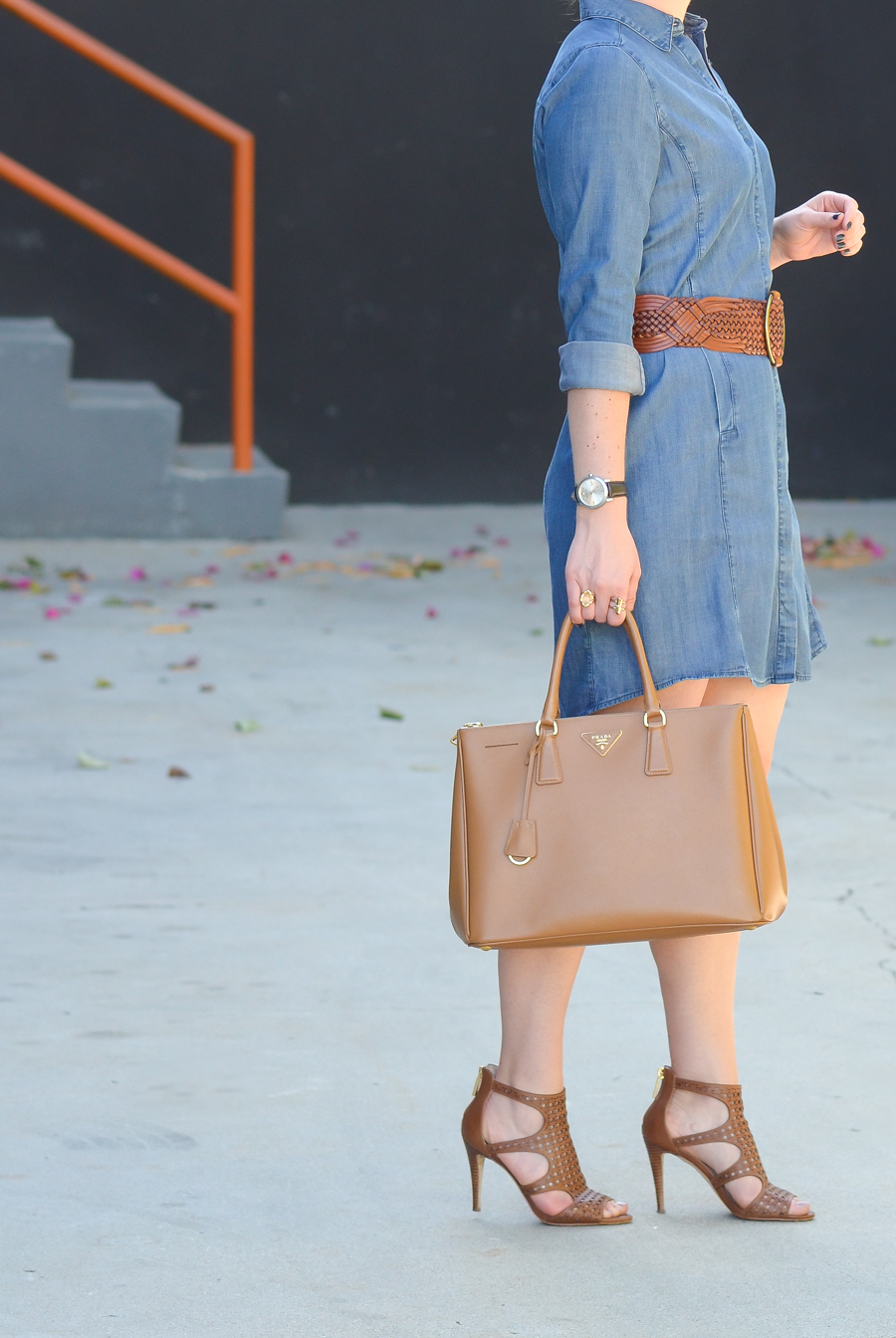 It's taken me this many days of life to learn that long sleeve dresses aren't just for cool weather. And now I'm loving the ways I've found to style this denim dress outfit!
I seem to operate under this silly notion that long sleeves are only for cold weather. I'm not ready to cover my arms in 90 degree heat. I am trying to open my mind to the versatility of long sleeves even when the sun is out, however. This Eileen Fisher (another fabulous B Corp) denim shirt dress is so comfortable that I want to style it as much as possible.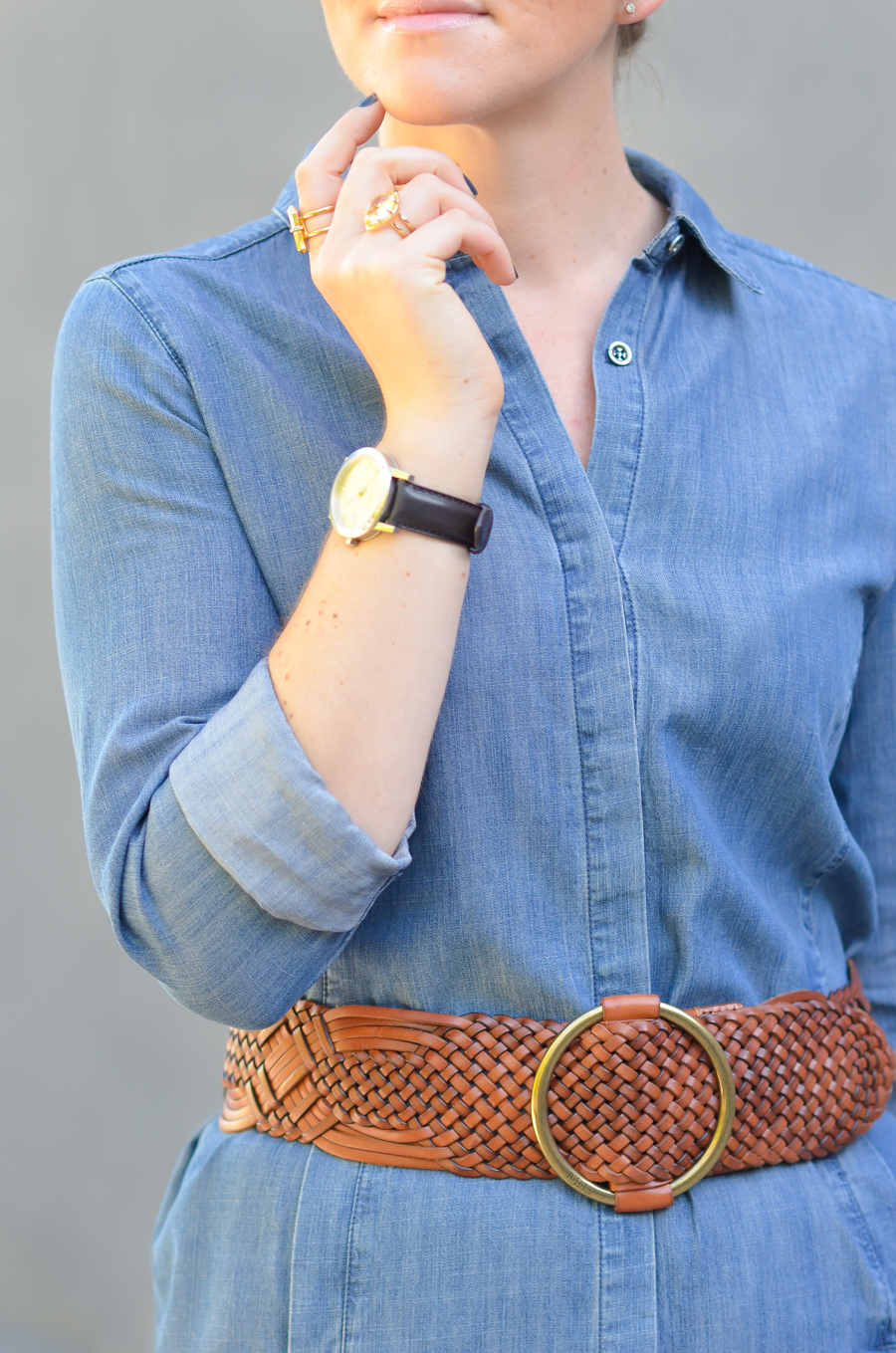 Denim Dress Outfit
The knee length keeps it appropriate for just about anything on my calendar. And I do love that I can play around with the neckline by undoing a few buttons.
Rolling up the sleeves during hotter days is a must before I leave the house. And it leaves you the option of adding bolder rings, bracelets, and a watch.
Eileen Fisher Shirt Dress (similar)
Ralph Lauren Braided Belt (similar here and here) | Louise et Cie Heels
Prada Tote | Burberry Watch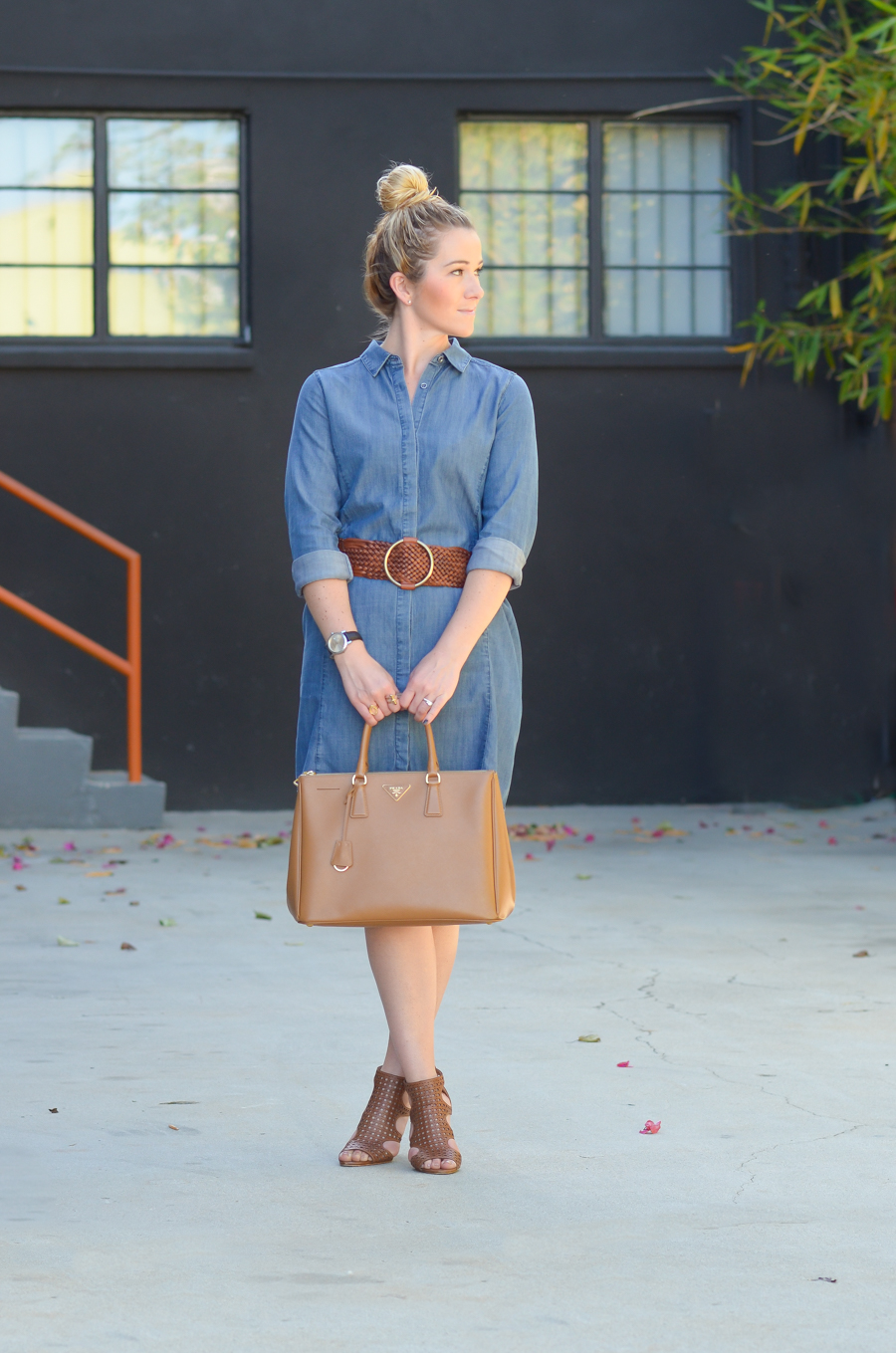 How to Wear a Denim Shirt Dress
The dress is quite comfortable, but it lacks enough tailoring in all the right places, I think – namely, around my waist.
I added one of my favorite belts to give it a bit more shape and loved the combination.
I wore this denim dress outfit first with flat sandals and then here with my favorite heels, so it really can be a weekday or weekend appropriate ensemble. And it has pockets, so you know it has to be a winner!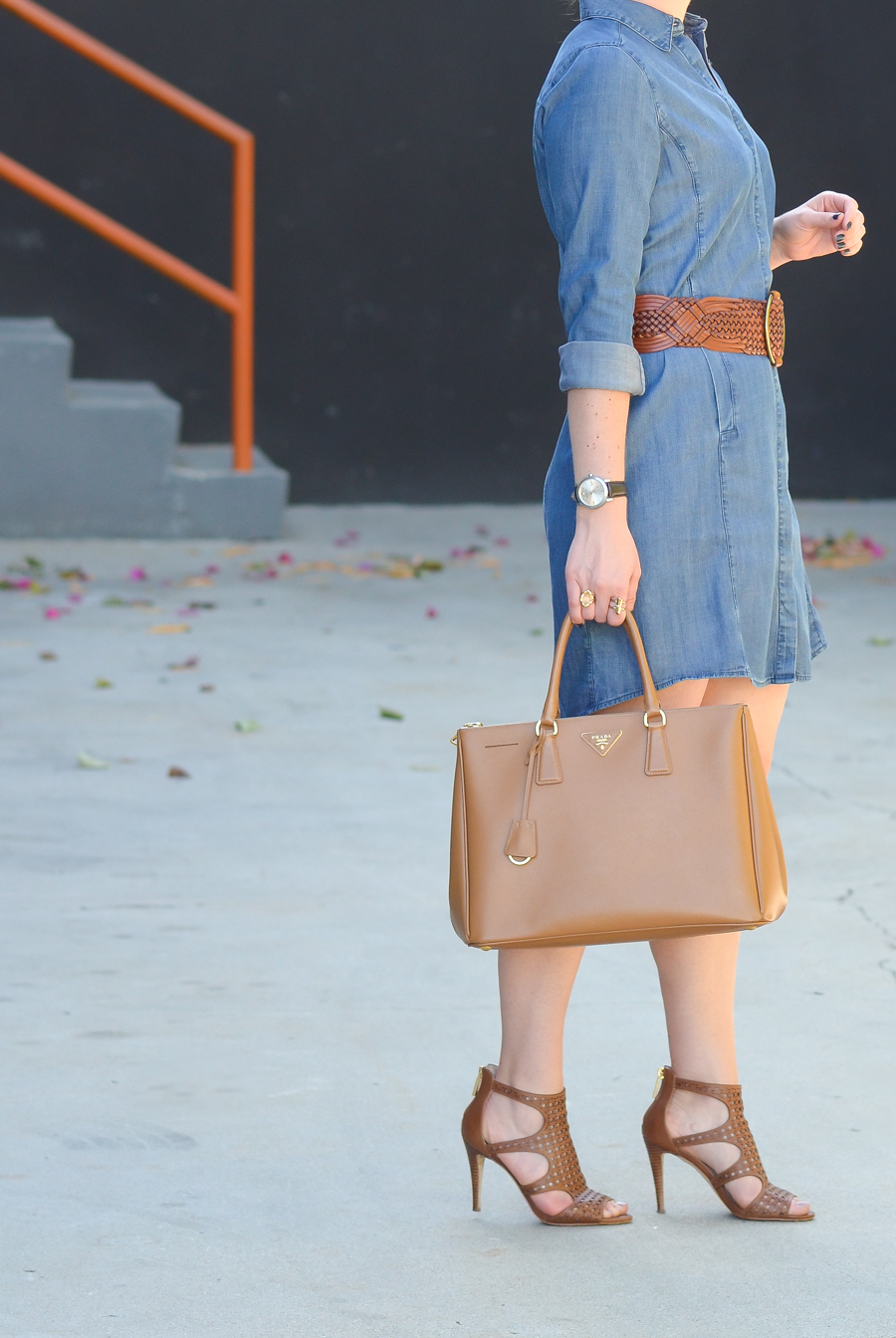 I threw my hair up in a messy bun, added my a fun combination of accessories, rolled up my sleeves, and headed out!
This combination of tan leather pieces (belt, shoes, and purse) seems to make any outfit look not only classic but also very well coordinated – perfect for dressing up a comfortable dress! Get more summer outfit ideas for this warm weather.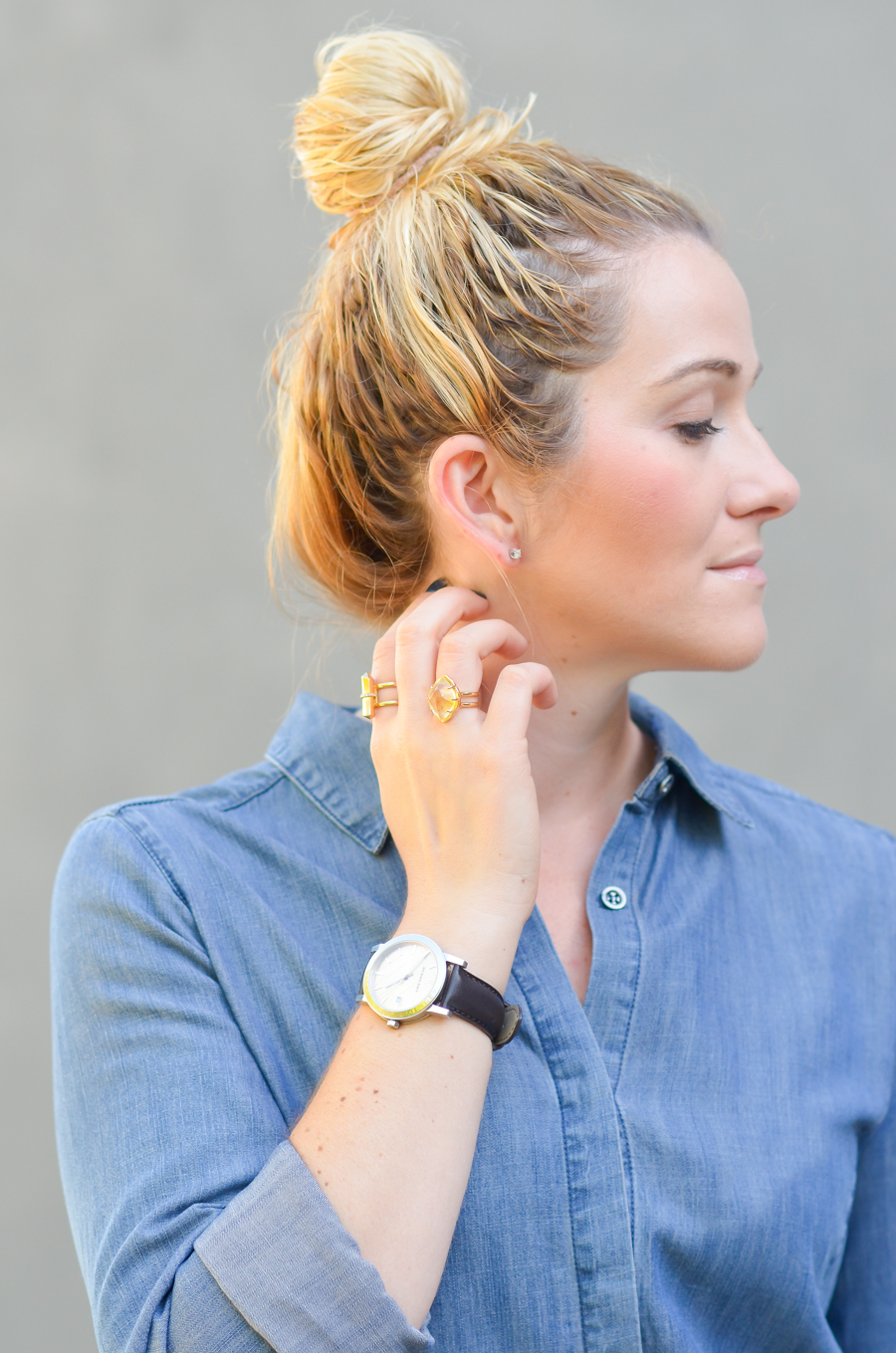 Dress Outfit Ideas
Looking for more inspiration, try this shirt dress outfit worn as outerwear with jeans! It's chic, sustainable, and fabulous!
Love dresses? Check out this layering under a dress for cold weather and this black tights outfit for elegant cooler weather ensembles.
For warmer months, check out these sustainable black dresses, these white dresses for summer, this off the shoulder dress outfit that is comfortable and so chic, as well as these tips for how to style a simple maxi dress! If you're into patterns, you'll love this outfit idea for what to wear in 80 degree weather (and warmer)!
More Long Sleeve Denim Dresses