If you'd told me to try a face oil a few years ago, I would've run for the hills. And now, I'm completely obsessed with this clean facial oil and will never look for anything else ever again. I'm completely dependent and devoted to this clean beauty face oil
Best Clean Beauty Face Oil Review
In the process of becoming more sustainable, I have had to force myself to say no or limit freebies. In the world of beauty blogging, the number of free products sent and received willy nilly is out of this world.
But I obviously like trying new products. So I try to be incredibly mindful to selecting only products which fit into my needs and new goals of less waste (and being cleaner).
Enter annmarie skincare – an organic, non-toxic beauty brand based out of Berkeley, CA (GO BEARS!). I had a one-on-one phone call with one of their representatives and picked out items to try (in sample sizes) specifically for my facial needs.
While I really enjoyed a few of their products, it's this herbal facial oil that I now have on subscription and sent to my house every month! Yeah. it's serious.
So. First things first. This facial oil smells AMAZING. As luck would have it, I first started using it during those first few months of pandemic life and it was a highlight of my day – a moment of serenity morning and night.
It smells like you just got a facial. This herbal face oil is the essence of clean beauty and, honestly, it just has that spa scent that immediately starts to soothe your senses!
Those first few weeks and months, I was always so amazed at how lightweight the oil felt, but that my skin would still feel SO moisturized the next morning. That never happened before with any kind of moisturizer I used.
When do You Apply Face Oils?
You can see in my clean beauty morning skincare routine that I use the oil after my serum and before sunscreen. If I'm not using a serum, I apply it just after drying my face from washing – same for morning and night.
Good for Super Dry Skin
So if this clean beauty face oil is so moisturizing, do I ever have dryness? Well, yes, because seasons happen here in sacramento and a complete lack of humidity attacks in winter months.
I do use this facial oil year round (it's one of my summer beauty musts). When I have those extra dry days, I add a few drops of this nectar oil to my serum or face oil and I'm usually good to go!
These two items (both face oils!) are all I need for clean, lightweight, moisturized skin all year round. And I was so scared of oils!
What is MADESAFE?
I'd never heard of MADESAFE until I started using anne marie. They're a 3rd party platform that assesses a product's sustainability from ingredient/product sourcing all the way to decomposition/product end life.
It takes a lot to be MADESAFE certified! They have a searchable site for all kinds of products that have been certified
Check out this post on What is B Corp!
Best Anne Marie Products
I haven't used all anne marie products, but I do have a few favorites. Besides the herbal facial oil (available for normal, combination, and oily skin), I also love the neroli toning mist (again the scent is otherworldly) and the coconut body oil.
One of the other things I love about anne marie is that they offer trial sizes in many of their products. Beauty is a hard thing to know until you try it on your skin and clean beauty isn't usually inexpensive, so these trial sizes are perfect!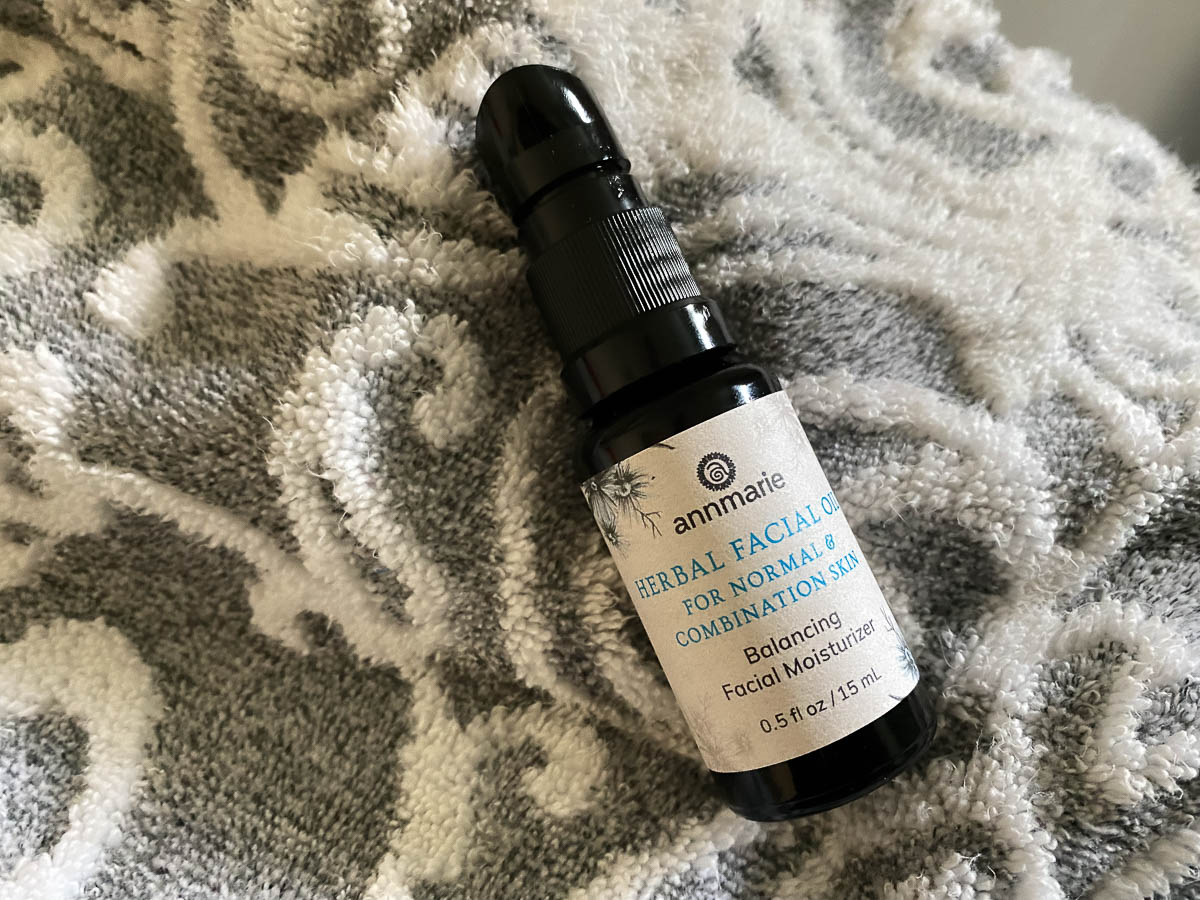 Clean Beauty
Since clean beauty is an important part of sustainable living (what we wash down the drain matters as much as what we put on our skin), be sure to check out these other clean beauty roundups:
Clean Beauty at Nordstrom
Clean Beauty at Sephora
Clean Beauty at Target
Clean Beauty at Walmart
Clean Beauty at ULTA
Best Beautycounter Products
Common questions include do shampoo bars really work and how do you use them? What natural deodorant actually works? What's the best safety razor for women (and how to use them properly). And how to clean your makeup brushes (on the cheap and easy)!
There are also great clean skin & hair care products for men!
And you'll want to check out these wonderful clean beauty bar soaps as well as body tools for smooth skin all over yourself!