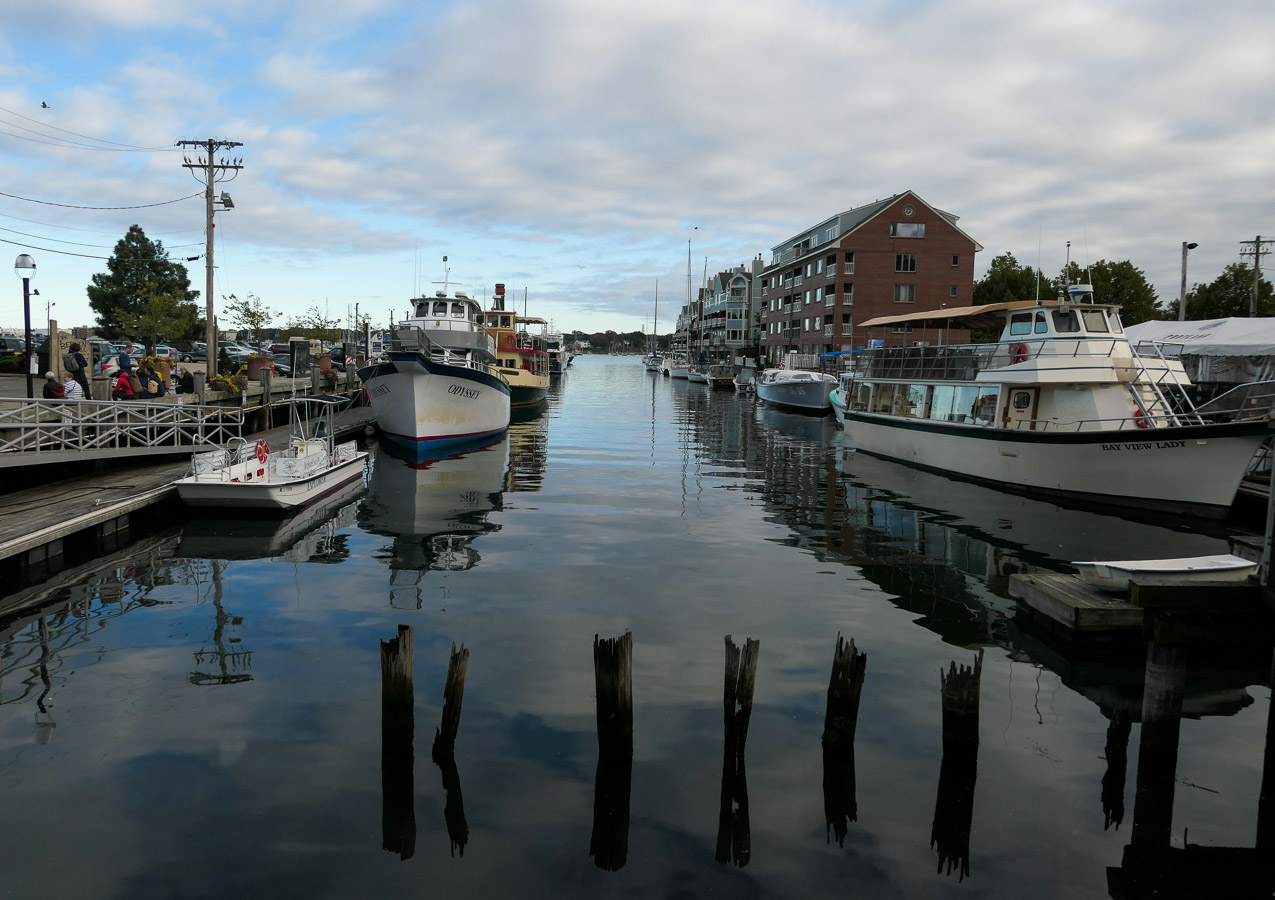 When my mom and I started planning our trip to Boston, we planned to spend most of our time in the city. Then we thought about a trip up to Portland, Maine (less than 2 hours away) and looking at the Fall leaves. So excited did we get about our excursion that we switched up our itinerary to spend half of our trip there!
Though our visit was far too short, we packed as much as we could into two full days. And it was jam packed full of the top Portland, Maine things to do as well as the restaurants and coffee shops!
In the first week of October, the leaves were starting to change, but it wasn't full fledged yet. We got a lovely taste of fall with cool weather, but it was still perfectly wonderful for walking the city, taking ferry rides, and snapping a crazy number of photos!
Portland, Maine Things to Do
A beautiful seaside city, Portland is full of things to do for everyone's interests! If you end up just doing a day trip to Portland, you can easily enjoy a walk along the waterfront, a delicious lunch (more on food below), and shopping along Exchange Street – just two blocks up from the water.
If you love stationery, stop in Gus & Ruby Letterpress (we also stopped there in Portsmouth, New Hampshire). For great local crafts and food (I bought a great hors d'oeuvres platter) hit up Lisa Marie's Made in Maine Gift Shop. And for great shopping, wander into Zane and Bliss Boutiques.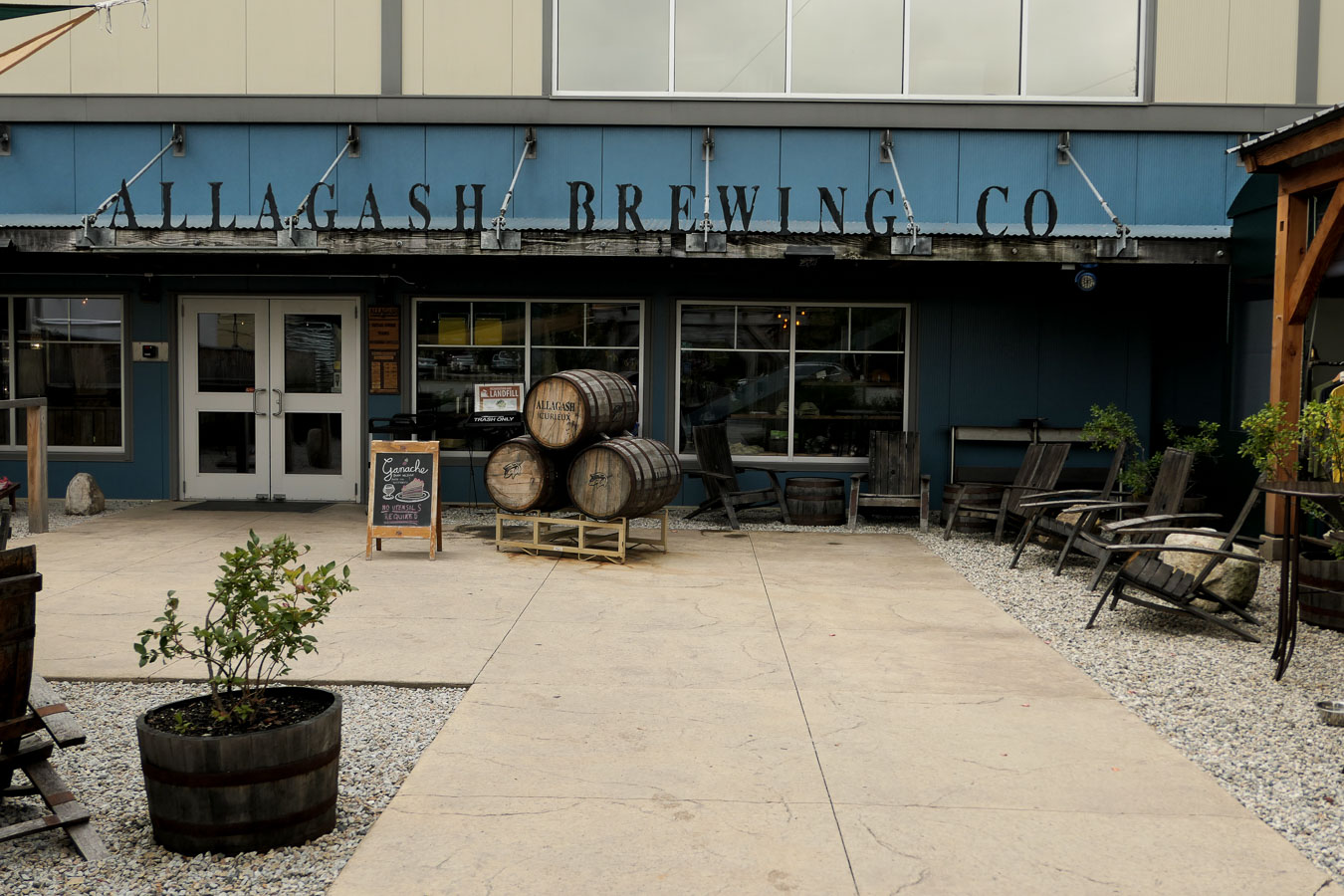 If microbrew is your thing, beer tasting is of interest, or you just like interesting tours with good stories, take the 15-20 minute drive out to Allagash Brewery. Make sure to sign up for one of their free tours before heading out though. They also have a fun tasting room and shop.
Tours and tastings are 1.5-2.5 hours, so plan on an afternoon there. Since it's a drive out of the downtown area, you could certainly take lyft or uber so you don't have to worry about getting back!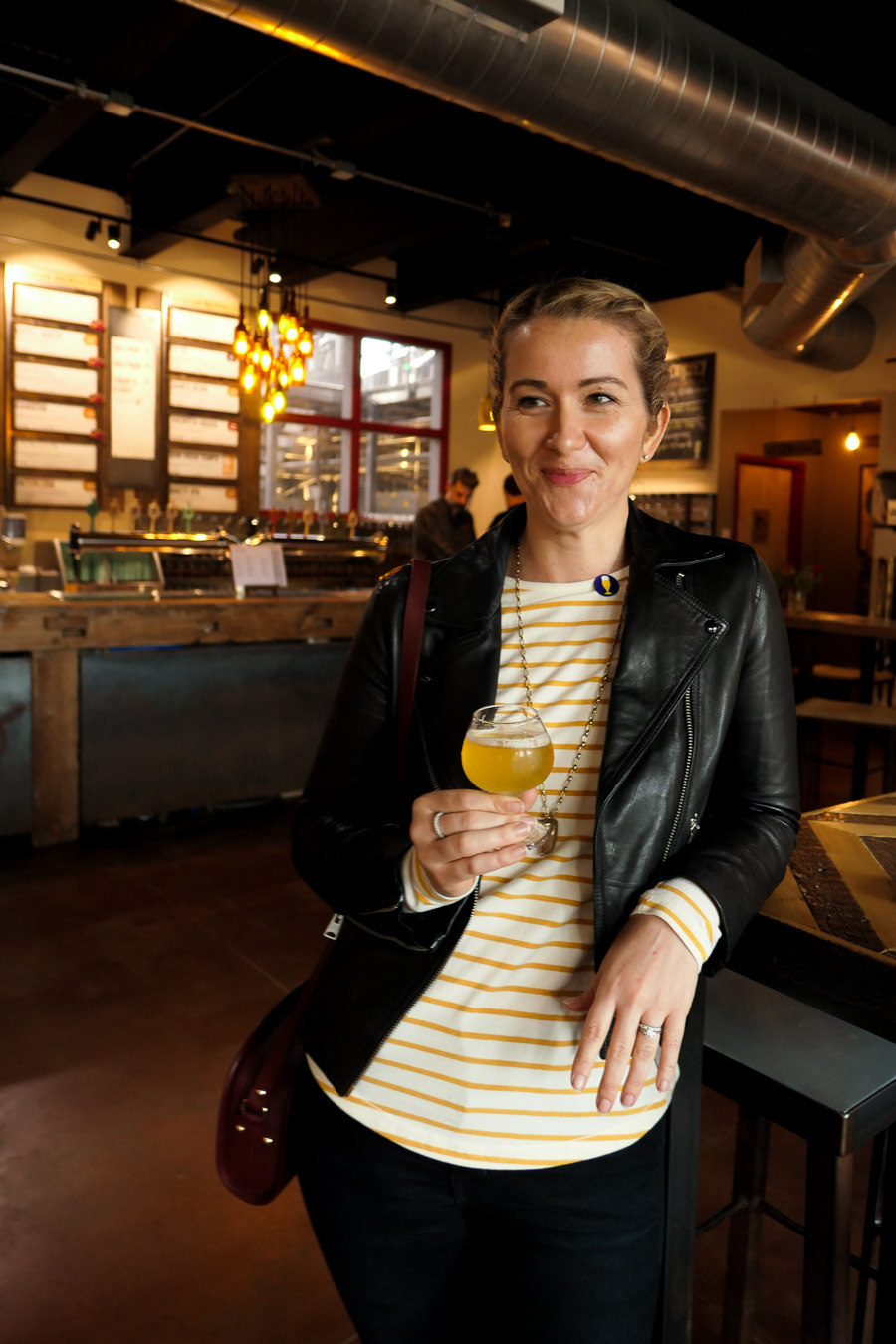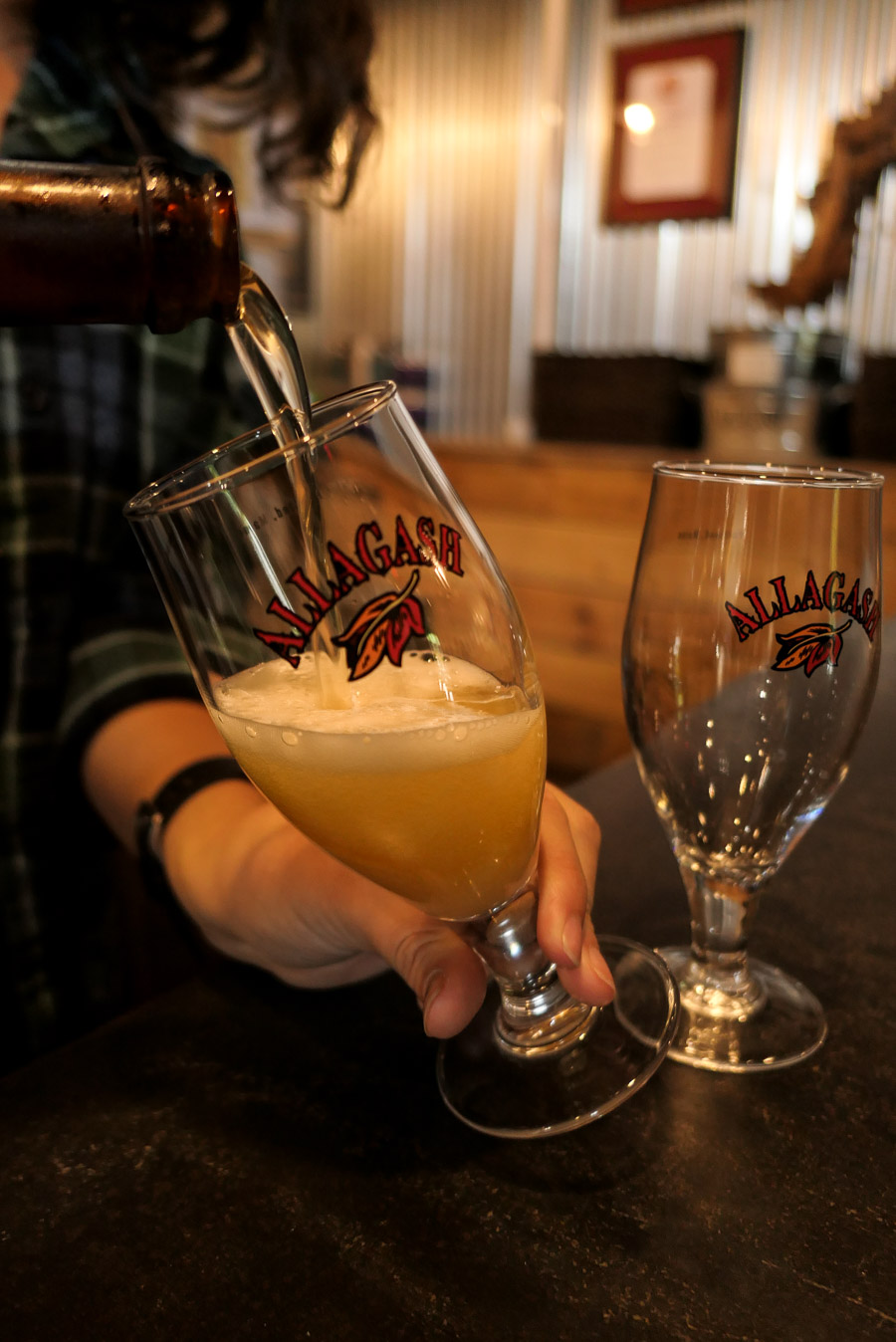 Portland Maine Ferries
As I mentioned in my Peaks Island Travel Guide last week, my mom and I are suckers for a ferry ride and the Casco Bay has no shortage of them.
After our brewery tour and an amazing lunch, we took the Harbor Lights and Sights Cruise from Portland Discovery Land & Sea Tours. The tour is about an hour and 45 minutes, sailing you through Casco Bay. You'll see and learn about Civil War fortifications, all the lighthouses in the area, and islands full of stories (there are 136 of them)!
The tour company also offers a trolley tour if the weather isn't ideal when you visit or if you're not too excited about ferry tours.
And, of course, if you're there for more than one day, take a trip out to one of the islands. We visited Peaks Island and enjoyed a great half day!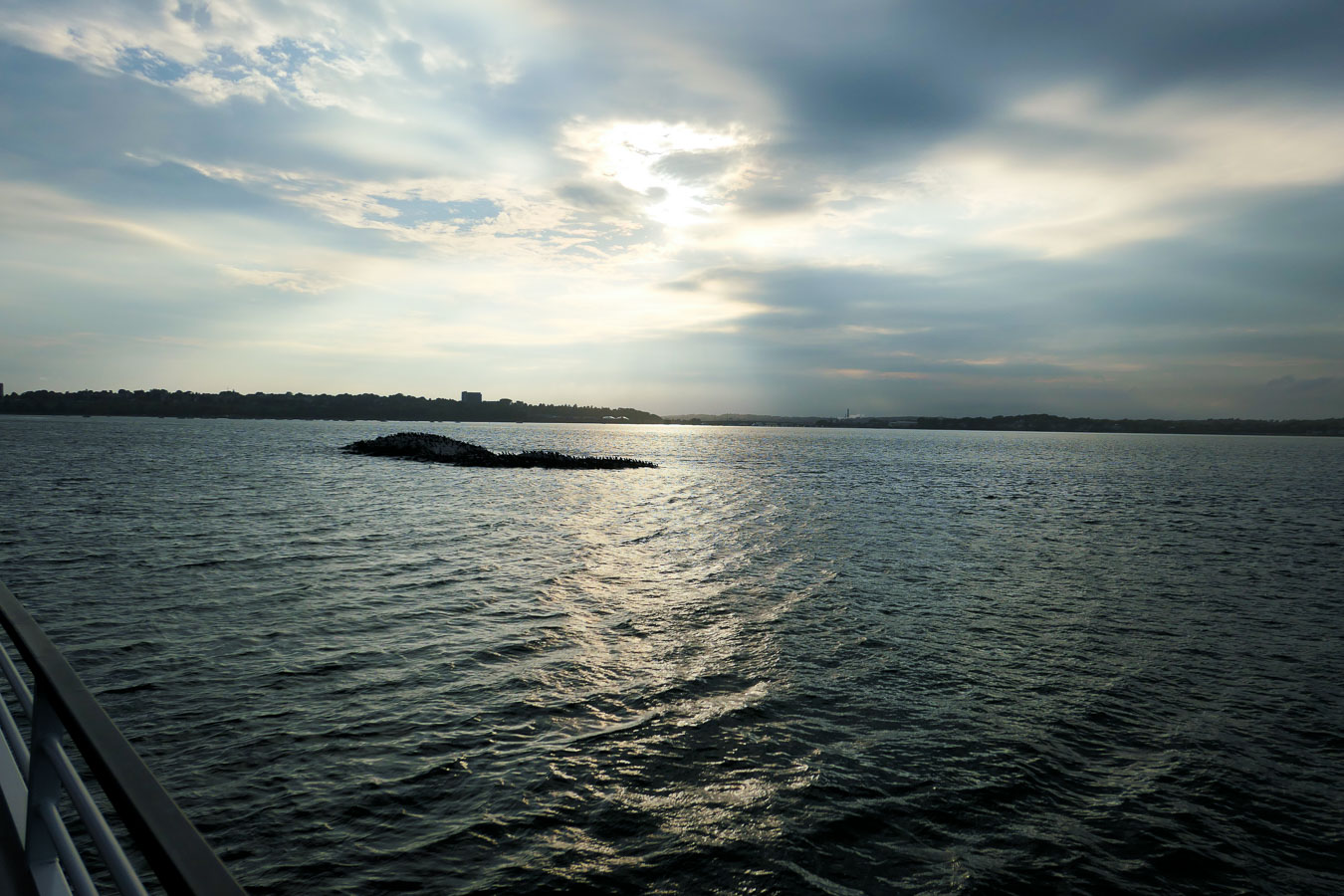 Slightly out of town about 20 minutes is Freeport, Maine – home to L.L. Bean. L.L. Bean stores are open 24 hours per day in Maine and this central store is nothing short of amazing with levels of clothing and shoes, an outdoor store, and a separate building for their home goods. After an early dinner one night, we drove up and soaked up all the outdoorsy, flannel goodness!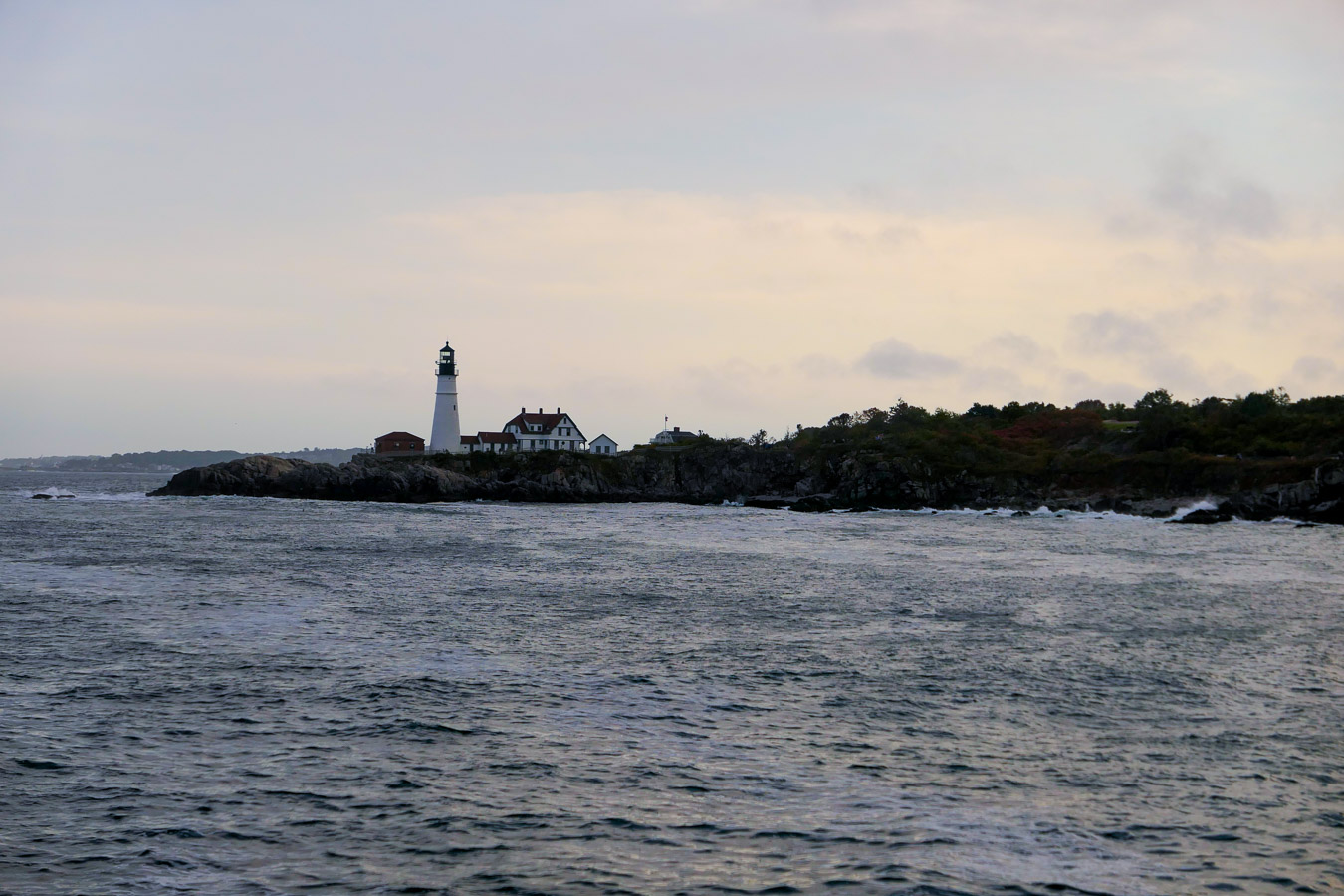 And finally, if you're based in Portland for your trip, you can take the 1 hour trip to Portsmouth, New Hampshire – a fun waterside stop for food, shopping, and views! There are actually quite a few similar shops in the two towns. You can also add another state to your trip!
Portland, Maine Restaurants
I have a theory in life (one of many to be honest) that cities that get really cold will always have great food, delicious coffee, and good beer. Portland, Oregon is one of my favorite examples of this, but I now think Portland, Maine is winning just as much on this front. Where to begin with the food?
Upon arrival, my mom mentioned a place called the Lobster Shack where we could get lobster with a view of the sea.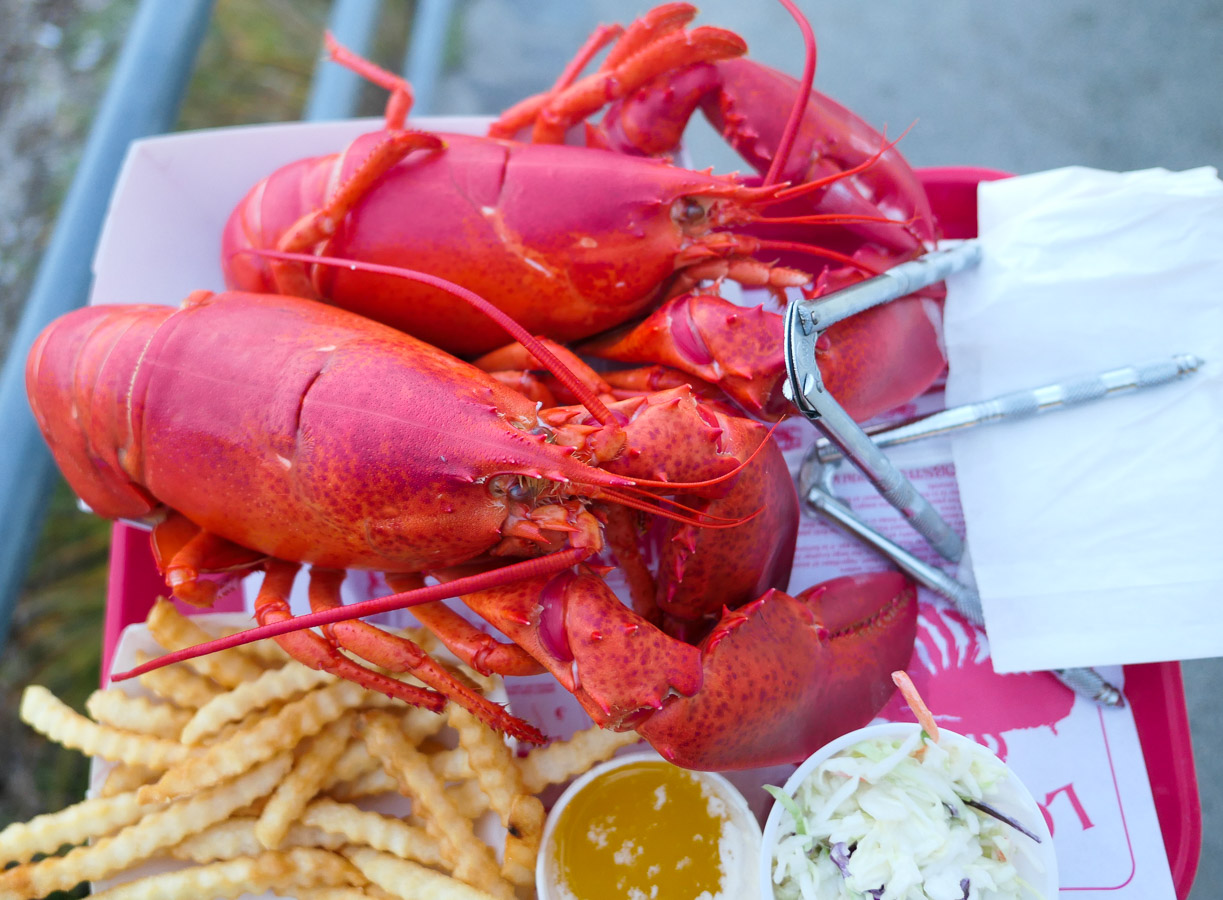 Wanting to see the view in the light, we arrived for an early dinner at the Lobster Shack at Two Lights – an authentic Maine experience! We ordered two lobsters and it came with fries (not enough for my obsessive tastes), melted butter, a wee biscuit, and coleslaw.
The lobster was delectable, though a bit of a workout for this newbie! We also ordered homemade rhubarb pie to take back to our rented flat for dessert. It was all so much fun and worth the trek. The Lobster Shack closes for winter – open March to October!
I don't often like to play favorites when it comes to food, but I will kind of break my rule here. I also don't like restaurants that include wait time in a line with no option for reservations, but I'll again break that rule since the food is so good.
The top recommended restaurant from everyone we talked to (before our arrival even) was Eventide Oyster Co. Oysters are certainly on the menu, but there's so, so much more!
It's possible I've now had the best oysters (here) and the best mussels of my life!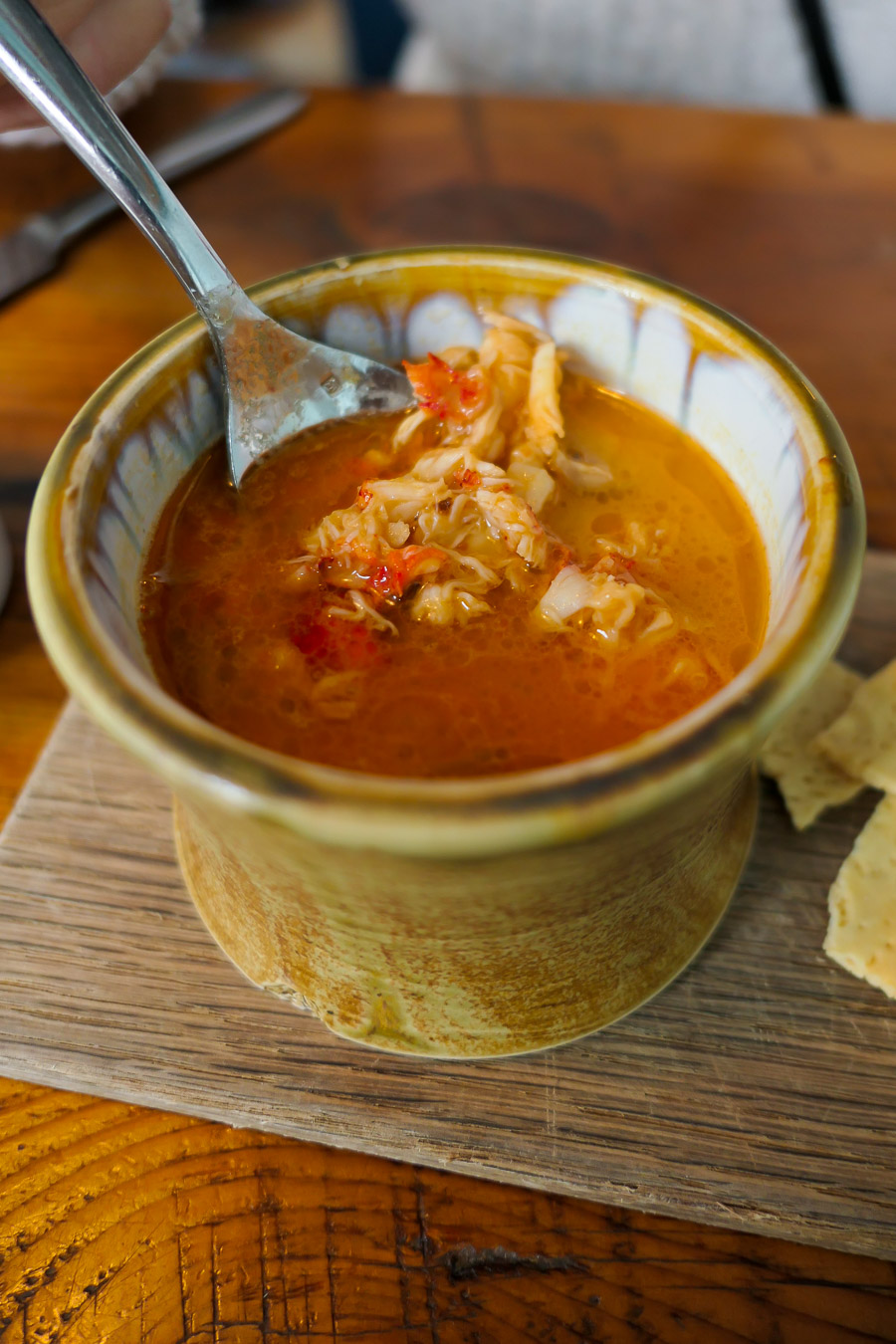 My mom picked out the lobster bisque pictured here. I knew I'd like it, but I ended up loving it. The cup is small but just the right size for the decadently rich soup. I couldn't let a tasty bite of lobster go!
Up above was a selection of their raw tunas – offerings change daily. Each had its own flavor and presentation and each one was more delicious than the last. I seriously debated living on tuna carpaccio after this one!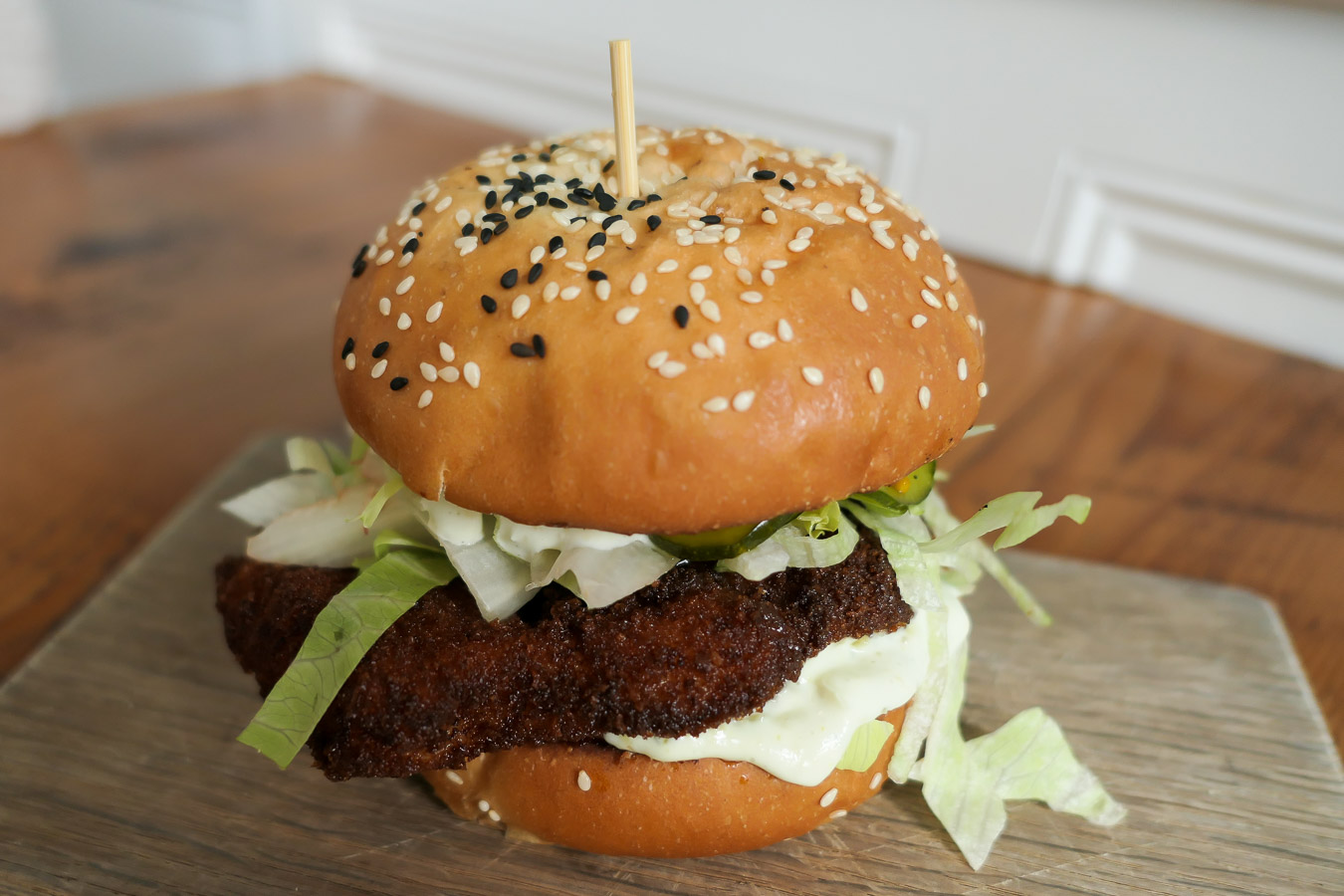 And finally the fish sandwich. Fish sandwiches belong in that category of foods I'll never order of my own volition, but it came highly recommended so we gave it a go…
The fish was perfectly crispy, the bun delicious, and the pickle and lettuce situation just right. I've actually been drooling every time I've looked at this photo since our visit. So maybe I should remove fish sandwich from that dreaded list of mine?
So about the waiting in line thing. We showed up for a late lunch, midweek (and slightly off season). The wait didn't seem to be more than about 15-20 minutes. Once you get closer to the front, you're moved into a side room with a menu and you can order a drink!
I imagine that at lunch or dinner time during the summer, the wait is much, much longer.
I'd recommend going slightly off hours and just know that the food is quite worth it! It should probably be at the top of your Portland, Maine things to do list really!
Another tasty spot in town (and sadly another one that doesn't take reservations) is Central Provisions. With a long wait, we went down to the bar and stalked people to take their seats. We ordered dinner from the bartender and enjoyed a nice dinner.
Obviously if you have more than 3 or 4 people, this option won't work. All the food was delicious, but I really loved the sticky toffee pudding. After mixed results with sticky toffee pudding in Scotland this year (chocolate tiffin was far more dependable), I worried how good it would be. I needn't have fretted, however.
The pastry chef at Central Provisions could teach a few of his/her counterparts in Scotland about good Sticky Toffee Pudding! Blasphemy, I know!
The Coffee Situation
Ok. Time for the all important coffee conversation. Portland's coffee scene is on the up and up with all the latest trends. In addition to great coffee beans, they've got oat milk, hemp milk (I still haven't tried that), and everything I'd expect in an LA coffee shop. And they've all got delicious morsels to go with your coffee or tea!
Above is Standard Baking Company. We had a little trouble finding it using Google Maps funny enough. You just have to enter the parking lot off of Commercial Street. We made the mistake of looking for it on Fore Street…
They offer tons of baked goods and drip coffee and hot tea. We grabbed our morning sustenance here before our trip out to Peaks Island!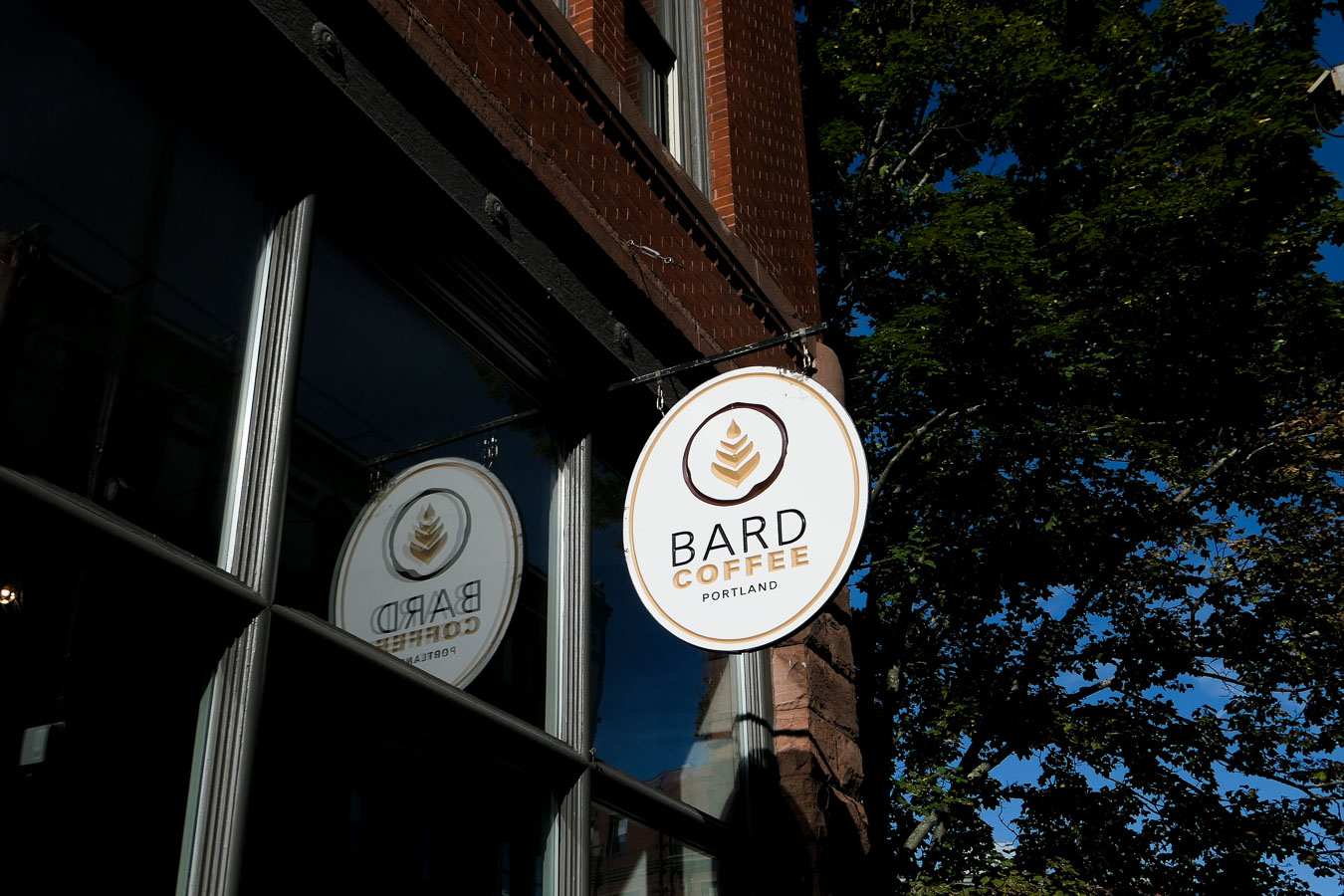 At the top of my list heading to the city was Tandem Coffee Roasters. Tandem roasts, tastes, and sells their coffee all in one building, which resembles a former gas station (don't quote me on that though).
They also offer an extensive selection of baked goods that will kind of blow you and your taste buds away. You'll find yourself hoping for a bit of a wait in line so you can make the hard decision of what to get!
Bard Coffee was our very last stop before we hit the road back to Boston and it was a positively perfect way to remember Portland. It's in the central shopping area, so it's a great place to run into while you're wandering around town! The cortado with oat milk was divine!