This post is sponsored by Samsonite.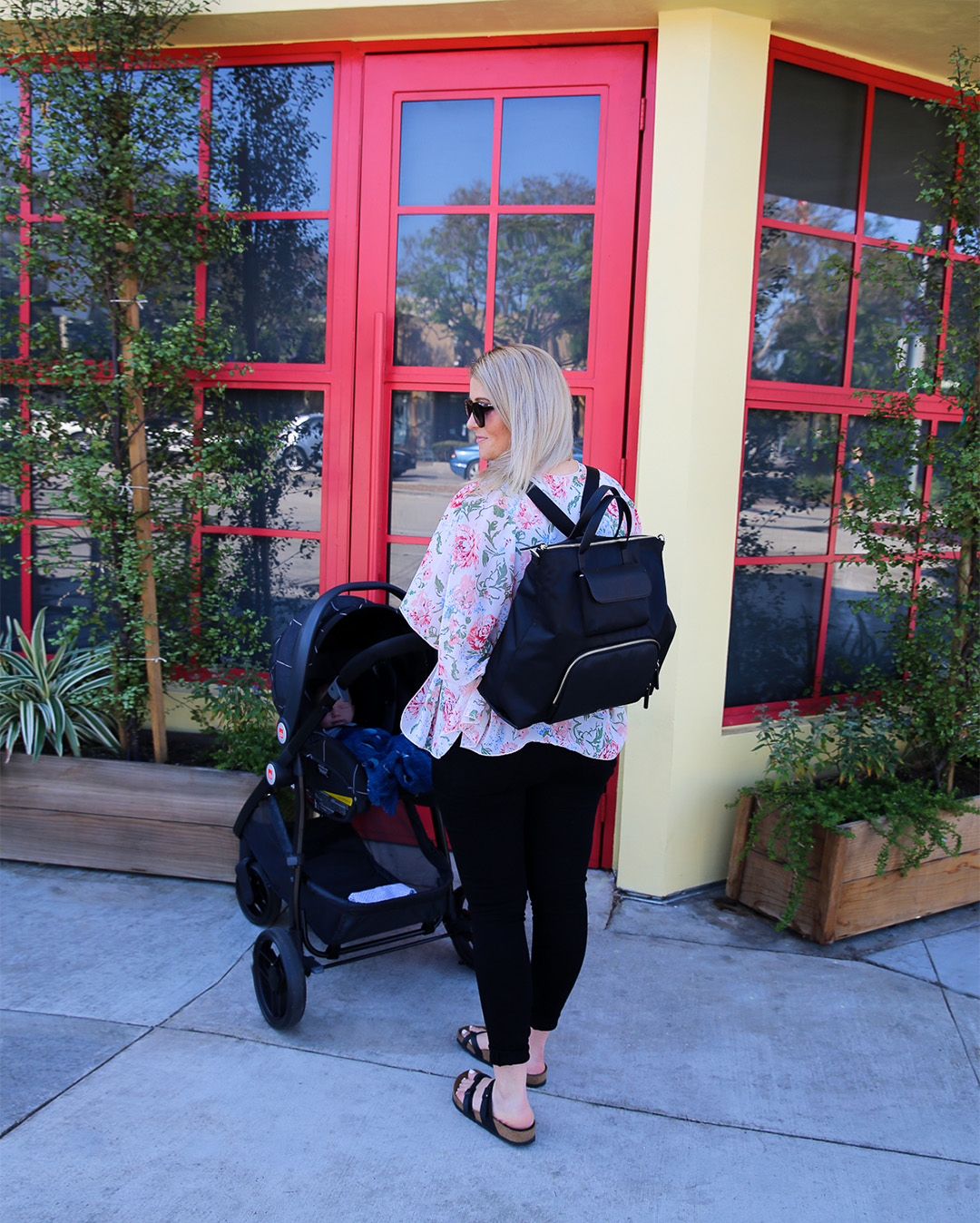 Before having a baby, you have visions of unending cuteness. Coordinating outfits (just on him – not for the two of us, I promise). You think you'll sashay down the street with everything looking fine and feeling fairly fabulous. Then reality hits and you're just proud of yourself if everyone is fed and fairly quiet!
My wardrobe is still insanely limited. I'm back to my normal shape but not size just yet. So I'm in an even more limited maternity clothing wardrobe situation! Luckily my favorite work bag quickly became our stylish baby bag. It has us looking far more put together than we usually feel!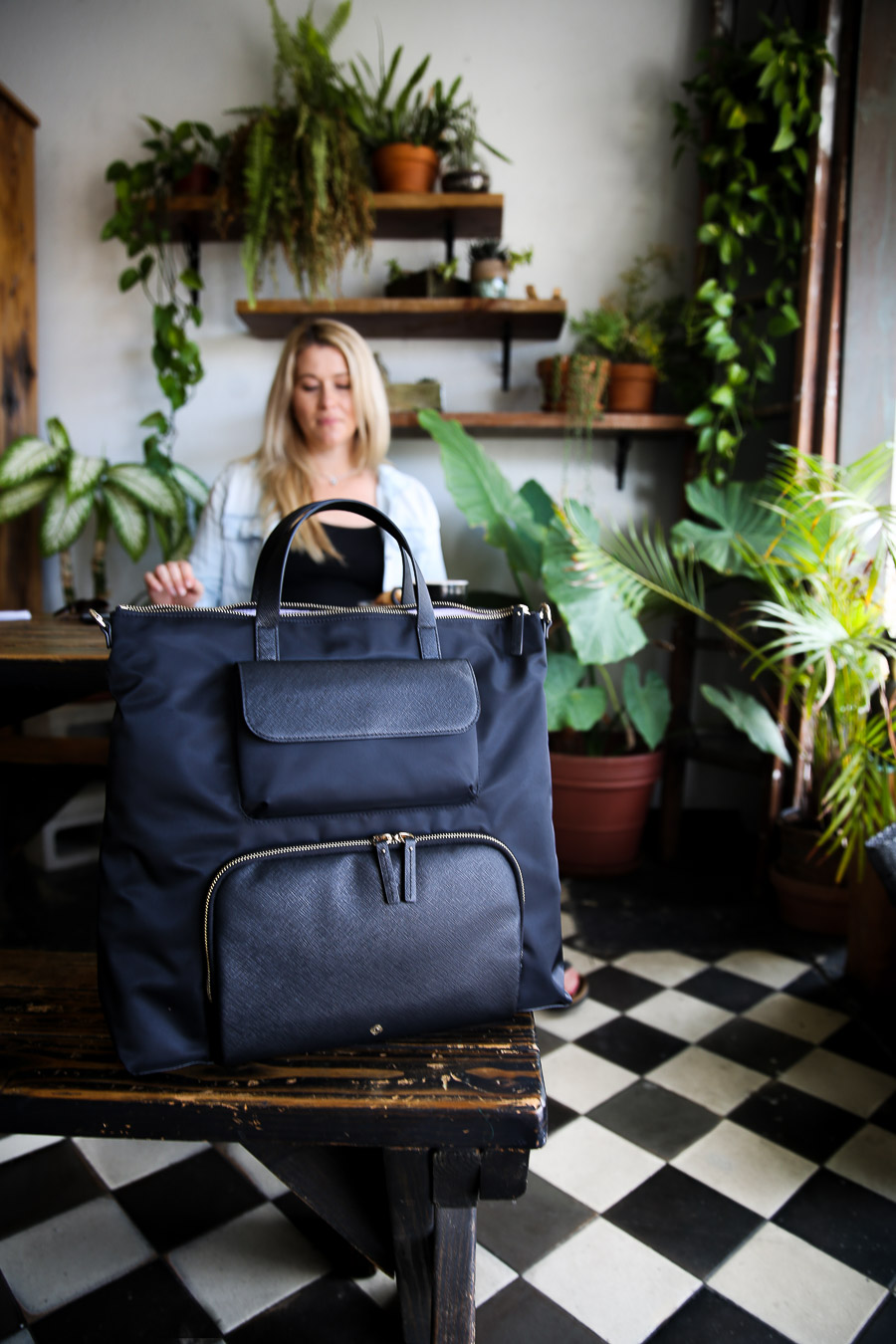 Baby Bag Backpack
There are all kinds of diaper bags, etc. out there. Trying to find one that fits your needs and your style is overwhelming on so many levels.
Now that we've about figured out what we need to take on every outing with the little guy, it's becoming a bit easier to go on walks or even road trips. It also means, I can occasionally switch up the bag depending on what else I need to be carrying!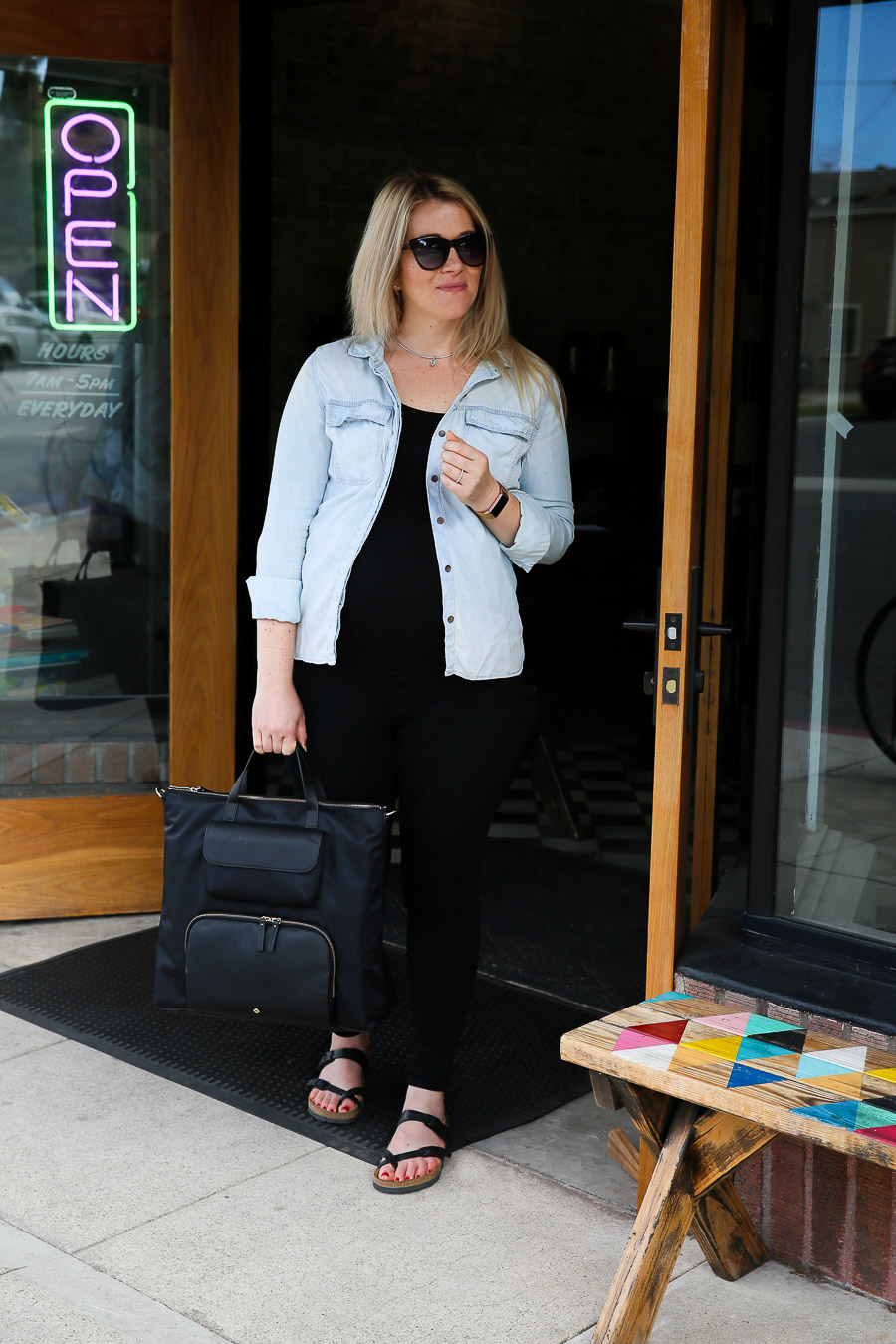 You might remember my Samsonite Encompass Convertible Bag review last December. Well this bag is actually just the larger (slightly fancier) version.
I wore it as a tote bag to work at coffee shops before the little one showed up and now I'm wearing it filled with all of his necessities and mine!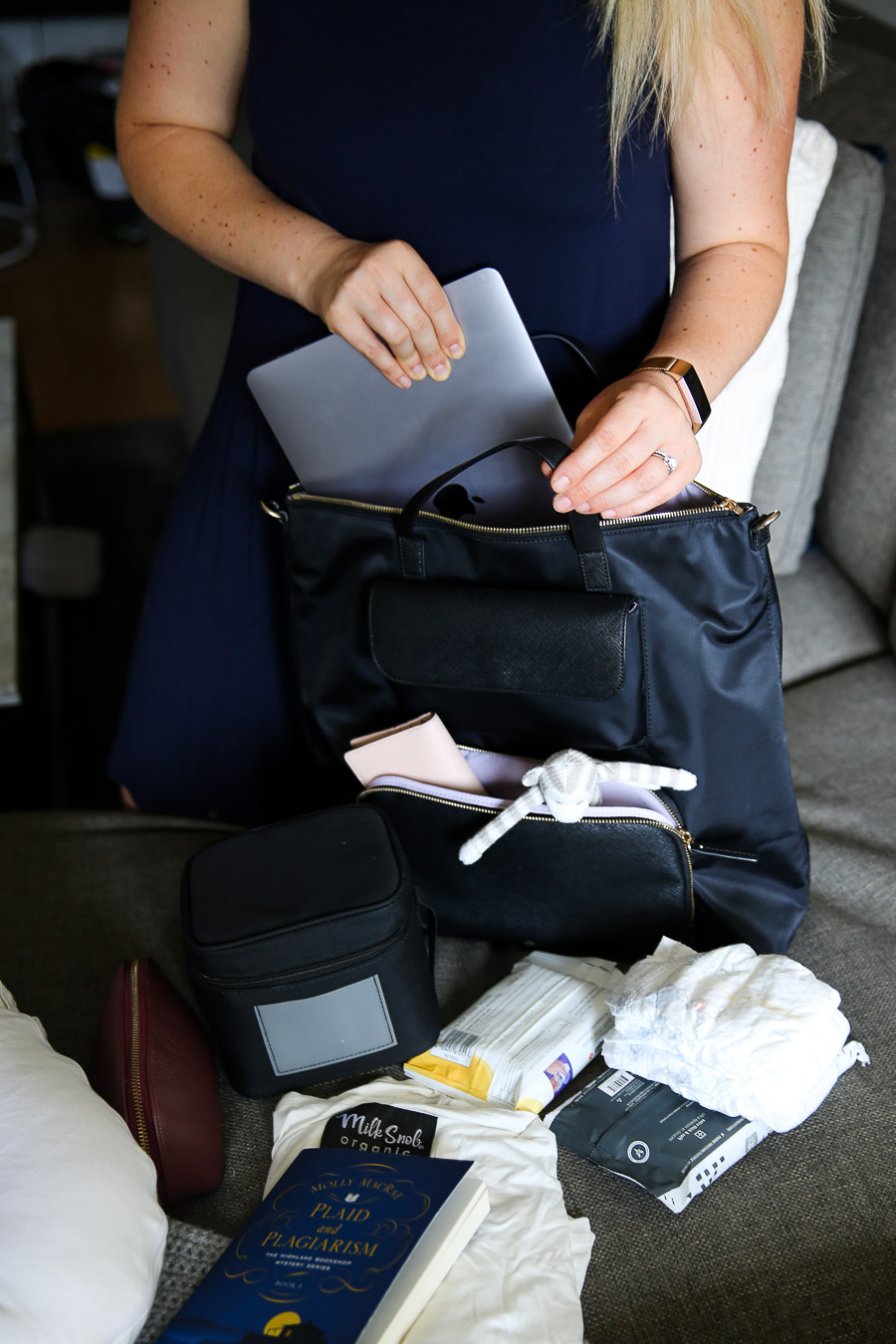 I'm a huge fan of the baby bag backpack rather than a shoulder bag. Holding a newborn is more than a one-handed affair and you really need two hands just to make it (actually three would be great).
A backpack keeps your hands, arms, and shoulders free for whatever comes your way!
UPDATE: This bag collection is no longer available. If you're looking for a similarly functional, well-made, and backpack, the Rowledge backpack is what you're looking for. It has the front pocket to hold smaller items, the back pocket to slide in a laptop, and a MUCH roomier center pocket to actually hold more items (this original Samsonite one is rather small for any sort of travel). The Rowledge also has the luggage strap, and easily converts into a tote as needed.
This Encompass Convertible Bag is ideal as our mom and baby backpack because of all the great pockets. It allows for a bit of organization (a major win with a newborn)!
I can easily slide diapers, wipes, a change of clothes, and our mini cooler for bottles in the main pocket. I can add in my wallet, sunglasses, and phone in the front pocket…
Quick side note – parenting and sustainable living are sometimes are to do at the same times, but…read are baby wipes really flushable because parents of babies and toddlers are one of the biggest offenders!
And if I'm really feeling productive (hah!), I can slide my tablet in the back pocket! And because it's made by Samsonite, I know it's a dependable, sturdy bag. It's also available in a beautiful bordeaux color!!!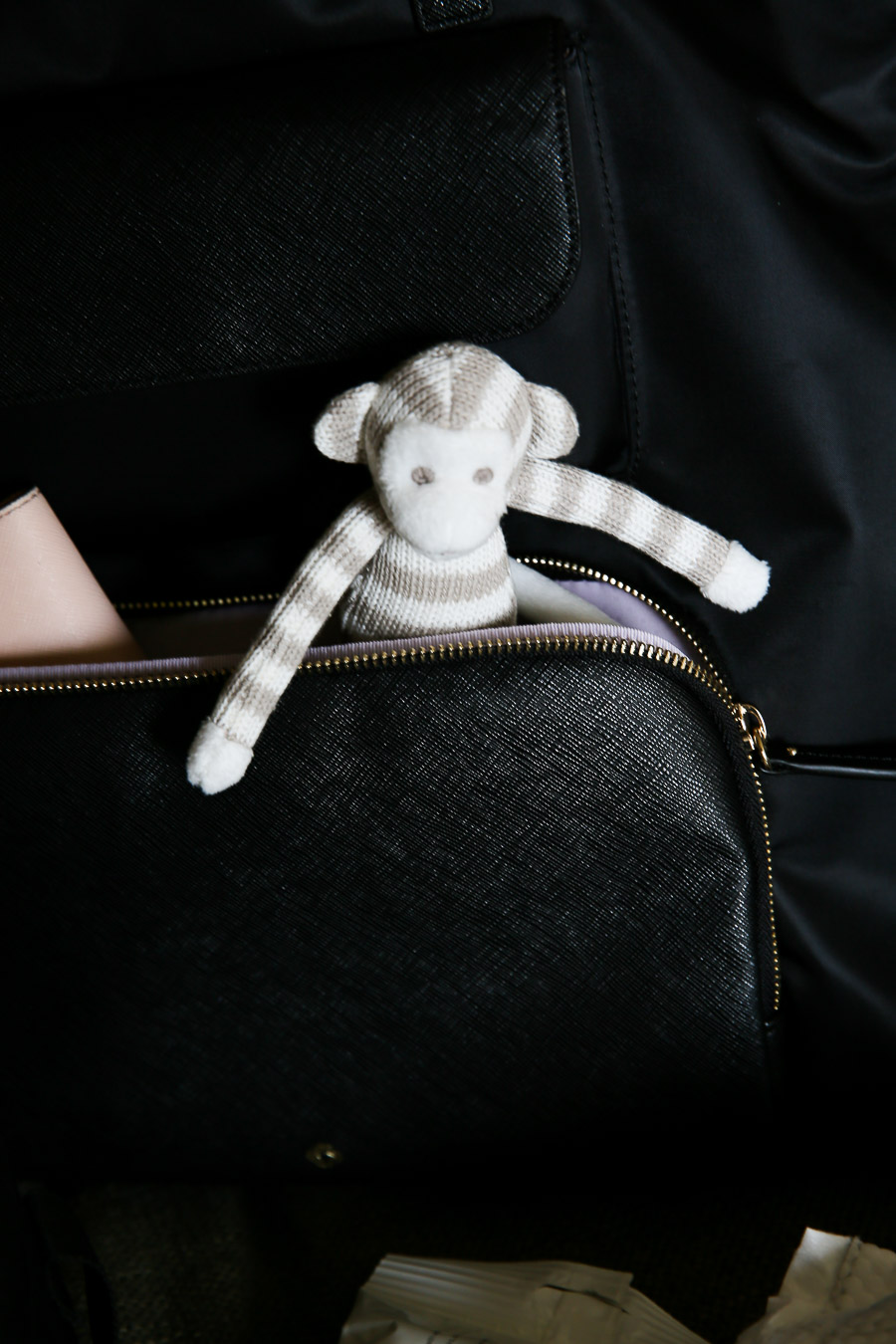 Travel Packing Tips
Looking for gift ideas for those mamas out there? Take a look at these sustainable gift ideas for Mother's Day!
Thank you to Samsonite for sponsoring this post. As always, all opinions are mine!
More Parenting…