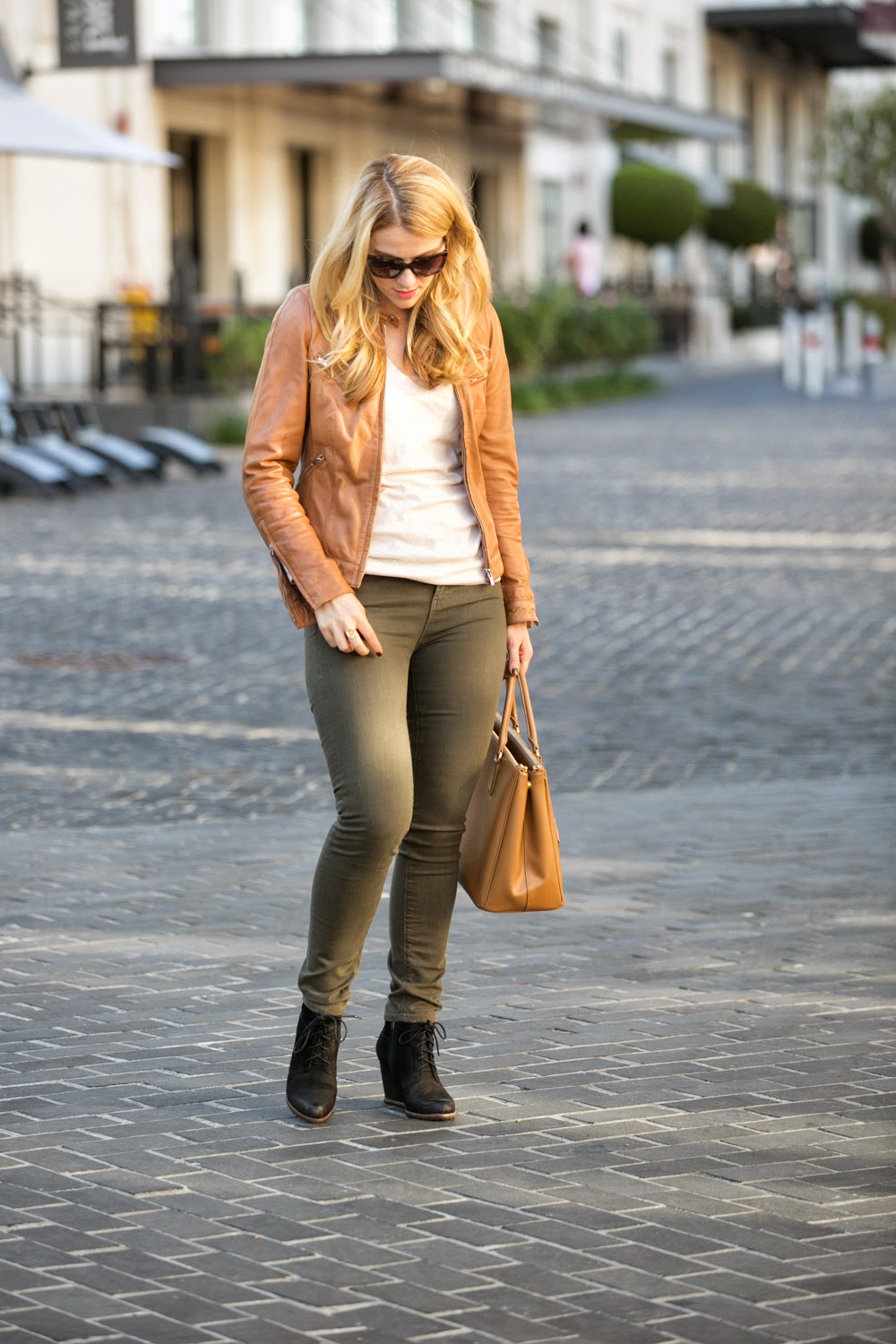 My Prada Saffiano tote means a lot to me – primarily because it was a gift from my parents when I earned my PhD in History!
When I was a student, I usually had a pretty good idea of what my year ahead would look like – due dates, projects, whereabouts, etc. Since graduation, however, such certainty has disappeared. I'm learning to have faith in the certain unknown, but I still have a long way to go.
The certainty that exists, however, is my style. I was changing fashions all the time when I was younger, now it's much more constant. Items like this Bod & Christensen Jacket will be on major repeat. It's already becoming a defining item of my style.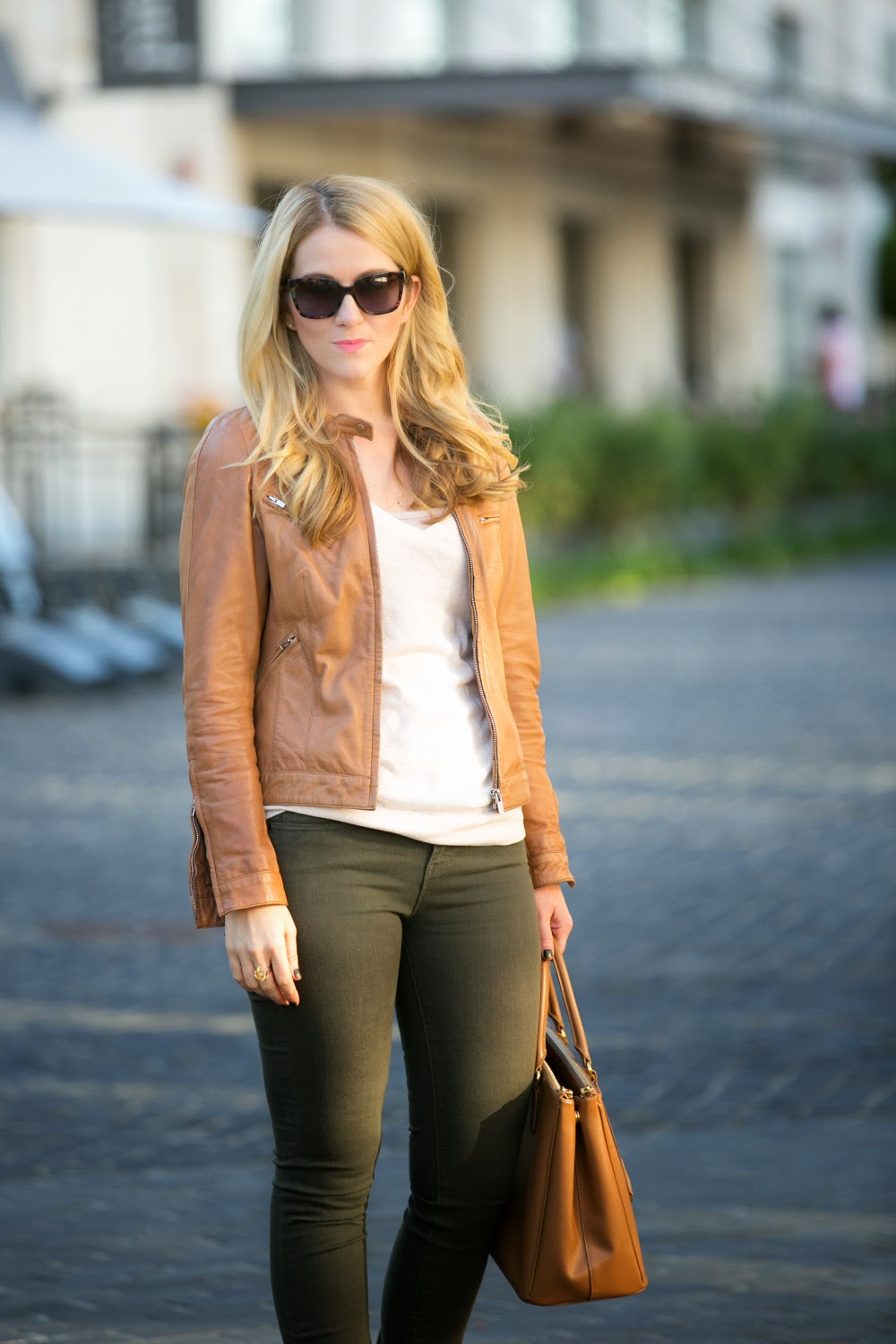 Prada Saffiano Tote
It took me a little while to embrace the versatility of my beloved bag! I was wearing it just when I was dressed up, but then I realize that it dressed up any outfit – even a white tee and jeans look like this one!
I do love pairing it with my tan leather jacket, or even my similarly hued shoes, but honestly, it goes with EVERYTHING!!
Tan Leather Jacket, Halogen Sweater (similar), Vince Skinny Jeans (similar olive green jeans), Black Wedge Boots
Prada Saffiano Tote and Sunnies, Stella & Dot Cocktail Ring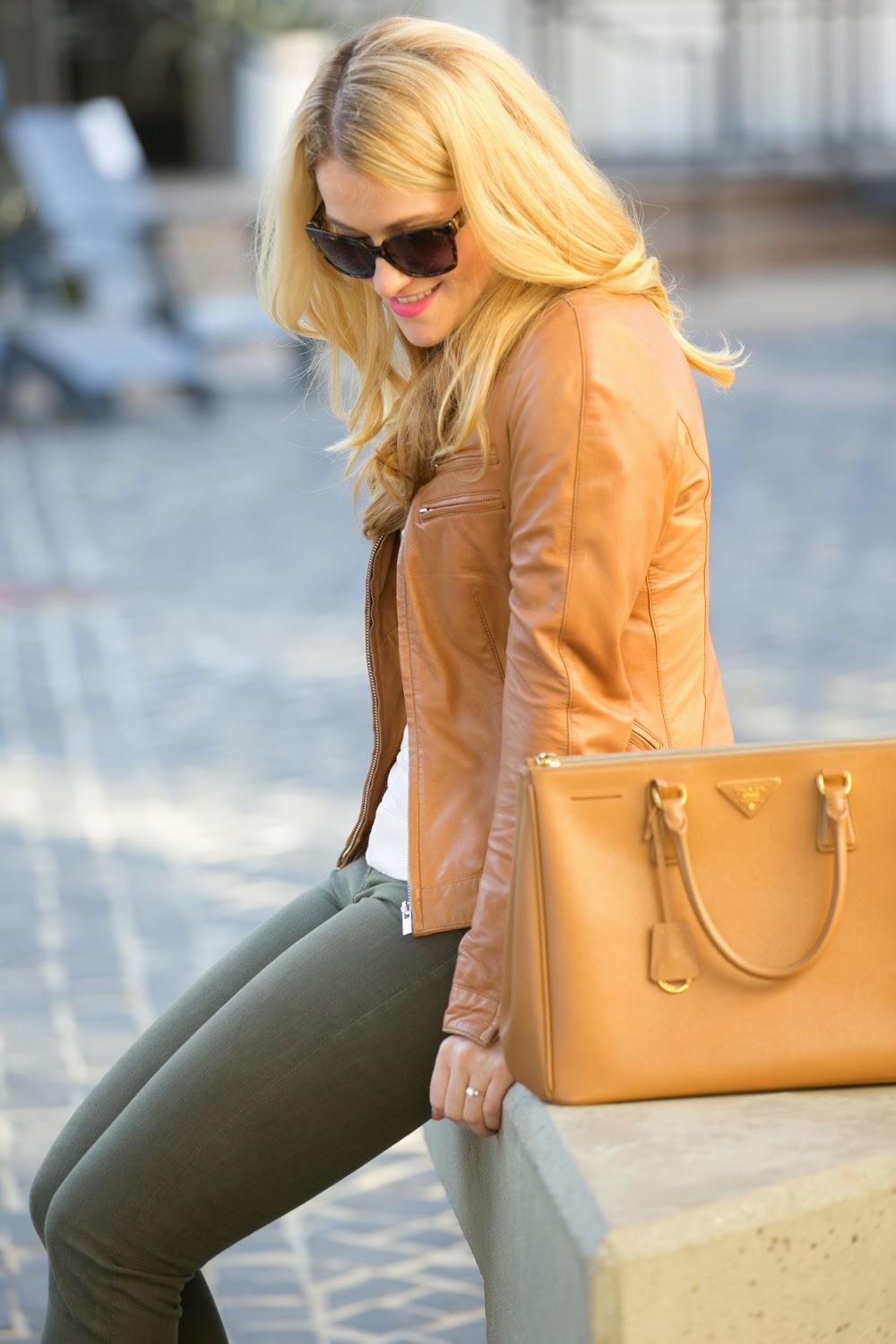 Tan Jacket Outfit
These Vince skinny jeans were a sale find on a trip to Portland nearly a year ago. They too quickly became a classic in my closet. I don't wear them all the time, but they have a luxurious softness that reminds me why I love denim so much.
And the color will forever look chic. Since my tan leather jacket and olive green pants are great muted neutrals, I'm loving the combination with the soft pink of this sweater.
This tan leather jacket continues to pair perfectly with every outfit. It's the perfect outer layer for most days in LA. I have a soft spot for pairing it with my tote. The colors pair so perfectly together and both were gifts when I earned my PhD, so they hold a lot of meaning for me!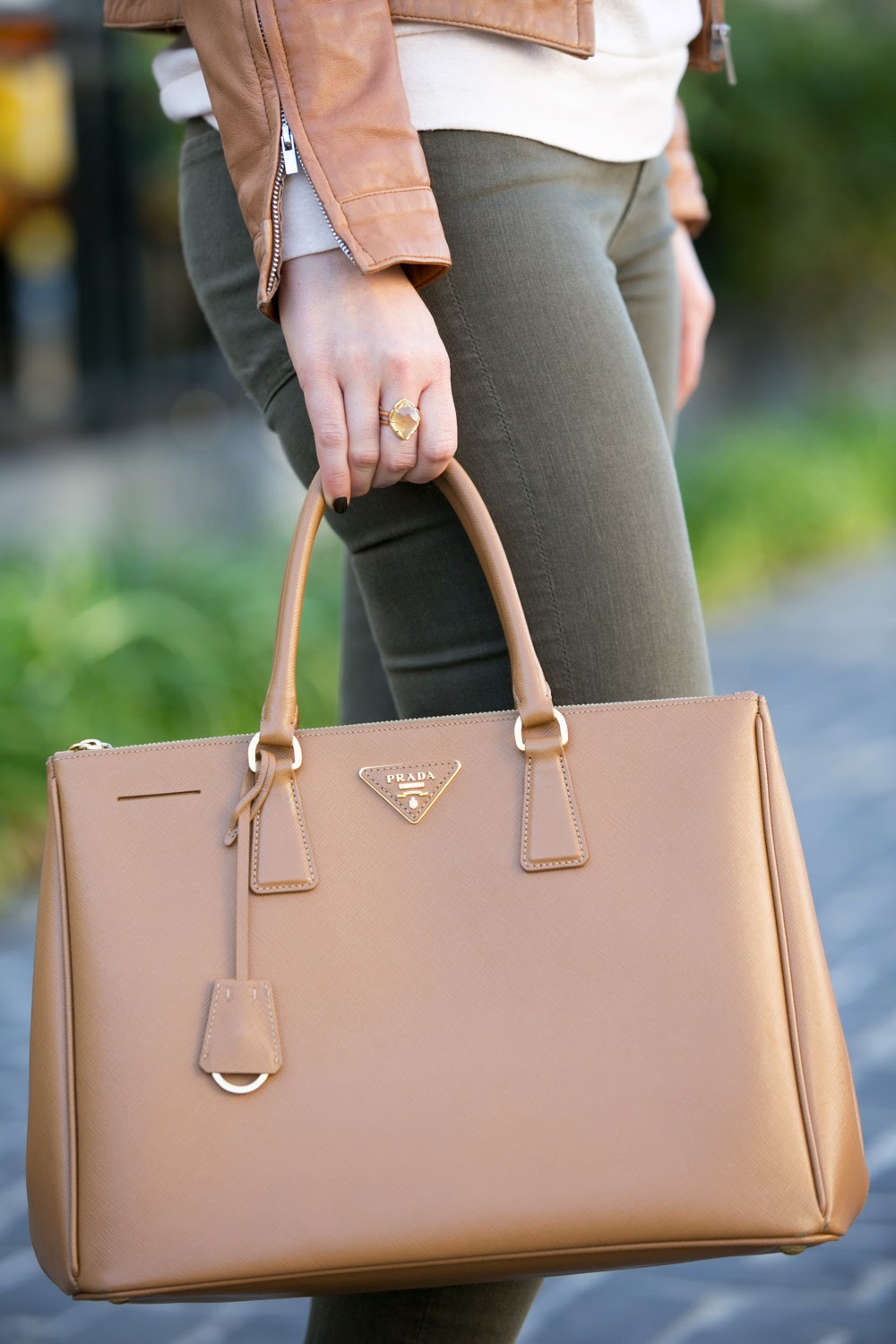 Bod & Christensen Jacket, Halogen Sweater, Vince Skinny Jeans, Biala Boots
Prada Handbag and Sunnies, Stella & Dot Cocktail Ring
See these tips for how to wear ankle boots with jeans.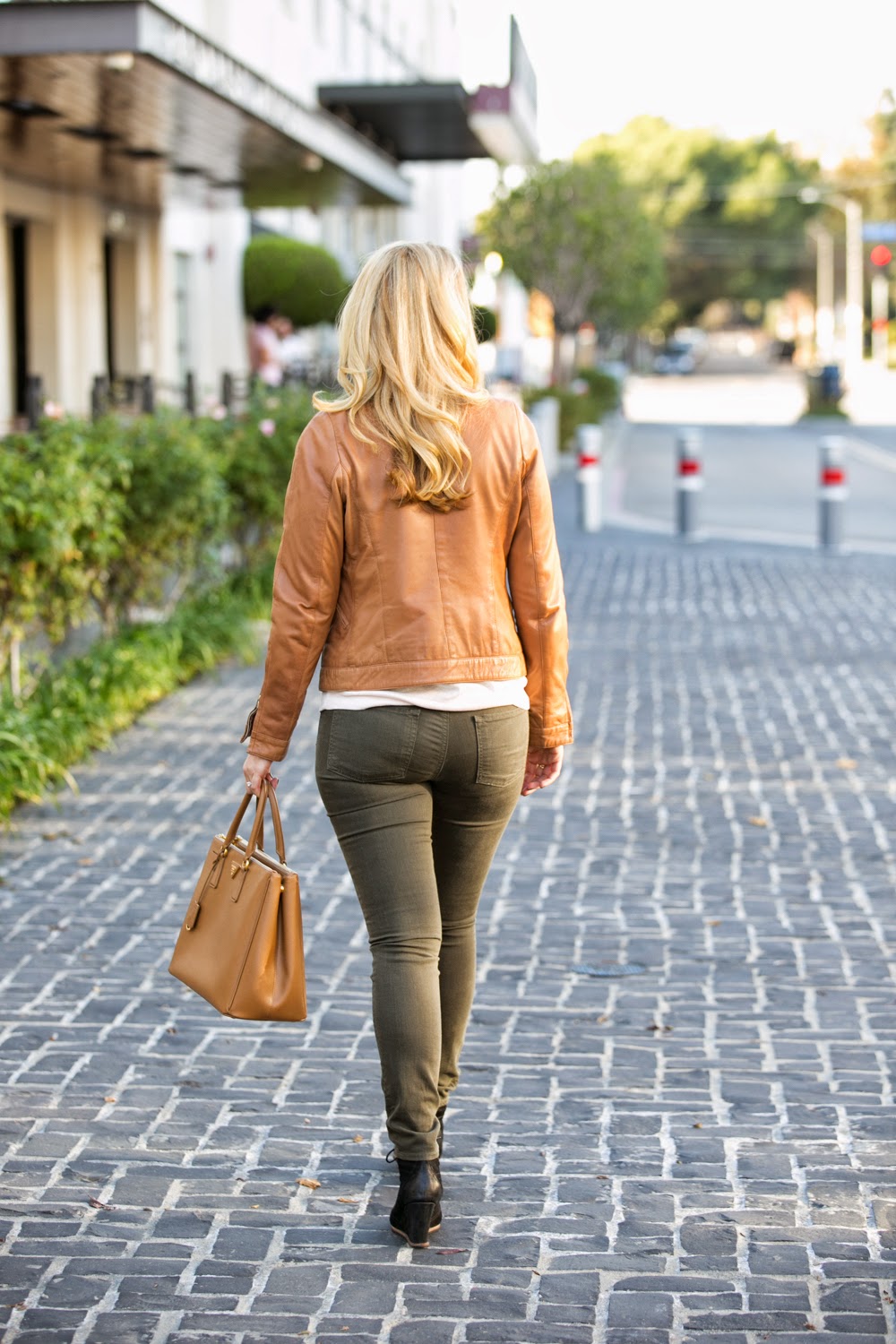 More Prada Saffiano Tote Outfits