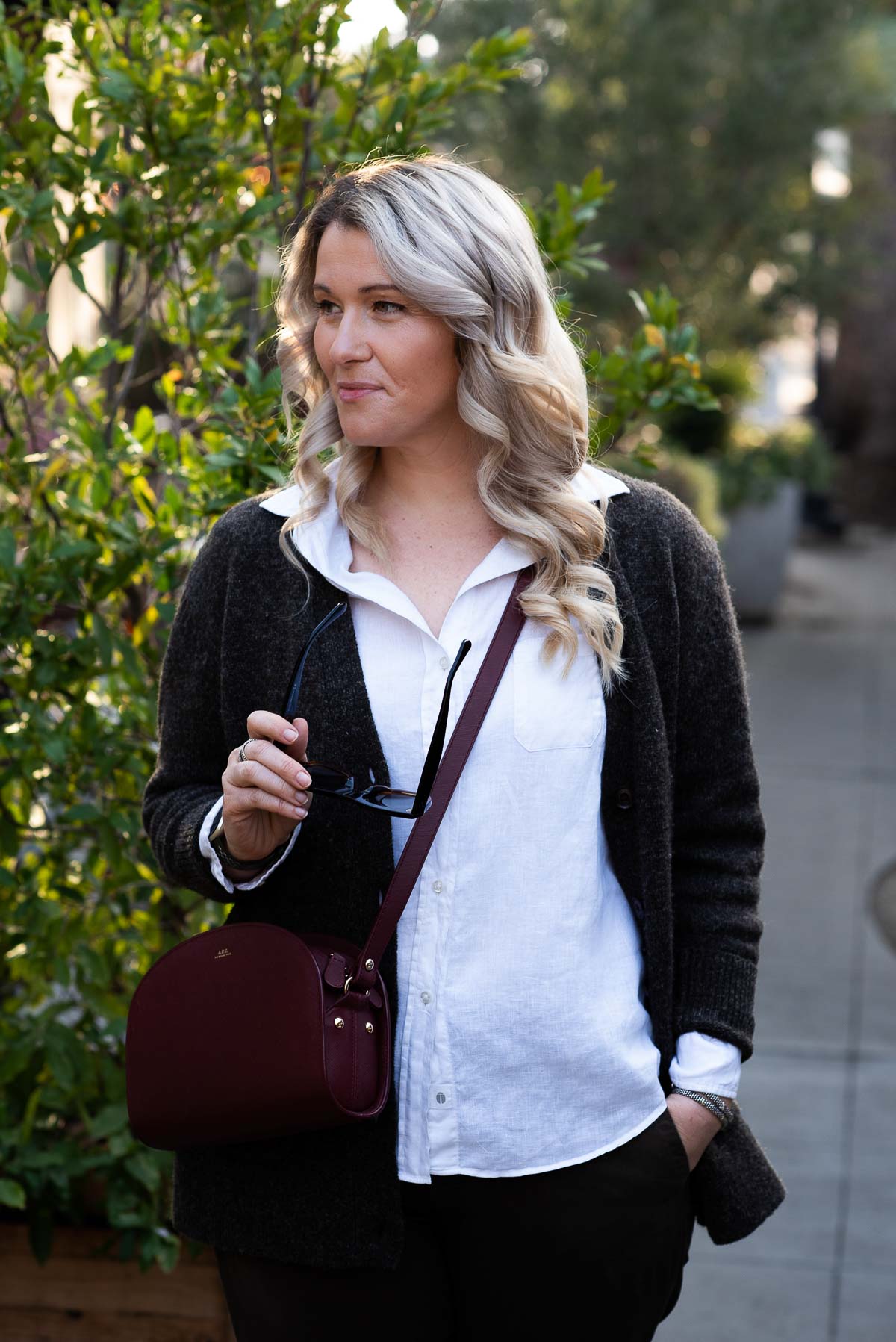 These linen in winter outfit ideas came about from consistently reaching for this versatile piece and because I never associated linen with cold weather – until now.
While 2022 is officially the year of talking about how to avoid food waste here on LM, I've also silently declared it the year of embracing sustainable fashion and all that it entails…
So there will be plenty more outfit ideas around one piece to encourage us to buy quality clothes and rewear the living daylight out of them. Next up are these linen in winter outfit ideas!
You might recognize this white linen button down from this post on knowing your style (and never feeling like you have nothing to wear). As I've eased into embracing the characteristics of linen clothing, I've been reaching for this classic button down more and more.
It's made by one of my favorite brands, Grayson. They also make the blue striped shirt in this fall hat outfit and this black button down!
So let's get to the 3 ways I've been wearing linen in winter lately and why linen is just as great in cooler temps as in those warmer months!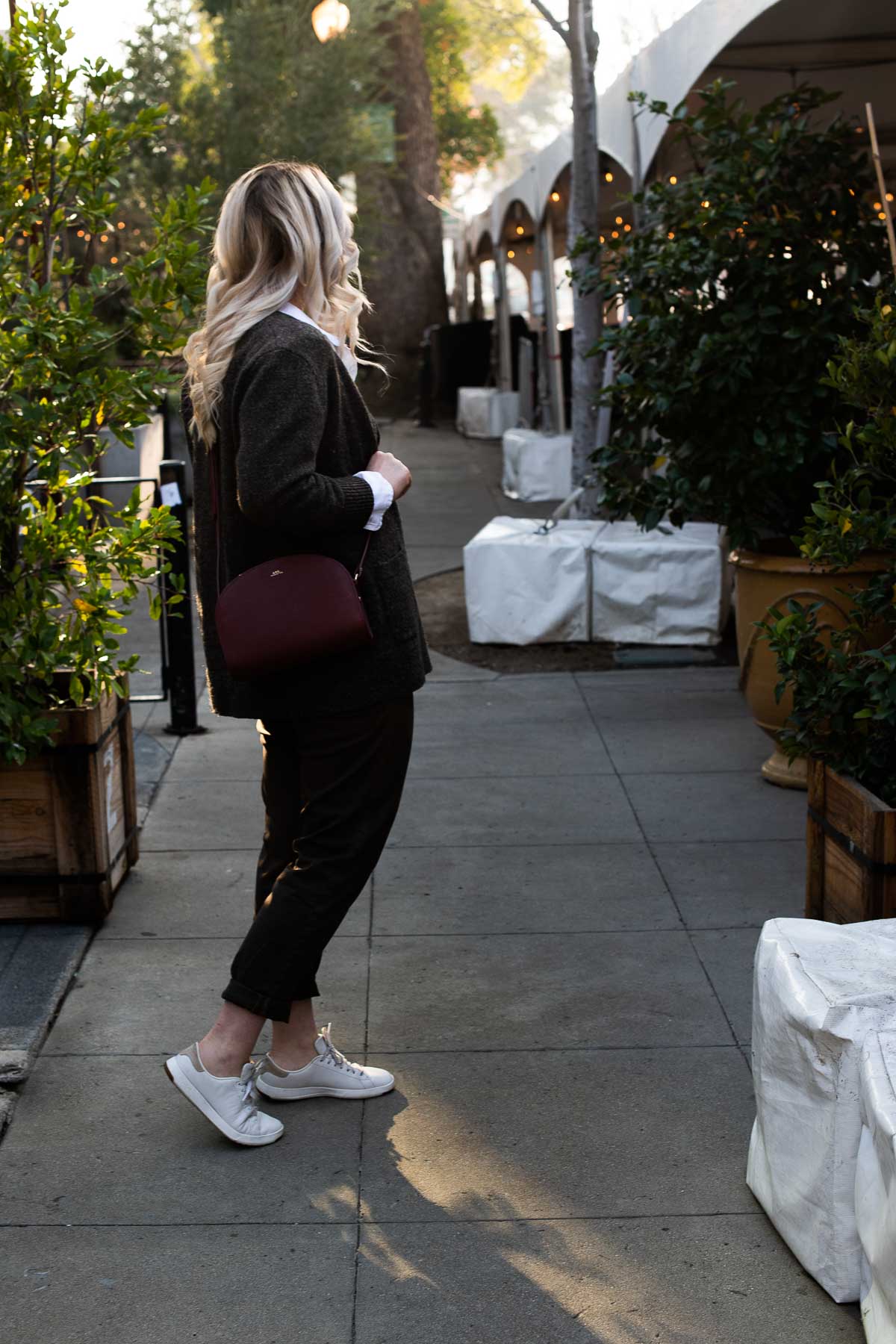 Linen in Winter
One thing that always got old with traditional button down shirts is their stiffness. Linen is the antidote.
Casual Outfit for Late Winter
Paired with my Pendleton wool sweater, this ensemble is so dang comfortable, but the shirt collar makes it look a bit more refined – just like in this pullover sweater outfit. I do have one of my favorite layering tanks on underneath for an extra layer of warmth. And a scarf would be perfect for those breezy days.
And then just a pair of comfortable chinos. This pair is an old version by Vince, which I sadly can't find again, but I'm currently eyeing these chinos by Frank & Eileen (B Corp score – 97.5)!
Topped it off with my white tennis shoes and my maroon crossbody (similar style here).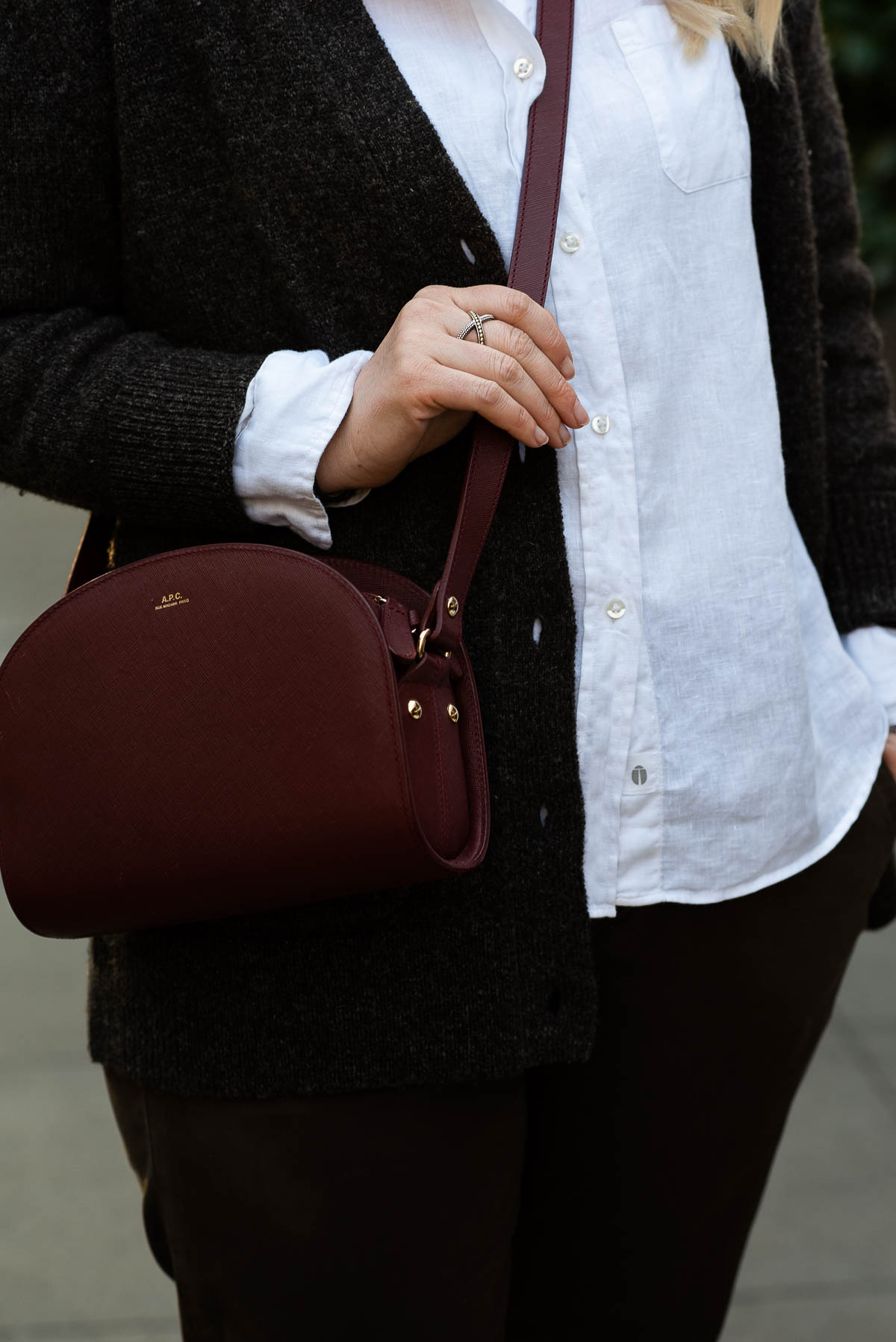 Polished Linen Shirt Ensemble
My favorite way to style this white button down is layered under a pullover sweater. I love how the casual flexible collar comes out for a layering of style, again without the stiffness.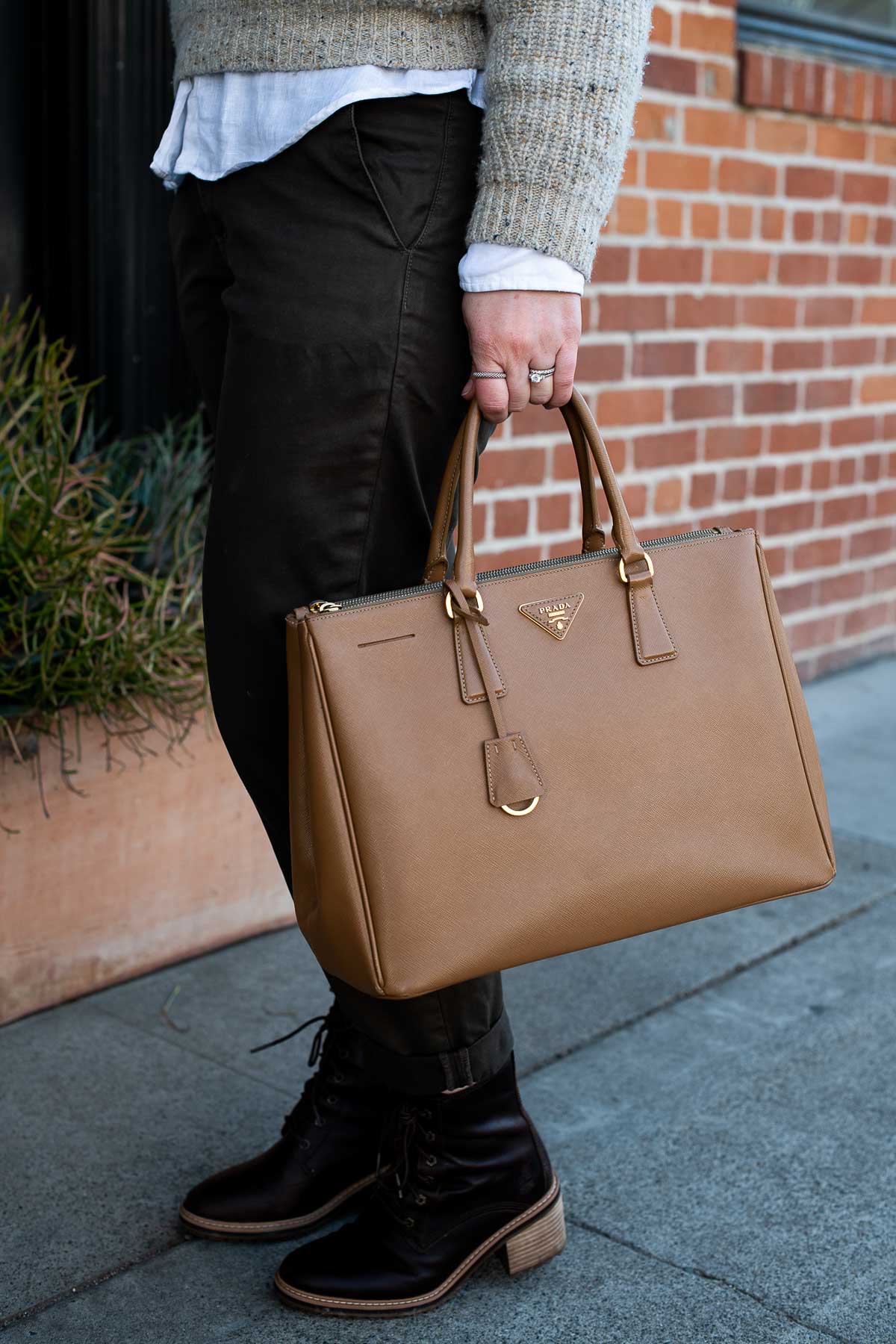 Depending on the sweater, I'll tuck in the shirt, but in this case, I liked the shirttail look.
You can see I've been wearing these chinos a lot lately. Paired with my favorite heeled leather boots and my chic tote, I felt comfortable and put together in this outfit for a meeting recently.
Can you Wear Linen in Winter?
So I'm not asking if it's appropriate here, but does a linen shirt really keep you warm? We so often associate linen as a hot weather material because it's so breathable.
But did you know it's also naturally temperature regulating, so it keeps heat in or out, depending on your need? So it's actually a great material to layer into your cold weather outfit!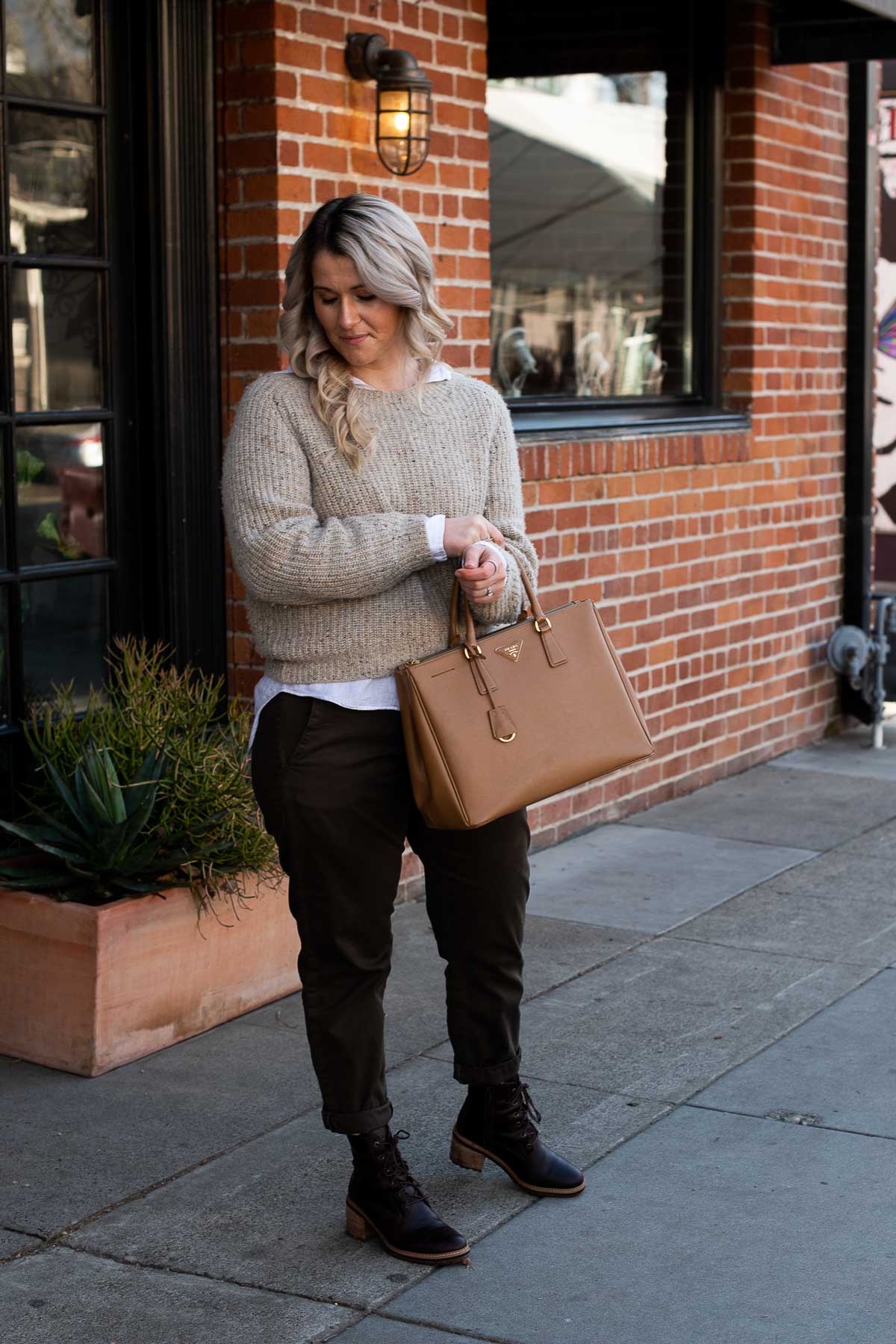 More Layering Inspiration
Always in need of layering inspiration… check out my list of best tanks and tees for layering, how to layer dresses in winter, poncho outfit ideas (because you can fit any number of layers under a poncho), and cold winter layers with a turtleneck and leather jacket!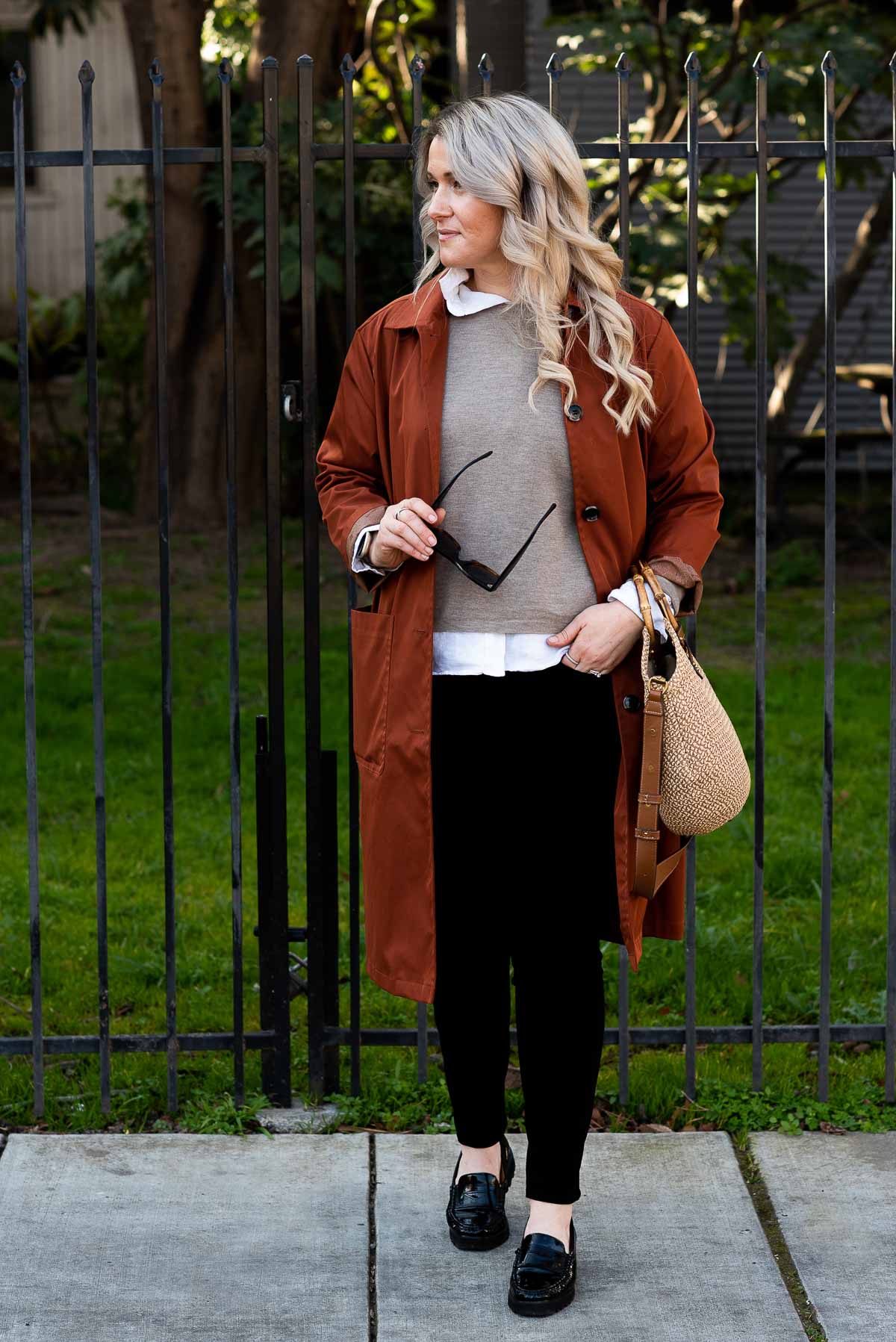 Stylish Linen in Winter Outfit
Ok, now let's get to some good layering and sartorial fun…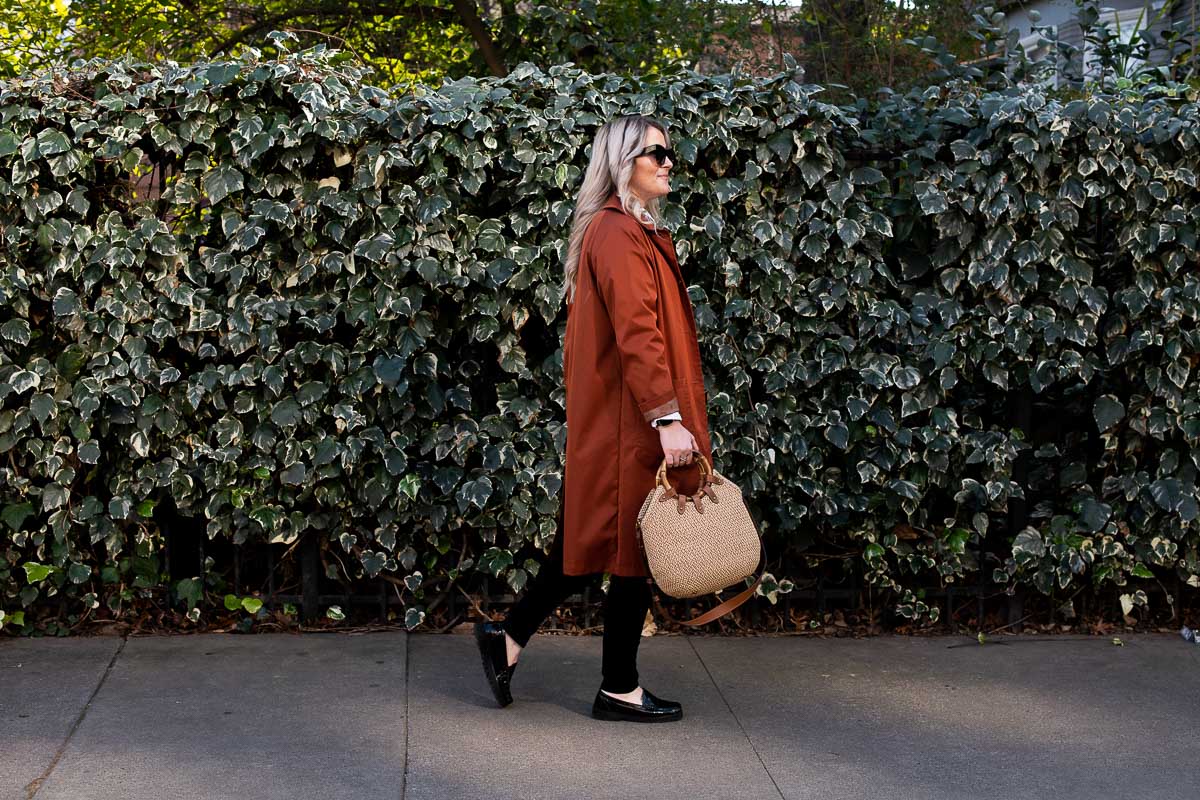 Again layered under a pullover sweater, my white linen shirt is perfect in this look, adding a bright contrast to this bold coat and a great arm layering trick!
You can subtly see in these photos that I have the button down shirt sleeve unbuttoned but fully down. Then I scrunched the sweater sleeve a bit to hit just above those white shirt cuffs.
Since my barn coat sleeve normally covers all of this up, I folded those up too and found, much to my surprise, a cute interior pattern that really kicked this up to a fun level!
Then I finished the look off with my straw tote – an homage to warmer seasons while I'm still comfortable in my late winter layers!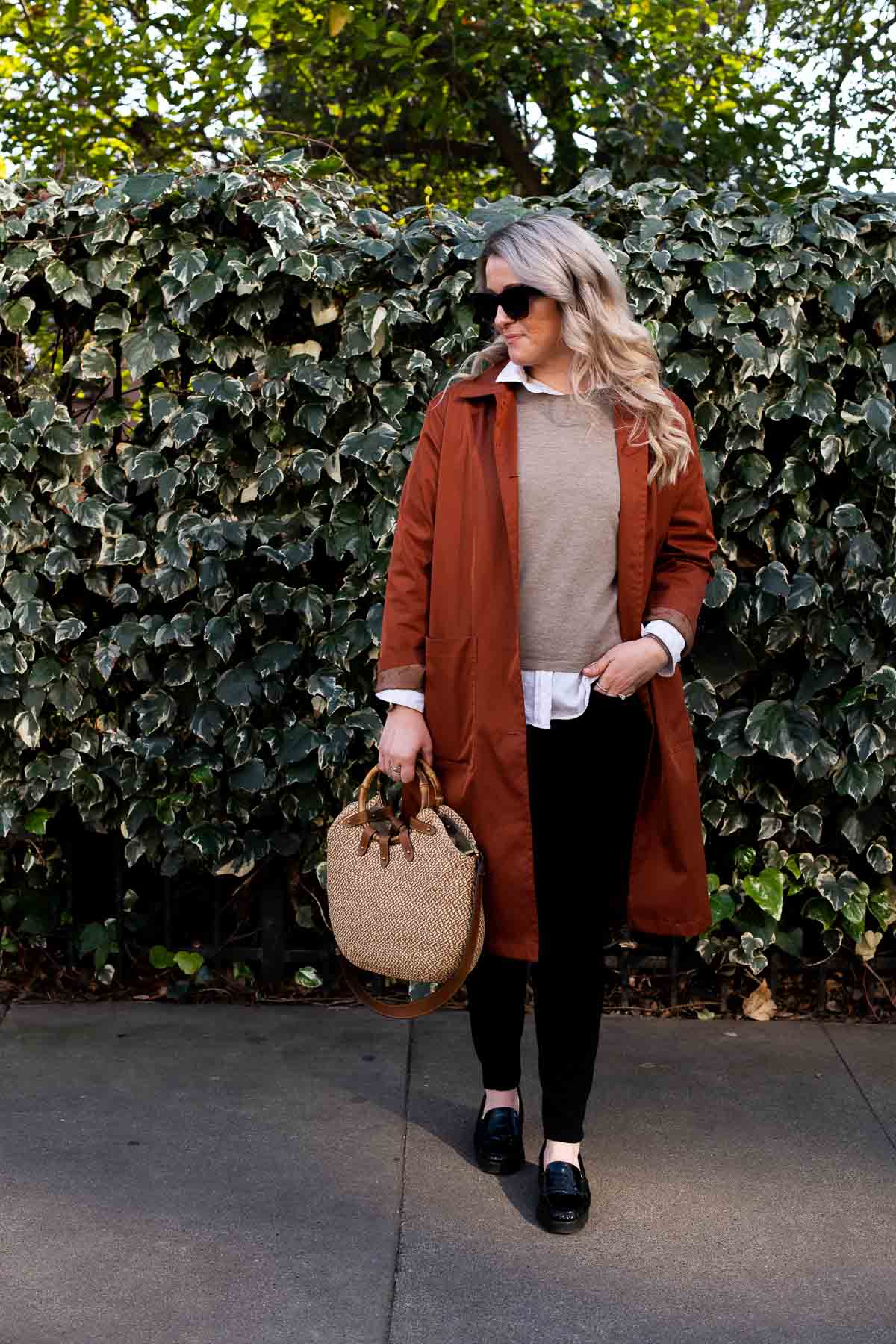 Photos by Sacramento Photographer Salgu Wissmath