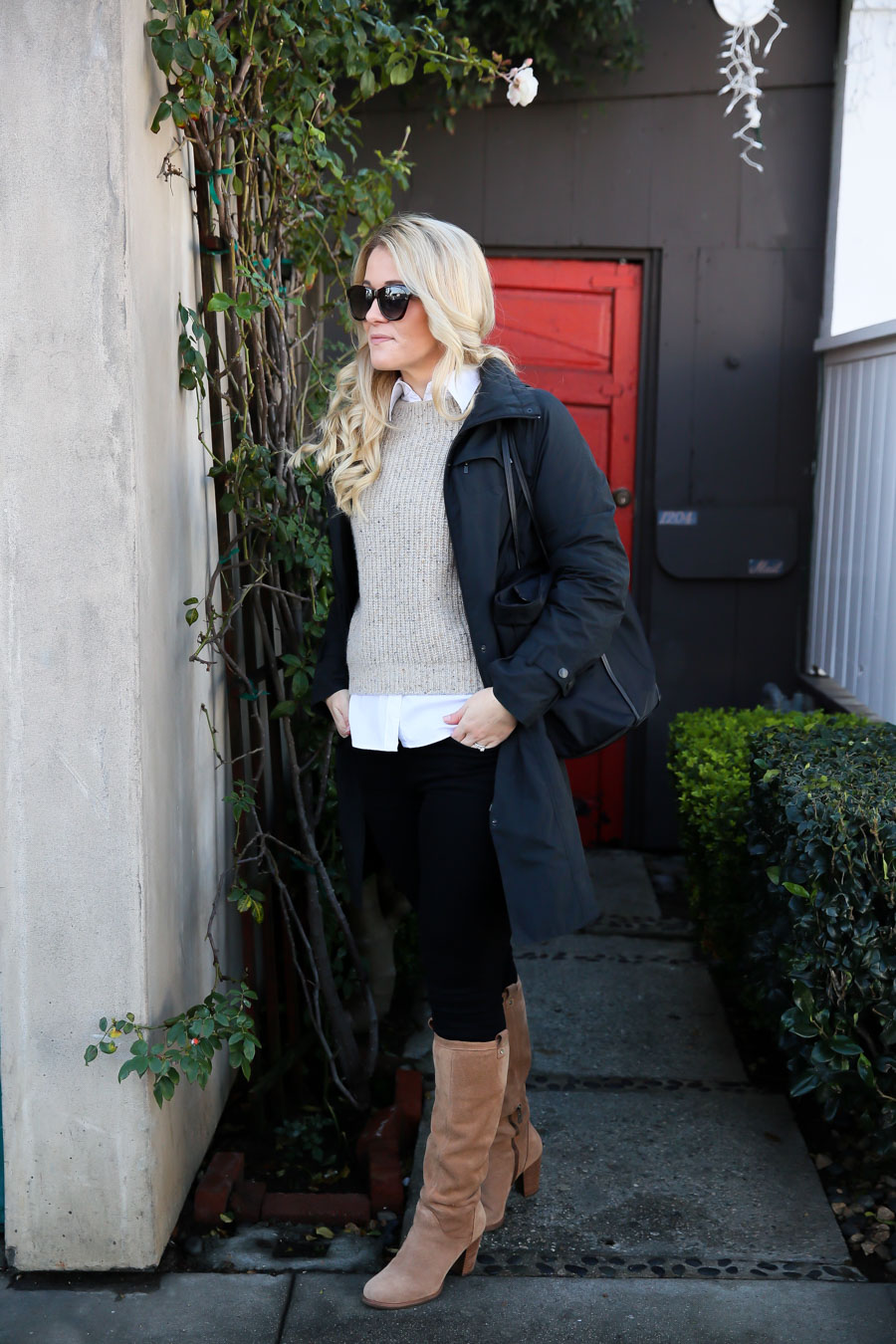 If the idea of layering knit sweaters sounds suffocating, hear me out. I think layering under sweaters actually makes them far more manageable to live in!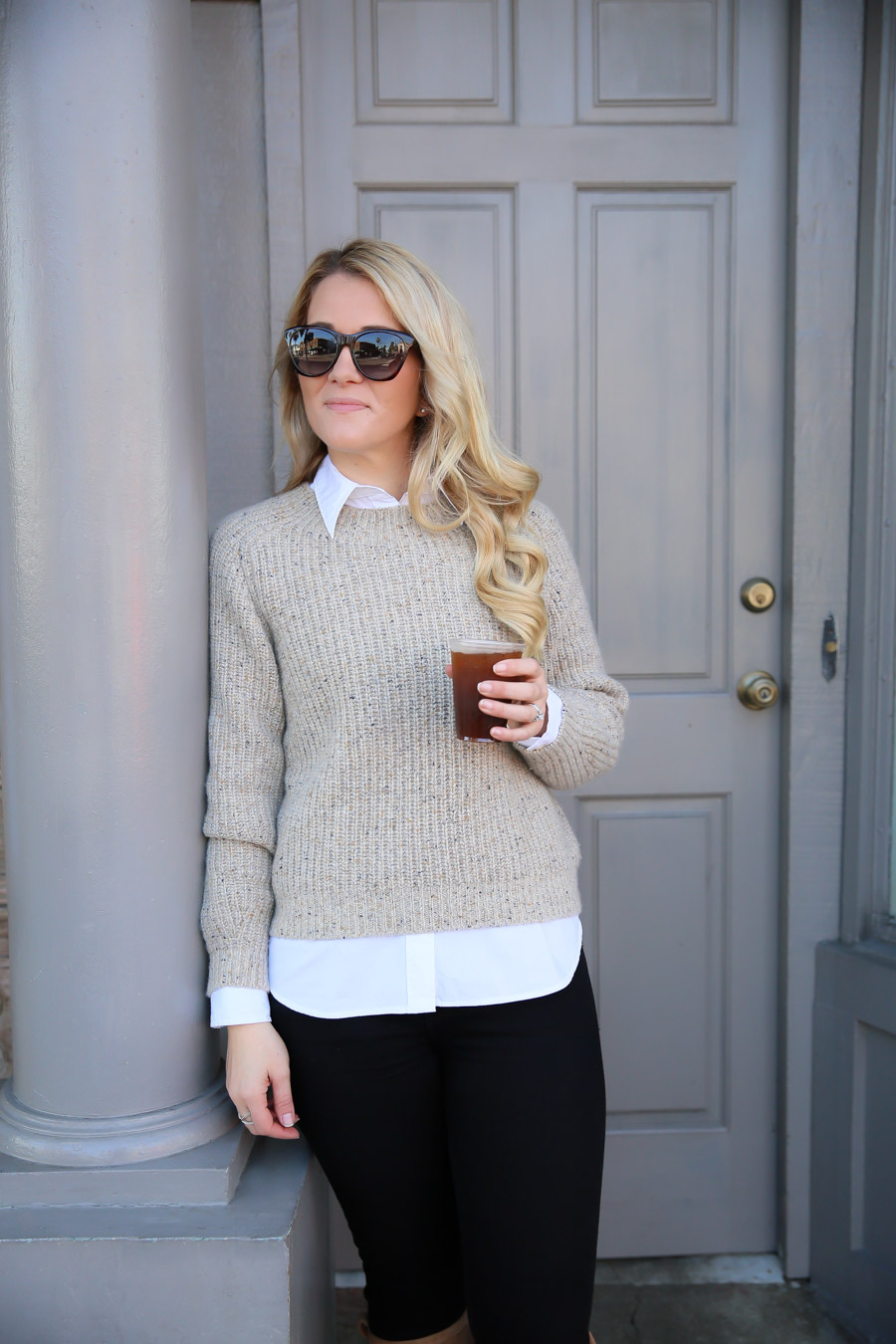 I joke, more often than I probably should, that I'm really a big kid. If you ever see the face I make when I eat bleu cheese or grapefruit, you'll get it it immediately.
A little less embarrassing, perhaps, is my sensitivity to itchy or uncomfortable clothing. I don't know if I'm alone in this, but I easily hyperfocus on uncomfortable clothing – my world seemingly coming to an end. This is the worst with itchy sweaters.
Ralph Lauren Top (love these white button ups) | Vince Cashmere Sweater (similar) | Cole Haan Coat (updated version)
Current/Elliott Denim | UGG Boots | Marc Jacobs Handbag
LAGOS X Ring | Givenchy Sunnies
How to Layer Sweaters
When it's super cold outside, I don't notice it as much, but I live in LA, so "super cold" is 52! Anyway, I refuse to not wear my sweaters even if it isn't frigid outside, so I've been adding pieces underneath.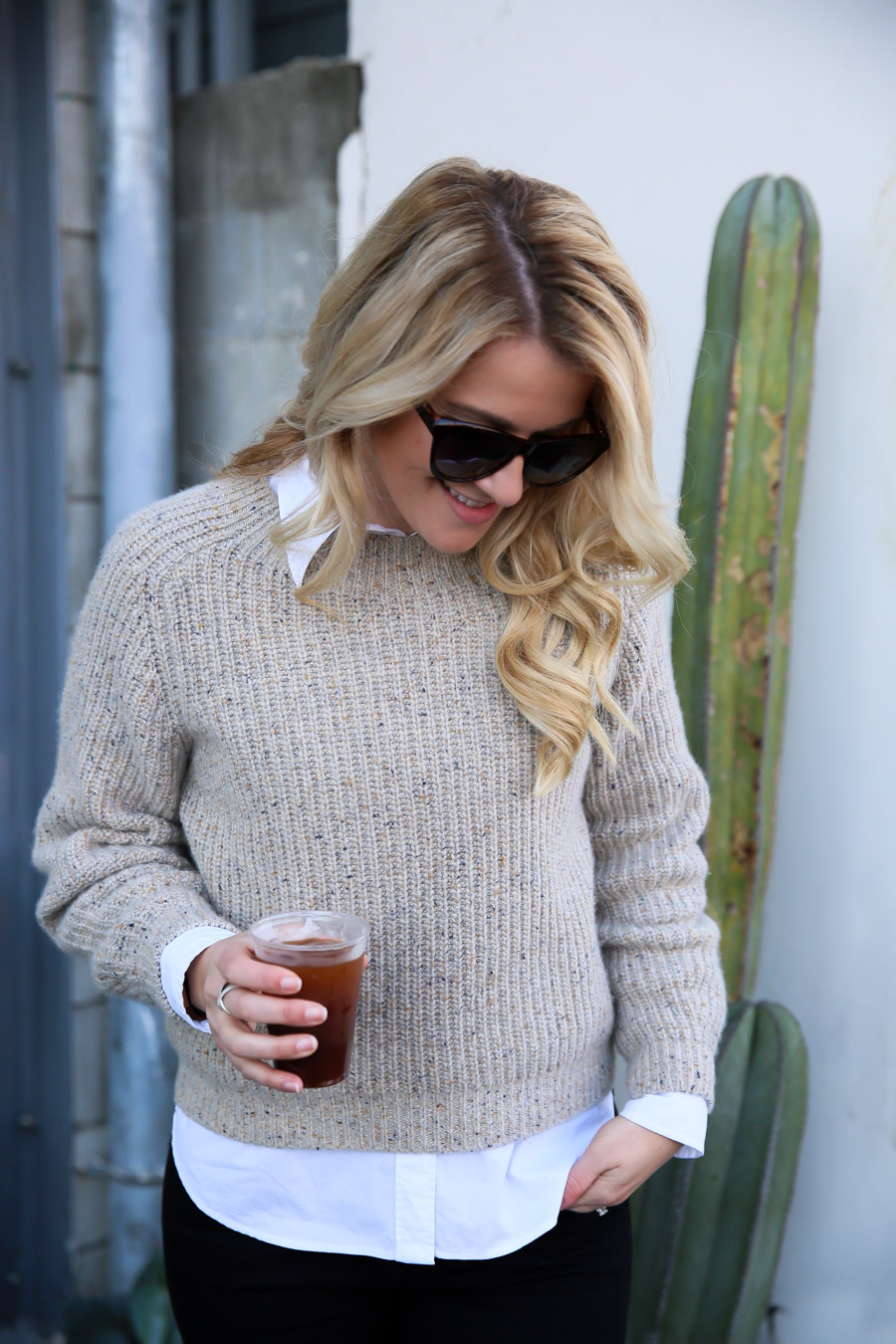 I ALWAYS wear a tank top under sweaters at the very least. But I recently started layering collared shirts under my wool sweaters.
You'd think it'd be too hot, but the cotton shirt feels cooler and the 'itchier' material isn't right against my skin, so it's actually a nicer experience. It's also a bit more stylish and flattering with the multiple layers!! It's the best discovery in how to layer sweaters since – well since I started wearing sweaters!
Why You Need a Packable Raincoat
This raincoat (why is that one word?!?) is by Cole Haan and I've had it for years. It's a great windbreaker, but it's packable which makes it IDEAL for travel. It comes with a small, zipper pouch that it folds up neatly in. I can throw it in my carry on bag and not have to worry about another jacket or thing to finagle as I make my way through the airport!
Nordstrom sells a variety of them. This one, most similar to mine, comes in 4 colors. They also have a few other lengths AND men's versions!! The style's availability comes and goes, but they haven't taken it off the market yet, so I bet it'll keep coming back.

Layering Outfits
Want to see this cashmere sweater in more looks? You can see it in this sweater and jeans look, this layered work look, and this grey jeans outfit!
Looking for more cool weather outfits? These poncho outfits are always cozy and comfortable. Late winter linen layering is an absolute must if you've started adding he sustainable fabric to your wardrobe! And these stylish winter layers are always so chic and warm!
Here are my basics for layering under dresses as well as how to wear a jumpsuit in winter! And f it's truly chilly, here's my go to for what to wear in 40° weather.
Get this Cashmere Sweater Outfit. . .