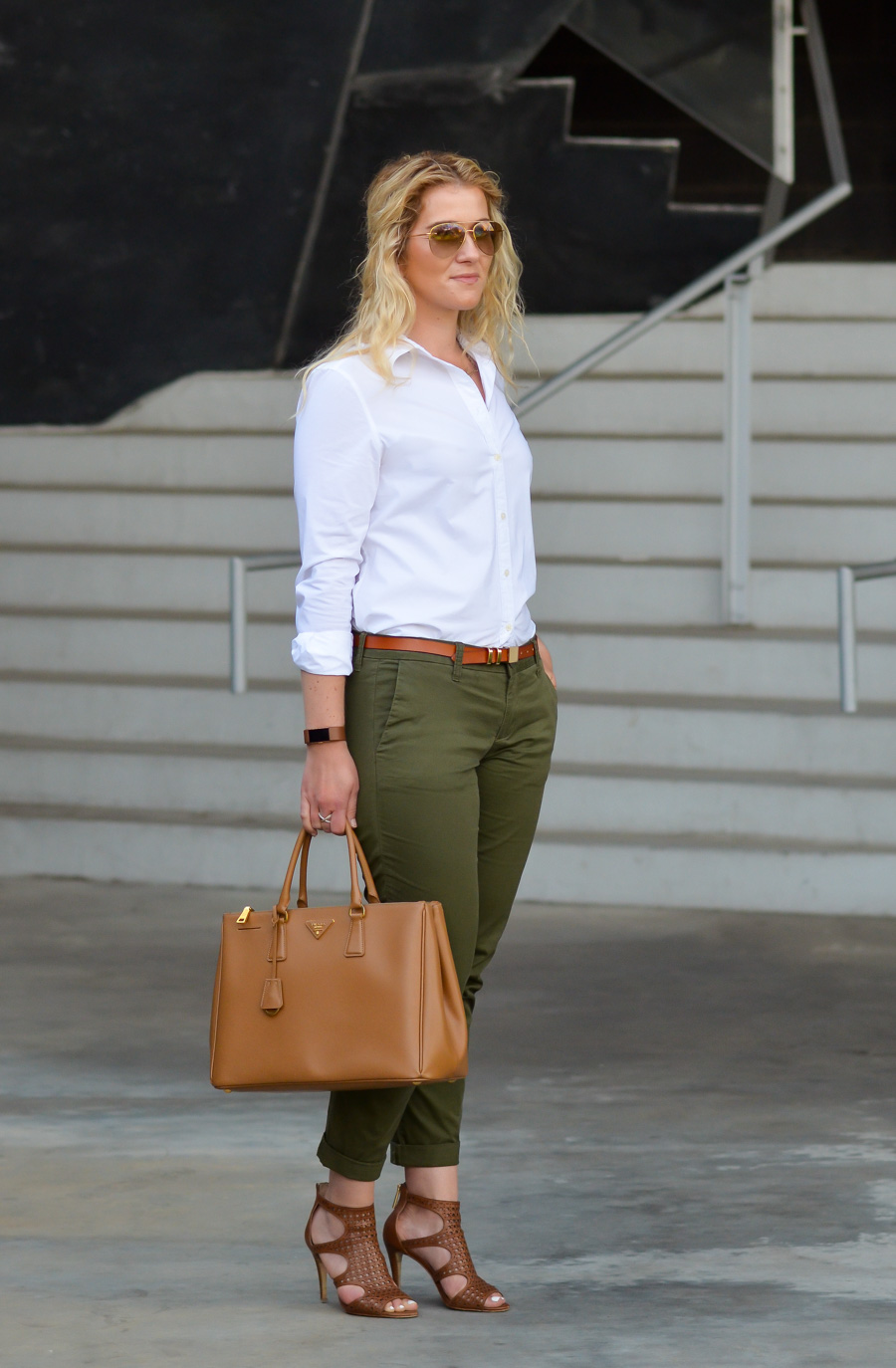 Wondering how to dress up chinos for a cooler but professional look? This outfit idea is perfect inspiration for you!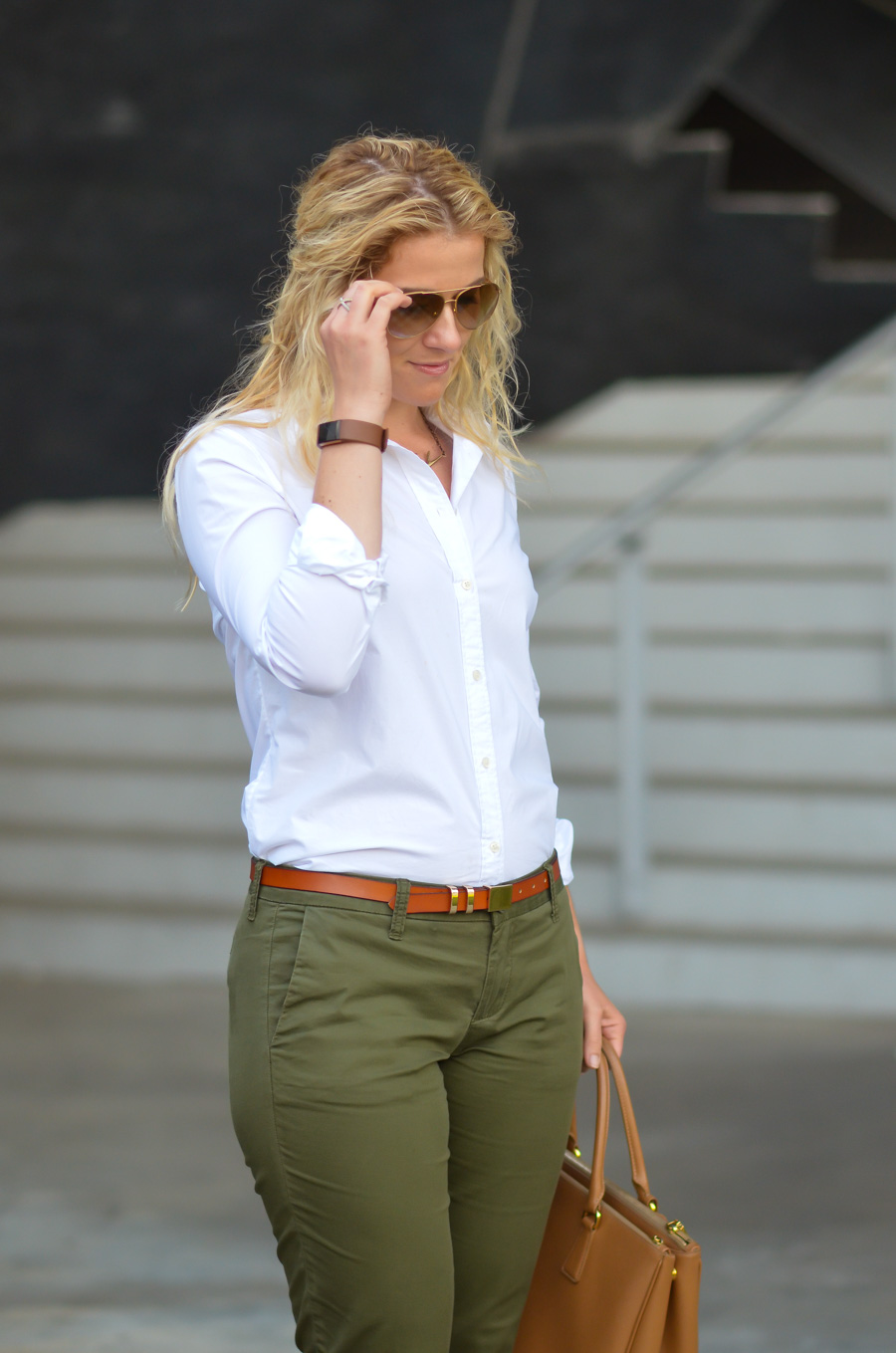 We drove up to the California Central Valley this weekend and it was as wonderful as always. We spent the night at the Inn at Harris Ranch, swimming in the pool, relaxing in the spa, walking the property, watching airplanes take off at their private airstrip, and enjoying a delicious dinner on Saturday.
It was a pretty perfect day really! On Sunday morning we headed east to make some stops along the Fresno Fruit Trail.
Sadly we missed cherry season by about a week, but we brought home tons of blueberries, blackberries, peaches, nectarines, and apricots! I've already started dreaming up some tasty recipes, including a sangria (finally, right?), so get ready for that.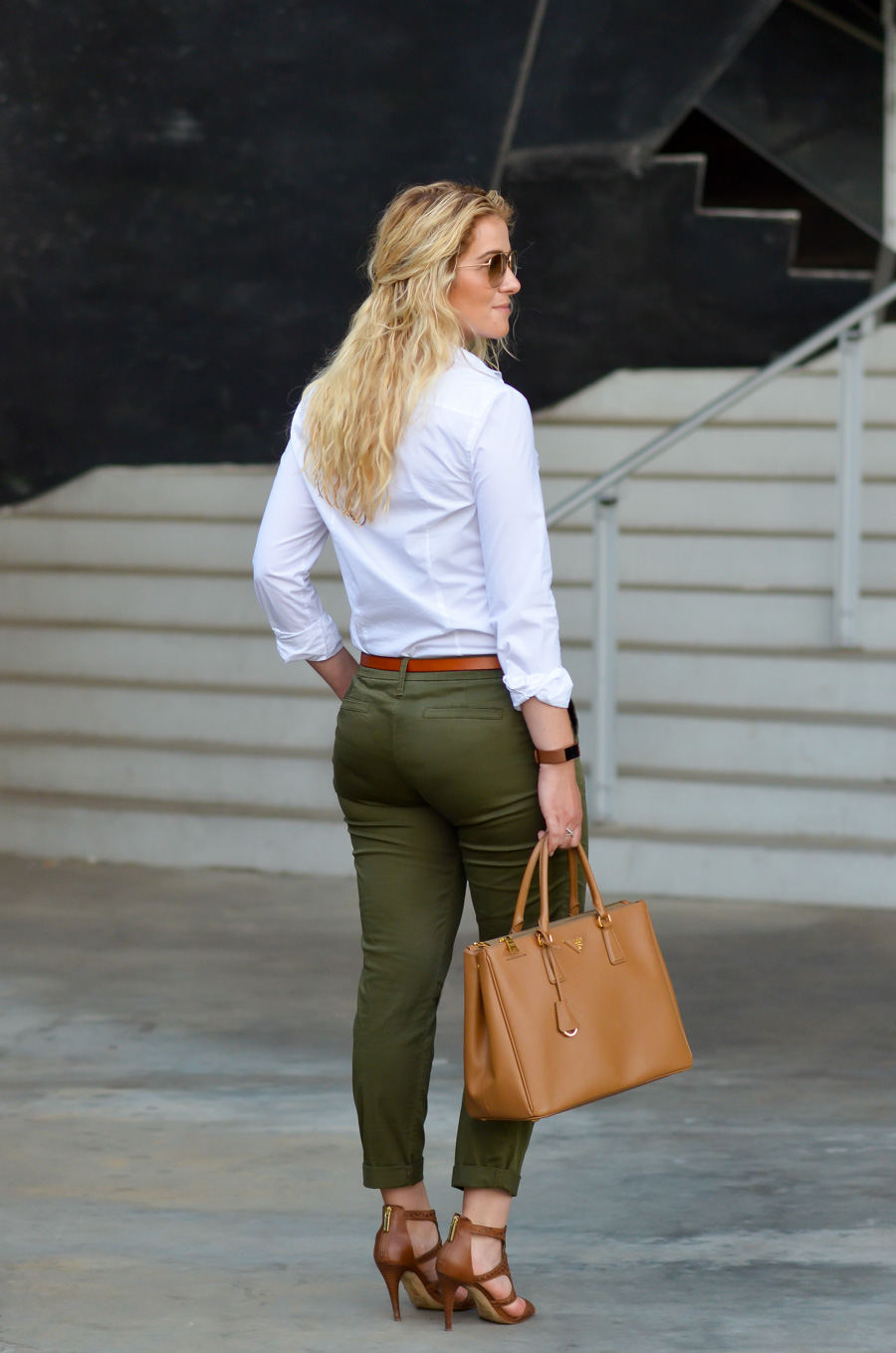 White Button Down Shirt | J. Crew Belt
KUT from the Kloth Chinos (similar chinos)
Louise et Cie Heels | Prada Tote
Burberry Sunnies | LAGOS X Ring
olive green chinos outfit
The weather was hot in the valley and it felt wonderful to be in the warm sun. We came back to LA, to May Gray, and to temps in the 60s… Not exactly my ideal Memorial Day Weekend weather, but alas.
I pulled out my comfortable pair of chinos and paired it with a few of my favorite accessories. These sandals scream summer to me, which certainly helps me deal with this prolonging cool.
Check out these sustainable shoe companies for your wardrobe!
This chinos outfit is so easy and perfect for spring fashion. With a few changes (namely a sleeveless top), it'll transition easily into summer. Once I learned how to dress up olive green chinos, looking chic and staying comfortable in the summer heat has been a lot easier and a lot more fun!
Check out this black mules outfit for outfit ideas with black shirt and accessories!
I'm still in love with this Orly white nail polish for my pedicures (and manicures when I get them). It's the perfect color for summer – it's bright; it's classic; it's fun!
Get this olive green chinos look. . .

Similar Khaki & Chinos Outfits