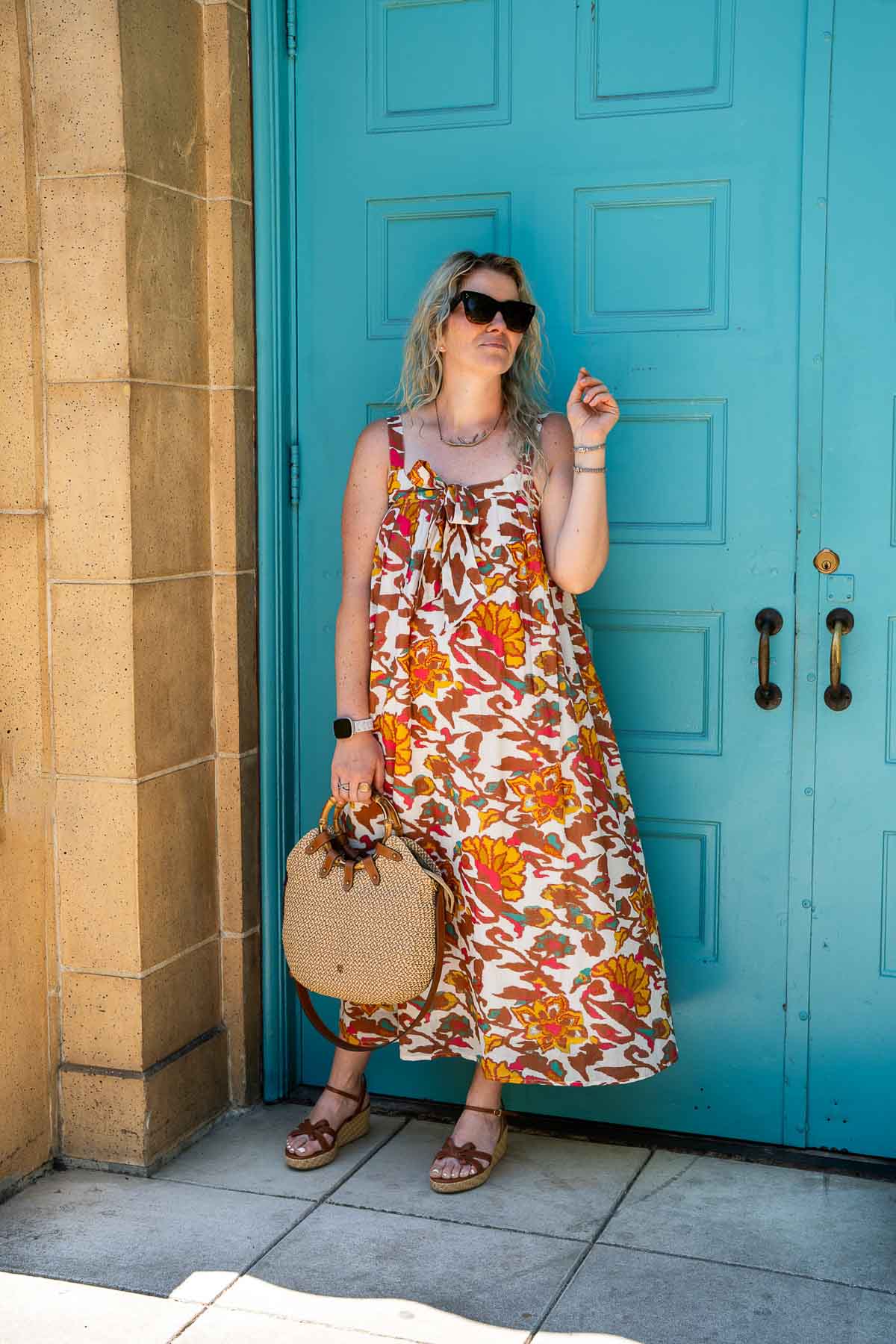 Well, here's the long-awaited dress in…NOT BLACK!! Looking at this dress online, I thought I could pull it off. Then I ordered it and immediately regretted my decision. I get scared in the face of prints and color apparently. Anyway, through the wild enthusiasm from my Instagram followers, I kept it and decided to figure it out. And now it's my answer to just about any What to Wear in 80 Degree Weather situation. Or 90 and even 100 degrees…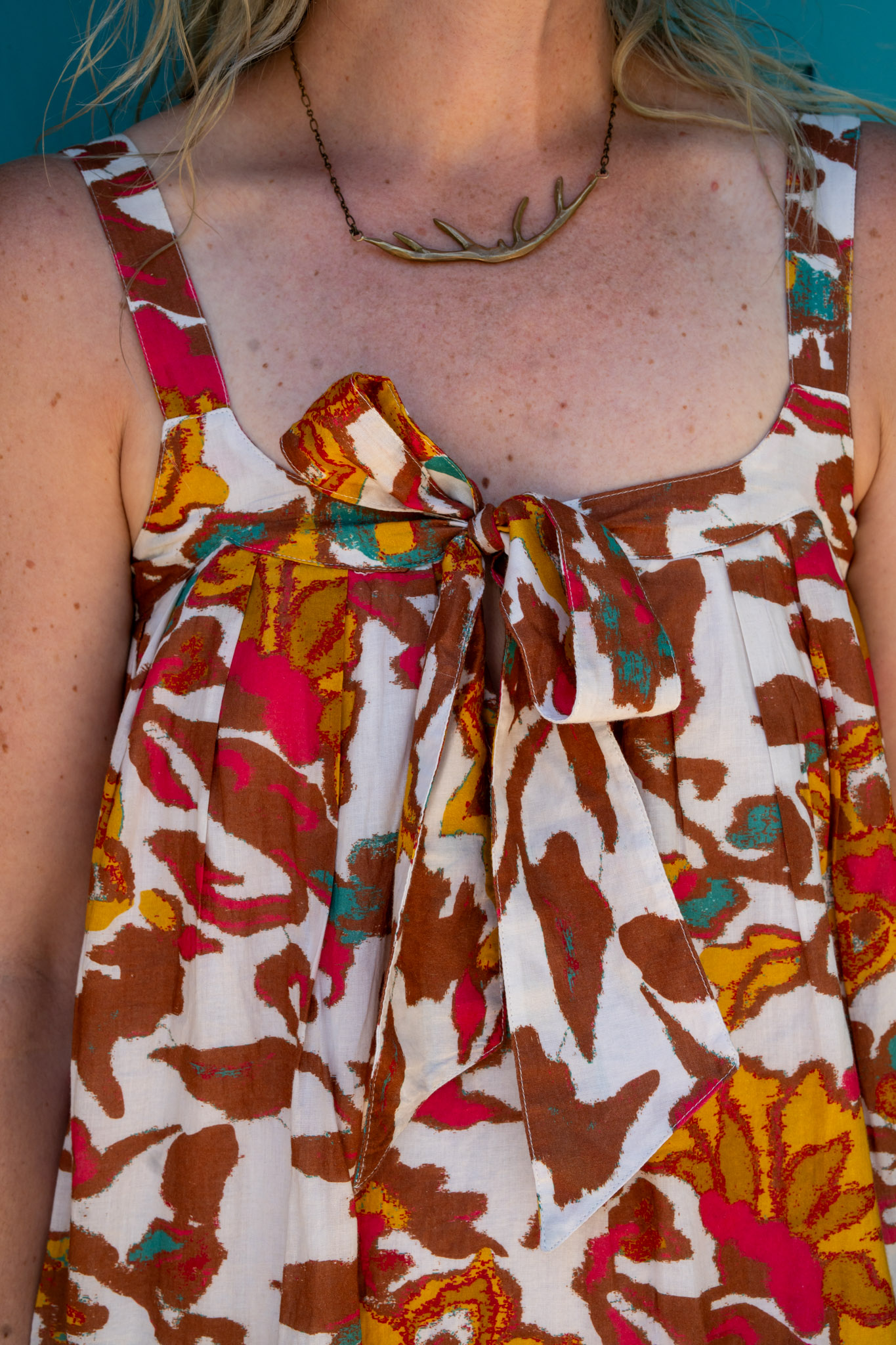 What to Wear in 80° Weather
I think I'm in my warm weather prime in the 80s. It's warm enough for me to feel at ease in just about anything and it isn't sweltering. We had a lovely, long beginning to summer that gave us numerous days in the 80s. The 100+ days have arrived (thankfully for no more than a few days at a time), however, but this dress is still fitting the bill!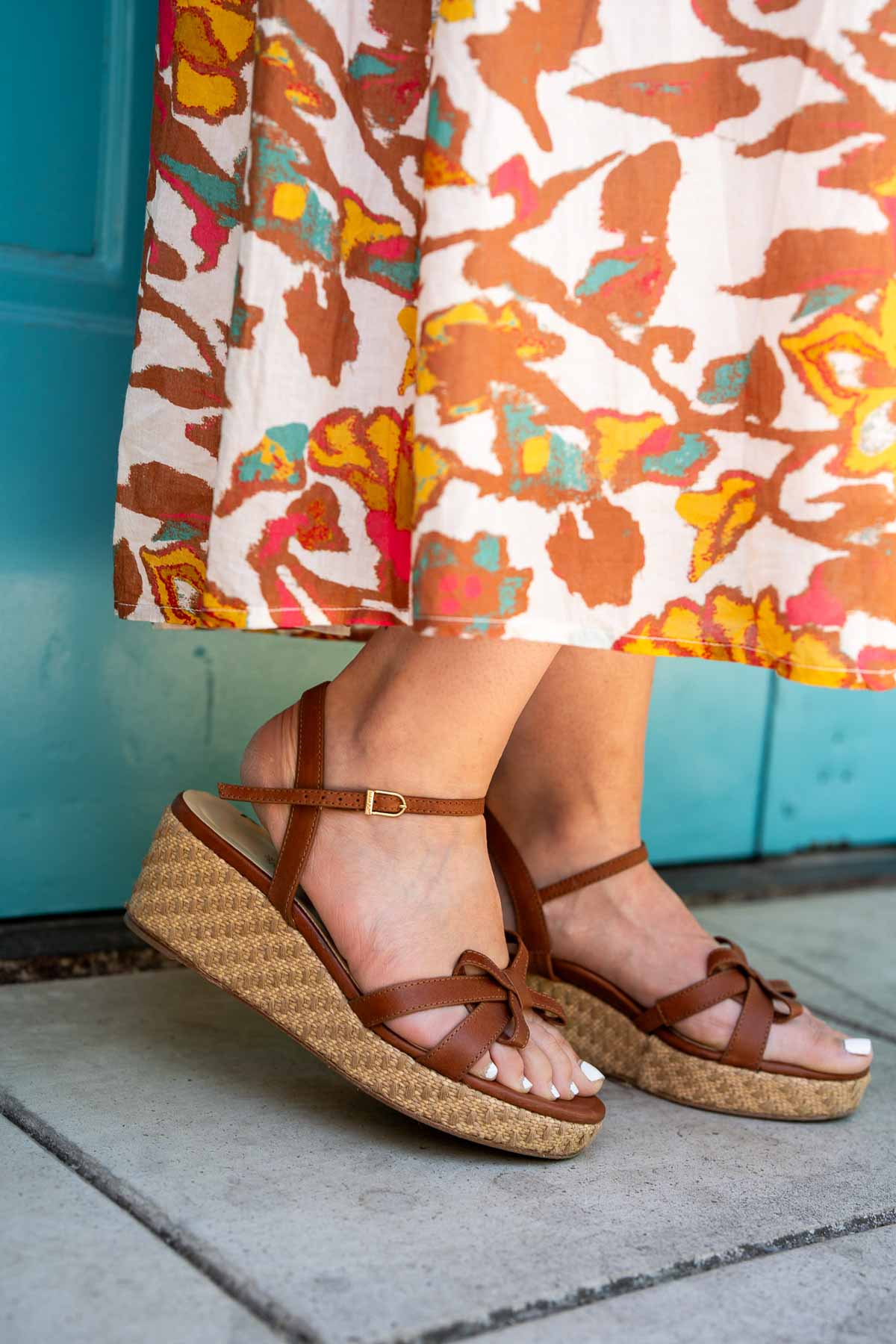 Dress: Cleobella Midi Dress (ethical dress)
Bag: Eric Javits (a recycled material product)
Shoes: Sarah Flint Sandals (use code SARAHFLINT-CCLUCI for 15% off your first purchase)
Sunglasses: Celine
Necklace: Large Antler Necklace by Natalie Frigo
Ring: LAGOS X Ring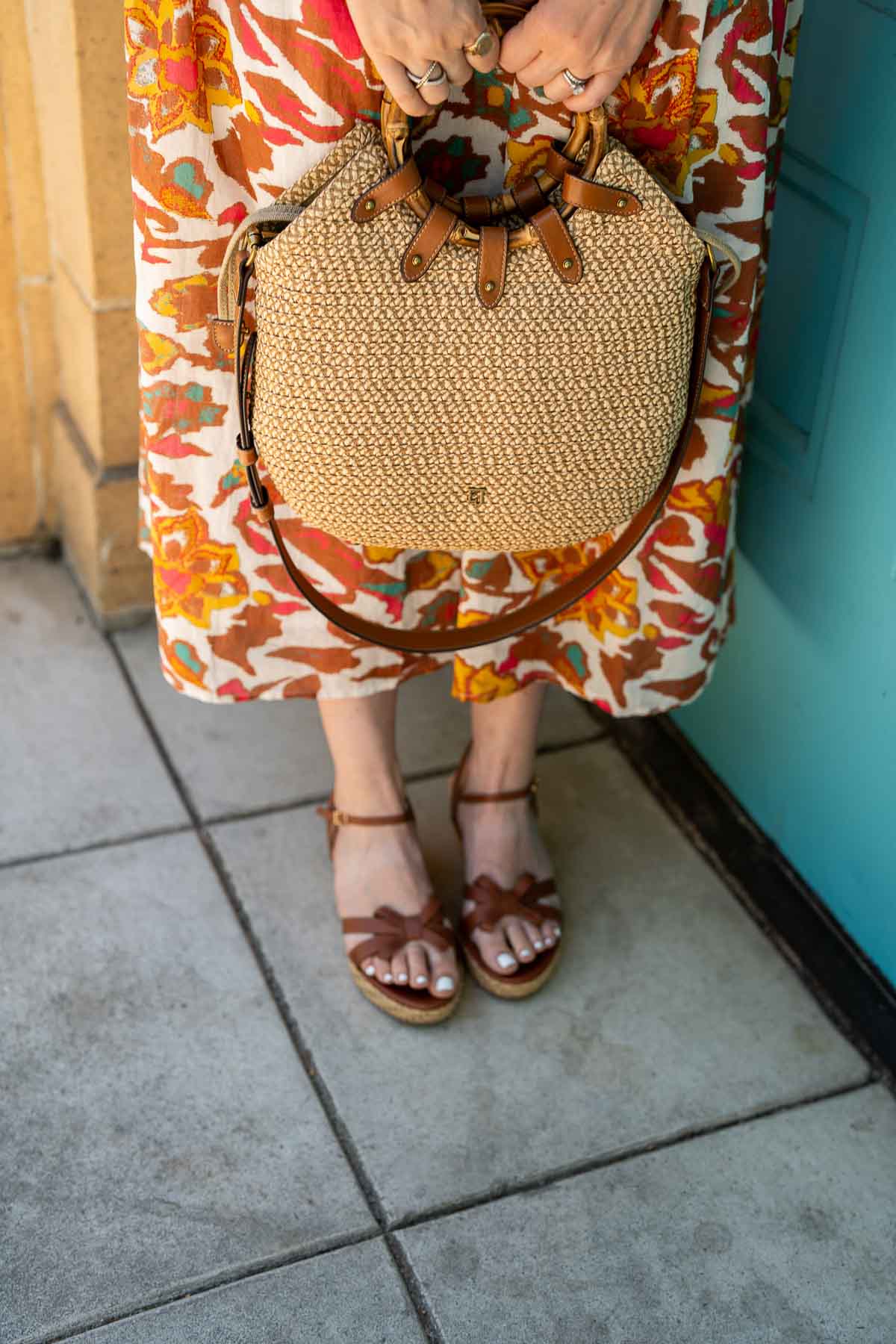 sustainable dress
This midi dress is by a new brand to me – Cleobella. I knew the name but hadn't tried any pieces. The brand prides itself of ethical manufacturing and this dress, along with much of their collection, is a handmade item of 100% cotton!
While I tend to avoid oversized items in my closet (read here about how to find your style), this slightly more exposed and detailed neckline is just the perfect balance, so I feel put together and not frumpy – even though I'm comfortable as all get out.
The midi length is truly fantastic, allowing for air flow….and…AND….it's has pockets. And good ones. Not useless ones, and not ones that sag and make you look silly – just nice, full-size pockets!! It's the perfect answer to what to wear in 80 degree weather!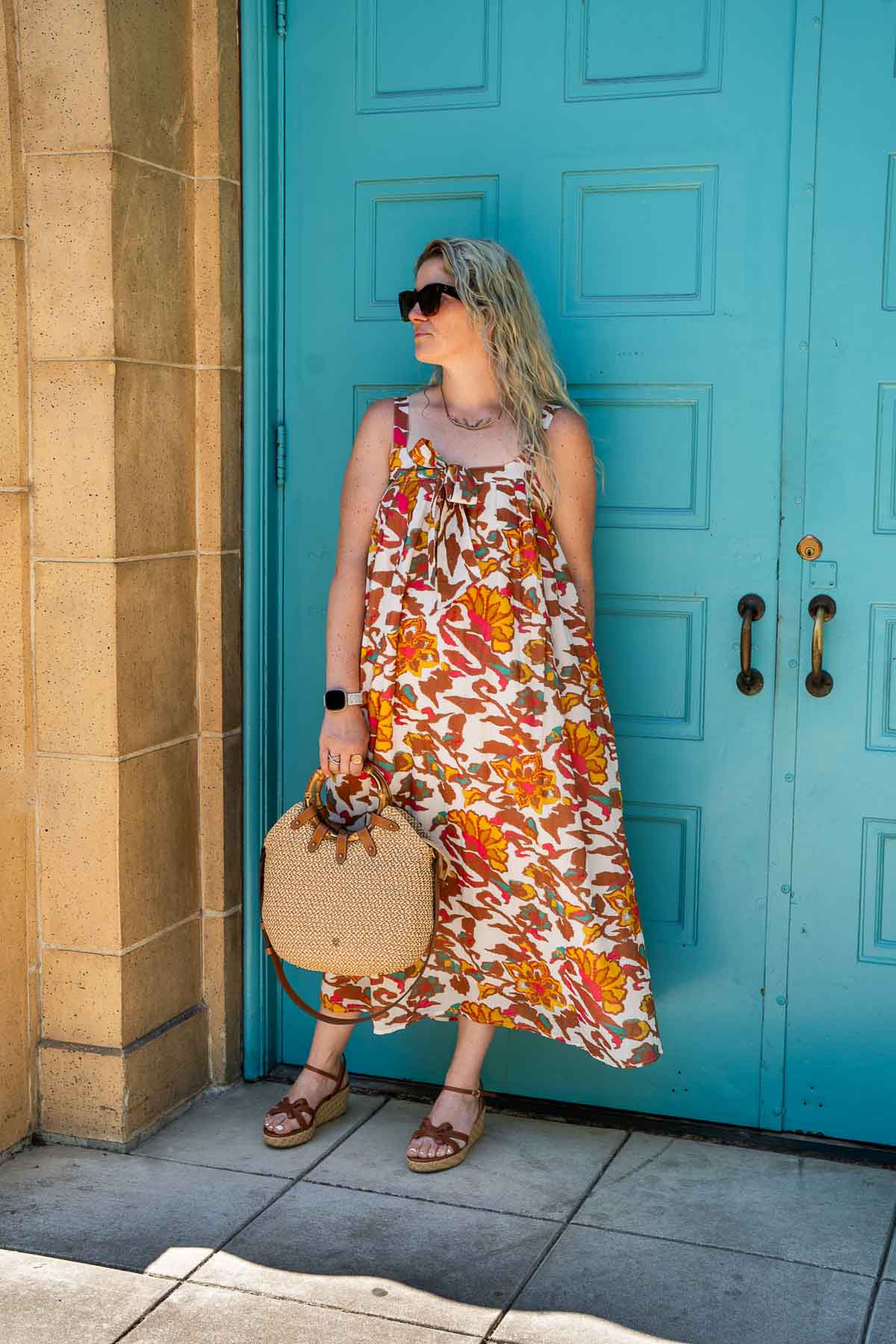 Sarah Flint Sandals
If you remember my Sarah Flint Pumps review, you won't be surprised to see me in these Sarah Flint wedges. These are another pair of shoes in her Sustainable Steps collection. The wedges comes in two heights – this is the lower profile and they're so comfortable!
I found the ankle strap needed another hole added as I seem to have slender ankles, but that's something a cobbler locally can easily do (and often for free or very little charged).
The sandals offer LWG Gold rated leather, a cork sole (a compostable material), preserves artisanship (all SF shoes are handmade in Italy), and plastic free shipping!!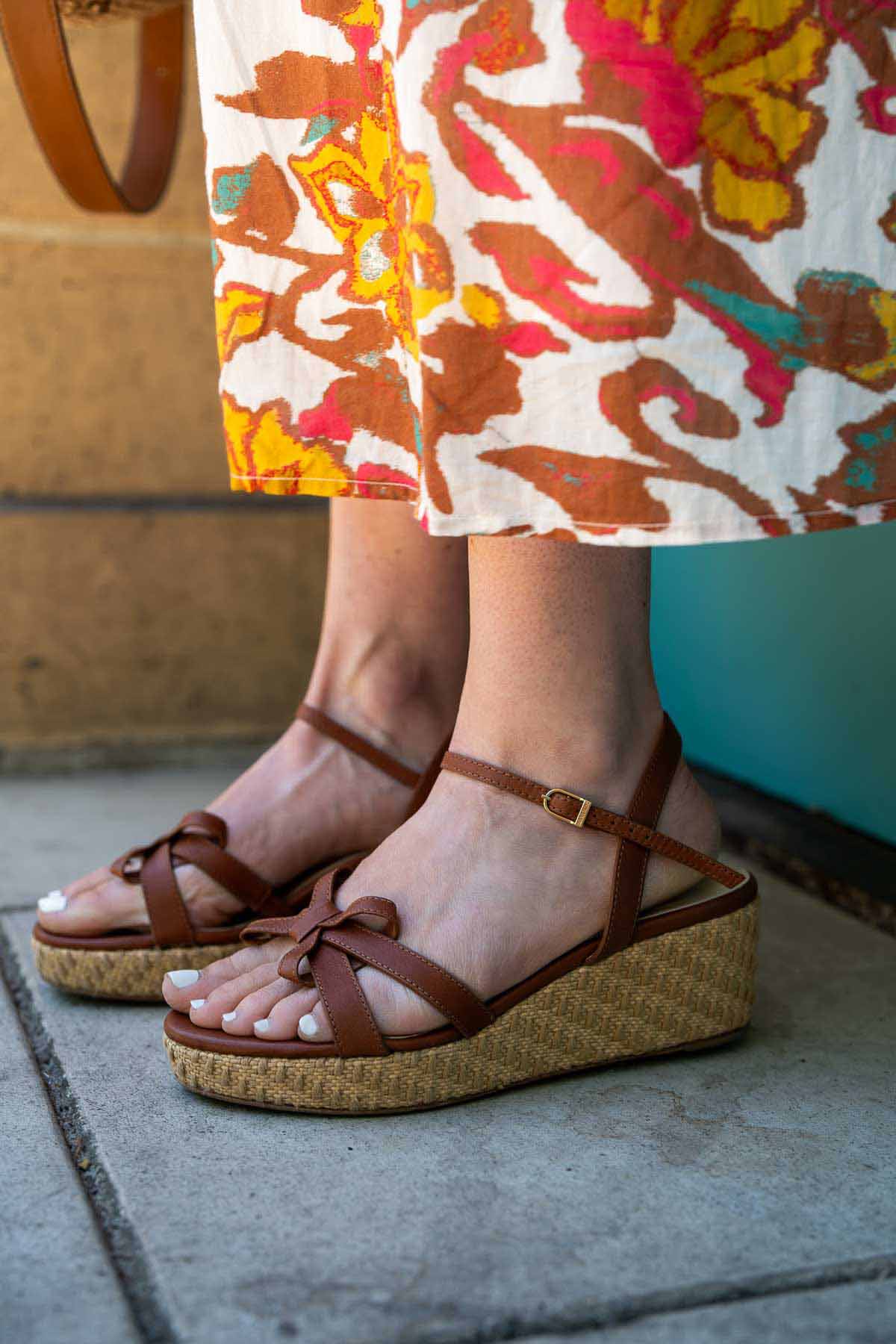 More 80 Degree Weather Outfit Ideas