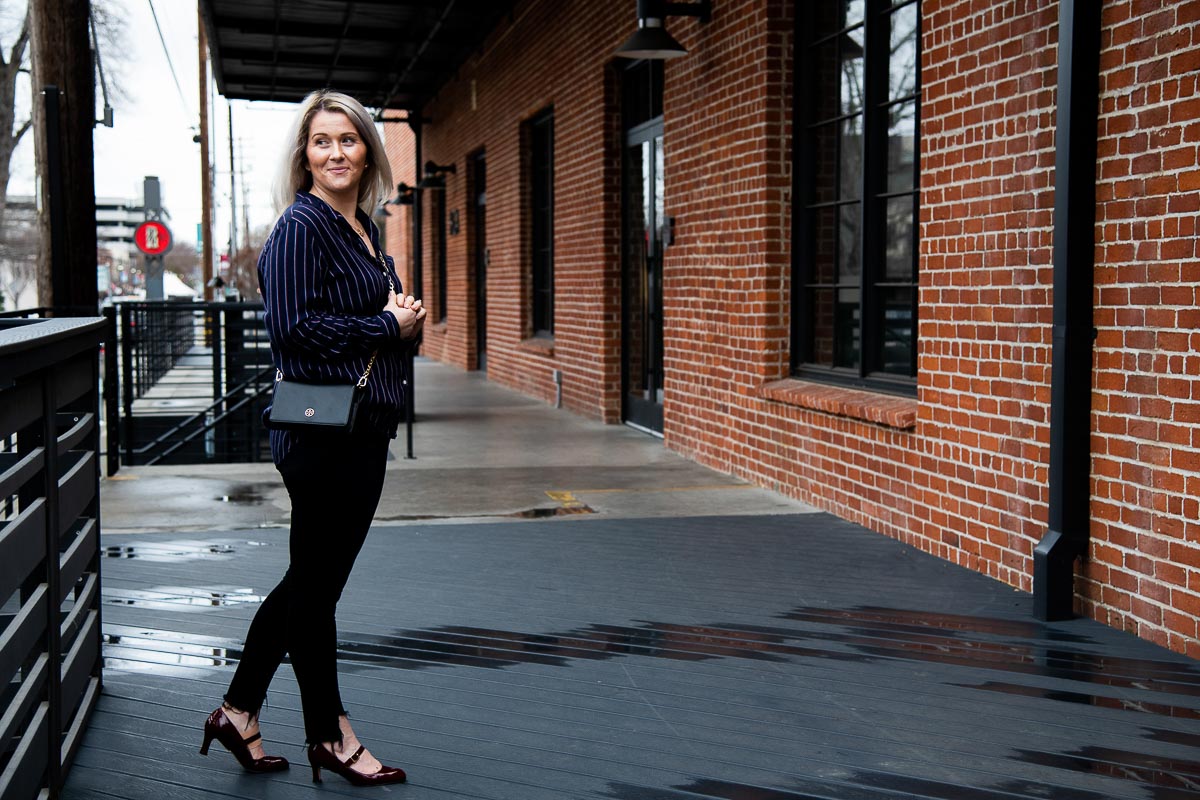 Do you think of navy as a neutral? It took time for me to fall in love with navy as a mandatory wardrobe neutral. Now, however, I'm even seeing it as a pop of color depending on how it's styled. This striped button down shirt is so fun and so versatile. Here are the ways I'm loving a navy shirt outfit these days – any day or night of the week!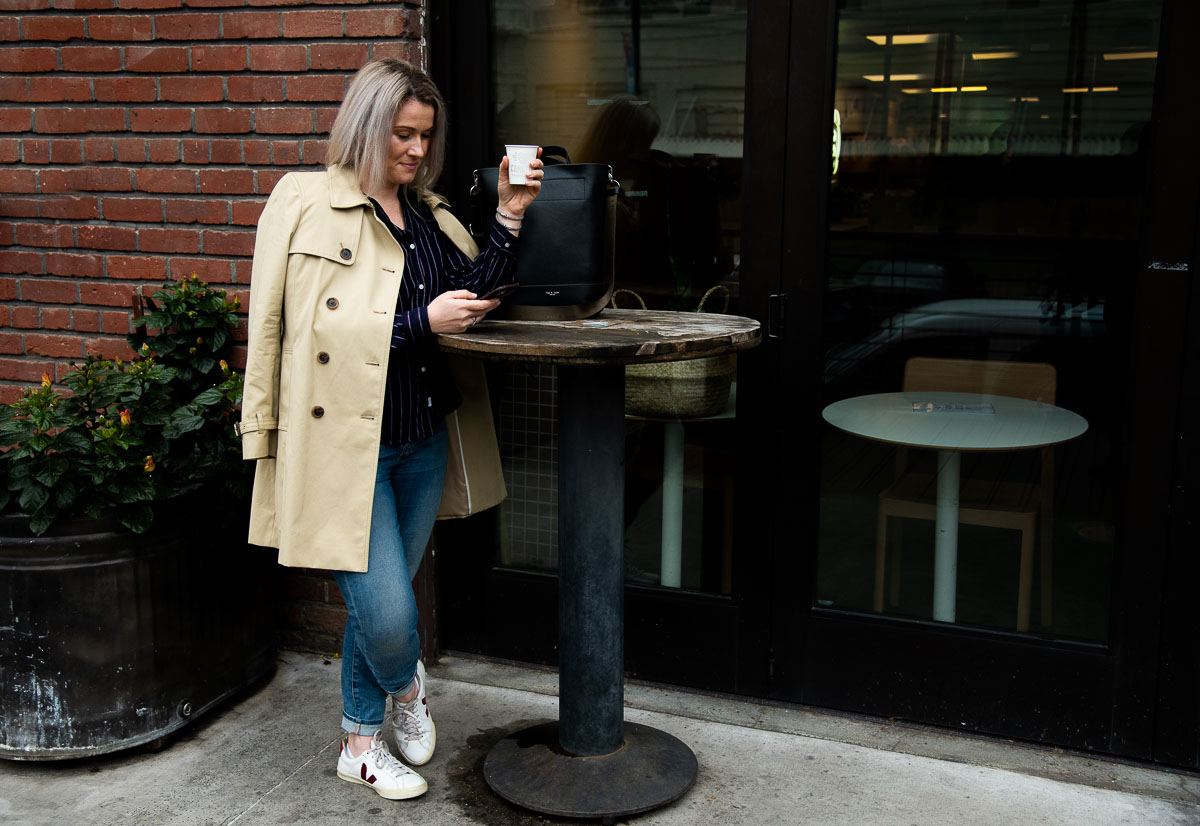 Navy Shirt Outfit
Since writing more about sustainable fashion, I feel as though I've ebbed and flowed between feeling as though I have no outfits to share and realizing that showing how I wear and rewear a piece is really what my style has always been!
Since moving to Sacramento and cutting my closet size basically in half (due to limited closet space and a few reality checks), I actually feel much more fulfilled in what I own. I say that I always feel as though I have something to wear simply because I know my style and I know my closet!
But that doesn't mean I don't get stuck in wearing the same ensembles again and again. It just means, I don't try to buy more clothes to fill holes.
A new Sacramento friend and sustainable personal stylist – Martine Leveillee – came over just before the holidays. Since we didn't have all day, I decided to pick one item and have her help me come up with 3 ways to wear it.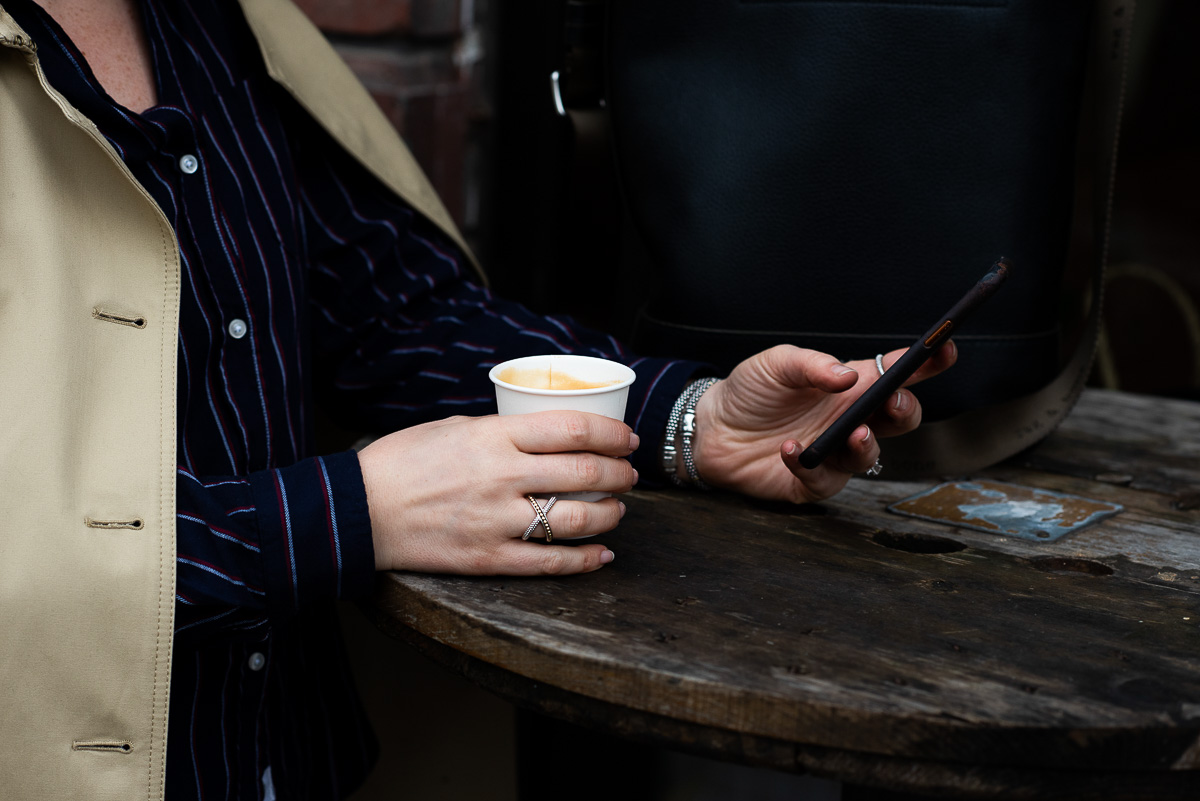 This navy shirt outfit brainstorming session was so helpful, so fun, and actually so inspiring in helping me "rediscover" pieces in my closet!
This striped button up is by one of my FAVORITE brands, Grayson. It's a light button up with just the right amount of comfortable structure. See how I styled it previously in this fall hat outfit!
It's the silhouette and cut that make their shirts just so versatile. Here I wore the shirt with jeans, sneakers, and my trench coat for a quick coffee date here in Sacramento.
As you'll see below, the same shirt works for a Farmers Market run and even a date night!
Casual Meeting Outfit
This is quite a casual meeting outfit, but most of my meetings these days embody casual! This look can easily be stepped up with great flats or even a low heel!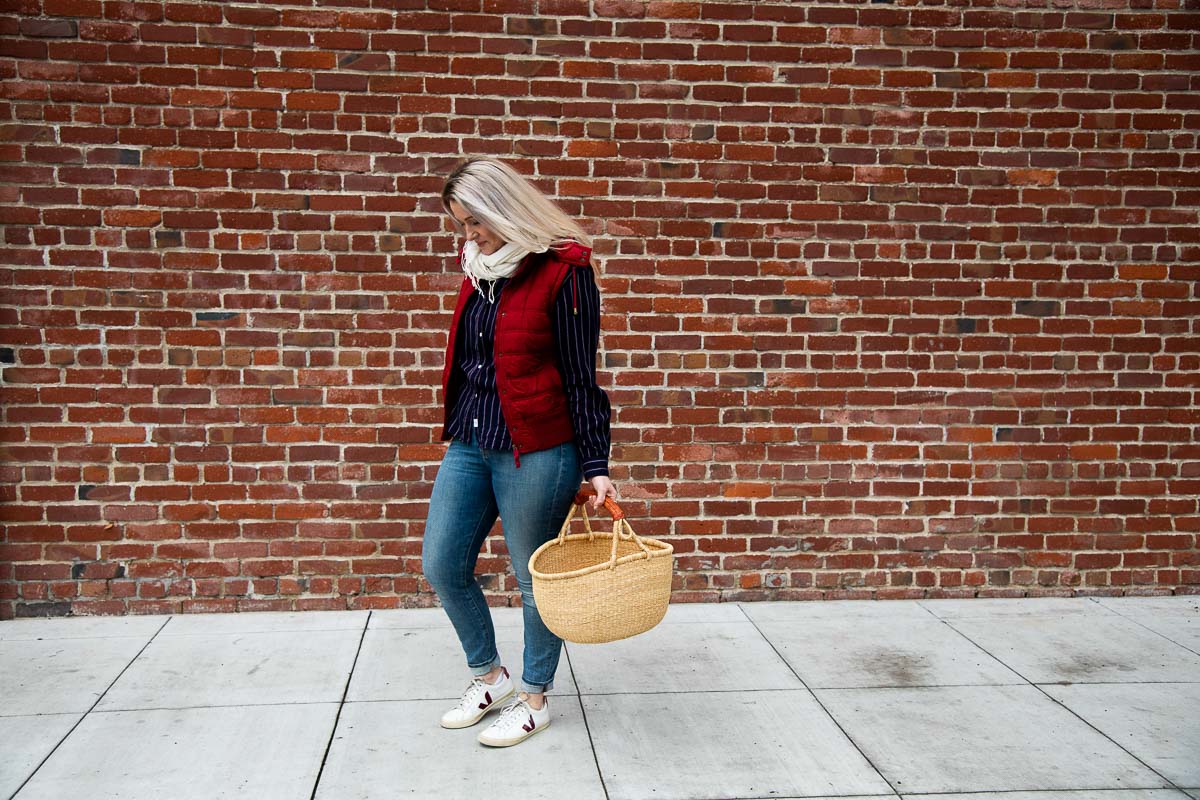 Farmers Market Outfit
There is little more comfortable than a farmers market outfit. I'm living the lazy life since our market isn't opening until 9 during the winter (and, yes, I'm among the first there)!
Regardless of what time it starts, however, I want something that looks pulled together but isn't any work! Practically none.
This navy shirt outfit is actually identical to the look above, but I've swapped out my trench coat and purse for my cozy vest and farmers market basket!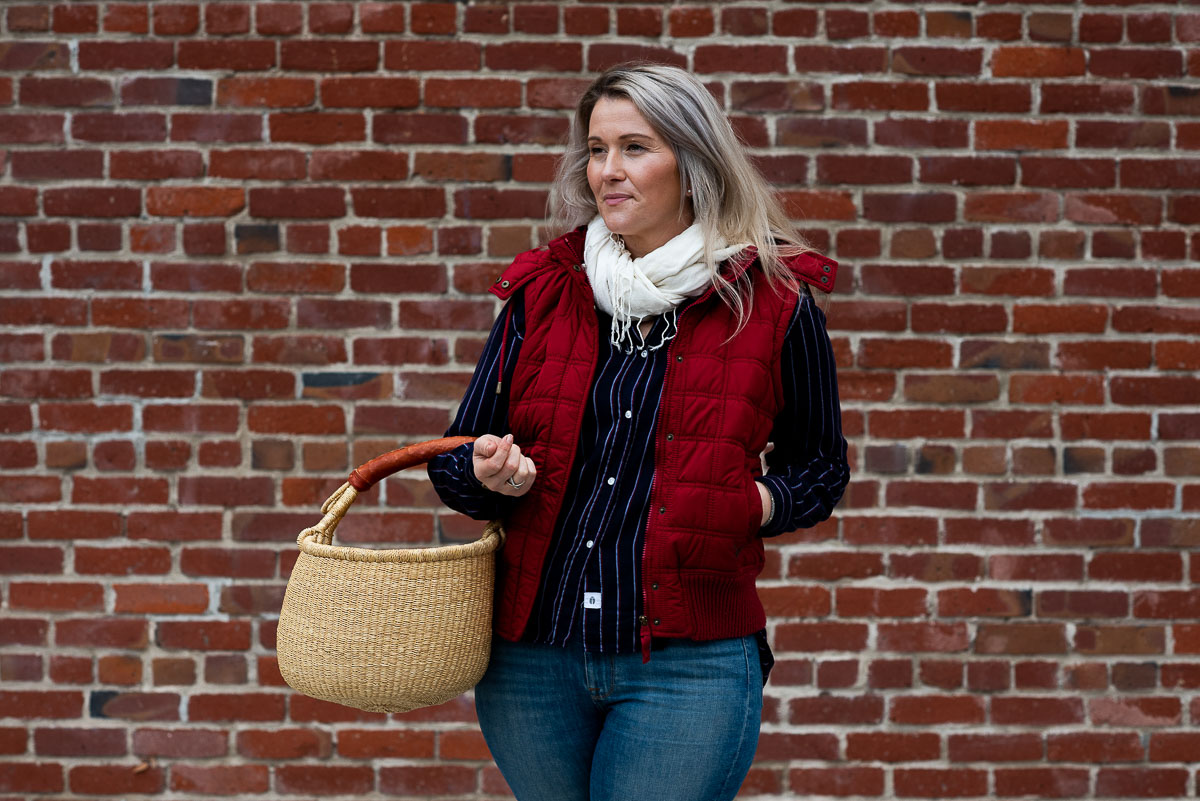 Speaking of keeping pieces in your closet for a long, long time…I bought this red vest in high school. I eyed it weeks before Christmas and ended up spending gift money on it. Clearly it was well worth it as I'm still wearing it some 15 plus years later!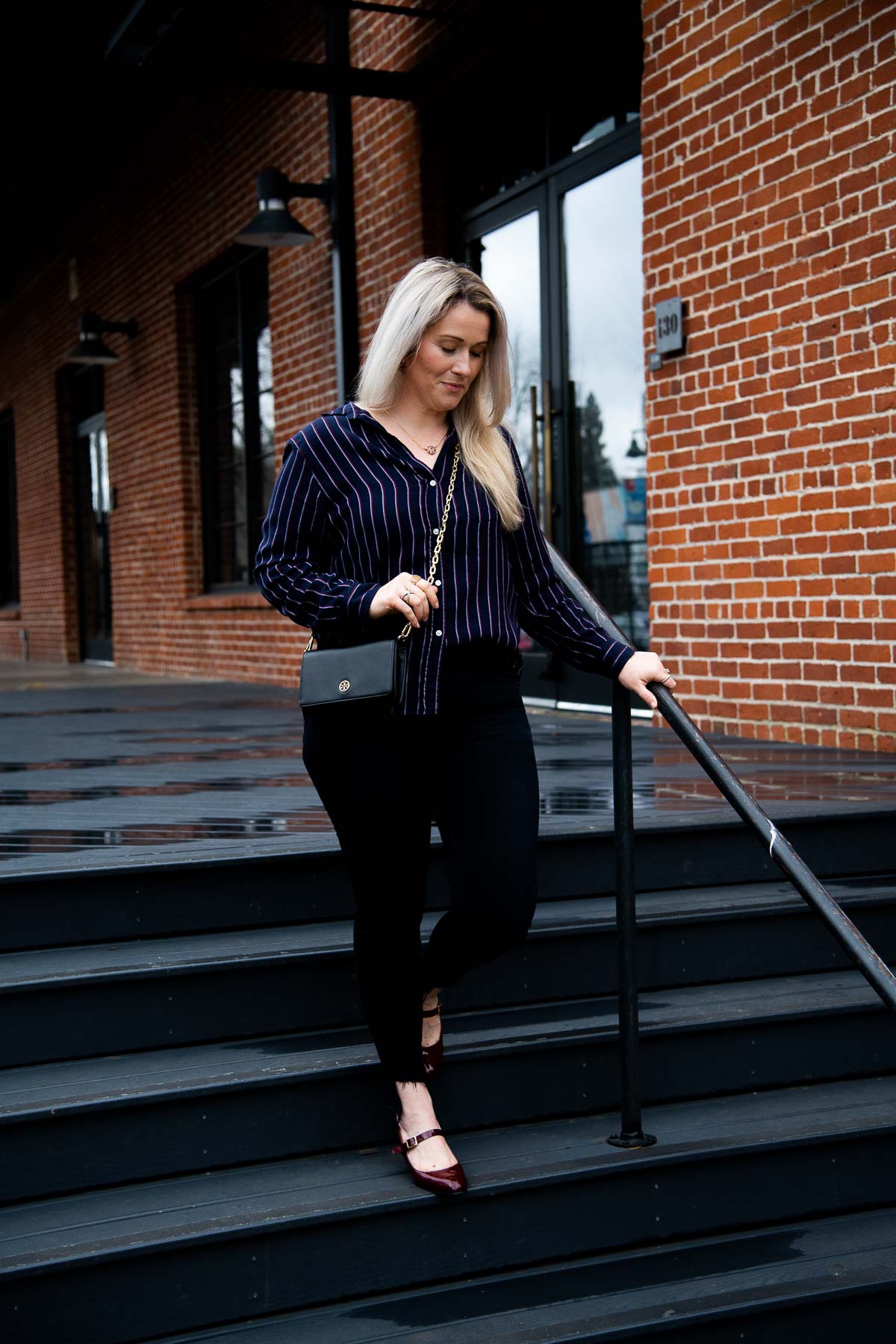 Date Night Navy Shirt Outfit
And finally while 2 daytime outfits with this navy shirt might be obvious, including the same shirt in a date night look isn't!
I mentioned above about using navy as a pop of color. I usually see it like that when paired with black. For years (YEARS, people!), I told my mom navy and black couldn't be worn together. Oy vey!
Clearly I'm now ignoring my own advice because they actually pair so nicely. These Current/Elliott jeans are a mix between blue and black and that "tulip" hem is possibly my favorite denim detail EVER. I hope I never have to get rid of these jeans, but I assume the day will come eventually – and a sad day it will be indeed.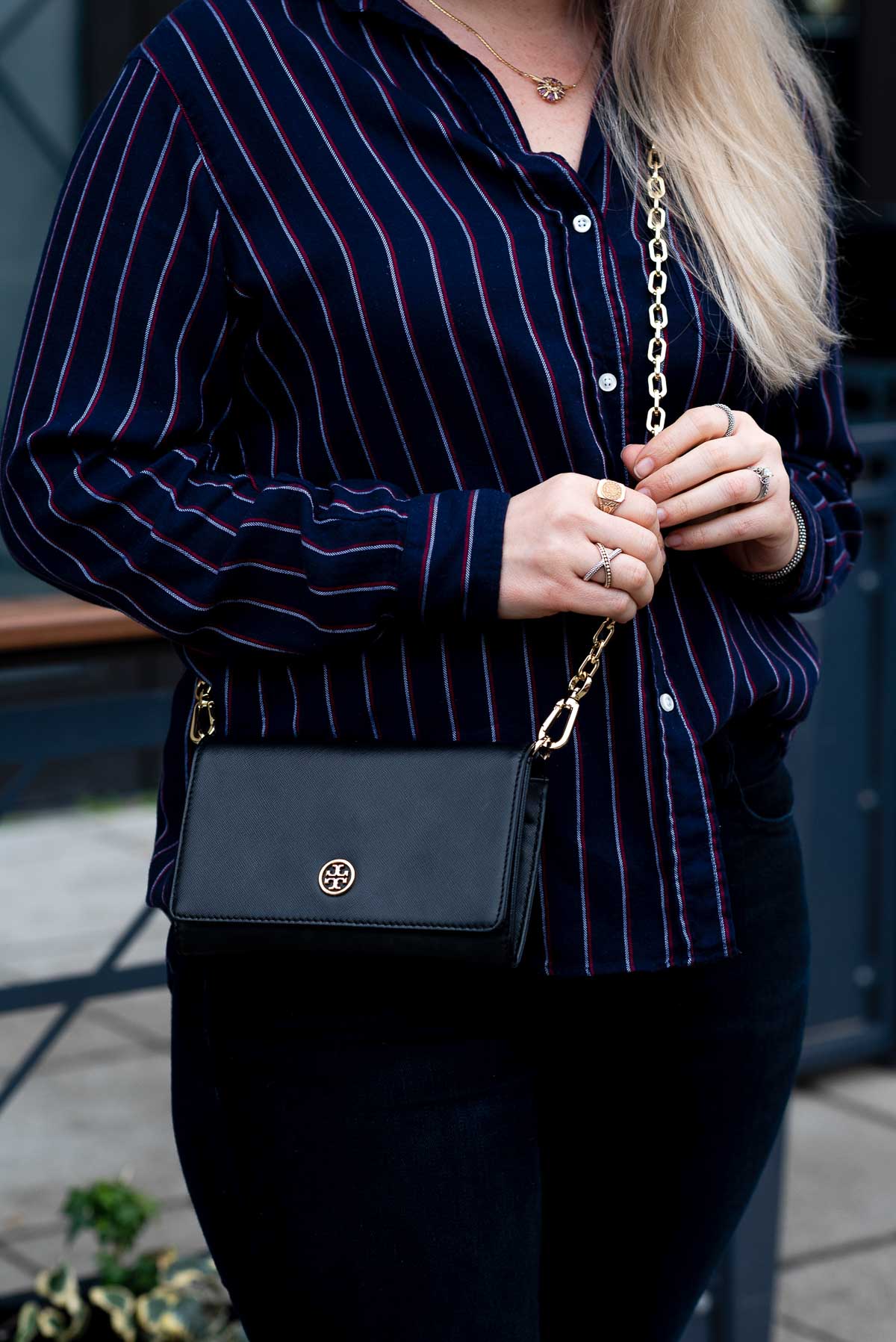 Let's talk about date night for a minute though. While I love dressing up, I'm also always looking to be comfortable – this is what having a kiddo has taught me!
So why not pick a top that's wonderfully comfortable, jeans I love, and then just some favorite accessories?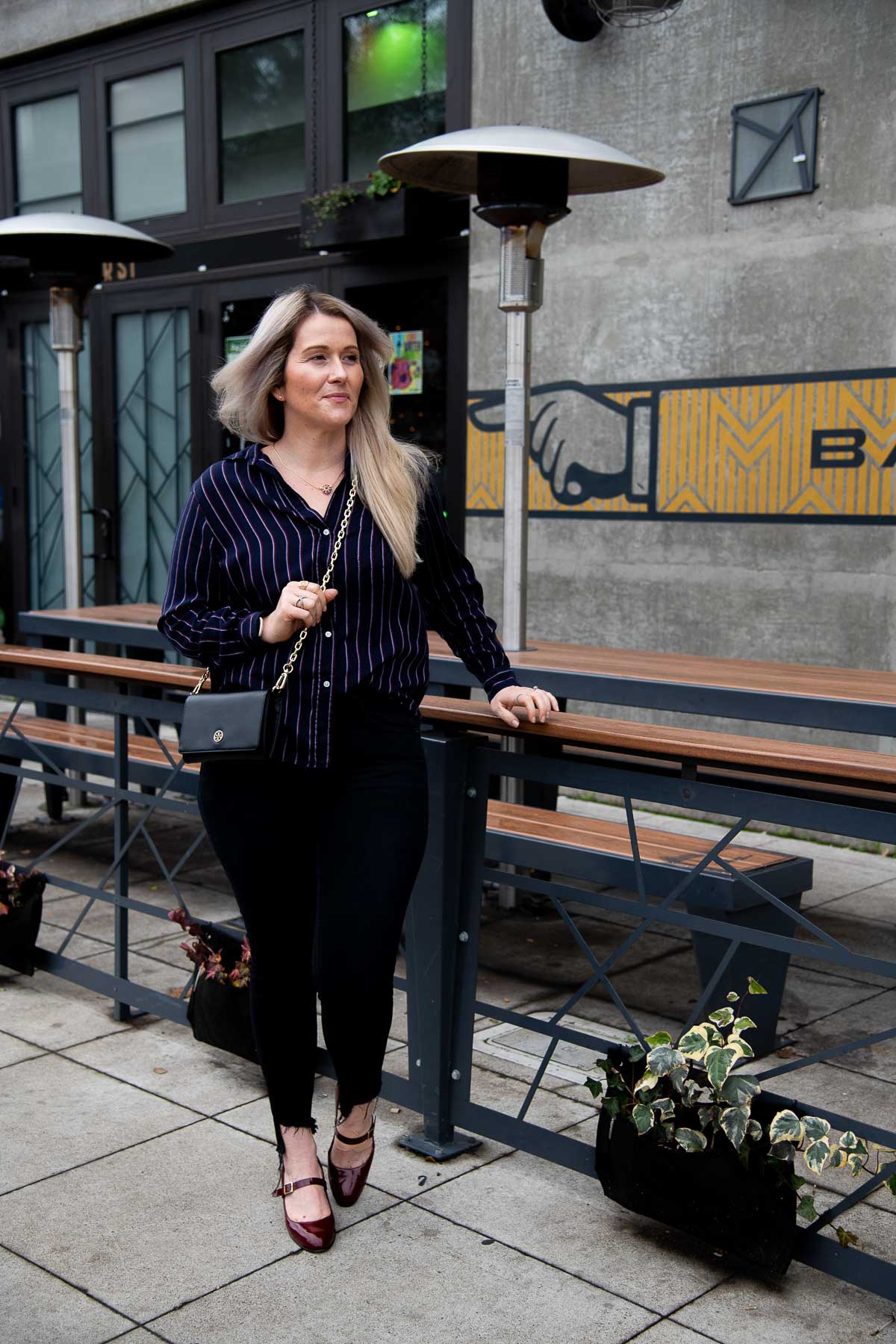 Date Night Inspiration
Looking for some more date night inspiration. See these chic date night featuring LAGOS black caviar jewelry! Or if you want to stay in your sweats, try this last minute date night at home!
Photos by Sacramento Photographer Salgu Wissmath