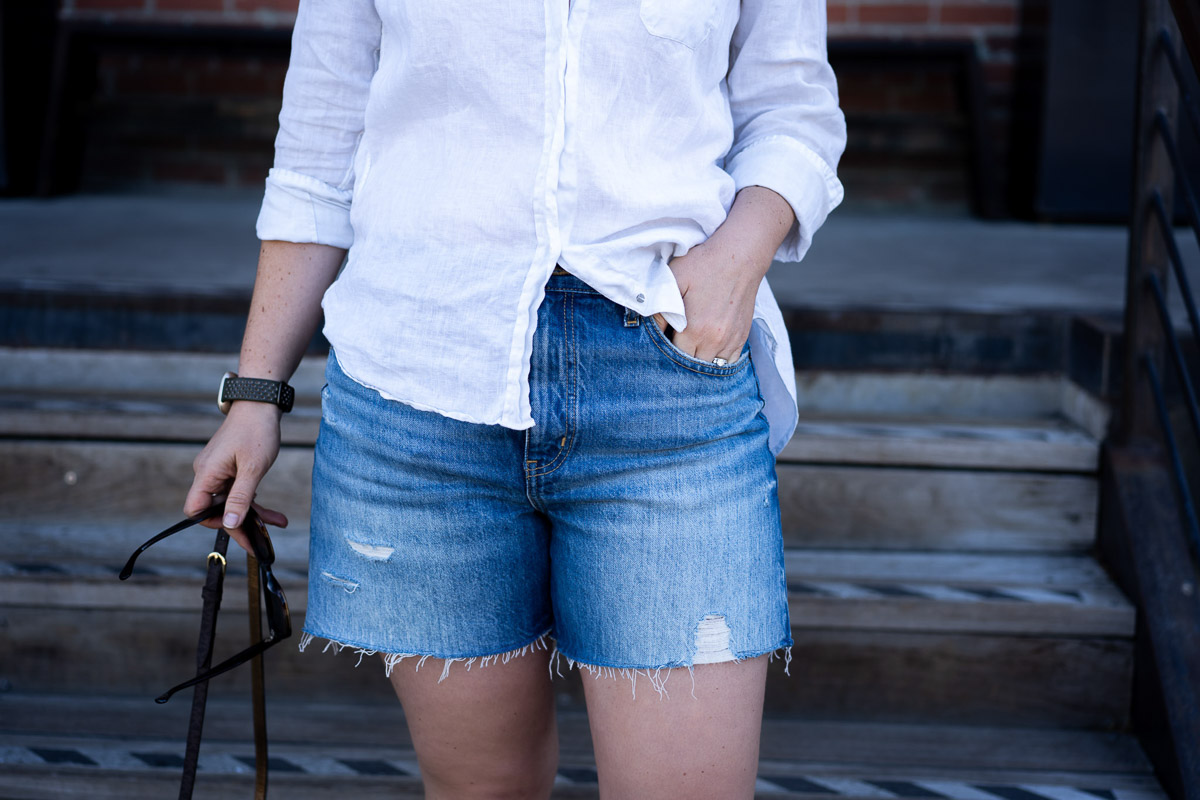 I know we've talked about this before, I'm not a shorts person. In fact, it took me YEARS to finally find these mid-length chino shorts that I love (and own in 3 colors). So when I came across these organic cotton denim shorts, I knew I had to try them out.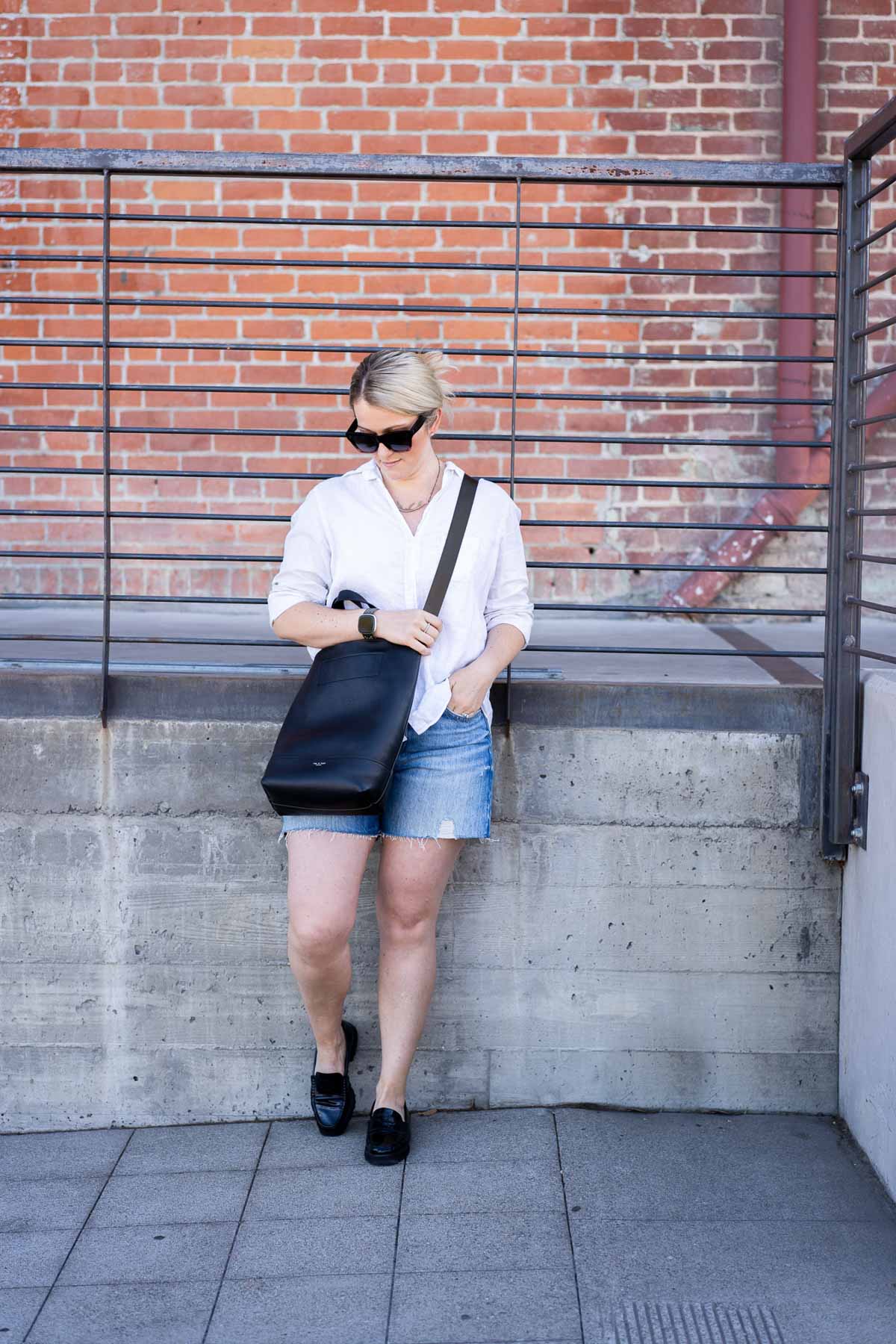 The thing was, while I'm working on my sustainable fashion shopping, it didn't even really matter to me if I could just find a pair of jean shorts I liked.
I rewear my clothes a lot! So when I buy something, regardless of how eco-friendly it is, I buy it planning to wear and love it for years and years (and hopefully more years).
But finding shorts that aren't up your behind or too long to even pretend to be stylish is for whatever reason fairly impossible.
So, with all that in mind. I spotted these shorts, browsing Nordstrom's website. I clicked on them because they look like they hit all my shorts requirements (you know, all those elusive ones).
As I was scanning the page, I saw that these shorts were made from 100% organic cotton. WHAAAAT?!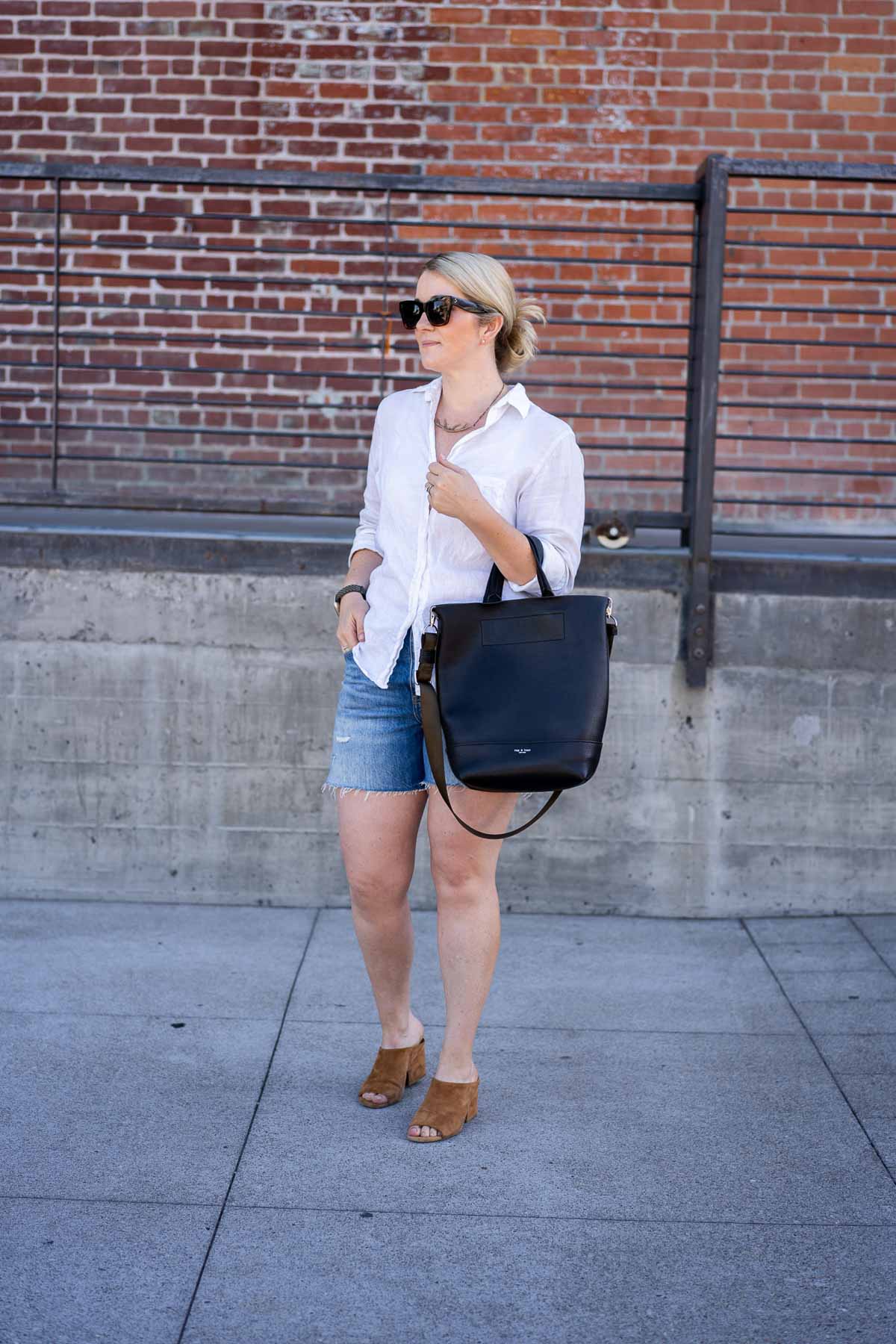 Organic Cotton Denim Shorts
The shorts looked like they were made for me and to know that they were made by a sustainable denim brand (more below), I had to order them and give them a try.
Obviously I wouldn't be sharing these organic cotton denim shorts if they weren't a perfect fit. I love how they look on me. They come up high enough, go down far enough, and fit flatteringly, so it feels stylish and chic.
This gorgeous fair trade, organic cotton dress outfit is another stylish look!
Learn more about organic cotton and why it's important when shopping for clothes (and food)!
And see all these sustainable jeans brands!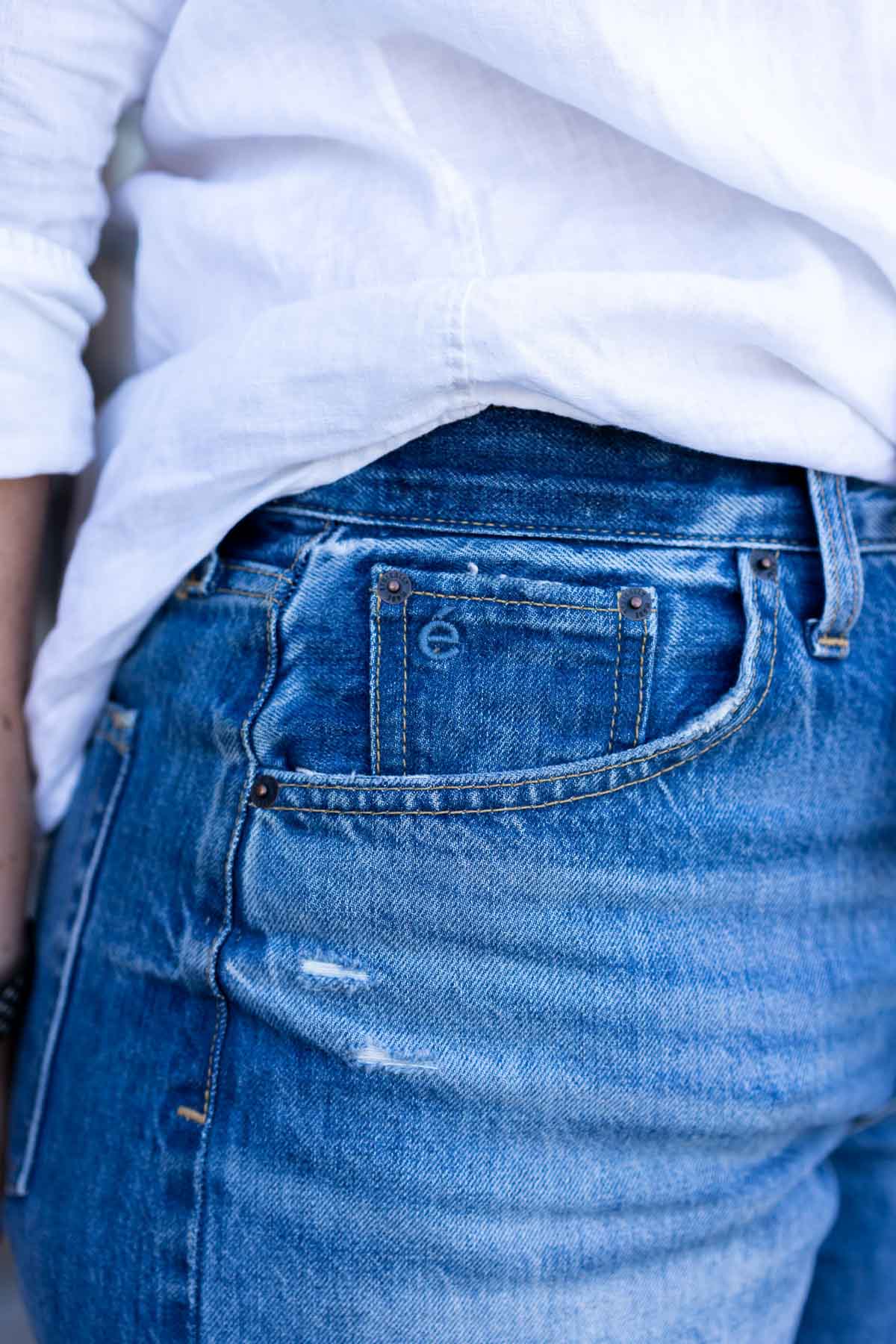 Sustainable Denim Brand: ÉTICA
The brand on these shorts is ÉTICA – one which was completely new to me before my Nordstrom searching that fateful day (see more sustainable brands to buy at Nordstrom).
I was sold at the organic cotton component (recycled plastic and organic farming are two major wins for me), but the brand offers so much more.
You can get all the details on their sustainability page, but in a nutshell, the brand is focused on fair labor, drastically reducing water use and chemical pollution in denim-making, building community near their Mexico factory as well as their office in LA. They donate to local (to them) environmental groups as well as being a part of 1% for the planet.
You can also see their denim in this black wash jeans outfit and as part of my Sustainable Fashion Collection with wearwell.
And if these shorts are any indication of the brand as a whole, THEY MAKE GREAT DENIM!
How to Stop Raw Hem From Fraying
So there was one drawback to the shorts (you know I'm nothing but honest) – they had a raw hem. You can see it in the photo just below – the shorts were cut across the bottom with no hem, already starting to fray.
While this raw hem style is very popular, I hate it. I love the natural fray look, but the fraying doesn't stop.
After sharing my woes on Instagram, more than a few followers told me to just do a basic straight stitch on a sewing machine to prevent fraying.
Thankfully I was able to use my mom's new sewing machine (and I pulled from my memory's recesses to remember how to use the machine).
If you look closely at the detail images, you'll see the single line of stitching, but it's honestly not noticeable AT ALL. And now my perfectly perfect shorts won't fray into oblivion.
If you don't have access to a sewing machine or don't know how/want to sew – any tailor could easily do this for you.
In fact, Nordstrom offers tailoring services, so if you buy from them, you could easily go into a store.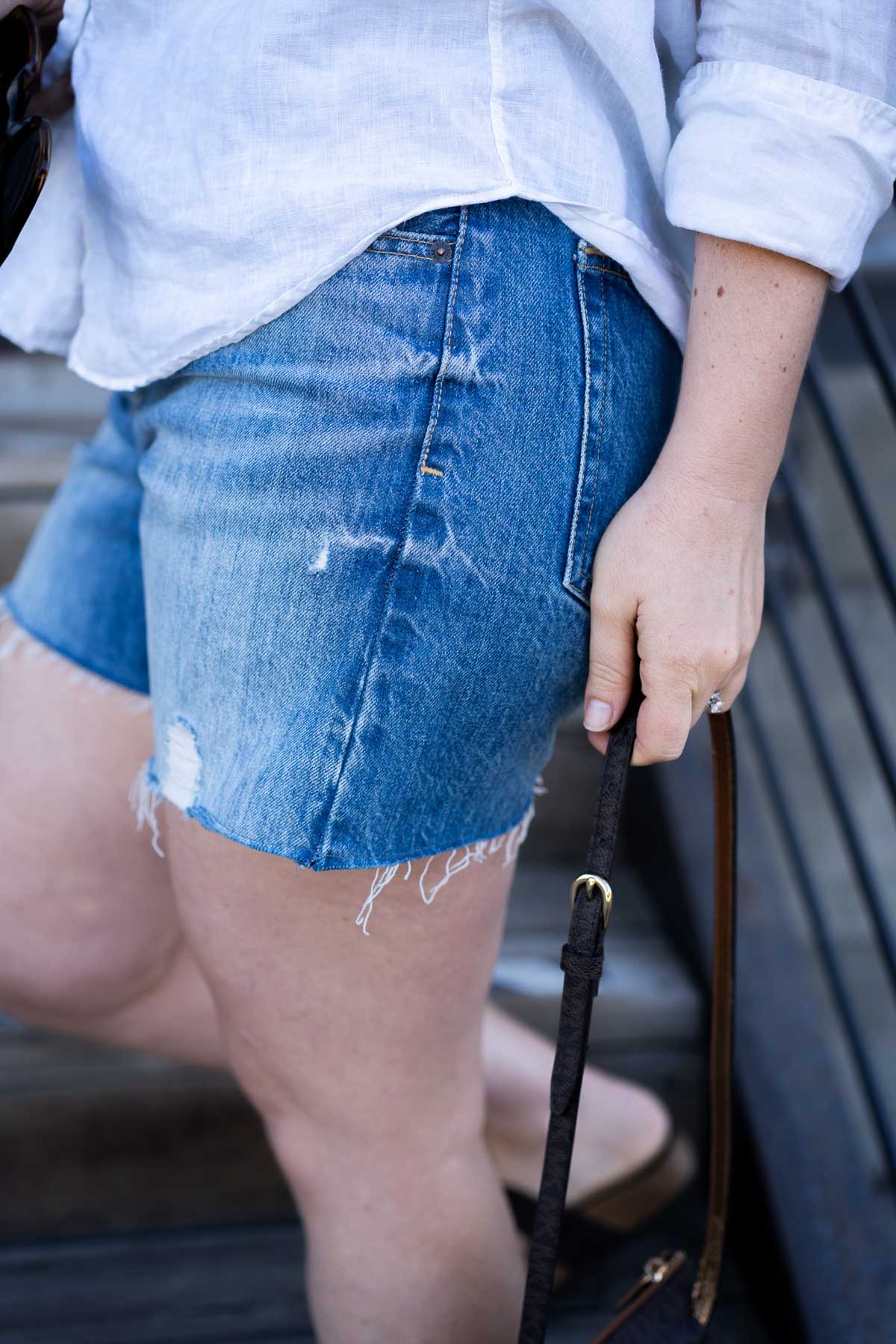 Legs for Summer
I've never been a huge fan of my legs in shorts, but I have a few tricks that make the inevitable short wearing more manageable. First is the frequent use of my body plane as well as these other sensitive skin exfoliating tips.
Finding the best safety razor certainly was a game changer as well!
See this out summer shorts outfit in my French summer style!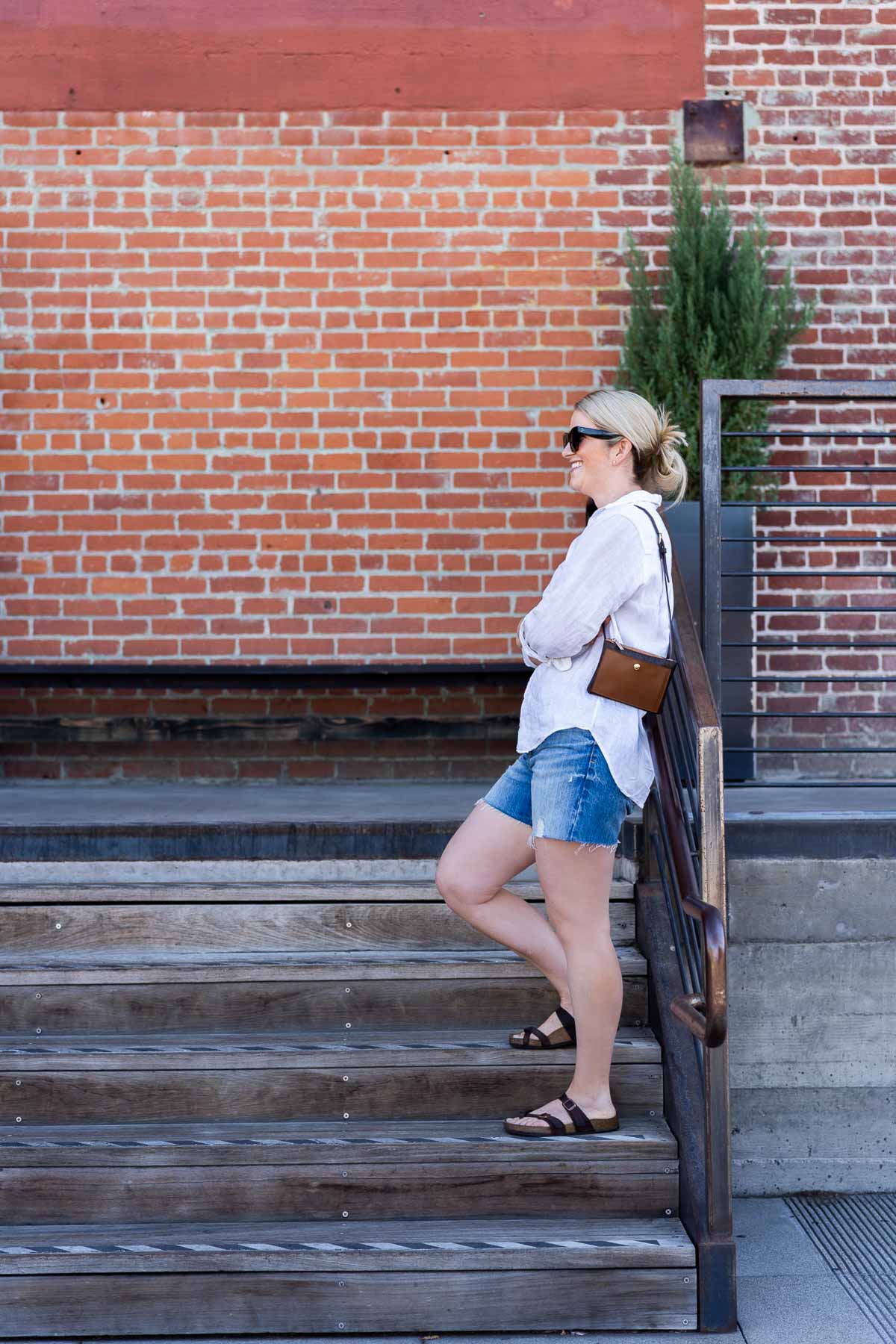 One Outfit, Three Ways
While these "outfits" all look the same, it's actually 3 outfits in one. I swapped out shoes/handbag to make a casual errands outfit into a slightly more polished work-esque outfit with my loafers and then to an evening plans look.
SHIRT: HERO BUTTON-UP
SHORTS: HIGH-WAIST SHORTS (use code lucismorsels for 20% off)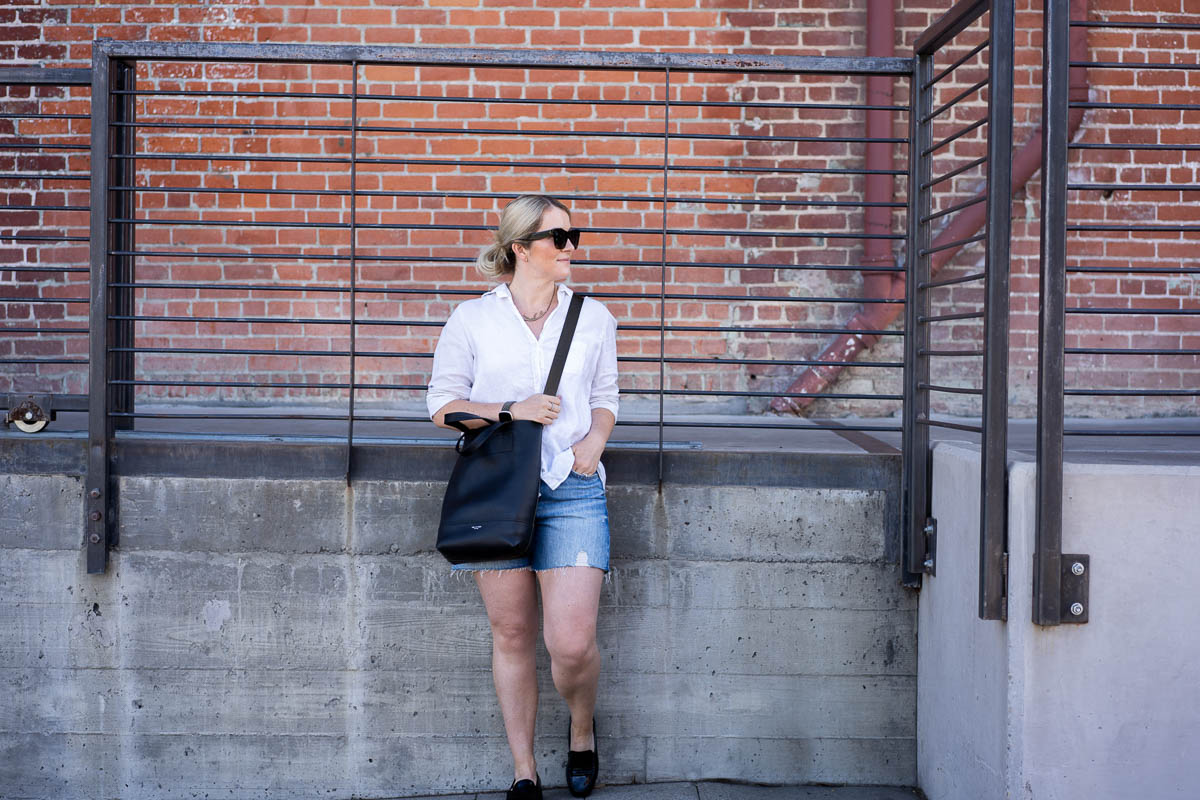 More Denim Brand Reviews & Guides
7 for all Mankind Review + Fit Guide
Current/Elliott Review + Fit Guide
KUT from the Kloth Review + Fit Guide