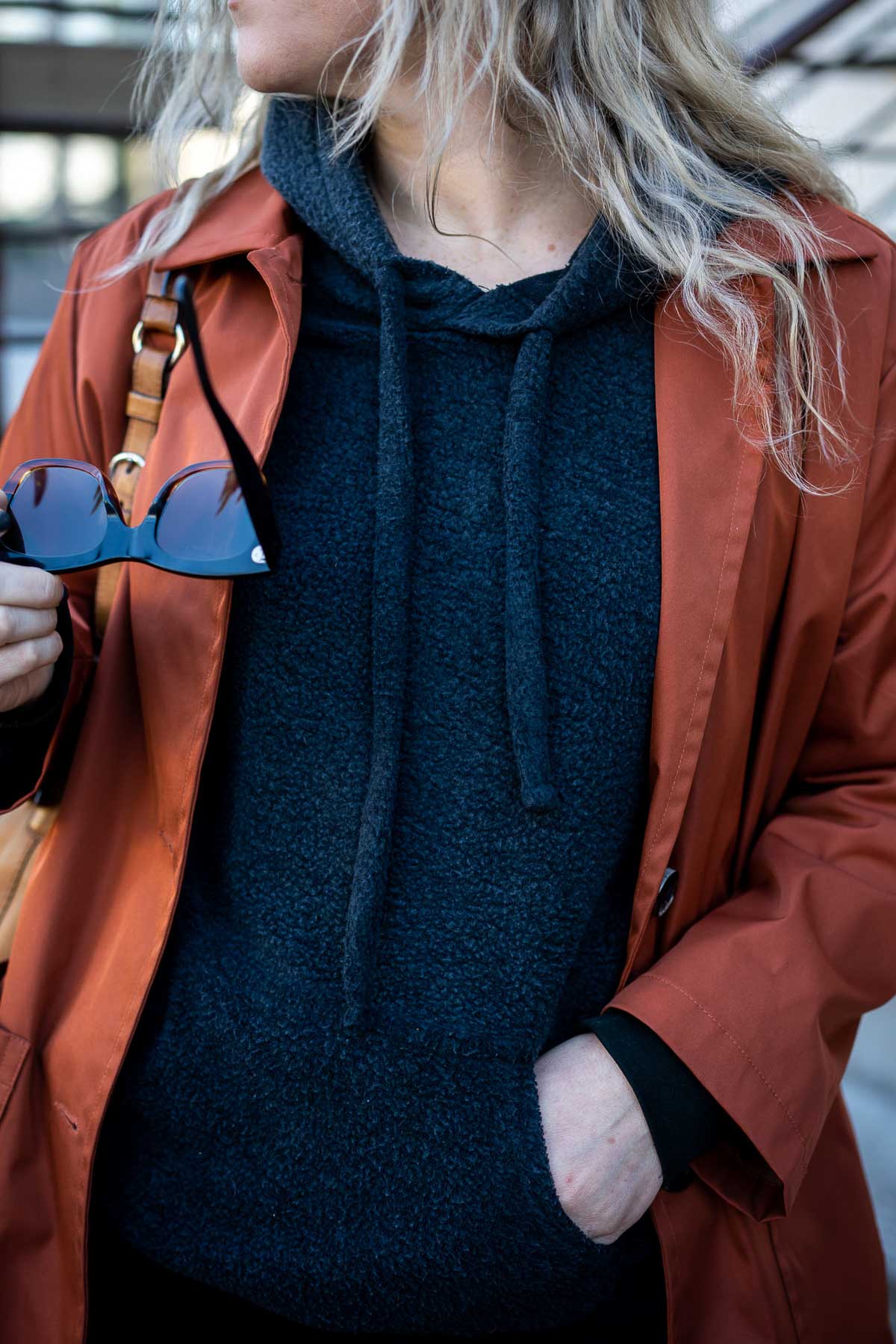 We're in the dead of winter basically. In theory it's been cold, but now is when we start to feel it emotionally and we're kind of tired of it. It's also the season when I want to look chic, but I'd like to do it in my cozier clothes. So here is the chicest way to rock a hoodie – my solution to how to dress up a sweatshirt!
I am (and always have been) one of those people that gets dressed everyday. Even though I've worked from home for well over a decade if you count the PhD program, which I do. And except for the occurrences when my workout outfit in the morning became my clothing for the day, I've gotten dressed everyday.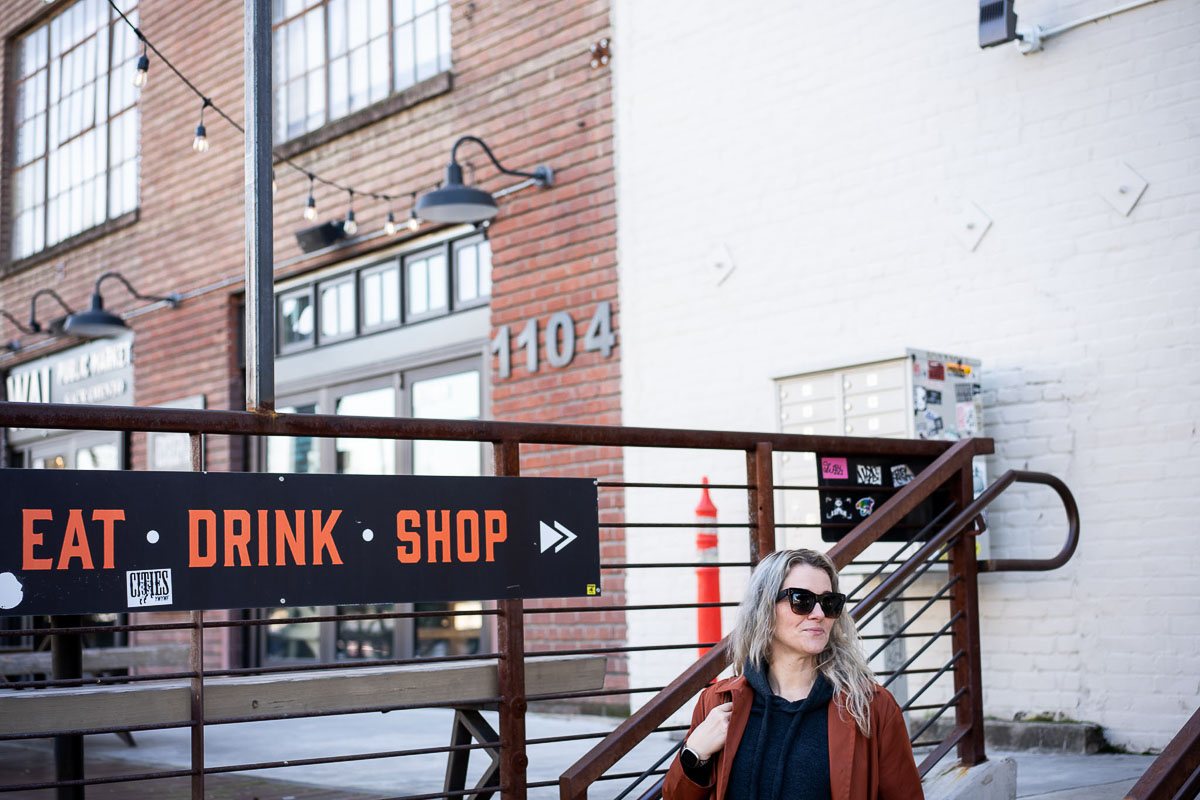 The thing is…it's isn't always fancy. I'll happily rock jeans and a hoodie or tank in the summer. I may not ever even put on shoes, but clothes were worn and my beloved pjs and I got some space!
So when that magical moment happens when you need to meet up with someone but you want to rock the cozy…it's time to get creative!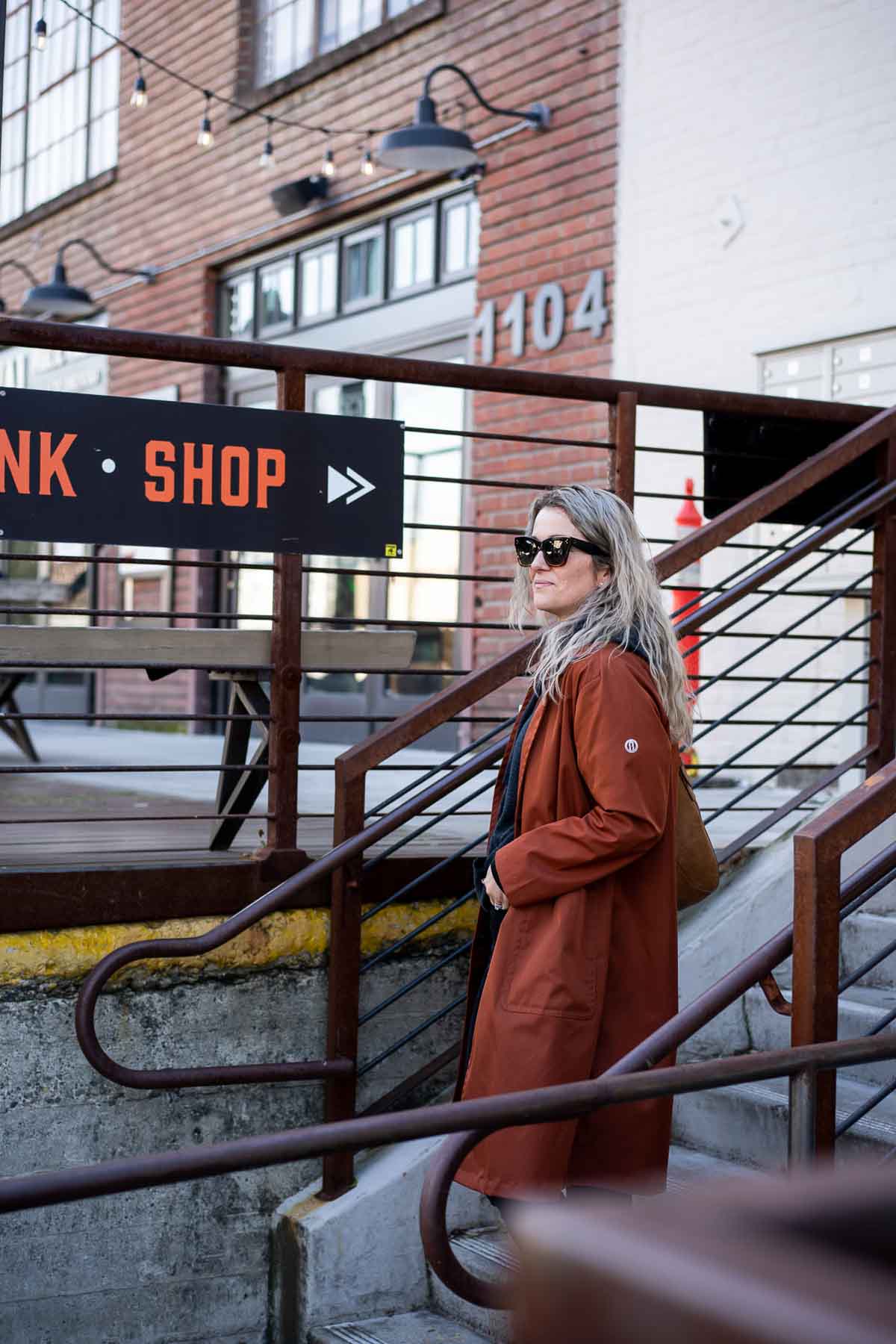 How to Dress Up a Sweatshirt
I sound like a broken record, but the key to dressing up a sweatshirt is all about the layers. When it comes to layering under sweaters (and even layering under dresses in winter), I'm usually talking about layers underneath (I do love a good collared shirt).
Even when it comes to crew neck sweatshirts, a button down is where it's at. But a hoodie sweatshirt? Well, there just isn't enough room for all that there.
So when it comes to layering with a hoodie, the layers come on the outside.
Depending on your needs, any outer layer would do. My leather moto jacket or a blazer would both look quite chic.
For this ensemble, I went even more laid back with my oversized, burnt orange barn coat. The pop of color (shocking for me, I know) quickly turns my otherwise black outfit into a bit of an eye-catching outfit.
And the fact that I can make a comfy hoodie into a versatile wardrobe essential is everything. Doing less with more is what sustainable fashion is all about!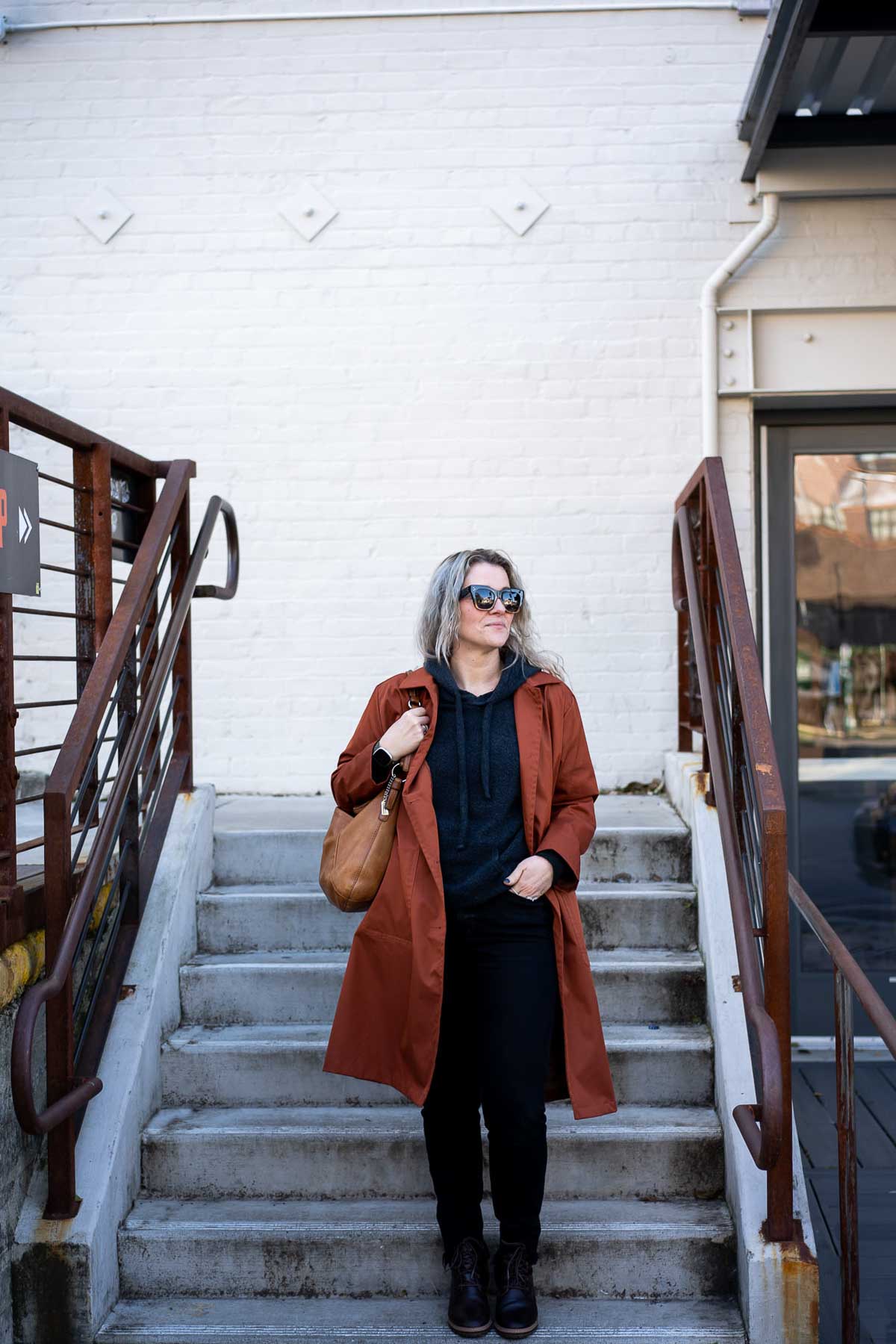 Sadly, finding barn coats in this style (let alone the color) is rather hard. This was a Nordstrom Anniversary Sale find a few years ago. This organic cotton barn jacket is similar though in a light beige. That one also has a 100% recycled polyester lining! swoon.
If you're looking for something slightly more tailored and/or shorter, try this chore jacket. If you plan to dress up a sweatshirt with it (or similar chunky layer), you may want to size up! The olive green color would be great in any of these military jacket outfits as well.
So. Basically. This was sold as a "barn coat," which can also be called a utility jacket, a barn jacket, a chore jacket, or a utility coat. Goodness, as if life wasn't complicated enough! And each of these come in various materials and it a variety of lengths. I can't keep up.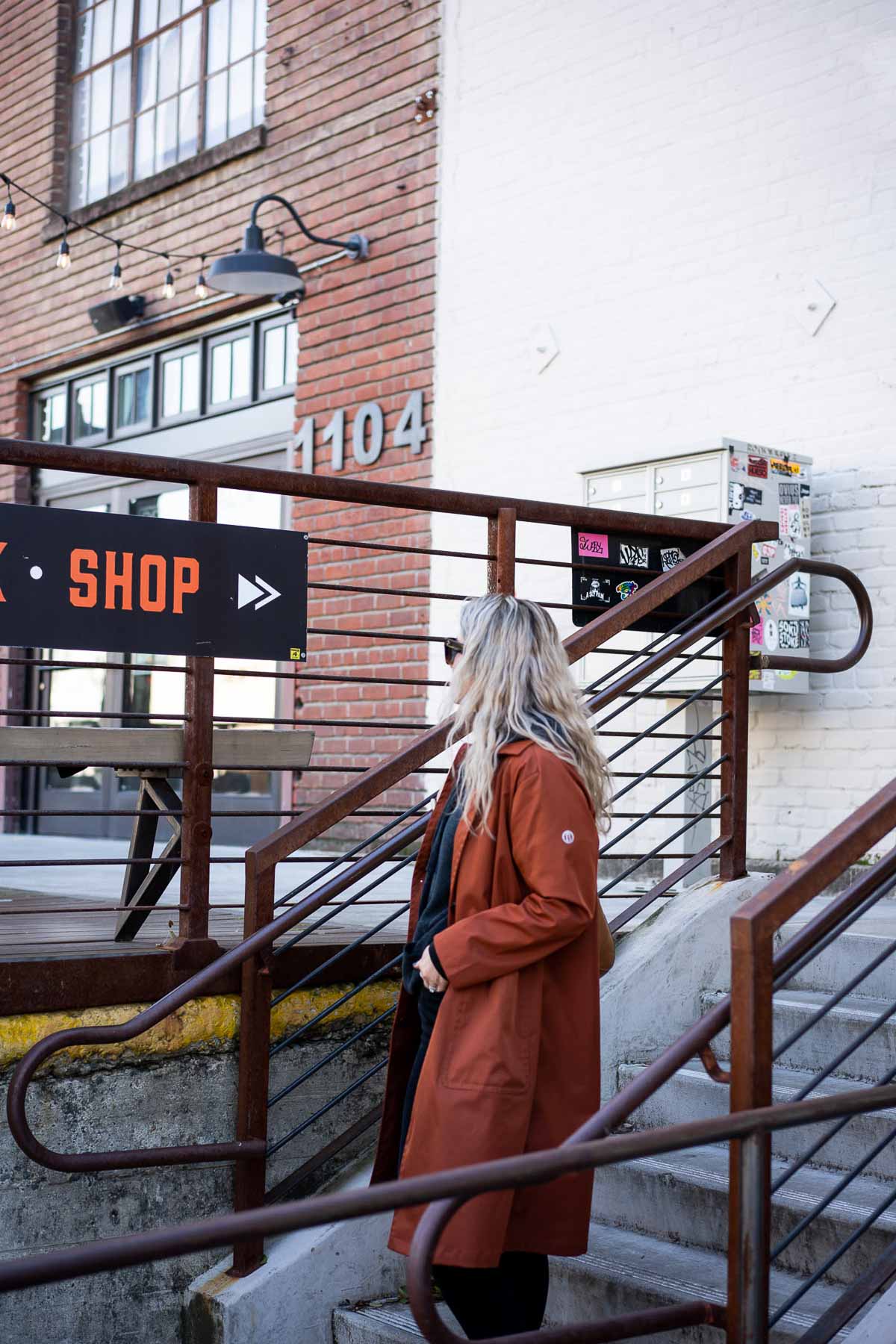 Sustainable Hoodie Sweatshirt
So. I haven't actively sought out hoodies in years. Before I knew how to dress up a hoodie, I tried to avoid them because they made my jeans-loving self just look too casual for my taste.
Last year (or maybe the year before?) a company called Soft Serve reached out to me about trying out their cloud cotton hoodie made from organic cotton and recycled plastic. Obviously I was intrigued.
The sweatshirt is designed to be like an inside-out sweatshirt, so the soft interior is actually what's on the outside! And lest you be concerned, the sweatshirt (also available in zip up) comes in 13 colors. We just know I live in black!
Anyway. It's sustainable and it's cozy! What more could you want in life?!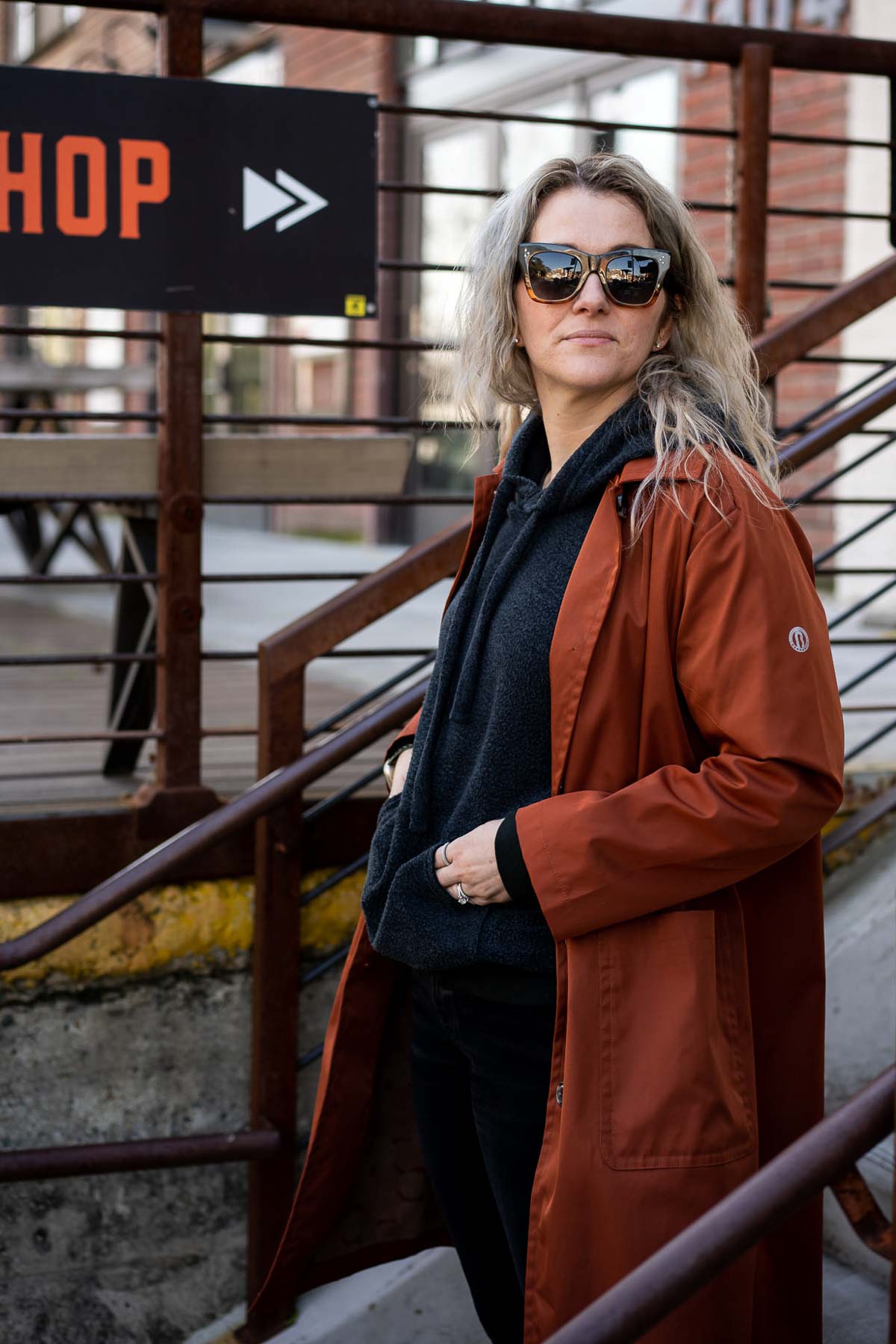 Everyday Black Jeans
I have been LIVING in these sustainable black jeans since I got them in the fall. You can see my black wash jeans outfit – clearly ideal for casual and dressing up.
They're too made of organic cotton and recycled elastane. They're from my new favorite site wearwell that only sells from companies focused on doing better for the planet and people! And this brand is also the same brand as my beloved organic cotton denim shorts.
So here's the thing. I've been wearing these black wash jeans at least 3x per week (honestly more, but I don't want you to judge me). They're wonderfully comfortable. They allow me to easily get down on the floor and back up again (it's the life of a toddler mom) without losing any shape.
They're terribly flattering but just so, so comfortable!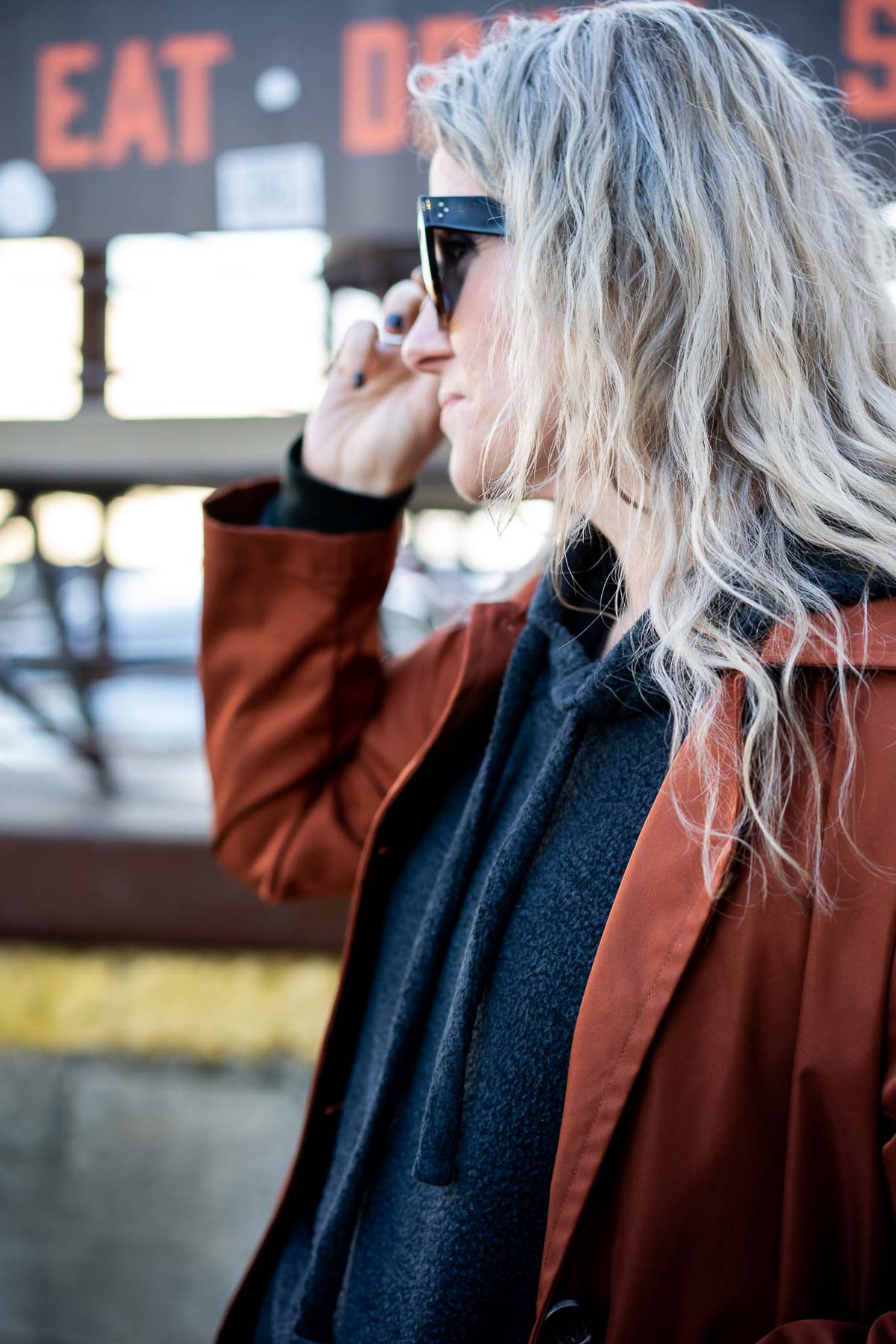 Soft wavy/curl hair products
Not related to how to dress up a sweatshirt…my hair. I discovered Innersense Organic (B Corp!!!) hair products in the last few years. They're clean hair products and they're FABULOUS!
I'm slowly trying a number of their products in all my various hairstyles. I use their purple shampoo (for blonde hair) and I can't find enough ways to use their hair oil – perfectly lightweight, leaving me with gorgeous hair and just a slight scent that I actually want more of – unheard of with me, the queen of unscented.
Anyway, I finally found a great way to do my natural wavy hair without getting crunchy hair from gel and hairspray. It's their quiet calm curl control. I spray on the leave-in conditioner spray lightly), rub some of that fab hair oil through my locks, then just a nickel-sized dab of the curl control, scrunching my hair.
The waves are the same as always, but my hair is soft and easy to rake my hands through!