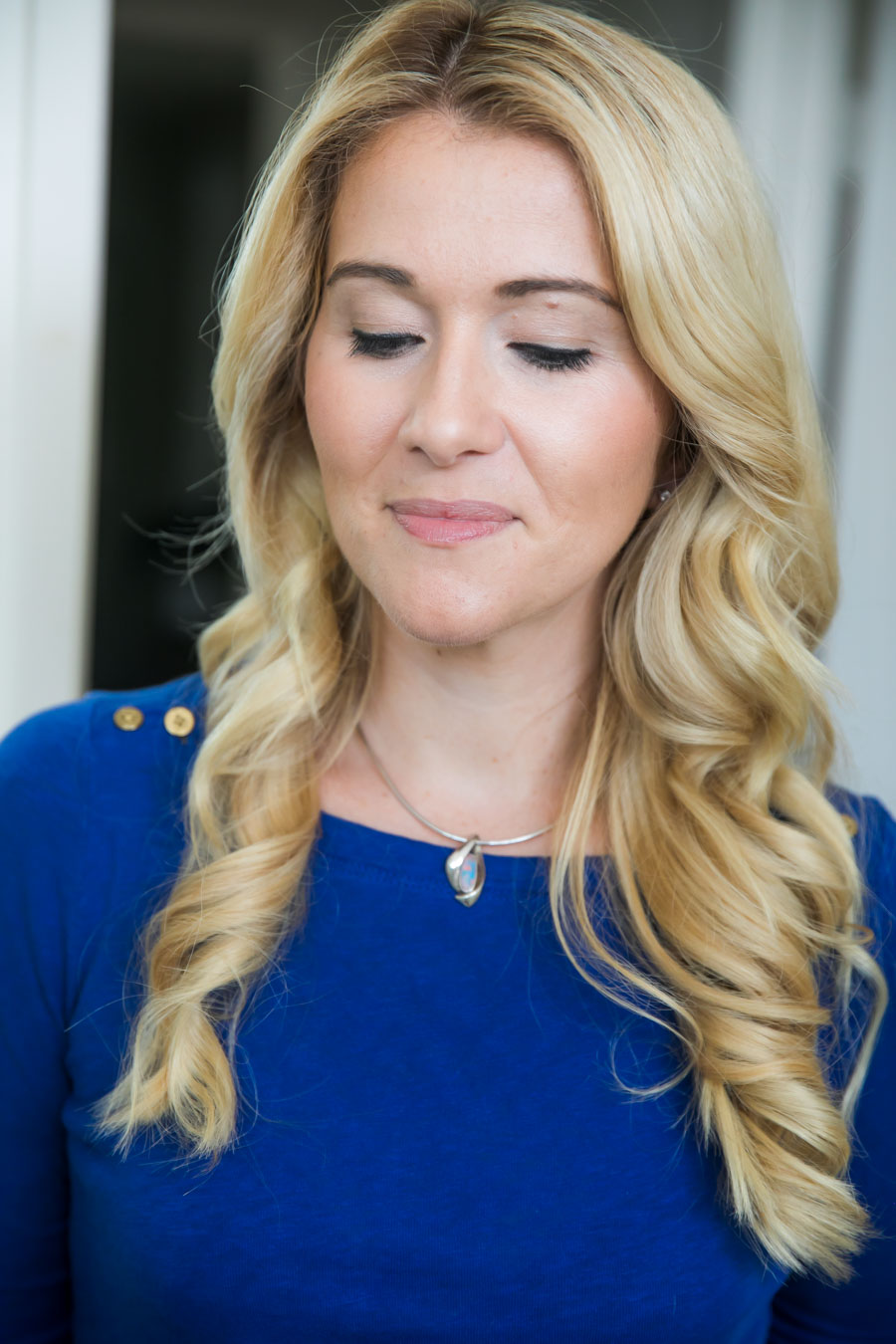 You've been asking for more beauty posts this year and it has taken me forever to get my act together. But, finally, I have a beauty post with a helpful step by step eye makeup tutorial, showing you how to brighten under your eyes.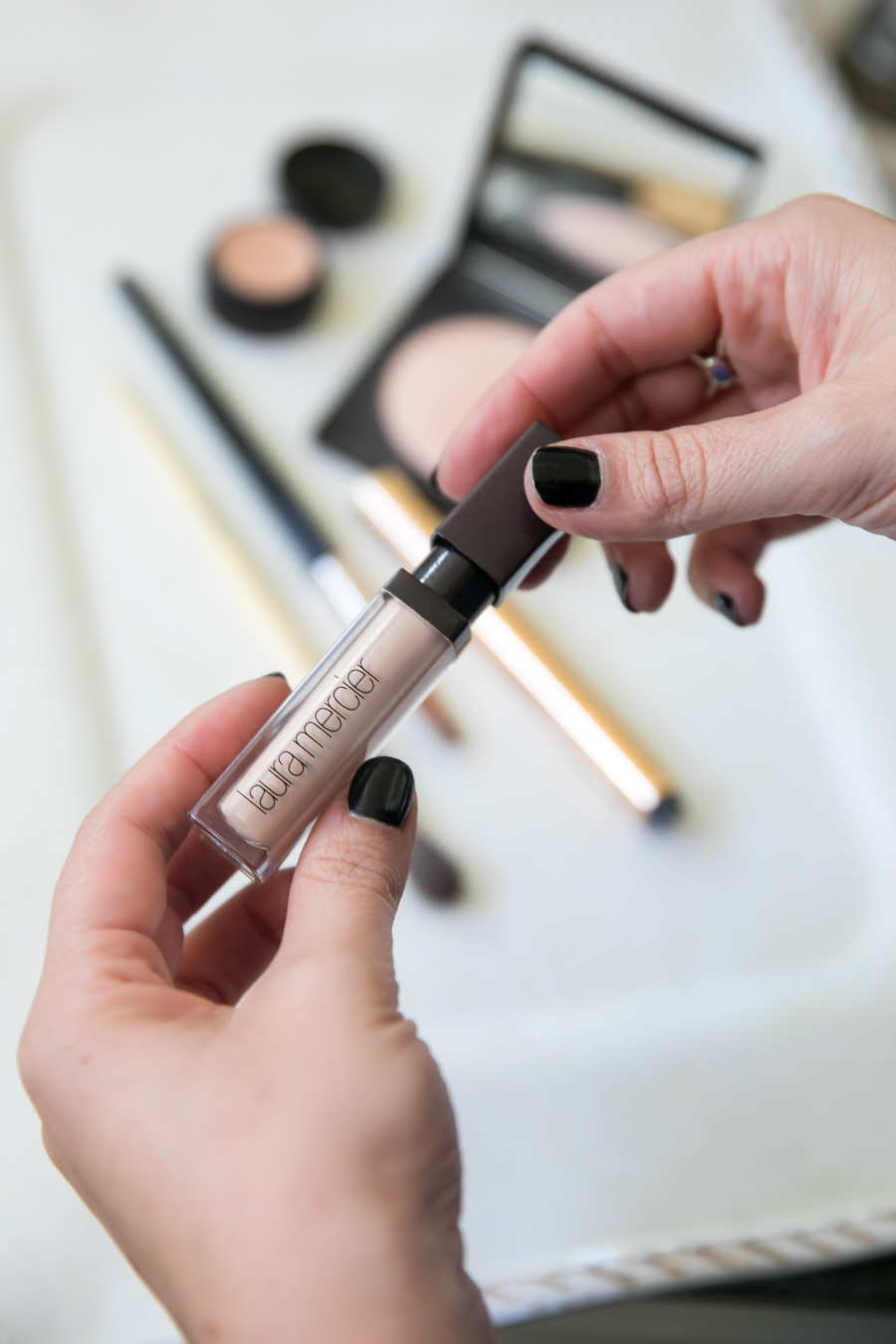 I've been slowly adding products and modifying my eye makeup routine. I usually don't wear eye shadow and leave it to the basics of mascara, eyeliner, and doing my eyebrows. Part of wearing such simple eye makeup, however, is making sure your eyes are bright, leaving you looking fresh and awake!
When I do wear eye makeup beyond mascara, I like to follow something like this easy eyeshadow look for green eyes!
I have a few products in my arsenal that I use almost on the daily to brighten under my eyes. I've now figured out how to use each of them together to get a bright-eyed, fresh look without any complicated steps. So here's my step by step eye makeup tutorial for brightening your eyes…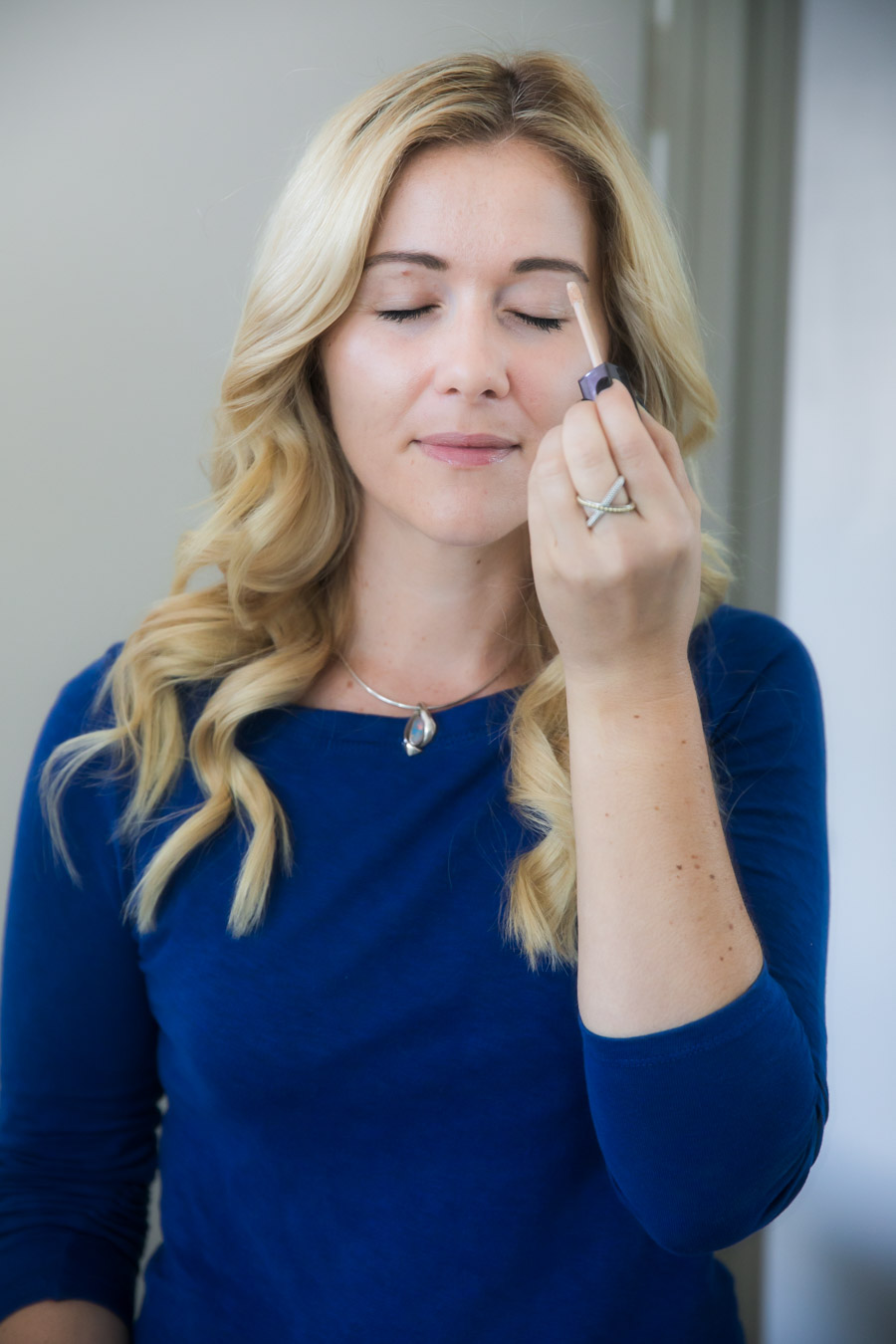 how to Brighten Under Eyes
After applying my primer, tinted moisturizer or foundation, and concealer to my face, I swipe bit of this Laura Mercier Eye Basics on my lids. It acts as a primer or base for any eye makeup.
The reason I started using it, however, was to prevent any creasing from other eye brightening makeup. I use the applicator to apply a small line on each eyelid and then use my fourth fingers to dab it all over my lid. It will look like nothing when it's rubbed in. They do have a blue color to help with bold makeup colors or dark eyes if needed.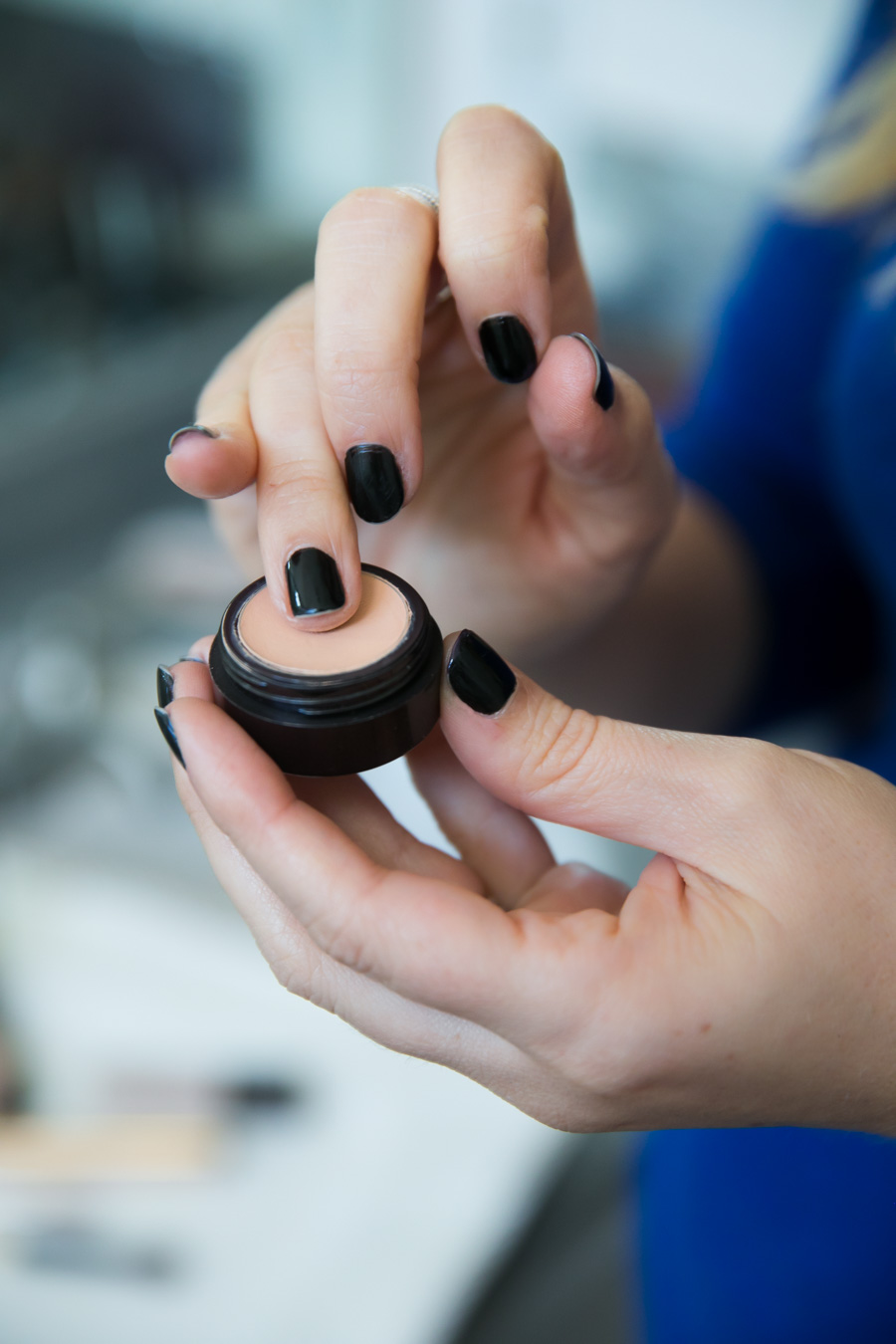 under eye concealer
Under eye concealer is a must. After this step, I add shimmer to reflect light and brighten, but if your skin is darker than bright white, you'll need a base.
Since I'm a huge Laura Mercier fan, I use her secret concealer in 'flax.' Again, use your fourth finger to gently dab onto your inner eye and under your eye out to the edge. (if you're into clean beauty, see my clean makeup routine for what I use now)!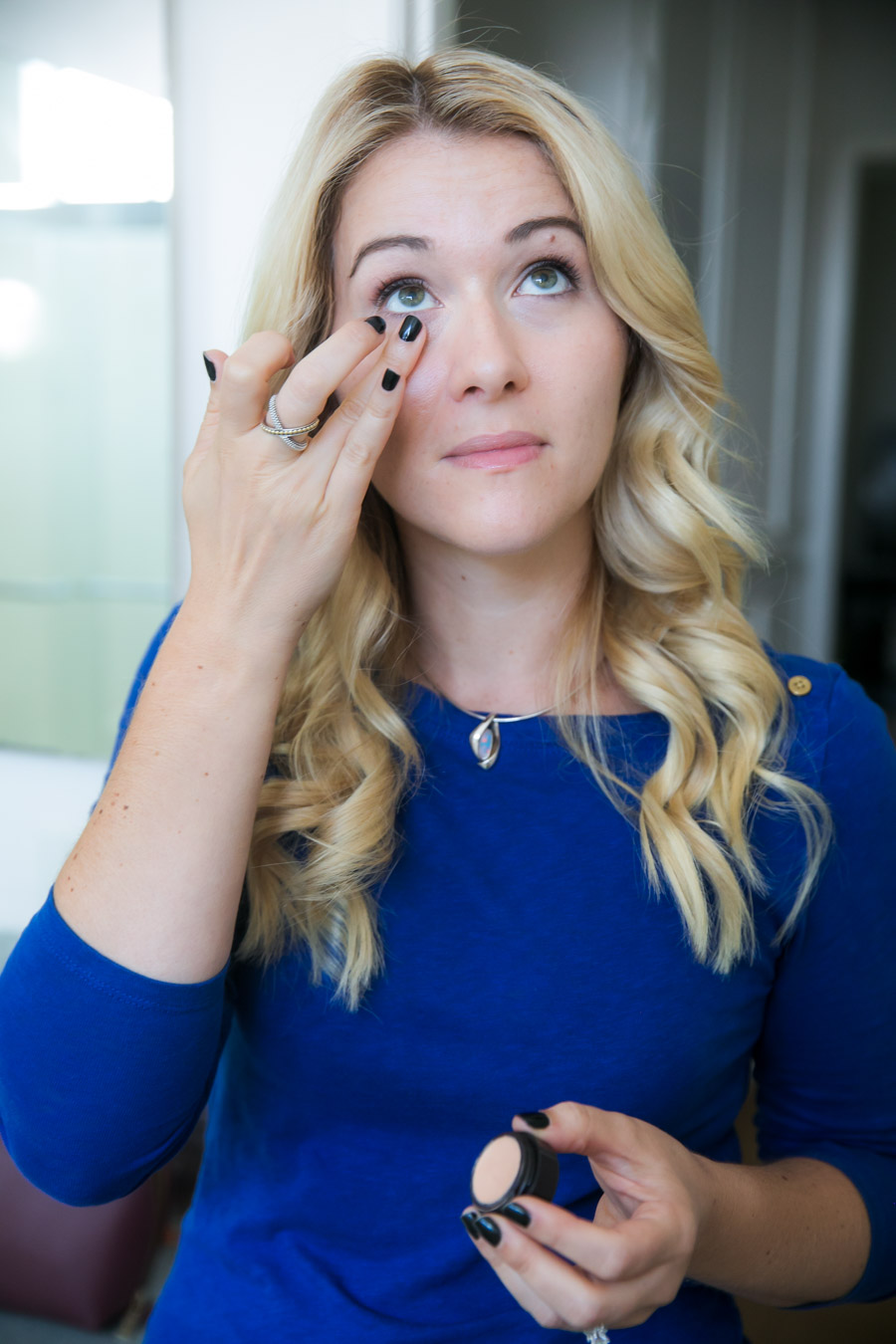 Why should you use your fourth finger to apply eye makeup?
Your fingers are actually quite strong and the skin around your eyes is delicate. If you use your fourth finger, you limit the pressure you're applying to such a sensitive area!
how to make tired eyes look awake – Brighten Under Eyes
The secret to making tired eyes look awake is to limit shadows and contrasts in color. By using a good under eye concealer, you mute color differentiation while lightening – the perfect setup for the brighteners…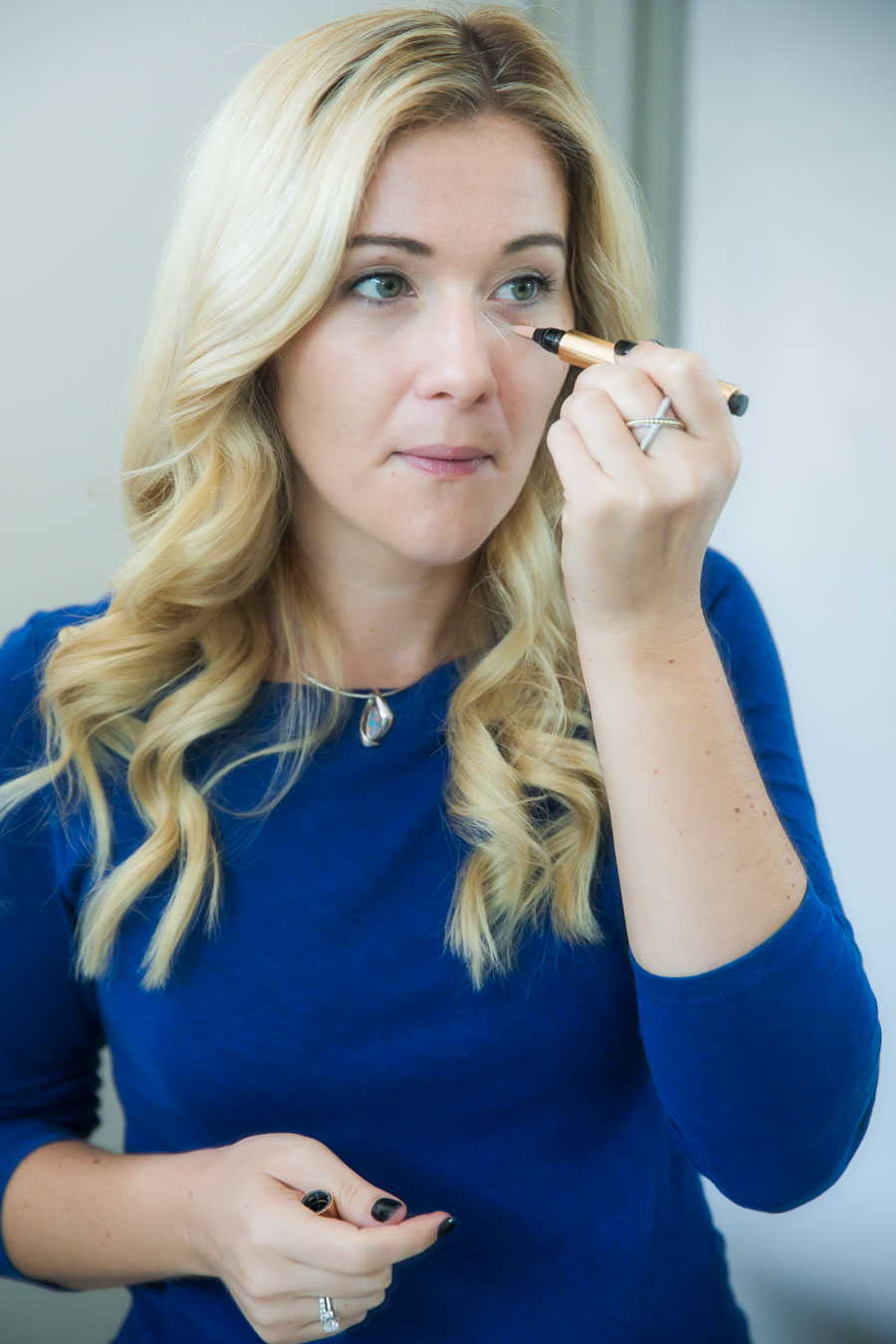 Best Under Eye Brightener
I'd heard about this YSL Touche Éclat Radiance Perfecting Pen. Considering it's such a mouthful, it better be amazing, right? Anyway, I knew about the hype, but it wasn't a main concern of mine for a while.
When I went looking for some help brightening my eyes, even the artist at the Laura Mercier counter pushed for the YSL pen. She said the YSL pen had the best coverage, which I'm all for.
When I first bought it (I use #1), I didn't really see a difference. I felt like I was going to go through the tube before long and it wasn't worth the money. I watched some YouTube videos on how to apply it (go me, right?!)…
If I have piece of advice, it's not to watch videos for this pen. One artist put it under his eyes and eyebrows, around his nose, over his lips, and on just about every part of his face except his eyelid and lips. I'm not sure what was going on.
So, as usual, I eased myself into the product, figuring out what worked for me as I went. I eventually fell in love with the best under eye brightener…
I store my YSL pen in a cup with my eyeliners – tip down to help the product be close to the brush. When using, click once and wait a second for the product to come into the brush.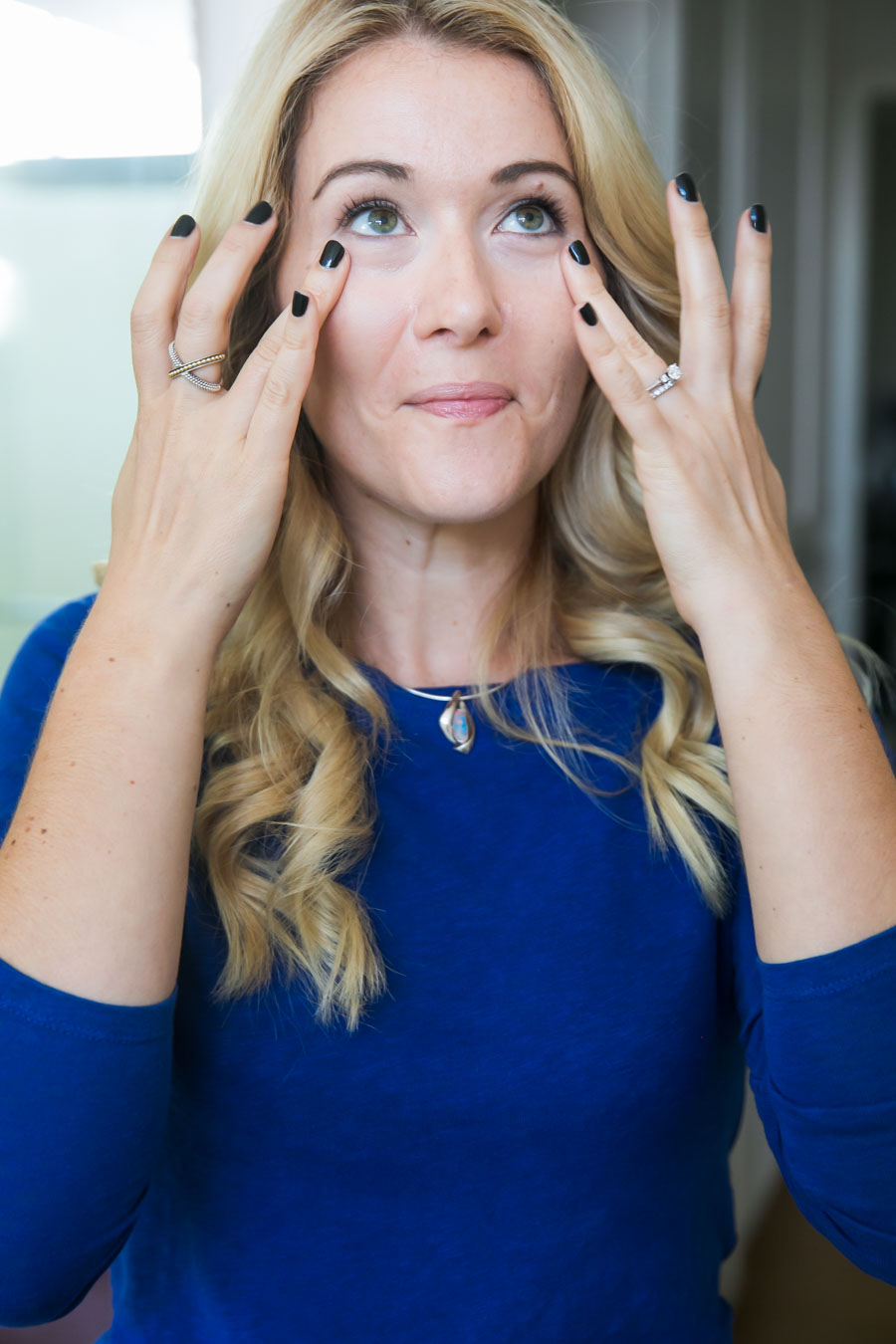 How to Apply Touche Éclat
Beginning at your inner eye, gently swipe beneath your eye to your cheek bone. Fill in up to your eye with remaining product on the applicator brush. As you do this, you'll create a kind of a triangle from your inner to your outer eye, down to the top of your cheekbone, and back to your inner eye.
Gently dab (with your ring finger of course) to get the product into your skin. If it's just a normal day, I use one click for both eyes. If I really want coverage, I do one click of the pen per eye. And not to worry about running out of the product quickly, I'm still using my first pen. I ordered a replacement over a month ago and have yet to open it up.
Side note: I do occasionally put some extra product around my nose (see it in the photos below) if I'm a bit red in that area. But this isn't my normal routine.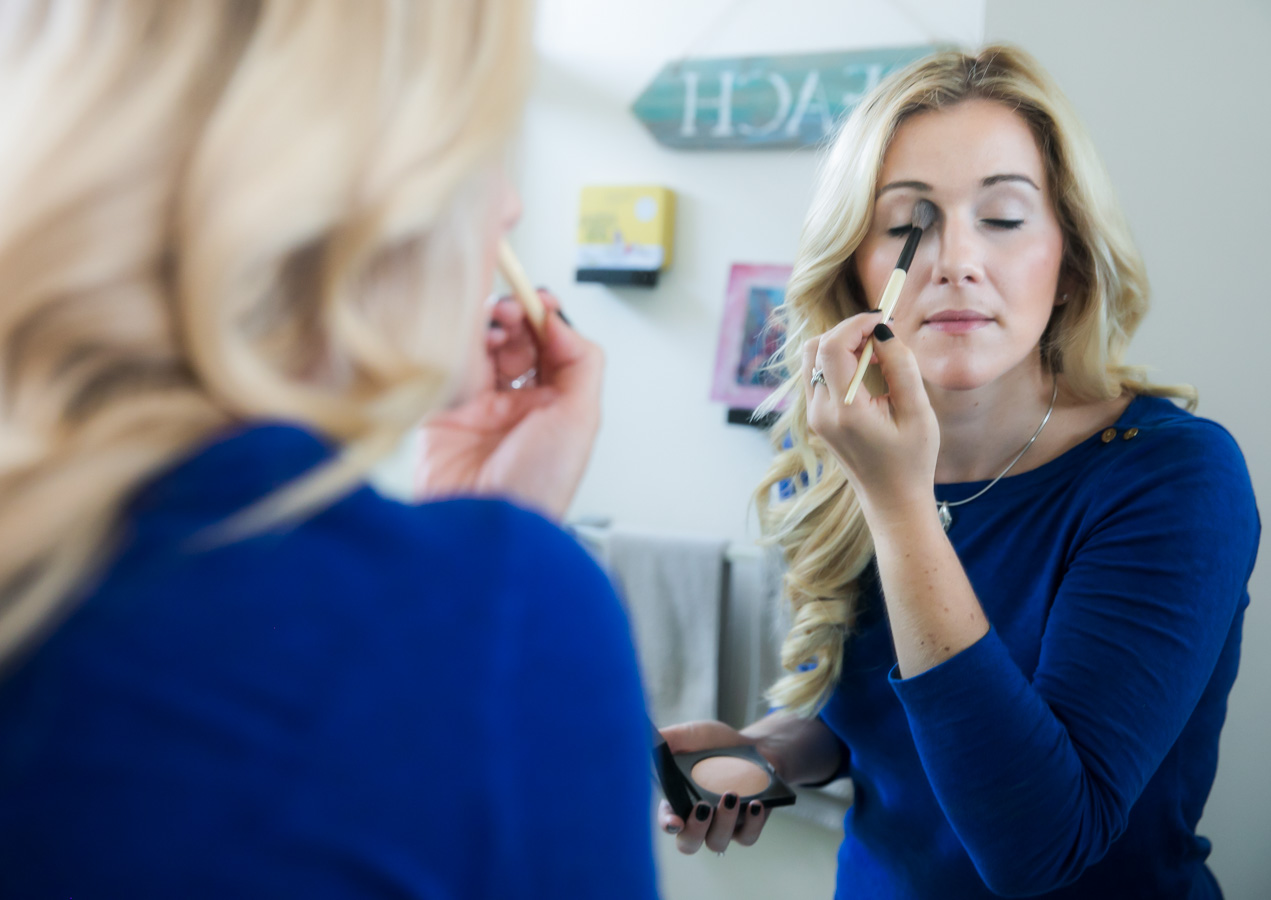 best highlighter powder
After the radiance pen, apply your bronzer, blush, and remaining eye makeup as usual. After that, reach for Laura Mercier's highlighter powder.
Besides blending into my cheeks, nose, and chin, I use the highlighter under my eyebrows and on my inner eye for one last pop of shimmer and reflection. Doing your eyebrows is important for getting your eyes set up and they frame your face, giving you definition. My eyebrows have a mind of their own and I have no desire to work too hard on them, so my routine is simple and straightforward.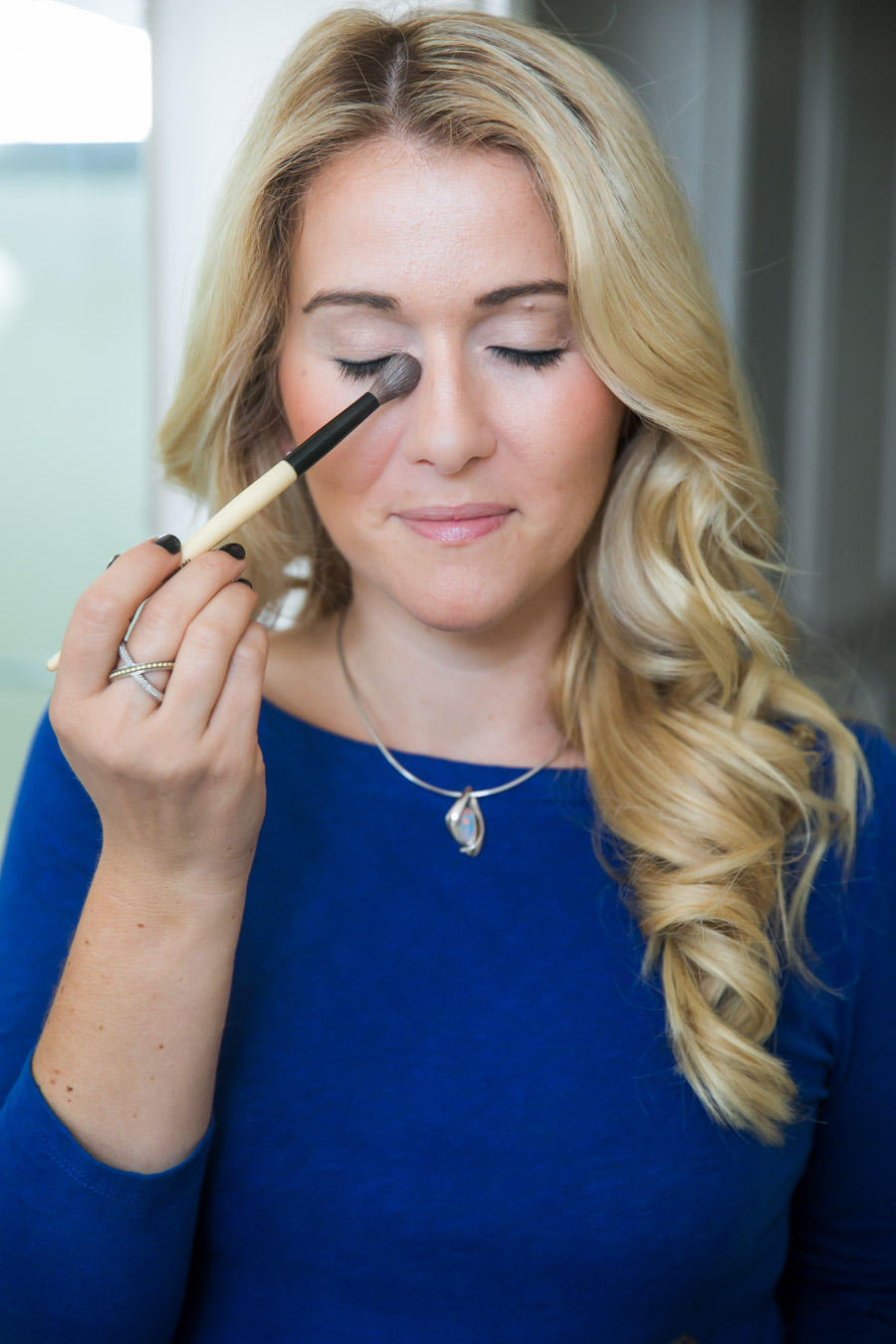 I add just a little more definition by swiping the highlighter powder just under my brow arch with this camouflage powder brush. Then I use my handy blender brush (the same one I use for applying it everywhere else) to apply some to my inner eye.
Then (with my fourth finger), I smooth it into my under eye. This is the best highlighter powder and is the perfect finish for my bright under eyes!
Then finish off your whole look with setting powder for a long-lasting look.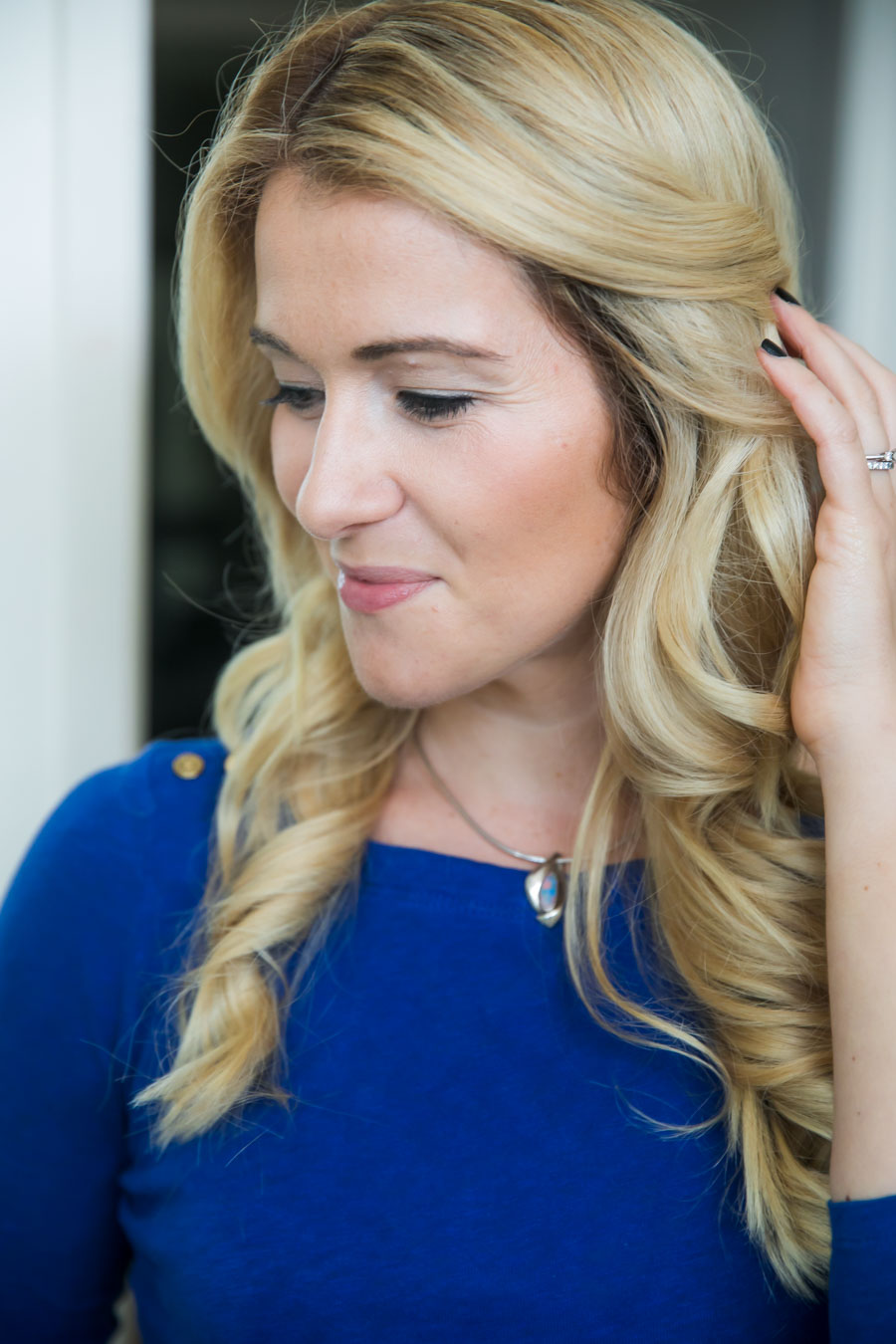 And when it's time to take off your makeup, check out my go to foolproof cleansing oil – clean and great at removing eye makeup without irritation!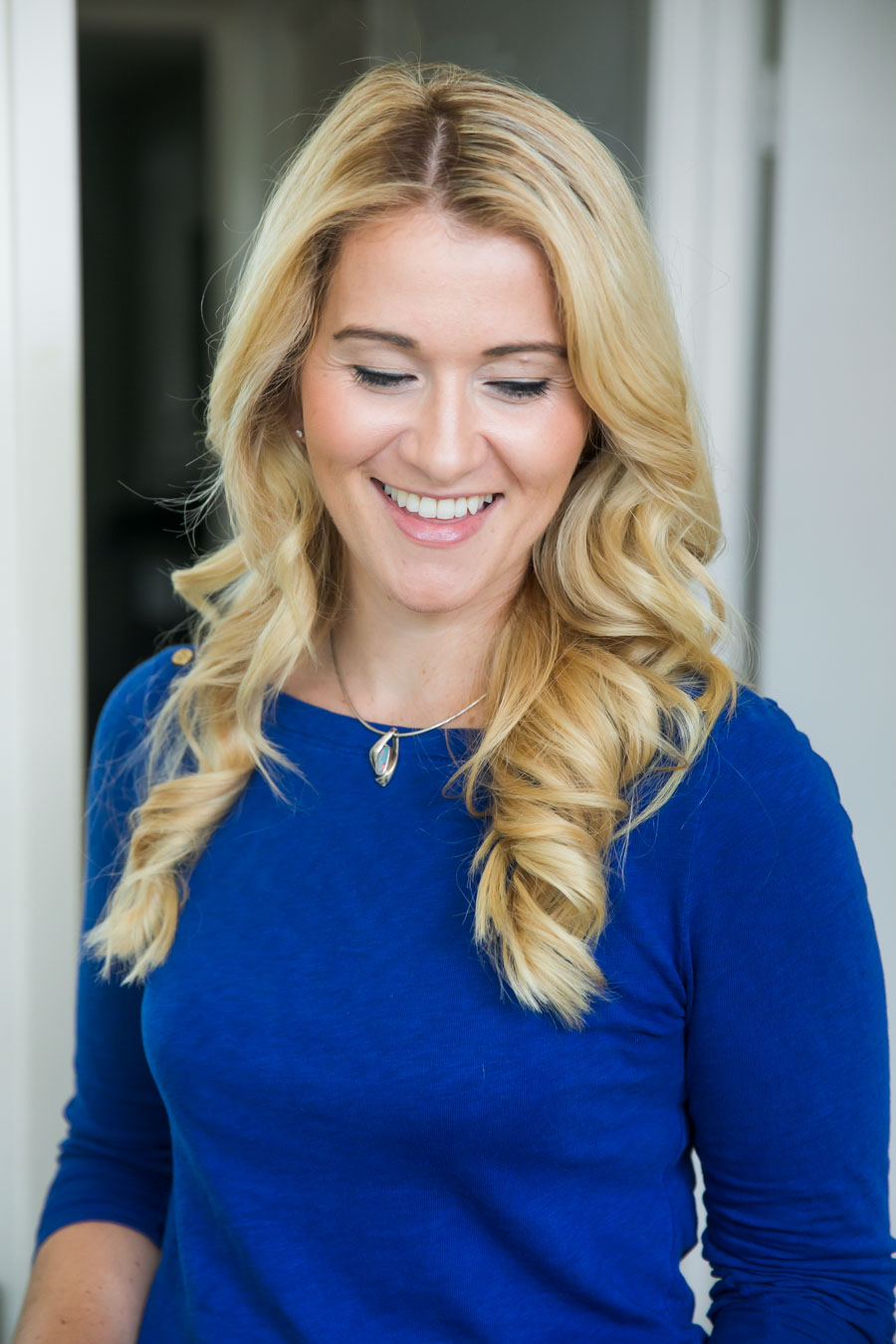 If you're transitioning to a clean beauty routine, I always recommend delving into clean beauty one thing at a time and start where you want!
Since clean beauty is an important part of sustainable living (what we wash down the drain matters as much as what we put on our skin), be sure to check out these other clean beauty roundups:
Clean Beauty Brands at Nordstrom
Clean Beauty at Sephora
Clean Beauty at Target
Clean Beauty at Walmart
Clean Beauty at ULTA
Common questions include do shampoo bars really work and how do you use them? What natural deodorant actually works? And how to clean your makeup brushes (on the cheap and easy)!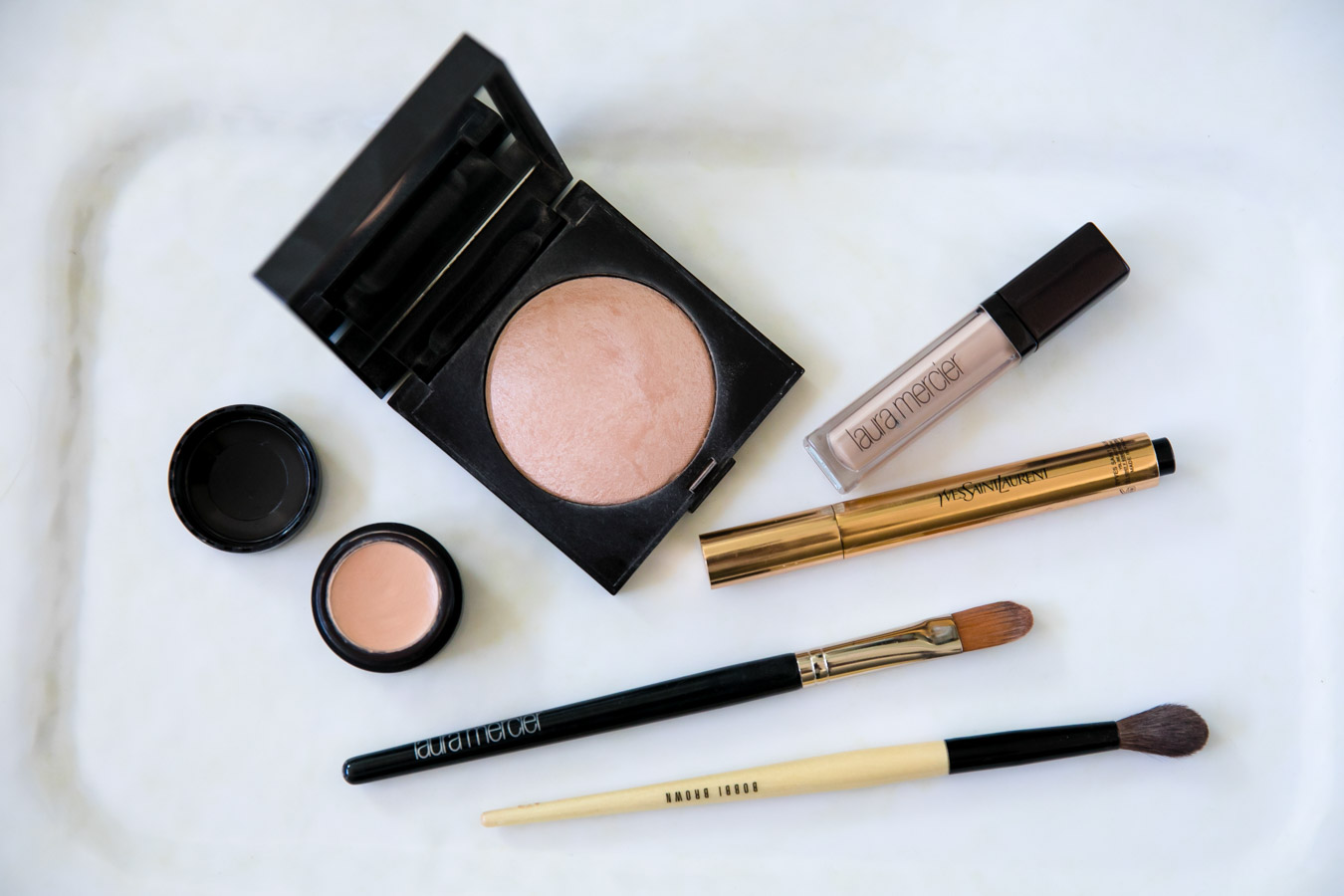 Get everything for your Brighten Under Eyes Makeup Needs. . .

{photography by Karen Ard}