About two years ago, I bought my first setting powder. I'd used what I thought was a setting spray for a while (I now don't think it was), so the notion of a setting powder was somewhat novel to me, but I quickly fell in love. Now that I've tried all three finishing powders, it's time for this Laura Mercier setting powder review.
I used the Laura Mercier Translucent Setting Powder through the summer when I bought it and fell in love with how it kept my makeup fairly in place even in humid destinations and hot days outside.
I say mostly because I have a tendency to wipe my face when I'm hot and nothing in the world can keep makeup on my face when my hands are to blame.
Since then, I've also tried their Invisible Setting Powder and Secret Brightening Under Eye Powder. I liked one and not the other, so I thought I'd update my initial Laura Mercier setting powder review to include all three of their setting powder products…
Laura Mercier Setting Powder Review
Laura Mercier Translucent Loose Setting Powder Review
The first selling point about the setting powder is that it actually helps blend your makeup.
Sometimes my makeup application of bronzer, blush, and my beloved highlighting powder is like magic and it all blends together seamlessly. Most of the time, however, I get a little heavy-handed on one side or just quit before it's truly all blended together. What can I say?
Applying the setting powder initially looks as though it mutes your makeup, but it settles in pretty quickly to be fairly sheer. The end result is a more evenly applied face of makeup.
For that reason alone, I'm now dependent on this powder setting powder for giving me long-lasting makeup. It comes in a travel size too, which I love. That mini size is also good for testing out the product – there's plenty to know if you love it!
About a year ago I was talking to a Laura Mercier makeup artist at Nordstrom and she told me she uses this powder even if she doesn't have much or any makeup on to help smooth her skin, so you can bet I've been doing that too!
How to Apply Setting Powder
To apply the setting powder, I use a kabuki brush (one with a bit of a handle) like this one. After you've done all your makeup…
With the lid closed, turn the pot of powder upside down – no force needed. Gently tap your brush into the powder on the lid. Shake the brush gently to remove excess, then apply the powder to your face in a rolling motion. I start on my chin. Then I do my cheeks, nose, and forehead.
You can use a velour puff as well. Tap the puff in the powder on the lid and gently roll it onto your skin. This application technique provides a more muted and heavier look than I like for my skin, but it certainly is an effective way to apply the finishing powder.
Laura Mercier Invisible Loose Setting Powder Review
With such great success with the translucent setting powder, I was certainly intrigued by their other option – their "invisible" loose setting powder.
So many people RAVED about it, I finally tried it. The selling point of this setting powder is that it settles into the skin, minimizes wrinkles, and gives a reflective look.
The downside to that reflective look is that it isn't good for evening when you'll be under harsh lighting nor is it good for any sort of flash photography. This powder is MUCH finer and is definitely white. I bought it anyway, figuring that most of my life was daytime and away from harsh lights, but… I HATED IT!
I've heard that this powder is great for those with larger pores, which means it would be better for oily/acne prone skin. Though I suffer from adult acne (read what was the cause of my acne here), my skin isn't generally oily.
The powder feels very talcy – a feeling that lasts ALL DAY – and it seems to make me more pale, muting any color I've added. Not helpful! While the translucent powder can mute color a bit, this one makes me look a bit ghostly for the whole day.
It's that talcy feeling, however, that really drives me crazy! And interestingly enough, this product doesn't contain talc powder, so I'm not sure what it is.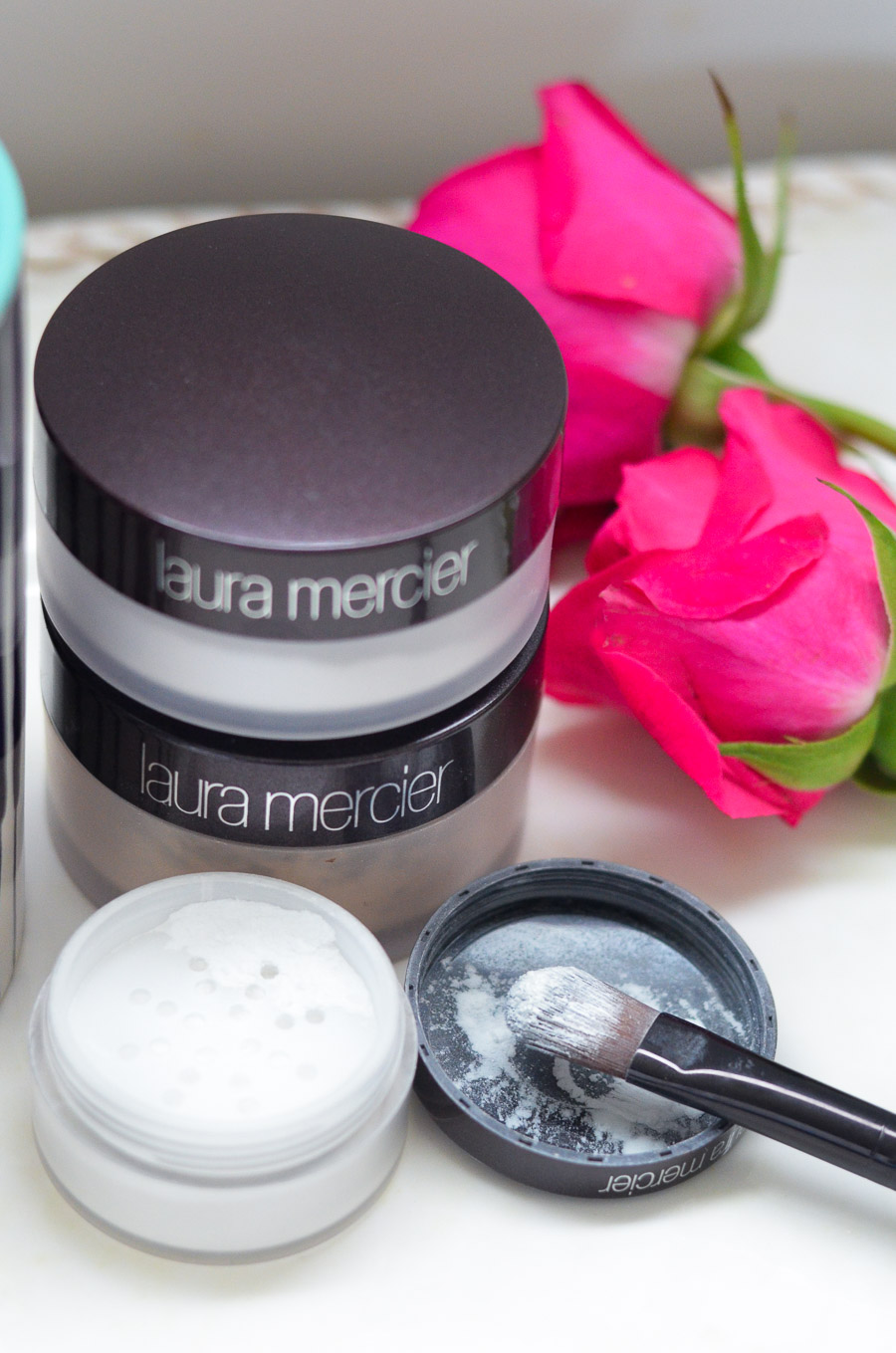 Laura Mercier Secret Brightening Under Eye Powder Review
Ok. Last but certainly not least is this secret brightening under eye powder review.
I bought this under eye powder at the same time I bought the invisible setting powder. The textures of the two powders are very similar, BUT I don't touch my eyes all that much, so it doesn't bother me at all.
This brightening powder does just that, brighten my eye area, and helps to minimize any wrinkles as well. It's super simple to apply and I may NEVER run out of the product!
How to apply under eye setting powder
This under eye powder is the very last step in my makeup application routine. I use this camouflage brush to apply it gently under my eyes, starting at my inner eye and swiping around my lower eye.
If loose powder makes you nervous, they sell a pressed setting powder that is supposed to work just as well. The loose powder will just last a lot longer.
Shop this Laura Mercier Setting Powder Review. . .

If you're transitioning to a clean beauty routine, I always recommend delving into clean beauty one thing at a time and start where you want!
Since clean beauty is an important part of sustainable living (what we wash down the drain matters as much as what we put on our skin), be sure to check out these other clean beauty roundups:
Clean Beauty Brands at Nordstrom
Clean Beauty at Sephora
Clean Beauty at Target
Clean Beauty at Walmart
Clean Beauty at ULTA
Common questions include do shampoo bars really work and how do you use them? What natural deodorant actually works? And how to clean your makeup brushes (on the cheap and easy)!