If you want to buy better this holiday season (or year round), but also truly appreciate the ease of shopping online and in store at your favorite retailers, let's talk about B Corp Gift Ideas for Sustainable gift giving.
Here's the thing, a HUGE portion of living sustainably regales shopping small and shopping locally. And while I am a huge proponent of doing that, I also understand that it isn't always within our means NOR are all big companies bad.
In fact, a number of big, bigger, and HUGE companies doing good is surprising when you learn more. But am I going to do all that research? Nope!
There are a few third party platforms out there that do the hard work for you. One of my favorites (possibly my favorite of all) is B Corp! you can read all about what a B Corp is!
B Corp Gifts
If you aren't familiar with B Corp and what that means, you are absolutely not alone. Very few people in my world know what it is.
Have you ever seen a Capital B in a circle on a product or at the bottom of an email? If not, or you aren't sure, see it here.
What is a BCorp?
B Corp stands for Benefit Corporation. It is a scale to measure the social and environmental impact of for profit companies!
Each company is scored in 4 categories – governance, workers, community, and environment. In order to become a certified B Corp, a company has to get a minimum score of 80. You can easily see how it's broken down with Eileen Fisher (a favorite B Corp of mine).
Most for profit companies score roughly a 50, so this is a significant step above that. And some companies score drastically higher than the 80 minimum.
Seventh Generation has a score of 114.5. Uncommon Goods is up to 126.2. Patagonia is 151.4.
Hear of some of these brands? Yep! Really big brands are doing great things with their business model. Now becoming a B Corp doesn't mean a company is doing perfectly in all of these categories, but they're at least doing fabulous work in one sector if not more than one!
Ok. Enough talk. So, here's the thing. A lot of these brands and stores are easy to find and well known to you. You can easily support good companies without really having to change your routine this holiday season!
Gift ideas
So first let's go over some familiar brands that you can easily gift this holiday season!
BOMBAS
I love my Bombas socks. Actually, my whole family loves BOMBAS socks – my husband, my son, and myself. The socks are so incredibly well made and they come in a great variety of styles, colors, and themes.
Their one-purchased-one-donated business model is what gets them in B Corp status. For every pair of socks purchased, they donate a pair of socks to a shelter in need. You can even select a local shelter near you!
They also sell undergarments and just launched a line of tshirts!
KLEAN KANTEEN
I've known of Klean Kanteen for YEARS. Did I own one until recently? No. Did I know they're basically from my hometown? Also no. And did I know they were a B Corp doing fabulousness in the world? Obviously not.
The biggest factor for Klean Kanteen is their products' effect on the environment – eliminating single-use items. They also score well in how they treat for their workers and their community involvement.
Target does sell a big variety of their products as well.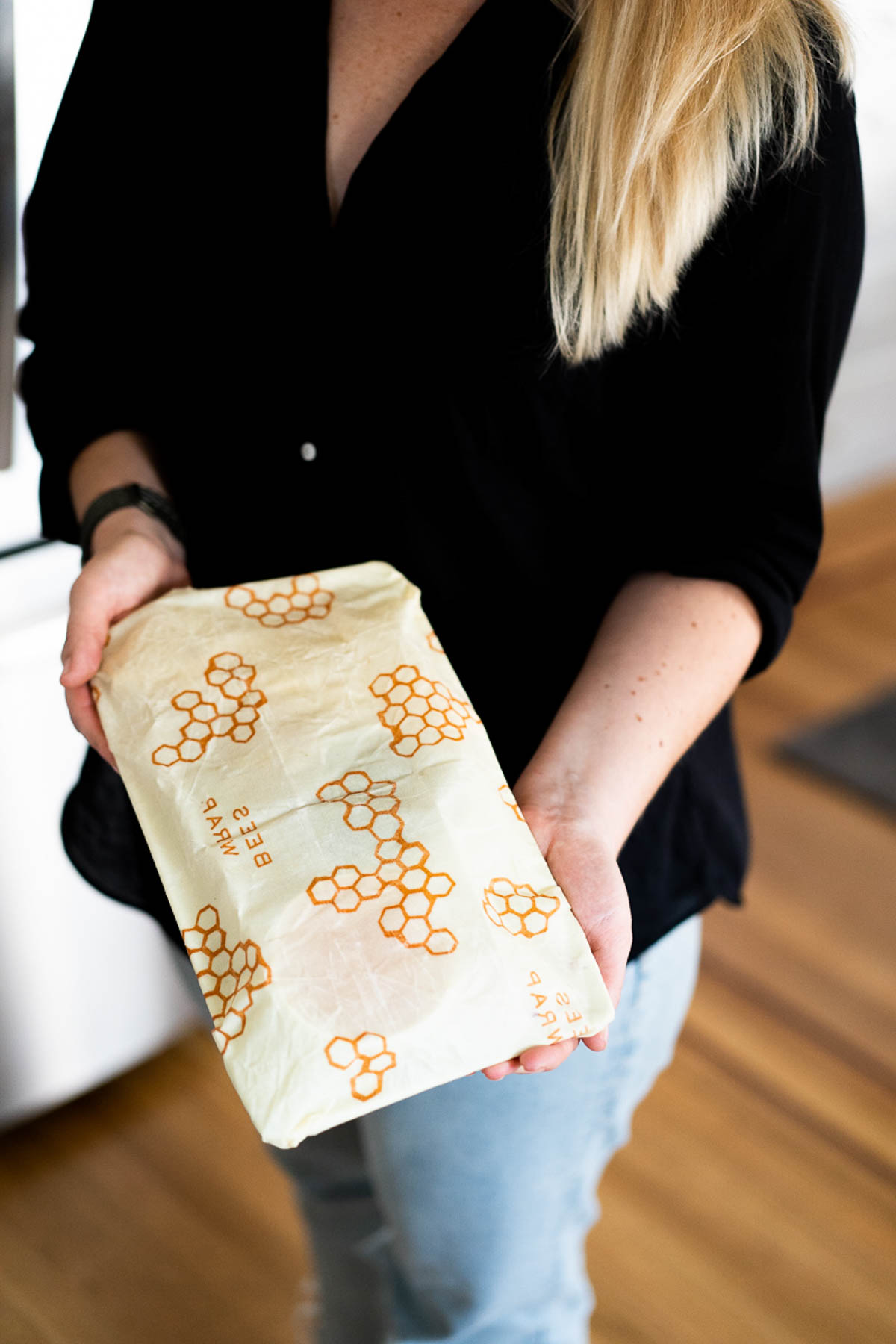 BEESWRAP
I rejoiced my love of Beeswrap in my post on plastic wrap replacements. Beeswrap is one of the original brands of beeswax paper. It replaces the need for plastic wrap, plastic bags, and so much more when it comes to food.
I have a few sizes of Beeswraps and recently ordered the bulk roll, so I can cut useful sizes myself.
Their website has a lot of size and pattern options, but they're even available at Target!
B Corp Websites
There are many brands that qualify as a B Corp, but what if there were websites that sold goods…that were B Corps? There are!!
GOODEE
Goodee is a website that sources responsibly made goods from around the world. It's a large, higher end, curated collection that is beautiful!
There is a lot that goes into making a product and it's always good to be aware of the people involved and their livelihoods – because so many times it isn't a pretty story. Alternatively, many times products (even "green" products) don't truly care for the planet and our environment.
Goodee takes the guesswork out of it! Check out this bike basket, this gardening tool set, and this dry face brush!
UNCOMMON GOODS
Uncommon Goods is another great spot for gift ideas. As I mentioned above, their B Corp scores is over 126! That's fantastic.
Uncommons Goods is kind of like Etsy, but the products are vetted and the company stores and ships the goods!
They have great gift ideas and lots of stocking stuffers for everyone!
A FEW OTHER B CORPS I LOVE?
Eileen Fisher
More Sustainable Holiday Tips
Sustainable Holiday Season Tips
Stocking Stuffer Ideas for Men
Stocking Stuffer Ideas for Women
Sustainable Kids' Holiday Gift Ideas
Sustainable Gift Ideas for Everyone on You List
Sustainable Gifts Ideas from Uncommon Goods