If you have sensitive skin, the idea of exfoliating, dry brushing, and shaving can seem scary, but they're each very important for your beautiful, delicate skin. And honestly exfoliating sensitive skin before shaving is a MUST!
This all started with a friend of mine recently polling friends on Facebook about dry brushing. I always assume I'm the last to hear of a trend, so I was excited to be a bit of an expert on something a friend of mine was asking!
I bought my first dry brush about a year ago after a blogger I follow raved about it. Initially I was dry brushing my whole body before showering as instructed.
Eventually, probably due to laziness, I stopped doing it before every shower, but I continued using it on my legs before shaving to exfoliate my sensitive skin. I've since learned that while it might do a bit of exfoliating, dry brushing isn't actually for softening skin, it's to help drain your lymphatic system (more below).
The dry brush was a good exfoliator (not perfect), but it was fast and easy. I soon combined it with a scrub in the shower, which I've long been a fan of. Only then did I really start to see the benefits of exfoliating my sensitive skin before shaving.
Here are my tips, tricks, and product recommendations for exfoliating sensitive skin for shaving, dry brushing, and moisturizing your skin properly…
Exfoliating Sensitive Skin
So, here's the thing. There are a lot of "exfoliating" products out there, but many of them are minimal of the efficacy front. What you really want is a dry exfoliating tool (usually a mitt or glove).
Before you get into the shower, scrub your legs (your whole body if you're really up to it), sloughing off that dead skin.
If you want, you can also use a body scrub once you're in the shower to get any more skin off with the help of water and exfoliating ingredients.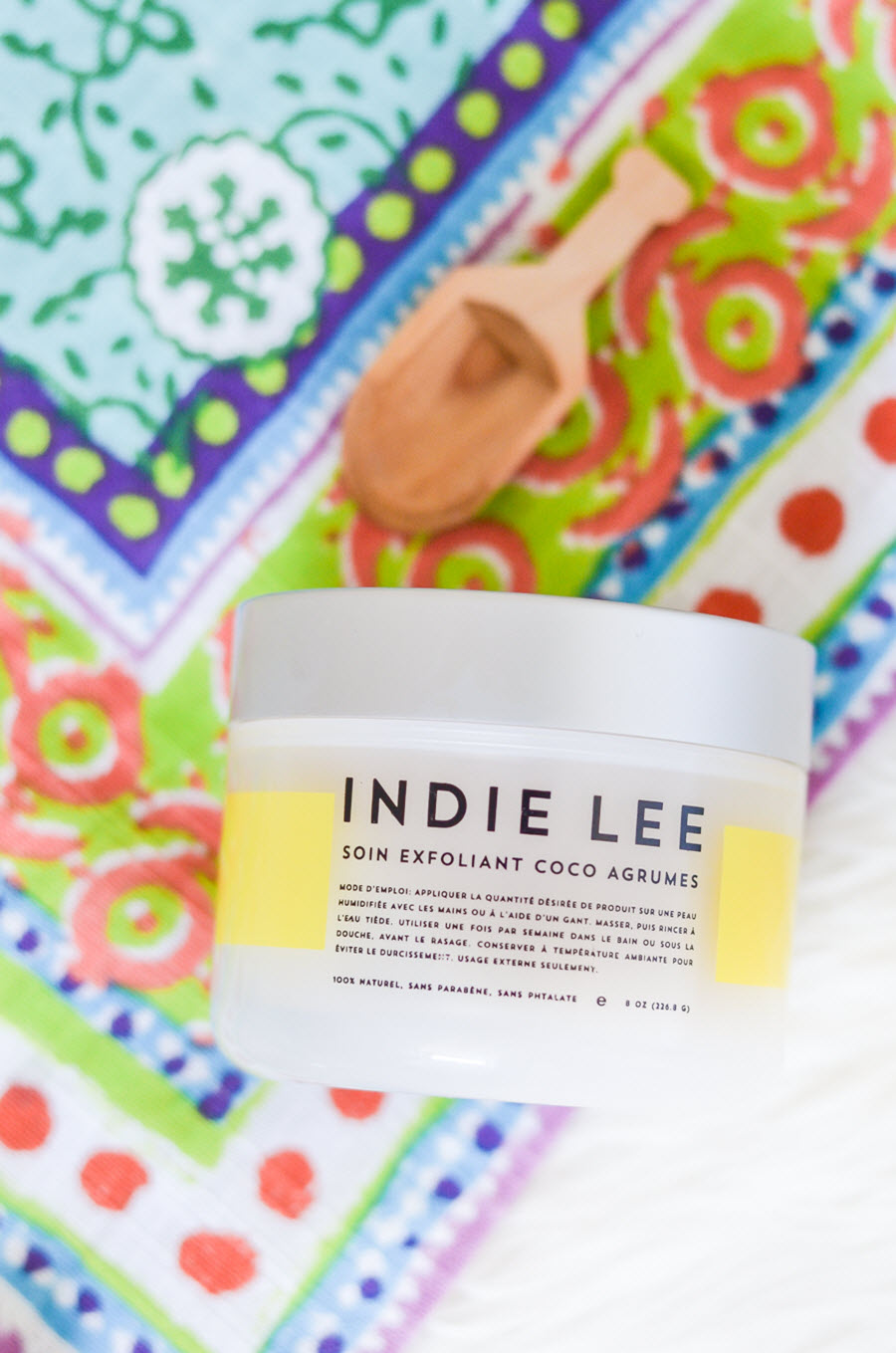 Dry Brushing Sensitive Legs
So as I mentioned above, I had been using a dry brush to help exfoliate my legs, but now I know that I can (and want) to use something more abrasive on my skin. I do still LOVE dry bruhsing, however.
So besides waking up your skin, dry brushing helps drain your lymphatic system. Your lymphatic system is an organ system that helps with fluid balance around your body. It's part of your immune system and complementary to your circulatory system.
In essence, helping the body properly drain, limits any water retention and helps your body get rid of any toxins (a totally naturally occurrence).
Because of this, you want to dry brush in a way that helps your body do it's business. Work your way from bottom to top (toward your heart) when scrubbing your legs and that you should use small circular motions.
After you've hit your heart from the bottom up, start at your wrists to brush in toward your chest.
Some people dry brush daily. I don't have that kind of time set aside for this, so i think as often as you can do it, is great!
My Body Lotion
After my exfoliating steps, I'm pretty set to go, but I do think it's important to make sure you're using an "updated" razor. I use the WLDOHO safety razor (what I considered to be the best safety razor).
Whether you're using safety razors or disposable razors, however, make sure the blades are changed frequently enough. Dull blades are a leading cause of bad shaves and razor burn!
And, of course, you can't forget to moisturize immediately after you get out of the shower. Keeping your skin moisturized is essential for preventing dry skin and, therefore, making shaving sensitive skin more difficult. I absolutely adore this Tammy Fender bulgarian lavender body oil.
Have you ever tried dry brushing and/or body scrubs?
Start exfoliating your sensitive skin. . .

Since clean beauty is an important part of sustainable living (what we wash down the drain matters as much as what we put on our skin), be sure to check out these other clean beauty roundups:
Clean Beauty at Nordstrom
Clean Beauty at Sephora
Clean Beauty at Target
Clean Beauty at Walmart
Clean Beauty at ULTA
Common questions include do shampoo bars really work and how do you use them? What natural deodorant actually works? What's the best safety razor for women (and how to use them properly). And how to clean your makeup brushes (on the cheap and easy)!