When it comes to making decisions about sustainable fashion, it can get complicated and overwhelming quickly. I'm learning more and breaking it down this year beginning with one that's easy to identify – organic cotton clothing!
When we first started living sustainably, I knew that fashion was a big problem, but I was able to cheat that part of it for a while.
Don't worry, I wasn't breaking any rules, but I had a new baby and my body wasn't back to wherever it was going. So I wasn't buying clothes at that point in my life. Then not too long after, that 'demic happened and we weren't going anywhere, so I really didn't need or want to expand my closet.
But then…reality kicked in. Life was getting busier again; it was getting social again; and boy was I ready for some new clothes!
Organic Cotton Clothing
I have a few websites I know to look for sustainable clothing options – namely wearwell, pact, and even some searches for sustainable brands at Nordstrom. But then I walked into a store and realized I couldn't filter out the good and bad, so I only had sustainable options in front of me.
While I'm not about to do PhD research in store on a brand, I could at least look at the label to see what materials went into the garment. I now try to avoid plastic-based materials for the most part (e.g. polyester, rayon, spandex, etc.), but what was ok?
The first one I learned about was organic cotton – easily identifiable!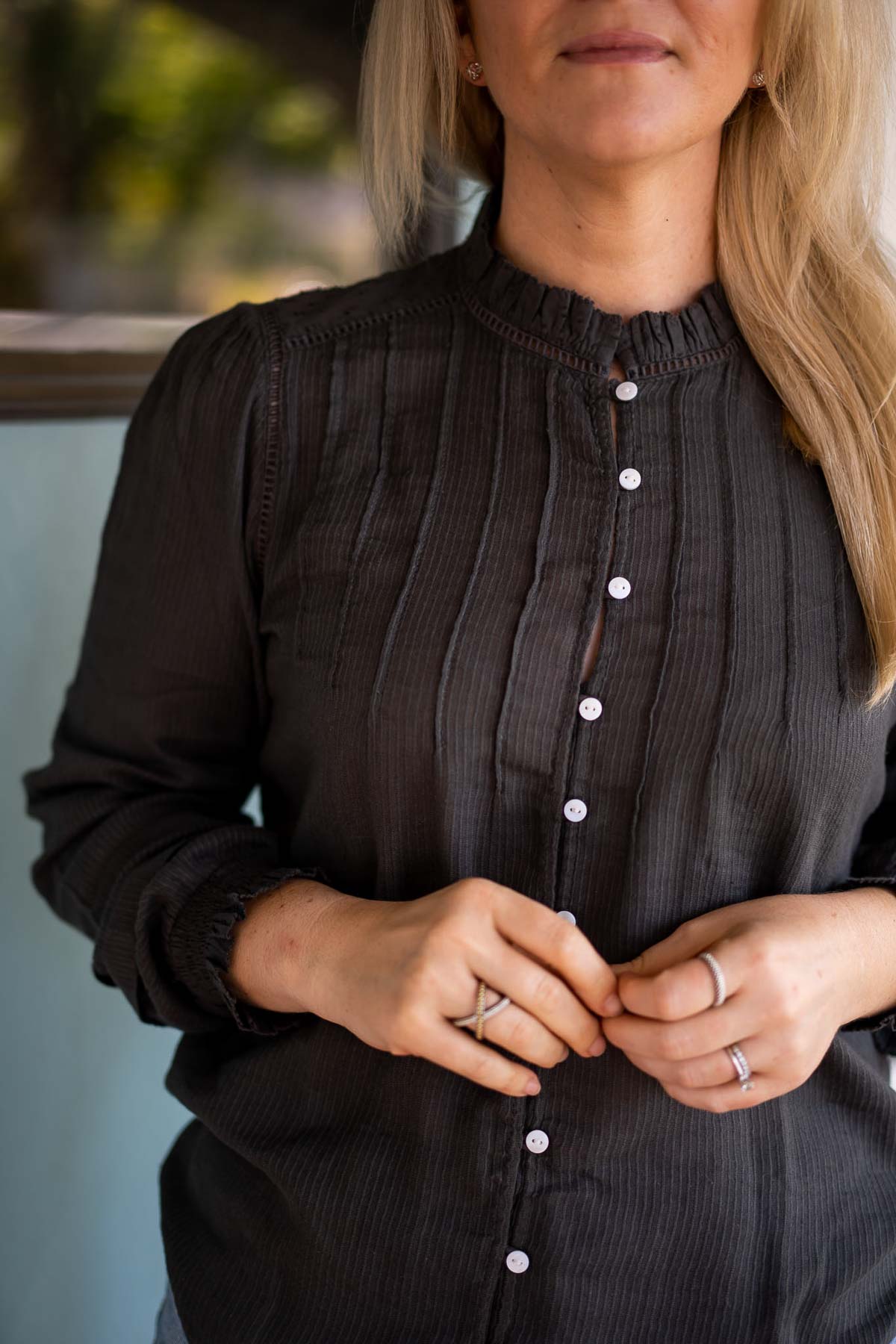 Organic Clothing?
Before I started getting more into sustainable living, I only thought about organic farming in relation to the produce I bought at the store.
Then a friend introduced me to the idea of organic flower farming. Then I realized just how many things besides produce are, in fact, produce. Like alcohol, coffee, and… cotton!
Why is Organic Better for the Environment?
So while organic produce is better to eat, organic farming is actually much better for the earth.
First, organic farming requires much less water. Organic cotton is said to use over 90% less water. As a Californian, I'm all too aware of the need to conserve water usage.
Organic cotton growers aren't allowed to use synthetic pesticides or fertilizers. This is a big reason the crops take less water, but it also means these items aren't being washed back into the land and water supplies for plant and animal (even human) consumption! Read: less water pollution!
If you are ready to get to fact checking, looking for organic certifications is the next step. A few common ones are GOTS (Global Organic Textile Standard), OCS 100 (Organic Content Standard), and BCI (Better Cotton Initiative).
Is Organic Cotton Clothing Easy to Find?
With less than one percent of the world's cotton being produced organically, you might think it's hard to find. While you won't find it in every garment or every store, there are PLENTY of options out there – at various price points.
I will note here too that another great option is recycled cotton – giving that otherwise produced fiber a second life is wonderfully sustainable too.
Check out these second hand clothing options from brands you love!
Let's Get to Shopping…
I'm a firm believer that anybody trying to live more sustainably has to take small steps that are doable. So the first step here is actually to just do a search for "organic cotton" on your favorite websites for clothing and see what pops up.
A search on Nordstrom for organic cotton women's clothing yields over 1000 results, including this button down top! Aren't the details on it so gorgeous?! I can't get enough.
Nordstrom is also how I found my organic cotton jean shorts – and my new favorite denim brand – see more of my go to sustainable denim brands!
Target offers tons of organic cotton kids clothing options, but also has 75 results for women (mostly undergarments)!
And wearwell has loads of organic cotton options from sweats to gorgeous summer dresses! And check out my favorite sustainable denim brand – all made with certified organic cotton
As you start to get more into sustainable clothing materials, check out Pact for all sorts of basics from undies and bed sheets to clothes for the whole family.
Knickey makes my favorite undies in organic cotton – one of a few sustainable underwear companies!
For organic cotton sheets, check out coyuchi, AIZOME, all the great organic cotton options from The Company Store!
And Cleobella dresses are all made with organic cotton, including this gorgeous printed summer dress with pockets!
Looking for some other "sustainable term" help? Check out What is OEKO-TEX and What is a B Corp?