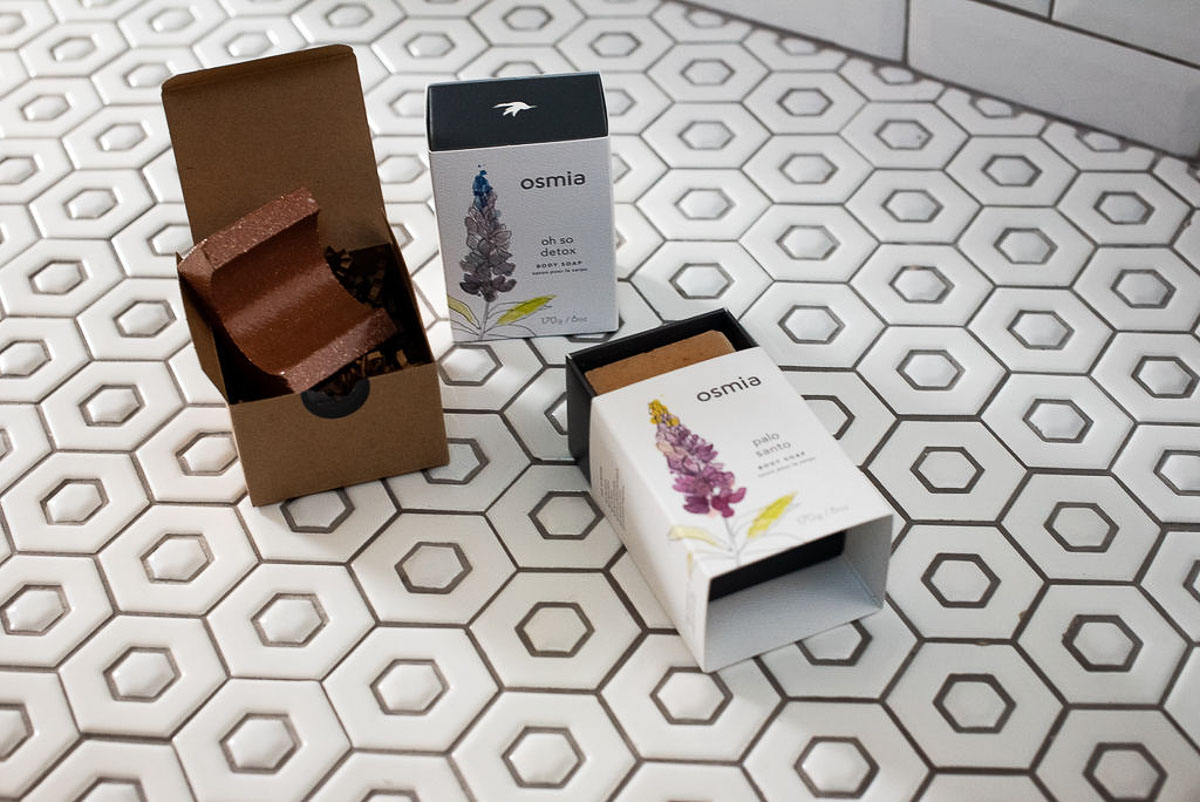 I stumbled on Osmia natural beauty a few years ago. Another website was selling their "blemish oil," a small container claiming to minimize blemishes. I had to try it out and see if it was all that it claimed to be.
Now Osmia is one of my go to natural and clean beauty brands, not just for the blemish oil (I always have at least 2 on hand), but for bar soaps, hands creams, body moisturizers, and a few skincare products that are quite literally the bee's knees!
Osmia Skincare
A few things about Osmia. Based in Carbondale, Colorado, the female-doctor-founded skincare line is the ultimate in clean. While the brand offers one of the few natural skincare lines for people with sensitive skin issues (including perioral dermatitis), all products are mindfully-made and some of them have literally no comparative offering on the market in my mind.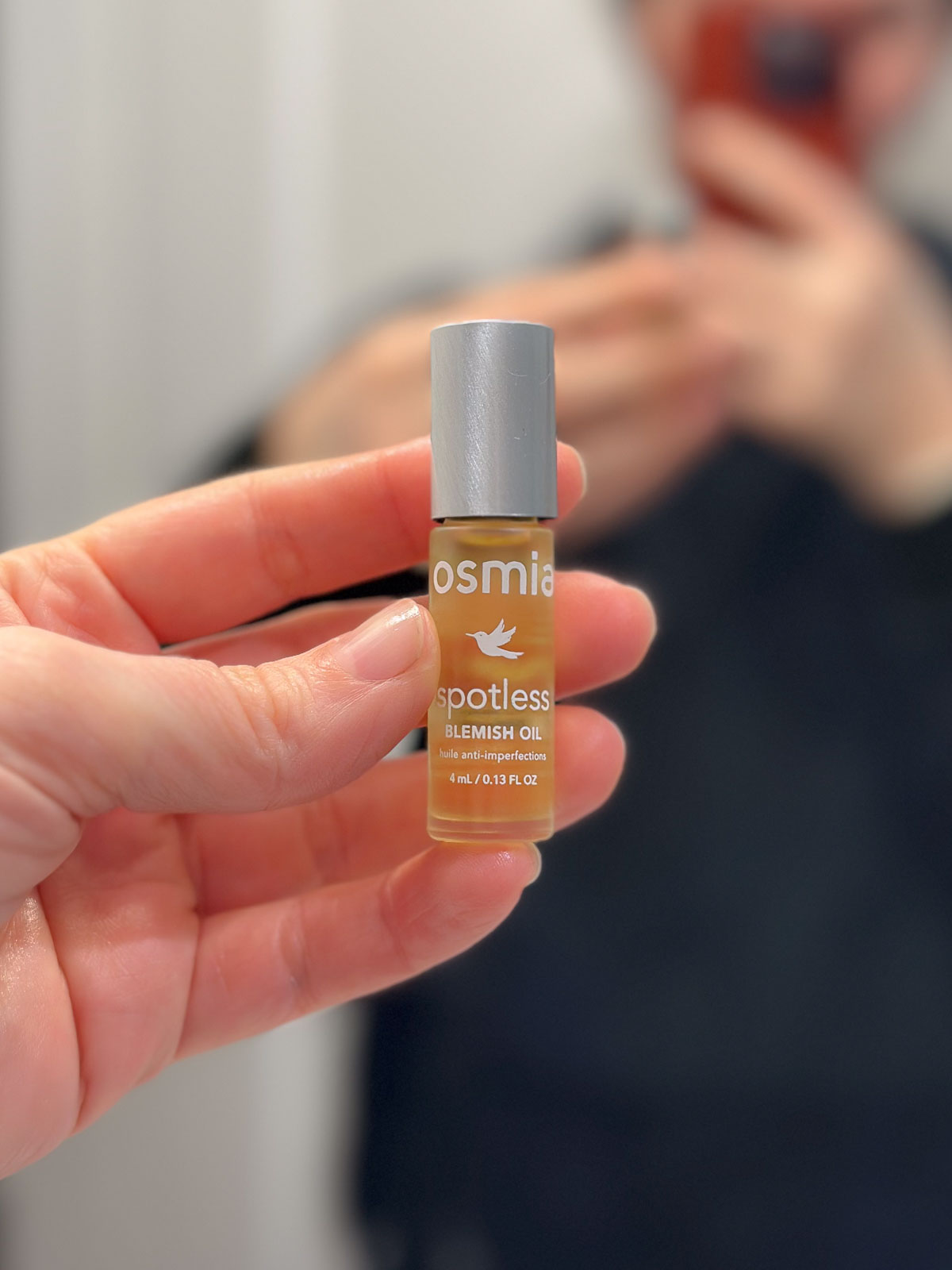 Best Blemish Treatment
Ok. So the blemish oil is nothing short of amazing. In a small tube with an easy roller ball applicator, all you need to do is rub on your blemish (best to start as soon as you're aware of it under your skin. You can use it as much as you want. For a particularly gnarly blemish, I keep it in my pocket and apply 6-8 times. Sometimes I rub it on when I want to try to "get" it!
The scent isn't tea tree oil! It's actually a combination of evening primrose, lavender, lemon, thyme, and rosemary oils and extracts. Because of this, it's doesn't dry the skin, feeling like you're drying out the blemish. Anyway, it's magic, and the tiny container really does last a while!
Facial Cleansing Bar & Body Soaps
I'd never tried a facial cleansing before Osmia, and now I love them. While I'm still obsessed with this cleansing oil for everyday use, these mini facial bar soaps are great for travel. They don't leak and work wonderfully. I've been using the pumpkin bar soap to help with brightening and love it!
And on the topic of bar soaps, Osmia has some very beautiful ones. Shockingly (to me), my favorite so far is the seasonal dirty chai with the scrubby coffee grounds, but they're all beautifully made, beautifully packaged, and wonderful to use and gift! Get the best of their body soaps!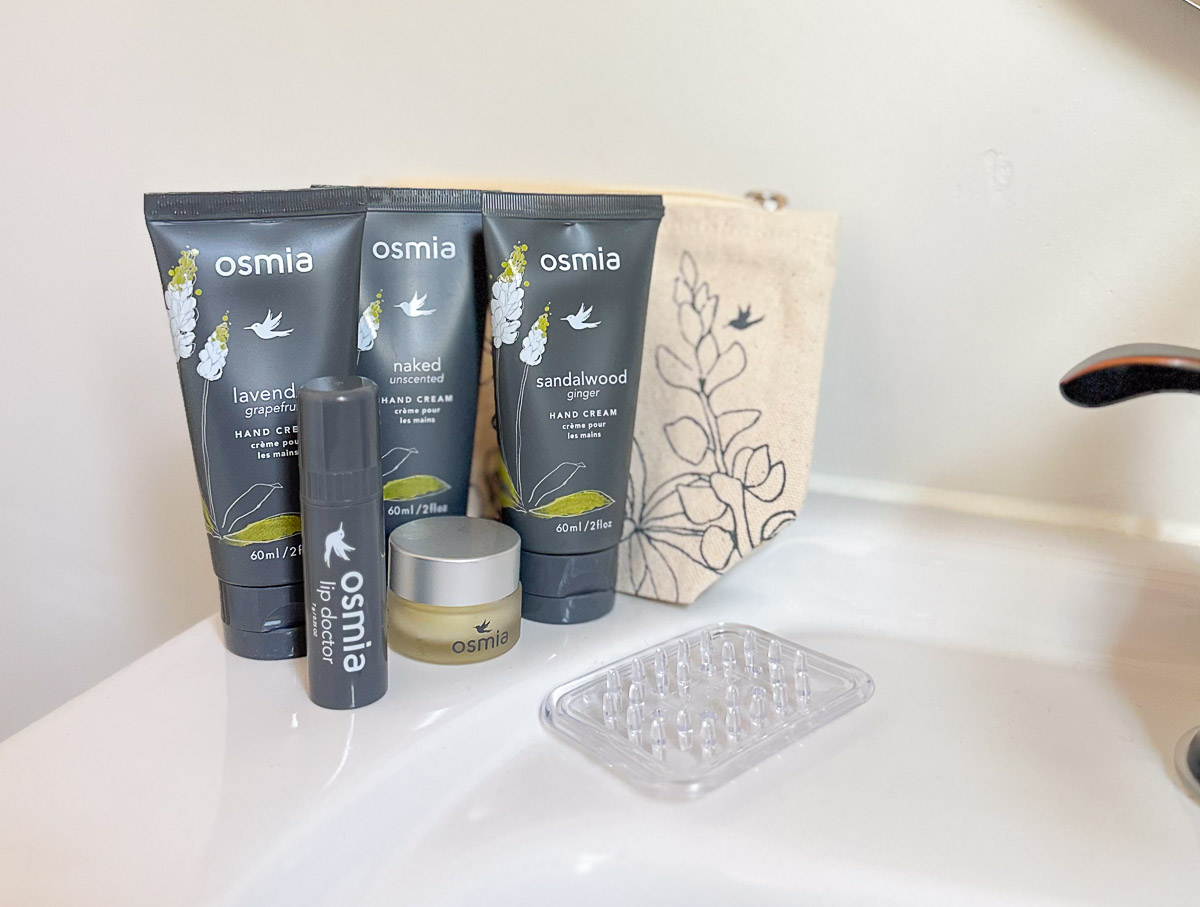 Best Hand Cream
If you've been around me for a while, you know I'm big on hand creams and I'm particular about them. I want moisturizing not greasy. These hand creams are the most moisturizing, nongreasy formula I've tried.
The lavender grapefruit scent is my favorite. I like the unscented, but I do find that I still smell the other scents in there (maybe because I always order the trio of scents to ship together). My only complaint about these creams is that they're too big to stick in my purse, but then the packaging is made of recycled products, so I won't complain too loudly! 😉
Nectar Nourishing Drops Review
If you aren't someone who likes to change up your skincare routine betweens seasons, then you'll extra love the nectar nourishing drops. Simply add these drops to your serum or moisturizer to really get moisturized skin. The drop help your skin retain moisture. I love the ease of adding it to products I already know and love. And the scent is LOVELY!
Osmia Body Oils & Mousses
While I'm a sucker for great body oils and, really, any moisturizers, I haven't gotten around to trying these Osmia products yet. BUT I've had multiple followers and friends RAVE about them to me, saying they are simply the best. So I include the body oils and the body mousses here based on others' reviews!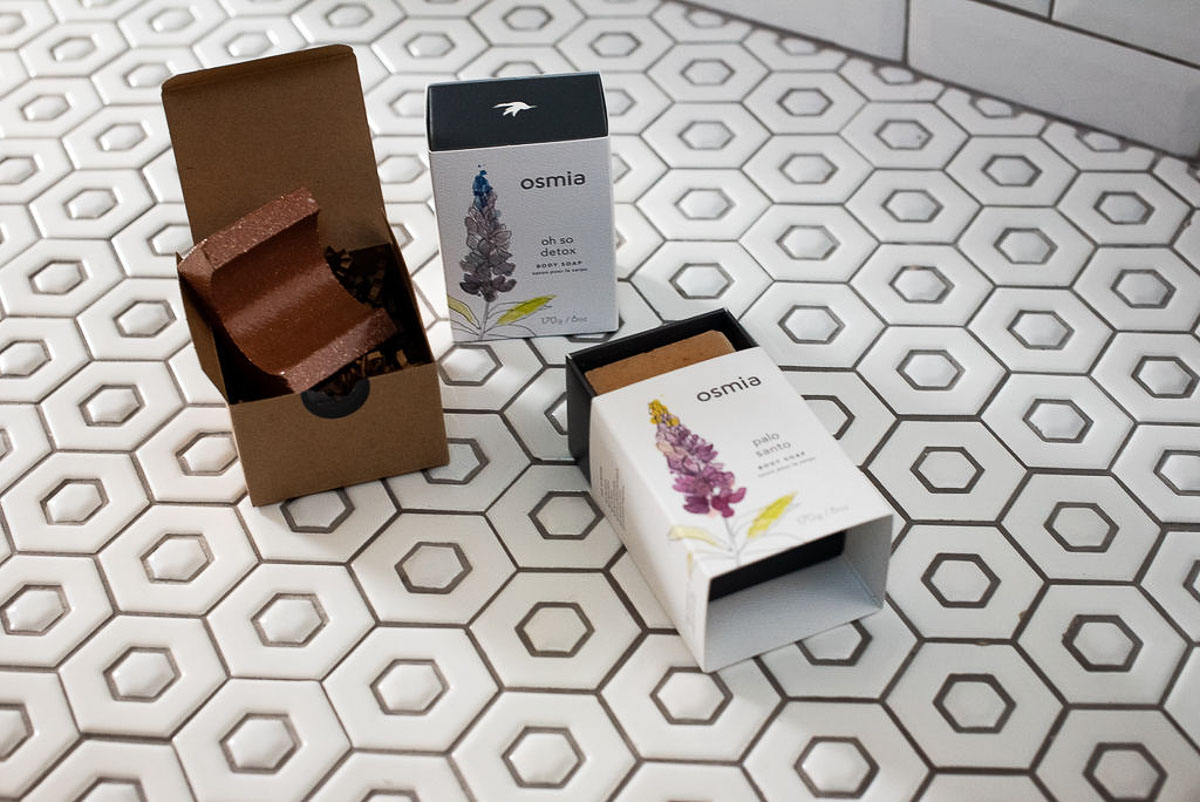 Does Osmia Have Sales?
You know I love a sale. Throughout the year, they offer deals on various products, but there are basically 4 sales per year – at each of the seasonal changes, so around March 20, June 20, September 20, and then in December (often earlier in the month in advance of the Christmas holidays).
Best Osmia Products
Since clean beauty is an important part of sustainable living (what we wash down the drain matters as much as what we put on our skin), be sure to check out these other clean beauty roundups:
Clean Beauty at Nordstrom
Clean Beauty at Sephora
Clean Beauty at Target
Clean Beauty at Walmart
Clean Beauty at ULTA
Best Beautycounter Products
Common questions include do shampoo bars really work and how do you use them? What natural deodorant actually works? What's the best safety razor for women (and how to use them properly). And how to clean your makeup brushes (on the cheap and easy)!
There are also great clean skin & hair care products for men!
And you'll want to check out these wonderful clean beauty bar soaps as well as body tools for smooth skin all over yourself!