It's officially that time when we all realize winter is a b!t¢h on our skin. Between cold, dry air, rain air, and hot air from heating, you honestly can't win. You can help, however, with great winter skin beauty products!
Not long ago, I would have been looking for thicker, heavier products to moisturize my life. Now, however, I'm a bigger fan of oils and serums that aren't overwhelming for my skin! I also am worried about more than just my face.
So here is a collection of products for your face, your scalp, your hair, your body, and your hands because dry skin isn't just a singular problem, is it?! No. It's life-encompassing!
My Favorite Winter Skin Beauty Products
INDIE LEE BRIGHTENING CLEANSER
Indie Lee products have been in my collection for years. This brightening cleanser might just be my favorite, however.
Rosehip oil contains a bunch of fatty acids, which makes it a great option for hydrating dry, itchy skin.
It's also easily absorbed by skin. Instead of using a drying soap and then applying moisturizing oils and serums, i love to start with hydration!
I love the way to helps brighten my skin, but I love the rosehip smell even more!! Start off with a clean face before adding any oils, serums, or moisturizers this winter!
OSMIA VITAL ROSE DROPS
As I get older (or at least as my skin does ;)), I'm finding a few products are very seasonal for me. These Osmia Vital Rose Drops are my first discovery for a winter MUST.
I tried them first in summer and wondered what all the fuss was about. Then I got a dry patch of skin in early winter, applied a few drops to my current serum, and the dry patch went away within a day or so. It's magic!
The price tag can be eye-opening, but you can add these drops to any kind of serum, oil, or cream you like – even a drugstore brand that's much less expensive. It elevates anything to the perfect moisturizer! It's one of my FAVORITE Osmia skincare products!
---
VINTNER'S DAUGHTER ACTIVE TREATMENT ESSENCE
If you're struggling with breakouts from all the changes this season, try the Vintner's Daughter Active Treatment Essence. I've heard rave reviews about it clearing away breakouts quickly and effectively while also treating skin to help with future issues.
Apply with patting method as above on clean face before serum or moisturizer!
SUNDAY RILEY VITAMIN C BRIGHTENING SERUM
If your skin is feeling dull or you're fighting hyperpigmentation, try a Vitamin C serum like this one from Sunday Riley. Vitamin C adds a boost to skin and will help you brighten up in no time!
I was packing on the Vitamin C beauty products during and after my pregnancy to help with pigmentation issues and now they're almost all gone!!
---
DERMALOGICA MULTIVITAMIN POWER MASK
We all need the occasional face mask to help recharge (without the full facial appointment). Dermalogica's multivitamin power mask is my favorite for just such a task. It hydrates and plumps my skin for a refreshed feel.
Using masks help recharge your face so all those other things you do can do a complete job, rather than fighting such an uphill battle.
---
---
SUMMER FRIDAYS JET LAG MASK
This Summer Fridays jet lag mask is a must for those dry times of year. It can be applied for just 10-20 minutes, left on as a moisturizer or an overnight mask.
This one goes on clearly (hence its possible use as a moisturizer).
This would be a perfect in-flight skincare option since no one would even know you had a mask on!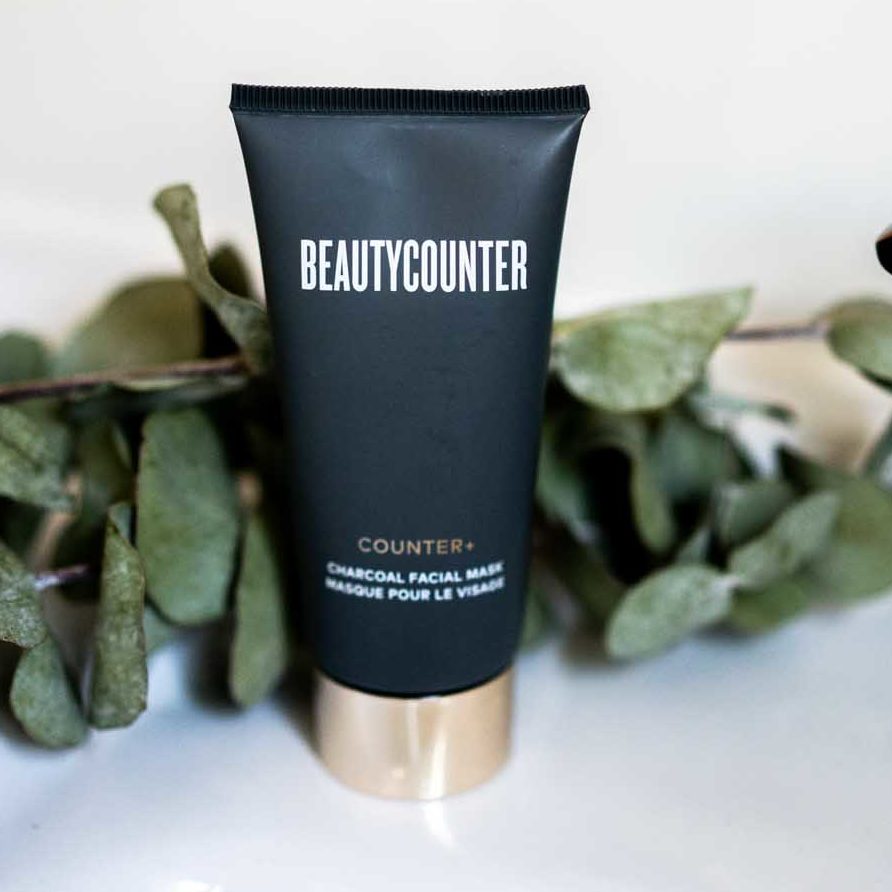 You might not think charcoal mask when it comes to dry skin, BUT you should. This charcoal mask makes skin smooth and clears congestion. It also primes skin to better absorb any moisturizing products & serums. Use every 2-4 nights as needed!
Check out my favorite Beautycounter products w. reviews!
Use code CLEANFORALL20 for 20% off first purchase
---
RMS CUTICLE BALM
If there's one thing that drives me crazy all winter, it's my dry hands.
Lotion is great for the back of your hands, but I find cuticle balms are really what keep my hands completelyhappy!
Try this RMS cuticle balm for great looking hands and nails! It's also one of the best lip balms out there, so you can double dip (pun-intended) for all your dry skin needs!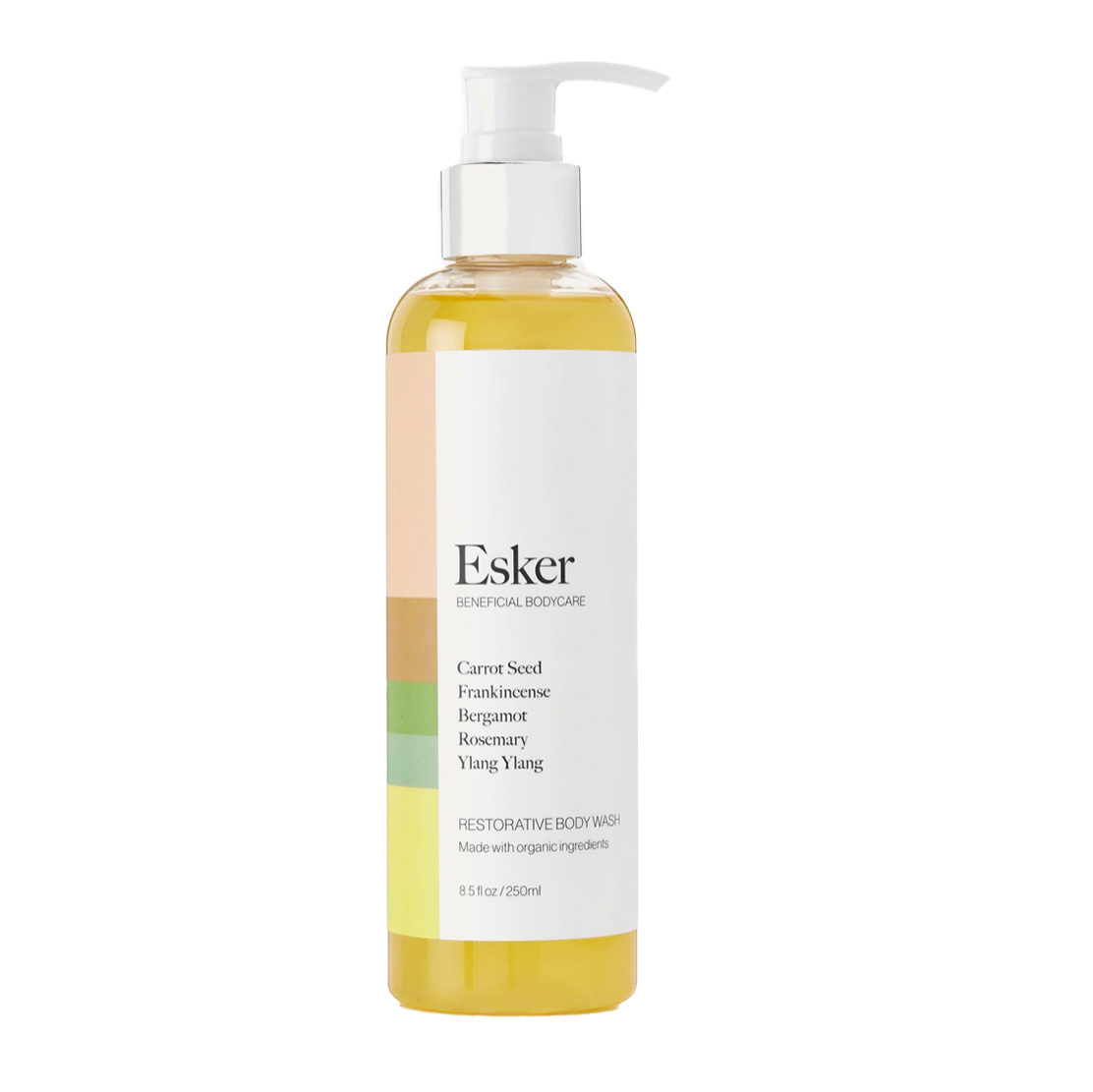 ESKER BODY WASH
Esker is one of my favorite clean beauty brands and one of the few focused on your body, not your face!
The body washes and oils come in 3 varieties – clarifying, firming, and restorative.
Take their skin quiz to find out which formula is right for you!
Use code lucismorsels for 20% off
---
TAMMY FENDER BODY OIL
And probably my all time favorite – the Tammy Fender Bulgarian Lavender Body Oil!!
Most of the time, I us apricot kernel oil from the refill store (see how to shop refill stores and bulk bins), but I periodically indulge in body oils and this has been my favorite of them all.
Oils sound crazy to apply to your skin, but they really pack in the moisture. If you're new to oils, try mixing them into your body lotion first.
Not only is the glass jar from Tammy Fender more sustainable (and easily reused), the applicator is one of my favorites for oils. It's easy to use and dispenses without a mess!
ALL OVER ROLLER FOR BODY
We're all obsessed with jade rollers for our face, so why not use them on our body?
This all over roller is made with Xiuyan Jade that's traditionally believed to promote regeneration, detoxification, and tension relief. Help your body oils soak in with this game-changing tool!
To use, start on your legs and arms, rolling upward toward your heart. You want a firm but not strong pressure to help your lymphatic system.
You'll love this longer list of body tools as well, including my beloved body plane.
Use code lucismorsels for 20% off
---
BRIOGEO SCALP REVIVAL
And then there's your hair and your scalp!
If your scalp is dry and/or suffering from too much product build up, give it a clean start with Briogeo's scalp revival!
It detoxifies and balances the skin on your head, which suffers through the harsh elements of winter more than most parts of your body!
INNERSENSE HAIR MASK
If your hair is struggling with the heat and the cold, try a hair mask.
I replace my conditioner with a hair mask once every 1-2 weeks! It's super moisturizing and leaves you with a fresh start!
Avoid use too close to your scalp and be sure to rinse out thoroughly!
Use code LUCI15 for 15% off your purchase
See my review of Innersense Hair Products for more information! See which products are also part of my summer beauty routine!
For those dry lips (we all get them), try these natural lip balms and chapstick options!
Remember that skin care and beauty is all part of self care! Try making it part of your weekly routine with something like Self Care Sunday!
Since clean beauty is an important part of sustainable living (what we wash down the drain matters as much as what we put on our skin), be sure to check out these other clean beauty roundups:
Clean Beauty at Nordstrom
Clean Beauty at Sephora
Clean Beauty at Target
Clean Beauty at Walmart
Clean Beauty at ULTA
Best Beautycounter Products
Common questions include do shampoo bars really work and how do you use them? What natural deodorant actually works? What's the best safety razor for women (and how to use them properly). And how to clean your makeup brushes (on the cheap and easy)!
There are also great clean skin & hair care products for men!
And you'll want to check out these wonderful clean beauty bar soaps as well as body tools for smooth skin all over yourself!
You can also check out exfoliating sensitive skin, gorgeous body tools, and these clean beauty hand creams.