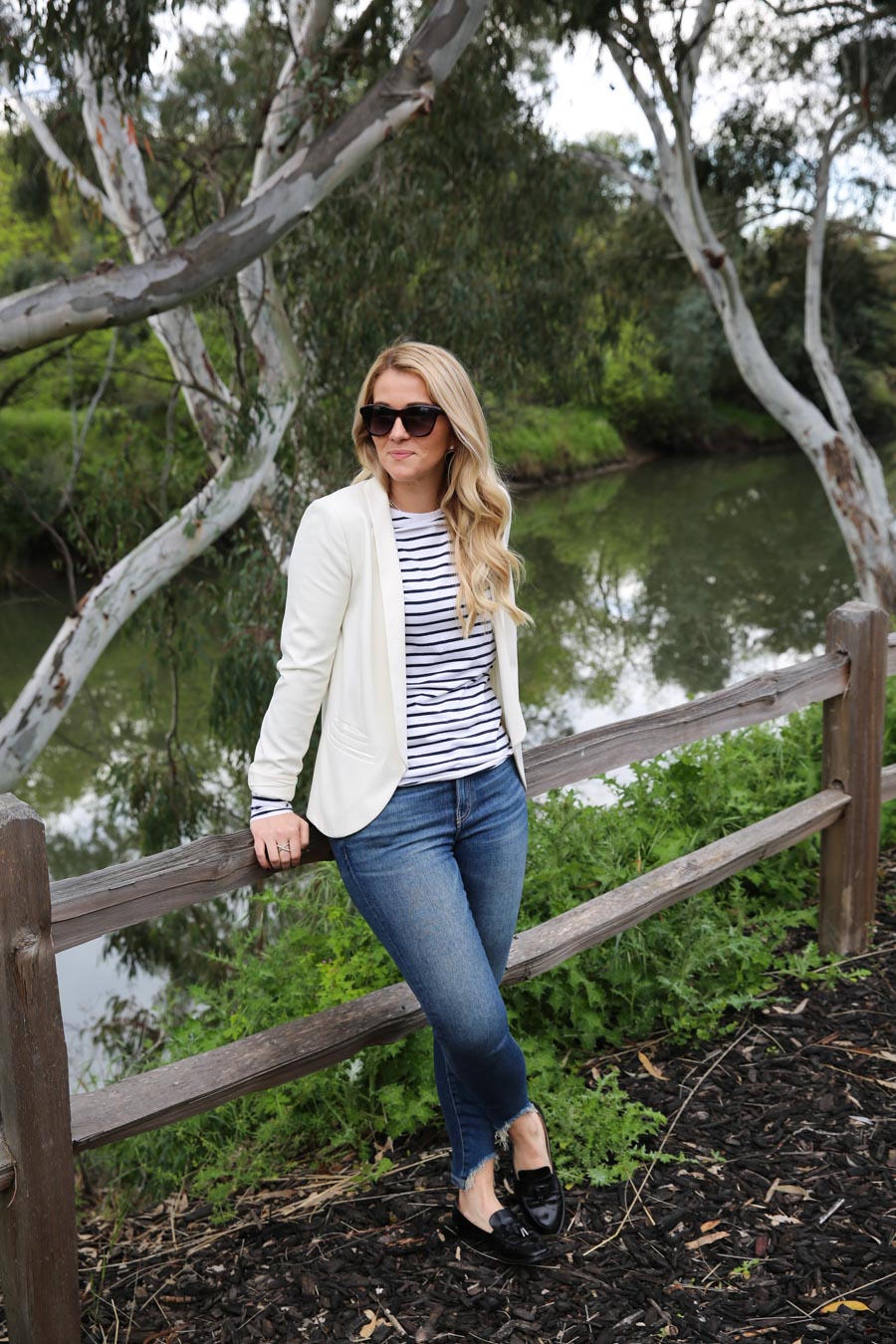 7 For all Mankind (seven jeans) were my first foray into designer jeans and I quickly fell in love. Thankfully the brand is still going strong, so here is an updated 7 for all Mankind fit guide and review!
When I introduced posts as part of a denim guide last week, I had so many ideas of what kinds of posts I wanted to do. I think I could post solely on denim for at least three weeks, but that would be a bit out of control!
Besides showing you some of my favorite ways to wear jeans, I wanted to showcase some of my favorite denim brands. There are quite a few brands I want to share, but I had to start with the 7 For All Mankind fit.
My first pair of designer jeans was from them and so was my boyfriend's first pair (I have a bad influence sometimes). I could go on and on about 7 FAM jeans, but I want to keep these spotlights pretty straightforward and simple. So here is my 7 For All Mankind Fit + Review post…
7 For All Mankind Fit + Review
7 for all Mankind Fit Review | cuts/washes
7FAM jeans come in a wide variety of cuts and washes. They might not have exactly what you're looking for, but it's a great place to start.
How Much do They Cost?
Most of their jeans cost between $160 and $225. They do have much more exciting pairs of denim that sell for much more, but we'll just deal with the basics.
Are there ever 7FAM Sales?
The price tag is high for me, so I really only buy them on sale…
First, there are at least two Friends & Family 7 for all Mankind sale dates to keep in mind – October and in the spring. The sale gives you 30% off anything in the store.
Second, a lot of major retailers like Nordstrom, Shopbop, and Revolve sell 7FAM. I either buy them from random sale racks or score a discount when they have storewide sales.
My best advice is to sign up for the newsletters for 7FAM and your favorite retailers. Then you won't miss out.
7 for all Mankind Styles
Long before I bought my first pair of "7s," I tried on a pair that felt so thin, I couldn't imagine why anyone would buy them.
A few years later I tried on another pair that were perfectly amazing. I bought them, wore them through, and bought the exact same pair again. So, be aware that their different styles really vary; you have to find what works for you.
One thing to help you keep them straight is the pocket guide (above). In my experience the 7 and A pockets (bottom row) tend to be thinner and less form-fitting. The plain and signature pockets (top row), however, are sturdier and have a snugger fit (which I prefer).
Don't forget to check out:
Paige Denim Fit Guide + Review
KUT from the Kloth Fit Guide + Review
Current/Elliott Fit Guide + Review
DL1961 Denim Review
ÉTICA Denim Review


SUSTAINABLE FASHION
Interested in sustainable fashion? One of the best ways to live sustainably is to rewear pieces again and again!
Check out these black leather jacket outfits, poncho outfits, linen pants outfit ideas for day to night, and 4 ways to wear a black button down!
You'll also want to check out this list of second hand clothing from brands you love, my tips for keeping your closet size in check, why you should always buy quality clothes (because then you'll always have something to wear), and these stylish and sustainable shoe companies!