I'm particular about a number of things, but when it comes to anything hair & beauty, I need the perfect mascara and I want great hair products. Switching to clean beauty brought a lengthy process of transition, but one which I'm finally near finished. Here is my Innersense review of their organic hair care products, including their toning shampoo for blonde hair.
Use code LUCI15 for 15% off your first purchase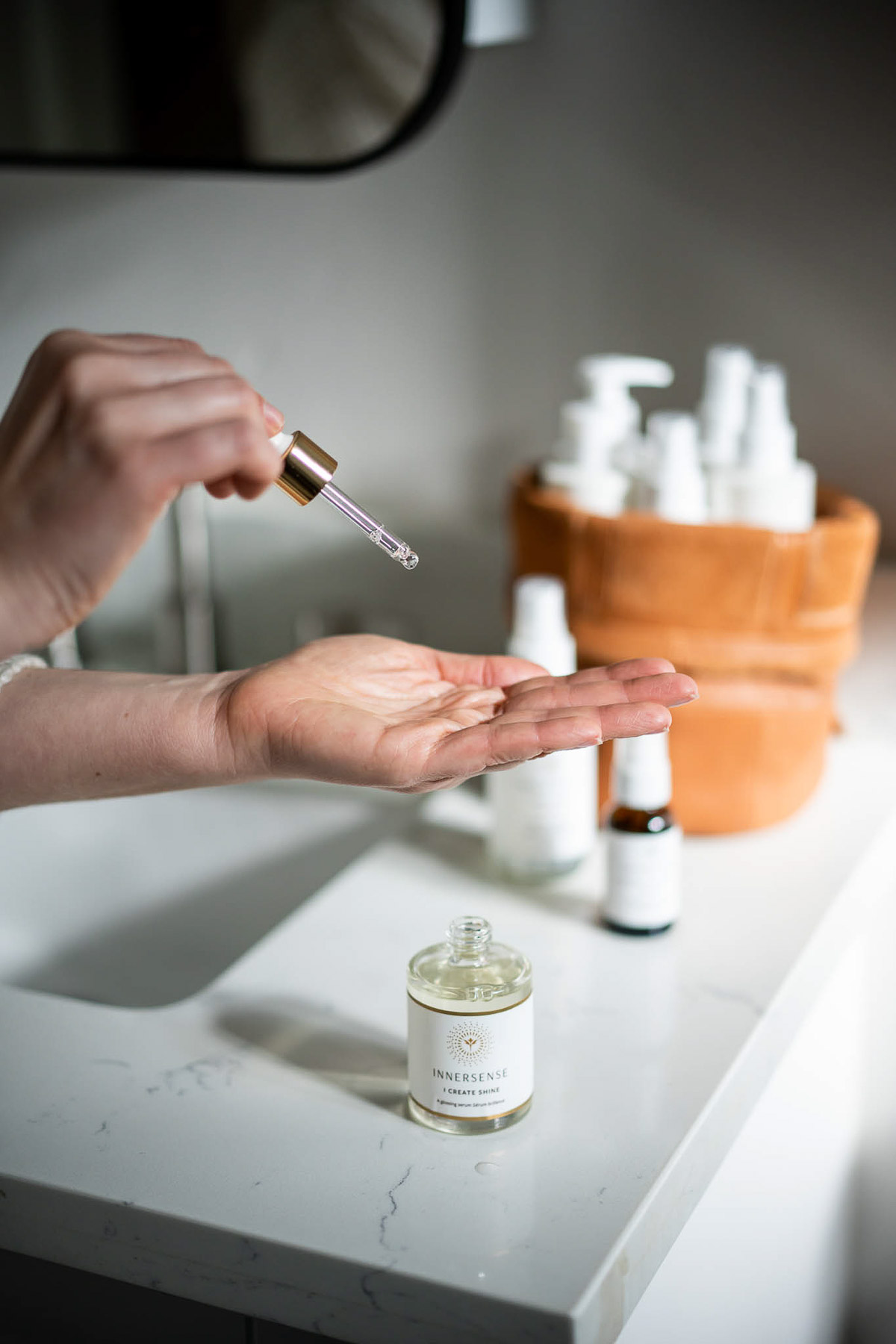 Innersense Review
There are so many things to love about Innersense hair care products. The company is B Corp, which you know is a big factor for me. The brand is also climate neutral, plastic neutral, leaping bunny certified, and a 1% for the Planet member. And, very importantly, they create products for many types of hair, because clean beauty shouldn't be a privilege!!
Their products come in plastic and glass containers. You'd think I don't love the plastic bottles, BUT they are actually made with 100% post consumer recycled plastic (helping to complete the recycling process). And plastic containers is a complicated topic because they cost less to transport (read a bit more about packaging complications in this refill pouches post). BUT it's recycled and recyclable!
They also offer travel sizes and refill pouches in a number of their products, which is great for cutting back on waste.
Ok. Let's get to some particular Innersense reviews. I'm in the process of trying quite a few of the products. Below are the ones I've used the most as well as an annotated list at the end of some others I've tried just a few times.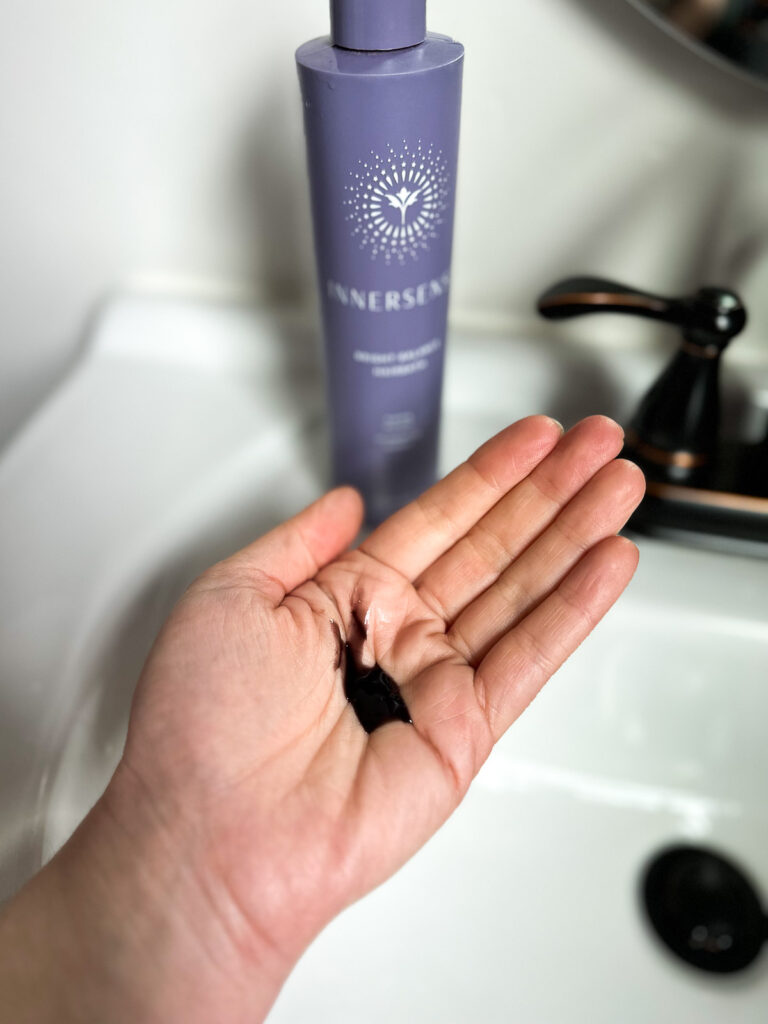 Innersense Toning Shampoo Review
As a lifelong blonde (except that stint in grad school as a brunette), I care about toning shampoo. My preferred blonde (as my hairstylist well knows!) is a platinum blonde, not a caramel blonde.
While my stylist is magic with color, real life will turn color-treated hair a different tone over time, so I always use a purple or "toning" shampoo OR conditioner (you don't really need to use both).
When Innersense announced their new toning shampoo and conditioner, I was dying to try it as it was the first clean beauty purple shampoo I'd seen. I finished my shampoo bar and gave it a whirl.
I'll cut to the chase here and tell you that I love it now, but I didn't at first…because I wasn't using it properly.
Innersense products are concentrated formulas that often require more water in hair, a certain application of products, and/or an activation. These aren't complicated, just read the direction or watch the product videos (available for EVERY product on the site). With the toning products, as you can see in the photo above, you have to 'activate' the product.
So the Innersense Bright Balance toning shampoo comes out of the bottle almost black looking. If you apply directly to blonde hair (like I was in the beginning), you might notice a blue tint to your hair (beyond platinum). My hairstylist and I had a few conversation about it, trying to figure out if it was my postpartum hair being weird (that's been a thing), whether it was his coloring, or whether it was this new shampoo.
Because I've loved the other Innersense hair products so much, I just couldn't believe it was the shampoo. Then I realized I wasn't using it correctly. It's imperative to rub the shampoo between your palms to turn it into this lavender color, then apply to your hair. I've had ZERO issues with the color since then.
I have the Bright Balance conditioner, but am still finishing my other conditioner, so I haven't tried it yet.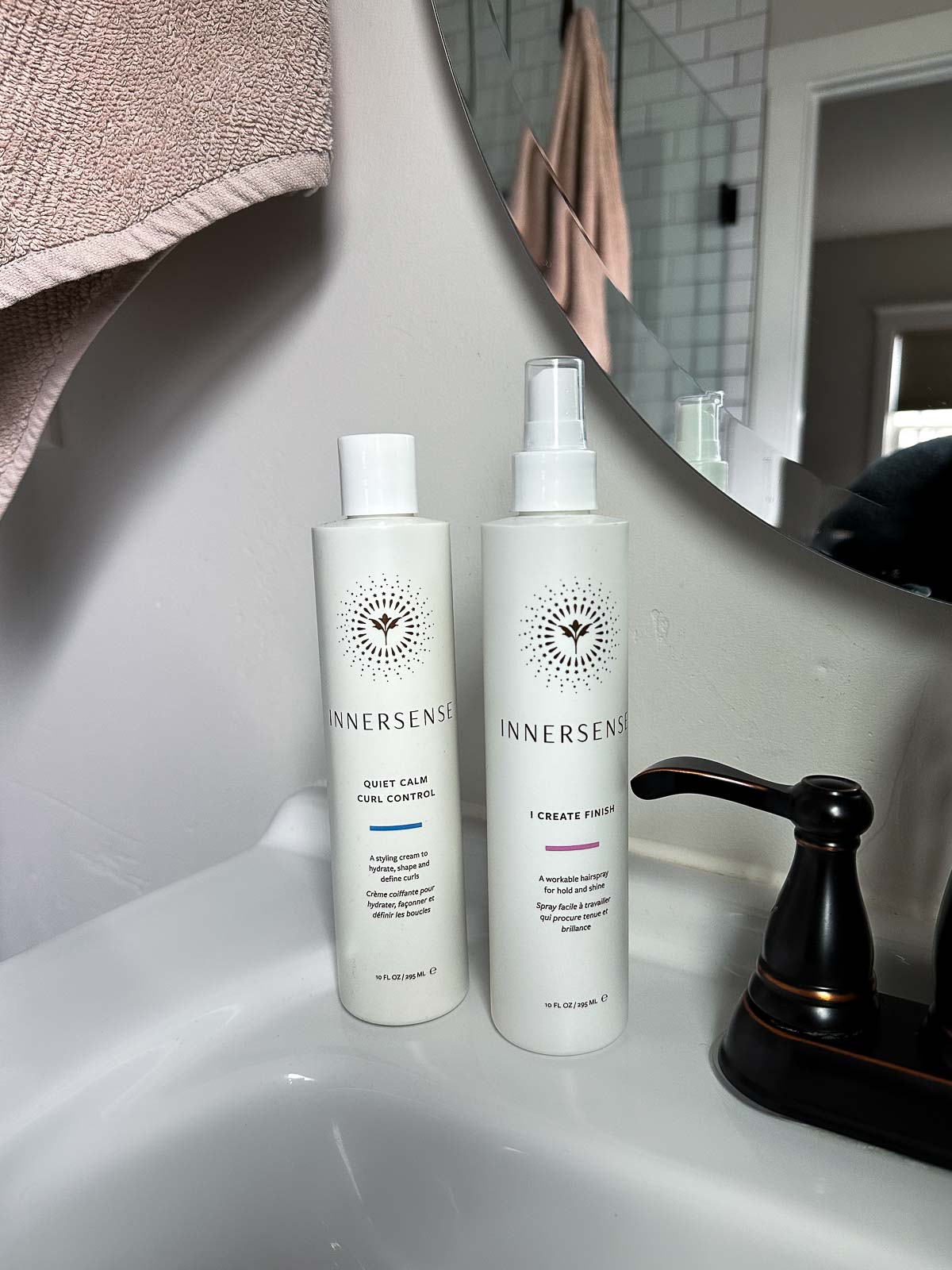 Quiet Calm Curl Control Review
There are a few products I've fallen completely in love with, but besides the purple shampoo, the quiet calm curl control (and the hair oil – below) are my top picks.
You might not see me with my wavy hair too much (see my waves in this dressed up sweatshirt look), but it is an easy option for me – especially in the summer. I've long used gel and hairspray to get the waves rather than the fluff…and I thought the "crunchiness" was just a necessity given the products needed.
Use code LUCI15 for 15% off your first purchase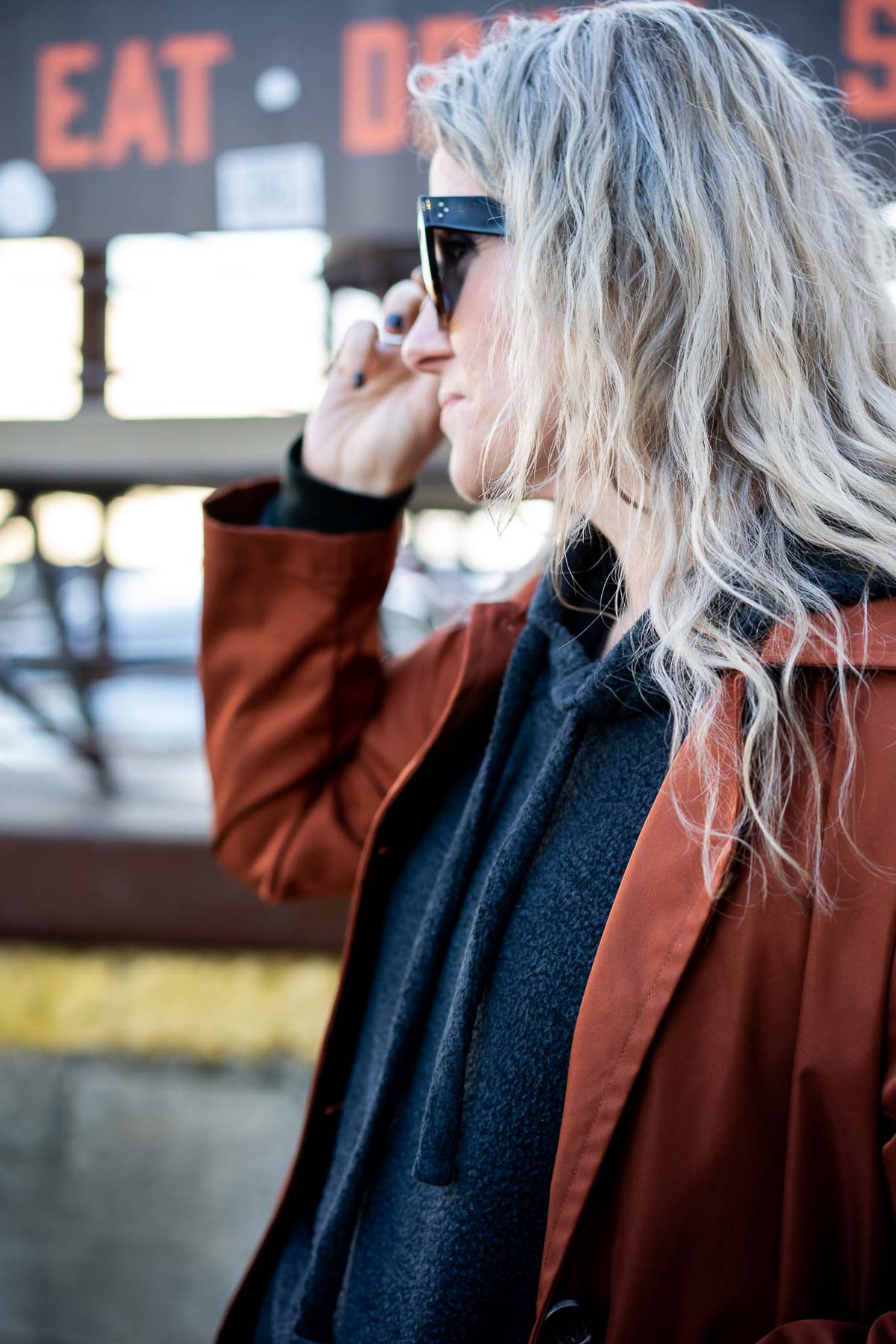 Well, now I have the curl control, and my soft, fluff-free waves are SO happy. This product comes out looking like a lotion, taming frizz, but it acts like a lightweight stylizer of hair, allowing curls or waves to separate without weighing them down. It's actually made for seriously curly hair (check out the reviews), so it's quite a versatile product.
I actually use this product in my very everyday simple chignon hairstyle as well (seen in this black tights outfit), taming frizz and making my hair soft for next-day waves.
I typically spritz on the Sweet Spirit Leave In Conditioner, brush my hair (if needed), then apply a nickel size dollop of the quiet calm curl control to my hair. If wearing wavy, I "scrunch" my hair up to create the wave separation. Otherwise, I style as desired with combs and brushes.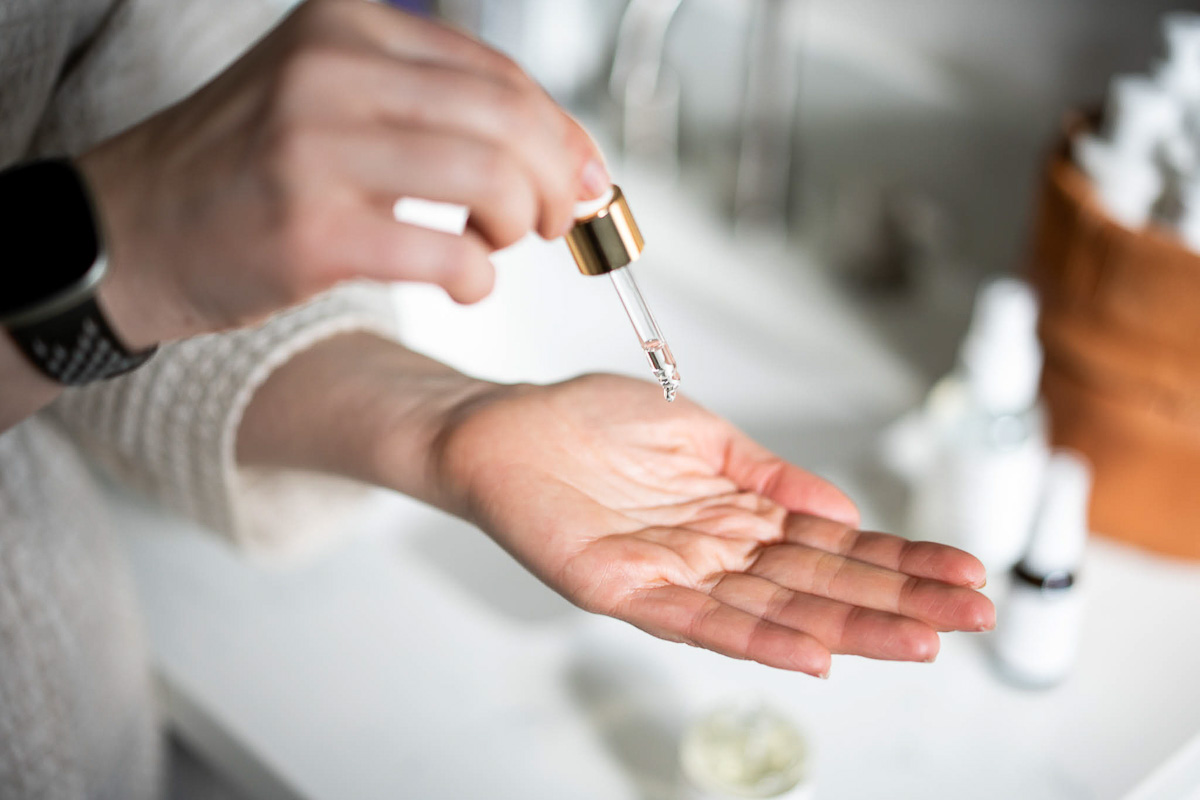 I Create Shine Hair Oil – Best Clean Hair Oil
Ok. You all, I haven't always been a hair oil person. I've used a few over the years, but I often find them kinda heavy/weighty on my hair. But the Innersense I Create Shine hair oil is anything but, and, AND, the scent is heavenly!
This bottle looks small, but using just 3-4 drops (on my tons of hair) each time, means this bottle is going to last a loooooooong time!
But most importantly, the scent is lovely (they even made a candle – it's that good), and the oil isn't heavy. My hair hasn't felt greasy or weighed down in the slightest using it.
Can be used on wet or dry hair – I use it EVERYDAY (earning a top spot on my Innersense review)!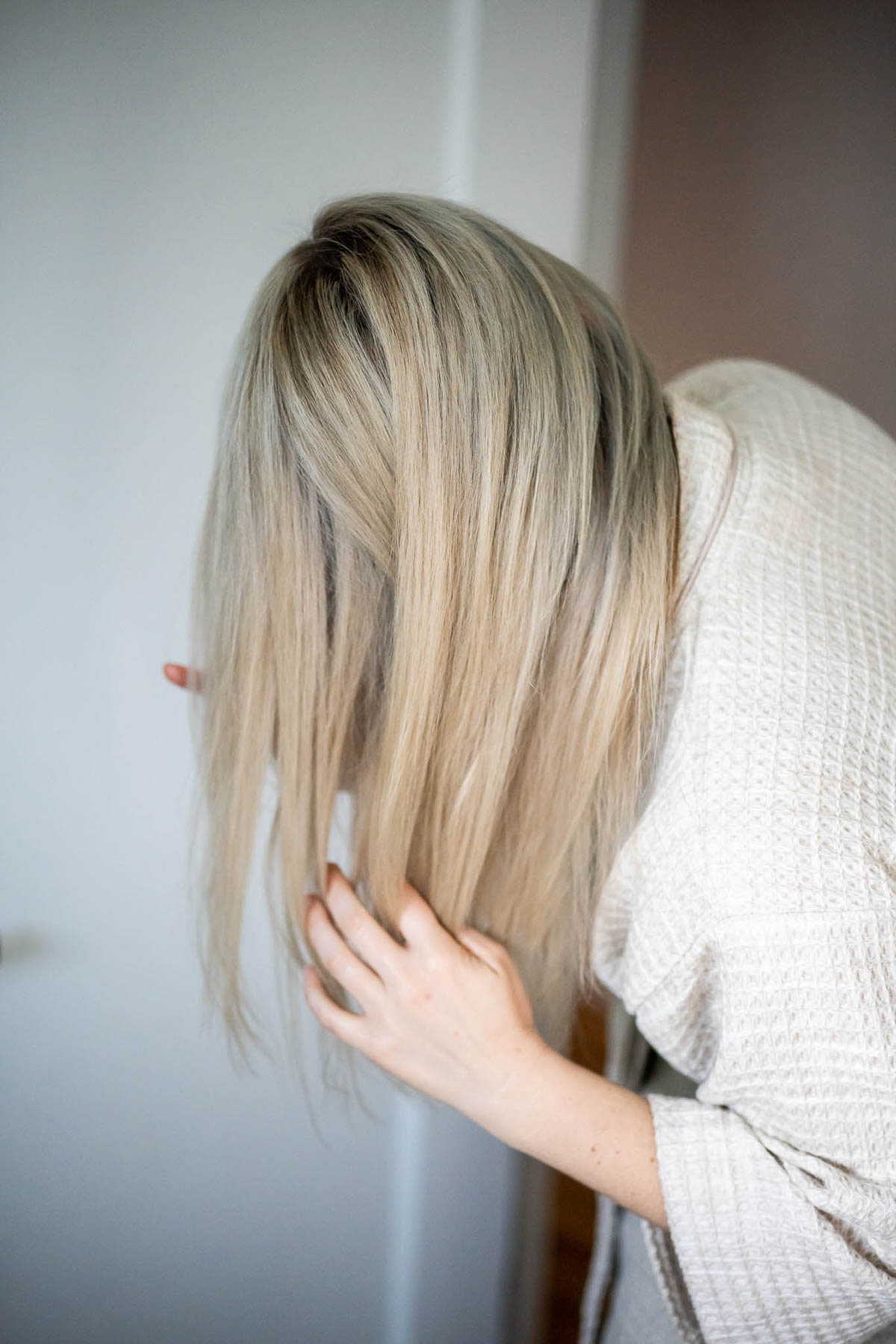 How to Use Hair Oil
A few handy tricks for using hair oil. One, is to not use too much – a little goes a long way. Two, rub the oil between your hands and between your fingers, so as you finger comb it through your hair, it will really disperse. Three, focus on the mid-shaft to ends and then the bottom of your scalp first. Only at the end of application, do you want to gently touch the hair near the top of your head!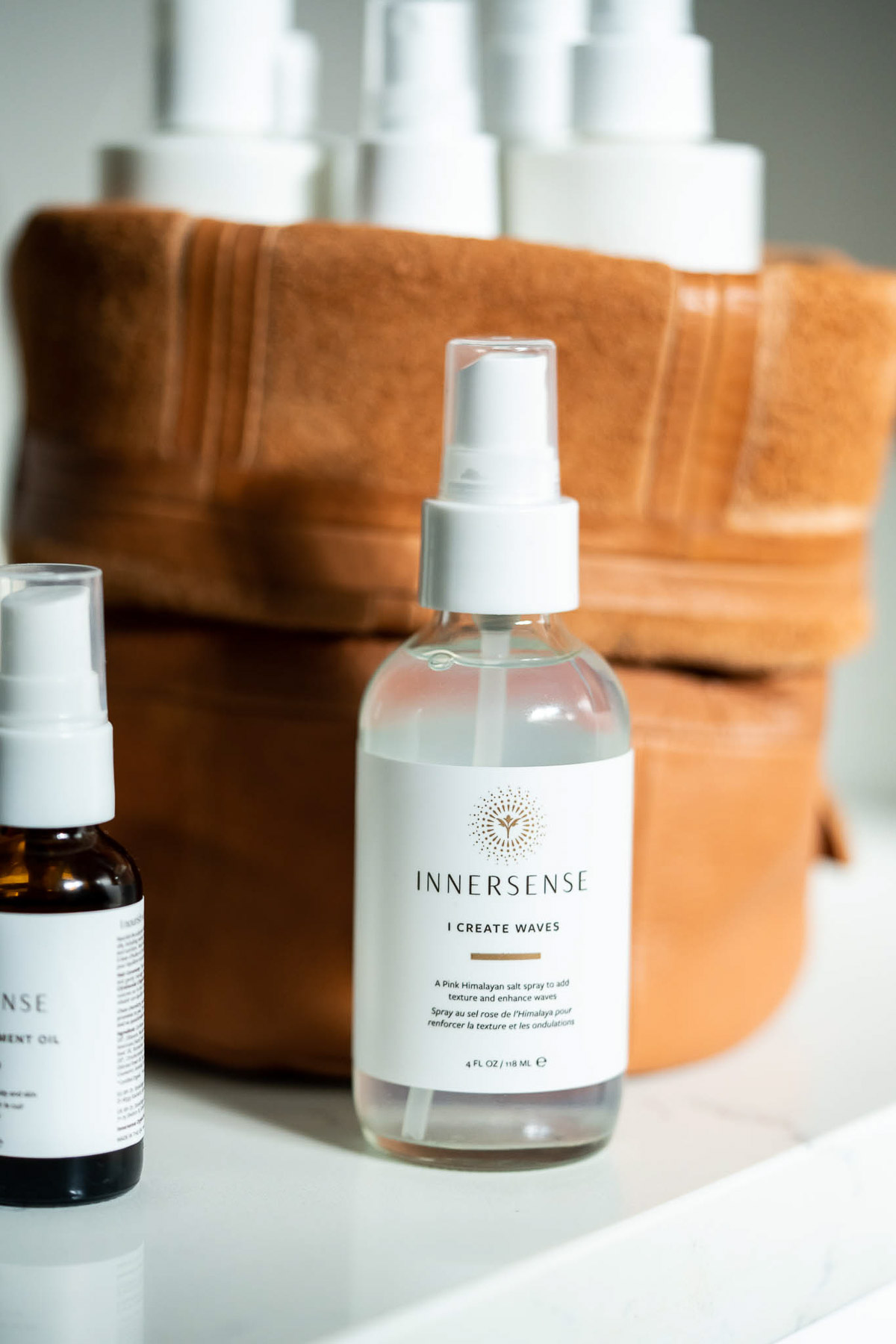 Other Innersense Products
So my top 3, must-have Innersense products (i.e. the ones in this review) are the Bright Balance Toning Hairbath (shampoo), the Quiet Calm Curl Control, and the I Create Shine Hair Oil. I have tried a few other products, however, and have a few on my wishlist to buy when I'm ready.
Hydrating Hair Mask – I think this was the first Innersense product I ever tried and I think it's a great, moisturizing mask. My stylist recommends using a hair masque once per week. I think that's a bit ambitious, but I do try to use it a few times between my 6 week hair appointments!
They have two other hair masks – a Detox Hair Mask that will help remove buildup without stripping hair of natural oils and the Enlightenment Scalp Scrub, which helps balance, hydrate, and clarifying the scalp – great for itchiness and irritation.
I do use the Sweet Spirit Leave In Conditioner Spray every time I wash my hair. It's a great conditioning spray (detangling spray). It does better when hair has more water in it, so no need to vigorously towel dry. I don't think it works any better than other similar sprays I've tried, but it's clean, B Corp, plastic bottle, and all the things! They do also have a hair prep spray for use before heat styling.
I Create Waves Salt Spray – hoping to try this one out in Summer (will update this Innersense review when I do)!
See more of my favorite long hair products, including the best anti-frizz spray, as well as these hairstyle tutorials…
Use code LUCI15 for 15% off your first purchase
Innersense Coupon Code
See the discount code for a great discount on your first order as well as…
They also offer free shipping on orders over $25, so it's pretty easy to not pay shipping either!
Recycling Hair Product Containers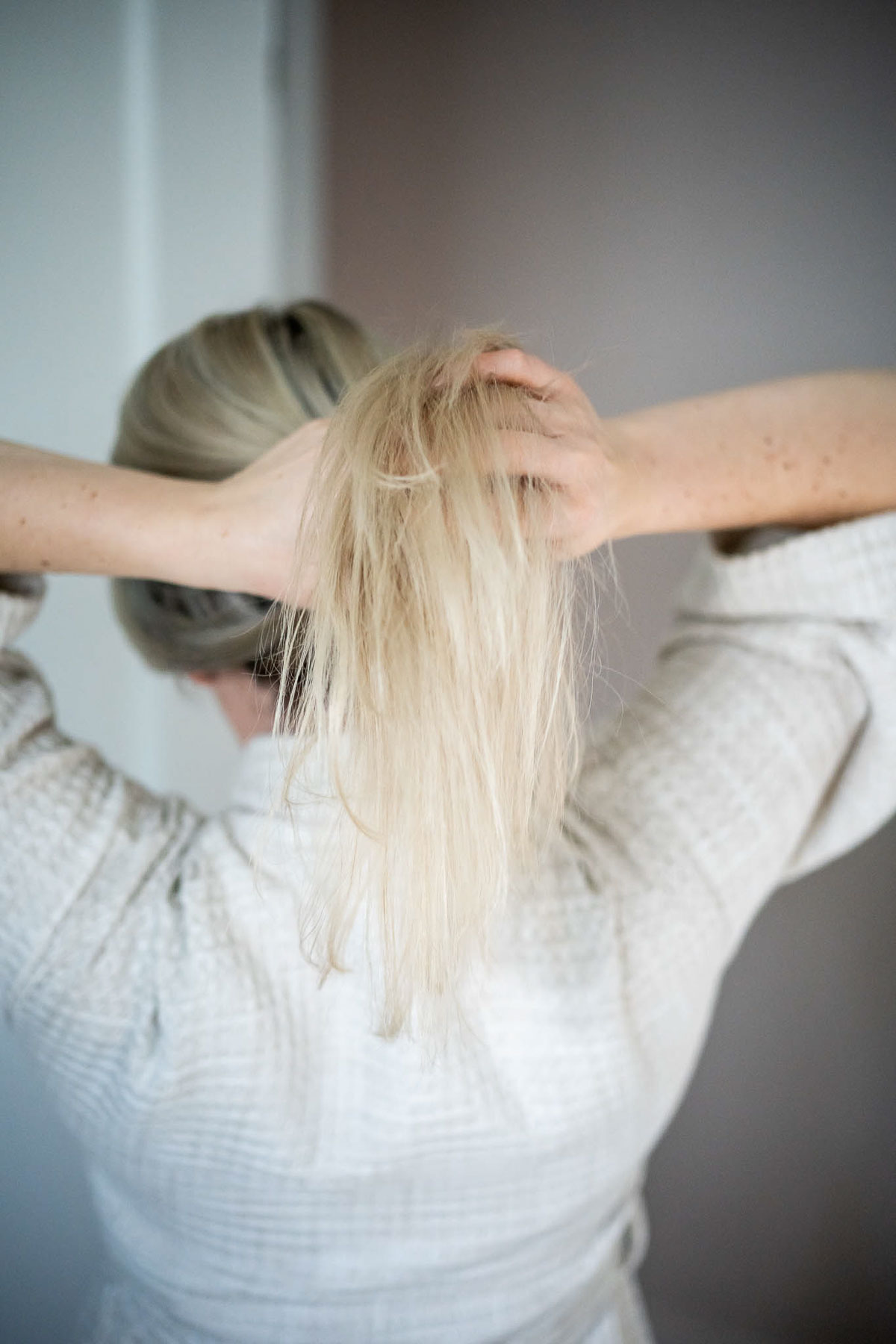 Clean Beauty Posts
Since clean beauty is an important part of sustainable living (what we wash down the drain matters as much as what we put on our skin), be sure to check out these other clean beauty roundups:
Clean Beauty at Nordstrom
Clean Beauty at Sephora
Clean Beauty at Target
Clean Beauty at Walmart
Clean Beauty at ULTA
Best Beautycounter Products
Common questions include do shampoo bars really work and how do you use them? What natural deodorant actually works? What's the best safety razor for women (and how to use them properly). And how to clean your makeup brushes (on the cheap and easy)!
There are also great clean skin & hair care products for men!
And you'll want to check out these wonderful clean beauty bar soaps as well as body tools for smooth skin all over yourself!